Weil's disease can be contracted from contaminated water and may be fatal.
Weil's disease is a problem if you are going to be out in the wilderness and looking for water at all. This disease is spread through rat urine, so the main way in which you can contract the disease is by consuming contaminated water. There are a few things you should always keep in mind when it comes to run-off or creek water. First, you can never count on it being clean, so you should not drink any of this water.
If you do have to drink creek water, the best way to make sure that you don't get Weil's disease (or something else) is to be certain that you are boiling the water to kill off all the bacteria, and using a water purifier. This may not be enough, however, so you should avoid drinking outdoor water as much as you can. You should also make sure, if you have no choice, that the water you're drinking from is not running through a cave of any sort, and that it looks as clean as possible.
You don't have to drink water in order to get Weil's disease, however. In fact, some people can get it just through contact with the water, especially if they have any open cuts. Therefore, if you're going to be going into the water to swim or kayak, you should make sure that you don't have any open cuts and that any cuts you do have are covered. For this reason, a dry suit might be a good idea, since the waterproof suit will keep all of the bacteria out of your body.
Sometimes you can't avoid getting Weil's disease, so you should pay a lot of attention if you start to feel sick in the few weeks after a camping or kayaking trip. This is due to the fact that the incubation period for this disease an be anywhere from three to nineteen days.
If you start to get flu symptoms a few days after returning from a camping trip, then you should see a doctor and ask to be tested for Weil's disease. While it may not seem like you are very sick at first, if you do not go and get treated, then you may be putting your life at risk.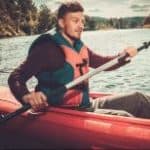 Author: Peter Salisbury
Pete is the Owner of KayakHelp.com. Born and raised in Cleveland, Ohio, he grew up kayaking, fishing, sailing, and partaking in outdoor adventures around the Great Lakes. When he's not out on the water, you can find him skiing in the mountains, reading his favorite books, and spending time with his family.