The best thing about touring kayaks is the sense of freedom that they give you. It's just you, the kayak, the beautiful views, and the open water. It makes life simple.
What isn't so simple is picking the touring kayak that's right for you. There are a lot of considerations to take into account: how long do you need your kayak to be, how much gear storage do you need, what kind of steerage system does it come with, and what material does the hull need to be made of.
To help answer those questions, and get you out on the water as fast as possible, we've put together a buying guide and list of a few of the highest rated touring kayaks out there.
Best Touring Kayaks
Buying Guide
Steerage System
Open water often exposes kayakers to wind blowing across the path they are paddling, making it hard to track straight. While most kayakers would prefer to travel upwind, known as weather cocking, this is not always possible. A skeg or rudder allows you to correct your course and keep paddling straight.
Construction Materials
Touring kayak hulls are typically made of two different materials: polyethylene plastic or composite materials such as fiberglass, carbon fiber, or hard-wearing plastics like Acrylonitrile-Butadiene-Styrene (ABS).
Fiberglass and carbon fiber boats tend to be stiffer, which leads to better performance. They also hold their shape much better over time without warping or developing dents and deep scratches.
Plastic boats made with polyethylene tend to be heavier and lack the stiffness and responsiveness that you typically get with a composite kayak. However, they are less prone to damage from hitting rocks or being dropped.
Weight
Touring kayaks tend to be longer and heavier than recreational kayaks. Depending on the model, moving a touring kayak can be a two-person job, and lifting it on and off a car rack can be a challenge.
Comfort
Making sure that the kayak you purchase is one you can fit into comfortably is important. Not only will it allow you to stay out on the water for longer, but it will also make it easier to control your kayak. The key to a comfortable kayak is adjustability, which allows you to customize the fit of the kayak to your shape, so look out for 'yaks with adjustable seats, thigh braces, and foot plates.
Sinkage Level
The sinkage level of a kayak is determined by how much weight is needed to make it sit an inch lower in the water. If you're on a longer trip, then it's worth knowing how low the kayak will ride based on the weight of you and your gear. If it's too low, the kayak could flip or take on water in rough weather.
Storage
Having the correct amount of storage on a touring kayaking is important. If you're heading out on the water for a few days, you need space to store all the gear you'll need to make that a safe and comfortable experience. Most touring kayaks have fore and aft hatches to store gear in, and many will come with bungee cords on the outside for extras stowage.
Jargon Buster
Rocker
The rocker is a measurement of how much a kayak rises at the bow and stern. The higher the rocker is, the more maneuverable, but slower, the kayak is.
Edging
Edging, also called carving, is the act of tilting a kayak so that one side of the kayak is out of the water. Carving a kayak into a turn creates more water friction on one side of the kayak, causing it to turn faster.
Tracking
Tracking is a measurement of how well a kayak stays in a straight line when paddled.
Chine
In kayaking, a chine refers to the sharp change in angle in the cross-section of the hull. The term "hard chine" indicates an angle with little rounding, where a "soft chine" would be more rounded, but still involve the meeting of distinct planes.
Stability
The initial stability of a kayak is how stable or unstable the kayak first feels when you get into it. The secondary stability is how stable the kayak feels when it is put onto edge.
Waterline
The waterline is the length of the kayak that is in the water. This dictates how fast the kayak is and how easy it is to turn. The higher the rocker of a kayak, the less waterline it has.
Skeg
A skeg is a fixed rudder, designed to allow the kayak to track straight, even when not moving into the wind.
Best Touring Kayak Reviews
Hull Material: Polyethylene
Length: 14' 5"
Width: 22.5"
Weight: 60 pounds
Cockpit Size: 36.5" x 19.5"
The Edge is an excellent choice for a day out on flat waters. It's comfortable, maneuverable, and its high-density polyethylene hull means it's light enough to carry to the water but durable enough to take a few knocks without cracking.
The sheer adjustability of the fit and seating is one of the standout features of the Edge. It has an advanced custom-fit seating system, adjustable sliding foot braces, and integrated thigh braces to make sure you get the snuggest, most comfortable fit possible.
The wider cockpit and flat-bottomed hull make the Edge far more suited to flat water, but its hard chine and deployable skeg will keep it running straight if the water gets a little rough.
If you're planning a multiple-day journey, then the Edge's mix of stability and speed will allow you to eat up the miles without leaving you too sore the next day. The cargo storage space isn't massive, but the addition of bungee lines on the hull make up for this.
PROS
CONS
SummaryThe Edge has everything a kayak tourer needs. It's comfortable, stable, fast, and has enough storage space for you to fit in all the essential gear. It excels on flat water but can handle the rough stuff in a pinch. To top it off, its adjustable seating and bracing arrangement make it a comfortable fit for just about everyone.
Hull Material: Polyethylene
Length: 16′ 4.5″
Width: 30.5″
Weight: 75 pounds
Cockpit Size: 36.5" x 19.5"
If you are looking to take a friend with you on your kayak expedition, then the Zest Two is your ideal kayak. The Zest Two is 16 feet long and features a large storage well in the front of the boat, so there is ample space for you, a friend, and enough gear to last you for a few days.
The cockpit is 30 inches wide, and while this width is great for comfort and stability, it does make the Zest Two a little less maneuverable.
The boat is a sit-in design, so neither the cockpit nor gear storage space are waterproof, and if the water gets rough there is a chance that it will start to come in over the sides. To accommodate taller 'yakers, the seat is fully adjustable and there is a line of moulded foot-braces down the inside of the hull.
PROS
CONS
Summary​The Zest Two has all the features you need to get out on the water with a friend. But if you're planning on encountering rough water, or facing bad weather, the open-top design and lack of waterproof storage is a major drawback.
Hull Material: Polyethylene
Length: 13'
Width: 26.5"
Weight: 51 pounds
Cockpit Size: 38" x 21"
The Conduit 13 is a great choice for newer paddlers looking to transition from a recreational kayak to a touring kayak. Its narrow profile allows it to cut through the water with speed, and its watertight bow and stern storage can hold enough gear for a weekend's paddling.
The Conduit has a built-in fin to help with tracking, but it is also rudder capable if you are venturing out into rougher waters. While the shorter length of the Conduit does affect its tracking, its width and shorter hull make it very maneuverable. It also has excellent secondary stability, allowing you to carve into tight turns without the risk of tipping over.
PROS
CONS
Summary​Unless you are particularly tall, the Conduit is an excellent compromise between the stability and maneuverability of a recreational kayak and the speed and storage of a touring boat. If your kayaking skills are advancing and you are looking to trade up to something you can take short tours in, then this might well be the boat for you.
Hull Material: Polyethylene
Length: 12'
Width: 29"
Weight: 49 pounds
Cockpit Size: 57" x 22"
Another transitional kayak, the Pungo's multi-chined hull design provides excellent secondary stability, adding to its maneuverability, while its width keeps it stable.
It has sufficient storage for an extended day trip and is ideal for those looking for the speed and storage of a touring boat that still handles well in rough, twisting watercourses. It also has the ability to fit a spray skirt.
The Pungo's seat isn't adjustable, but it does feature adjustable thigh and foot braces for extra comfort. Its lightweight makes it easy to move in and out of the water and to right the boat if it capsizes.
The star feature of the cockpit is its dashboard, which features a variety of gear holders including a cup holder for those paddlers who just can bear to be away from their latte.
PROS
CONS
SummaryThe Pungo is a great multi-purpose craft. It has the storage capacity for you to take longer tours out on the water and the maneuverability to handle narrow riverways. Its wide hull makes it very stable. It is particularly popular with kayak fishermen because it is easy to cast from.
Hull Material: Polyethylene
Length: 12'
Width: 24.5"
Weight: 42 pounds
Cockpit Size: 35" x 19.5"
The Perception Tribute is specifically designed for women and smaller framed kayakers. Its shorter length and narrow hull allow for greater control without sacrificing speed or tracking. It has all the storage you'd expect in a touring kayak, and bungee cords for those added extras.
The seat and footrests are fully adjustable for maximum comfort while its high-density polyethylene hull provides exceptional UV, impact, and abrasion resistance. The Tribute is so sure of its durability that they have taken the unusual step of adding in a 3-year warranty.
PROS
CONS
Summary​The Tribute's stand-out feature is the fact that it is specifically designed with women in mind. Traditionally, longer touring kayaks have been difficult to control by those of a smaller frame. The Tribute solves this by providing a comfortable fit in a smaller craft, without sacrificing speed or much in the way of storage. It's shorter length and lighter weight also make it more convenient to store and transport.
Hull Material: Polyethylene
Length: 14.5'
Width: 26"
Weight: 49 pounds
Cockpit Size: 39.5" x 21.5"
The Perception Carolina is ideal for beginners looking for their first touring kayak. At 14 feet and with a V-shaped hull with soft chines, the Carolina combines stability with speed.
The Adjustable Zone DLX seat and leg padding along the cockpit edge make it comfortable for long trips, while the 14.5-inch deck leaves ample space for storage.
The shape of the Carolina's hull makes it easy to control in rough water and lets it pick up considerable speed in flat water. The hull trades away some of its maneuverability to allow for extra stability, but its soft chines allow it to be edged into turns for a tighter turning circle.
Its large cockpit makes it easy to enter and exit, but can result in a little water splashing over the edge in rougher seas.
PROS
CONS
SummaryThe Carolina is an excellent entry-level touring kayak. It is stable, easy to get in and out of, and can handle rough weather. It has all the storage space you'll need for a weekend out on the water, and its entirely adjustable seat and leg padding means you'll spend that time in comfort.
The Edge excels in all areas, speed, tracking, maneuverability, comfort, and storage. Comfort is key when picking a touring kayak, if you're going to be spending days in the same seat it needs to be a great fit. The Edge's advanced custom-fit seating system, adjustable sliding foot braces, and integrated thigh braces will keep you comfortable from the moment you sit down to the end of your adventure. While all the kayaks on this list are excellent choices and all have their good points, the Edge is the only one that ticks all the boxes.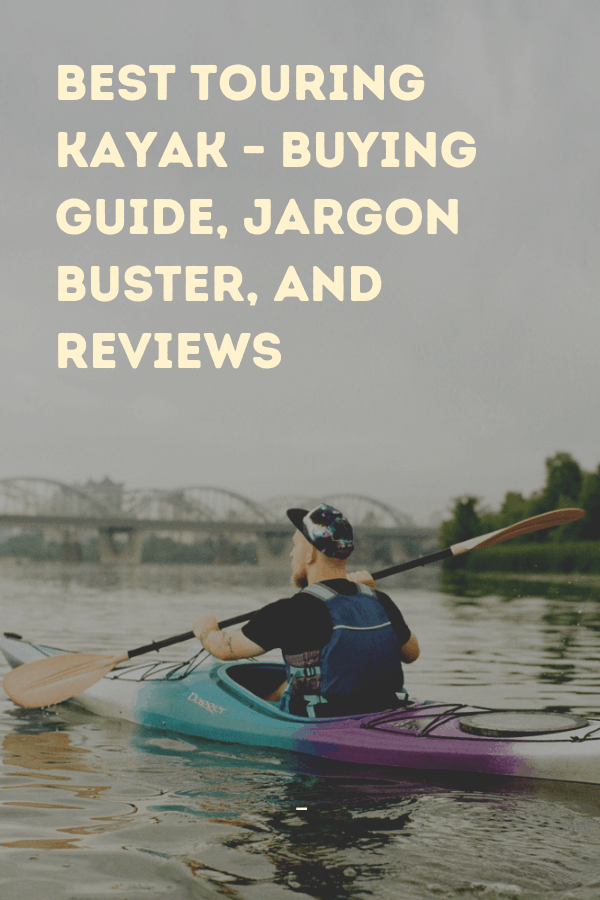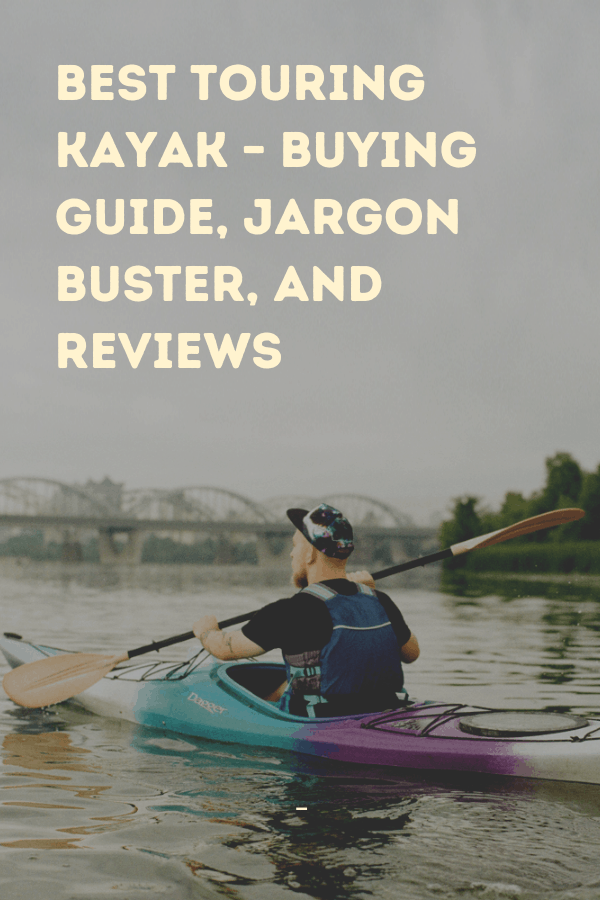 Author: John McCloy
John is a professional copywriter, fencer, and paddlesports fanatic based in the UK. When he's not out on the water, he can usually be found convincing new people to try kayaking, pretending to be Zorro or climbing what passes for mountains in England.