Kayak fishing is an excellent way to experience the beauty of the ocean without the noise of an outboard motor disturbing the placid scenery. Kayaks give you the opportunity to explore sections of the coastline that other crafts just can't reach, and search for your perfect fishing stop before casting your line.
To handle the unique conditions kayaks normally face when out at sea, most ocean fishing kayaks have specific design elements that allow them to better handle higher winds and rougher water.
To help you pick the ocean fishing kayak that is right for you, we've put together a jargon buster to keep the terminology simple, a buying guide, and reviews of the best ocean fishing kayaks on the market.
Best Ocean Fishing Kayaks
Vibe Kayaks Sea Ghost 130 – Editors Choice
Wilderness Systems Pungo 120 Angler
Ocean Fishing Kayak Jargon Buster
To keep things simple, we've translated some of the standard technical terms related to ocean fishing kayaks.
Tracking
Tracking is a measurement of how well a kayak stays in a straight line when paddled.
Chine
In kayaking, a chine refers to the sharp angle change in the cross-section of the hull. The term "hard chine" indicates an angle with little rounding, where a "soft chine" would be more rounded, but still involves the meeting of distinct planes.
Initial and Secondary Stability
The initial stability of a kayak is how stable or unstable the kayak first feels when you get into it. The secondary stability is how stable the kayak feels when it is put onto edge.
Edging
Edging, also called carving, is the act of tilting a kayak so that one side of the kayak is out of the water. Carving a kayak into a turn creates more water friction on one side of the kayak, causing it to turn faster.
Rocker/Waterline
The rocker is a measurement of how much a kayak rises at the bow and stern. The higher the rocker, the more maneuverable, but slower, the kayak is. The waterline is the measurement of how much of a kayak's hull is in the water, essentially the opposite of the rocker. The more waterline the kayak has, the faster it will be. A longer waterline also results in better tracking.
Skeg
A skeg is a fixed rudder that is designed to allow the kayak to track straight, even when not moving into the wind.
Ocean Fishing Kayak Buying Guide
Hull Design
One of the primary considerations when buying an ocean kayak is what kind of water you plan to use it on. Depending on the design of the kayak, specific features, such as the shape of the hull, the length of the craft and the size of the cockpit, can make them better suited to one type of water or the other.
Flat Water
Areas of a flatwater connected to the sea can include river estuaries, closed coves, coastal flat waters, and even mangrove swamps. These areas tend to not feature choppy water or waves but do have tides. Flatwater boats tend to have a rounded hull and wider cockpit, which makes them more maneuverable on flat water but vulnerable to taking in water on choppy seas.
Choppy Water
Open stretches of sea and most coastlines will be areas of choppy water, where wind and tidal action will produce small regularly spaced waves. Kayaks designed for choppy water tend to have a V-shaped hull for cutting through waves, and a small cockpit to reduce the chances of water coming in over the sides.
Stability
As with all fishing kayaks, stability is vital. Having a stable kayak allows the angler to move around, access their fishing gear, and even stand up to cast without the risk of the kayak capsizing. Check out this video with tips on how to cast from a kayak:
Creating that stability in an ocean fishing kayak can be difficult, as the narrow hull shape needed to cut through choppy water precludes the width needed to create stability. As a rule, ocean fishing kayaks designed for flat waters tend to be more stable, and many have the option of stand-up casting. Kayaks optimized for choppy water tend to be narrower and have an enclosed deck, making them less stable and unsuitable for stand up casting. To pick the kayaks that are right for you, it's best to identify what kind of water conditions you will primarily be fishing in, and pick a hull type accordingly.
Storage
Storage is an important factor on any fishing kayak, but the ocean fishing kayak does have an advantage over river fishing models in that they tend to be significantly longer, and therefore have more storage space. Look for kayaks with sealable waterproof hatches to keep your more delicate valuables safe. Tankwell storage is suitable for larger items which can be exposed to water, although the use of dry bags will allow you to store non-waterproof items outside of the sealed hatches. To keep your paddles out of the way for your fishing gear, look for kayaks with paddle holders mounted on the hull.
Best Ocean Fishing Kayak Reviews
Hull Material – PolyethyleneLength – 12′ 6"Width – 34″Weight – 32 lbs.
The strength of the Sea Eagle is its convenience for the kayaker. This inflatable ocean fishing kayak packs down to just 31″ x 19″ x 8″ and weighs just 32 pounds. Inflating in under eight minutes, the Sea Eagle can accommodate up to three people and has a maximum weight limit of 650 pounds.
Because of the nature of inflatable kayaks, storage is limited, although the Sea Eagle does feature a multi-purpose storage box with two rod-holders. Tracking can often be an issue with inflatable kayaks, too.
To combat this, the Sea Eagle comes fitted with two plastic skegs to counterbalance the natural tendency of inflatables to be pushed around by high winds.
The Sea Eagle is rated to handle up to level III whitewater, and its high rocker keeps it maneuverable. It can handle rougher waters, particularly if there are two paddlers, but it performs best on flatter waters.
PROS
CONS
SummaryThe Sea Eagle is perfect for impromptu fishing trips. Inflatable in under eight minutes and supremely portable, the Sea Eagle enables you, and up to two other friends, to head out on the water at a moment's notice.
If you are looking for a convenient and easily portable solution to ocean kayak fishing, then the Sea Eagle is a great choice. If you a looking to mount a lot of gear or need a significant amount of storage, then you may need to look at something else.
Hull Material – PolyethyleneLength – 13'Width – 33″Weight – 75 lbs
The Sea Ghost 130 is packed with all the storage and features a kayak fisher could want. Its layout optimizes functionalism, allowing you to lay your hands on any piece of gear at a moment's notice.
This practicality is paired with a hull that combines a narrow profile and high waterline for better speed and tracking, and a wide beam for stability. To aid in tracking in high winds or rough water, the Sea Ghost comes fitted with a pedal adjusted rudder as standard.
Two sealed hatches, with dry bag inserts, will keep your valuables safe from errant sea water while a rear tankwell with adjustable bungees provides ample cargo space for larger items.
A large sealed center console with accessory mounting points provides extra storage, or can be used to mount a fish finder transducer. The transducer port features mounting points and a protective lid for easy fitting. The central console can also be fitted with two PLANO™ 3600 tackle trays, to keep all your tackle close at hand.
The Sea Ghost comes with two capped flush-mounted fishing rod holders, and four integrated gear tracks that allow for the fitting of more. This gives the Sea Ghost excellent all-around fishing rod coverage.
A fast access bow paddle park keeps your paddle stowed safely out of the way during fishing.
The dual position Vibe Hero seat is comfortable and can be removed if you want to replace it with your favored seat. While thigh and knee pads aren't necessary on a sit-on style kayak, the lack of adjustable footplates may be a problem for smaller paddlers.
At 75 pounds and 13 feet long, the Sea Ghost is certainly not person-portable and will need a car-rack, and possibly a trolley, to transport it and get it into the water.
PROS
plus
plus
plus
plus
plus
plus
plus
CONS
SummaryThe Sea Ghost is the ideal choice for an ocean fishing kayak. It has all the storage space needed and enough mounting points for even the most gear obsessed angler.
It performs well in both flat water and choppy water, with its narrow hull allowing it to cut through the waves while its rudder keeps it tracking straight.
At 75 pounds and 13 feet long, the Sea Ghost is going to need some planning to safely transport and move it in and out of the water. This, however, is fairly standard for longer sea and touring kayaks and is a small price to pay for the Sea Ghost's utility and performance.
Wilderness Systems Pungo 120 Angler
Hull Material – PolyethyleneLength – 12′Width – 29″Weight – 49 lbs.
Built based on the popular Pungo 120 hull, the Pungo 120 Angler combines the performance and comfort of a purpose-built sea kayak with the storage and accessory mounts needed for ocean fishing.
While the Pungo 120 Angler doesn't have the sheer storage space of the Sea Ghost, it does perform better in rough seas.
The Pungo's narrow hull and low beam allow it to cut through the choppy water, maintaining an impressive speed and excellent tracking. The cockpit setup features a fully adjustable seat, thigh and knee padding, and an adjustable foot brace system.
Coupled with the multi-chined hull's excellent secondary stability, this cockpit setup allows the Pungo to be edged into tight turns, increasing its maneuverability.
Ample storage is provided by a waterproof orbix hatch in the stern and complemented by bungee cording on the outer hull. To keep all your gear within easy reach, the cockpit also features a kayak console. If the weather turns particularly rough, the Pungo can be fitted with a size seven spray skirt.
The Pungo doesn't come with any built-in rod holders, but it does have four Yak Attack mounting positions arranged around the cockpit. These provide great rod coverage and allows for the mounting of other accessories.
PROS
CONS
SummaryThe Pungo 120 Angler is a sea kayak with fishing attributes grafted on, rather than a purpose-built fishing kayak, so it lacks features such as a fishfinder mount, enhanced storage, and gear rails.
However, it does feature reasonable storage and enough gear mounting for a reasonable amount of tackle.
Where the Pungo really shines is in adverse conditions. Compared to other boats with wider hulls and beams, the Pungo tracks extremely well and can handle choppy water.
If you are looking for a sea kayak that can also be used for fishing, then the Pungo is the boat for you. If you are primarily going to be out on calm, flat waters and have a lot of fishing tackle you want to bring with you, then you may be disappointed.
Hull Material – PolyethyleneLength – 13′ 8"Width – 38″Weight – 144 lbs.
The Mirage Pro has an emphasis on comfort; with its elevated Vantage ST seat, it allows you to fish for hours without the aches usually associated with kayaking.
In fact, Hobie promotes the Mirage "as much an easy chair as a captain's perch." The Vantage ST features a fully adjustable backrest and elevation, allowing you to customize it until you find your ideal seating position.
The Mirage also plays host to a huge array of gadgets, including six horizontal rod lockers, a pivoting tackle management system, a built-in transducer mount with pre-installed through-hull cable plugs, gear rails, and even a cup holder.
The icing on the cake is the Mirage's pedal drive, which allows the angler to both drive and maneuver the kayak without putting down his rod. You can see a video of the unique Hobie Mirage drive in action here:
This large number of features does come with some drawbacks, however. At 144 pounds, the Mirage is extremely heavy and will take some significant planning to safely transport and a trolley to get it into and out of the water.
It is also very wide at the beam, which gives it great stability when you need to stand up to cast but severely cuts down on its maneuverability and speed.
The low and wide design of the Mirage also limits the type of environment it can be used it. It is an ideal choice for calm, flat coastal waters, but is utterly unsuited to anything rougher.
PROS
CONS
SummaryIn many ways, the Mirage Pro is the exact opposite of the Pungo 120. It is designed to primarily provide a comfortable, stable fishing seat and allow the fisherman access to all his gear with relative ease. Its ability to perform as a kayak comes a distant second to those aims.
If you primary fish in calm coastal waters of sheltered inlets, then the Mirage is a fantastic boat. It is hugely comfortable, provides excellent storage and gear mounting opportunities, and its pedal drive means you don't have to choose between fishing and maneuvering. If you want a kayak that can maintain a high speed and brave the waves, then you'll need to look somewhere else.
Hull Material – PolyethyleneLength – 13′ 4"Width – 28″Weight – 56 lbs.
The Prowler 13 is a stripped back and simple kayak design, emphasizing storage and performance. A large tankwell in the stern allows for the stowing of bulky gear that isn't vulnerable to water damage, while valuables can be sealed in the bow mounted waterproof hatch.
The hatch also provides access to bow and stern internal storage for fishing rods, allowing you to carry them safely within the kayak. These storage options are further complimented by on-deck bungee stowage.
The long waterline and narrow hull of the Prowler means it excels in rougher water, tracking well and achieving an impressive top speed. At just 56 pounds it is also surprisingly light for its size, allowing it to be easily transported and moved into and out of the water.
The hull features a transducer mounting for a fish finder and two rod-holders. Unfortunately, there are no gear rails or the option to add additional rod holders. The Comfort Seat plus has an adjustable backrest and can be removed if you want to replace it.
PROS
CONS
SummaryThe Prowler is a simple but effective ocean fishing kayak. It performs well in rough conditions, tracks well, and is surprisingly lightweight.
While it does have a transducer fitting, some anglers may find the lack of gear rails or the option to fit more rod holders to be restrictive. The Prowler is the ideal kayak if you are looking to coastal exploration with fishing. If you want a boat that you can mount a huge array of gear on, then you may have to look elsewhere.
While all the kayaks on this list are excellent choices, they all perform best under certain conditions. The Sea Ghost is our pick for best ocean fishing kayak because it performs across all sectors.
It has excellent storage, multiple gear fitting points, a comfortable and adjustable chair, a transducer mount, and paddle holders. In addition to coming fully loaded with features, it is also a pleasure to paddle, it tracks fantastically in a range of water conditions, and its wide beam makes it a superb casting platform.
If you are looking for a kayak that can take on a wide range of water conditions and still pack in all the features you need for a long day of fishing, then the Sea Ghost is the kayak for you.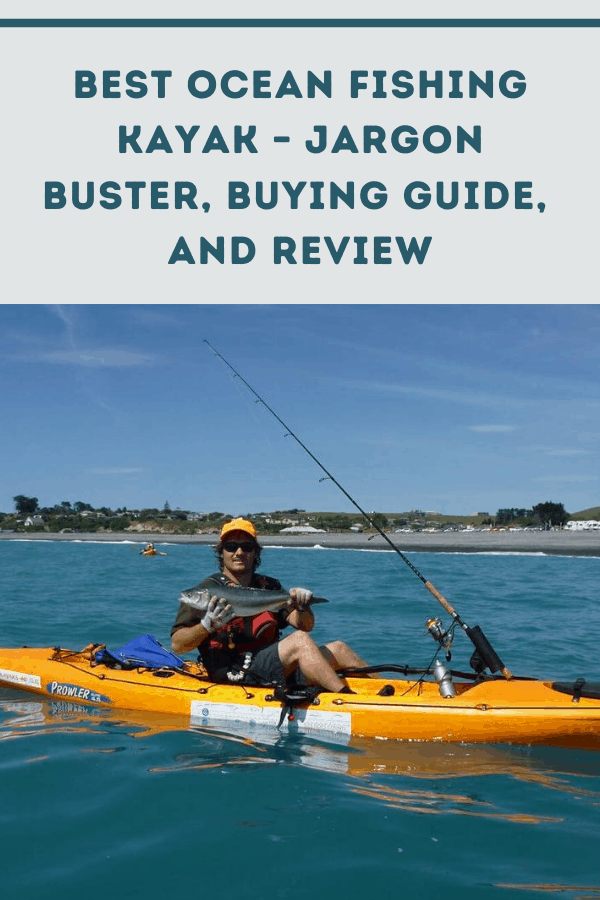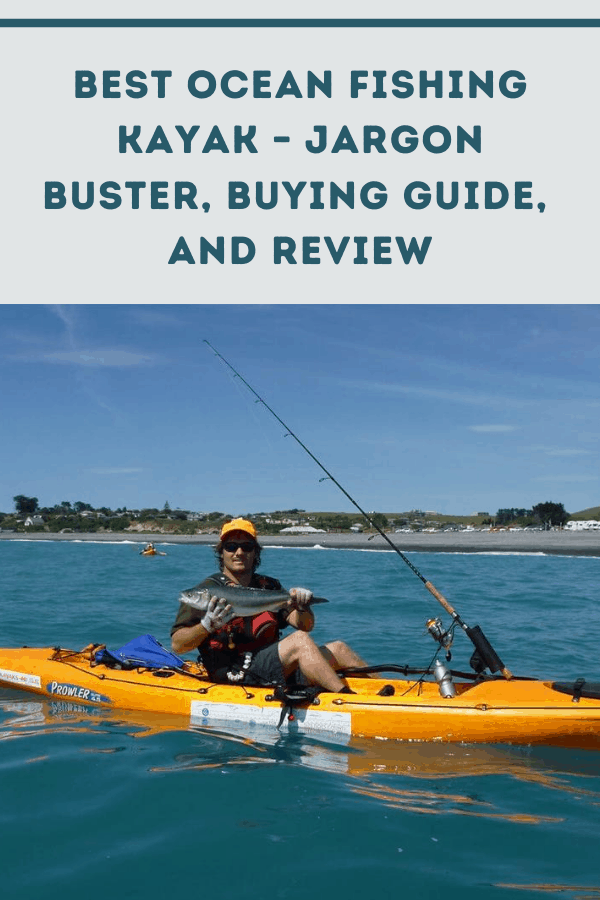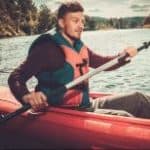 Author: Peter Salisbury
Pete is the Owner of KayakHelp.com. Born and raised in Cleveland, Ohio, he grew up kayaking, fishing, sailing, and partaking in outdoor adventures around the Great Lakes. When he's not out on the water, you can find him skiing in the mountains, reading his favorite books, and spending time with his family.