From where I'm sitting, there is a lot of competition in the kayak manufacturing world today. Every time I turn around, there is a new brand appearing on the market with a slight tweak on how things have been done for so long.
While it is true that healthy attempts at innovation can bring about great new products, some of the best kayak brands have earned their reputation by doing things the right way for years.
Some brands have chosen to focus specifically on building kayaks for a single purpose. Others have placed their attention on building a fleet of kayaks that give you plenty of options no matter what type of paddling you are into.
In this guide, we have compiled a list of the top 15 kayak brands in 2021. We will go through and tell you a little bit about each brand and why it has made our list.
Plus, at the very end, we will suggest at least one brand that we would recommend for the various types of paddling you may be interested in.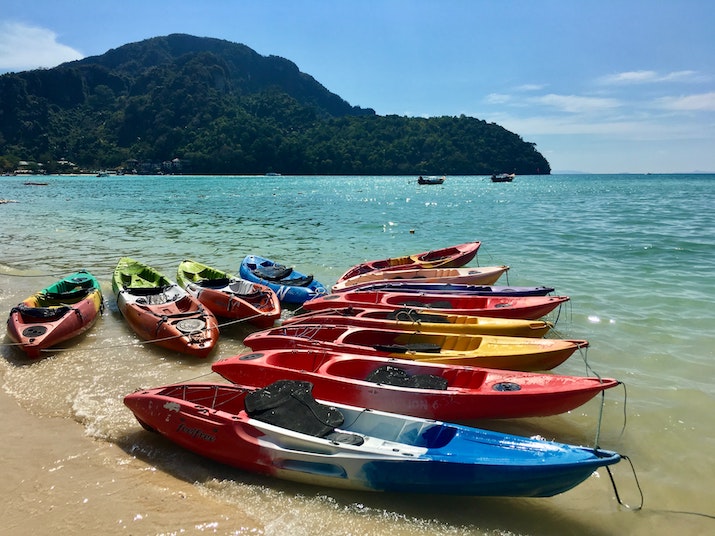 Photo by Varvara Grabova on Unsplash
Best Kayak Brands
Perception Kayaks
Eddyline Kayaks
Pelican International
Delta Kayaks
Vibe Kayaks
Wilderness Systems
Old Town Canoe and Kayak
Oru Kayak
Advanced Elements
BOTÉ
Dagger Kayaks
Hobie
Ocean Kayak
Jackson Kayaks
NuCanoe
Kayak Brand Reviews

PC Perception Kayaks
Perception Kayaks are widely used by many kayak guiding companies because they make a very stable boat. They also design the seats in most of their kayaks to be flipped up or folded down, which makes it super easy to set them up quickly for rental or guiding purposes.
The company has been in business for more than 40 years and is based in Greenville, North Carolina. All of their kayaks are designed for ease and comfort and, in fact, their kayaks are some of the easiest to handle out there.
They produce a wide variety of models, including sit on tops, sit insides, fishing kayaks, pedal-driven kayaks, and tandems. Each kayak model includes a few personal touches that are specifically intended for the exact type of kayaker that would use it.
In my experience, Perception Kayaks are also extremely durable and stable for beginners. I've had nothing but great success using them as rental kayaks for guided experiences, even when guests have zero experience and even question whether or not they can kayak without knowing how to swim.
PC Eddyline Kayaks
Eddyline Kayaks has been producing exceptional touring kayaks since 1971. The company was founded by legendary kayak designer Tom Derrer and they were actually responsible for pioneering both vacuum bag and thermoformed kayak technology.
Their design advances were largely the reason why they were able to begin making much lighter touring kayaks than their competitors. Their entire line includes models for sea kayaking, open water touring, recreational paddling, and kayak fishing.
In spite of its long history, the company remains independently owned and operated by its in-house management team. This means a more personal connection and better customer service when you purchase a kayak from Eddyline.
The company built a brand new headquarters in 2019 based in Burlington, Washington. For more than 47 years, they have produced kayaks with this guiding principle:
"If we can not make it better than what we already know, then we are not improving, and neither is the sport we love."

PC Pelican International
Pelican Sport is actually a branch of the Pelican International Company. They actually produce a wide range of paddle craft and accessories for water sports, including kayaks, paddleboards, boats, winter sleds, and almost any accompanying accessory you could imagine.
Specifically, Pelican kayaks are known as some of the lightest recreational and fishing kayaks on the market. Their proprietary RAM-X™ technology allows them to make their kayaks lighter and more flexible than the competition.
Their lighter designs are really great for smaller paddlers or folks that don't want to fuss with lifting a heavy kayak onto their kayak roof racks. However, they are also equipped with many useful features specific to the kayak's type.
Their full line of kayaks includes models for fishing, recreational paddling, and day touring. They also offer both sit on top and sit in kayaks, depending on your preference.
The Pelican company has been in business since 1968 and, in the last 50-plus years, they have grown into a truly global force in the paddlesports industry.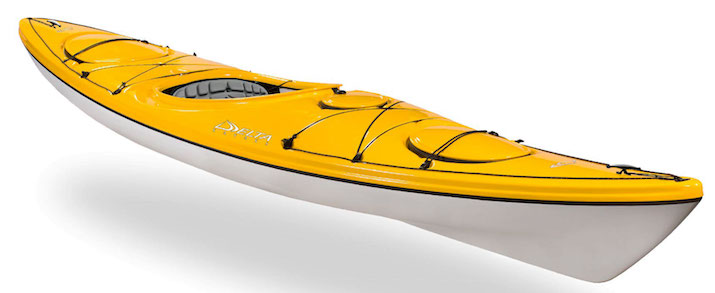 PC Delta Kayaks
Delta Kayaks is based in British Columbia and they specialize in thermoformed touring kayaks. By combining Computer Aided Design (CAD) with more than 35 years of kayak shaping experience, they produce some of the best sit inside kayaks for long-distance paddling.
That said, they also produce smaller kayaks for paddlers of all skill and experience levels. The final assembly and finishing touches on all of their kayaks are addressed by hand to ensure adherence to their quality standards.
One thing that I personally really love about this kayak brand is its commitment to the environment. They collect 100% of their scrap materials and repurpose them to significantly reduce any waste created during their manufacturing process.
Their kayaks are mostly all designed for longer paddling trips, but they have them broken down into four categories for adventure recreation, light touring, touring, and performance touring.

PC Vibe Kayaks
Vibe Kayaks is a relatively newer kayak brand compared to the first few on our list. They got their start in 2013 with the goal of producing a more "budget-friendly" fishing kayak for the recreational angler.
The company was founded by avid kayak fisher Josh Thomas with the motto, "No Drama Just Adventure." At the time, they created the industry's original sub-$1000 fishing kayak and made waves in the kayak fishing industry by doing so.
Their line of kayaks focuses pretty exclusively on kayak fishing, but they have a number of different designs for single and tandem paddlers. The company is based in Kennesaw, Georgia in part because of the area's unrivaled access to some of the best bass waters in the country.
One of the cooler things about this brand is the effort they have made to create a community around their kayaks. Once you become a part of the "Vibe Tribe", you will forever be welcome in the community!

PC Wilderness Systems
This kayak brand is a personal favorite of mine because I own a Wilderness Systems Tsunami 125 for my recreational and touring kayak endeavors. The Tsunami is a great touring kayak for larger paddlers, but Wilderness Systems makes a wide line of kayaks for all types of paddling.
Their full line includes sit on tops and sit insides for recreational paddling, sit insides for touring, sit on tops for fishing, and tandem kayaks. I actually used to have an old Wilderness Systems Ripper that was also great for paddling Class I and II whitewater as well.
The company has been chasing kayak perfection since 1986, inspired by the kinds of natural perfection you can often only find by exploring seldom-traveled waterways by kayak.
While you will need to choose a model that suits your style, they truly craft kayaks for folks of all skill levels. Plus, their kayak seat innovations make them some of the most comfortable kayaks on the market.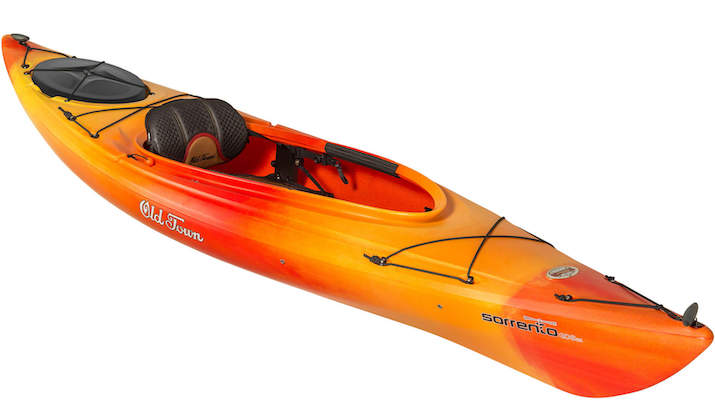 PC Old Town Canoe and Kayak
As a canoe and kayak company, Old Town traces its heritage all the way back to 1898. A.E. Wickett built the company's first canoe after being inspired by Penobscot's legendary canoe craft.
Based in New York, Old Town's early canoes were sold behind Gray's Hardware Store and the company was officially incorporated in 1903. While the early part of the 20th century saw a canoeing craze sweep the eastern United States, improvements in fiberglass molding technology in the 1960s allowed the company to make its first forays into kayak manufacturing.
Today, Old Town's line of kayaks mostly includes models for kayak fishing, but they also sell pedal-driven kayaks, sit on tops, sit insides, and tandem kayaks. They also make a couple of interesting canoe-kayak hybrids like the Sportsman Discovery Solo 119.
Thanks in large part to Susan Audette and the Tilbury House Publishers, Old Town also has one of the most complete histories of their company that you will find among kayak brands. Check out their Heritage page to learn even more about how this company progressed over the years.

PC Oru Kayak
Oru Kayak is the company behind the world's original Origami kayak. This kayak is great for travelers or folks who are simply tired of lugging around a heavy kayak, but they perform surprisingly well compared to rigid kayaks.
Oru actually got its start through an incredibly successful Kickstarter campaign. Their original idea was to combine Japanese origami with Greenland kayak design and, over the last few years, they have expanded their line to include five different kayak models.
Each model is designed for a different purpose. There is the Inlet for those looking for something small and easy to set up, the Bay LT for flatwater recreation, the Bay ST for faster, more sporty flatwater paddling, the Coast XT for open ocean and long flatwater expeditions, and the Haven for tandem paddling.
The company was originally based in San Francisco but has recently relocated to Emeryville, California. If you need a kayak that can handle your adventurous lifestyle without being cumbersome, there's no better folding kayak brand on the market than Oru right now.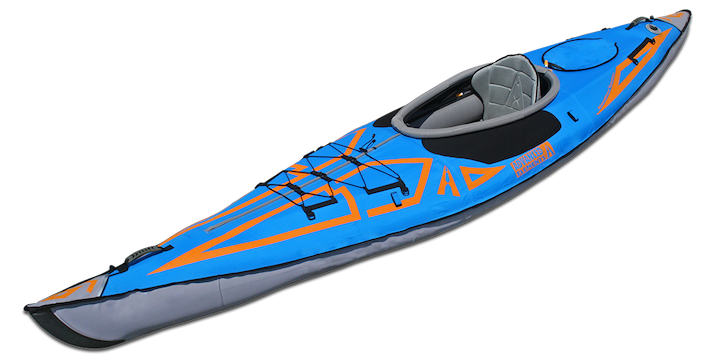 PC Advanced Elements
While we are on the topic of more portable kayaks, we can not forget to mention Advanced Elements. This company specializes in top-of-the-line inflatable kayaks made for various types of paddling.
Their line of kayaks includes models for recreational paddling, day touring, expedition touring, kayak fishing, crossover paddling (flatwater and whitewater), and whitewater kayaking.
Advanced Elements has been around for a little over 15 years now and the company was founded by two inventors who were intent on revolutionizing the inflatable kayak market. If you've ever paddled an inflatable kayak, you know that they tend to zig-zag back and forth a lot.
By making the hull of their kayaks more rigid and incorporating more elongated rudder or skeg designs, Advanced Elements' kayaks perform head-and-shoulders above their inflatable competition.
They also produce the only inflatable kayaks I've ever seen for longer-distance paddling. So whether you want to tackle the Inside Passage or hit whitewater on your local river, there is a kayak for you from Advanced Elements.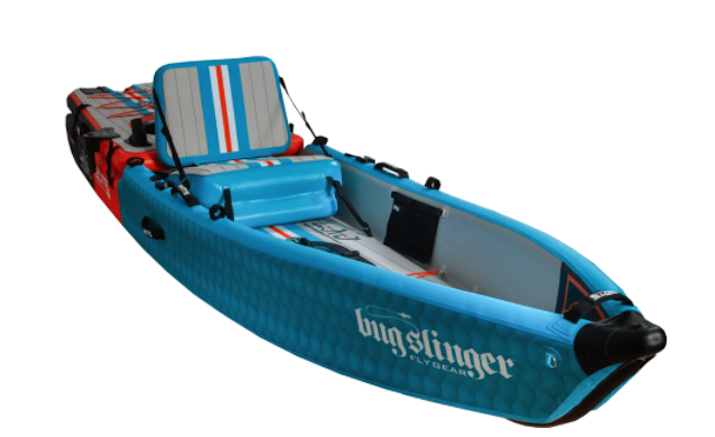 PC BOTÉ Board
While we love Advanced Elements' inflatable kayaks for many types of paddling, the one thing they really don't have that many options for is kayak fishing. As you might imagine, that is precisely where BOTÉ Boards comes in.
This company also produces inflatable paddleboards and their kayaks are actually kind of a hybrid design. They feature flat and wide enough bottoms for you to stand up and paddle or fish comfortably.
The company was founded by Corey and Magda Cooper. The couple relocated to Destin, Florida after getting married and had their first-ever paddleboarding experience in 2008. Not entirely satisfied with the experience, they set out to make better paddleboards.
Their products have evolved and their line has increased to include several kayaks since then. Using their own proprietary Aero technology, they are able to produce both standup paddleboards and inflatable kayaks that provide unsurpassed rigidity.
This technology uses military-grade PVC and drop stitch fibers to allow their inflatables to hold a higher air pressure than most others. For you as the paddler, that translates to a more rigid design that is easier to maneuver on the water and more durable when moving it around.
PC Dagger Kayaks
If you are looking for a kayak for whitewater paddling, Dagger Kayaks is one of the most reputable kayak brands out there. They make a wide variety of kayak designs and many of their kayaks are also incredibly popular for "creeking."
Dagger Kayaks got its start as a small shop with a few paddling friends trying to break into a young paddling industry. In addition to producing great kayaks, they also provide a growing number of educational resources for paddlers.
They are a unique company because all of their products are thoroughly field-tested by their team of professional paddlers. This includes some well-known names like Ben Brown and Andrew Holcombe.
Dagger Kayaks' full 2020 lineup includes models for whitewater, multi-water, recreation, and performance touring. Their specialty, as you might imagine, is whitewater kayaks.
With the help of the professionals on Team Dagger, many of Dagger's kayaks have been used to tackle a number of record-breaking first descents and capture an impressive collection of competition trophies and medals.
If you are getting serious about whitewater paddling, I'd highly suggest looking into Dagger Kayaks.

PC Hobie
Hobie is the absolute pinnacle of pedal-driven performance. They also make some pretty cool sailing kayaks that will help you tack back into the wind if you forgot to check the weather forecast before your morning paddle.
Hobie's kayaks also have a reputation for being some of the most expensive on the market, but that is a product of the immense quality you receive. There's a reason that this successful company has remained in business since 1950.
They are based in California, but they work closely with a number of global subsidiaries to distribute their kayaks worldwide. You can almost find a Hobie kayak or sailboat in any water-centric community around the world.
Hobie's full line of kayaks includes recreational models, inflatables, fishing kayaks, and sailing kayaks. They all have one thing in common, they either come with or are compatible with Hobie's exceptional pedal-drive system.
This system is one of the most efficient pedal drives you will find out there. Instead of tiring out your arms and shoulders, use those larger muscles in your legs to scoot around your favorite body of water.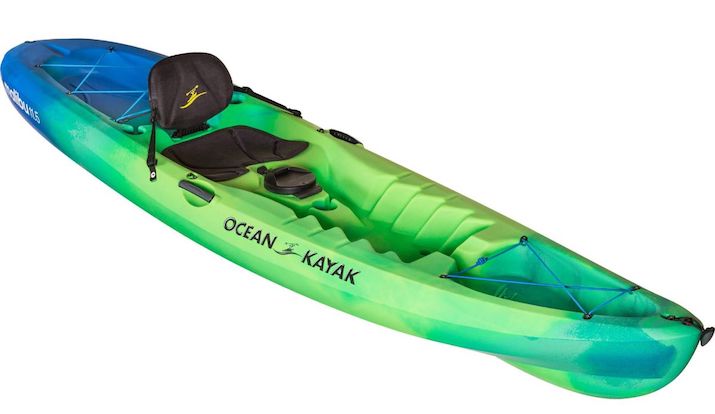 PC Ocean Kayak
In addition to Perception Kayaks, I've also worked extensively with Ocean Kayak models in the guiding world. These kayaks are great for beginners because they are super simple and very stable.
They also offer a super open cockpit design that is easier for beginners to get in and out of. That open cockpit design is also one of the reasons why many larger paddlers prefer an Ocean Kayak design.
Ocean Kayak got its start in a backyard in Malibu, California way back in 1971. The first design was actually just an old surfboard with two holes carved out for a seat and scuba gear storage, respectively.
True to the simplicity of that original model, many of Ocean Kayak's recreational models offer a no-frills design. Most of their kayaks offer a sit on top design that allows for easier re-entry if you go for a swim or you are using it for the purposes of scuba diving or snorkeling in coastal waters.
They do, however, produce a few models for kayak fishing and tandem paddling. They also have one pedal-driven kayak model in their arsenal.

PC Jackson Kayak
The original founder of Jackson Kayaks must have hated those toggle-style kayak handles because all of their kayaks include molded handles instead. It's less to break and less string used in the manufacturing process.
Speaking of the company's inception, it was founded in Rock Island, Tennessee in 2003. Eric "EJ" Jackson and business partner Tony Lunt started the business together to build on Jackson's experiences as a designer and team member of Wave Sport Kayaks.
Their full line of kayaks includes a healthy selection of models for kayak fishing, whitewater paddling, and recreation. That includes both sit on top and sit inside designs.
Jackson Kayaks is also one of the few kayak manufacturers that used molded-in bucket seats instead of a clip-in or folding kayak seat. That just means less to accumulate mold or be attacked by critters while your kayak is in storage.
PC NuCanoe
NuCanoe is another new kayak brand that specializes in fishing kayaks. They have been around since early 2006 and the company is actually the brainchild of Tim Niemier, the founder of Ocean Kayak.
Later in 2006, Tim partnered with Blake Young, the company's current owner. As part of Tim's mission to put "a billion butts in boats", NuCanoe Inc. set out to create a kayak that could be customized for nearly any purpose imaginable.
That is precisely what they did! With a NuCanoe, the top priority is customization and their models are essentially blank slates that allow the kayak fishing aficionado the ultimate flexibility to design a setup that suits their specific needs.
Their line includes seven different kayak models and all of them are compatible with a variety of propulsion solutions. That includes electric trolling motors, outboard motors, bow mount motors, pivot pedal-drive systems, their patented Torqeedo motor, and a traditional kayak paddle.
They also offer several different seat designs and kits that allow you to easily adapt, strengthen, or replace missing parts on your kayak's original seat. You won't need to buy a whole new seat if you come up missing a single screw somewhere!
Final Thoughts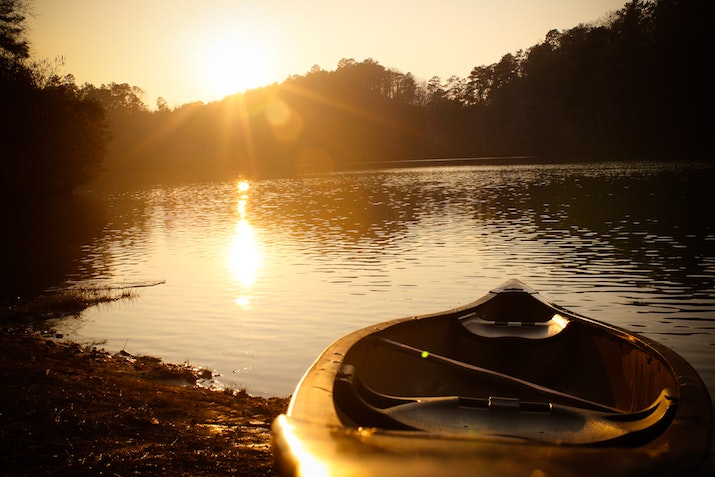 Photo by Joshua Bedford on Unsplash
These are the 15 best kayak brands in 2021 for a reason. They all make great kayaks designed for a wide variety of paddling types and paddler skill levels.
That's why we've had such a hard time picking a single brand as our top pick for 2021's best kayak brand. Instead, however, we wanted to offer you a few insights on brands that we did notice tend to provide better kayaks for certain types of paddling.
So, here's a quick rundown of our choices:
Hope that helps! As always, we wish you the best of luck on all of your upcoming paddle adventures and we would love to hear where you're paddling this season!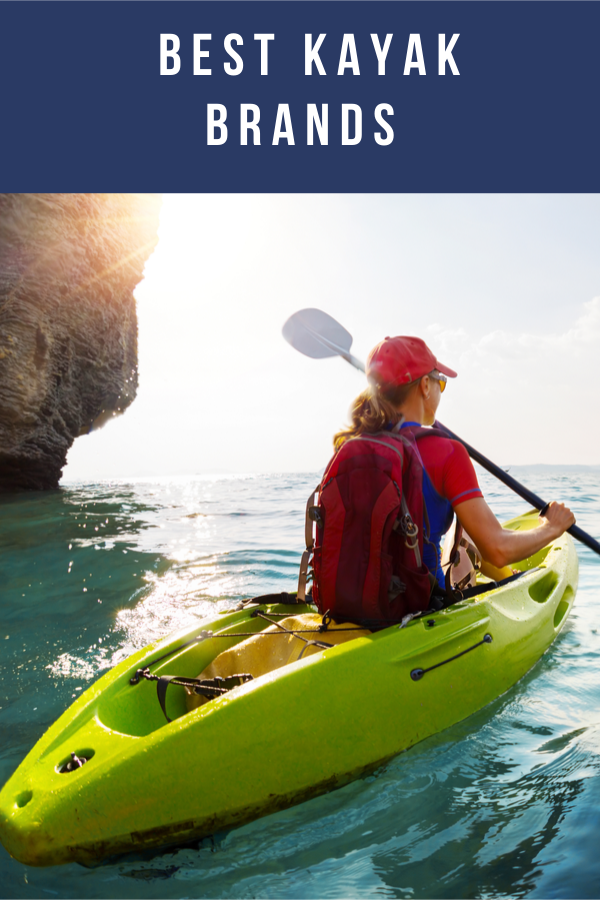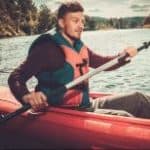 Author: Peter Salisbury
Pete is the Owner of KayakHelp.com. Born and raised in Cleveland, Ohio, he grew up kayaking, fishing, sailing, and partaking in outdoor adventures around the Great Lakes. When he's not out on the water, you can find him skiing in the mountains, reading his favorite books, and spending time with his family.