We have previously covered plans for plywood kayaks and PDFs to help you build your own boat. Today, we are going to highlight 15 free canoe plans you can build this week along with PDF building guides for each.
A canoe build is a great off-season project for those of you that are wrapping up your regular paddling season. We hope that the plans we have compiled here will get you excited to build a canoe that will impress everyone when the weather warms up again!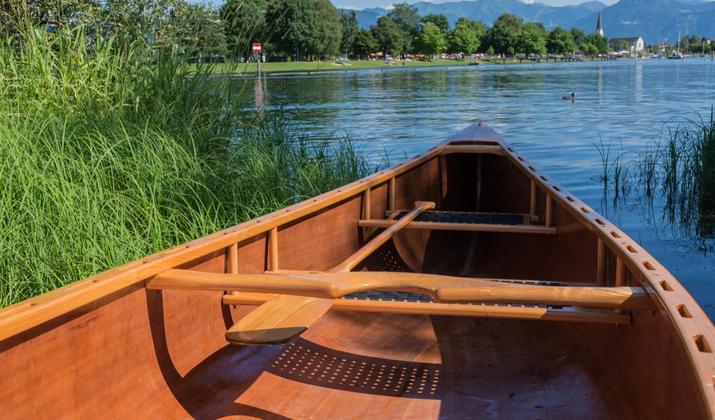 Photo by Dietmar Mischi via Shutterstock
Free Canoe Plans You Can Build This Week
The Redwood Canoe
The Pintail Canoe
The Little Thief Canoe
The Bateau Canoe
The Coast Salish Style Canoe
The St. Francis 2-Fathom Canoe
The Hudson's Bay Company North Canoe
The Beothuk Canoe
The Glide Easy Canoe
The Junior Canvas Canoe
The Bluebill Canoe
The Skin-on-Frame Canoe
The Gorewood One-Sheet Canoe
The EasyB Canoe
The Cinderella Canoe
Quick Canoe Building Tips
Photo by KellyLT via Shutterstock
Before you select your favorite free canoe PDF plan from our list below, here are a few quick tips that anyone seeking to build their own canoe can benefit from.
If you want to increase the abrasion resistance of your canoe, you can essentially wrap the bottom of your canoe in polyester fabric and then set it in place using epoxy. Polyester fabric is more abrasion-resistant than fiberglass fabric, but it is a little harder to work with than glass fabric.
It helps to start from the center and work your way towards the bow or stern when aligning the sides and bottom of your canoe. This will reduce the likelihood of your canoe coming out looking lopsided.
Because you probably won't use a building form, your measurements and cuts must be very accurate. Measure twice (or even three times) to make sure the cuts that follow are precise.
Use plastic wire ties (or whatever is recommended by the plan you choose) to hold the shape of the canoe in place while you apply glue and then allow it to dry.
Before applying glue, place a few two-by-fours across the top of your canoe to make sure they are in the same plane. If not, it means your canoe is slightly twisted and you will want to correct this before gluing.
If epoxy hardens on any of your tools, you can either soak the tools in vinegar or boiling water for roughly 30 minutes to soften the epoxy enough for you to remove it.
Free Canoe Plans You Can Build This Week (with PDFs)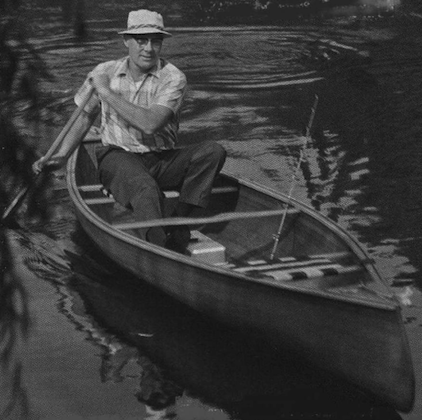 PC DIY Wood Boat
Available Canoe Specifications
Length: 16'
Beam: 36"
Weight: 74 pounds
The Redwood canoe requires redwood strips to build properly, but it is going to result in one of the most beautiful canoes on our list. The plan below is based on a lie-flat canoe building process that is relatively simple for even amateur builders to follow.
This build does require you to build forms as the first step, but that will make the rest of the process much easier. The builder says that they put this plan together over the course of three weekends, but you would theoretically be able to complete it in a week if you worked on it full-time.
The plan includes two seats, so this canoe build is feasible for tandem paddlers. One important tip that the builder offers is to start your build by placing the form templates on kayak stands or sawhorses because it will raise the canoe up to a more manageable height for the rest of your build.

PC DIY Wood Boat
Available Canoe Specifications
Length: 10'
Beam: 40"
Weight: 75 pounds
The Pintail is one of the most compact canoe designs on our list and is one of the few that is suitable to be loaded and carried on top of a vehicle. It is also a super maneuverable vessel for duck hunting and fishing on small ponds and narrow creeks.
The smaller dimensions also make it a good canoe for kids or smaller adults. The design features a basic plywood exterior finished over a stressed wooden framework.
The canoe's convex bottom makes it very strong and durable for shallow water paddling. If you follow the plan, the bottom can also be applied in a single piece, which makes for an easier build and also minimizes the dangers that come with having a sealed seam on the bottom of your canoe.

PC DIY Wood Boat
Available Canoe Specifications
The Little Chief canoe plan is a cool option if you are interested in something that you can either paddle or adapt to equip with a small outboard motor or trolling motor. Of course, you will need to make this decision before you begin your build because it will change how you shape the stern.
The builder suggests beginning with drawing out full-sized paper patterns of the mold frames and stems. Save yourself some time by folding your paper in half and drawing on one side and then you can transfer the outline and unfold it to reveal your complete pattern.
From there, you will place the material you will use for the mold frame and stems onto your patterns. Notch the material for the keel and then cut it to shape before mounting everything to sawhorses to set yourself up for the rest of your build.

PC Boat Plans Online
Available Canoe Specifications
Length: 13'5"
Beam: 30"
Depth: 12"
This canoe comes with one of the most detailed plans of any of the designs we tracked down for this list. It is built by cutting various plywood panels and then folding them together and securing them with duct tape initially.
Fiberglass seams must be built inside the canoe and it is then flipped over and it calls for using fiberglass tape to seal the outside seams. Then, install a seat to reinforce the middle of the canoe and install two small breasthooks and a rubrail along the edges.
An epoxy coat and paint is the final step in this relatively simple canoe build. If you don't trust the longevity of duct tape, consider using Gorilla tape or upgrading even further by using one of the best glues for outfitting to seal the panels together.

PC Paddling Light
Available Canoe Specifications
Length: 27'6"
Beam: 43"
Draft: 8.4"
Displacement: 1000 pounds
The Coast Salish style canoe is a build for more serious kayak enthusiasts that need a vessel that can handle multiple paddlers. The origins of this canoe trace their roots back to original models that were used by native tribes to navigate inland seas.
The intriguing flare along the sheerline is arguably its most unique design feature. While it looks really nice, the design has a functional purpose as well, which is to keep the canoe from skipping waves while still maintaining speed with a narrow hull.
It was also a very useful canoe for hunting due to the cutwater extending below the keel. This increases the canoe's tracking ability while also allowing it to travel more quietly than most others.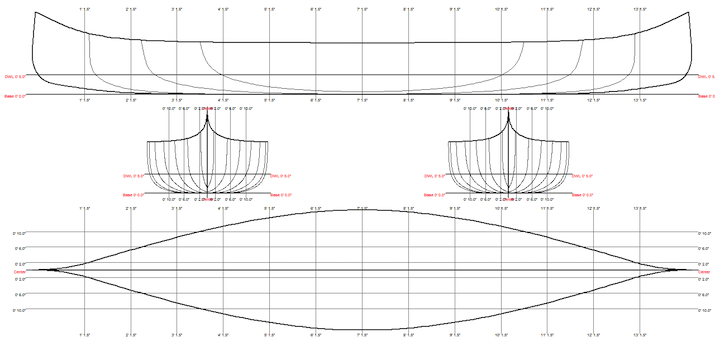 PC Paddling Light
Available Canoe Specifications
Length: 14'3"
Beam: 31.2"
Depth: 13.8"
Weight Capacity: 700 pounds
The St. Francis 2-Fathom canoe features a late-19th century design with higher ends that are reminiscent of Viking culture. At one time, they were widespread and served as the standard canoe model for hunting and fishing in Quebec.
In fact, the popularity of this canoe design actually forced some of the other tribes producing canoes in the area to adopt the design in order to keep up with the demand for this particular canoe.
The length of this canoe makes it suitable for either a single paddler or a tandem and it keeps it very maneuverable. It also boasts graceful curves and a flat bottom that are bound to turn heads in canoe meccas like the Boundary Waters.
The St. Francis 2-Fathom Canoe
PC Paddling Light
Available Canoe Specifications
Length: 29'11"
Beam: 59"
Depth: 26"
Weight Capacity at 8.5-inch Waterline: 2406 pounds
Here we have another super-long canoe build that is great for multiple paddlers and long-distance trips. The North canoe also has a super high weight capacity, which will allow you to pack plenty of gear for multi-day trips.
That was actually the original purpose of this canoe design, as it was primarily used to transport goods into the American interior after it was first created. Today, it would be a great build for long-distance canoe camping excursions.
It features a super deep freeboard that allows it to sit lower without taking on water when loaded down with lots of weight. Some of its other notable design features include flared sides at the center of the canoe and a high bow.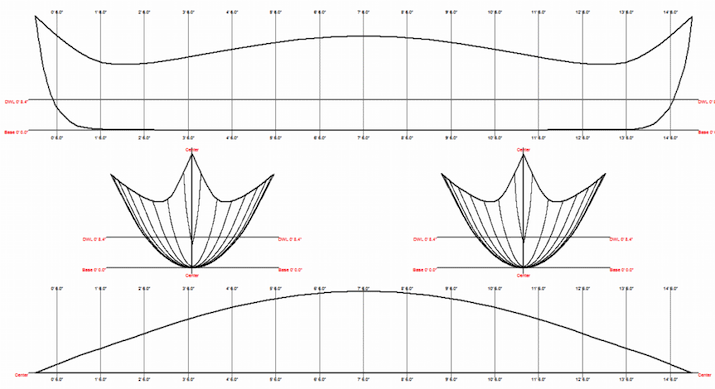 PC Paddling Light
Available Canoe Specifications
Length: 15'
Beam: 43.5"
Draft: 8"
Displacement: 625 pounds
The Beothuk canoe is one of the rarest canoe plans out there, but it has a unique quality that other models don't have. This canoe design can be flipped over to create a waterproof shelter with a full three feet of head clearance when you climb underneath.
Traditionally, this made it a great canoe for hunting parties on long trips during the rainy season. The canoe's ability to heel over further on the water than most other canoes also suggests that it may have been historically used for open water navigation.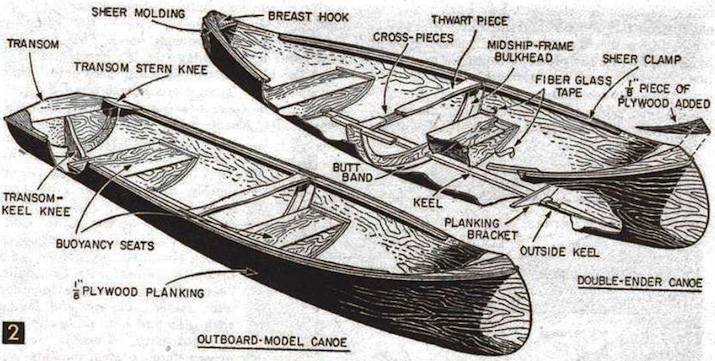 PC Boat Builder Central
Available Canoe Specifications
Length: 15'
Beam: 36"
Depth: 12"
Weight: 75 pounds
As you can see from the image above, the Glide Easy canoe plan actually includes instructions for building either a double-ender canoe or a model that can support a small outboard or electric trolling motor.
Both designs feature built-in air chambers that provide extra buoyancy. The result is a canoe that is virtually unsinkable while still being reasonably lightweight and easily maneuverable.
This canoe is still light and compact enough to be strapped to the top of a vehicle with or without roof racks. The construction plan calls for shaping 1/8th-of-an-inch plywood around a single frame and finishing with a fiberglass covering.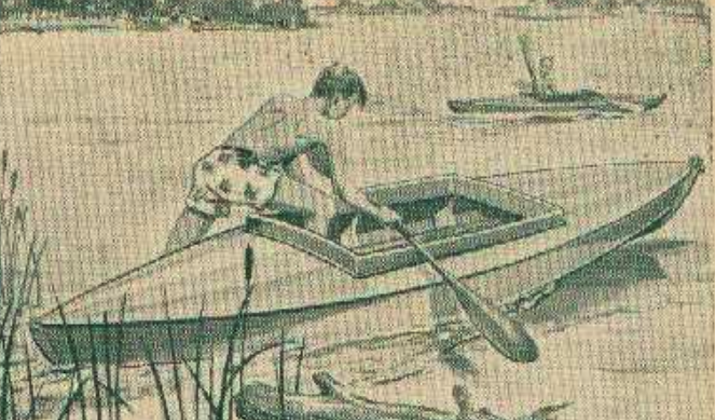 PC Boat Builder Central
Available Canoe Specifications
This is the best canoe plan on our list for kids or young adults. The more enclosed design that you see makes it appear more like a kayak, but it is designed to be more stable for beginners and good for learning how to navigate with a single-bladed canoe paddle.
The plan claims that this canoe plan is best for building a craft for kids from six to 12 years old, but you can scale the design up to create an adult-friendly canoe as well. You will simply need to increase the distance between the frames and use heavier battens while retaining the same canoe width.
The bill of materials calls for using spruce, pine, cedar, hardwood, and waterproof plywood for the various elements of the canoe. It also suggests creating a false bottom with redwood or cypress for a beautiful finished look.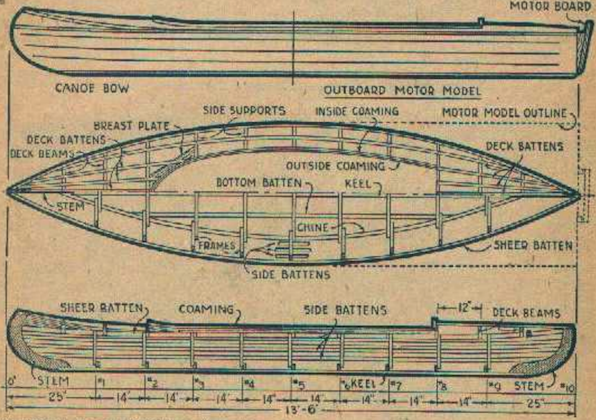 PC Boat Builder Central
Available Canoe Specifications
Length: 13'6"
Beam: 38"
Depth: 12"
Weight: 75 pounds
The Bluebill canoe is one of the most adaptable canoe plans on our list, but it is ideally suited for paddling on sheltered waterways. That said, it can be used for waterfowl hunting, fishing, or recreational canoeing.
It can even be equipped with a small outboard motor with a maximum of five horsepower for more expedient travel. The capacity to fit up to three adult passengers in this canoe is also a benefit for fishing buddies or young families.
The construction calls for the creation of a wood frame and a canvas covering with a flat bottom and knuckle joints holding the various frame parts together. The fact that it is finished with a canvas covering helps to reduce the overall build time for this canoe.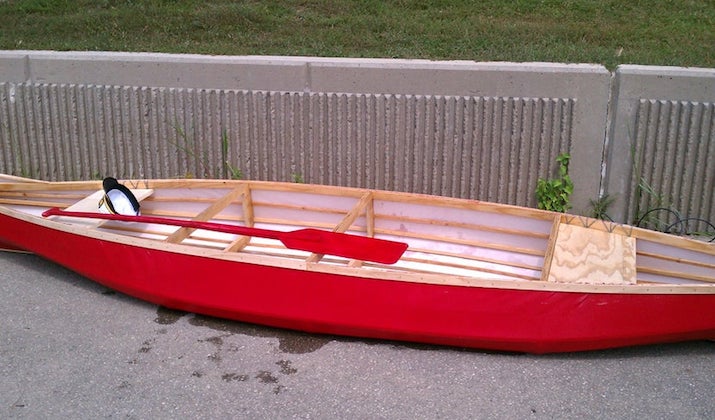 PC Instructables
Available Canoe Specifications
The plan for this Skin-on-Frame canoe is one of the most modernized and complete plans you will find out there. The builder takes you through his construction process step-by-step and also provides some "things I would do differently if starting over" at the conclusion of the plan.
Among the various types of canoe plans, the skin-on-frame design is one of the easiest for amateur builders. It also happens to be one of the most cost-effective canoe plan options for those of you working on a tight budget.
If you are worried about the durability of this design type, consider that it was widely used in the creation of most WWI-era aircraft before other materials became more affordable and new construction methods were developed.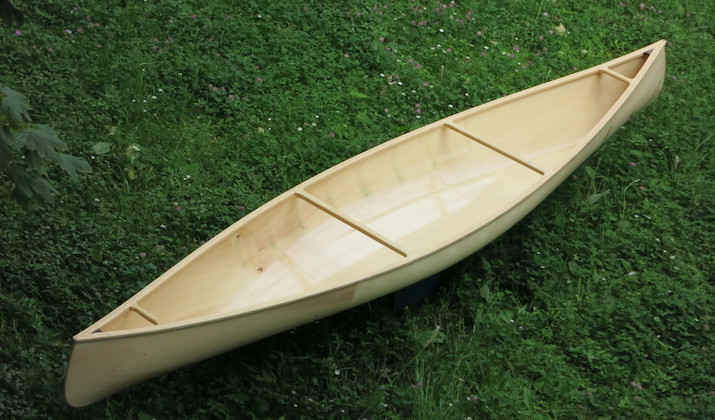 PC Flo-Mo
Available Canoe Specifications
Length: 12'1"
Beam: 27.5"
Depth: 14.2"
Draft: 3.66"
Displacement: 198.42 pounds
Weight: 22.05 pounds
For its size, this is easily one of the most lightweight canoes you will be able to build on your own. That is primarily the result of the single sheet of lightweight poplar plywood that is required for this build.
This canoe plan is great for experienced canoe builders looking to create a lighter craft than what you can mostly find online. It will require some experience to cut and shape, but the abundance of drawings and cutting sequence suggestions below will help you get there.
Click here to check out the free PDF plan for this canoe! You may also find this PDF of the cutting sequence and alignment, as well as the bow and stern template useful for this build.

PC Duckworks Boat Builders Supply
Available Canoe Specifications
Length: 12' and 14' versions
The EasyB free canoe plan offers you the ability to select a 12-foot or a 14-foot canoe depending on your preference. Both are meant for a single paddler, but the plans can be adapted if you need to include a second seat.
The resulting canoe that you will create from this plan will be versatile and maneuverable. It is a great plan for a winter canoe building project if you are retired (or semi-retired) and need something to keep you busy during the off-season.
Here are a few additional links to PDFs that will be helpful when constructing this canoe: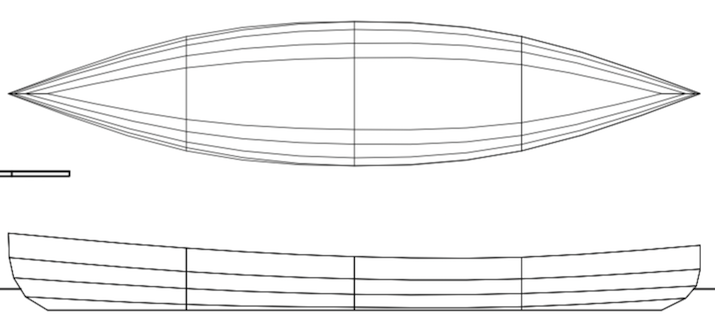 PC Duckworks Boat Builders Supply
Available Canoe Specifications
The Cinderella canoe plan utilizes a stitch-and-glue canoe construction method that is simple to execute and will result in a sleek but elegant final product. The canoe design features a flat bottom with rounded sides and gives you a number of options for the exterior finish material.
This plan also includes several time-saving tips directly from the builder, which will reduce your overall build time and also help you create this canoe on a minimal budget. The plan calls for water-resistant ¾-inch hardwood (oak, maple, hickory, etc.) for the exterior and the same size of softwood (pine, cedar, redwood, etc.) for the interior.
The Cinderella Canoe Plus, you might also want to check out some additional Cinderella notes.
Final Thoughts
Photo by Vineyard Perspective via Shutterstock
As you embark on your canoe-building adventure, don't hesitate to seek assistance if you get hung up on the details. Most of these canoe plans will guide you through the process step-by-step, but there is also no shame in seeking the help of a professional if you are struggling.
Building your own canoe is also a great project to do with your son, daughter, partner, friend, or anyone else. More hands make lighter work and they will also allow you to finish your canoe build quicker.
Also, if you weren't quite overjoyed with any of the canoe plans we presented above and you are willing to pay for more detailed plans, we highly recommend checking out the paid plans available from Ashes Stillwater Boats!
We hope you have enjoyed this collection of free canoe plans you can build this week and we wish you the best of luck with your own canoe build!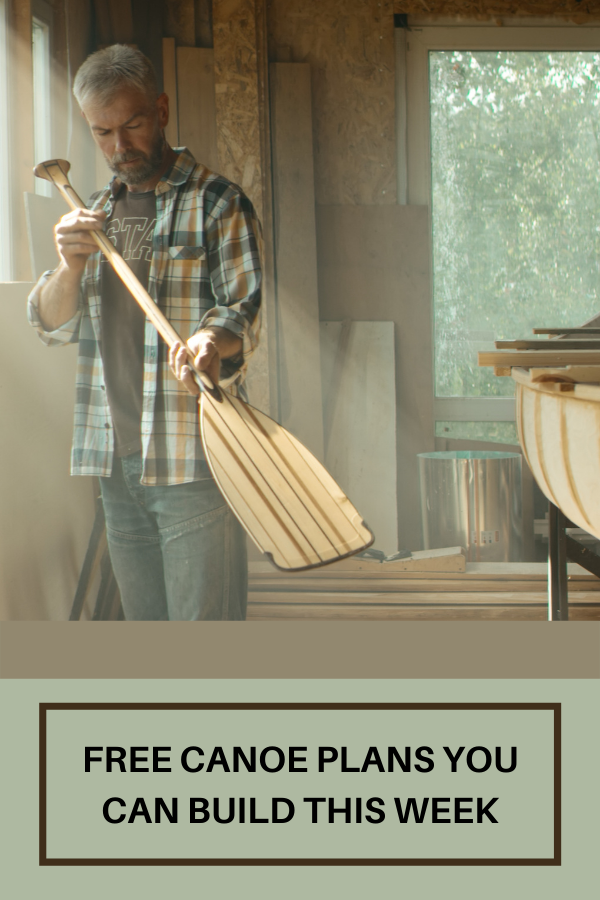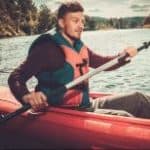 Author: Peter Salisbury
Pete is the Owner of KayakHelp.com. Born and raised in Cleveland, Ohio, he grew up kayaking, fishing, sailing, and partaking in outdoor adventures around the Great Lakes. When he's not out on the water, you can find him skiing in the mountains, reading his favorite books, and spending time with his family.