Are you looking for the best sit on top kayak?
There are many types of kayaks, but the sit on top or SOT is now very much in demand both from newcomers to long time kayakers owing to their versatility.
If you have never bought a kayak before, you may get confused with all the options. There are thousands of customer reviews online, but you don't have time for all that so I've done the work for you.
I have years of experience with sit on top kayaks, and I put that to good use while reviewing the following kayaks.
Best Sit on top kayaks
Lifetime 90806 Tamarack Angler 100 Fishing Kayak - 2 Pack (Paddles Included)
INTEX 68307EP Explorer K2 Inflatable Kayak Set: Includes Deluxe 86in Aluminum Oars and High-Output Pump – SuperStrong PVC – Adjustable Seats with Backrest – 2-Person – 400lb Weight Capacity , Yellow
Sun Dolphin Journey 10 SS Sit on Top Kayak, 1 Person Fishing Kayak for Adults, Recreational Kayak with Portable Accessory Carrier & 1 Paddle, Carries Weight Up to 250 lbs (Olive-10ft)
Lifetime 90806 Tamarack Angler 100 Fishing Kayak - 2 Pack (Paddles Included)
INTEX 68307EP Explorer K2 Inflatable Kayak Set: Includes Deluxe 86in Aluminum Oars and High-Output Pump – SuperStrong PVC – Adjustable Seats with Backrest – 2-Person – 400lb Weight Capacity , Yellow
Sun Dolphin Journey 10 SS Sit on Top Kayak, 1 Person Fishing Kayak for Adults, Recreational Kayak with Portable Accessory Carrier & 1 Paddle, Carries Weight Up to 250 lbs (Olive-10ft)
Sit On Top Kayak Buying Guide
Advantages of a Sit On Top Kayak
There are many types of kayaks, but the sit on top has become the most popular for many reasons. A sit on top kayak has the same hull shape as other kayaks, but you sit on a molded depression rather than being in the vessel.
Most are constructed from durable, molded plastic, but there are some made of fiberglass.
Among its benefits are the following:
Affordable:

since they're made of strong but low cost plastic, these kayaks are sold at affordable prices.

Versatile:

 Can be used for fishing, touring, camping, scuba diving and other activities.

Comfortable:

A sit on top is more comfortable compared to a sit inside kayak. Those with long legs, large bodies or limited movement may find sit insides too constricting.

Safety:

Because of its open deck design, there is less chance you'll get trapped in case the kayak tips over.

Customizable:

There are sit on tops designed specifically for beginners, and some can even be customized for special or custom use.

Speci

al Features

:

Sit on tops have special features so they're more comfortable and easy to use, and they offer gear storage, rudder and scupper holes. These scupper holes are found in the tank well, foot well and cockpit and used to drain water out.
Factors to Consider When Buying
Kayaks may look the same but their features differ, and your choice depends on how you intend to use the kayak.
Weight Capacity:

kids' kayaks usually have a weight limit of 130 lbs. while those for a single adult is around 250 lbs. Family sized kayaks (good for two adults and a child) have a capacity of 375 to 475 lbs. or more. Even if you're kayaking solo, an extra-large kayak is useful if you carry a lot of gear.

Cockpit:

the best sit on top kayak has an open cockpit design as it makes getting in and out of the kayak easier.

Material Used to Construct Kayak

: look for one made of high density Polyethylene and UV protection. There are also kayaks made from other materials, but for beginners and most riders, polyethylene will do.

Handling:

the paddle should be durable and easy to use. Getting the kayak to go where you want is critical for beginners, so don't overlook handling.

Safety:

the design of sit on top kayaks make them safer than other kayaks, but look for extra safety features like drainage and puncture resistant material.

Stability:

as long as the kayak is well constructed, it should not tip over easily. While stability is important for kids' kayaks, for adults it is less so as you'll learn the art of balancing soon enough.

Speed:

a speedy kayak is actually to your advantage if the elements are getting a bit harsh. The longer the kayak, the faster it goes.

Degree of Comfort:

the seats have to be padded and adjustable. The footrest has to be adjustable to accommodate riders of varying heights.

Setup:

sit on tops just need to be inflated, but the time it takes to do this varies widely. Ideally it shouldn't take more than 5 minutes. Keep in mind the seat may require additional setup too.
Also Read: Pelican Kayaks Review
Best Sit on Top Kayak Reviews
Check Price on Amazon
The Muskie Angler is built with durability in mind. It is made out of high density polyethylene and has chine rails for stability. A closer inspection also reveals the kayak has deep hull tracking channels, and the T-handles on the front and back make transportation easy.
The Muskie also comes with paddle cradles and compartments at the center and back. There are also cord straps on the rear and front as well as a couple of flush mounted fishing rod holders.
The padded seat is adjustable and the flat bottom is stable. I also like that the Muskie Angler offers multiple foot rest positions.
PROS
CONS
Summary:
With a 275 lb. capacity, the Muskie Angler is more than capable of handling the needs of most anglers. Like a good sit on top kayak, the Muskie is designed to make fishing and long paddling comfortable.
If you're looking for a kayak that satisfies the needs of anglers, check this out.
Check Out: Pelican vs Lifetime Kayaks
Check Price on Amazon
The Intex Explorer K2
is built for mild rivers and lakes. Made from puncture proof vinyl, the kayak nevertheless comes with a repair kit in case of an emergency.
There are two air chambers and the I-beam floor is inflatable for extra rigidity. The skeg is removable for stability and it uses Boston valves for rapid inflation and deflation.
The K2 has a sporty, streamlined appearance which makes paddling easy. While it's built for durability the K2 manages to be compact and lightweight.
There is some assembly required but it shouldn't take long. Because of its solid I-beam, the floor is more stable compared to other kayaks.
PROS
CONS
Summary:
The K2 is for those who want a durable kayak that doesn't compromise directional stability. The comfortable seats and backrests are also nice and the rapid inflating and deflating make the kayak even more attractive.
Lastly I want to add that the repair patch kit is really useful.
Check Price on Amazon
The Sun Dolphin Journey comes with a swivel and flush mount rod holders, and it has a comfortable seat. Designed for beginners, the Journey is designed for fishing and general all-around kayaking, with emphasis on stability.
The open cockpit makes getting into the kayak easy, and it is stable too.
The Journey can handle the needs of a novice angler and the rod holders ensure you'll always be ready. The padded seat means you can remain comfortable even for long stretches.
Shock cord deck rigging is bundled with the product and the storage compartment gives you space for your stuff.
PROS
CONS
Summary:
The Journey is ideal for beginners, and this 1 person kayak is built to last with its polyethylene construction. Its weight capacity of 250 lbs. is fine for most people, and there's a limited lifetime warranty as well.
If you're new to kayaking you don't need a fancy rig anyway, just a practical one. In this case the Journey is ideal.
Check Price on Amazon
If you're looking for the
best inflatable tandem kayak
, the Ocean Kayak is as good a choice as any.
Designed for family use, the kayak has a maximum weight capacity of 375 to 425 lbs. and has room for two adults and one child. The Malibu design hasn't been changed much the past 20 years, and that's a good thing because it works.
The seating design allows for solo paddling or with company, and the seats are built for comfort. The area is spacious too, and the hull and deck design makes stacking convenient for several hulls.
Other features include a skid plate, molded-in handles, foot wells and gear straps.
PROS
CONS
Summary:
The Malibu is one of the most popular family kayaks today and with good reason. It's perfect for a family of three, or for kayaking with a friend.
Yet it is flexible enough for even a solo kayaking adventure. Its solid design and versatile makes it a good choice not just for families but anyone looking for a quality kayak.
Check Price on Amazon
If you're looking for a way to get your kid started on kayaking, you may want to try the Youth Kayak. With a capacity of 130 lbs. the kayak is ideal for children 5 years and older.
The kayak is solidly built and the paddle is well-designed too. There is a swim up step included and a reverse chine for better stability.
The Youth Wave is designed with both fun and safety in mind. This 6 ft. kayak may be compact, but the construction means it's very difficult to tip over.
It is made of plastic, blow molded and in one piece. For extra safety there is no hardware protruding and there are footrests for better functionality.
PROS
CONS
Summary:
The Youth Wave offers a fun and safe way to introduce your kid to the world of kayaking. It has been designed for kids, with soft contours and convenient deck climbing.
The footrest can be adjusted to suit kids of different sizes and there are also scupper drains for draining of water in the cockpit.
Check Price on Amazon
The Youth Wave Kayak is designed specifically for kids at least 5 years old, and with a 130 lb. capacity can handle most kids. Like other Lifetime Youth kayaks, it has reverse chine for stability.
The footrest position is adjustable to suit various size riders, and has molded finger handles for quick transport.
The kayak weighs only 18 lbs. so it's easy to carry, and the swim up step simplifies getting on the kayak. The Youth kayak also has a wide stance, making it more stable than others and ensuring your child's safety. There are also scupper holes for cockpit draining.
PROS
CONS
Summary:
The Youth is a well-designed kayak for recreational use. There are a lot of kids' kayaks, but few offer the kind of features that this kayak does.
If your child has never tried kayaking before, now is as good a time as any and the Youth kayak will do it for you. Easy to use, stable and high quality, this is cool kayak for kids.
With a weight capacity of 240 lbs. the Spitfire is built for performance and stability. It is constructed from blow molded high-density polyethylene plastic with UV protection.
The hull is durable and comes with a 5 year warranty, and the foot wells are secure and comfortable.
The high density polyethylene Spitfire provides stability and superior performance, and it's easy enough for new kayakers to use. The hull is especially well-designed and provides good tracking and speed, two areas where beginners' kayaks often fall short. It even has a tank well and net.
PROS
CONS
Summary:
The Spitfire is an all-around kayak that's both powerful and user friendly. When it comes to kayaks, you look for specific qualities such as affordability, stability and performance.
All are present here, and it doesn't sacrifice comfort or stability. With its high capacity and volume, the Spitfire makes for an enjoyable kayak.
The Sevylor has a lot going for it, not the least of which is it takes just five minutes to set up. The kayak is just as easy to deflate, and you can turn the backpack into the kayak's seat.
Once set up you can use the Sevylor for as long as you like thanks to its 21 gauge PVC construction.
Built mainly for use in lakes, the Sevylor comes with the proprietary Double Lock valves for quick deflation and inflation. Its Airtight System also ensures the kayak doesn't leak when you use it.
There are also several air chambers which allow the kayak to stay afloat if there's a puncture.
PROS
CONS
Summary:
The Sevylor is for those who want their kayaks easy to set up. If you're new to kayaking this will get you started quickly and avoid frustration.
Even longtime enthusiasts are going to appreciate how easy it is to get the kayak up and ready. Lastly, the storage system is very accessible.
The Bali SS is one of the better kayaks available, emphasizing ease of use without compromising stability. Its seating area is comfortable and large, plus there are thigh pad protectors built in.
A close look shows there's a paddle holder for your convenience and adjustable foot braces.
The Bali SS has an open cockpit design for quick entry and there's a storage compartment included. Its P.A.C. (portable accessory carrier) can also be used for storage, making it ideal for rivers and lakes.
Constructed from Fortiflex High Density Polyethylene, the Bali SS is UV stabilized as well.
PROS
CONS
Summary:
The Bali SS is another excellent kayak for first timers, but it's also for long time kayakers who spend most of their time in quiet waters. It is stable, easy to paddle and provides optimum stability.
I also want to add the Bali SS is lightweight, making transportation easy.
Sit On Top Kayak for Fishing
Keep in mind some kayaks are built for specific purposes, and that should make it easier for you to make the right decision. Sit On Top Fishing kayaks do exist!
Although it's true that you can use any kayak for fishing, most manufacturers have angler models apart from the standard models they have.
If you're going to buy a sit on top kayak for angling, look for one with rod holders and other features you'll need. While you can outfit any kayak for the task, it's more convenient if these accessories are already built in.
Another advantage of these fishing kayaks is they have extra storage and more stable.
Sit On Top Kayak for Scuba Diving
Look for a kayak with tank well or cargo well. If it has a hatch with enough space for a tank, that's a good option too. Capacity is crucial so make certain the kayak offers enough room for your gear. Storage space is especially important for your snorkel, fins and mask. If you're going snorkeling, any sit on top kayak will suffice.
Sit On Top for Touring
Touring means covering a vast distance so look for a sleek kayak with lots of space. A typical sit on top may not have the space for this.
In that case, get a heavy duty sit on top that offers as much cargo space as possible. If you're going on an expedition, a long hull kayak with a large hatch is necessary.
Kayaking Solo vs. Kayaking with Company
Are you going to paddle solo, with a companion, your pet or a child? This is another factor that you need to consider because it makes a huge difference.
If you're going to do it solo, get a kayak that's built for a single individual. Yes, a two person kayak does provide extra space, but it may be difficult to paddle.
If you're going to paddle with a friend, get a tandem kayak. They're bulky, but the comfort the two of you will experience is worth it. Since they're not as portable as a solo kayak, the two of you have to do the lifting.
Kayaking for Adventure and Exercise
If you're just looking for a kayak to go on an adventure, any durable type will do. Look for powerful, durable sit on tops if your goal is ocean surfing or white water.
If you're headed out into the wilderness and want to just explore, a large sit on top or touring kayak will do fine.
If your goal is to exercise, then any kayak should do. A slow moving kayak requires more paddling effort, so that's good for you. But if you're preparing for a competition or want to race, get a streamlined, speedy kayak instead.
Testing a Kayak
Test drive any kayak in safe waters before taking it out. S
ome showrooms allow you to sit on the kayak and determine if the seat is comfortable. Use this opportunity also to check if there's enough leg room and if the foot rest is adjustable.
Conclusion
Kayaking has become a top leisure activity, with campers, water enthusiasts, surfers and thrill seekers all enjoying what it has to offer. Even if you don't have any experience, there are kayaks designed for newcomers like yourself.
Competition has brought the price down and they're easier than ever to use.
My wish is that this best sit on top kayak guide and reviews is able to help you find the right one for you. You can choose any of the kayaks listed here, or use the guide to help you find the one you like. Either way, good luck and have fun!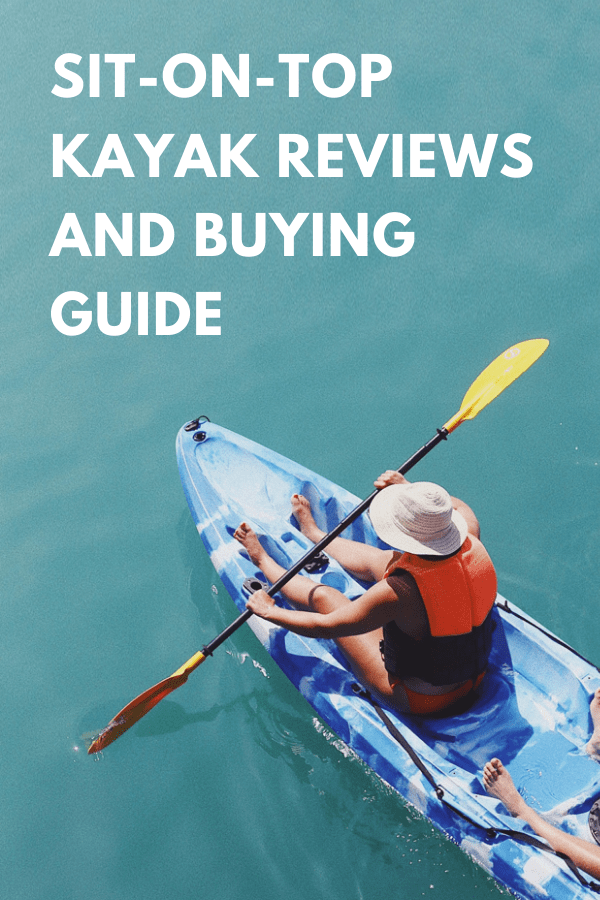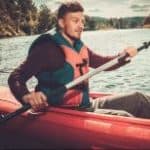 Author: Peter Salisbury
Pete is the Owner of KayakHelp.com. Born and raised in Cleveland, Ohio, he grew up kayaking, fishing, sailing, and partaking in outdoor adventures around the Great Lakes. When he's not out on the water, you can find him skiing in the mountains, reading his favorite books, and spending time with his family.