The Potomac Pathfinder 100 kayak was originally made by Pelican International. Although the company ceased production on this specific kayak model back in 2010-2011, there are still plenty of them circulating in the used marketplace.
That begs the question, is it any good? Should you consider buying a used Potomac kayak if you find a good deal on a used model?
In this Potomac kayak review, we are going to cover all of the specifications and features of this discontinued kayak model. At the end of it all, we will answer those questions and we will also provide at least one example for a modern-day kayak that compares well with the Potomac Pathfinder.
So let's get right into it!
Also Read: Pelican vs Lifetime Kayaks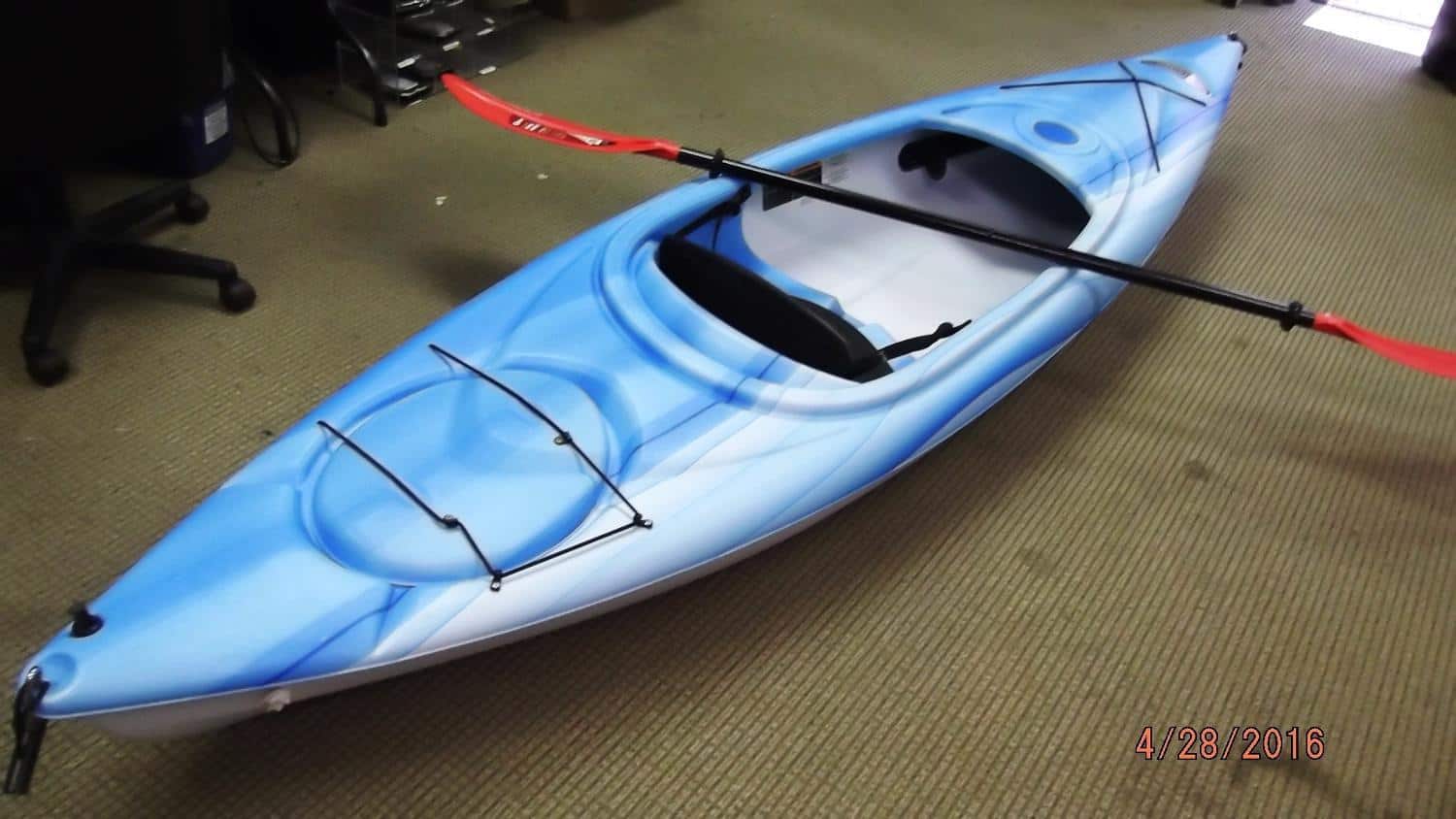 Potomac Kayak Review
In its heyday, the Pelican Potomac Pathfinder 100 was a solid, budget-friendly kayak. It is a sit-inside kayak designed mostly for recreational use on flat water. That includes slow-moving rivers, lakes, and even protected coastal waterways.
It wasn't jam-packed with an excessive amount of bells and whistles, but it was one of the lightest kayaks on the market back in the day.
That made it an attractive option for smaller paddlers or folks that were sick of lugging around a heavy kayak. Plus, it featured a flush-mounted fishing rod holder and plenty of storage space in bow and stern compartments.
To be clear, most of Pelican's kayaks have always been some of the lightest options on the market. So if you are looking for a kayak that you don't have to break your back (or invest in one of the best kayak carts) to move around, we'd suggest reading further!
Potomac Kayak Specifications
Here's a quick snapshot of the basic specifications of the Potomac kayak:
Length: 10 feet
Width: 28 inches
Height: 14 inches
Weight: 36 pounds
Weight Capacity: 275 pounds
Trust me, you might want to note these specifications for future comparisons. For now, however, let's move on to the Potomac kayak's features!
Potomac Kayak Features
Now, let's get down to brass tacks and break down all of the specific features of the Potomac kayak and how they impact its use, comfort, and performance.
Shallow V-Chine Hull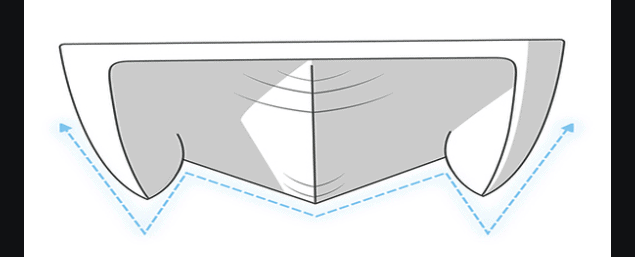 Pelican has since upgraded the hull design of some of their smaller kayaks to provide even more stability. Their newer versions of the Potomac kayak include a twin-arched, multi-chine hull.
That said, this hull design still provides excellent stability for smaller paddlers and young adults. Just don't expect to set any speed records in this kayak because the shallow nature of the hull means that there isn't much to help you track straight.
This kayak will really force you to master your corrective paddle strokes to keep it going the direction you want it to go. In comparison to some of the cheaper inflatable kayaks out there though, this kayak certainly won't be the worst tracking boat on the water.
Adjustable Footbraces
Inside the cockpit, you will find adjustable footbraces on either sidewall. As a quick aside, if the used Potomac kayak you are interested in has one or two footbraces missing or broken, we'd highly encourage you to do a bit more searching.
These footbraces are critical to helping you maintain an ergonomic paddling position when you are learning the basics of kayaking. By having your knees slightly bent and pushing into the leg on the same side you are pulling on with the blade of your paddle, you can use your lower body and core to supply more power to your paddle strokes.
Ultimately, the Potomac kayak won't be your forever kayak once you master this technique and you really want to see what kind of speeds you can attain on the water. It will, however, give you the tools to practice.
In addition, adjustable footbraces are always a nice inclusion for any recreational kayak. They can easily be adjusted to accommodate paddlers of varying heights and they provide a more custom fit than molded-in footrests.
Adjustable Backrest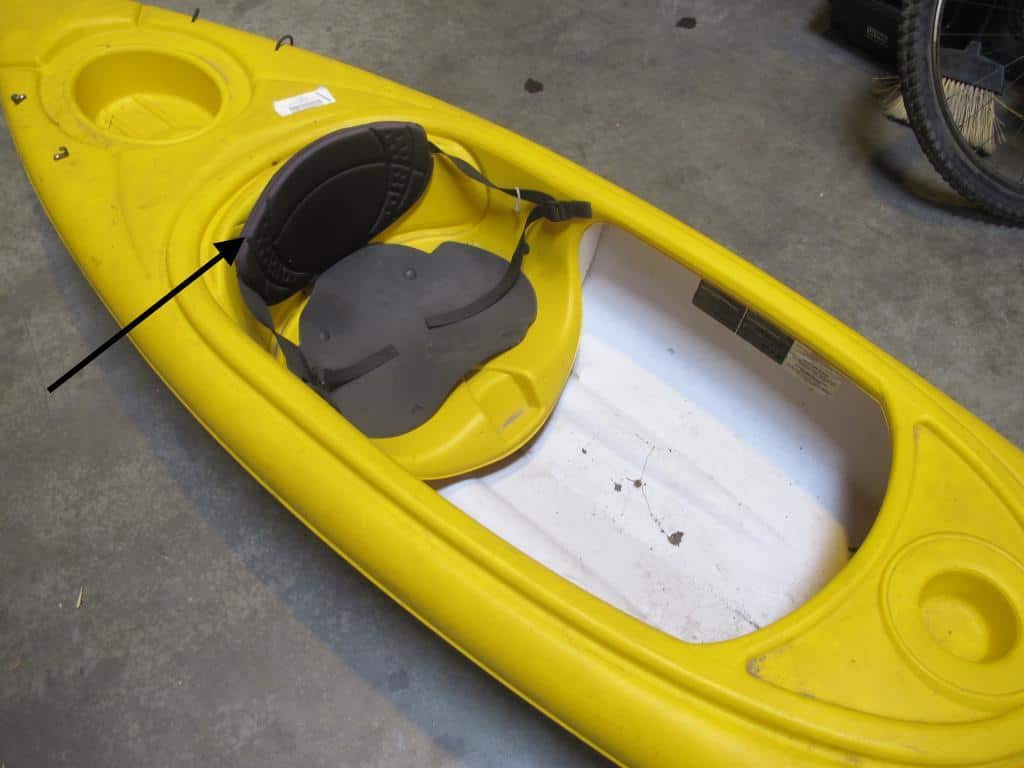 The Potomac also features a low-profile backrest that can be adjusted using two straps. These straps will be located at your hips when you are sitting in the cockpit of the kayak.
This backrest is made primarily for lumbar support, but it won't do much for the upper portion of your back. Again, this kayak will force you to sit upright and engage your core muscles as you work on your paddling technique.
While we are discussing the seat area, many users have remarked that the seat cushion on this model was quite thin. Newer models have included a bit more padding in the seat cushion, but you may consider supplementing the cushion if you do purchase a used Potomac kayak.
Small Stern Storage Hatch
There is also a small storage hatch at the stern of the kayak for keeping dry gear safe. That said, it doesn't include a secure latching mechanism and, instead, it is held in place with two bungee cords.
Bungee cords are always something to look out for on a used kayak because they tend to stretch out over time. As a result, the stern storage hatch on a used Potomac kayak may not be as watertight as it once was.
While this shouldn't keep you from using it to store certain gear, you just might need to find the right size dry bag for the storage hatch in your Potomac kayak.
Bottle Holder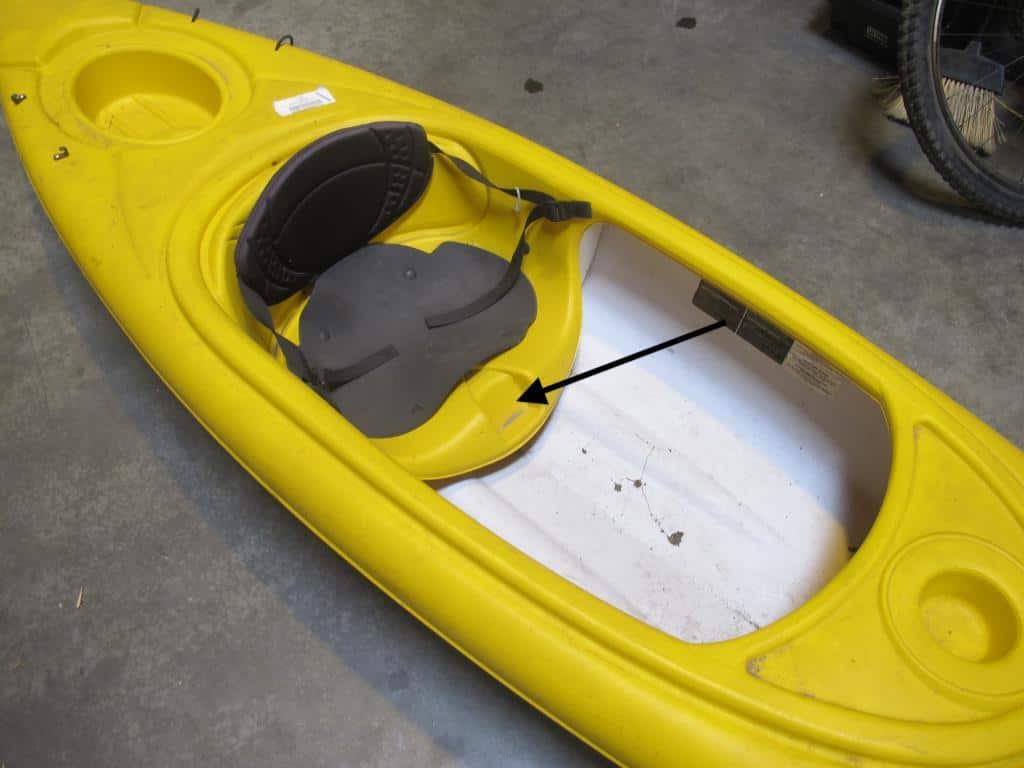 Right in the cockpit, there's a bottle holder just in front of the seat in this kayak. However, it doesn't feature any sort of bungee cord or securing mechanism as Pelican has since included on some of their newer kayak models.
For us, we've always been proponents of having a water bottle with a carabiner clip that can be anchored directly to a hard point on your kayak. This keeps it secure if you capsize and also makes it easy to access when you are feeling parched.
Bow Cockpit Table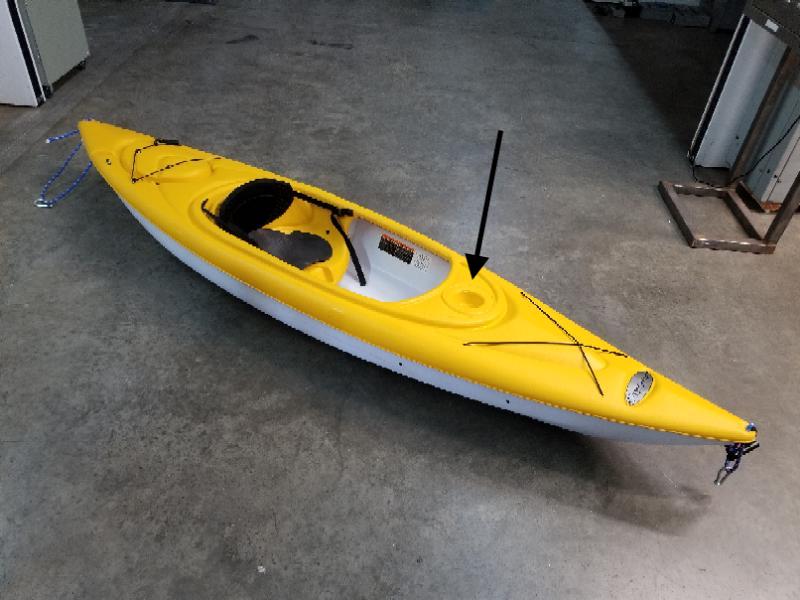 They call it a table, but it's really more like a smaller shelf. Still, there's a place on the deck of the kayak (just in front of the cockpit) for you to keep snacks and other small items that you want to keep close at hand while you're paddling.
The 'table' on the Potomac kayak also includes another small bottle holder that's perfect for skinner water bottles or your preferred canned beverage. Just remember, we don't condone drinking alcohol while kayaking and, for more kayaking safety tips, check out the golden rules of kayak safety!
X-Shaped Bungee Section in Bow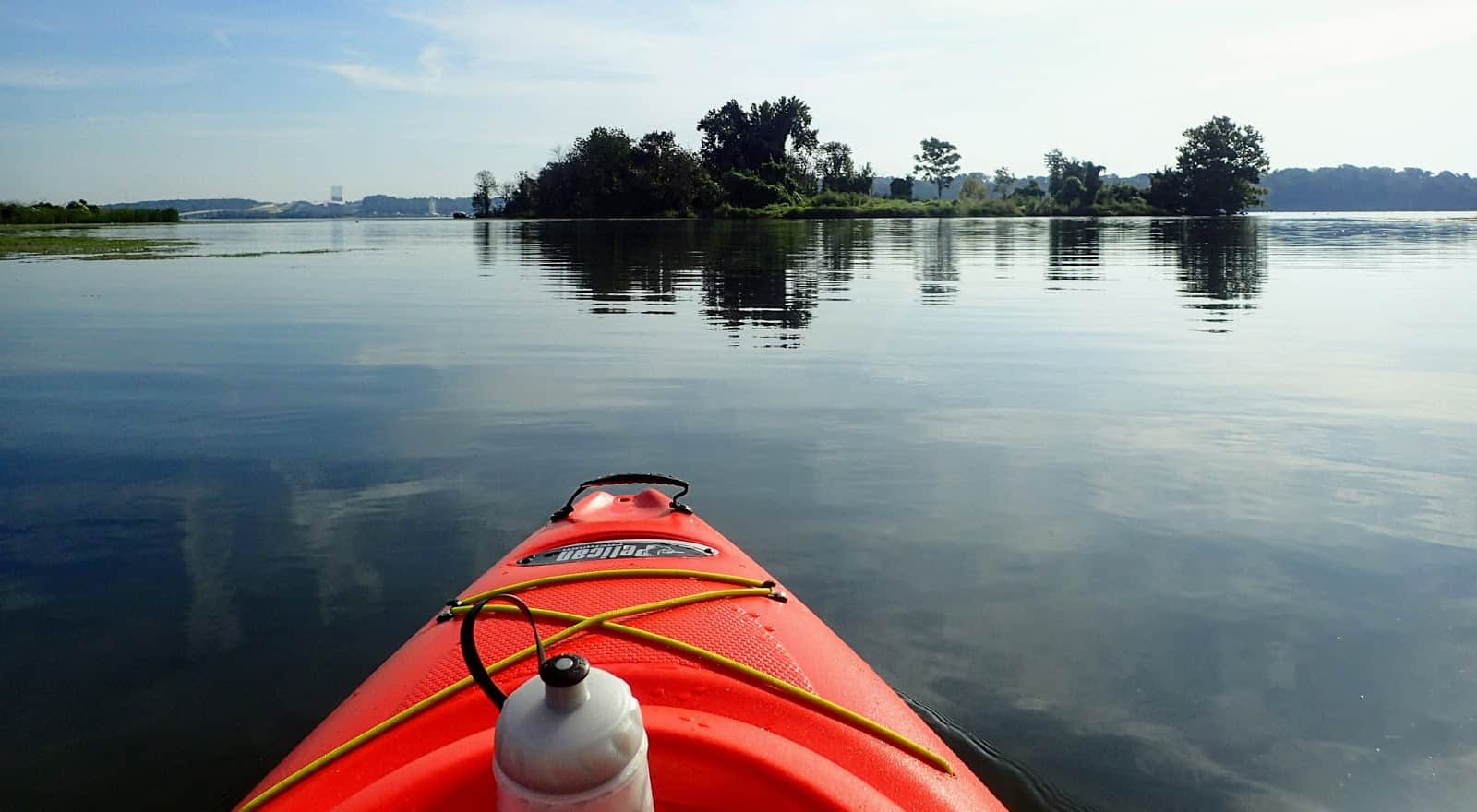 To supplement the storage hatch at the stern of the kayak, there's also a section of X-shaped bungee cord at the bow. This is the perfect area for sliding your sandals, a kayak bilge pump, or any other item that you don't mind getting splashed by water from your paddle strokes.
If you get into longer paddles where you're spending the whole day out on the water, this section of bungee cord is also the perfect place to attach one of the best kayak deck bags filled with extra clothing layers and kayaking safety equipment.
Toggle-Style Carry Handles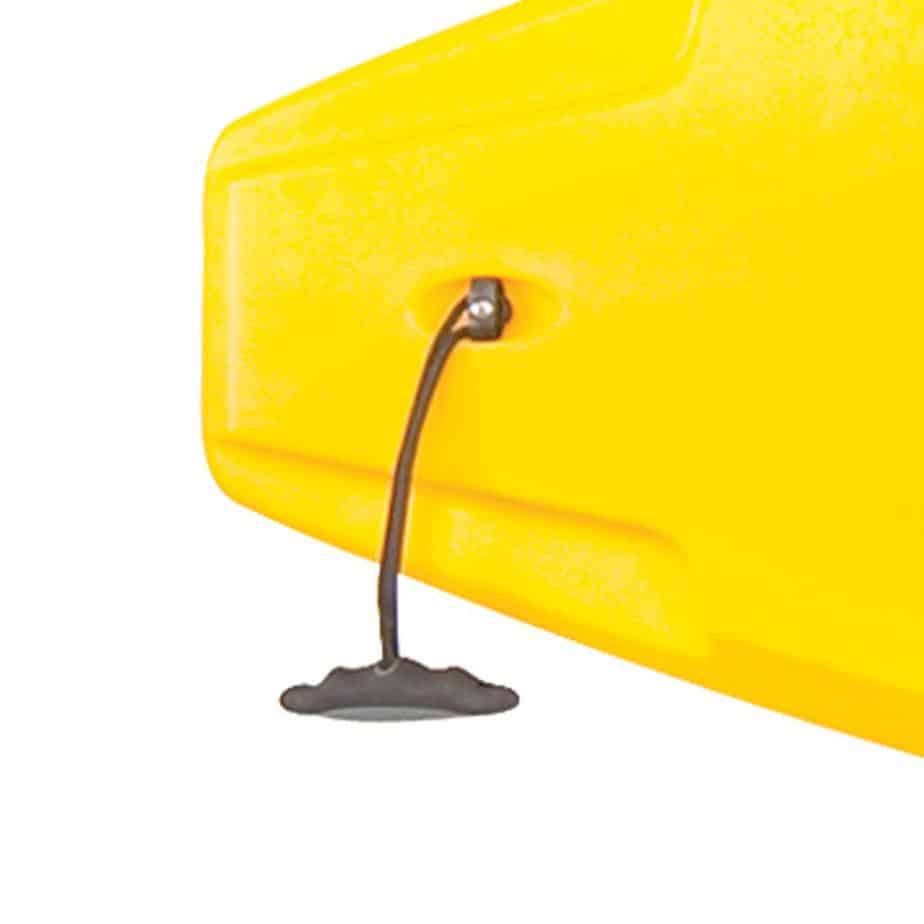 The Potomac kayak is also equipped with toggle-style carry handles at the bow and stern. These handles make it easier to carry in tandem with a partner or to drag from the bow by yourself over a sandy beach.
We are huge fans of toggle-style handles (compared to molded kayak handles) because they provide more comfortable carrying. This is largely because they can move and rotate with your wrist so that you don't feel constrained to only one carrying angle.
The downside of toggle handles, however, is that they tend to break or become detached from your kayak much more than molded handles. However, it is relatively easy to find replacement toggle handles online and it's not too difficult to put new rivets into the bow or stern of your kayak to hold new handles in place.
In fact, here's a quick video on how to put a new handle on a kayak!
Was It Any Good?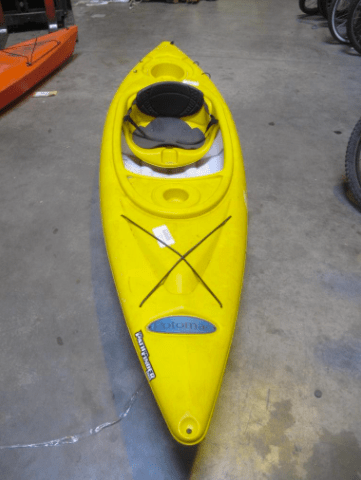 Sure! When it was still in production, this was a great entry-level kayak for beginners, young adults, and smaller paddlers. It was a no-frills kayak that would be forgiving as you learned the basic paddling techniques.
For beginners, there was nothing on this kayak that would distract you from mastering your paddling techniques. Perhaps its only downside was that the shallow shape of the hull made it move side-to-side more than most seasoned kayakers would like.
In our eyes, however, that can actually be a bonus for beginners who should be focusing on techniques and not necessarily trying to go anywhere. It will force you to practice corrective "micro" paddle strokes to keep your kayak going where you want it to go.
It also had the benefit of not gouging a massive hole in your wallet while you were just getting started with your kayaking hobby. So, all in all, the Pelican Potomac kayak had its place and it was a good kayak for the right folks.
That, of course, begs the question of why Pelican would discontinue its production and, as you will see later, they really haven't. From time-to-time, many kayaks re-brand their kayaks to give them somewhat of a makeover.
Whether it's a fancier, more eye-catching name or a new set of color options, kayak manufacturers are always looking for a way to attract new consumers. So, in many ways, the Potomac wasn't so much discontinued as it was rebranded (and you will see one of its modern makeovers below!).
Is It Worth Buying A Used Potomac Kayak?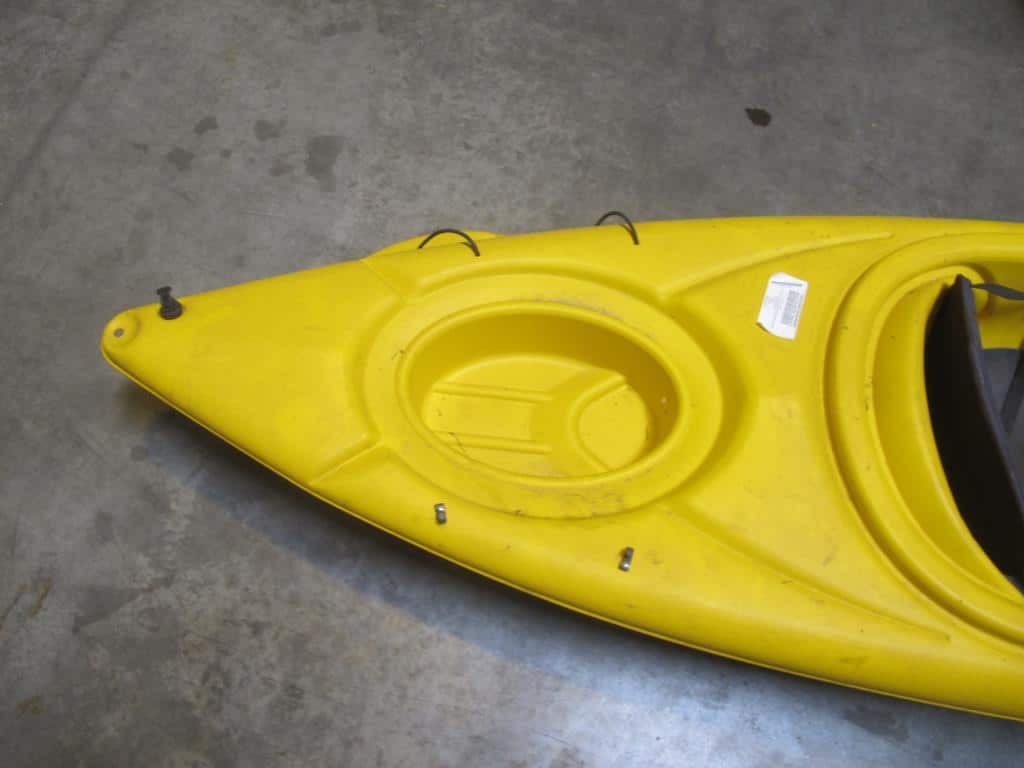 If you are new to kayaking and are not quite sure what to look for when getting your first kayak, you can trust that buying a used Potomac kayak will most likely be worth the investment. Keep in mind, however, that these kayaks didn't retail for much more than $350 when they were brand new (and many places sold them cheaper than that).
So I would hesitate to spend more than $150 to $200 on a used Potomac kayak. That, of course, that depends on what kind of shape it is in. You should make sure there aren't any obvious cracks, holes, or busted seams around the edges of the kayak.
Keep in mind that Pelican's kayaks are made a bit differently than some of its competitors. Instead of being a single sheet of rotomolded polyethylene, Pelican uses two sheets and then thermoforms them together.
So, whenever you are buying any used kayak (but especially Pelican kayaks), you will want to closely check this seam to make sure that it has remained sealed. Otherwise, you will quickly notice that your used kayak is filling with water when you try to take it out for your first shakedown cruise.
Potomac Kayak Modern Equivalents
Seeing as how the Potomac kayak is actually no longer in production, we could understand how those of you interested in buying a brand new kayak may be feeling a little let down. So, here are two modern equivalents to the Potomac kayak that Pelican is still manufacturing.
Check Price on Amazon
There are a few modern models from Pelican Kayaks that compare favorably to the Potomac kayak, but the Maxim 100X is the closest equivalent in our eyes.
Here are the basic specifications for the Pelican Maxim 100X kayak:
Length: 10 feet
Width: 28 inches
Height: 14 inches
Weight: 36 pounds
Weight Capacity: 275 pounds
So, basically, the initial body of the kayak is exactly the same as the Potomac kayak. Plus, they are both made using Pelican's proprietary multi-layer RAM-X material, which is a high molecular weight polyethylene.
Now, it's reasonable to assume that Pelican has made some improvements to this material over the course of the last decade. It's still known as being one of the best kayak materials in terms of its ability to absorb impacts and pop back into place.
As far as we know, there aren't any other kayak companies out there that actively run their kayaks over with a truck to test their ability to regain their shape. Don't believe us, check out the video below!
So, yeah, there's that! In all seriousness though, Pelican's intention seems to be to make the most forgiving kayak for beginners on the market.
This means creating a kayak that is forgiving when you aren't quite as careful with it as you should be. The Pelican Maxim 100X certainly lives up to that billing, which makes it great for beginners as a first kayak.
It's also a great choice for one of the best recreational kayaks to keep stored at your summer house or bring along on that lakefront camping trip. It can accommodate everyone from the kids to smaller adults and it's perfect for a few fun hours on the water!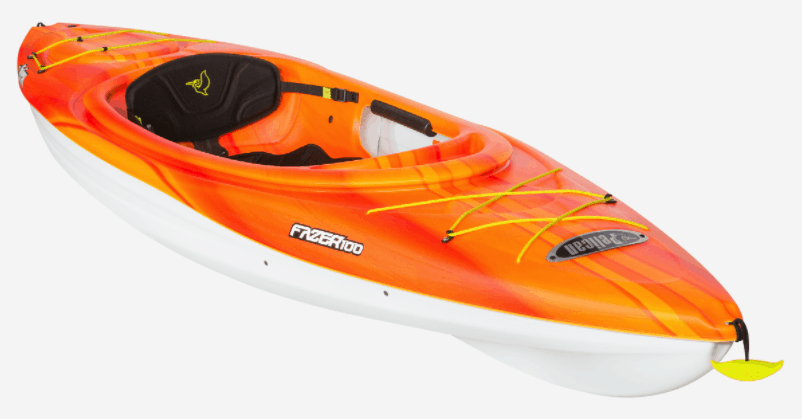 The Pelican Fazer 100 is another newer Pelican model that bears a striking resemblance to the Potomac Pathfinder 100. Let's take a quick look at the specifications of this kayak:
Length: 10 feet
Width: 28 inches
Height: 14 inches
Weight: 38 pounds
Weight Capacity: 275 pounds
Yes, it sure does look familiar once again. This is also a base model, sit-inside kayak that's primarily made for beginners, young adults, and even kids who are just learning the basics of how to paddle a kayak.
The cockpit of this kayak measures 25 inches across and 54.8 inches long. The hull features a twin-arched, multi-chine design that makes it super stable whether the kayak is standing still or in motion.
It also boasts a rear storage compartment sealed with a hatch and bungee cord webbing. There's also an additional section of crisscrossed bungee cord at the bow of the kayak for additional secure storage of items that you don't mind getting wet while you paddle.
The Fazer 100 also includes a small 'table' area at the front of the cockpit for setting snacks or even portable electronic devices down while you're taking a break. Plus, it features an ergonomic backrest with adjustable straps so that you can make micro-adjustments to your posture while paddling.
Final Thoughts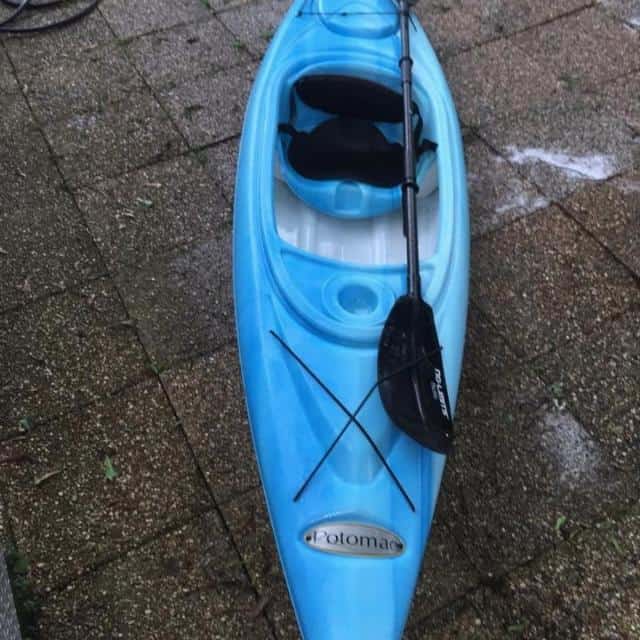 As you can tell, the Potomac kayak certainly has its place among the best kayaks for beginners. Although the current model has been discontinued, there are still plenty of used models available.
That just means that you will have to do a little more due diligence when evaluating how well one of these Potomac kayaks has really been cared for over the years. For some additional tips, check out our guide to buying a used kayak and what to look for.
All in all, if you are looking to buy your first kayak, going with a used Potomac model may be the perfect way to get your feet wet (pun fully intended!) while mastering your paddle techniques and not spending too much on a kayak that you're really not ready to paddle!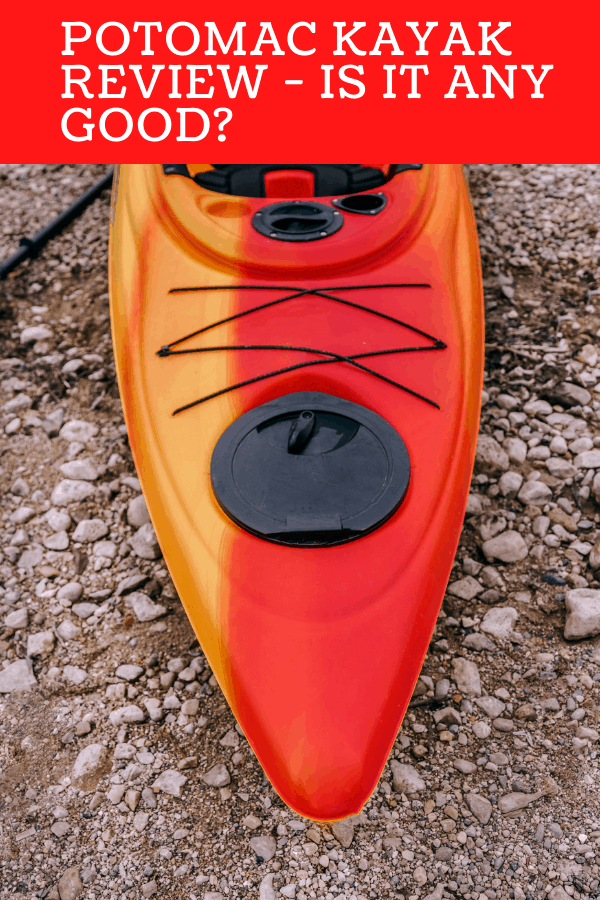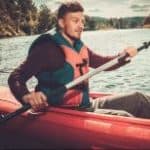 Author: Peter Salisbury
Pete is the Owner of KayakHelp.com. Born and raised in Cleveland, Ohio, he grew up kayaking, fishing, sailing, and partaking in outdoor adventures around the Great Lakes. When he's not out on the water, you can find him skiing in the mountains, reading his favorite books, and spending time with his family.