If you hear the water calling to you, but don't have the space to store or transport a kayak, an inflatable may be just the thing you've been looking for. Tough enough for the military, and packable enough for even the tiniest apartment or car, inflatable kayaks offer unparalleled ease-of-use.
A great way to get you paddling, they're generally more affordable than standard hard-shell kayaks, too!
If you're new to kayaking, you may be confused by the options, and it can be challenging to assess the strengths and weaknesses of inflatable kayaks.
We're sure you have plenty of questions, and we want to steer you in the direction of solid answers. To that end, we'd like to offer a guide and some careful reviews to help you get a sense of what you should consider–and where you might begin your search for the perfect 'yak for you.
Sea Eagle 420x Inflatable Kayak with Pro Package
Advanced Elements AE1007-E AdvancedFrame Convertible Elite Inflatable Kayak , Red, 15ft
Advanced Elements PackLite™ Inflatable Kayak - AE3021-R Ultralight Kayak for Backpacking with Bag - 7' 10" - 4 lbs - Red
Driftsun Voyager Inflatable Kayak - 2 Person Tandem Kayak, Includes Aluminum Paddles, Padded Seats, Double Action Pump
Intex Challenger K1 Kayak, 1-Person Inflatable Kayak Set with Aluminum Oars and High Output Air Pump
Sea Eagle 420x Inflatable Kayak with Pro Package
Advanced Elements AE1007-E AdvancedFrame Convertible Elite Inflatable Kayak , Red, 15ft
Advanced Elements PackLite™ Inflatable Kayak - AE3021-R Ultralight Kayak for Backpacking with Bag - 7' 10" - 4 lbs - Red
Driftsun Voyager Inflatable Kayak - 2 Person Tandem Kayak, Includes Aluminum Paddles, Padded Seats, Double Action Pump
Intex Challenger K1 Kayak, 1-Person Inflatable Kayak Set with Aluminum Oars and High Output Air Pump
Buying Guide: What Do You Need to Know When Considering an Inflatable Kayak?
Durability
We'd like to discuss the elephant in the room immediately, dispel your concerns, and lay the truth out quickly and clearly.
Inflatable kayaks can be tough, durable, and extremely puncture resistant. How tough? Two examples should suffice to answer this question. Both Navy S.E.A.L.s and professional whitewater guides use inflatable boats in the most demanding conditions.
That's because the best inflatables are constructed from incredibly robust materials, feature multiple air chambers, and sport air-tight valves. Often, they'll have a covering made from layers of really tough rubber or PVC, and though not puncture-proof, they can take more of a beating than you probably imagine.
And because they're filled with air, they can shrug off hard impacts that might crack a hard-shelled kayak. They can also survive abrasions and pokes from rocks, stumps, and branches. If they couldn't, you wouldn't see them on white water and in naval assaults.
The myth that these are overgrown pool toys can be put to bed, but let's be honest. People don't buy inflatables because they're tougher than hard shells, yet well-made inflatable 'yaks can stand up to the worst you'll dish out.
As in most things, though, you get what you pay for. If you want ultra-tough, prepare to see the price gap between an inflatable and a hard shell shrink.
Video of torture testing an inflatable kayak–impressive!!!
Inflatable kayak vs rapids
Transportability, Weight, and Storage
This is where inflatable kayaks really shine. Because they're inflated for use and pack down to a reasonable size, they're ridiculously easy to transport compared to a hard shell. Want to bring a kayak along on a camping trip? Need to ride the bus to the local lake? Have a bad back and can't handle lifting 90 pounds overhead to load a 'yak onto your car?
No problem!
Inflatable kayaks are relatively light and far more transportable than their hard-shelled alternatives. And they take up no more space than a large sleeping bag, making them easy to store in an apartment or a small home. They're also a snap to toss in the trunk of your car for a day on the water. Try that with a 14-foot hard shell!
Stability and Safety
This is another area where inflatable kayaks are fantastic. Because they tend to be a bit wider than hard shells, and because they're positively buoyant at the edges, they're very, very stable.
In fact, these designs are often more resistant to tipping than most recreational kayaks. They're also generally easy to right and re-enter from the water. This combination makes them some of the safest boats around.
Video shows instructions for re-entering inflatable kayaks and demonstrates stability:
Tracking, Speed, and Handling
Inflatables are plenty durable and ultra-transportable; that's where they're at their best. But tracking, speed, and handling aren't their strong suits.
While the very best of the bunch can get close to the performance of a hard-shell, there are two basic physics problems that bedevil inflatable kayaks.
High gunnels/lots of rocker – The basic design of inflatables demands that they have relatively high sides and lots of rocker. And with high bows, sterns, and gunnels, they catch the wind easily and tend to have poor tracking compared to hard shells. This also makes them handle poorly in high seas, though they are extremely buoyant.
Low weight – Great for transportation, the inflatable's low weight can be a liability on the water. It makes the boat more susceptible to being pushed by the wind and lifted by waves, adding to the problems it already faces.
Practically, the difference you'll notice in an inflatable is that it'll be harder to paddle and more difficult to keep moving in a straight line than a similar hard shell. They'll also tend to waggle more with each paddle stroke.
Most offer a fixed or detachable skeg to improve handling and tracking. But generally, as with questions of durability, you get what you pay for here, too.
Maintenance
There's a bit more upkeep required with inflatables in comparison to hard shells.
Dry before you pack – To get the most from your kayak, you need to take care of it. When you've finished your paddle, give your kayak a quick rinse with clean water and let it air dry before packing it away. Folding it up wet will encourage mold and mildew and shorten the service life of your 'yak. Plus, it can lead to some really foul-smelling boats!
Bring a patch kit with you – inflatables are tough, but so was the Titanic! Always bring a patch kit with you in case you puncture your kayak.
Preparation
A final thing to consider is that you'll need a few minutes to inflate your 'yak before you hit the water. This is not as big of a deal as you might think, and it takes little more time than unloading a hard shell from your car or truck.
Video showing a woman inflating a kayak in 4 minutes:
Inflatable Kayak Reviews
Design: Tandem – rated for two passengers
Capacity: 550 lbs.
Weight: 52 lbs.
Length: 15'
Width: 32"
Advanced Elements' AE1007 is about as close as you'll come to hard-shell performance in an inflatable. Supported by a foldable frame and sporting a rigid bow and stern, this 'yak will cut the water much like a conventional design. Offered with a skeg, tracking and handling are excellent, and this kayak is probably the best of the boats we reviewed in these respects.
The AE1007 is a tandem design, and it comes equipped with two removable and repositionable seats. Most kayakers will find it quite spacious, though there's surprisingly little room for gear while rigged for tandem paddling. It's easy to convert to a solo kayak, though, giving you plenty of space if that's what you need.
This 'yak relies on a tough, three-ply fabric and six separate air chambers to provide buoyancy. Properly inflated, it's a safe way to enjoy your time on the water. Expect excellent stability, and with an open design, you can be assured of easy re-entry should you end up in the water.
Customers complain that setup can be complicated by the folding design. Drying can be an issue, too, as the exterior fabric stays wet for a while. Keep in mind that this kayak is on the heavy end for inflatables, as well.
PROS
Stable
Excellent tracking and handling
CONS
Heavy
Complicated setup
Stays wet for a while
Not much space for gear when rigged as a tandem
Design: Single
Capacity: 220 lbs.
Weight: 27 lbs.
Length: 9'
Width: 2' 6"
If you're looking for fun, but don't have a lot to spend, the Intex Challenger K1 might be the kayak for you. Lightweight, inexpensive, and safe, this budget-friendly 'yak can deliver good times if you keep your expectations reasonable.
The K1 is designed for a single paddler, and larger adults may find the hull a tight squeeze. It features an inflatable seat and footrest, but don't expect any room for gear. Users report that this little 'yak is stable, but its handling and tracking aren't great. In practice, that translates into a fair amount of 'waggling' as you paddle, despite the equipped skeg.
But while the K1 isn't the boat to choose for an expedition, it's more than adequate for a day on the lake or a quiet river. Customers report no trouble with stability.
It's easy to set up, though a bit hard to dry out at the end of the day due to the enclosed bow. We recommend letting it sit in the sun if you have time, and be sure to search the nooks and crannies for water with a dry towel.
Be realistic: this is a budget product, and it delivers budget performance. The skeg frequently falls off, for instance, and you can't expect it to have the performance of inflatables that cost ten times as much.
This is not the most durable inflatable, and it's best kept away from impacts and sharp objects. But if you're looking for low-priced fun, you could do a lot worse.
PROS
Stable
Really inexpensive!
Light
Easy setup
CONS
Hard to dry
Poor handling and tracking
No space for gear
Can be a tight squeeze for larger paddlers
Durability
Design: Tandem
Capacity: 700 lbs.
Weight: 50 lbs.
Length: 13'
Width: 3'
Saturn built its reputation supplying inflatable dinghies, and it turned that experience and know-how to the world of kayaking with its whitewater model. Relying on very high pressure, this is as rigid an inflatable as you'll find, and it's every bit up to the tasks of whitewater kayaking. That's a great feature in a boat that's easily portable and just as easy to store at home.
Made from durable PVC, this 'yak is designed to take impacts and shrug off abrasions. Its deck is self-bailing, a nice feature on a boat that's sure to have water rush over its gunnels.
That floor is also a full 6 inches thick, shielding you from bumps. And multiple D-ring anchors allow you to rig one or two seats to your liking, allowing adjustability and easy conversion from tandem to single.
Tracking is not really an issue in whitewater, and even hard-shelled kayaks designed for these adventures turn on a dime. On calm water, expect some problems keeping this kayak pointed where you intend to go, though you can rely on solid stability. Of course, this design is very easy to right again, and re-entry should be no issue.
But be warned, this boat is by no means lightweight.
PROS
Stable
Tough
Self-bailing
Super rigid
Design: Triple – seating for three passengers
Capacity: 490 lbs.
Weight: 34.8 lbs.
Length: 12' 3"
Width: 3" 1"
Sevylor is a trusted name in inflatables, and in collaboration with Coleman, they've developed the Big Basin. The first thing you'll notice about this kayak is seating for three adults–that's right–three! And despite being only a bit over 12 feet long, there's space fore and aft for gear, too. Before you load this kayak down and jump in with two friends, pay close attention to its maximum capacity!
The Big Basin's seats are comfortable, and its three-chamber construction, heavy duty PVC, and tarpaulin bottom are tough and buoyant. While equipped with spray skirts at the bow and stern, this isn't a whitewater kayak, and it's best kept to calm waters.
Handling, aided by an attachable skeg, is about what you'd expect, and the Big Basin is firmly middle-of-the-pack in this regard. It's stable, and users report no issues with tipping. That said, if you do end up overturned, its open design is easy to right and re-enter.
Be careful about the removable skeg. In shallow water, it can strike bottom and fall off. And some users report bladder failure over time, a quality control issue you shouldn't ignore. That fault notwithstanding, most users report hassle-free fun.
PROS
Stable
Easy setup
Seating for 3 adults
Space for gear
CONS
Low maximum capacity
Quality control issues
Design: Solo
Capacity: 250 lbs.
Weight: 25.5 lbs.
Length: 10'
Width: 2' 10"
The Quikpak shares many features with the other Quikpak series like its quick setup and durable construction. Since it only takes a few minutes to set up, you'll be able to spend more time actually kayaking. The Quikpak K5 is built from 24 gauge PVC and is more than capable of handling frequent lake kayaking.
Inflating and deflating is straightforward, and the valves use high-quality locking points. Like the other Quikpak kayaks, the K5 has anti-leak protection. Furthermore, each one comes with multiple air chambers so it doesn't deflate. Overall, the construction is solid and allows the K5 to last a long time.
PROS
Inflates easily
sturdy
Durable lining
CONS
Instruction can be confusing
Slow
Design: Tandem
Capacity: 400 lbs.
Weight: 25.5 lbs.
Length: 10' 3"
Width: 3'
The Explorer K2 is designed for riding on mild rivers and lakes, with a low profile but visible graphics so it's highly visible. The detachable skeg helps improve directional stability, and the inflatable seat is adjustable. Ideal for kayaking with a friend, it is easy to set up and should not take more than a few minutes.
The Explorer K2 is made of tough vinyl, and its I-beam floor provides extra rigidity and thanks to the comfortable seats you'll be at ease as you paddle. A repair patch kit is included and you also get a Coast Guard ID. The package also comes with an Intex high output pump and a couple of 86" aluminum bars.
PROS
Easy setup
Quickly inflation/deflation
Comfortable
CONS
Not designed for long trips
Skeg can become loose
Design: Single
Capacity: 250 lbs.
Weight: 23 lbs.
Length: 8' 4"
Width: 34"
Advanced Elements' Lagoon, like their AE1007, uses an innovative design to improve handling and tracking. In this small kayak, rigid panels define the shape of the bow and stern.
While they go to some length to close the performance gap between inflatables and hard shells, don't expect miracles.
Users report that this kayak leaves them feeling secure, so stability shouldn't be an issue. But keep in mind that this boat is intended for calm waters, as its name suggests.
And despite the narrow, rigid bow and stern, the Lagoon's handling isn't first-rate. Expect some 'waggling' from side-to-side with each stroke, and don't anticipate awesome tracking in a stiff breeze.
Designed for a single paddler, the seat is comfortable, but paddlers with longer legs may feel a tad confined. Storage space is minimal unless you lash gear to the bow bungees, but this yak is pretty small. If you're looking for more space, you'll probably want to consider some of the tandems.
Setup is easy and inflation can be done in a snap, so you'll be on the water in no time!
CONS
Poor handling and tracking
No space for gear
Can be a tight squeeze for taller paddlers
Design: Tandem
Capacity: 450 lbs.
Weight: 27 lbs.
Length: 10'
Width: 35"
Driftsun's voyager is a tandem inflatable offering plenty of reasons for a close look. Featuring comfortable, back-supporting seating for two paddlers, if you're looking for a smaller kayak with a well-conceived design, this might be the boat for you.
It's made from tough 840 denier nylon with a PVC tarpaulin bottom. While not as durable as some of the other boats we reviewed, this kayak is robust enough for what you're likely to throw at it on a lake or calm river.
It's not designed for whitewater, but for recreational paddling, that's really not an issue. It's also easy to inflate, so you can get into your adventures quickly.
To improve handling, it features a removable skeg, but as usual, don't expect miracles. 'Waggling,' however, is less pronounced than in other models we reviewed, putting this 'yak closer to the head of the line. Stability is excellent, and in the worst of cases, this 'yak should be easy to right and re-enter from the water.
It features spray skirts both fore and aft, and even rigged for two, there's plenty of room for gear in both bow and stern. If you need more space, this kayak can also be adjusted for a single paddler, giving you ample room for whatever you might want to bring along.
PROS
Stable
Easy setup
Space for gear
Comfortable seats
CONS
Not as tough as some competitors
Design: Tandem – rated for three passengers
Capacity: 750 lbs.
Weight: 40 lbs.
Length: 12' 6"
Width: 3' 3"
Sea Eagle's 380X Explorer is the tandem kayak that all other inflatables should be compared against. It's built for fun, and lets you enjoy the water with a friend or two, given that it's rated for three people.
It's also been certified as capable for up to Class IV whitewater, and if that's something you think you'd enjoy, the Explorer is a fantastic option.
This kayak is at home in waves, surf, and whitewater–no question, and users report rock-solid stability. If you do manage to flip this kayak, its open design makes it very easy to re-enter from the water.
It comes equipped with two comfortable seats, but there's plenty of room for a third passenger, a cooler, or whatever gear you might want to bring with you.
The Explorer relies on three chambers: port, starboard, and floor, with three recessed, one-way valves. There's an inflation gauge on both sides, so there's no guesswork when prepping this 'yak for the water.
This kayak's toughness is legendary. Constructed from 1000 denier reinforced PVC, it'll stand up to some pretty serious abuse.
Don't worry about landing on beaches, running a river, or slamming into a rock here and there. This boat can take it. But it is an inflatable, and knives and sharp metal are something to watch.
Inflatables aren't known for their tracking and handling, but the Explorer comes with a removable skeg to improve these characteristics. And while you can't expect the performance of a sleek hard shell, this 'yak is a solid performer compared to other inflatables.
Users report that the entire package–kayak, pump, and paddles–gets heavy fast, so don't let the relatively light weight of the kayak itself fool you! And the Explorer is a premium product sporting a premium price-tag, so if you're on a tight budget, this may not be the kayak for you.
PROS
Stable
Tough
Lots of space for passengers and gear
Inflation gauges
Certified for serious whitewater
CONS
Total package is on the heavy side
Expensive!
Whether you're on a tight budget or looking for a premium inflatable, one of the kayaks we've reviewed should fit the bill. Which boat is best for you depends on what you need, but any of these can get you on the water and having fun.
Our choice is the Sea Eagle Explorer. Perhaps the toughest of the kayaks we reviewed, it's Earth-stable, handles relatively well, and accommodates three people and plenty of gear for your day out.
We really appreciate that the Explorer takes durability to the next level, because issues with buoyancy or punctures were the number one problem we encountered in our reviews.
But don't think this kayak is limited to whitewater. While sturdy and stable enough for Class IV rapids, it's just as at home on a quiet lake where its handling and tracking are more than respectable.
If the premium price-tag on the Explorer threatens to crush your budget, you might want to look at the Seyvlor Big Basin or the Driftsun Voyager 2. Both are worthy 'yaks that won't break the bank. Whichever you choose, prepare for loads of fun!
Rubik's Cubes make a perfect gift for any occasion. Learn more about this amazing puzzle here.
More From KayakHelp: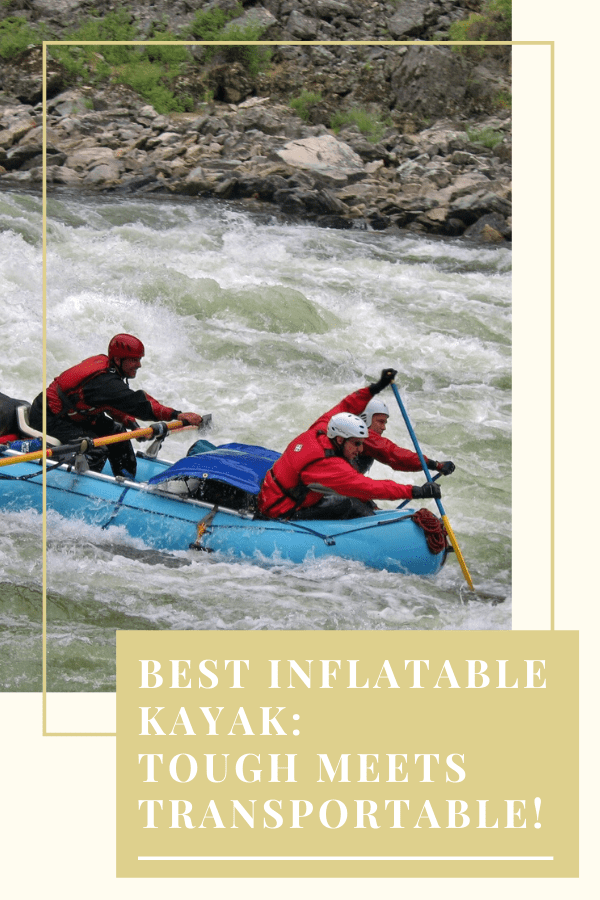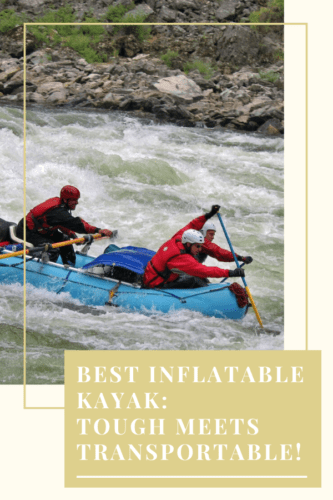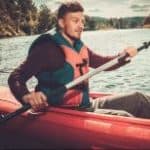 Author: Peter Salisbury
Pete is the Owner of KayakHelp.com. Born and raised in Cleveland, Ohio, he grew up kayaking, fishing, sailing, and partaking in outdoor adventures around the Great Lakes. When he's not out on the water, you can find him skiing in the mountains, reading his favorite books, and spending time with his family.