As a rule, kayaks are normally designed for a specific type of environment.
Whitewater kayaks are excellent at navigating tight turns and tricky fast-moving runs, but take one out on a calm lake and their poor tracking will have you spinning in miserable circles.
A good touring kayak will track as straight as an arrow, but attempting to boof it over a drop is a recipe for disaster.
This difficulty in using the same boat to paddle on different types of water explains why the popularity of crossover kayaks has surged in recent years.
Traditionally, kayakers who wanted to take on various types of water needed to spend out on multiple different types of 'yaks, which was expensive and made storage difficult.
A crossover kayak allows you to track straight in flat water while retaining the maneuverability and resilience of a whitewater boat.
So if you are looking for one boat that will allow you to run exhilarating whitewater and be comfortable enough for a day out on the lake then look no further.
We've put together a buying guide to let you know what key factors to look for, a jargon buster to help with all the salty language, and reviews of the best crossover boats on the market.
Best Crossover Kayaks
Best Crossover Kayak: Jargon Buster
Edging– Edging, also called carving, is the act of tilting a kayak so that one side of the kayak is out of the water. Carving a kayak into a turn creates more water friction on one side of the kayak, causing it to turn faster.
Holes– Holes are created by water running fast over a rock, creating an area of water that can drag a kayak. Holes represent a danger as they can pin a kayak in place and eventually swamp it, but they are also used by playboaters to perform tricks.
Boofing – Boofing is a dynamic forward stroke that allows the kayaker to run a drop without being caught in the hole at the bottom of the drop. Ideally, the boat stays flat throughout the maneuver and lands flat. Landing flat keeps the bow above the water and helps keep the kayak's forward momentum. Check out the YouTube video below for a quick how-to on boofing.
Boulder Garden – A boulder garden is a whitewater run that is littered with large boulders, breaking up the run and creating multiple potential routes.
Tracking – Tracking is a measurement of how well a kayak stays in a straight line when paddled.
Chine – In kayaking, a chine refers to the sharp change in angle in the cross-section of the hull. The term "hard chine" indicates an angle with little rounding, where a "soft chine" would be more rounded, but still involves the meeting of distinct planes.\
Stability – The initial stability of a kayak is how stable or unstable the kayak first feels when you get into it. The secondary stability is how stable the kayak feels when it is put onto edge.
Best Crossover Kayak: Buying Guide
Crossover kayaks are unique in that they are designed to take on a range of water types, so their design differs significantly from standard kayak hulls.
To help you pick the crossover kayaks that is right for you, we've put together this buying guide, to help you understand what to look for when picking out your 'yak.
Rocker/Waterline
A kayak's rocker is the measurement of how much its hull curves from bow to stern. The more rocker a boat has, the more of the hull is lifted out of the water and the more maneuverable it is.
The waterline is the opposite of this; it is the measurement of how much of the kayaks hull is in contact with the water. The waterline measurement is normally an indication of how fast the kayak will cut through the water.
When buying a crossover kayak, it is important to consider what type of water you find yourself most often paddling on. If you favor flat water but want to be able to run whitewater on occasion, then go for a boat with more waterline for better tracking and speed.
If you are keen on running whitewater and spend the occasional weekend on the lake, then opt for a boat with more rocker to give your kayak more maneuverability.
Comfort
Being comfortable in a crossover kayak is vital. You need to have the grip and stability of an appropriate seat for running whitewater courses and the comfortable and storage space to allow you to spend the day out on flat water.
The key to comfort in a kayak is adjustability. When you are looking to buy a crossover kayak, check for fully adjustable seats, thigh braces, and footplates.
You should be able to adjust the fit and grip of your cockpit to suit whatever type of water you want to be out on.
Skeg/Rudder
One of the main drawbacks of the crossover kayak design is problems with tracking straight. Crossover hulls tend to be flatter and shorter than touring or sea kayaks.
While a shorter hull gives them greater maneuverability in whitewater, it does degrade their ability to cut through flat water. To help mitigate this, most crossover boats come fitted with a peddle steering rudder or a fixed position skeg.
The skeg or rudder can be deployed when out on flatwater, to improve tracking and speed, and can be retracted when running whitewater.
Best Crossover Kayak Reviews
Hull Material –Polyethylene
Length – 10′ 4″
Width –27.25″
Weight –56 lbs.
Cockpit Size –37" x 20.5"
The Dagger Katana is the ultimate mix, or recreational and whitewater, kayak. Its multi-chined design provides excellent initial stability, while the flaring side walls keep it stable when edging.
The rotomolded plastic hull is durable enough that it will survive accidental contact with rocky obstacles and its rounded bow and stern allows it to shed water, making it more forgiving on whitewater runs.
The fit of the seating and cockpit is fully adjustable and gives the paddler the stability and security needed to tackle fast-moving water. The precision adjustable thigh braces, multi-adjustable contour hip pads, and adjustable ratchet backband will keep you securely in your seat, no matter what bumps the river throws at you.
On flat water, the Katana isn't as fast as a purpose-built touring boat, but it comes equipped with a TruTrak adjustable skeg system to aid in tracking and add to its top speed.
There is ample storage to be had for longer journeys; the Katana has a watertight stern storage hatch and internal storage bulkhead. If you find you've got more gear than you can fit into the interior storage, then dry-bagged items can be attached to the hull with the included bungee deck rigging.
In the water the Katana handles a wide variety of environments with ease. It's very much a jack of all trades. The balanced rocker profile and medium waterline allows the Katana to stay maneuverable in the fast water while still tracking well in calmer conditions.
At 56 pounds, it's not the lightest kayak on the market, but its built-in carry handles and shorter length makes it one-person portable for most paddlers.
PROS
CONS
Summary: The excellent design and performance of the Elias are what makes it our top pick for best sea kayak. It is maneuverable, fast, stable, comfortable and has plenty of storage space to allow for a full weekend of paddling.
Hull Material – Polyethylene
Length – 12'
Width – 27.5″
Weight – 55 lbs.
Cockpit Size – 38" x 21"
The Dagger Axis is ideal for those looking for a capable touring kayak but occasionally want to venture out on mild, fast moving water. Longer and with a greater waterline than the Dagger Katana, the Axis is best suited to being used as a touring boat that can handle whitewater if the need arises.
The Axis has a hard chined hull and narrow bow, allowing it to cut through the water and maintain a reasonably high speed over flat water. Its stern hatch and removable stern bulkhead allows for considerable storage, with bungee cording on the hull for paddles or waterproof items.
The ConTour CFS-R seating system is fully adjustable to make sure you're comfortable, and the cockpit is roomy enough that paddlers can bring their knees up and stretch their legs on longer journeys.
Knee and thigh pads combine with side locking foot braces to provide support, but any really challenging conditions will require a thigh brace, which is an extra option if needed.
The Axis' longer hull, sharper profile, and larger waterline reduce its maneuverability in whitewater runs. The cockpit set up, while comfortable, does not provide the necessary stability to allow the paddler to attempt anything more than mild whitewater.
PROS
CONS
Summary: The Axis places itself far toward the touring end of the crossover kayak spectrum. Its solid tracking, fitting storage, comfortable seating, and good top speed make it ideal for paddlers looking to take a longer expedition that might involve some fast water.
However, if you're interested in a boat that can handle more challenging whitewater, then the Axis is not it. Its longer hull and low rocker greatly reduce its maneuverability.
Paddlers looking for a boat that can handle both conditions with ease would be better investing in the Dagger Katana.
Hull Material – Polyethylene
Length – 9' 1"
Width – 28.5"
Weight – 36.5 lbs
Cockpit Size – 38.5" x 21.75"
The Dagger Zydeco bridges the gap between whitewater and recreational kayaks.The shape of its hull and the extra stability from its multiple chines allows the Zydeco to deal with moderate whitewater, while still keeping its maneuverability high.
Its displacement hull and narrow profile give it reasonable downriver performance, but its width and short length keep it from being particularly fast.
On flat water, the narrow hull allows the Zydeco to cut through the water with ease, keeping its tracking straight. The sharp hull also allows it to deal with moderately choppy water, making it a viable choice for sheltered inlets and sea coves.
Because of its diminutive size, storage is limited to one small hatch and bungee cords attached to the hull. This doesn't allow enough storage for longer trips and the Zydeco's low top speed on flat water puts its performance closer to that of a recreational kayak than a touring boat.
The short hull and light weight means the Zydeco is one person portable. At just 9 feet in length and weighing only 36 pounds, it can easily be loaded onto a car rack, or even into a car, and moved from car to surf without a trolley.
The cockpit features a ConTour CFS-R seating system, ConTour knee and thigh pads, and SlideLock XL foot braces. These are all adjustable for comfort and provide the stability needed for a paddler to throw the Zydeco through tight turns.
PROS
CONS
Summary: The Zydeco is an excellent choice for paddlers looking for a portable recreational kayak that can handle moderate whitewater. Light and maneuverable, the Zydeco gives you the opportunity to take on most water conditions when the need strikes you.
However, if you're looking to take a weekend trip, the lack of storage makes this kayak an inadequate choice.
The ideal crossover kayak allows the paddler to be at home in a variety of water conditions without the need to own and store multiple kayaks. While they might be outclassed by purpose-built touring or whitewater boats, a crossover kayak opens up a far greater array of options for its owner.
The Dagger Katana is our pick because it excels at this. Its hull design keeps it maneuverable, durable, and allows it to shed water during whitewater runs.
When out on flat water, its deployable skeg and narrow profile enable it to track straight and it has all the storage capacity needed for a longer trip.
The cockpit setup is comfortable over the long term and supportive enough for the paddler to use their body when running fast water.
If you are looking for one kayak that can handle anything the water throws at you, then the Dagger Katana is precisely what you are looking for.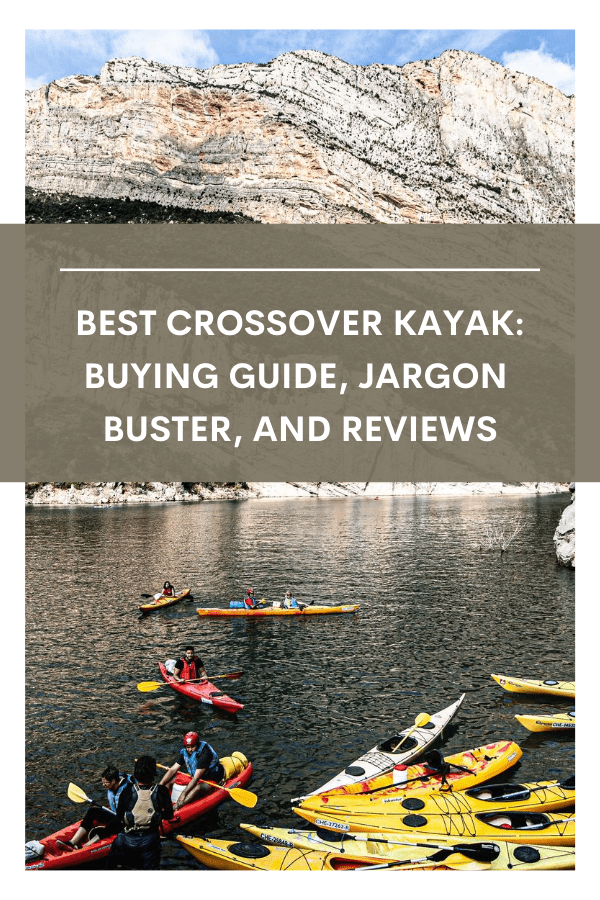 Author: John McCloy
John is a professional copywriter, fencer, and paddlesports fanatic based in the UK. When he's not out on the water, he can usually be found convincing new people to try kayaking, pretending to be Zorro or climbing what passes for mountains in England.