The excitement of fly fishing from a kayak can't be beat. Whether you're casting for reds at sundown or kissing the river with your flies for smallmouth, there's a magic that a kayak brings to the sport.
You'll feel a special something, a touch more thrill as you watch your line settle gently over the water before the surface explodes with a strike. Try it and you'll be hooked, guaranteed!
We've reviewed fishing kayaks before, and from salt to fresh, we've got you covered. But the angler who's dedicated to flies demands something extra from their boat, and this time, we're offering something just for them.
Not all fishing kayaks are well-suited for fly fishing, but some of the basics still apply. You'll need to think carefully about where you plan to fish, how far you need to paddle, and how much storage you'll need.
Of course, a PFD is a must, as is a comfortable seat and a good paddle. And to help you find the right kayak, we've reviewed a number of excellent choices.
Best Fly Fishing Kayaks
What to Consider When Choosing a Kayak for Fly Fishing:
Where Do You Fish
It's important to realize that kayaks are designed for different types of water. Some excel where waves are an issue, while others are ideal for tight spots and calm water.
Match your kayak to the conditions — It's important to think about where you fish, whether that's tidal estuaries, salt flats, trout streams, or bass ponds. Do you need to paddle for 45 minutes to reach your honey hole, or are you fishing pretty much as soon as your kayak gets wet?
Speed and tracking — The farther you need to paddle, the more important things like tracking and speed will be.
Surf and waves — If you're a saltwater angler and you often launch from a beach, that's something else to consider. You'll almost certainly find a sit-on-top with large scuppers and plenty of straps to secure your gear is the way to go.
In short, think carefully about where and when you fish, the species you prefer to catch, and look for features in a kayak that will help you have a more successful day on the water.
Seat
The seat on a fly fishing kayak needs to be high enough to cast while sitting but low enough not to compromise stability.
Ultimately, the best way to accomplish this is often through adjustable designs that allow you to change your seat height when your ready to start casting. But a well-designed high seat can work, too, especially when combined with a very stable hull.
Clear Deck
Snags are a nightmare. For fly fishing, look for a kayak that has a spacious, flat, clear deck.
On most fishing kayaks, a rod holder at the front of the cockpit is a great addition, and it's not unusual to see plenty of mounted gear, from fish finders to a GPS on the deck of a 'yak.
But for fly fishing, this is a disaster waiting to happen. Tangling is a huge issue, especially as you retrieve line by hand. Anything that protrudes from the deck is an issue, and the last thing you need while fishing is to snag your line on your 'yak.
Unless specially designed to prevent snags, standard adjustable foot pegs are also a magnet for snags. You want a kayak that's well thought out for casting flies, and that means everything in the cockpit needs to be low profile and snag-free.
Stability
It's pretty likely that you'll be casting and retrieving standing up. Most kayaks are very stable, but a 'yak that feels fine while seated may by too tipsy when you're on your feet.
Stability is everything – In a fishing kayak, stability is key. After all, you're going to moving around a lot, casting, retrieving, and hopefully landing a few fish! A lot of that action is going to take place perpendicular to the axis of your kayak, and when a fish fights hard or a line breaks suddenly, expect to put that stability to the test.
Standing stability – Fly anglers demand a lot from their kayaks, and this is especially evident in their need to fish while standing. Because of the way you cast flies, seated fishing demands modified techniques. With the right changes, you can cast sitting down, but for most people, standing is the better option. That places massive demands on the design of a kayak, and fly anglers can't afford a kayak that has poor primary or secondary stability.
Comfort
You want a kayak that can keep you comfortable all day long. A sore, aching back isn't going to make for a fun day. When shopping for a kayak, test out the seat.
Does it support your back? Is there enough cushion for your bum? Is there enough space for your legs? You're going to be spending a long time in the cockpit of your kayak, so make sure you don't regret your choice.
Also keep in mind the color of your 'yak. A dark colored kayak is giant solar collector, and as the day wears on, you'll really feel the heat. Light colored 'yaks won't get as warm as quickly, and are generally the better choice.
Sit-on-top vs Sit-in
Preference matters here, and you should explore both styles of kayak to find what works for you.
Sit-in kayaks offer more protection from the water, but can be swamped and can flood when waves break over the gunnels or during a heavy rain. They can also be hard to cast from when sitting, as the enclosed cockpit can restrict movement. But they are faster than sit-on-tops, and that can make a big difference over the course of a long day of paddling.
Sit-on-tops are more open, and their scuppers prevent most flooding. Because of their design, they're bit easier to cast from when seated, but they do expose you and your gear to the elements a bit more. They also tend to lift you a bit higher off the water, another advantage when casting while seated.
Ideally, give both options a try and see which you prefer. It's a good idea to bring your fly rod along, and try casting while seated, imagine where you'll store your gear, and weigh the advantages and disadvantages of each design.
Having fished from both, we generally prefer sit-on-tops because of their big deck and open space to cast when seated.
Low Gunnels
Wind is the enemy, and it's important that you can stay where the fish are biting. Almost nothing is as annoying as picking up your rod, starting your cast, and finding that the wind is blowing you out of position.
Choose a kayak with low gunnels to minimize the surface the wind can catch. Check out this video that shows you how you can deal with the wind while paddling:
Weight and Encumbrance
You'll be lifting and carrying your 'yak every time you want to use it. Make sure you can manage its weight.
Transporting — As is this case with all kayaks, weight matters when you're lifting and handling a kayak during transport. Look for a kayak you can lift easily, keeping in mind that its encumbrance is affected by length, too. As you'll quickly find when you try to place it on your car's roof, a long kayak becomes more unmanageable at the same weight as a short one.
Portaging — If you frequently need to dismount your kayak and carry it over land, this is a critical point to consider when selecting a fishing platform.
Try before you buy — Ideally, don't just give a kayak a quick tug. See how easy it is for you to lift and carry while walking. Trying it now can save you a lot of trouble later.
Storage
Fishing demands a lot of gear, and you need a kayak that can hold it all without cluttering the deck.
Hatches — The front hatch should be secure, water-tight, and easy to open from the cockpit.
Cockpit — Don't overlook the need to store sunscreen, a GPS, extra line, flies, a knife, and anything else you might need. But for fly fishing, these need to be ultra-low profile to avoid snags.
Stern storage — Look for kayaks that offer plenty of space for a cooler or box, as well as anchor points for tie-downs and bungee cables. Whether you choose to place catch and release or keep a few for dinner, you'll appreciate an ice cold water or sports drink and and some snacks kept fresh in the back.
Fly Fishing Kayak Reviews
Check Price on Amazon
Weight:
86 lbs.
Length: 12' 3"
Width: 35"
Capacity: 400 lbs.
The Wilderness Systems A.T.A.K. is a fly-fishing optimized design, and one look at its deck and cockpit tells you this 'yak is fly casting friendly. Offered in a variety of camouflage patterns, we recommend desert camo, the lightest of the options.
Its gunnels are low and wind-shedding, and the A.T.A.K.'s hull design is all about stability. Compared to the Tarpon 120 for instance, this kayak provides firm footing without sacrificing much speed or tracking.
Customers report that they found this kayak easy to cast from without tipping, a necessity for the fly angler. The A.T.A.K. has an easily-customizable layout, and it has the storage every fisherman demands.
A large stern well is complemented by a small hatch that allows access to the hull, and the bow hatch is easily accessed from the cockpit. Its deck is as clean as they come, though its adjustable foot pegs may catch line. It sports two transducer capable scuppers, and can accommodate side scanning fish finders as well.
This 'yak is perhaps the most tech-friendly of the models we're reviewing, as it comes equipped with a removable pod for your battery, cables, fish finder, and transducer.
The A.T.A.K. features an AirPro Max seat, adjustable to three positions. It's comfortable and the uppermost position should provide enough height to enable fly casting while seated.
It's no lightweight at 70 pounds, but it offers an excellent fly fishing platform with less bulk than the Mayfly.
PROS
CONS
Weight: 89 lbs. (without seat)
Length: 12' 8"
Width: 35"
Capacity: 450 lbs.
The Jackson Kayaks Mayfly was designed from the hull up as a fly fishing platform. Available in a light-colored camouflage, it's obvious from the moment you lay eyes on this 'yak that it's well thought-out.
Its gunnels are low, meaning that they'll shed the wind and help you stay on the fish. And what the Mayfly's hull lacks in tracking and speed is more than made up for in stability.
Customers report that this is perhaps the most confidence-inducing hull design they've tried, and if you're new to kayaking and game to cast standing, you can't go wrong with this boat.
Optimized for salt flats, slow water, and ponds, this kayak's hull is at home where you'll find fish hungry for flies.
The Mayfly features ample fore and aft storage, and a stern well that's built to accommodate a JKooler or Orion 25. It features hatches in both bow and stern, with the former holding a removable gear tray.
Its clean deck is complemented by specially designed foot pegs that refuse to snag line, a variety of fly rod holders, and scuppers designed to take a fish finder's transducer.
It also sports a high, comfortable seat that comes standard with a Thermarest Lumbar pad.
The only mark against this otherwise excellent kayak is its substantial weight: 89 pounds at nearly 13', and that's without considering the seat. For smaller anglers, this 'yak will be a handful to transport or portage.
PROS
CONS
Weight: 56 lbs.
Length: 13′ 5″
Width: 28 in.
Capacity: 325 lbs.
The Ocean Kayak Prowler is available in a range of camouflage color schemes, and we recommend the lightest of these to prevent scorching temperatures in the summer sun.
To our eyes, this 'yak looks like a slightly reconfigured sit-on-top, though that's not necessarily a bad thing. Customers report no problems with this kayak's stability while seated, and most will find that it tracks well.
However, few find this kayak stable enough to stand and fish, though that depends as much on the angler as the hull.
Featuring a large bow hatch and huge stern well, the Prowler also offers a small cockpit hatch with a gear tray inside, though some customers warn that it will not stay as dry as you might like.
Two rod holders are placed behind the seat, and a clean deck with built-in foot rests should be snag-free. Its scuppers are transducer compatible, making it easy to outfit this kayak with a fish finder, too.
Some customers have complained that the rod holders are at an angle that makes using them tough, and the seat may not provide hours of comfort.
On the plus side, though, this 'yak is relatively light for its length, and for people concerned about transport and portage, this is certainly something to consider.
PROS
CONS
Weight: 64 lbs.
Length: 12'
Width: 32.5"
Capacity: 375 lbs.
The Perception Kayak Pescador Pro, like many of the kayaks we're reviewing, is a slightly modified standard fishing kayak. For the most part, this means removing the cockpit rod holder and smoothing out the deck where feasible. It's available in three color schemes, and we recommend moss camo as the sun-friendliest of the options.
The Pescador Pro offers the fly angler a large stern well and a bungee-secured, fabric-covered bow well. Together, they should supply plenty of space for gear, though neither will provide dry storage, something to keep in mind.
The cockpit features a small hatch, and there's one positioned to the fore of the stern well, too.
Two holes behind the seat can hold rods, though they'll be difficult to access. Many customers recommend adding aftermarket rod holders as soon as you can. The bow scuppers are also transducer compatible, making this 'yak easy to equip with a fish finder.
Its deck is clear, except for adjustable foot pegs, a known line-catcher for fly fishermen. Customers report that this kayak tracks well, too. Like the Prowler, whether you can fish while standing will depend on your balance and comfort.
The Pescador Pro's best feature is probably its comfortable, two-position, removable "camp-style" chair, which should provide all-day comfort and offer a high vantage for casting flies.
And at a slim 64 pounds, this 12-foot kayak should be manageable for all but the smallest anglers.
PROS
CONS
Depending on your needs, any of these kayaks could serve you well. In this case, our pick is the Jackson Mayfly, narrowly edging out the otherwise excellent Wilderness Systems A.T.A.K by virtue of its impressive storage and ultra snag-free deck.
The Mayfly offers the features a fly angler demands: maximum stability, a super clean deck, no-snag footpegs, and wind-defying gunnels. It has the storage you'll need, a comfortable and high seat, and is easy to equip with a fish finder.
Perhaps its only drawback is its hefty weight, and for anglers concerned about that, we recommend giving the A.T.A.K. a close look. You can count on this kayak to deliver years of fly fishing excitement!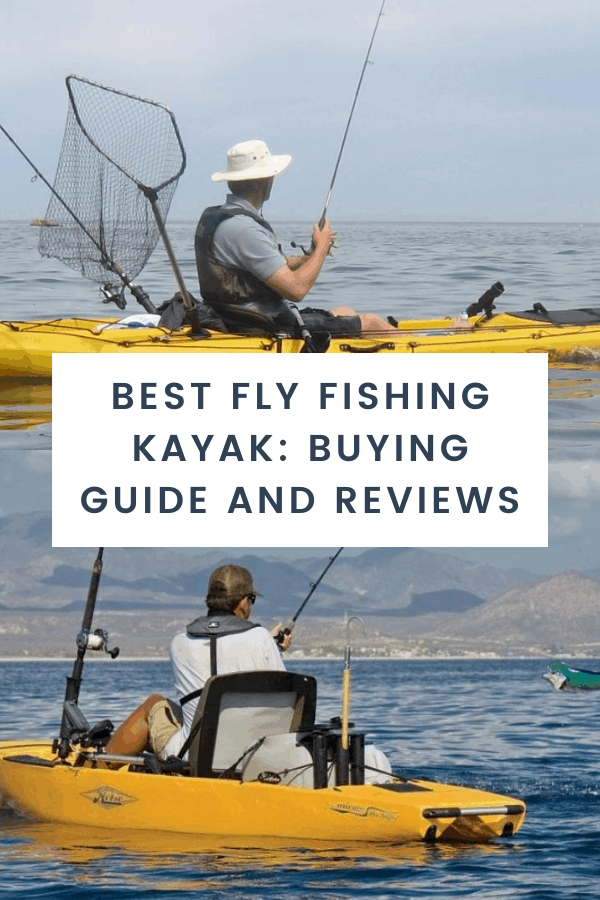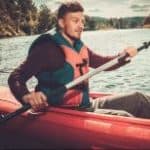 Author: Peter Salisbury
Pete is the Owner of KayakHelp.com. Born and raised in Cleveland, Ohio, he grew up kayaking, fishing, sailing, and partaking in outdoor adventures around the Great Lakes. When he's not out on the water, you can find him skiing in the mountains, reading his favorite books, and spending time with his family.