River fishing combines the peaceful tranquility of angling with the excitement of running fast water and the joy of exploration.
The best river fishing kayaks allow the paddler to enjoy all the adventure opportunities the river has to offer, without needing to change boats.
To tackle the different water types commonly found on rivers and to stay useful as a fishing platform, an excellent river fishing kayak needs to be maneuverable, stable, and have superior storage capacity.
To help you understand what to look for when buying a river fishing kayak, we've put together a jargon buster, a buying guide, and reviews of some of the best kayaks on the market.
Best River Fishing Kayaks
River Fishing Kayak Jargon Buster
To keep things simple, we've translated some of the standard technical terms related to river fishing kayaks.
Tracking
Tracking is a measurement of how well a kayak stays in a straight line when paddled.
Chine
In kayaking, a chine refers to the sharp change in angle in the cross-section of the hull. The term "hard chine" indicates an angle with little rounding, where a "soft chine" would be more rounded, but still involves the meeting of distinct planes.
Initial and Secondary Stability
The initial stability of a kayak is how stable or unstable the kayak first feels when you get into it. The secondary stability is how stable the kayak feels when it is put onto edge.
Edging
Edging, also called carving, is the act of tilting a kayak so that one side of the kayak is out of the water. Carving a kayak into a turn creates more water friction on one side of the kayak, causing it to turn faster.
Rocker/Waterline
The rocker is a measurement of how much a kayak rises at the bow and stern. The higher the rocker is, the more maneuverable, but slower, the kayak is.
The waterline is the measurement of how much of kayak's hull is in the water, essentially the opposite of the rocker. The more waterline the kayak has, the faster it will be. A longer waterline also results in better tracking.
River Fishing Kayak Buying Guide
To help you pick the perfect kayak for you, we've put together a list of some of the key factors you'll want to look out for when buying a river fishing kayak.
Maneuverability
Unlike flat water or sea fishing, river fishing can involve navigating rapids and narrow, twisting watercourses. Having a shorter kayak with good maneuverability allows the paddler to stay mobile and reduces the chance of getting hung up on obstacles.
Most river fishing kayaks have a high rocker and low waterline, lowering their top speed and tracking, but keeping them nimble and quick to accelerate.
While a low top speed and mediocre tracking would be a negative on a flat water 'yak, in the winding, fast-moving environment of a river it rarely makes a significant difference, and the trade-off for greater maneuverability is ideal.
River fishing kayaks tend to have a shorter hull,  keeps the boat from getting hung up on tight corners or obstacles. The short hull has the added benefit of making the kayak easier to transport, store and move in and out of the water. Inflatable fishing kayaks are perfect for this.
Stability
As with all fishing kayaks, stability is vital. Having a stable kayak allows the angler to move around, access their fishing gear and even stand up to cast without the risk of the kayak capsizing. Check out this video with tips on how to cast from a kayak:
To facilitate this stability, most river fishing kayaks have a wide beam with a flattened, multi-chined hull. The multi-chined hull has the added advantage of making it easier to edge into tight turns and provides greater secondary stability.
The stability of a flattened hull does come at the cost of some speed, as the kayak is more likely to plane across the surface of the water rather than cut through it.
However, as the river fisherman is more likely to be confronted by twisting watercourses than open flat water, the greater stability, and maneuverability of the flattered multi-chined design is a reasonable tradeoff for a lowered top speed.
Storage
Storage is key on a fishing kayak. There needs to be room for all of your fishing gear, all your standard kayaking gear, and potentially room to store your catch.
The shorter design of most river fishing kayaks can make it difficult to fit in all the necessary storage as there is less internal space than there would be in a longer touring kayak.
Look for models with a large internal hatch. The hatch should ideally be waterproof.
Additional bungee storage on the outer hull allows you to store dry bagged items within easy reach. Some kayaks also feature rod and paddle storage so that your paddles can be stowed while fishing and your rods safely packed away while paddling.
Best River Fishing Kayak Reviews
Check Price on Amazon
Hull Material – Polyethylene
Length – 10′
Width – 30″
Weight – 44 lbs.
The Journey 10 is designed as a stripped back and simple river fishing kayak. Its narrow profile allows it to track easily while its width offers the necessary stability and storage needed for a day out fishing on the river.
There is an emphasis on comfort in the Journey, which features a large, comfortable seating area with protective thigh pads. To increase comfort and stability, the Journey also has adjustable foot braces.
In terms of storage, the Journey has one small watertight storage compartment that's suitable for personal items, such as wallets, mobile phones, and a P.A.C. (Portable Accessory Carrier). A P.A.C. can be removed from the kayak and carried, or even towed behind the boat.
The rest of the storage are bungee cord attachments to the hull, so items that are vulnerable to splash damage will need to be dry-bagged.
Fishing rods can be fitted into two hull-mounted rod holders as well as a central swivel-mounted rod holder. There is on-hull paddle storage so they can be stowed out of the way while you fish.
PROS
CONS
Summary: The Journey might be lacking in bells and whistles, but that doesn't detract from the fact that it is still a superbly functional fishing kayak.
Its only real drawback is the lack of an option to mount accessories, like a fish finder or more rod holders, although having a P.A.C. just might make up for this!
Hull Material – Polyethylene
Length – 11′ 5"
Width – 34″
Weight – 70 lbs.
Despite its stripped-back, military-style looks, the UH-RA220 is filled with some great utility features. Its multi-chined hull offers excellent performance, and has incredible initial stability.
At just under 12 feet, the UH-RA220 might be a little long for the tightest of narrow river courses, but the longer hull means extra storage.
With two large watertight gear hatches, in addition to a large rear tankwell, the UH-RA220 has ample storage for all your fishing gear. There is also outer hull storage for the included paddle.
Four strategically placed flush-mounted rod holders provide good all-round coverage. As an added extra, the UH-RA220 also comes with a central hatch for the fitting of a transducer, though there is the need to drill holes in the hull.
The narrow design of the UH-RA220's hull allows it to cut through water efficiently while its high rocker and multi-chined hull keep it maneuverable.
To aid with tracking, it also come with a foot-operated rudder. It's certainly not a match for the performance of a touring kayak, but a day out exploring on the river with the occasional stop to fish won't leave you exhausted.
At 11.5 feet and 70 pounds, the UH-RA220 isn't person-portable and will most likely need the use of car rack to transport and a trolley to get it to the water's edge.
PROS
CONS
Summary: The UH-RA220 comes in a close second to the Skipjack in terms of utility versus performance. It maneuvers and tracks well, aided by its rudder.
It has enough storage options for all but the most gear-obsessed fisherman and its 34-inch beam makes it a fantastically stable casting platform.
It falls behind the Skipjack in its length and weight, though. While the longer hull provides better tracking and speed, it also cuts down on maneuverability and the potentially tight confines of a river's course, and adds to the logistics of transporting the kayak.
Hull Material – Polyethylene
Length – 9′
Width – 32″
Weight – 46 lbs.
The Skipjack 90 has everything you might want in a river fishing kayak. At 9 feet long and weighing just 46 pounds, the Skipjack is light and easy to transport.
It even fits in the back of some models of SUVs. Four rubberized carry handles make it less of a challenge to get the Skipjack to the water's edge.
Once you are in the water, the Skipjack's high rocker and short length make it extremely maneuverable, ideal for navigating tight turns and fast water.
Its hard-chined hull has molded-in water channels that help to improve its tracking, top speed, and to prevent water from splashing over into the open cockpit. You won't be winning any races with this kayak, but it accelerates well and holds a reasonable top speed.
The Skipjack is packed with storage options. There is a central drywell, conveniently situated between the paddler's legs for the storage of valuables and items that don't mix well with water.
Additionally, there is a sealed hatch mounted in the bow and a large tankwell with adjustable bungees in the stern. The outer hull has two side bungee paddle parks so you can keep your paddles stowed out of the way while fishing.
The Skipjack has four capped flush-mounted fishing rod holders and a central mounting point, just in front of the drywell, giving the option to add another.
The mounting point is universal and capable of accommodating accessories from a range of providers, such as Scotty and Railblaza.
PROS
CONS
Summary: The Skipjack offers excellent maneuverability, storage, utility, and ease of portage. Its low top speed is nicely offset by the ease with which it handles fast water and narrow, twisting watercourses.
If you're looking for a kayak that you can use to explore the river, looking for the best fishing spots before casting your lure, the the Skipjack is an excellent choice.
Hull Material – Polyethylene
Length – 11′ 6"
Width – 34″
Weight – 74 lbs.
The Lure 11.5 is packed with features and accessories, ideal for the river fishing gearhead. Designed for comfort and utility on longer fishing trips, the Lure has an adjustable gravity seat.
The gravity seat is adjustable and offers a range of seating positions for fishing. It can also be adjusted to sit flush with the hull for greater stability when paddling.
For those who don't favor the gravity seat, it is removable so you can install your preferred seating arrangement.
The Lure has a sizeable watertight hatch in the bow for storage and a spacious tankwell in the stern. There are also side pockets and a front console for storing gear within easy reach while you're fishing.
While the Lure only has two flush-mounted rod holders, it does feature a front and rear uni-track rail with a tie-down system.
This allows the fitting of up to four other rods in mobile settings, letting the angler get a 360-degree coverage around the kayak. To make casting easier and safer, the Lure comes with a stand-up leash and non-slip standing pad.
One of the unique selling points of the Lure is the addition of a removable sonar and electronic pod. The pod makes it easy to install a fish finder or transducer without having to drill any holes into the kayak's hull.
To accommodate all these additional accessories, the Lure is longer and heavier than most river fishing kayaks. At just under 12 feet and weighing 74 pounds, it will require some planning to transport and get to the water's edge, and certainly isn't one person portable.
PROS
CONS
Summary: If you are the kind of paddler who feels at home surrounded by gear, then the Lure is the kayak for you. It has ample storage, lots of rod mounting points, and the addition of the removable sonar and electronic pod sidesteps the DIY element of fitting a fish finder.
The longer hull that is needed to fit in all these accessories does make the Lure less maneuverable and heavy, so greater consideration will need to be taken when contemplating transportation and storage options.
Hull Material – Polyethylene
Length – 14'4′
Width – 33″
Weight – 64 lbs.
The Stealth 14 emphasizes providing a stable casting platform and a "place for everything" approach to storing gear. Its patented central bait tank and casting platform, coupled with its wide beam, give it all the stability an angler needs for the perfect cast.
A large hinged hatch in the bow and tankwell storage in the stern take care of your gear stowing needs while eyelets, hooks, side pockets, and even a cup holder put all the necessities within easy reach. The front hatch also doubles as a child seat so you can turn your fishing trip into a family adventure!
Two front-mounted and two rear-mounted rod holders provide excellent all-round coverage, and the central well can hold a 5-gallon bait bucket. To increase paddling comfort, the Stealth 14 features an adjustable seating and foot track system.
While the wide beam provides a stable casting platform, when coupled with the Stealth's 14-foot length, it does cut down significantly on its ability to track correctly.
The maneuverability of its planing hull is offset by its length, meaning it does suffer from poor paddling performance.
PROS
CONS
Summary: The Stealth 14 was clearly designed to maximize its utility as a casting platform, and if that is what you are looking for, then the Stealth is the kayak for you.
If you are looking for a kayak that is also a joy to paddle and can be used to explore, rather than just paddle out to the best fishing sports, then you would be best served looking elsewhere.
Our Pick 
Just edging out the UH-RA220 for first place, the Skipjack 90 offers an excellent mix of performance and utility. Agile and quick to accelerate, its molded-in water channels offset the loss of tracking normally associated with shorter hulls.
It's easy to both transport and store and at only 46 pounds, will be person-portable for most paddlers.
The Skipjack features ample storage for a kayak its size with the added bonus of paddle holders to keep them out of the way while you are fishing.
Four hull-mounted rod holders give excellent coverage while a universal central mount gives the paddler the option of mounting a range of accessories.
The Skipjack is at home running fast water or exploring the river's course as it has a stable platform for a fisherman just waiting for a bite.
It allows the paddler to enjoy all the different types of adventure the river has to offer, including the sport of fishing, and that's why we've made it our pick for best river fishing kayak.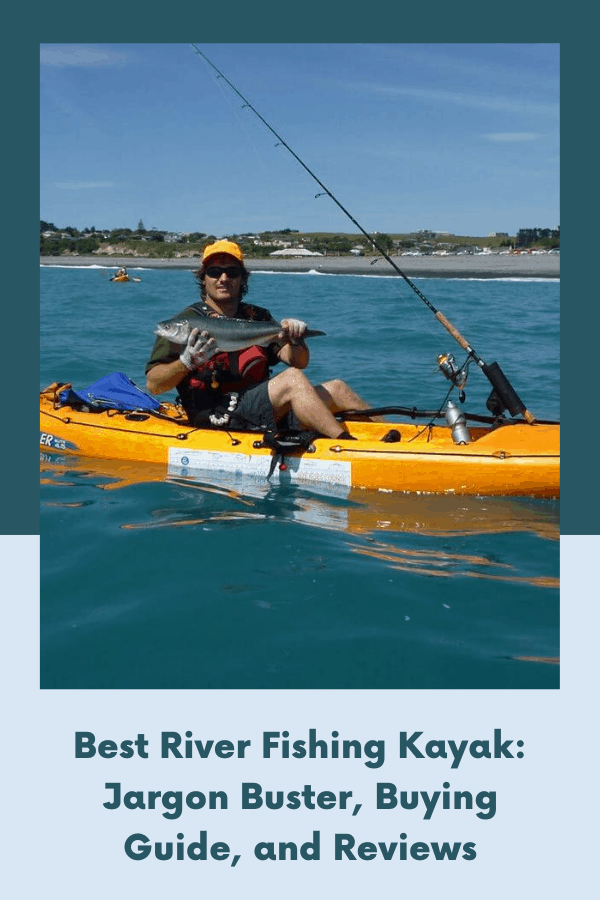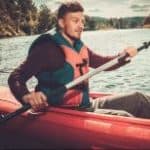 Author: Peter Salisbury
Pete is the Owner of KayakHelp.com. Born and raised in Cleveland, Ohio, he grew up kayaking, fishing, sailing, and partaking in outdoor adventures around the Great Lakes. When he's not out on the water, you can find him skiing in the mountains, reading his favorite books, and spending time with his family.