The lure of the water is easy to understand. Whether you're grabbing your paddle to spark some excitement, or to take a relaxing break from the everyday, there's no better way than a tandem kayak to experience what your local lake, river, or coast has to offer.
Because they allow you to share your paddling adventures with a companion, tandems are a great investment in fun–making a day on the water with friends or family something you can enjoy more often.
If that sounds like a dream come true for you, you're probably already looking for the best 'yak for your needs. But as exciting as the hunt for a new kayak is, there's a lot to consider before you seal the deal. For people new to paddle sports, it's easy to be overwhelmed by the options and selection, and it can be hard to know what to look for.
We'd like to help, so we're offering the following guide and reviews.
Also Read: Tandem Kayak vs Canoe
A Guide To Selecting The Right Tandem For You: What To Consider
Comfort
If your kayak isn't comfortable, you won't want to use it–at least not for long!
Seats – Look for kayaks with comfortable, supportive seating. This is not a feature you want to low-ball, given how significant seat comfort is to the enjoyment of a day on the water. As any experienced kayaker can testify, a well-made seat can make the difference between an unforgettable adventure and a paddle you'd rather forget.
Ideally, try before you buy, and take a seat in a range of different kayaks. Lean back, shift your weight, and look for hot spots or areas that could use more support or cushion. If you feel uncomfortable after a minute or two, just imagine how you'll feel after a few hours.
Leg room – Especially for taller paddlers, this can be a real issue. And again, the best advice is to give a few different 'yaks a try. Switch between the front and rear seats to determine if you feel cramped in either position.
Repositionable Seats Add Versatility and Increase Comfort
Many people opt for a tandem because they know that there's no better way to enjoy their time on the water than with friends or family. One thing to keep in mind when selecting a kayak is versatility: models with adjustable (and removable) seats that can be repositioned are generally the best choice.
Leg room – Taller paddlers may have trouble in fixed seats, and nothing's worse than feeling cramped and confined while kayaking. Repositionable seats allow you to create more or less leg room, customizing the fit for even the longest-legged kayakers.
Trim – Trim describes whether a kayak is floating as it should, properly balanced between fore and aft. Too much weight in either direction isn't good, and adjustable seats can help you get the trim of your 'yak right. This is especially tricky when you have paddlers of very different weights and sizes, like an adult and a child. But by moving the seats, you can shift weight toward the bow or stern, leveling your 'yak for optimal tracking and handling.
Rigging a tandem for a single paddler – Sometimes, you may want to rig a tandem for a single paddler, allowing quite a bit more space for gear for an expedition or camping trip. Again, repositionable seats allow you to create space near the bow for more storage and enable you to adjust the trim to maximize performance.
Stability
A stable kayak is a safe kayak, and especially with extra paddlers aboard, this is something to consider carefully.
Primary stability – Describes how 'tippy' a kayak feels initially. The easier it is to rock, the less primary stability a kayak has.
Secondary stability – Describes how easy a kayak is to turn over once you have it up on edge. A kayak with a high secondary stability won't easily be flipped over once it's been tipped to one side.
A kayak with low primary stability but high secondary stability will feel tippy but not actually flip easily. Conversely, a kayak with high primary and low secondary stability will feel very solid, but once you get it rocking, it'll roll fairly quickly.
Anglers and others who plan to stand or move around frequently on their 'yaks need high primary stability–and great secondary stability never hurts!
Capacity and Storage
The maximum weight capacity on a tandem 'yak may look impressive, but consider that adding an extra paddler can quickly cut the remaining capacity for gear. Think carefully about what you plan to do in your kayak.
For instance, if you're thinking about using your 'yak as a platform for camping, you'll need quite a bit of capacity over and above the weight of the paddlers aboard.
Similarly, though they're pretty long when compared to solos, tandems don't necessarily offer as much storage as you might imagine.
A lot of their impressive deck space is taken up by two paddlers, although you can always rig a tandem as a single for maximum gear space.
A tandem kayak rigged for a single paddler combines the excellent handling of a kayak with the space and capacity of a canoe.
For this reason, some experienced paddlers choose tandems for fishing, camping, and expeditions on lakes and rivers. While not as easy to paddle as a sleek sea kayak, a tandem used in this way provides unparalleled space for equipment.
Tracking and handling
Tracking describes the ability of your 'yak to keep moving in a straight line. 'Yaks that track well are less tiring to paddle and generally easier to handle on longer trips and in calm water.
A lot of hull design goes into making a kayak handle as it should, and you wouldn't expect a nimble whitewater kayak to track like a touring boat. For most people in tandems, a hull that tracks well is ideal, and with two paddlers to stroke, turning should be a snap.
Weight, Length, and Encumbrance
If there are any drawbacks to tandems, it's their length and weight.
To accommodate two (or more) paddlers, tandems need to be longer and heavier than comparable singles. That can make them difficult to portage, load and unload, and muscle around on shore.
Fortunately, most people find that an extra pair of hands helps a lot, but keep in mind that even while sharing the weight, the heaviest tandems can be a real handful.
Thumbnail
Title
Ocean Kayak Malibu Two Tandem Sit-On-Top Recreational Kayak (Sunrise, 12-Feet)
Sea Eagle 370K Pro 3-Person Inflatable Outdoor Water Sports Kayak Canoe Boat with Paddles, Adjustable Seats, Foot Pump, and Carrying Bag, White
Sun Dolphin Bali Tandem Kayak (Lime, 13.5-Feet)
Thumbnail
Title
Ocean Kayak Malibu Two Tandem Sit-On-Top Recreational Kayak (Sunrise, 12-Feet)
Thumbnail
Title
Sea Eagle 370K Pro 3-Person Inflatable Outdoor Water Sports Kayak Canoe Boat with Paddles, Adjustable Seats, Foot Pump, and Carrying Bag, White
Thumbnail
Title
Sun Dolphin Bali Tandem Kayak (Lime, 13.5-Feet)
Reviews
Check Price On Amazon
Length:
12'
Width: 34"
Weight: 57 lbs.
Maximum Capacity: 425 lbs.
Ocean Kayak's Malibu Two is a lightweight, short tandem. If you're concerned about storage and transportation, but want a hard-shelled 'yak, this is a great option.
At just 12 feet and 57 pounds, the Malibu Two is no larger or heavier than many solos. It's also very reasonably priced, and if you're looking for a budget-friendly way to get paddling, you could do a lot worse than the this.
Outfitted with two adjustable, removable seats, the Malibu Two gives you plenty of seating options. These soft cushions rely on hooks and anchors to stay in place and provide back support, and they give you three possible seating variations, allowing you to rig this tandem for solo paddling.
However, while your kayaking experience in the Malibu Two should be enjoyable for a few hours, some users complain about comfort beyond that.
With two paddlers, expect very limited deck space for gear, and unfortunately, this 'yak has no hatches to allow you to access the hull.
If you're looking to bring a cooler or gear of any real size, you probably want to look at other options. Stability is great, but tracking is not this kayak's strong suit, so expect to correct course with careful strokes.
Pros:
Budget-friendly
Light and short for a tandem
Great stability
Cons:
No deck space for storage
No hull storage
Seats aren't as comfortable as we'd like
Check Price On Amazon
Length:
12' 6"
Width: 34"
Weight: 33 lbs.
Maximum Capacity: 650 lbs.
Sea Eagle's SE370 is an inflatable tandem, but don't let the need to blow it up fool you. This is no pool toy, and it's made from 38 mil PVC–a thick, tough material that you can really depend on.
And for people who are concerned about storage and transportation, this kayak fits the bill. Inflated before each use, it can be stored in a space a bit larger than a sleeping bag, and it weighs in at just 33 pounds!
The SE370 features two inflatable seats and an open-deck design that makes it very easy to re-enter from the water. You're unlikely to need that advantage, however, as this kayak is incredibly stable.
In fact, it's rated for Class III rapids, meaning that you can trust not only its durability, but its safety, too. And unlike many tandems, it provides plenty of space for gear, including beneath or above two spray skirts located fore and aft.
Its seats are comfortable, but probably not as supportive as the best of its competitors. Tracking is not great, either, and you'll need to be careful to keep it pointing in the desired direction in calm water.
Pros:
Awesome stability
Great space for storage
Very safe
Light
Super easy to transport
Cons:
Seats may lack support
Poor tracking
Length: 13' 6"
Width: 34"
Weight: 70 lbs.
Maximum Capacity: 500 lbs.
Sun Dolphin's Bali 13.5, much like the Malibu Two, uses cushiony seating that's secured and supported by hooks and straps.
And like the Malibu Two, its deck provides three seating options, making it easy to convert this tandem into a solo. Seating comfort is okay, but on longer paddles, you may find that some aches and pains await you.
Like many of its alternatives, deck space is limited with two paddlers, though two larger hatches and one small hatch provide access to hull storage. There is a small stern well that's strung with bungee, but don't expect to put much behind the rear seat!
Stability is excellent and no one complains about tracking, either. But there are some problems. Customers warn that the hatches don't seal properly, allowing water to enter the hull.
Some also caution that the screws attaching the skid plate beneath the hull don't come from the factory with waterproof seals, meaning that the hull can fill with water. Leaky hatches aren't unusual, but you'll need to see if the hull leaks before you leave shore.
Pros:
Great stability
Good tracking
Hatches to access hull storage
Adjustable, removable seats
Cons:
No deck space for storage
Seats aren't as comfortable as we'd like
Hull may leak
Length: 13'
Width: 35"
Weight: 80 lbs.
Maximum Capacity: 500 lbs.
Vibe's Yellowfin 130T is a well-thought-out tandem with features that should entice you to seriously consider it. In contrast to some of its competitors, it offers supremely comfortable seating that's removable and repositionable, providing awesome versatility.
These Hero seats are the lawn-chair style, promising great back support and a high seating position.
That high center of gravity demands a lot from a kayak's stability, and the Yellowfin delivers. Users report no trouble taking to their feet in this 'yak, and that says a lot about its rock-solid performance.
If you're new to kayaking, or if you plan to bring along paddlers who are, this might be an excellent choice
Looking at its open deck, you'd think the Yellowfin would have ample space for gear, but two paddlers quickly eat up room, especially if they have long legs.
Two hatches provide access to hull storage, however, and that's a nice touch. There's a smidgen of bow storage and a small stern well, and both fore and aft are rigged with bungees to help you secure what gear they'll accommodate.
Customers are impressed with its handling and tracking, though as with all tandems, don't expect blistering speed.
Pros:
Comfortable seats
Removable, repositionable seats
Awesome stability
Two hatches to access hull storage
Cons:
Not much deck space for storage
5. Jackson Kayak Kilroy DT
Length: 14' 8"
Width: 33"
Weight: 96 lbs. (without seats)
Maximum Capacity: 500 lbs.
Jackson Kayak's Kilroy DT is the only sit-inside kayak we've reviewed, and in many respects, it's the model against which to judge that style for the rec paddler. But be warned, it's neither light nor easy to handle, and at nearly 15 feet and almost 100 pounds, it can be a real chore to store and load.
That said, there's a lot to admire about this 'yak. Seat comfort is perhaps the best of those we've reviewed, and since they attach to full-length rails, you can fully customize their position.
You can also remove one and easily adjust the kayak's trim for solo. Rigged this way, deck space is simply unrivaled, and that feature has won this kayak a huge following.
The Kilroy DT also offers acceptable deck storage with two paddlers aboard, as well as a sealed stern hatch for access to the hull.
It's incredibly stable, designed to be used as a fishing platform for those who prefer to stand. You can count on incredible stability as a result. Customers report that they can easily walk from stern to bow.
Tracking is excellent, too, making this a great choice for longer excursions where gear space is a must-have.
Pros:
Extremely stable
Comfortable
Fully adjustable seating
Great tracking
Good storage
Cons:

Length: 14'
Width: 33"
Weight: 91.5 lbs.
Maximum Capacity: 550 lbs.
Hobie's Odyssey is a very well-designed tandem, providing pretty much everything you're looking for in a new 'yak. From comfortable seats to excellent handling, you're unlikely to be disappointed by what the Odyssey offers–that is, unless you'd like to rig this kayak for a single paddler.
The Odyssey's seats are its weakest link, but there's not much to complain about. Essentially cushions attached to the deck with hooks and straps, they should provide enough support for a typical day on the water.
The downside is that there's no way to rig them for true solo paddling, though of course, you can remove the front seat. The issue then will be trim, as the paddler's weight will shift toward the stern, causing the bow to rise.
That's likely to affect tracking, so this kayak would be a better fit for those who really want the tandem experience.
There's ample storage aboard, with a sealed hatch to fore and an ample well aft. Four small mesh pockets can hold anything that's both tiny and waterproof.
That's far more deck space than most of the competition has, and if you'd like to bring some gear along on your paddle, the Oddysey can help you do that.
Tracking and stability are both excellent, and you can expect this 'yak to be well-mannered.
Pros:
Awesome stability
Great space for storage
Excellent tracking
Cons:
Can't be rigged for true solo
There's a lot to like about every kayak on our list, and any of them is more than ready to help you make lasting memories with friends and family.
For the budget-minded, Ocean Kayak's Malibu Two is a great buy. And if you're really concerned about storing and transporting your 'yak, Sea Eagle's SE370 may surprise you with just how robust and capable it is.
These awesome options notwithstanding, our top choice is the Vibe Yellowfin. Its comfortable, flexible seating is just what you need on a long paddle, and its multi-position system helps add versatility to your yak and correct poor trim.
Many tandems come equipped with seats that can best be described as minimalistic; not so with the Vibe's tandem.
But comfort isn't the end of the list of its virtues, and you'll find this kayak more than ready to take you on your paddling adventures.
Offering outstanding stability and capable tracking, you won't struggle on long outings, and for those new to the sport, the Yellowfin provides confidence-inspiring steadiness.
These characteristics, when combined with class-leading comfort, make this 'yak a solid choice. And while other kayaks, like Jackson's Kilroy DT are as capable on the water, the Yellowfin is lighter and shorter.
For most people, that's a winning combination and a good reason to take a hard look at this kayak.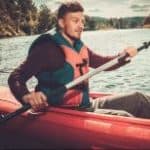 Author: Peter Salisbury
Pete is the Owner of KayakHelp.com. Born and raised in Cleveland, Ohio, he grew up kayaking, fishing, sailing, and partaking in outdoor adventures around the Great Lakes. When he's not out on the water, you can find him skiing in the mountains, reading his favorite books, and spending time with his family.