If you've never lured a bass from beneath a log, seduced a trout to strike your fly, or heard the scream of your drag as a striper fought your line, you don't know what you've been missing!
The good news is that it's never been easier to get in the game, and as the popularity of kayak fishing explodes, so do your options.
The bad news is that those options can be confusing, and a wealth of choices makes for difficult decisions. Do you need the extra seat or space of a tandem?
Is a sit-on-top the best design for you? Should you stick with a paddle or is a pedal drive the way to go? What's the most important thing to consider when looking to buy the best fishing kayak, and which options matter?
These are all great questions, and if you're reading this, you've probably come in search of answers. To help, we offer the following buying guide and reviews.
Best Fishing Kayaks
Fishing Kayak Buying Guide: What to Consider
Stability
While stability is always something to consider when choosing a kayak, for angling, it's pretty much the place to start.
Fishing demands a lot from you and your 'yak, whether you're casting, standing, or struggling with a real monster! And if you happen to break your line, or the fish spits out your lure during a hard fight, you'll put that stability to the test.
Stability is critical–
Think of a fishing kayak as a platform to do a lot more than paddling. You'll be retrieving gear from hatches, casting, fighting fish, leaning over the gunnels, and maybe even dropping your catch in a live well in the stern.
Some anglers, especially fly fishermen, prefer to sight fish or need to cast while standing.
With all that movement, and much of it with a high center of gravity, you can see that you'll be placing exceptional demands on your kayak.
Broaden your expectations – Sea kayaks are long and sleek–an ideal shape for long paddling expeditions because they're hydrodynamically efficient.
But for fishing, wider is generally better. While that may make your kayak a bit slower and demand more from you as a paddler, that extra beam translates into greater stability.
Purpose-designed angling kayaks tend to be a bit paunchy, but embrace the bulge!
Design
You have an incredible range of designs to choose from, but most fishing-specific kayaks are single-seated sit-on-tops. While your needs dictate your choice, for most people, most of the time, sit-on-tops are the way to go.
Sit-on-tops – dominate the angling market, and the reasons are pretty simple.

Open deck space – They provide plenty of room for tying lures and working with line, reels, rods, and fish.
Accessible storage – You need lots of storage that's easily accessible from the cockpit, and SOTs have you covered.
Self-bailing – Scuppers allow fishermen worry-free paddling. These drains make a SOT unswampable.
Easy to right and re-enter – If the worst does happen and you flip your 'yak, sit-on-tops are much easier to re-enter from the water.

Sit-insides – are popular recreational and touring choices, but they can be good fishing kayaks, too. Compared to sit-on-tops, they don't offer as much easy-access storage or deck space, they're not self-bailing, and they can be tough to re-enter.

Sleek, efficient hulls – Sit-insides are more efficient to paddle and generally much faster than comparable SOTs. When you've got a long paddle ahead to get where you want to start casting, that's something to take seriously.
More protection from the elements – Because your lower body is enclosed by the hull, they offer greater protection from cold, wind, sun, and water.

Tandems – If you regularly go fishing with a friend, or you want tons of storage space, a tandem kayak can be a good choice.

Two seats – Tandems are ideal for anglers who bring a buddy most of the time, but that extra seat means that they tend to be longer and heavier, and you'll probably want that friend to be there to help you load and unload your 'yak!
Crazy storage possibilities – If you really love your gear, tandems offer a huge amount of deck space that can be customized to your needs.

Inflatables – Not everyone has a way to transport a kayak to the water, and if you want to chase the fish but don't have a realistic way to haul a fishing kayak, an inflatable may be the best choice for you.

Portability – Because these kayaks can be deflated and packed away easily, they offer the ultimate in portability.
Poor tracking and paddling – Inflatables tend not to have hulls shaped for efficiency, handling, or tracking, even when compared to regular fishing designs. As a result, they're a bit more sluggish than even the paunchiest alternatives.
Durability issues – To make these tough enough to withstand hooks, knives, and other sharp objects, they're made from high-end materials that don't come cheap. Even then, hooks, blades, and sharp sticks slide off of hard-bodied kayaks like water on a duck's back.
Also Read: Pelican Kayaks Review
Comfort
Comfort matters, and you'll want a kayak seat that can keep you ache-free all day. Opinions vary, and it's a good idea to try before you buy. If you can, settle yourself into a few cockpits to see how well they fit you. If the back or seat lacks padding in the right places, or you can feel a sore spot pretty much immediately, you'll want to give that model a pass.
The good news is that many fishing kayaks now come equipped with very comfortable, albeit heavy, seating systems. Often multi-position, they can be adjusted for paddling or casting, and offer all-day comfort. The bad news is that by holding you higher off the water, they demand greater stability–another reason this consideration is king.
Storage
More is almost always better! If you're new to fishing, you may underestimate how much gear you'll be packing. Line, lures, rods, fishfinders, batteries, coolers, livewells, sunscreen…you get the idea!
Look for kayaks that have ample stern wells, easily accessible hatches, and plenty of space for accessories. Some even come with removable trays and other cool features that allow you to stow and organize your gear.
Propulsion: Paddle vs. Pedal
While there are aftermarket options for battery-powered trolling motors, off-the-shelf, you'll generally have two overlapping options: pedal or paddle.
Paddle – Paddles have a lot of benefits.
Inexpensive – Paddles range in price, but inexpensive, effective options aren't hard to find.
Low- to no-maintenance – They're pretty much grab and go.
Indispensable – As any experienced kayak angler can tell you, they're more than just a way to get a kayak going. From push pole to lure retriever to makeshift anchor, a paddle is indispensable in the hands of someone who knows how to use one.
Stealthy – While not everyone agrees, many fishermen find that a paddle is the ultimate stealth option for creeping up on the fish.
But they have downsides, too. In the wind or current, prepare to juggle your rod and
paddle as needed. It's happened to me on breezy days, and it'll happen to you, too.
Pedal drives – These are an option on some premium kayaks, and unsurprisingly, they don't come cheap.

Expensive- Expect to pay a premium for a pedal-driven kayak. This is a top-shelf option that's going to come with a top-shelf price tag. If you're looking for a relatively inexpensive way to start fishing your local lake, river, or estuary, you may balk at the prices of pedal-driven 'yaks.
Powerful and effective – Using a basic rotary pedal system powered by your legs, a pedal drive transfers power either to a prop or a pair of fins that propels your kayak forward (and some offer reverse, too!). Because they take advantage of your powerful leg muscles, more than a few kayakers find that they can go farther, faster with a pedal drive than with a paddle.
Hands-free – Don't underestimate this advantage. This is a real godsend in the wind, and it can mean the difference between casting and paddling.
Reduced draught – Not everything about pedal drives is good news, though. Because they extend below your hull, they reduce your draught and demand deeper water. If you regularly fish extreme shallows or rocky rivers, you might want to stick with a paddle.
Minimal routine maintenance – You'll need to take care of your drive, even if that only means giving it a quick rinse after every fishing trip.
You can't go wrong with either option, but we recommend that you never go out on the water without a paddle. Take the time to learn to use one properly.
Portability, Weight, and Encumbrance
You'll be lifting and loading your fishing kayak every time you take to the water, and for most of us, that can be a pretty intense overhead lift! Make sure you can handle the weight.
Transporting – You won't feel those pounds on the water, but when you're lifting and handling a kayak during transport, you'll feel every ounce. Keep in mind, too, that the longer your fishing kayak is, the more unwieldy it'll be at a given weight.
Portaging – Sometimes, you'll need to exit your 'yak and carry it over solid ground or significant shallows. This process is called portaging, and with a heavily-loaded kayak, it can put your whole body to the test. Keep the extra pounds you'll be adding to your boat from gear in mind if this is something you anticipate.
Try before you buy – If possible, we recommend that you try lifting and loading a few kayaks to get a feel for how you manage a given weight and length. Experimenting now can give you a good sense of what's too much for you and your level of fitness.
Best Fishing Kayak Reviews
Check Price On Amazon
Design: Inflatable/Tandem
Length: 10' 9" (inflated)
Weight: approx. 40 lbs.
Beam: 3' 3" (inflated)
Capacity: 470 lbs.
Sevylor has a long tradition of inflatable boat building in Europe, and it only stands to reason that this know-how has helped Coleman produce an angler-ready kayak that sets the standard for this type of design. And for those looking for extra space or the seat for a buddy, the Colorado has you covered.
And unlike many inflatables with poor reviews, the Colorado has proven capable in the hands of fishermen. Constructed from 18-gauge PVC, 1000 denier tarpaulin and 840 denier nylon covers, this inflatable is as tough as they come.
For added insurance, it features multiple air chambers, maximizing its capacity to remain buoyant in case of a puncture. Customers rave about the puncture resistance of this kayak.
The Colorado offers anglers plenty of storage options, too, with ample mesh pockets and D-rings to which gear can be clipped. Two Berkley Quick Set rod holders and two paddle holders, one to each side, are nice extras to consider. It's also compatible with Sevylor's trolling motor, giving you an extra propulsion option.
But as feature-rich as this kayak is, it suffers from a few issues. Some users complain about the uncomfortable seats, and more than a few anglers find that the high gunnels place the paddle holders in the path of their hands while paddling.
Don't expect high speeds, clean tracking, or wind-shedding gunnels, either. Finally, seal and seam integrity has been a recurring issue.
These issues notwithstanding, if you need the portability of an inflatable, the Colorado is a good place to start. While it may not compare particularly well in our reviews, it's the best of the inflatable options, and it's a budget-friendly option for anyone looking to get out on the water with a rod and reel.
PROS
Super easy to transport
Puncture-resistant
Budget-friendly
CONS
Poor tracking
Sluggish
High gunnels catch wind
Design flaws
Seam and seal quality
Design: Sit-on-top
Length: 12' 8"
Weight: 89 lbs. (without seat)
Beam: 35"
Capacity: 450 lbs.
As its name suggests, Jackson Kayak's Mayfly was designed with fly fishermen in mind. Like the Wilderness Systems A.T.A.K., this 'yak is looking for the sweet spot between premium features and a modest price, and though you'll find plenty of high-end details on this boat, it's within reach of most anglers.
The Mayfly comes with the ultra-clean deck fly fishing demands. Designed for you to stand, and equipped with a non-slip surface, this 'yak practically begs you to take to your feet.
Storage is ample and easy to access, including a large bow hatch with a removable tray and two fly-box storage panels to either side of the cockpit. Two long gear rails allow you to customize your layout and add pretty much whatever you'd like to the mix.
This kayak's seating system is adjustable and comfortable, and users have no complaints whatsoever about all-day fishing. It also allows Molle mounted accessories on its back.
Three rod holders come standard, and a large stern hatch lets you store more safely below deck. The stern well could be larger, but it's big enough for a cooler or live well. While neither the fastest nor best tracking of the bunch, the Mayfly is respectable in both categories.
PROS
Comfortable
Ultra-stable
Non-slip deck
Lots of storage
Plenty of customizable options
CONS
Stern well could be larger
No rod holders come standard
Design: Sit-on-top
Length: 12'
Weight: 128.5 lbs
Beam: 36"
Capacity: 500 lbs.
Hobie is a well-recognized name in the kayaking world, and their Mirage Pro Angler 12 is their flagship angling model. Definitely, at the ultra-high end of fishing kayaks, this premium-priced 'yak comes with all the bells and whistles you'd expect.
Powered by a pedal drive system, the Mirage Pro Angler also features a skeg and a retractable rudder. This pretty much guarantees outstanding tracking, even in the heaviest winds. It also offers an adjustable seat that provides supreme comfort and lumbar support.
This 'yak has been purpose-built for angling, so expect plenty of space for gear and extras. The spacious stern well is about as big as they come, and it has a large bow hatch that doubles as a cooler.
Beneath your feet, you'll find a central hatch hiding a pivoting tackle tray. Real care has been given to the deck, its layout, and its snag-free surface.
Four horizontal and two vertical rod holders come equipped, and there's plenty of space for everything from a fishfinder to a live well.
Stability is excellent, with customers reporting that they never felt uncomfortable casting from their feet, even in waves.
But be warned, at a bit over 128 pounds, this 'yak will be a handful to transport.
PROS
Huge storage
Ultra-stable
Comfortable
Awesome tracking
Fantastic deck and layout
Design: Tandem/Sit-inside
Length: 14' 8"
Weight: 96 lbs (without seats)
Beam: 33"
Capacity: 500 lbs.
Jackson Kayak's Kilroy DT is a tandem kayak to rival any on the water, and whether it's because they enjoy the company or need a ton of extra space for their gear, it's attracting a lot of satisfied fans.
Though it offers the protection of a sit-inside, at nearly 15 feet, this tandem offers the deck space of a sit-on-top. That's an enviable combination, and if you're looking for the ultimate in space, the Kilroy DT is a great place to start your search for the perfect 'yak.
That space costs weight, however, and at 96 pounds without the seats installed, plenty of people will find this a lot of kayak to load and unload. That weight will become unwieldy quickly, given the length of this boat, but that's the norm for tandems–just know that going in.
Seat comfort is excellent. They attach to full-length rails, allowing you to customize seat position to manage trim. In practice, this makes it much easier to keep the hull level when two paddlers are of vastly different weights, and it also helps you balance things out if you've packed a full ice chest.
Jackson Kayaks paid careful attention to the advantages of sit-on-top designs, and that's evident in the cockpit of this kayak. From molded floors with rod stagers to easy-to-access storage, you'll find plenty of room for your tackle and gear.
Stability is excellent, too, and this 'yak should allow you to stand while casting and fishing. In fact, customers report no problem walking from stern to bow while on the water. This 'yak tracks well, too, especially if you take care to trim the bow into the water properly.
PROS
Huge storage
Stable
Comfortable
Design: Sit-on-top
Length: 13' 2"
Weight: 89 lbs. hull only/ 108 lbs. with seat and pedal drive
Beam: 33"
Capacity: 500 lbs.
Native Watercraft's Slayer Propel is a kayak that has the Hobie Mirage Angler 12 firmly in its sights. Offering plenty of premium options, this 'yak won't come cheap. But if you're looking for something a bit lighter with many of the same options, this kayak deserves a second look.
The Slayer is propelled by a pedal drive connected to a small propellor directly beneath it. Offering both forward and reverse, this hands-free system is a great option for those who demand speed, control, and both hands on deck. Customers report that the Propel system offers great speed and efficiency.
Three rod holders come equipped, and with an easy-to-reach bow hatch and three gear rails, you won't be pressed to find a place to mount extras. The stern well is huge–a nice feature to consider–and you won't have trouble fitting a cooler or live well behind the seat.
The Slayer's seating system is adjustable for inseam, and users report that it's plenty comfortable for all-day fishing trips. Its padded deck is designed for standing, so there are no worries about stability in this 'yak. Tracking is reportedly excellent, as well.
The only complaint customers have is that the factory rudder is a bit fragile.
PROS
Comfortable
Ultra stable
Great tracking
Non-slip deck
Huge stern well
Lots of storage
Plenty of customizable options
CONS
Expensive!
Rudder fragility
Design: Sit-on-top
Length: 12' 9"
Weight: 70 lbs.
Beam: 34"
Capacity: 600 lbs.
Ocean Kayak's Prowler Big Game II clearly reveals its debt to its rec kayak heritage–but that's no criticism. Relatively light, stable, and angling-ready, if you're looking for a sit-on-top that can get you on the fish without breaking your budget, the Prowler is the place to start your search.
The first thing you'll notice about the Prowler Big Game II is its unique center console. Designed with fishing in mind, it offers battery options and mounting points for extras like fishfinders and GPS systems.
That's a thoughtful touch, greatly simplifying the process of installing a battery and running the wires to power electronics. It also offers six mounting brackets, allowing you to customize your rig in a way few competitors can match.
Its deck has been molded for standing, and that speaks to the stability of this 'yak from the outset. Users report no problems in that department.
And its adjustable seating system gets no complaints, either, so you can depend on all-day comfort. Tracking is about what you'd expect from a 'yak with no skeg or rudder attached–neither at the head or tail of our list.
Two vertical rod holders are in place behind the cockpit. Just fore of the footpegs, you'll find space for two more, should you want to add them.
Our only complaint? The stern well could be bigger, as could the bow hatch.
PROS
Ultra stable
Comfortable
Unique and useful center console
Highly customizable
CONS
Stern well and bow hatch could be larger
Design: Sit-inside
Length: 11' 8"
Weight: 59 lbs.
Beam: 27.2"
Capacity:  351 lbs.
Riot Kayaks Enduro Angler is a sit-inside that's well-equipped for an angler who demands tight tracking and efficient paddling. The lightest of the hard-bodied 'yaks on our list, if you're concerned about weight, the Enduro Angler might be a good option for you. At just 59 pounds, you're unlikely to find a kayak as light or as seaworthy.
With its sleek beam and flat hull, we'd probably pass on trying to stand in this kayak, but for seated fishing, stability should be more than adequate. Paddling will be a breeze, and with the included skeg, tracking is no hassle, even in heavy wind.
The padded seat the Enduro Angler offers is probably not up to the comfort standard of the fully adjustable sit-on-top competition. That said, even taller anglers will find plenty of leg-room beneath the bow.
One fore and two aft mounted rod holders come standard, and there are stern and bow hatches within easy reach for more storage.
But unlike fishing-specific designs, you won't find many options here for extra gear like fishfinders, and certainly no mounting rails for easy attachment. That's a weakness in the design of sit-insides, and a compromise you'll have to make if you prefer the paddling efficiency they offer.
PROS
Efficient hull
Great tracking
CONS
Few customizable options
Not much storage
No easy mounting for extras
Comfort level isn't competitive
Stability not up for standing
Design: Sit-on-top
Length: 14' 1"
Weight: 95 lbs.
Beam: 34"
Capacity: 550 lbs.
Wilderness Systems has been building fishing kayaks for some time now, and they're a respected name in the business. To compete with pricier, higher-end 'yaks like the Hobie and Jackson Kayaks, they offer the A.T.A.K. as a purpose-built angling platform. More moderately priced than its rivals, this 'yak offers many of their premium features.
This 'yak doesn't have fishing as a secondary occupation, and from the outset, that's clear. In the fore of the cockpit, you'll find a modular, removable pod to which your fishfinder, GPS, or other electronics can be attached.
That makes attaching these accessories a snap, which is a feature any angler will appreciate. Mounting rails come standard as well, so there's plenty of space for anything you might want to add.
The bow hatch is spacious and easy to reach, and while the stern well could be larger, behind it, the A.T.A.K. offers a large rectangular hatch to stow your poles and gear. Its fully adjustable seat is comfortable enough to keep you in the action for as long as you want.
The deck is well thought-out, clean, and snag-free. It's also covered in non-skid pads for standing and walking. These design features are innovative and speak to the stability of this 'yak. You'll have no concerns casting or fighting fish from your feet.
No rod holders come standard, so unless you fish flies, this might be a problem for you. And some customers complain about the mounting system for the seat being a weak point. These issues notwithstanding, the A.T.A.K. offers incredible bang for the buck.
PROS
Comfortable
Ultra-stable
Non-slip deck
Lots of storage
Removable, modular electronics pod
CONS
Stern well could be larger
No rod holders standard
Seat attachment could use some work
Depending on what you demand from a fishing kayak, your transportation options, and your upper-body strength, any of these 'yaks might be the best fit for you. But as an all-around angling package, Jackson Kayak's Mayfly is our choice.
While budget-friendly would be a stretch, for the premium features the Mayfly offers, it comes at a reasonable price. And when compared to pedal drive options, the Mayfly really looks like a bargain!
Its hull is supremely stable, and since it's designed from the hull-up for standing, you feel confident on your feet. Its deck is well designed for fishing, offering you ample gear rails, rod holders, tackle storage, and access to a large bow hatch.
The seating system is adjustable and comfortable, and the stern well, while not he largest we reviewed, should be big enough to get the job done.
The Wilderness Systems A.T.A.K. is probably this kayak's closest competitor, but if you're willing to spend the money, the Hobie Mirage also deserves a close look.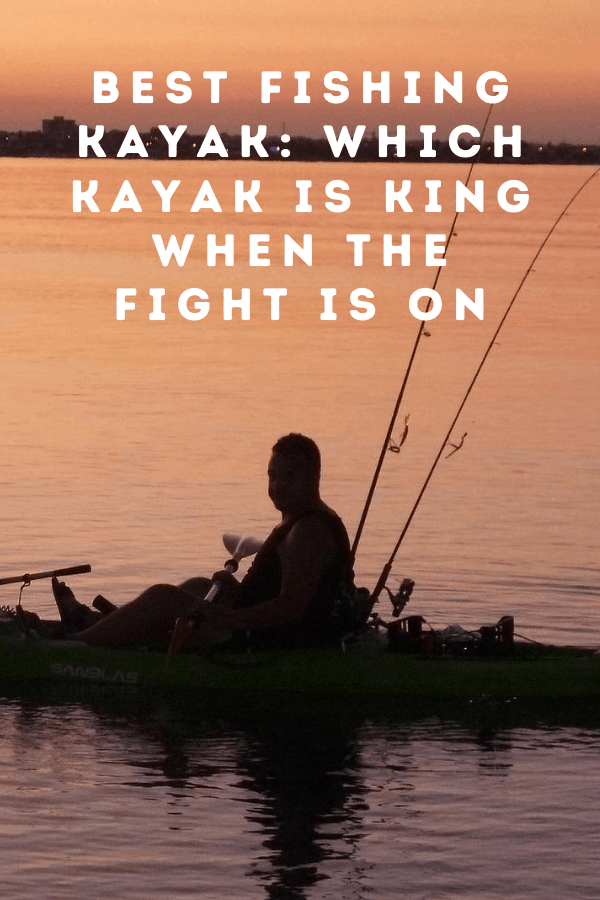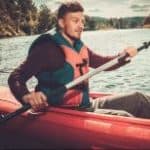 Author: Peter Salisbury
Pete is the Owner of KayakHelp.com. Born and raised in Cleveland, Ohio, he grew up kayaking, fishing, sailing, and partaking in outdoor adventures around the Great Lakes. When he's not out on the water, you can find him skiing in the mountains, reading his favorite books, and spending time with his family.