The recreational kayak is one of the most common designs for a kayak, typified by its wider beam, greater stability, ease of paddling, and enhanced comfort. One of the main benefits of owning a recreational kayak is how beginner-friendly it is and the huge range of activities you can pursue in it.
A good recreational kayak will provide a stable platform for kayakers of all abilities, allowing you to head out on calmer waters, such as sheltered coastlines, estuaries, canals, lakes, and slower-flowing rivers.
As is the case with most popular products, there's a huge range of recreational kayaks on the market, each offering a variety of features and benefits. Choosing the right kayak can be difficult given the vast range of options available to you.
To make your life easier, and to get you out and enjoying the water as soon as possible, we've put together this buying guide for purchasing a recreational kayak.
To make things even more simple, we've suggested the best kayak on the market for the most common recreational kayak activities and reviewed them all–so you'll have all the information you need to pick the right 'yak.
Best Recreational Kayaks
Best Tandem Recreational Kayak: Ocean Kayak Malibu 12
Best 3-Person Kayak: Sevylor Big Basin
Best Recreational Kayak Under $500: Old Town Vapor 10
Best Lake Kayak: Old Town Heron 9XT
Best Lightweight Recreational Kayak: Sun Dolphin Aruba 10
Best Recreational Sit on Top Kayak: Ocean Kayak Scrambler 11
Best Sit In Recreational Kayak: Dagger Axis 12
Best All Around Kayak: Wilderness Systems Pungo 120
Recreational Kayak Reviews
Check Price On Amazon
The Ocean Kayak Malibu 12 comes with the pretty unbeatable qualification of being the most popular lightweight tandem sit-on-top kayak in the world.
With a hull made from durable rotomolded polyurethane, this stable, 34-inch wide multi-chined kayak has all the stability you'll want for a day out with the family. The interchangeable seating positions allow the Malibu 12 to accommodate one or two adults, or even two adults plus a child.
This means you can get nearly the whole family in your boat with you, or set up the kayak for a center-seated paddler too, if you want a little alone time on the water. At just 57 pounds, it's lightweight enough for one person to get it in and out of the water.
The Malibu 12 comes with two comfort-plus adjustable seats and three molded-in seat wells, giving you and your other paddlers all the comfort and support you need while kayaking. It's also a great option if you enjoy taking your dog out on the water, as there's plenty of space for both pet and owner.
If the Malibu 12 does have a downside, it's that, being a 12-foot long tandem kayak, it might be a little cramped for two taller paddlers. While there is plenty of space in the hull for storage, the design of the kayak didn't leave room for a waterproof hatch, so you'll need to dry bag your valuables.
We've chosen the Malibu 12 as our pick for best tandem recreational kayak, as it lives up to its reputation as the most popular compact, lightweight tandem sit-on-top kayak in the world. It's well-designed, adaptable, durable, and lets you share the pleasure of being on the water with the whole family.
Pros
Stable and durable
Interchangeable seating positions
Lightweight
Can accommodate up to 2 adults and 1 child
Cons
No waterproof hatch
Might be a little smaller for 2 larger paddlers
Check Price On Amazon
The problem with tandem kayaks is one of size. You need the room to get everyone you want out on the water with you, but when it's not in the water, your large and heavy tandem kayak can be a logistical challenge.
This is where the Sevylor Big Basin comes in.
Contrary to common belief, inflatable kayaks are neither fragile or hard to paddle, and if you don't have a lot of storage space or a roof rack big enough for a solid-body tandem, then an inflatable might be just what you're looking for.
Made from heavy-duty PVC with a reinforced tarpaulin bottom, the Big Basin is extremely hard to puncture. On the off chance that you're kayaking in a lake filled with knives, this kayak's multiple air chambers stay inflated if one becomes punctured.
Sevylor suggests that you can unpack and inflate any of their kayaks, including the roomy Big Basin, in under 6 minutes. Additionally, their proprietary Airtight System is guaranteed not to leak.
The Big Basin has three adjustable seats for maximum comfort, and spray covers to help keep you as dry as possible. It's also graded to take on easy whitewater runs, and the inflatable hull won't mind if you happen to kiss the rocks a little.
We've chosen the Sevylor Big Basin as our best three-person recreational kayak. It's portable, easy to inflate, and durable, so you and your two friends can get out on the water without having to waste time worrying about transport and storage.
Pros
Easy to inflate
Easy to store
Easy to transport
Can take on easy whitewater
Very hard to puncture
Cons
Not waterproof storage area
Best Recreational Kayak Under $500: Old Town Vapor 10
Buying a kayak is a huge investment. They don't come cheap, and while it's always a good idea to buy the best model you can afford, some kayaks combine quality and features with a very affordable price tag in one amazing package.
The Old Town Vapor 10 is a simple kayak–so don't expect any bells and whistles–but it still comes with a construction quality and features you might expect from a kayak that's three times the price.
The 10-foot polyurethane hull is rugged and durable, well able to take a few knocks without coming apart. At 47 pounds, the Vapor 10 is a small and portable kayak, designed to let you get out on the water whenever you feel the need.
There's an emphasis on comfort with the Vapor 10, and the roomy cockpit comes equipped with a contoured seat and an adjustable foot brace system to keep you stable and comfortable paddling. There's even a cup holder and molded paddle rest that'll come in handy if you want to take a liquid refreshment out on the water with you.
Once it's in the water, the Vapor 10 is stable and comfortable to paddle, although its wide beam and lack of a skeg do mean it requires a firm hand on the paddle to track straight.
The Old Town Vapor 10 is our pick for the best recreational kayak under $500, because simply put, it should cost more than $500! It's compact, lightweight, durable, and has all the features you'd expect of a much more expensive kayak wrapped up in a very cost-effective bundle.
Pros
Comfortable and stable
Well equipped cockpit
Lightweight and portable
Very affordable
Cons
If you're planning on heading out on the lake and are looking for a good quality kayak with a range of handy features, then the Old Town Heron 9XT is a fantastic choice.
At just 9 feet, 6 inches in length, and weighing in at only 39 pounds, the Old Town Heron 9XT makes a great one-person kayak that's simple to transport. Featuring comfortable, rubberized carrying handles at the bow and stern, it's also easy to get down to the water's edge without help.
The roomy 39.5-by-19-inch cockpit has a padded and adjustable Comfort Flex seat to give you a stable paddling position, and the stern's click seal hatch features a bulkhead to make sure your valuables don't get waterlogged.
Adjustable foot braces and thigh pads mean you can use your waist and lower body to carve the Heron 9XT into a surprisingly tight turn.
Despite a width of 28.5 inches, the narrow profile of the single-chined hull, along with the lower rocker, means the Heron 9XT tracks surprisingly well. It's ideal for following the shore of a lake or heading out into deeper water. The only drawback is that the Heron 9XT can be a little stubborn in the turns, but the foot braces and thigh pads help to mitigate that.
We've chosen the Old Town Heron 9Xt as our best lake kayak because it's easy to transport down to the lake, easy to get into the water once you're there, and a joy to paddle once you're out on the water.
Pros
Tracks well
Sealed Hatch
Comfortable cockpit
Foot and thigh braces
Cons
Solo kayaking is an amazing experience, but sometimes your ability to get out on the water by yourself is restricted by the weight of your kayak. Without a trolley, getting a 14-foot, 80-pound kayak into the water is nearly impossible on your own, and a real chore even with two people.
That's why a good quality, lightweight kayak can be such a fantastic discovery, enabling you to get into the water whenever you feel the need.
The Sun Dolphin Aruba 10 weighs just 40 pounds, and comes with convenient rubberized carrying handles to make it as easy as possible to get down to the water.
Once it's in the water, the Aruba 10 is a remarkably stable and comfortable kayak. The cockpit is fitted with an adjustable padded seat to support your back, while adjustable foot braces let you use your waist to turn. Foam thigh pads ensure that even the most strenuous paddling session won't abrade your legs.
The sturdy, impact-resistant, high-density polyethylene hull is just 10 feet in length, and combined with its light weight, makes the Aruba 10 fantastically portable. You won't even need a kayaking roof rack if your 'yak fits in the back seat.
The only downside to the Aruba 10 is that it lacks a waterproof hatch to store your valuables in. There is a fair amount of storage in the form of shock cord deck rigging, and a large forward tankwell, but you're going to need dry bags for gear that you want to keep 100 percent waterproof.
We've chosen the Sun Dolphin Aruba 10 for our best lightweight recreational kayak, because it's made to be carried around easily, but still possess the qualities and features you'll need to have an excellent time out on the water.
Pros
Lightweight
Durable
Maneuverable
Adjustable seat with thigh pads and foot braces
Cons
The Ocean Kayak Scrambler 11 has a long and successful pedigree. First launched over twenty years ago, the Scrambler 11 has been popular among kayakers of all ages and abilities since its early days.
While kayaking technology and design has moved on in the last two decades, the stable and efficient 12-foot Tri-Form Hull design of the Scrambler 12 has stayed exactly the same. Tried and true, the wide and stable hull responds well to ocean swells and surf, making it ideal for surf or beach kayaking.
Tracking isn't a problem for the Scrambler 12, especially on flat water, making it an excellent choice for everyone from recreational day paddlers to serious kayak anglers.
The Scrambler 12's 29.5-inch width gives it all the stability you would want from a recreational kayak. Tipping this 'yak over is not an easy task.
The durable rotomolded polyethylene plastic is more than hardy enough to take a few knocks and bumps. It's not the end of the world if you hit a few rocks with it–just remember to store it properly at the end of the day to avoid warping.
The roomy inner hull of the Scrambler 11 comes complete with a durable, foam-padded "Comfort Plus" seat back which is four-way adjustable. This is a nice feature that'll give you the back support you need to stay comfortable. The overlapping foot wells also mean that there's always somewhere to rest your feet.
There is plenty of space for your gear, including a six-inch waterproof cam-lock hatch for storing things that need to be kept away from the water. The only thing that's missing is a paddle holder.
The Ocean Kayak Scrambler 11 is our choice for the best recreational sit-on-top kayak because of its simplicity, durability, excellent design, and solid comfortable hull.
Pros
Comfort Plus Seat Back
Overlapping foot wells
Six-inch waterproof cam lock hatch
Good in the surf or on the river
Very stable
A huge amount of storage space
Cons
Best Sit In Recreational Kayak: Dagger Axis 12
The Dagger Axis 12 combines the stability of a recreational kayak with the maneuverability of a narrower sit-in kayak to give it amazing versatility.
Designed as an "all-water" kayak, the Axis 12's 12-foot long polyurethane hull is narrower than most recreational kayaks. Coupled with its defined chines and optimized rocker, this allows the Axis 12 to cut through the water while maintaining great maneuverability.
Generally, the wider beam and flatter bottom of a recreational kayak reduces its ability to track in a straight line. Realizing this, Dagger has compensated by adding a height-adjustable drop skeg that keeps the Axis 12 moving in a straight line.
The cockpit of the Axis 12 isn't especially roomy for a recreational kayak, but at 38-by-21 inches, it's certainly larger than you would find in most touring or sea kayaks.
The added width of the boat allows the Axis 12 to pack in more storage, with a rear waterproof hatch and bungee storage on the hull.
There is also a paddle holder built into the right side of the Axis, so you don't have to worry about your paddle floating away if you need to free up your hands.
Inside the cockpit, an adjustable ConTour CFS-R Seating System keeps the paddler both secure and comfortable, allowing you to take full advantage of the Axis's maneuverability by properly positioning your lower body.
Further down in the boat, the ConTour knee and thigh pads combine with the slidelock foot braces to help you stay comfortable and maintain an optimal paddling position–regardless of how long you stay on the water.
The Axis 12 is our choice for best sit-in kayak because it combines the speed and maneuverability of a touring kayak hull with the stability and storage of a recreational kayak.
Its range of cockpit features are just the icing on the cake. The only possible downside of the Axis 12 is that, at 12 feet long, it might be a tight squeeze for larger-framed kayakers.
Pros
ConTour CFS-R Seating System
ConTour knee and thigh pads
Slide lock foot braces
Waterproof hatch
Height-adjustable drop skeg
Very maneuverable
Cons
A little short for longer kayakers
The Wilderness Systems Pungo 120 is an excellent jack-of-all-trades kayak that will provide a fantastic day out on the water for any kayaker, regardless of how experienced you are.
Made from durable rotomolded polyethylene, the 12-foot-long Pungo 120 has a wide beam measurement of 29 inches and a multi-chine hull to give it excellent stability. Getting into and out of this kayak is remarkably easy, and once you're properly seated, it is very difficult to capsize.
Since you'll probably be wanting to spend as much time as possible in the Pungo 120, it comes with a roomy 57-by-22 inch cockpit that comes complete with a removable "Kayak Konsole."
The console adds extra storage space and the convenience of keeping your vital gear within arm's reach at all times.
To make sure you are as comfortable and secure as possible, the Pungo 120 features a Phase 3 AirPro seating system. This comfortable, added foam seat allows for six-way adjustment, letting you customize your seating position to support your back and keep blood flowing to your legs. That's an ideal feature if you want to spend all day out on the water.
To give you the control you need and the comfort you want for your legs, the Pungo 120 has thigh and knee padding with a slidelock foot brace system, enabling you to use your waist and lower body to maneuver your kayak.
If you're bringing a lot of gear with you, the Pungo 120 has a full-size, watertight stern hatch to hold your valuables, and a bungee deck rigging for your dry bags.
The Pungo 120 is our choice for the best all-around recreational kayak because it is supremely stable, hugely comfortable, has plenty of storage, and is accessible to all levels of kayakers. The only extra steps you'll have to take with the Pungo 120 is finding somewhere to store it properly, as plastic hulls are prone to warping.
Pros
Hugely stable
Very comfortable kayak
Thigh, knee, and foot bracing
Good level of storage
Waterproof storage hatch
Cons
Plastic hulls can warp if stored incorrectly
Sit Back and Relax
So there you have it: a complete list of the most common paddling activities you can take on in a recreational kayak, along with reviews of some of the best kayaks to enjoy them in.
Owning a recreational kayak gives you the freedom to hit the water whenever you get the chance and relax in a stable and comfortable environment. So whether you and two friends are heading out together to take on a whitewater run in the Sevylor Big Basin, or you just want to kick back and relax on the lake in the Old Town Heron 9XT, we've got you covered with the best kayak for the job.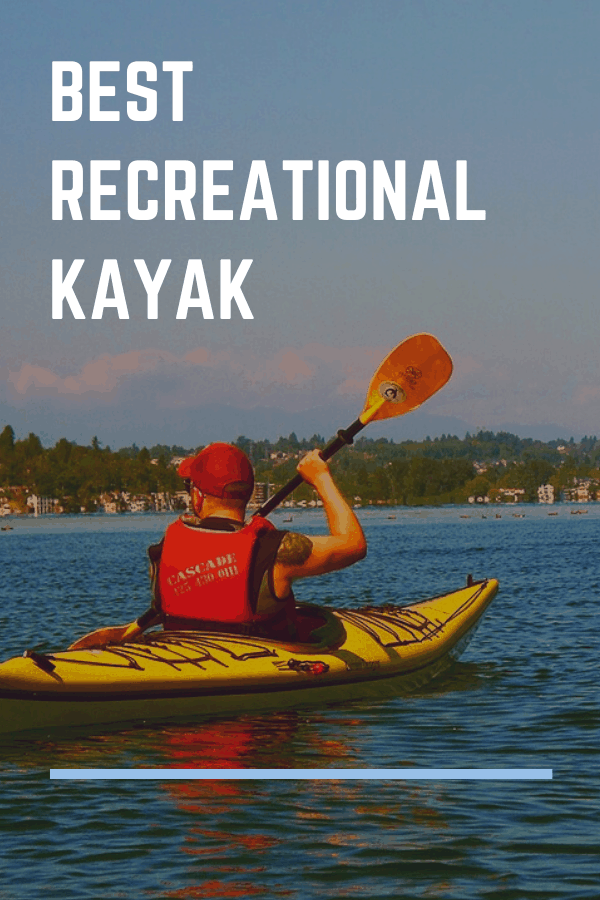 Author: John McCloy
John is a professional copywriter, fencer, and paddlesports fanatic based in the UK. When he's not out on the water, he can usually be found convincing new people to try kayaking, pretending to be Zorro or climbing what passes for mountains in England.