Inflatable kayaks have a lot of benefits when it comes to using them to run whitewater. They are extremely portable, able to deflate and roll up into small packages that one person can comfortably carry.
This makes them supremely easy to get to the water's edge, which is a bonus for whitewater kayakers who often have to carry heavy and unwieldy rigid kayaks significant distances to get them to the water, especially if you are transporting your kayak by car.
Inflatable kayaks are also highly durable being constructed of hard-wearing materials, they suffer from none of the fragility that people associate with inflatable 'yaks, and their flexible nature means they are far less likely to be damaged through impacts with obstacles.
Picking out the inflatable kayak that is best suited for whitewater can be difficult, so we've put together a jargon buster, buying guide, and reviews of some of the best inflatable whitewater kayaks on the market to make the whole process just that much easier for you!
Best Inflatable Whitewater Kayaks
Sea Eagle SE330 Two Person Inflatable Sport Kayak Canoe Boat with Two Seats, Two Paddles and Pump.
Solstice by Swimline Rogue Kayak, Multicolor, One Size (29900)
Advanced Elements Attack Whitewater Inflatable Kayak, Yellow
Solstice Flare 1 Person Kayak, Red (one size) (29615)
Sea Eagle SE330 Two Person Inflatable Sport Kayak Canoe Boat with Two Seats, Two Paddles and Pump.
Solstice by Swimline Rogue Kayak, Multicolor, One Size (29900)
Advanced Elements Attack Whitewater Inflatable Kayak, Yellow
Solstice Flare 1 Person Kayak, Red (one size) (29615)
Sea Eagle 330 – Editors Choice
Inflatable Kayak Jargon Buster
Inflation Time
Inflation time is the amount of time it takes to fully inflate a kayak from its packed away form. Most kayaks cannot be inflated adequately without the use of a battery powered pump and can take up to 40 minutes to inflate, although most take around 10 minutes.
Puncture Resistance
All inflatable kayaks run the risk of punctures, although this is rare unless the kayak is used outside of its recommended conditions. Most inflatable kayaks have a triple-layered outer skin for maximum puncture resistance and come with a guarantee that covers manufacturing failures.
Drops
Drops are sudden changes in water elevation. These can be caused by rocks, a change in river gradient, or even a waterfall. Because of their lighter weight, inflatable kayaks can become unstable during the fall from particularly high drops, so these are best avoided.
Holes
Holes are created when fast running water comes into contact with an obstacle such as a rock. The water flowing over or around the obstacle can create circular or downward moving currents that can trap and even swamp a kayak. Generally, inflatable kayaks have a wider profile and beam than rigid whitewater kayaks and this results in them being more likely to get stuck in holes.
Boofing
To "boof" is to make a dynamic forward stroke that pushes the kayak forward off a drop with correct momentum and angle to avoid being caught in any holes that might have formed at the bottom of the drop. The air pressure inside an inflatable kayak gives them an advantage when it comes boofing, allowing them to "pop" up out of holes.
Inflatable Whitewater Kayak Buying Guide
Multiple Chambers
When looking for an inflatable kayak that is well suited to whitewater, it is best to go for a model with multiple inflation chambers.
Multiple inflation chambers have several advantages, the most obvious being that if one of them is punctured, the air cannot escape from the entirety of the kayak so it will stay buoyant.
Multiple air chambers also contribute to the rigidity of the kayak, which has a significant effect on its performance. Inflatable kayaks with a single air chamber are prone to bending in the middle, in a similar manner to a sun lounger at the beach, making them sluggish to maneuver and slow to build up speed.
UV Protection
Good UV protection is something every kayak should invest in, both for themselves and for their inflatable 'yak. Modern inflatable kayaks are often made of durable plastics, such as polyurethane and polykrylar, which can be made brittle by extended exposure to UV rays. When looking for an inflatable kayak, prioritize those that come with a chemical coating designed to resist UV damage.
Internal Bracing
Some designs of inflatable kayaks come with rigid internal bracing to allow for both greater hull rigidity and quicker inflation.
The presence of this internal bracing might make the kayak a little more difficult to deflate and store, but it has a distinctly positive effect on the kayak's performance.
If your chosen whitewater run involves a significant amount of sharp turns or obstacles then it is worth investing in an inflatable kayak with internal bracing.
Best Inflatable Whitewater Kayak Reviews
Check Price On Amazon
Hull Material: PolykrylarLength: 11' 2"Width: 34"Weight: 26 lbs.
The Sea Eagle 330 is a rugged and dependable kayak, rated to run up to Class III rapids. Made of durable 33mm Polykrylar, the Sea Eagle features two skegs on the bottom for better tracking and speed, a self-bailing drain valve, and lashed-down inflatable spray skirts.
The Sea Eagle's I-beam construction gives it added rigidity while its three air chambers can be inflated in around six minutes. Packing down to just 9.25 x 17.91 x 33.46 inches, the Sea Eagle is eminently portable and with its twin seats and inflated length of over 11 feet, it's ideal if you want to take a buddy out kayaking with you.
The hull of the Sea Eagle is triple layered and the seams are high-frequency welded for extra durability. Combined with its deluxe one-way valves and 10-year UV resistant coating, the Sea Eagle is rugged enough that it comes with a limited 3-year manufacturer's warranty against defects in materials and workmanship.
If there is any fault with the Sea Eagle 330, it's that the length of the boat and the width of its cockpit may feel a little cramped for two larger paddlers, a very minor criticism when you take into account its many positive traits.
PROS
CONS
SummaryDurable, dependable, and easy to transport, the Sea Eagle is ideal if you want to go whitewater kayaking with the minimum of preparation. It inflates quickly and easily, stays rigid, has all the features you could need, and comes with a 3-year warranty to cover any defects.
Check Price On Amazon
Hull Material: 1000 Denier NylonLength: 9' 6″Width: 37″Weight: 26 lbs.
Lightweight and portable, the Solstice Flare is the ideal kayak for storing in the back of your car, ready to be able to get out on the water at a moment's notice.
Packing down to just 114 x 37 x 22 inches and weighing in at just 26 pounds, the Flare is easily one-person portable and small enough that even the most space conscious kayaker will be able to find a place to store it.
Made from lightweight but durable 1000 Denier nylon, the Flare comes with a drop-stitched floor for added rigidity and abrasion resistance, while its H3 valves can easily be replaced if they are damaged.The cockpit is small so larger kayaks may feel a little cramped, but the adjustable foot positioning will help to alleviate that.
On the water, the Flare is stable because of its wider beam, but still maneuverable because of its high rocker. Its maneuverability is further assisted by a detachable skeg. The Flare is missing any form of spray cover and crucially, does not come with a self-draining valve.
PROS
CONS
SummaryThe Flare is ideal if you like to go kayaking whenever the mood takes you and need a kayak on hand for when it does. Easy to transport and store, the Flare handles the whitewater well and would work just as nicely as a recreational kayak, making it very versatile.
Hull Material: PolyurethaneLength: 10.5″Width: 38″Weight: 26 lbs
The benefit of the Advanced Elements range of inflatable kayaks is that they come with an internal aluminum rib. This rib makes the folded down Sport a little bulkier than other inflatable kayaks of the same weight, but it does significantly add to the rigidity of its hull.
Combining this rib with the four air chambers that inflate the Sport's relatively small hull give this kayak the same feel and performance as a rigid hull kayak.The Sport has been revised recently, and now comes with a higher and more supportive seat, allowing you to put more power into your stroke.
The Sport is also designed to "perform in universal water conditions," making it an ideal choice for those looking for a crossover kayak that can handle whitewater and still function as a recreational kayak.
PROS
CONS
SummaryThe Advanced Elements Sport is light, easy to store and transport, and has performance that nears that of a rigid kayak. An excellent crossover model, it is at home in the rough and tumble of the whitewater but still performs well on the flat, calm waters. The lack of a spray cover and self-draining valve are its only major drawbacks.
Hull Material: K80Length: 10.5'Width: 33"Weight: 23 lbs.
A convertible kayak, the Solstice Rogue can be outfitted to take one or two paddlers on a whitewater run. Made of superbly resistant heavy duty 26G K80 material and radio frequency welded seams, the Rogue can easily withstand the rigors of fast water and the occasional impact with an obstacle.
An I-beam design similar to that of the Sea Eagle keeps the Rogue rigid and helps with its performance while three inflatable chambers help to keep the center of the 'yak from becoming too flexible.
Out on the water, the narrow shape and shorter length of the Rogue allow it to cut through the water more effectively, offsetting some of the lack of speed generated by its inflatable design. Its maneuverability is also aided by the comparative rigidity of its hull, but does not match up to what you would expect from a rigid-hull kayak.
While its basic design is very similar to the Sea Eagle, the Rogue lacks many of its competitor's features as it does not include a skeg, spray covers, or a self-draining valve.
While the Lure only has two flush-mounted rod holders, it does feature a front and rear uni-track rail with a tie-down system. This allows the fitting of up to four other rods in mobile settings, letting the angler get a 360-degree coverage around the kayak. To make casting easier and safer, the Lure comes with a stand-up leash and non-slip standing pad.
One of the unique selling points of the Lure is the addition of a removable sonar and electronic pod. The pod makes it easy to install a fish finder or transducer without having to drill any holes into the kayak's hull.
To accommodate all these additional accessories, the Lure is longer and heavier than most river fishing kayaks. At just under 12 feet and weighing 74 pounds, it will require some planning to transport and get to the water's edge, and certainly isn't one person portable.
PROS
CONS
SummaryThe Rogue functions as a stripped-back version of the Sea Eagle; it has all the same primary design points, but the Rogue lacks the extra features that makes the Sea Eagle stand out. If you are looking for a durable inflatable whitewater kayak but don't want all the bells and whistles that the Sea Eagle offers, then the Rogue is a great choice for you.
Hull Material: PVC TarpaulinLength: 9'6″Width: 35″Weight: 34 lbs.
A single person kayak, the Advanced Elements Attack lives up to its name. Narrow and fast, the Attack's outer hull is made of heavy duty PVC Tarpaulin and its internal bladders, often made of a lighter material, are instead made of same stuff, giving you twice the security.
The Attack comes with a host of excellent features such as adjustable thigh straps, hull abrasion rails, molded-grab handles, and an adjustable seat. There is even a covered storage area in the back to stow your gear in.
While it doesn't have any form of internal bracing, the Attack's shorter length and three inflation chambers keep it rigid enough to stop it being sluggish on the water while its 12-inch rocker makes it highly maneuverable.
The Attack's hull also features a self-draining valve so you wont need to bail water out yourself. The only downside to the Attack is that at 35 pounds, it's a little on the heavy side for a one-person inflatable kayak.
PROS
CONS
SummaryAs the name suggests, the Attack is an aggressive and fast-moving kayak with the rocker to keep it nimble in the water. The thigh straps and adjustable seat keep you securely in the cockpit no matter how rough it gets, and there is even a spot to keep your gear fixed.
Check Price On Amazon
The Sea Eagle is the complete package when it comes to inflatable kayaks that are able to handle whitewater. It comes packed with features, such as two skegs for better tracking and speed, a self-bailing drain valve, and inflatable spray skirts.
The triple-layered Polykrylar hull and high-frequency welded seam make it hugely durable, and this is reflected in the length of warranty provided. Out on the water it is maneuverable and can take a few knocks, while on dry land it packs down small and is easy to store and transport. It's clear to see why the Sea Eagle 330 is our choice of an inflatable kayak for whitewater!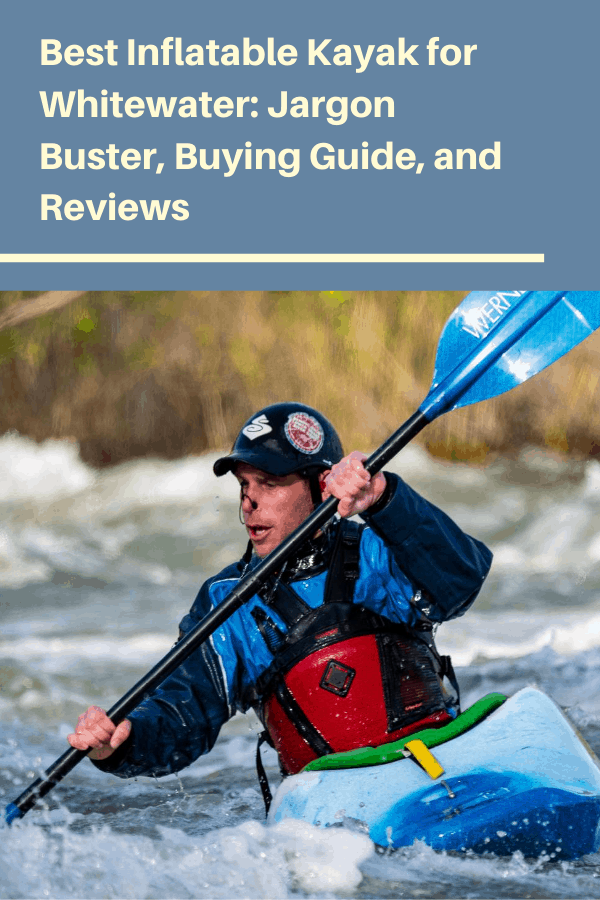 Author: John McCloy
John is a professional copywriter, fencer, and paddlesports fanatic based in the UK. When he's not out on the water, he can usually be found convincing new people to try kayaking, pretending to be Zorro or climbing what passes for mountains in England.