Folding kayaks are an excellent way to enjoy the hobby, particularly if you don't have room to store or transport a standard kayak. Because they can be folded down to a convenient size and easily stored, a folding kayak gives you the option to get out on the water whenever it suits you.
However, buying a folding kayak can be a little intimidating if you have no experience with them. We've created a buying guide to help you understand what you should be looking. Additionally, we've reviewed some of the best portable folding kayaks on the market.
Best Folding Kayaks
Thumbnail
Title
Oru Kayak BayST Folding Portable Lightweight Kayak - High Performance for Fishing, Sailboats and Backcountry Trips
Oru Kayak Beach LT Folding Portable Lightweight Kayak - for Day Trips, Picnics, and Casual Fun with Family and Friends …
ADVANCED ELEMENTS AE1007-R AdvancedFrame Convertible Inflatable Kayak, 15', Red
Thumbnail
Title
Oru Kayak BayST Folding Portable Lightweight Kayak - High Performance for Fishing, Sailboats and Backcountry Trips
Thumbnail
Title
Oru Kayak Beach LT Folding Portable Lightweight Kayak - for Day Trips, Picnics, and Casual Fun with Family and Friends …
Folding Kayak Buying Guide
Folding kayaks generally come in one of two styles, each extremely portable:
Inflatable Kayak– Constructed from inflatable exterior thats supported by solid inner ribs.
Origami Kayak– These are made of a flexible, non-inflatable, material that folds against itself to create a rigid outer hull.
Neither design has any particular advantage over the other, but certain individual kayaks may have features that make them better suited to your needs. To make things clearer, we've listed some of the relevant traits to look for in a folding kayak.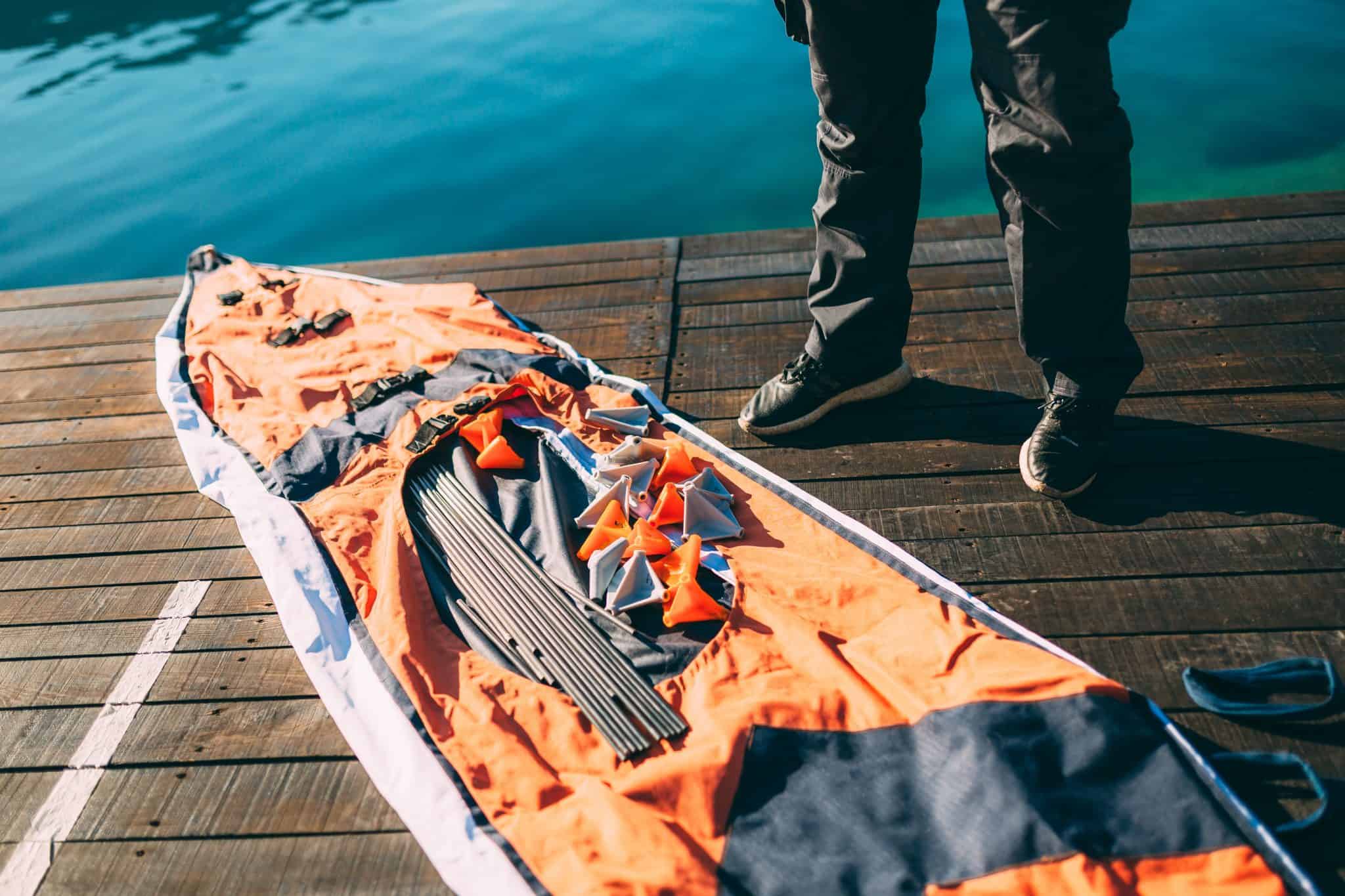 What To Consider When Purchasing A Folding Kayak
Folding Size – A kayaks folding size represents what dimensions it will fold into when not in use. Origami kayaks tend to fold down to a smaller size than inflatable ones as you don't have to factor in the size of the supporting ribs.
Folding Strength – The folding strength of an origami kayak indicates the number of times it can be assembled, used, and then disassembled. After the number of folds has been exceeded, you will need to purchase a new model. Thankfully, all of the origami kayaks reviewed can be folded up to 20,000 times, allowing you plenty of use before they need to be replaced.
Inflation Time – If you choose to purchase an inflatable kayak, always check both the inflation time and method. Most kayaks cannot be inflated adequately without the use of a foot or electric pump. They typically take between 10 and 40 minutes to inflate.
Breakdown Time – While origami kayaks can be folded down and stowed reasonably quickly, inflatable kayaks will need to be deflated before folding. It's best to factor that deflation time into your plans, especially if you're tight on time.
Seat Position – Some folding kayaks offer multiple seating options with the ability to switch from solo to tandem and even from a closed deck to an open deck. Taller paddlers might want to check the seat-to-bow measurement to make sure they have enough leg room.
Beam Width and Assembled Length – The beam measurement is the width of the boat. Wider boats are more stable in the water but slower and less maneuverable. The assembled length is measured from bow to stern when the kayak is inflated. If you are particularly tall or want to take a lot of gear with you, then a longer kayak will provide you with the extra space you're looking for.
Puncture Resistance – All inflatable kayaks run the risk of punctures, although this is rare unless the kayak is used outside of it's recommended conditions. All of the folding kayaks reviewed here feature triple-layered outer skin for maximum puncture resistance.
Maximum Weight – All kayaks have a maximum weight limit. Exceeding that weight limit means they will start taking on water. Maximum weight limits on folding kayaks tend to be lower than hard-shell kayaks due to their flexibility.
UV Resistance – The hulls of origami kayaks are often made of polypropylene, which can degrade when exposed to UV radiation. All of the kayaks reviewed here are treated with a chemical coating to make them UV resistant for ten years.
Folding Kayak Reviews
Rated Best Folding Kayak

Check Price on Amazon
Kayak Type
– Origami
Folding Size – 29 x 33 x 12 inches
Carry Weight – 28 pounds
Assembled Length – 12 feet
Maximum Weight – 300 pounds
The Oru Kayak BayST is a touring kayak that you can fold down and carry around with you. At 12 feet long and with a beam of 25 inches, the BayST is stable enough for a beginner while still being fast and maneuverable enough for more experienced 'yakers. The hull is double layered for durability and extra rigidity is provided by a hard chine. A one year warranty covers any defects from the manufacturing process. The BayST is only recommended for Class II Rapid use.
PROS
Lightweight
Folds down to compact size
Handles well
Suitable for beginners and more experience kayakers
Can be used in whitewater
1-year manufacturer's warranty
CONS
Can be difficult to fold and unfold if you are alone
Paddles are not included
Summary – What makes the BayST stand out the from rest of the kayaks on this list is how many roles it fulfills. Its low weight and small size means just about anyone can transport it, even on foot.
This portability allows people without the storage option for a standard kayak to access the sport. It also lets you bring a kayak on holiday or keep it in your car and just go kayaking when the urge arises. It is also stable enough for beginners and maneuverable enough to appeal to those who aren't new to the sport.
The only downside is that you have to buy your paddles separately.
Check Price on Amazon
Kayak Type
– Origami
Folding Size – 29 x 33 x 12 inches
Carry Weight – 28 pounds
Assembled Length – 12 feet
Maximum Weight – 300 pounds
The Oru Kayak Beach LT is a folding recreation kayak. With a beam of 28 inches and a wide cockpit, the Beach LT is a very stable kayak that's ideal for beginners and families. Designed for day trips and beaches, it even has enough room to accommodate one adult and one child.
The kayaks construction and materials are the same as the BayST and come with the same guarantees. Because of its broader beam and slightly larger storage space, the Beach LT makes an excellent fishing kayak, especially when combined with Oru's fishing kit.
PROS
Stable and easy to paddle
Ideal for fishing
Can accommodate an adult and child
Wide cockpit make for easy access
CONS
Paddles are not included
Designed for recreational use and aimed towards beginners
Summary – The Oru Kayak Beach LT makes a great addition to a family outing or a trip to the beach. It's easy to get into, stable, and can accommodate a child. Oru claims it can be assembled in just three minutes. However, experienced kayakers may be disappointed in its lack of speed and maneuverability.
Check Price on Amazon
Kayak Type
– Inflatable
Folding Size – 35 x 21 x 12 inches
Carry Weight – 52 pounds
Assembled Length – 15 feet
Maximum Weight – 550 pounds
The Advanced Elements AE1007-R is both inflatable and convertible, meaning it can be constructed as a solo or tandem kayak with either an open or closed deck.
Compared to the Oru kayak models, it is larger, and more cumbersome, when folded. It is, however, probably the most multi-purpose kayak on our list.
The AE1007-R has three layers of durable rip-stop fabric to prevent any punctures. This material is stretched over an inner rib, a U-shaped piece of aluminum, which is attached at the bow and stern.
The rib gives the AE1007-R greater rigidity and better tracking performance through the water.
Inflation is achieved through six inflation chambers. A pump is not supplied, but a universal pump adaptor is provided.
When inflated, velcro straps allow you to reposition the seat for tandem or solo kayaking. There is also a zipper running around the perimeter of the cockpit that enables an additional section to be attached, creating a closed deck.
For greater rigidity (therefore better tracking and maneuvering), the AE1007-R includes a rigid high-pressure floor that utilize Drop-stitch technology.
The Drop-stitch flooring also allows you to bring your canine companion with you without risking a claw puncturing the floor of the kayak.
PROS
Can be assembled as solo or tandem
Can be constructed as closed or open deck
Easy to inflate
Can be made more rigid to improve performance
CONS
Heavier and larger than origami style kayaks
Pump not provided
Summary – The AE1007-R can be assembled to suit nearly any situation. With the addition of the Drop-stitch high-pressure floors, this kayak can be made rigid enough to handle Class II rapids.
Check Price on Amazon
Kayak Type
– Inflatable
Folding Size – 30 x 17 x 10 inches
Weight – 36 pounds
Assembled Length – 10.5 feet
Maximum Weight  – 300 pounds
The AE1012-G is a shorter and more maneuverable version of the AE1007-R. The built-in aluminum ribs in the bow and stern let the AE1012-G to cut through the water more efficiently, with the rear rib acting as a skeg.
While it is zippier than the AE1007-R, it still features a wide beam for extra stability and a front zip that allows for easier access to the cockpit.
The outer skin is the same three layers of durable rip-stop fabric as the AE1007-R. Additionally, the AE1012-G is also compatible with the Drop-stitch high-pressure floors. An inflatable coaming allows you to attach a spray skirt.
Lastly, an integrated pressure relief valve ensures the chamber isn't over-inflated.
PROS
Shorter and more maneuverable than the AE1007-R
Light and portable
Attachable spray skirt
Integrated pressure relief valve
CONS
The smaller size could make it uncomfortable for paddler with larger framer
Lacks an HRM and sports funtions
Summary – The AE1012-G is lighter, more portable, and more maneuverable than the AE1007-R. However at just 10.5 feet in length, it leaves you with less space to store gear and might feel cramped if you have a larger frame.
Kayak Type – Inflatable
Folding Size – 15 x 15 x 20 inches
Weight – 27 pounds
Assembled Length – 10.5 feet
Maximum Weight – 250 pounds
Despite being labeled as the "Sport," this foldable kayak is purely recreational. It's not a sports kayak in the way that playboats or surfskis are. That being said, its small size and light weight makes it easy to maneuver in the water, with similar tracking and turning performance to a hardshell.
It's also easier to inflate than other Advanced Elements models because it has only four inflation chambers rather than six. While the lack of chambers might make a larger craft sag slightly, the Sport's smaller length and internal aluminum rib prevent this.
The Sport is the smallest and lightest of the folding kayaks on our list, making it easily portable and allowing it to fit in all but the smallest of cars.
At 10.5 feet, the Sport is undoubtedly compact, but might make it too cramped for taller paddlers. Its smaller size also restricts the amount of gear you can bring with you.
The latest version of the Sport comes with a higher, more supportive seat that keeps you comfortable for longer.
The Sport is listed as being "designed to perform in universal water conditions," but the lack of a spray deck reduces its usefulness in whitewater conditions.
PROS
Very light and portable
Small pack-down size
Very maneurable
Supportive seat
Easy to inflate
CONS
No spray skirt option
May be too short for taller paddler
Limited gear space
Not suitable for whitewater
Summary – The Sport is very portable and, out of all the kayaks on the lists, is probably the easiest to carry around and inflate. Its size and portability, however, are also its main drawbacks. It's not suitable for long trips because of the lack of gear storage space and the short length will only be comfortable for shorter paddlers.
Check Price On Amazon
The BayST combines the convenience and storage capacity of a foldable kayak with the functionality of a touring model. The double-layered hull, rigid bow, stern points, and hard chine give the BayST the tracking and maneuvering performance close to that of a hardshell. It also comes with all the legroom and storage space you'd expect on a standard touring craft.
When you add to these features to the impressive pack-down size and extremely light weight, it's easy to see why it's so popular. For those who can't store a 12-foot kayak or don't have a car that can accommodate a roof rack, the fact that you can fold the BayST flat and carry it around with you makes it the ideal choice.
More From KayakHelp: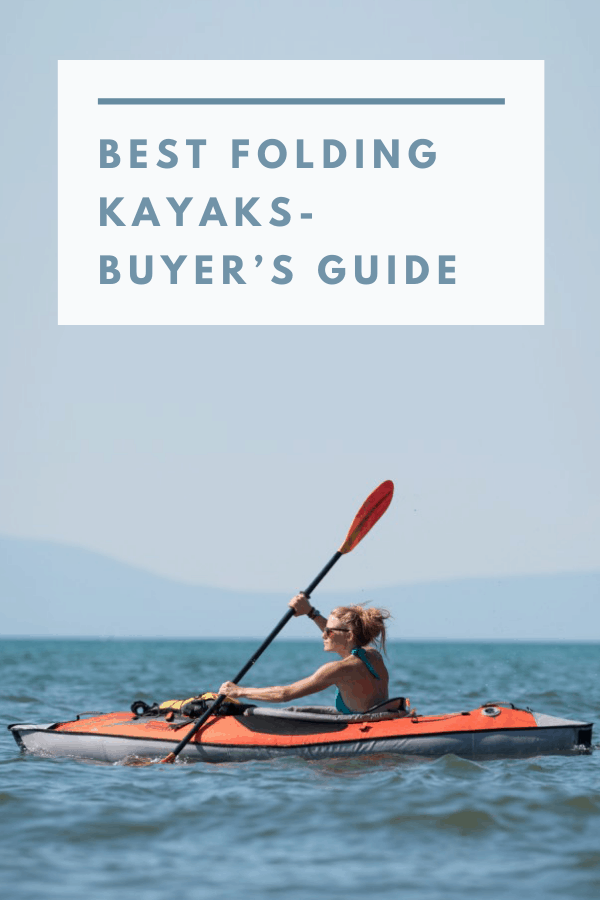 Author: John McCloy
John is a professional copywriter, fencer, and paddlesports fanatic based in the UK. When he's not out on the water, he can usually be found convincing new people to try kayaking, pretending to be Zorro or climbing what passes for mountains in England.