Sea kayaking is an amazing experience. From your kayak vantage point, you can enjoy the rolling vista of the open seas or explore sections of the coastline that aren't accessible on foot.
Like most forms of kayaking, however, you'll get the most enjoyment out of your adventures if you are in the right kayak.
The best sea kayak choice for you depends on a number of factors such as where you plan to go, how long you plan to paddle, and what the water conditions are going to be like.
To help you pick the sea kayak that's going to be most useful to you, we've put together a buying guide, jargon buster, and reviews of the best sea kayaks on the market.
Flat Water Versus Choppy Water
One of the primary considerations when buying a sea kayak is what kind of water you plan to paddle it on. Depending on the design of the kayak, specific features, such as the shape of the hull, length of the craft, and size of the cockpit can make them better suited to one type of water versus another.
Flat Water – Areas of flatwater connected to the sea include river estuaries, closed coves, coastal flat waters, and even mangrove swamps.
These areas don't tend to feature choppy water or waves but do have tides. Flatwater boats have a rounded hull and wider cockpit, which makes them more maneuverable on flat water but vulnerable to taking in water in choppy seas.
Choppy Water – Open stretches of sea and most coastlines will be areas of choppy water, where wind and tidal action will produce small, regularly spaced waves. Kayaks designed for choppy water tend to have a V-shaped hull for cutting through waves and a small cockpit to reduce the chances of water coming in over the sides.
Sea Kayak Buying Guide – What to Look For
Comfort – Making sure that the kayak you purchase is one you can fit into comfortably is important. Not only will it allow you to stay out on the water for longer, but it will also make it easier to control your kayak. It is worth noting that, in comparison to other kayak models, sea kayaks have a very small cockpit. This is to stop the waves splashing water into the hull compartment. The cockpit should be a snug fit but shouldn't cut into your ribs.
Sinkage Level – The sinkage level of a kayak is determined by how much weight is needed to make it sit an inch lower in the water. If you're on longer trips or planning on going in choppy waters, then it's worth knowing how low the kayak will ride based on weight of you and your gear. If it's too low, the kayak could flip or take on water in rough weather.
Weight – Sea kayaks tend to be longer and heavier than recreational kayaks. Depending on the model, moving a sea kayak can be a two person job and lifting it on and off a car rack can be a challenge.
sign-outHull Shape – In general, sea kayaks have one of two hull designs. Kayaks designed for choppy open water will have a V-shaped hull, allowing them to cut through turbulent water. Flatwater kayaks feature a rounded hull, which is less suited to cutting through waves and more appropriate for kayaking through closed coves, coastal flat waters, and estuaries.
Skeg or Rudder – Open water often exposes kayakers to wind blowing across the path they are paddling, making it hard to track straight. While most kayakers would prefer to travel up-wind, known as weather-cocking, this is not always possible. A skeg or rudder allows you to correct and keep paddling straight.
Construction Materials – Generally, sea kayak hulls are made of either composite such as fiberglass, carbon fiber, or hard-wearing plastics like Acrylonitrile-Butadiene Styrene (ABS) or polyethylene. Fibreglass and carbon fiber boats tend to be stiffer, which leads to better performance. They also hold their shape much better over time, without warping or developing dents and deep scratches. Plastic boats tend to be heavier and lack the stiffness and responsiveness that you will get with a composite kayak. However, they are less prone to damage from hitting rocks or being dropped.
Sea Kayak Buying Guide – Jargon Buster
Rocker- The rocker is a measurement of how much a kayak rises at the bow and stern. The higher the rocker is, the more maneuverable but slower the kayak.
Edging – Edging, also called carving, is the act of tilting a kayak so that one side of the kayak is out of the water. Carving a kayak into a turn creatures more water friction on one side of the kayak, causing it to turn faster.
Tracking – Tracking is a measurement of how well a kayak stays in a straight line when paddled.
Chine ​​​​​- A chine refers to the sharp change in angle in the cross-section of the hull. The term "hard chine"
indicates an angle with little rounding. Whereas, a soft chine would be more rounded but still involve the meeting of distinct planes.
Stability- The initial stability of a kayak is how stable or unstable the kayak first feels when you get into it. The secondary stability is how stable the kayak feels when you're edging.
Waterline – The waterline is the length of the kayak that is in the water. This dictates how fast the kayak is and how easy it is to turn. The higher the rocker of a kayak, the shorter the waterline.
Skeg – A skeg is a fixed rudder designed to allow the kayak to track straight, even when not moving into the wind.
Sea Kayak Buying Guide – Reviews
Thumbnail
Title
Necky Elias Kayak with Rudder
Necky Eliza Kayak with Rudder Sunrise, One Size
Riot Kayaks Edge 14.5 LV Flatwater Day Touring Kayak (Yellow/Orange, 14.5-Feet)
Necky Eliza Kayak with Rudder
Thumbnail
Title
Necky Elias Kayak with Rudder
Thumbnail
Title
Necky Eliza Kayak with Rudder Sunrise, One Size
Thumbnail
Title
Riot Kayaks Edge 14.5 LV Flatwater Day Touring Kayak (Yellow/Orange, 14.5-Feet)
Thumbnail
Title
Necky Eliza Kayak with Rudder
Hull Material – Available in both polyethylene and composite
Length – 15'6"
Width – 22.25"
Weight – 54 pounds
Cockpit Size – 32.25" x 16"
The Necky Elias, and it's smaller sister the Eliza. are our top picks in this list of great sea kayaks because of their well-rounded performance.
No single feature stands out because every aspect of the Elias is well-designed. This adds up to an excellent paddling experience.
The long length of the Elias coupled with its hard chines helps it to cut through the water with ease, allowing it to carve its way through choppy water and build up impressive speed over flat water. Its moderate rocker keeps the craft responsive.
Excellent secondary stability allows you to edge into tight turns without worrying about tipping over.
While a medium rocker can affect a kayak's tracking, the addition of a foot-pedal operated rubber (also available as a retractable skeg on composite models) helps minimize this.
Additional volume at the stern and bow, coupled with spacious gear hatches, allows the paddler to take enough cargo for a comfortable weekend trip.
At 15.6 feet long, the Elias might be a little cramped for the tallest 'yakers, but an adjustable seat, thigh braces, and foot pegs will make it a comfortable fit for all but the longest of legs.  Getting it to the water, however, will require a few friends or a trolley.
PROS
Responsive and maneuverable
Available with rudder or skeg
Good cargo capacity
Available in plastic or composite
CONS
Might be a little cramped for taller paddlers
Summary: The excellent design and performance of the Elias are what makes it our top pick for best sea kayak. It is maneuverable, fast, stable, comfortable and has plenty of storage space to allow for a full weekend of paddling.
Hull Material – Available in both polyethylene and composite
Length – 15' 3"
Width – 21"
Weight – 47 pounds
Cockpit Size – 28.5" x 15"
The Necky Eliza shares all the benefits of the Elias, but with one extra facet: It's specifically designed for women.
Traditionally, the common wisdom was that the longer and narrower the boat is, the faster it will be. The only caveat is that if you can't comfortably fit into or control a longer boat, then speed is relatively pointless.
The Eliza is easier to paddle and paddlers will need to push less water under the boat, enabling it to keep pace with traditional kayaks despite its reduced size.
Like its big brother, the Elias, the Eliza features excellent secondary stability and a medium rocker for great maneuverability, while a deployable skeg or rudder keeps the tracking straight.
The reduced size of the boat does impact the amount of available storage space, but there is still enough cargo space for a day's paddling without needing to restrict your gear.
PROS
Responsive and maneuverable​​​​​​
Available with rudder or skeg
Excellent secondary stability
Good cargo capacity
Available in plastic or composite
Designed specifically for women
CONS
Designed for those with smaller framer, making it a less ideal option for those with larger framer
Summary: The Eliza is ideal for those who have a smaller frame who want the speed of a longer sea kayak without sacrificing comfort or control.
Because it's almost identical to the Elias we've made both of them our choice of best sea kayak from this list. The combination of the two kayaks allows for a fantastic fit for a huge range of paddler body shapes.
Hull Material – Polyethylene
Length – 14' 5"
Width – 22.5"
Weight – 47 pounds
Cockpit Size – 36.5" x 19.5"
If you are looking for a kayak that is comfortable enough to spend long periods in when you're out on the water, and also has enough space to take all the gear you'll need for an extended trip, then the Edge is a fantastic choice.
Featuring an advanced custom-fit seating system, adjustable sliding foot braces, and integrated thigh braces, the Edge has a fantastically comfortable and adjustable cockpit set up.
The security and stability provided by this set up also allows for greater control, as the kayaker can use their body to push the kayak in tighter turns or make fine adjustments to their tracking.
Because of its wider cockpit and flat-bottomed hull, the Edge is primarily suited to flatter waters, where it can build up an impressive speed.
That being said, the hull's hard-chine, narrow profile, and the additional of a deployable skeg will allow you to navigate rougher waters without too much difficulty.
One of the few downsides of the Edge is its comparative lack of storage space. There is one central tankwell, but the rest of the storage comes down to bungee cords on the hull, so you'll need to drybag most of your gear.
PROS
Durable hull​​​​​
Very adjustable seating
Deployable skeg
Bungee storage on hull
Water resistant up to 100 meters
CONS
Best used in flat water, making it weaker option for other water conditions
Limited storage
Summary: Comfortable and responsive, the Edge is a great choice if you plan to mostly kayaking on flat waters, like coastal inlets or large river estuaries.
If you are looking for a kayak that can handle the rough with the smooth, then the Edge might not be for you as its flat-bottomed hull makes it difficult to cut through the waves.
Hull Material – Polyethylene
Length – 9' 1"
Width – 28.5"
Weight – 36 pounds
Cockpit Size – 38.5" x 21.7"
At first glance, the Dagger might seem like an odd choice for a list of sea kayaks. It's short length and wide cockpit has all the hallmarks of a whitewater river kayak.
What makes the Dagger an exciting addition to this list is it's narrow hull, shape profile, multiple chines, and light weight.
The shape of its hull and the extra stability of its multiple chines allow the dagger to deal with moderately choppy water while keeping the maneuverability of a smaller kayak.
You won't win a speed race against much larger boats like the Elias, but you won't be left floundering either.
The other benefit of the dagger is that it is one person portable. At just 9' 1" and 36 pounds, it can easily be loaded onto a car rack or even into a car.
It can be moved from car to surf without a trolley—the extra weight of the heavy Elias makes this feat virtually impossible.
There is minimal storage space on the Dagger but it's not designed with long trips in mind. This small craft is designed to let you kayak on a whim, without needing to worry about getting a enough people and equipment together to move it to the water safely.
PROS
Lightweight
Very portable
Very maneuverable
CONS
Not suited for rough water
Limited storage
Not as fast as longer kayaks
Summary: The Dagger is ideal if you want the option to simply pick up your kayak and head out to the water. Its lightweight and small size keep it portable while its sleek design leaves it able to handle waves. The large cockpit might let in a little water, but that's nothing a spray skirt can't solve.
Hull Material – Polyethylene
Length – 14'
Width – 24.5"
Weight – 53 pounds
Cockpit Size – 39.5" x 21.7"
The Carolina Sea Spray combines comfort and stability to make it an ideal kayak for beginners just starting out on their sea kayaking adventure.
Its width and soft-chined hull give the Sea Spray excellent initial stability and keep it stable on rough seas, while its narrow bow profile allows it to cut through the waves.
Inside its cockpit, the Adjustable Zone DLX seat and leg padding keeps the 'yaker comfortable on longer journeys. The large hull provides plenty of storage space and makes the cockpit remarkably easy to enter and exit.
The only downside to the Sea Spray is that the width of its hull, which gives it its excellent stability, also makes it rather hard to maneuver, meaning the kayaker will need to keep a firmer hand on the paddle to keep the Sea Spray agile.
PROS
Stable
Lots of storage space
Great in rougher seas
Comfortable
CONS
Not particularly maneuverable
Not as fast as longer kayaks
Summary: The Carolina makes of a fantastic entry-level sea kayak for beginners. It's stable, easy to use, and comes with large amounts of storage space. It handles rough seas well and its lack of maneuverability can be remedied with a little more effort on the paddle.
Hull Material – Polyethylene
Length – 16.5'
Width – 21.75"
Weight – 51 pounds
Cockpit Size – 31.5" x 18.75"
The Riot Kayaks Brittany 16.5 has all the quality and maneuverability of the Edge 14.5 LV but optimized for choppy waters. The sleek, narrow hull allows it to cut through the water while its soft chine keeps it stable even when put on edge.
Its narrow profile and V-shaped hull also make it one of the faster kayaks on this list.
Adjustable safety straps, quick-lock foot braces, sure-grip thigh braces, and a high-performance custom-fit seating system will keep you stable and comfortable in even the roughest weather.
The narrow hull does cut down on storage space, but there are two sealed deck hatches and additional cables for storage on the outside of the hull.
The Brittany features both a pilot rudder system and retractable skeg to keep it tracking straight. There is also a recessed storage space for a compass in front of the cockpit.
The only downside to the Brittany is that its both long and heavy, so ease of storage and transport are considerations when purchasing.
PROS
Fast
Maneuverable
Has both a rudder and skeg
CONS
Long and heavy
Limited storage
Summary: The Brittany is the ideal kayak for those who consistently face choppy water. Its narrow hull and sheer length make it quick and maneuverable in the water, but those same factors make it difficult to store and transport on dry land.
While every kayak on this list represents an excellent choice of sea kayak, the Elias and its shorter sister, the Eliza, combine the best parts of stability, performance, and excellent build quality.
On both models, the narrow V-shaped hull allows the kayaks to speedily cut through the water while the high rocker adds great maneuverability. The fully adjustable seat and ample storage space make the Elias ideal for long journeys out at sea, without sacrificing comfort.
The shorter, narrower Eliza is specifically designed for women and paddlers with a smaller frame. It's compact size allows smaller 'yakers to get a better fit, and therefore more control over their kayak. The combination of both models allows a huge range of kayakers to travel in comfort and take advantage of the Elias/Eliza's many benefits.
More From KayakHelp:
Guide To Buying A Sea Kayak
Ultimate Sea Kayak Beginners' Guide
How To Self Rescue In A Sea Kayak
Is Kayaking Dangerous?
How To Pack A Sea Kayak For Camping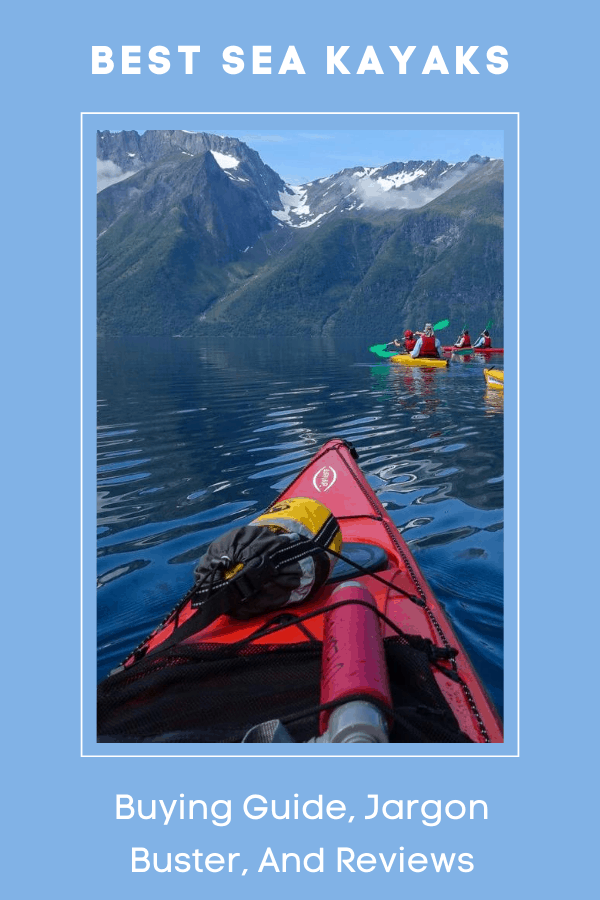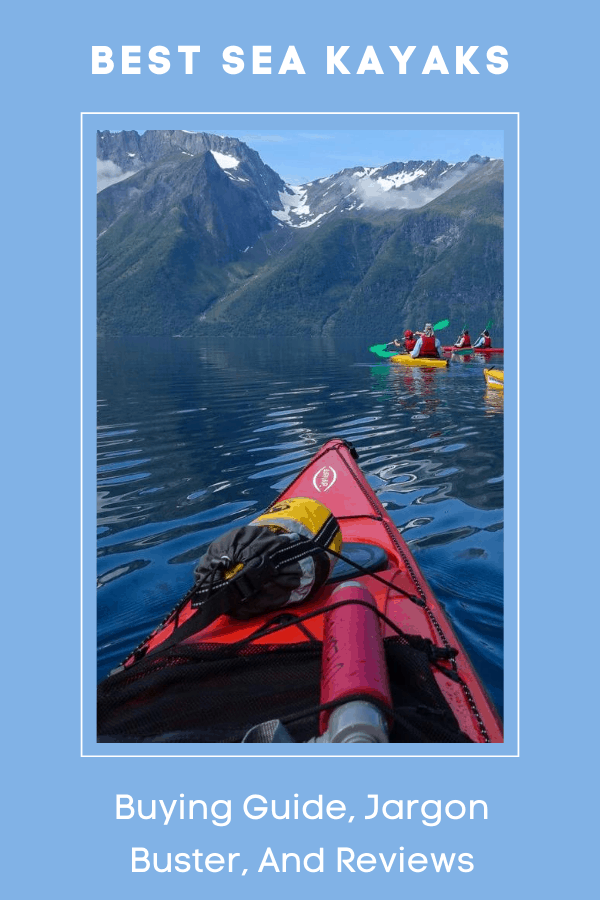 Author: John McCloy
John is a professional copywriter, fencer, and paddlesports fanatic based in the UK. When he's not out on the water, he can usually be found convincing new people to try kayaking, pretending to be Zorro or climbing what passes for mountains in England.