Maneuvering through exciting waterways on a kayak is a thrill.  Whether you're paddling through a winding river, a still lake, or a sea filled with waves, there's so much natural beauty and wildlife to experience along with your route as you take in the fresh air.  Other than being a fun leisurely activity, kayaking is also great exercise and has wonderful health benefits!
Many kayak enthusiasts rent kayaks in the locations they visit; other kayakers own their own boats.  When you're ready to make the move and buy your own boat, it can be confusing to know which type of kayak to buy, an inflatable kayak or a hard shell kayak.
But don't stress; we've got it covered. We've answered the most important questions for you about kayaking to help you make the best purchase.  Here are some handy facts to help you choose which kayak style is right for you.
Let's get paddling!
Also Read: Tandem Kayak vs Canoe
Inflatable Kayak vs Hardshell—Which Kayak is Right for You?
1. What Are Kayaks Made Of?
Kayaks are made from a wide variety of materials. Hardshell kayaks, also known as rigid kayaks, are constructed from wood, plastic, fiberglass, and composite materials such as Kevlar. Hardshell kayaks are heavy in weight, generally weighing in at around 55 pounds.
On the other hand, an inflatable kayak is much lighter, typically around 25 pounds and is made from synthetic rubber and plastic polymers.
2. Which Costs More – An Inflatable Kayak or a Hardshell Boat?
When it comes to price, an inflatable kayak is lower in price compared to a hardshell boat. These days, inflatable kayaks have grown in popularity due to their tougher construction.
They are more sturdy because they are made with redundant air chambers which lowers the risk of you getting tears and leaks in your kayak. This heavy-duty construction is higher in price than other inflatable boats you see on the market because they are made from tougher, more durable materials.
These durable materials are puncture resistant, making it difficult for the boat to rip like they used to in the older inflatable boats.
Hardshell kayaks cost more money because the cost of wood and fiberglass is much higher than the cost of synthetic rubber and other composite materials used for inflatable kayaks. Wooden models will also cost you more in repairs and maintenance and have to be fixed more often.
3. Transportation and Storage
Compared to a hardshell kayak, an inflatable kayak is much easier to move around from place to place.You won't need a roof rack when you transport your inflatable kayak from home to the water like you would in a hardshell kayak.
A benefit of portability is it only takes one person to carry an inflatable kayak to the water, unlike a hardshell boat that typically takes two or more people to lift and carry.
Another advantage of an inflatable kayak is it can be deflated and stored in a small space similar to an air mattress.
After it's deflated, it can be carried in a duffel bag or a suitcase. A smaller inflatable kayak model can even fit inside a backpack–a great asset for backpackers that want to enjoy a kayak ride on their hike.
When traveling on the road, toss your inflatable kayak in the trunk of your car or lay it on your backseat.
After you get home or back to your hotel, if you're on vacation, you can easily store your kayak in a closet.
But first you store it, it's important to make sure it is dry.
Easy portability and simple storage make it convenient to own an inflatable kayak.
4. Safety in the Water
When you're enjoying your kayak on the water, your number one priority should be the safety of you and your passengers, whether you have a passenger with you in a tandem boat or a family member or a friend riding and paddling alongside you.
And, when you're sharing the water with other vessels, it's important to know the rules of boating, especially if you are a beginner boater.
When it comes to your safety, the type of kayak you use has to be built strong enough to withstand the waters you are navigating.
When riding in rough waters like river rapids, hardshell kayaks used to be the preferred choice for safety, but certain inflatable kayaks are safe too.
In the past 10 years, kayak engineers have designed inflatable kayaks that can handle Class 3 and Class 4 waters which can have strong currents. But remember, not every inflatable kayak is built for these classes. So, if you were wondering, "are inflatables kayaks safe?", they are as long as you're in manageable conditions.
That's why it's vital to check your user's manual to see if the inflatable kayak model you are planning to purchase is recommended for class 3 and class 4 waters.
If you do a lot of boating in river rapids, this can be a major factor that will influence your kayak purchase.
An inexperienced kayaker might think you need a hardshell boat to ride around rocks, but veteran kayakers know that inflatable kayaks are built to bounce off rocks when they hit them.
5. Which Kayak Type Can Handle More Weight?
An inflatable kayak contains a high weight threshold. This means it can handle more weight inside the boat, unlike a hardshell kayak that has a low weight threshold.
Even though inflatable yaks weigh around 25 pounds, some of them can hold up to 500 pounds in weight.
This enables kayakers to load more items on the boat–more fishing gear, more hiking gear, more safety equipment– and they can handle more accessories.
The Takeaway
Across the board, inflatable kayaks offer more benefits than hardshell kayaks: They're easier to transport, more convenient to maintain, and easier to store.
Today, they are made out of tougher, durable materials that make them safer than the older inflatable boats.
The downside of them is they need to be inflated and deflated each time they are used.
So now you have some important facts to help you make an informed decision about whether to buy an inflatable kayak or a hardshell boat.
Hope to see you on the water!
Kayak Help provides insights, advice, tips, and reviews for serious and beginner kayaking enthusiasts. Check out our site to read some fun, educational articles about kayaking!
More From KayakHelp: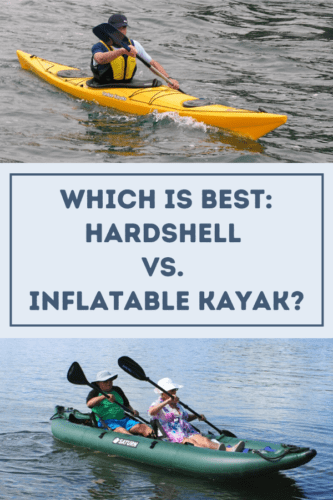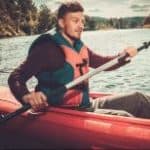 Author: Peter Salisbury
Pete is the Owner of KayakHelp.com. Born and raised in Cleveland, Ohio, he grew up kayaking, fishing, sailing, and partaking in outdoor adventures around the Great Lakes. When he's not out on the water, you can find him skiing in the mountains, reading his favorite books, and spending time with his family.