Kayaking has grown in popularity by leaps and bounds in recent years. In 2012 alone, recreational kayaking grew by a whopping 27 percent.
Part of its popularity is how easy it is to get started. With the right gear and a few kayaking trips, practically anyone can enjoy this exciting sport.
It's also a great way to get some exercise!
If you're a beginner looking to get started, check out these awesome kayaking tips!
Don't Go Alone
One of the reasons why kayaking is so popular is because of how easy it can be. If you choose the right gear and the right water to paddle, practically anyone can enjoy this fun sport.
But even if you're paddling on flat water with beginner's gear, you shouldn't go alone.
Even experienced kayakers get into trouble. The weather could change while you're on the water. You could flip your kayak and be unable to get back in on your own.
Try to bring someone along who has experience kayaking. If you don't know anyone, you can also take a guided trip. An experienced guide will have lots of useful kayaking tips to teach you on the way.
Whether it's your first time kayaking or your hundredth, it's never a good idea to paddle alone.
Start Small
In the United States alone there are hundreds of thousands of bodies of water that are perfect for kayaking. This includes many large lakes, lengthy rivers, and beaches.
But before you start planning a cross-country river run or a multi-day lake trip, start with something a bit smaller.
While kayaking looks effortless, beginner's will often find that their arms get tired very quickly, as you're using muscles that you don't use very often for other activities.
Packing for lengthy trips is also a challenge for beginners.
Instead, start by enjoying several shorter trips, on smaller lakes and on slow moving rivers.
This will give you a chance to build up your strength and to learn these kayaking tips by heart. That way you'll be prepared when you do decide to take on something more challenging.
Get the Right Gear
Using the right gear is not only essential for staying comfortable and having fun, it's also important for keeping you safe.
If you choose to rent a kayak, you may not have much choice in gear. But if you're looking to buy your own to get started in this awesome sport, check out these kayaking tips for choosing the right gear.
Pick the perfect kayak
Kayaks come in all shapes, sizes, and colors. While many of them look very similar, there are many different types of kayaks. Which one is right for you depends on your size, what kind of water you plan to paddle, and your budget.
Experienced paddlers often choose a kayak designed specifically for the type of paddling their do.
For instance, someone who enjoys whitewater kayaking would choose a whitewater kayak. Someone who enjoys kayaking along beaches or on large lakes would choose a sea kayak. Some paddlers will even have multiple kayaks for different types of paddling.
If you're new to kayaking, you won't want to choose something that specific. Instead, you need a boat that can be used on different types of waterways. That way you can try them out to see what you prefer.
There are several different kinds of beginner's kayaks to choose from. These range from touring kayaks, if you live near larger bodies of water or plan to paddle long distances, to inflatable kayaks for those who plan to travel with their kayak.
When choosing a kayak, be sure to check the weight capacity and the size of the cockpit. Taller paddlers may have trouble getting into a kayak with a small cockpit.
You'll also get to choose the color and pattern that you like for your beginner's kayak.
Choose the right life jacket
Perhaps the most important kayaking tips that you can follow are those about choosing a life jacket.
A life jacket is an essential piece of equipment for all paddlers, regardless of experience level, age, or the type of water you're paddling.
Even if you only plan to paddle on small, shallow ponds, you still need a life jacket. If you were to fall out of the kayak and become unconscious, a life jacket will help keep you afloat until helps gets to you.
When buying a life jacket, the first thing to check is the weight capacity for each jacket. Even if you're under the maximum weight, the jacket may not fit.
Many life jackets have a minimum and maximum weight listed. You should ensure that your weight is within those numbers. If you lose or gain weight over time, it's important to get a new life jacket.
While buying a life jacket, make sure to try on several different types. You'll find that some restrict your movement more than others. A jacket designed for kayaking will give you the greatest range of motion, and won't be in the way while paddling.
But other types of life jackets may work as well. Try holding a paddle or mimicking the motion of paddling to see if your arms move freely. A jacket that doesn't fit properly or that isn't right for kayaking may cause chaffing if you're paddling for extended periods of time.
Dress for the weather–and the water
As with any outdoor sport, it's important to check the weather before you head out so that you can dress appropriately. But kayaking is unique because you need to also check the water temperature before you paddle.
During the spring and fall, and even in the early summer in some regions, the air temperature may be warm, while the water is still very cold.
While you can still paddle, you need to be prepared. Cold weather gear like wetsuits or dry suits is essential.
Putting these Kayaking Tips to Use
Now that you've learned some of the most important kayaking tips for beginners, it's time to put them to use!
If you're new to kayaking, find a rental or tour and try it out! If you've already tried it and loved it, it's time to buy your own gear!
Before you buy, check out the reviews at Kayak Help, and feel free to contact us if you have any questions!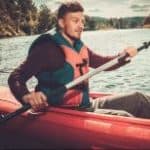 Author: Peter Salisbury
Pete is the Owner of KayakHelp.com. Born and raised in Cleveland, Ohio, he grew up kayaking, fishing, sailing, and partaking in outdoor adventures around the Great Lakes. When he's not out on the water, you can find him skiing in the mountains, reading his favorite books, and spending time with his family.