Being out on the water with a kayak is not only fun and relaxing but a great way to get your kids outdoors and away from those digital screens! The only problem might be finding the best kayak just for kids.
I didn't want to worry about my kids when they first started kayaking, which is why I looked for the safest and most suitable options out there.
In this article, I'll be sharing what you should be considering in your search and I've also compiled the top 3 options on the market right now.
Best Kayak For Kids: What To Consider
There's a lot to think about before you pick up a child kayak, such as whether your kids are ready and what type of kayak you should buy. Before going out on the water, consider these factors first.
Is Your Child Actually Ready?
Before you get your child their own personal kayak, it's important to be sure they have some experience kayaking with you or just spending time on the water in general.
This may seem obvious, but don't just throw them out there if no one in the family has kayaked before. Start out with calm waters.
The only time you should move to faster currents with your kids is if you have extensive experience kayaking. Otherwise, ask around at sporting goods stores, park associations, or park services to find the best locations for kids.
As long as your kids are excited and able, it's never too early to get them started.
Remember Safety!
Get your kids out on the water only once you can be sure they're completely safe. To do this, practice exits and rescues, and spend time reviewing so your kids feel completely comfortable.
Make sure you give your kids sunscreen and appropriate clothing too as well.
With Other Adults
If they are still riding with another adult, put your child in the bow or in the middle of the kayak, with adults in front and behind them.
This method of riding in the middle called "duffing" gives them a feel for the boat without throwing them right out there.
Observations
When you go out with your kids, the one thing you're really trying to do is get them used to the water so they can eventually paddle on their own.
That means letting your children paddle so they feel helpful, included, and can think about whether they want to continue. Get a better feel for their padding abilities to see if they're ready to go on their own.
Experience Level
Once you've taken a look at your child's abilities on the water, think about how much experience they have, their age level and maturity, how familiar they are with kayaking, and how coordinated they are.
If any one of these areas are lacking, there's no problem with waiting until your child is ready for their own kayak. You can even have them paddle separately, but close to shore, until you're sure they're ready for some more strenuous efforts.
How To Choose The Best Kayak For Kids
Choosing the best kayak for kids can be surprisingly easy if you know what to look for.
It might be a little different than what you need as an adult when it comes to weight, stability, or length, but it's especially important to think about what will match your child's experience level best too.
Weight

– The weight of the kayak is crucial, especially for kids. They need to be able to lift it to move it easily, which is why there are inflatable options as well that are available to you.

Length

– Once again, kids shouldn't have a kayak that's too big. Go for something that's 6-8 feet, since this size will ensure easier handling and more balance when it comes to tracking and maneuvering.

Width

– You may have not even thought about this, but since kids have shorter arms, a kayak that's too wide will only leave your kids hitting their elbows the entire time. Broad boats may be more secure, but narrower versions will help them maneuver easier.

Stability

– This is probably the most important thing since kids are just starting out and will need a kayak with lots stability. This feature specifically will offer kids the right amount of balance until their skills improve.

Cockpit

– Especially if your kid is new to kayaking or tends to trip it a lot, a large cockpit will be helpful. If they trip it, they'll have an easier time re-entering.

Towing

– For very young kids, think about kayaks that have a towing ability. You can get kids used to the water this way and prepare them for more advanced options in the future. This is also a great option if you don't feel comfortable enough in their skills to leave them completely alone, but do feel they're ready to start getting out there.

Price

– Of course, the price is an important factor. Whether your child wants to continue kayaking in the future or not, there are tons of reasonably priced options that won't break the bank and that will still offer your child everything they need.
Best Kids Kayak Reviews
There are many options for kayaks for kids out there, but to help you with your decision, narrowed the list down to the top 3. These specific kayaks are meant to give your kid the stability they need to start moving safely.
Check Price on Amazon
This little kayak comes in either blue or pink for your child, with a shape and size that's perfect for kids who are as young as five years old. The molded finger handles on each side of the kayak helps kids keep their grip and improve their stability.
Stability is also enhanced by the reverse chine, with a swim-up step so they can get in easier. It's pretty much impossible to tip over thanks to the double wedge design!
Added features like footrests and a paddle cradle provide easy functionality made just for kids, along with a contoured construction to help them sit comfortably, and small drains to remove water that may find its way in.
This kayak weights only 18 lbs, but can hold up to 130 lbs, so it'll be able to grow as your child grows, especially since the footrests can be adjusted for their overall size too.
PROS
CONS
Old Town makes some nice-looking kayaks in two different colors for your kids. They're small enough to tag along with you if you want to tow yourkids, but large enough that your child can go on their own once you feel they're ready.
It's wonderful how easily it tracks, so your child will be able to manoeuvre it efficiently while paddling with some simple strokes. This will minimize the time your kids spend stuck and encourage them to get out on the water more, especially since they have a comfortable seat to sit in too.
Let your child pick up and carry this kayak around since it's only 26 pounds! It can hold anywhere from 100-115 pounds. This means that your child can continue to use it even when they start to get a little older.
The comfortable and contoured seat is made just for them, fitting smaller bodies without any problem, and if your child has a tendency to trip, the boat won't be lost forever. The internal foam billet means it won't end up at the bottom of the lake no matter how much it trips.
PROS
CONS
The Styrofoam billet comes apart since kids inevitably end up kicking and shredding it over time
Pick out one of the three great colors Sun Dolphin offers for their light and easy to carry a kayak. Your kids will be able to use this comfortably not only thanks to theweight, but thanks to how easily it tracks and paddles too.
The stability is high enough that it shouldn't tip, and even if it does, the open cockpit lets your child enter or reenter much more quickly. With a large and comfortable seating area, along with a paddle holder, you can be sure your child has everything they need.
This little kayak is specifically great for kids who as young as 3 thanks to the wonderful stability it offers. Until around age 6-9, depending on your child's size, they'll be able to enjoy this kayak comfortably as long as they weigh under 140 pounds. When it comes to starting canoes, this might be just the option you're looking for.
PROS
CONS
Conclusion
After I spent a while looking for the best kayak for my kids, I have to say that the Old Town Canoes & Kayaks Heron Junior Kids Kayak has to be the best choice.
Not only did this kayak offer tons of great stability, it had a towing system that helped kids when they were too tired to keep rowing or couldn't get past a difficult area. This ensures that you never have to worry about leaving your kid behind accidentally.
This kayak is best for adults with kids who really want to get into kayaking, although it may not be the best option for very young kids. It's perfect for family outings thanks to the including towing.
Ultimately, this is the kayak you want if you want something your child won't tip too easily, but either of the other two optionsare still important to consider with younger kids or with kids who are especially unstable.
No matter which kayak you choose, all three of these have the features that kids are looking for, and can be maneuvered easily enough so everyone can have a fun family outing.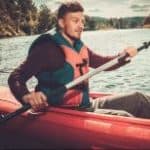 Author: Peter Salisbury
Pete is the Owner of KayakHelp.com. Born and raised in Cleveland, Ohio, he grew up kayaking, fishing, sailing, and partaking in outdoor adventures around the Great Lakes. When he's not out on the water, you can find him skiing in the mountains, reading his favorite books, and spending time with his family.