Kayaking and camping go together like cheese and wine, allowing you to take in the full vista of a winding coastline or river course without the need to have a car on standby or having to worry about where you'll be sleeping for the night.
The only downside to kayak camping is that, much like backpacking, you have limited space in which to pack your camping gear. However, if you make a plan, have the right camping gear, and pack them into your kayak properly, you can have everything you need for a comfortable camping experience without overloading your kayak.
To help you out, we've put together some top tips on what to bring on a kayak camping trip and how to fit it all in without sinking.
Planning Your Trip
The best way to do any task quickly and efficiently is to plan in advance. When you are packing for a kayak camping trip, there are a couple of factors that are important to consider before you start assembling your gear.
The length of your journey:

The aim with kayak camping should always be to take the minimum amount of camping gear possible. Before you start assembling what gear you're taking with you, plan out your route detail. Once you know how long you'll be camping, you can pack only what you'll need and won't risk bringing extraneous items.

The size of your kayak:

The main restriction to how much gear you can carry will be the size of your kayak. Most kayak camping is done in a touring kayak, but you may want to look into

the best choice for your trip

. You can still go kayak camping in a smaller kayak, but you'll need to be realistic about how much storage space you have available.

The weather:

Knowing what the weather will be like for your voyage is vital to making sure you have the right gear with you. Check the weather forecast for your full trip and make sure you have a way of keeping up to date with any changes. No one enjoys being wet or cold, so it's best to have a solid idea of what the weather before setting off.
Getting the Right Gear
The days of having to negotiate carrying a heavy canvas tent are far behind us and modern camping gear is universally designed to be lightweight and easy to pack. The exact items you'll be taking with you depends on your location and journey, but listed below are a number of items that you'll need on pretty much every trip.
The tent:

Your tent is most likely to be the largest and bulkiest item that you'll need to pack into your kayak, but the good news is that it doesn't have to be the heaviest. Modern backpacking tents can weigh just 2 to 3 pounds and can still keep you warm, dry, and, most important, will fit easily into your kayak.

Cooking gear:

Building a fire in the wilderness isn't always an option, so it's best to have cooking gear on hand. Modern stoves, such as the

Jetboil

,

take up very little space, use up very little fuel, pack down very small, and are deliberately self-contained to make them easy to store.

Towels:

Towels can be bulky, difficult to store, and difficult to keep dry. Your local camping will almost certainly stock microfiber towels, which wick up the same amount of water as a normal towel while being a fraction of the size. Microfiber towels also dry out in a very short amount of time, making them idea for kayaking and camping.
Packing Your Kayak
Once you've got a solid understanding of exactly what you'll need to bring with you, how much space you have to work with, and you've assembled the right kit for your journey, it's time to pack it into your kayak. And we definitely have some tips on how to make the best of the room you've got!
Drybag everything!:

While this might seem a little extreme, there is method to the madness. Most "watertight" hatches on kayaks aren't really reliable enough for you to safely store important items, like your matches or mobile phones, in them without your items getting at least slightly wet. Drybagging all your items beforehand solves this issue.

Stay organized:

As drybags come in different colours, they can also be an excellent way of quickly sorting through your equipment. If you need the medkit in a hurry, it will be easier to find if it's the only item on your kayak in a fluorescent yellow drybag.

Keep common items near: Think about your equipment and what you'll need when kayaking. It can be tempting to put the smallest items into the bow or stern to maximize the space you have, but this can make them difficult to find you're out on the water. Arrange your gear so the most commonly used items are around you in the cockpit.
Securely place your valuables:

If you can help it at all, don't attach anything you cannot stand to lose to the outside of your kayaks hull. There are a myriad of ways that such items can be lost or damaged during your trip, so keep things like sleeping bags firmly inside the hull.

Spread the weight evenly:

Try to place the heaviest items towards the center of the boat and balance the weight distribution between the bow and the stern. If either end of your kayak is significantly heavier than the other, it can have a negative effect on the

kayak's stability

, and potentially, your safety.
Extending Your Fun
Kayak camping is an excellent way to extend your kayaking adventure and combine it with all the fun of camping, and the best way to both kayak and camp is to make sure you have the right gear to keep you safe and comfortable. By following our guide you'll be able to take all the necessities with you and still have enough room for a few luxuries.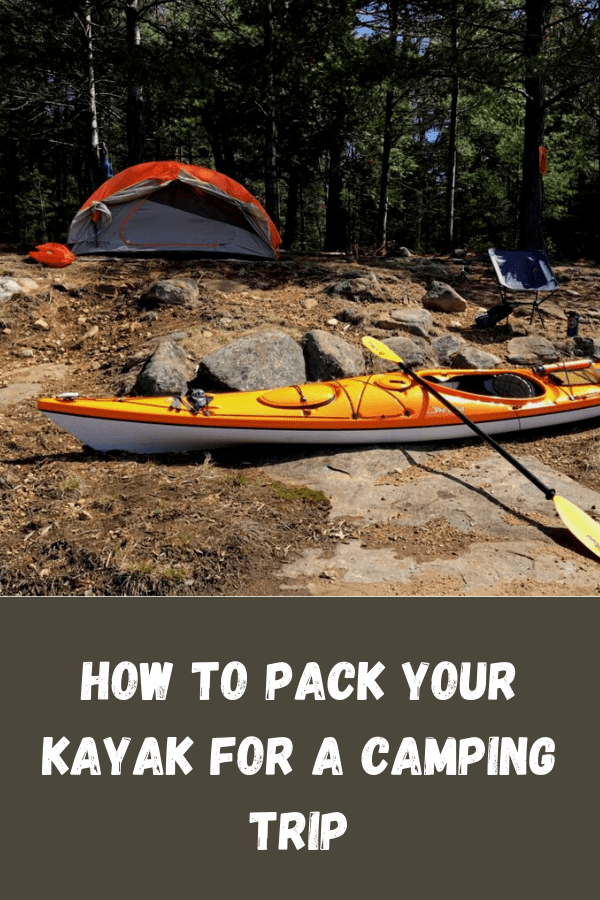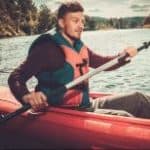 Author: Peter Salisbury
Pete is the Owner of KayakHelp.com. Born and raised in Cleveland, Ohio, he grew up kayaking, fishing, sailing, and partaking in outdoor adventures around the Great Lakes. When he's not out on the water, you can find him skiing in the mountains, reading his favorite books, and spending time with his family.