There are many different kinds of ski resorts, some are noted for their value for money, and then at the other end of the scale, you have ski resorts that are popular with the rich and famous.
Time spent in these luxury ski resorts comes at a price, but you get a lot for your money in these high-end winter destinations.
You can expect luxury hotels, Michelin-starred restaurants, and immaculately groomed slopes. Some even have private airstrips, designer boutiques, and art galleries.
In this article, we will highlight the most expensive ski resorts in the world.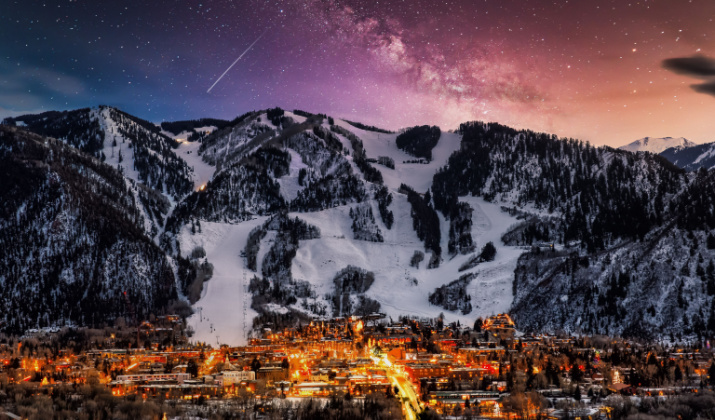 Image Source: Shutterstock
Most Expensive Ski Resorts In The World
1. Gstaad, Switzerland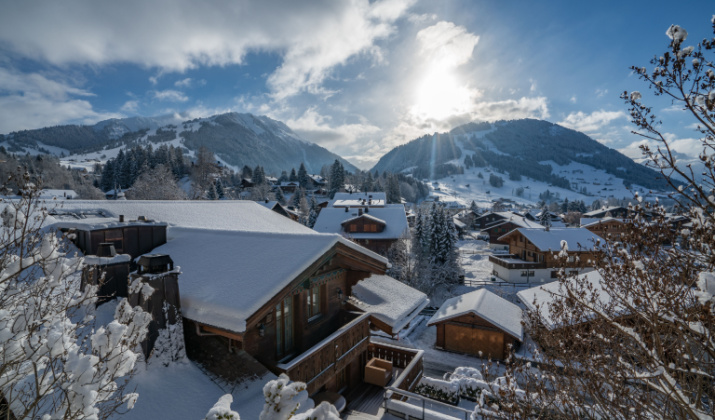 Image Source: Shutterstock
The picturesque Swiss result of Gstaad is one of the rare ski resorts that has managed to maintain its alpine charm, even though it is one of the world's most expensive ski resorts. Gstaad mixes beautiful traditional chalets with incredible designer shops throughout the resort.
You can expect big names like Ralph, Lauren, Louis Vuitton, and Prada tucked between world-class restaurants featuring award-winning chefs. The architecture juxtaposes imposing luxury hotels against more traditional village buildings.
As you would expect from such a high-end Ski resort, there are plenty of slopes to choose from. In fact, there is 200 km available to skiers within the Ski area.
The snow cover of the ski area is also reliable as the highest point at 3000 m is at the neighboring resort of Glacier 3000.
One of the most inviting things about skiing in Gstaad is that the pistes are well looked after and incredibly quiet. You can often find yourself on a piste all to yourself and standing in very few lift queues.
To help with the quiet nature of skiing and snowboarding in Gstaad, there are six different areas to enjoy. The result is a fantastic array of terrain to play in. These areas are connected via the ski lift system, slopes, bus, or train.
In keeping with Gstaad's high-end profile, it is home to some incredible five-star hotels. One of the most glamorous hotels in the resort is the iconic Gstaad Palace.
It is famous for being one of Switzerland's most luxurious hotels, ensuring its guests have a luxury experience with high-end hospitality in elegant surroundings.
2. Cortina, Italy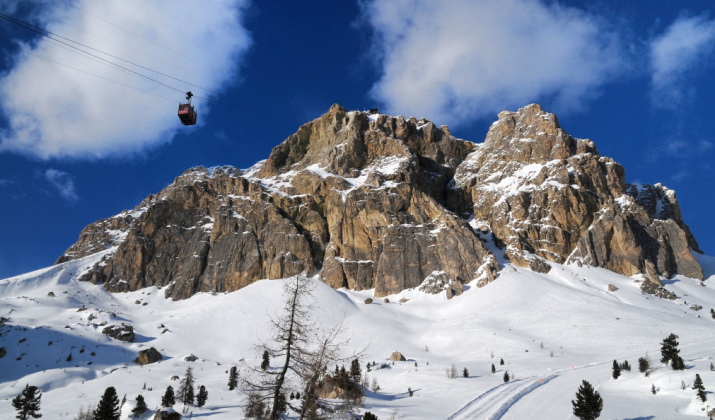 Image Source: Shutterstock
Cortina is in the Italian Dolomites. It is famous for its glitz and glamor and for being one of Italy's most luxurious ski resorts.
It is the perfect place for those who like the finer things in life, thanks to its chic and lively atmosphere and the abundance of fine dining establishments, including Michelin-starred restaurants.
The views around Cortina are some of the most dramatic in Europe. Thanks to some of the most imposing mountains you'll ever see, such as the Cristallo, Serapis, Tofana, and the Cinque Torri.
Cortina's ski area is part of one of the largest interlinked ski areas in the world. The area is known as the Dolomiti Super Ski and is one of the most impressive ski areas in the world that every skier or snowboarder should visit at least once.
The ski area around Cortina is exceptionally diverse. It is split into three main ski areas and several smaller ones, all offering something different.
For example, if you like riding around trees, head to Tofana, which also has some excellent beginner slopes and is easily accessible from town.
Unlike most high-end ski resorts, Cortina hasn't really invested much money into their lift system. Even though the lifts may be a little bit slower than usual, it gives you time to rest your legs and take in the stunning landscapes.
3. Zermatt, Switzerland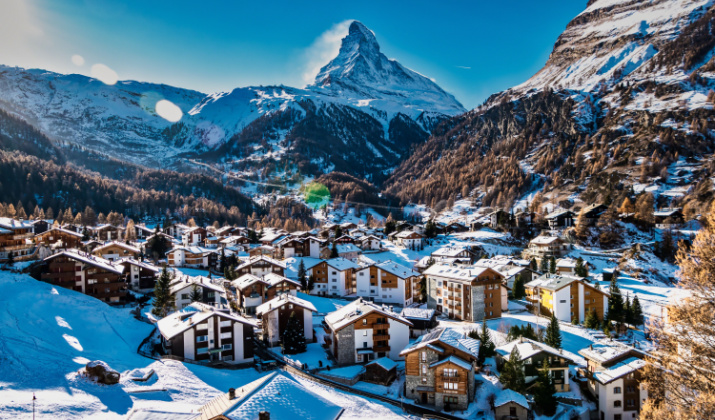 Image Source: Shutterstock
Zermatt is another one of those iconic ski resorts in Europe that everyone should visit. This Swiss ski resort provides some of the highest-altitude skiing you'll find on the continent while also offering a high level of luxury.
With 360 km of slopes, serviced by a fast and modern lift system. There is plenty to enjoy during a trip. The highest point is the Matterhorn Glacier Paradise ski area, which sits at an impressive 3,883m.
Here you will find Europe's highest viewing platform, which gives you unrivaled views of the Swiss Alps. It is also accessible to non-skiers who can also enjoy the fantastic mountain restaurants and views without having to ski back down.
The ski area consists of seemingly endless intermediate runs, but there are some lovely beginner runs, ideal for cruising.
You may be lucky to arrive when the conditions are good enough to take advantage of the many marked off-piste routes and freeride zones. These are more than enough to keep advanced skiers and snowboarders happy.
Image Source: Shutterstock
Adding to Zermatt's charm, its streets are pedestrianized, apart from the small electric taxis that make traveling around the town effortless.
You arrive in town on a mountain train, leaving your car behind, giving you a magical first impression when you roll into Zermatt.
As soon as you start walking through the streets of Zermatt, you'll see why it is one of the world's most expensive ski resorts. You will find many designer shops and quaint market stalls serving mulled wine illuminated by romantic fairy lights scattered across town.
4. Aspen Snowmass, USA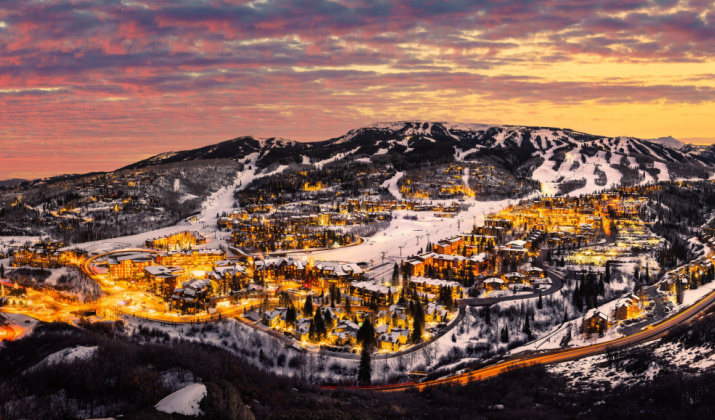 Image Source: Shutterstock
The chic ski resort of Aspen sits in the Rocky Mountains in Colorado. It is well known for being one of the most luxurious ski resorts in America and has one of the largest ski areas in the country.
As you expect, it is a very well-developed ski resort with world-class facilities, making it a great all-round winter destination. The amenities and chic style attract the rich and famous, and many big-name stars have homes there.
However, most people are more impressed by the incredible amount of terrain, as you can ski across the four ski resorts that make up Aspen Snowmass. On top of this, Aspen gets a healthy coating of fluffy dry powder every winter while consistently having excellent weather conditions.
Of the four ski resorts, Snowmass is the best. The others are pretty average. However, when you combine all four together, it creates a special experience thanks to their individual personalities and attractions.
The four ski resorts make up one of the most expensive ski areas in America measuring 461 km. The slopes are serviced by a high-end lift system; you can even warm up in heated gondolas. Occasionally you will come across pop-up champagne bars on the slopes.
The town itself has an excellent mix of restaurants, allowing you to sample pretty much any kind of food you can think of.
For example, there are some incredible sushi restaurants, ones serving dishes made with local produce, and even vegan restaurants. This mix of establishments attracts some of America's best chefs from New York.
Image Source: Shutterstock
As any good ski resort should, Aspen has a lively nightlife scene; adding to its exclusivity, there are even several private members clubs. But it's a great place to flex your credit card too, as you will find designer shops such as Louis Vuitton, Prada, and Gucci.
5. Courchevel, France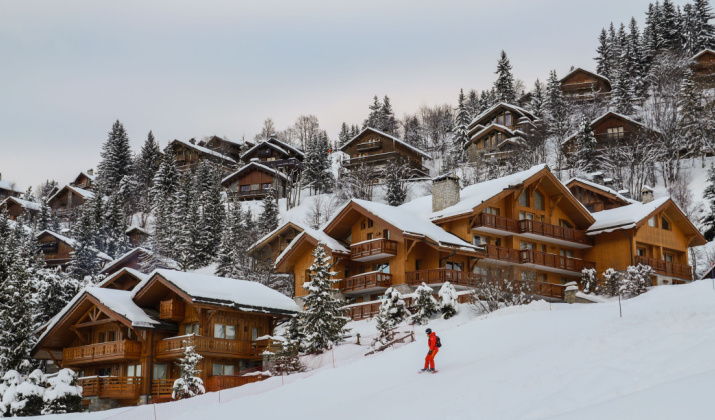 Image Source: Shutterstock
Courchevel is one of the most expensive ski resorts in the world, offering world-class skiing, high-end dining, and a vibrant nightlife scene. It is located in the three valleys, the world's largest interconnected ski area measuring 650 km.
The resort is divided into four separate villages, each with its own personality and vibe. The highest is Courchevel 1850. It is also the largest with the most going on.
The slopes in the three valleys are meticulously groomed every night. Therefore, guests get to ski and snowboard perfect corduroy runs every morning. As the ski area is so large, the slopes are usually pretty quiet unless you visit during a peak week.
This fancy French ski resort attracts well-heeled skiers and snowboarders from all over the world. It is one of the few ski resorts with its own airstrip and heliport, allowing you to arrive in Courchevel by helicopter or private jet.
When you walk through Courchevel, you will see why it is regarded as one of the most exclusive ski resorts in the world. It has the most five-star hotels in France outside Paris. It's also the French ski resort with the most Michelin-starred restaurants to choose from.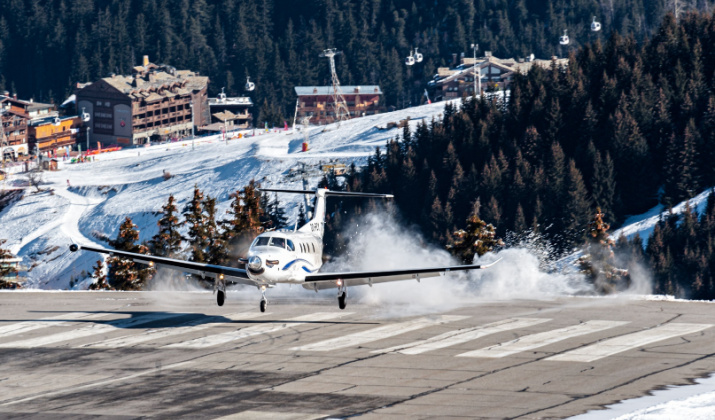 Image Source: Shutterstock
There is no shortage of places to enjoy fine dining experiences and spend your nights in complete luxury. And for those moments off the mountain, you could spend your time in one of the many luxurious spas enjoying the ultimate in relaxation and pampering.
6. Lech Am Arlberg, Austria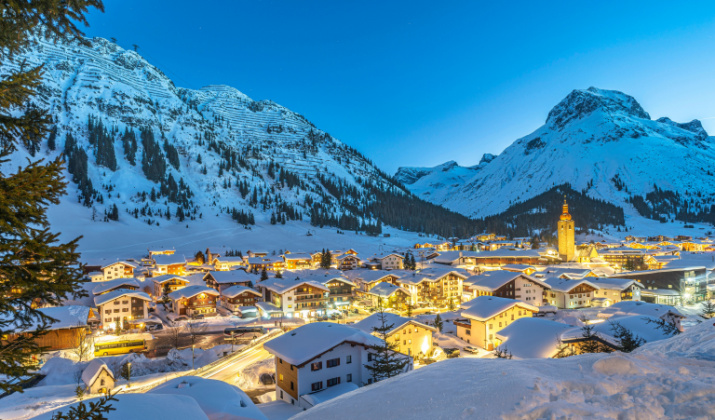 Image Source: Shutterstock
Lech am Arlberg is one of Austria's most exclusive ski resorts. It is part of the incredible Alberg ski region, which is one of Austria's snowiest areas.
There are many reasons why the rich and famous visit this ski resort, but it's mainly because the ski area is exceptional. It is unusually quiet, which means there's a good chance you'll find yourself enjoying the slopes on your own, even on a powder day.
Lech am Arlberg is exceptionally picturesque, oozing with traditional Austrian charm. However, it also seamlessly blends the old-fashioned with a cosmopolitan vibe, thanks to excellent restaurants, vibrant bars, and high-end designer boutiques.
When you're not on the slopes, one of the most entertaining things you can do here is people-watch. You will see many people strutting around wearing designer gear head to toe.
In keeping with its exclusive ambiance, Lech am Arlberg has a fantastic choice of luxury accommodation. You can stay in a beautiful chalet, luxury apartment, or hotel, many of which have five-star ratings.
The ski area consists of 305 km of slopes and is ideal for novice and intermediate skiers and snowboarders. There is only one black run, but more advanced people can enjoy expensive backcountry areas.
7. St Moritz, Switzerland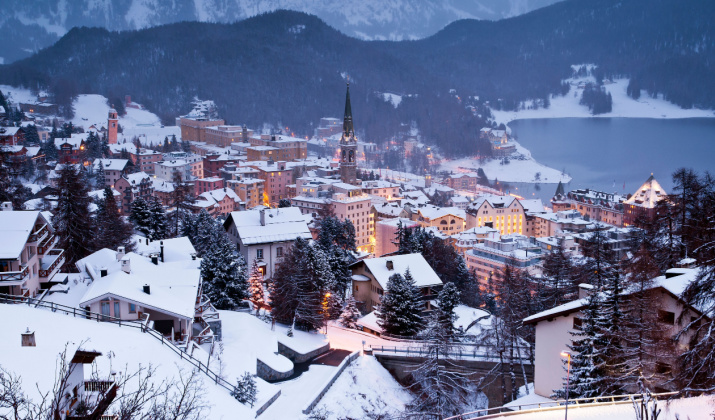 Image Source: Shutterstock
The Swiss resort of St Moritz is famous for being one of the world's most luxurious.
You will often rub shoulders with celebrities and business moguls both on the slopes and in the town. The reason these high-profile individuals visit St Moritz is the variety of luxury options it offers.
St Moritz is located in the stunning Engadine Valley providing breathtaking mountain views and 326 km of slopes within its ski area. The ski area comprises three zones. Therefore its terrain is varied enough to suit all abilities, but there is also plenty to do for non-skiers.
The three areas are called Coviglia, Diavolezza Lagalb, and Corvatsch. All three are connected by a shuttle bus or train, but you can ski back to St Moritz from Corvatsch, which is a dream for skiers who love sun-drenched groomed slopes.
As St Moritz caters to the rich and famous, you have to expect that everything will be slightly more expensive than the already pricey Swiss ski resorts. However, during a visit, you will have an incredible ski experience as long as you keep an open mind and embrace a spirit of adventure.
You can expect some fabulous luxury, five-star hotels in a resort. These palatial hotels make you feel like a VIP or even royalty. The special experience comes from the grandeur of these hotels, which is enhanced by the incredible service they all offer.
The luxury isn't limited to the town as you can get the full five-star experience on the mountain too. For example, you can visit one of the finest mountain restaurants in Europe, La Marmite.
Here you can take in spectacular mountain views while sampling delicious truffles, caviar, and Bellinis, further creating an exclusive experience.
8. Megève, France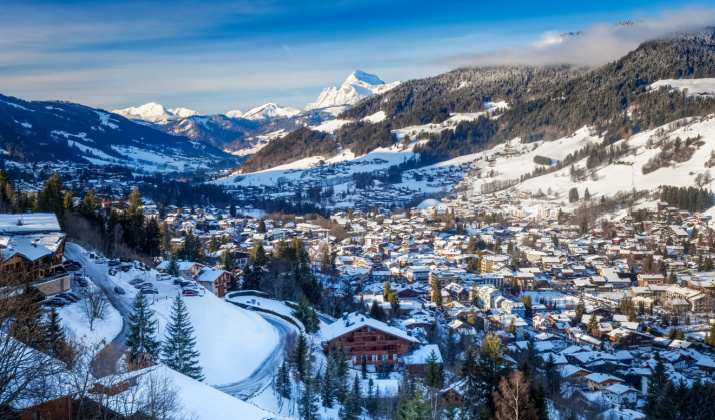 Image Source: Shutterstock
Megève is another example of the finest French ski resorts. It oozes charm but is also incredibly stylish, thanks to an array of chic boutiques, high-class restaurants, and elegant bars. There is an incredible selection of luxury accommodations, too, from traditional-style chalets to five-star hotels Megève has it all.
One of the reasons Megève is so charming is that it goes to great lengths to protect its history and authenticity. It does this by maintaining tradition and its characteristics, which is more than can be said for other french ski resorts.
If you are a foodie, Megève is one of the best ski resorts you can visit in France. You can expect Michelin-starred restaurants that serve local cuisine with a creative twist. Then, after dinner, head to one of the resort's trendy cocktail bars or apres-ski spots.
The ski area is connected to St Gervais les Bains, which gives you a vast network of beginner and intermediate slopes serviced by a good lift system.
You can ski over 1450 m of vertical drop and 440 km of slopes, which is more than enough to give your legs a good workout.
The ski area doesn't have much for advanced skiers and snowboarders on or off-piste, but this isn't what Megève is about. It is more about cruising around looking good and enjoying long lunches and early après drinks.
During a visit to Megève, why not visit the iconic ski town of Chamonix? This adds another dynamic to your trip by getting up close and personal with Mont blanc and some of the most incredible off-piste terrain you'll ever see.
A visit to Chamonix may be just what you need if you are an advanced skier or snowboarder staying in Megève.
9. Vail, USA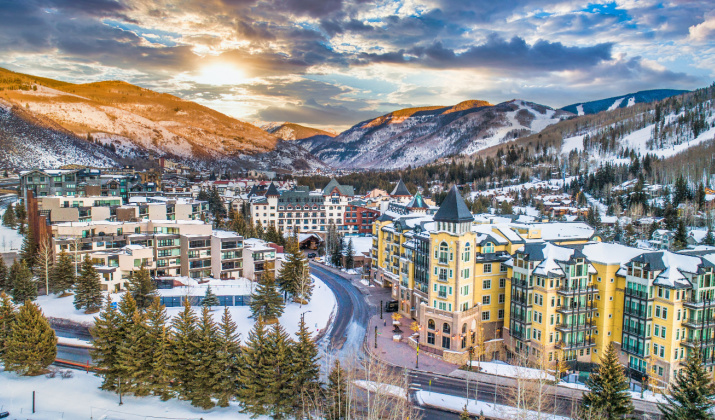 Image Source: Shutterstock
Vail is another one of the fantastic ski resorts Colorado has to offer. The whole ski area is on one mountain; however, you have 234 km of slopes to enjoy. Vail is also connected to the neighboring ski resorts of Heavenly and Northstar using the Vail Epic ski pass.
People visit the ski resort for its world-class skiing, its luxury, and the variety of things you can do on and off the mountain. For example, you can expect a wide range of shops featuring designer names and fantastic restaurants.
There are also some incredible accommodation options. The famous Four Seasons is regarded as the ultimate in luxury ski resort accommodation. If you stay here, you'll be treated to exceptional service and have access to many facilities that will make your trip one to remember.
The Four Seasons is just a short walk to the slopes, but it also has a stunning outdoor swimming pool, a sauna, and two hot tubs. It also has a fantastic restaurant where you can dine in style and toast your day on the mountain with a few drinks.
Vail's legendary status comes from not just its luxury but its varied terrain and vast modern lift system. It also has an excellent reputation for consistent and high-quality snow.
During a trip, there is a good chance you will get at least one powder day which makes the resort's tree runs and backcountry areas perfect for anyone who likes it steep and deep.
Many regard Vail as having the best skiing in the USA. And when you combine this with world-class facilities, high-end luxury, and convenience, you are onto a winner.
10. Whistler Blackcomb, Canada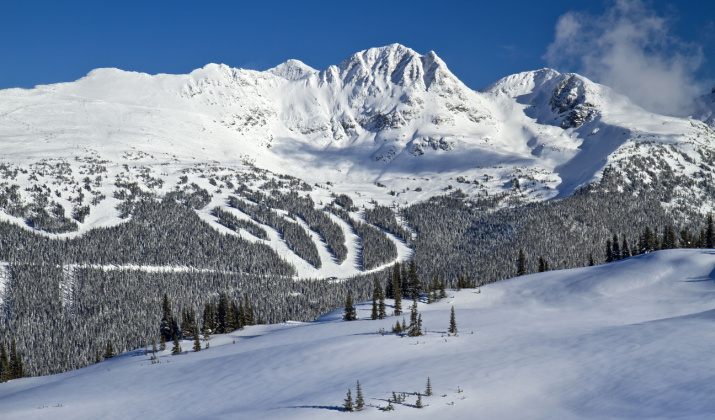 Image Source: Shutterstock
Whistler Blackcomb, based in Canada, is on many skier's and snowboarder's bucket lists. The resort itself appeals to many people for its high-end restaurants and luxury accommodation, earning it a reputation for being one of the most exclusive ski resorts in the world.
This fantastic ski resort is vast and offers an incredible variety of terrain for skiers and snowboarders, serviced by an excellent network of ski lifts.
However, it's not just the ski area that provides all the fun, as there is a considerable amount of off-slope attractions and activities to enjoy.
Whistler village is completely pedestrianized, which contributes to its charm. As you walk through the village, you will come across many different restaurants, bars, and shops that are sure to impress and entertain you when you're not on the mountain.
In 2010 Whistler was the venue for the Alpine skiing events during the Vancouver Winter Olympics, as well as the luge, skeleton, and bobsled events. Therefore, you can be sure that the resort is of high quality and well-polished.
Whistler has the largest ski area on the North American continent and is the largest outside of Europe. The slopes and lift system connects Whistler Mountain and Blackcomb Mountain, creating an area with 8,171 acres of skiable terrain with a massive vertical drop of 1,609 m.
You have over 200 slopes to play with and more backcountry you can shake a ski pole at. Therefore you have a white variety of terrain, including slopes with gentle gradients, wide cruisey runs, trees, and steep Alpine terrain; there is something for everyone.
Before heading to Whistler, it's a good idea to hit the gym to strengthen those legs. This is because there are many extensive leg-burning runs that will test your fitness.
Also, the powder can be a little wet, making your skiing or snowboarding a little harder, but the amount of terrain accessible to you on a trip to Whistler Blackcomb more than makes up for it.
Final thoughts
Image Source: Shutterstock
There you have it..
These are the 10 most expensive ski resorts in the world that sit on both sides of the Atlantic. If you are feeling flush or want to experience the ultimate in luxury, head to any of these ski resorts for an incredible time and create lifelong memories.
When you head to, these results can be tempting to just stay on the mountain which is understandable, considering how large the ski areas are.
However, it's a good idea to experience the other things these places offer off the mountain, as it may be a once-in-a-lifetime experience.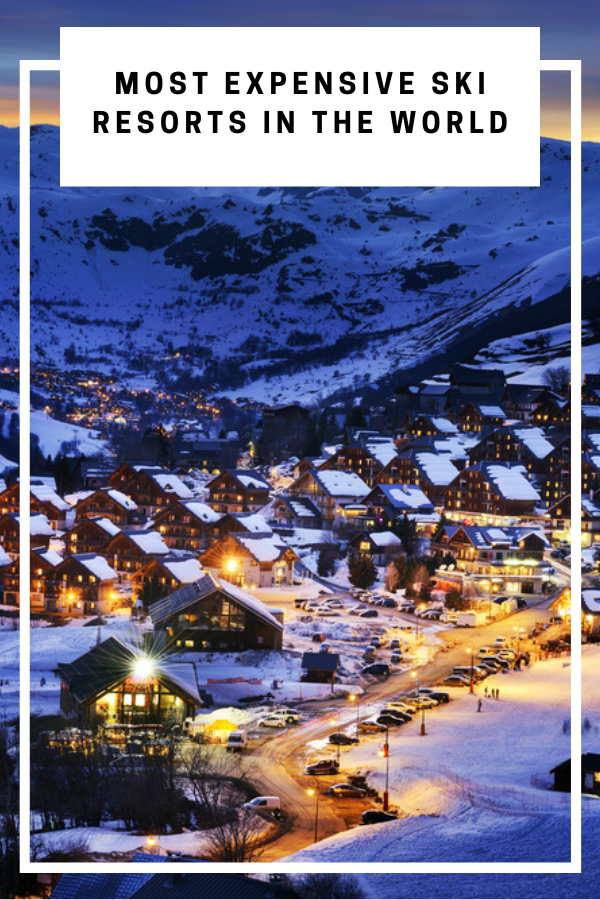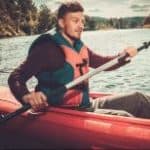 Author: Peter Salisbury
Pete is the Owner of KayakHelp.com. Born and raised in Cleveland, Ohio, he grew up kayaking, fishing, sailing, and partaking in outdoor adventures around the Great Lakes. When he's not out on the water, you can find him skiing in the mountains, reading his favorite books, and spending time with his family.