The concept of an app for kayaking seems a little counter intuitive, doesn't it? Why would you need an app for an activity that's often associated with taking a break from technology?
While you're probably not going to be using your phone while you're actually paddling, there are a lot of useful apps you can download before you set out on the water.
From weather checking to map routing to paddling information, modern technology has made it simple to have all the information you need for paddling right at your fingertips. Check out some of the apps we think will benefit you the most as a kayaker.
Interesting Post: Kayaking In The Smoky Mountains
Best Free Apps
ACA Paddle Ready
The American Canoe Association created their own app. They're a reputable organizatioAn and their app is stocked with tons of thorough information.
You can look up safety tips and gear checklists and find float plans for leaving behind when you go out on a trip. You'll find tide and surf forecasts, river information, and can even locate ACA instructors near you.
It's a great resource for beginner paddlers or those who are looking to get involved in ACA courses.
Polaris GPS
Your phone already has a built-in GPS. Why would you need a separate app for that? As it turns out, not all are created equal. While your maps app might show you where you are when you're stuck in traffic, it's going to be a lot less useful when you're out on the water in the middle of nowhere.
Polaris has features including a compass, trail navigation abilities, latitude and longitude readings, an altimeter, and more. It's your all-in-one tool to keep you on course while paddling.
It can also track how far you've gone. Another feature that garners a lot of rave reviews is its built-in marine charts, so you can see the depth and features of the water you'll be paddling.
One downside: It's currently only available to Android users. If you don't want to risk taking your phone out on the water, you can also consider purchasing a separate GPS device to take with you.
Download it on Android.
Go Paddling
If you're unsure of where to start paddling, this app can be a great way to plan your trip. It's designed to give you a list of launch points and river routes for paddling around the country.
The nearly 25,000 locations are stored in the app so you can search for the next best spot to take your kayak. Its setup is simple, so you won't be using it for detailed maps and information.
But if you're just looking for places to get started and take your boat out, this can be a great resource. Users can add descriptions of paddling spots and launch points to give more detailed information, which is a nice touch.
It's available for both iPhone and Android phones.
Tide Charts Near Me
If you live on the coast, this is a great app to have. While you can get tide information elsewhere online, the app makes it super convenient to get accurate information on the go.
It has worldwide tidal estimates so you can find out what the tides are doing before you head out on the water. If you're into kayak surfing (yes, that's a thing!) you can find out when the best surf will be happening.
The app also includes weather radar and lunar data. The app will even show data after you've left your internet connection, making it perfect for taking out in nature with you.
The app is available for iPhone and Android phones.
NOAA Weather Radar
You probably already have a weather app on your phone. But if it's anything like mine, it shows you a little picture of a sun or cloud with the high and low temperature of the day, and that's about it.
While it's great for checking if it'll be raining before you head to work, it doesn't do the trick when you're out on the water.
The NOAA app shows detailed radar images and real-time weather updates. If there's a storm coming, you'll be able to track its path and figure out your next steps before it arrives.
You can get precise temperature readings, including a "feels like" temperature, so you'll know what gear to bring on your paddling trip. If there's any severe weather, it'll alert you with warnings so you aren't caught off guard.
It's available for both iPhone and Android phones, too.
Best Paid Apps
River Data
River Data does exactly what you think: It provides data on rivers. Data on over 14,000 sites, to be precise. On the app, you can see how fast a river is flowing, how much oxygen is in the water, and many other attributes. The information is updated every few hours and gives you the ability to track how conditions are changing.
Why is this important for kayakers? Primarily so you know what you're getting into before you set out. You can find out if water is stagnant and swampy before heading there in your boat.
The app also includes a navigation feature so you can find your way to each location easily.
The only downside is that this app is currently only available to iPhone users.
Trip Journal
This app isn't just for kayakers, but it's an excellent tool to have, especially if you're doing long paddling trips. You can create a travel log to share with friends and family, complete with pictures and descriptions of your journey.
You can also record your kayak trip with a GPS tracker, then add markers for places you stopped, favorite sights, or other points of interest.
The journal makes it easy to share but it's also a great resource for your own personal use. It can help you remember and keep notes of the places you've kayaked.
You can use it on your iPhone or Android phone.
KayakLog
KayakLog is similar to Trip Journal, but is specifically designed for kayak trips. It can record your average speed, the distance and route of your trip, wind speed, and temperature.
It also has a weather forecast option that will give you alerts in case of strong winds or severe weather. A bonus safety feature is the ability to set up emergency contacts who can track your location in case you don't arrive at your scheduled destination on time.
You can add photos and notes to your trip which can be shared with friends, too. The app is paid, but you can download a free version and use it to track five different trips before you need to pay for the service. This can be a great way to test it out and see if you want to make the paid investment.
This app is available for iPhone.
Stream Map USA
The Stream Map USA app is pricier than most of the others, but it's very comprehensive. You can either purchase a map for your region of the country, or you can buy the complete set.
Prices range from $9.99 to $29.99. The great thing about this app is that it contains thorough maps of all of America's waterways. From major rivers to little creeks, you can find maps, check data, and plan your routes easily.
It combines navigation tools with real-time data and logging abilities. You can track your trip and mark places you stopped or sights you want to remember.
Maps and directions can be stored for offline use, too. If you don't mind spending the money, it can be a helpful tool in planning river trips. Lastly, it's available for iPhone.
Hopefully, this list will get you feeling inspired to get on the water! Whether you want real-time weather reports and surf conditions or gear lists and launch locations, we're sure you'll find what you're looking for with these apps.
While these are our favorites, there are tons of other apps out there that are useful for kayakers. Technology has made it easier than ever for paddlers to get prepared before taking their boats on the water.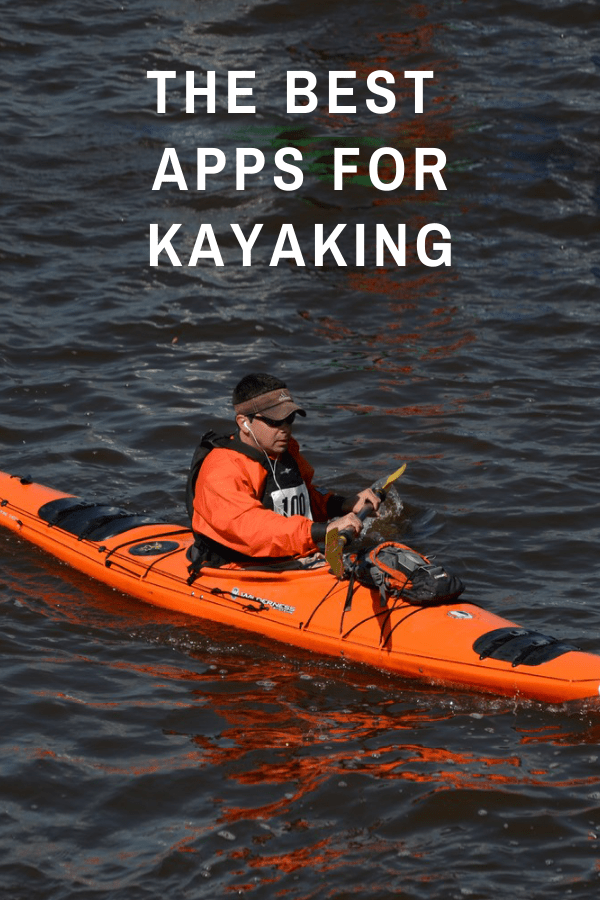 Author: Caitlin Fairty
Caitlin is a BCU certified kayak instructor who has been paddling for most of her life. From the coast of New England to the Great Lakes and the canals of Venice, kayaking has taken her around the globe. She now lives in San Diego where she works as a freelance writer. Her other hobbies include reading, hiking, playing piano, and searching the city for the best tacos.