Situated on the southern edge of Lake Erie, Ohio offers a wealth of beautiful places to paddle. In addition to the expansive shores of the lake, there are plenty of winding rivers and sprawling lakes that offer beautiful views and pristine water.
In the heat of a midwest summer, there's nothing like taking your kayak out on the water to beat the heat. Ohio's rivers offer gorgeous views in the fall, too, when the leaves begin to change.
Whether you want to float on a sit-on-top on the lake or practice your whitewater skills on river rapids, you'll find the perfect paddling spot with our list. We've compiled a list of some of the best kayaking destinations in Ohio.
Also Read: Kayaking In The Smoky Mountains
1. Vermilion-Lorain Water Trail
This 27-mile long stretch of river begins in Brownhelm Township at the shale cliffs of the Vermilion River Reservation. It continues down to the Lake Erie shorefront, offering kayakers the chance to paddle on the quiet river or on the lakefront.
The river trail winds through Lorain and ends at Bur Oak Picnic of the Black River Reservation in Elyria. There are several different access points along the river allowing you to paddle all or just a portion of the trail.
Access points
Vermilion River Reservation –

51211 North Ridge Road, Vermilion, OH

City of Vermilion South Street Beach Boat Launch –

777 River Road, Vermilion, OH

City of Vermilion Main Street Boat Launch –

480 Main Street, Vermilion, OH

City of Vermilion Showse Park –

3325 Edgewater Dr., Vermilion, OH

Lakeview Park –

1800 Waest Erie Ave, Lorain, OH

City of Lorain Port Authority Lakeside Landing Park –

301 Lakeside Ave, Lorain, OH

City of Lorain Port Authority Black River Wharf Boat Launch –

355 Broadway Ave, Lorain, OH

Black River Reservation –

6150 Ford Road, Elyria, OH
The Hinckley Reservation, located in Hinckley Township, is an expansive park surrounding the 90-acre lake.
There are a lot of other attractions in the reservation like rock climbing on the surrounding cliffs, but boating and paddlesports on the lake are perhaps the most popular.
This is a great spot to spend an easy day paddling around and exploring. The water is calm and easy to navigate, but big enough that you can spend all day paddling in new areas.
Hinckley Lake Boathouse and Store / Rental Information
Access Point
3. Grand River
The Grand River flows through Lake County and Ashtabula County, and spans over 90 miles. In Lake County, you'll get some incredible views as the river passes through a gorge.
In Ashtabula County, you'll pass through more farmland and wooded areas. The Department of Natural Resources named this river "scenic and wild."
As you paddle along, you'll be likely to see fish and forest animals in addition to the beautiful scenery. The water isn't too fast flowing, so it's a great spot for a leisurely paddle or fishing from your kayak.
Access Points
4. Cuyahoga River
Northwestern Ohio is home to one of the nation's most infamous rivers, the Cuyahoga. Believe it or not, this river was once so polluted that it actually caught fire in 1969!
Thankfully, it is much less polluted these days and you can paddle the beautiful waters without fear of catching fire. The entire river spans nearly 100 miles and has been designated as an American Heritage River in 1998.
While paddling the whole thing is possible, most paddlers opt for just a short section.
The Cuyahoga begins in Burton and passes through three counties before emptying into Lake Erie. The upper portion of the river flows through Portage County.
Here, a section of the river has been named a "state scenic river," so you know you're in for some beautiful views!
In Summit County, you'll find the Cuyahoga Valley National Park, and if you're paddling through it you'll be witness to some serene natural scenery. This area is heavily wooded, giving you a bit of quiet and solitude while you paddle.
Continuing down, you'll pass through Cuyahoga County and reach the Lake Erie junction, where you can opt to paddle the river or head down to the open waters of the lake. Both choices make for a great afternoon paddle.
5. Lake Erie
One of the five great lakes, Lake Erie has over 2,700 miles of shoreline, much of which is along Ohio's northern border.
From splashing around in the shallows on a sit-on-top kayak to taking long expeditions in a sea kayak, you can do pretty much any type of paddling on Erie's water.
Lots of shorefront shops offer kayak rentals, too. For more advanced paddlers who are comfortable paddling longer distances, Lake Erie's islands make for a unique kayaking experience.
While not technically in mainland Ohio, this island just off the coast is considered part of the state. If you're feeling adventurous, you can paddle from the mainland out to the island, or just take a ferry and begin your paddling once you're on the island.
There are plenty of places to rent boats once there if you don't want to transport your own. The island is only 2 miles by 4 miles but has both a lot of activities on the shore and lots of interesting spots to paddle.
It's definitely worth checking out if you're comfortable paddling on the open lake water.
The Mohican River is a popular spot for kayaking, canoeing, rafting, and tubing. Two sections of the river have received the "scenic" designation.
The river is around 40 miles long, but it's easy to do a shorter day trip on just a small section of the river. It starts in Ashland County and flows down into the Walhonding River.
The water isn't crazy rough, but it does move, making it easy to float down without much effort. It's a good spot to cool down and spend a couple of hours on the water without putting in too much effort.
The Hocking River begins in Fairfield Township and flows all the way to meet the Ohio River in Hockingport. The middle and upper portions of the river are perfect for paddlesports.
There are a couple of businesses that operate tours and rentals of kayaks, canoes, and tubes. Portions of the river have rapids but a lot of it is calm, slow moving water so it's suitable for any skill level.
Surrounded by colorful trees, Cowan Lake is a beautiful expanse of water nestled in the midst of the State Park. With easy access and calm, open water, this is a great spot to paddle if you're a novice or have kids with you.
The lake is also a popular spot for fishing, so if you're up for fishing from your kayak, bring your gear! Cowan Lake State Park is located in Wilmington.
Starting in Morrow County, the Kokosing River flows over 50 miles to end up meeting Walhonding River. In 2005, it was the made the first designated water trail.
There are various access points along the river so you can paddle as much of it as you want. While it's a relatively easy paddle (there aren't a lot of rapids), there are a few tricky obstacles like rocks and boulders, so you'll want to be cautious throughout. It's a great spot to paddle for a couple of hours. If you're up for it, you can even do a longer day paddle.
What do you Think?
Ohio's waterways seem perfectly suited for kayakers. The beautiful scenery and complex water features make it a desirable destination for kayakers and canoers alike.
Whether you're a beginner just learning to paddle or you're a veteran looking to up your skills, you'll find the perfect spot to kayak here. If you have any other favorite paddling locations in Ohio, let us know in the comments!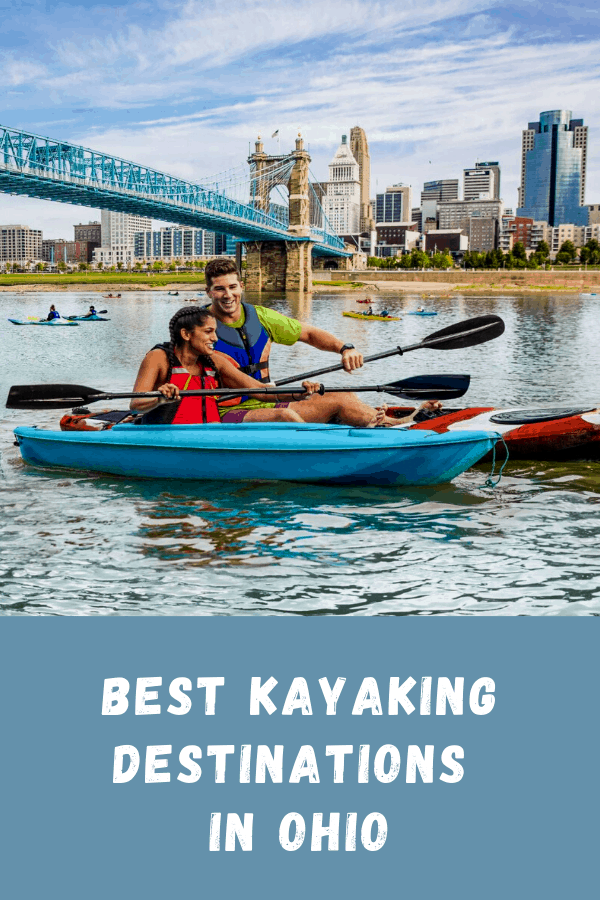 Author: Caitlin Fairty
Caitlin is a BCU certified kayak instructor who has been paddling for most of her life. From the coast of New England to the Great Lakes and the canals of Venice, kayaking has taken her around the globe. She now lives in San Diego where she works as a freelance writer. Her other hobbies include reading, hiking, playing piano, and searching the city for the best tacos.