In this post, we will highlight the best cross country ski boots has to offer. But there are a few essential elements you need to understand before you buy.
Cross country boots are essential for the sport. They are specially designed as an interface between you and your skis, just like regular ski boots, but their design is significantly different.
The design of cross country ski boots is less bulky than regular ski boots and they use different bindings to attach to the skis.
Their shape, construction, and materials ensure you can perform at your best in this niche discipline of skiing.
Let's learn more.
The Types Of Cross Country Ski Boots Available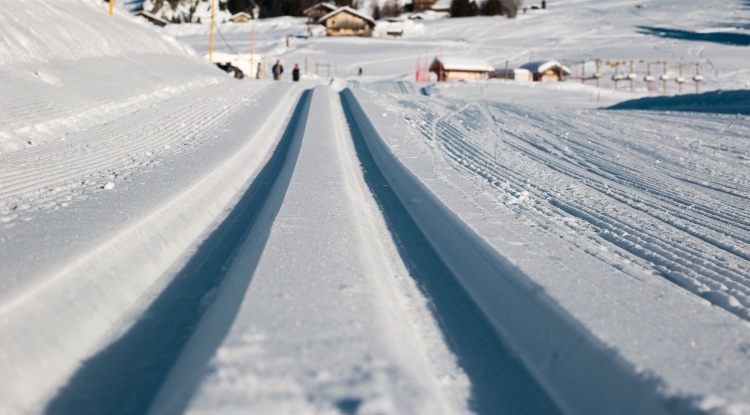 There are different types of cross-country ski boots designed for different terrain and styles. Which type you choose will make a difference to how your cross country setup will perform on certain tracks.
Cross Country Classic Boots
When choosing cross country classic boots, you should consider how experienced you are to ensure you get suitable ones. Beginner cross country skiers should make warmth and support a priority.
Cross country classic ski boots suited to novices get their warmth from a thicker liner. The extra support around the heel and ankles will also make your skiing much easier.
If you are more experienced at cross country skiing, you will want to choose a pair of boots that are lighter in weight. Advanced boots also have a thinner liner to help keep the weight down and your feet cool.
Cross country classic boots are constructed with a much stiffer heel. The reason for this is that it gives you better power transfer when you slide forwards.
Cross Country Skate Boots
Cross country skate boots have a different design from classic boots due to the different motions involved. Cross country skate skiers experience more load in their ankles, so the construction of the boots is much more rigid and is higher up the ankle.
These cross country ski boots are either made from carbon fiber or plastic and have a very stiff sole. The extra rigidity allows you to kick off with all of the sole, giving you more power as you propel yourself forwards.
Cross Country Combi Boots
Some cross country skiers like to do both classic and skate disciplines but don't want to buy two sets of equipment. Other skiers just like the extra support they get from classic boots.
If you fall into either of these two categories, you may want to buy a pair of cross country combi boots. Some of these boots also allow you to skate on Nordic Skates in the summer months.
Combi boots amalgamate features of classic and skate boots. People who use combi boots benefit from solid ankle support, which is ideal for cross country skate skiing, and it provides lots of ankle stability when you kick.
In addition to this extra support, the sole is soft, similar to a classic boot. The reason for this is that it makes going in a diagonal direction much easier.
Cross Country Ski Boot Construction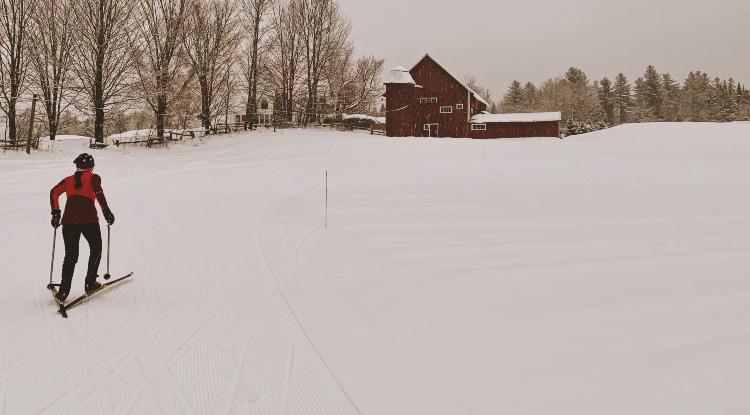 The outer part of a cross country ski boot is known as the shell. Shells are usually made from soft leather or artificial material. The shell stretches slightly to accommodate wider feet and to give you more comfort.
Cross country ski boots have rigid soles, which allow the skier to transfer their energy to the skis. The soles are compatible with specific binding types, but we will come to this later.
You can buy cross country ski boots that feature an external frame in the form of an additional plastic shell. The purpose of this extra shell is to help the skier transfer their energy more efficiently and with more power.
A helpful feature you may want to consider when buying cross country ski boots is how they stay dry. Some boots have a neoprene cover that you can zip up over the laces, preventing water from getting into the boot.
You will notice that lower-priced boots do not have covered laces, but they will still keep your feet dry in most snow conditions. If you are likely to ski in wet conditions or heavy snow, you may want to buy boots with extra protection.
How The Sizing Of Cross Country Ski Boots Works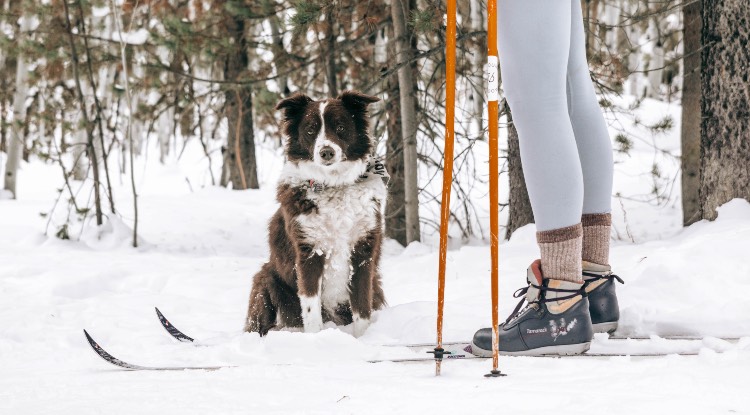 Most cross country ski boots are sized using the European system. If you are not based in Europe, this may be confusing and tricky to find the best fit.
To help you buy boots that will fit, you need to understand that European sizing includes "half" sizes that do not correspond to typical cross-country ski boot sizes.
If your foot size falls into a European half size, you should round up to the next whole number for the correct size for you. An example of this is if you wear a 10.5 in the US, the European conversion makes you a 44.5. But to get the right size for you, you need to round it up to a size 45 cross country ski boot.
How Cross Country Ski Boots Should Fit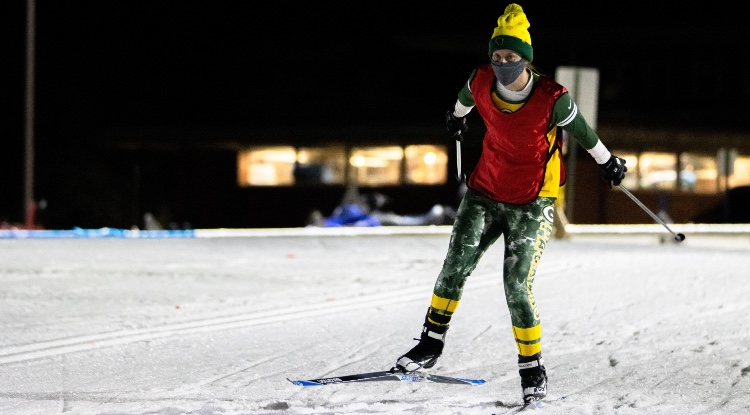 Getting cross country ski boots that fit correctly is essential for your comfort and enjoyment. Luckily, cross country ski boots are much easier to fit than regular alpine ski boots.
When you try some cross country ski boots on, they should fit snugly at the widest part of your foot but not too tight. If your foot moves around, the boots are too big for you and will compromise your control.
Your toes can touch the end of the boot or fall a little short. This will depend on the thickness of your socks and your personal preference.
By buying cross country ski boots with a snug fit, they will last a long time and give you the optimum performance and comfort required. They need to be snug as soon as you take them out of the box as they will start to stretch as you use them.
If you choose boots that are too big, as they start to stretch, you will lose performance and possibly get blistered feet. After they have begun to break in, you may want to wear thicker socks or cross country-specific ones.
When buying cross country ski boots, you must pay special attention to the heel. When you are gliding along and kicking, your heel must remain securely locked in place inside the boot.
If there is upward movement inside your boot at the heel, your kicking will be less efficient, and the boot will rub. When your boots rub, you will be very uncomfortable and develop blisters on your heels, which can prevent you from cross country skiing all season.
Consider The Available Binding Systems For Cross Country Skis
There are several binding systems that your new boots need to be compatible with. If they are not compatible, your boots will not fit into your bindings.
Here are the four main types of cross-country binding systems you need to know about.
NNN
The NNN system is the most popular cross-country skiing binding system. It works using a toe bar and two grooves running the length of the boot to locate it and to sit flush on the binding.
Boots with the NNN system are designed for skiing on groomed tracks and mild off-track skiing. The boots sit low in the bindings, which gives you extra glide and makes your forward motion more efficient.
If your skis have NNN bindings, you need to buy NNN compatible boots, or they will not work together at all. Alternatively, NNN boots work with Prolink bindings.
SNS
SNS boots and bindings are best suited for cross country skiers that like to ski on groomed tracks. They have a similar toe bar to NNN boots, but they have a much larger single groove running the length of the sole.
The main difference between using SNS over the NNN system is that the boot is higher in the binding. You will find that this characteristic gives you extra cornering ability on groomed tracks.
You can only use SNS boots with SNS cross-country bindings.
NNN BC
NNN BC cross country ski boots are ideal for those that want to ski on ungroomed snow. They have a much more rugged connection with the bindings, using a large toe bar and two grooves on the sole.
The design of NNN BC gives you lots of control and stability on variable terrain and changeable snow conditions. However, boots with this system are taller and heavier, making them a little more difficult for gliding, but they are great for shorter routes.
You can only use NNN BC boots with NNN BC Cross Country Bindings.
75mm
Also known as 3-pin boots, 75mm boots are pretty old and outdated. They offer you the least amount of control because the only connection point with the bindings is on the toe.
The 75mm cross-country binding system is only suitable for groomed tracks. But, due to the popularity of the other systems, 75mm bindings are becoming hard to find and replace; therefore, you would be wise to choose boots with a more modern system.
Thumbnail
Title
Alpina T30 Cross Country Ski Boots 20/21 - Men's (42)
Salomon RS8 Prolink Mens XC Ski Boots Sz 6
Rossignol X-8 Skate XC Ski Boots Mens Sz 48
FISCHER Unisex XC Control Durable Weatherproof Warm Stable Protective Cross-Country Insulated Nordic Ski Boots, 43
Thumbnail
Title
Alpina T30 Cross Country Ski Boots 20/21 - Men's (42)
Thumbnail
Title
Salomon RS8 Prolink Mens XC Ski Boots Sz 6
Thumbnail
Title
Rossignol X-8 Skate XC Ski Boots Mens Sz 48
Thumbnail
Title
FISCHER Unisex XC Control Durable Weatherproof Warm Stable Protective Cross-Country Insulated Nordic Ski Boots, 43
Best Cross Country Ski Boots
Now you know what to look for in a pair of cross country ski boots, here are some excellent recommendations.
Check Price On Amazon
If you like to spend most of your cross country skiing time on groomed tracks, the Alpine T30 cross country ski boots are an excellent choice.
These boots fall firmly into the combi category, so you can use them for classic or skate cross country skiing. These boots have a great feature: they have an external frame that locks your heel in place while giving you excellent energy transfer as you push and kick yourself along.
You can adjust how the Alpina T30 boots feel, thanks to the power strap. The power strap gives you unlimited adjustment so you can tighten your boots when you want to push hard or loosen them off for an increased range of motion.
The boots' construction includes an anatomical footbed that gives your foot lots of support and helps with your balance. When you are skiing in the classic style, you will benefit from the TPU Combi Cuff, which gives you plenty of control and ankle support.
When It comes to keeping warm, the Thinsulate insulation does an excellent job. Therefore, you will be able to ski even on the coldest days on the mountain.
The Alpina T30 cross country boots are compatible with NNN bindings. They are suitable to be used with a wide variety of skis.
Check Price On Amazon
The Salomon RS8 Prolink Cross-Country ski boots are ideal for skate skiers who want a quality boot without spending a ridiculous amount of money. These cross country ski boots are more than enough for what most skate skiers will ever need.
Salomon has made these boots with super-stiff soles that provide lots of energy transfer to make your forward motion powerful and efficient. You also get lots of feedback from the boots, so you can make the necessary adjustments to ski at your best.
The cuff is reinforced with fiberglass and is hinged. The benefits of this are that you get a strong and energetic feeling from the boots and a superb range of motion.
The construction of the RS8 holds your ankle and heel securely while allowing the necessary articulation for optimum performance and comfort.
Comfort is enhanced by the quick lace system, so you can get the perfect fit, while the zip cover keeps your feet dry in wet conditions.
The RS8 is compatible with Salomon's Prolink bindings and the NNN system.
Check Price On Amazon
The Rossignol X-8 Skate XC cross country ski boots are best suited for skate skiers that like to go fast and push hard, but they are also great for when you just feel like cruising along.
Rossignol has made the X-8 with a medium amount of stiffness using a 3D bi-injected cuff. Coupled with the 3D heel counter, you get plenty of power without having to buy a full-on race boot.
These boots feature a thermo-moldable liner that gives you supreme comfort and forms to the shape of your foot. It also keeps your feet nice and warm on cold days, while the zipped lace cover helps to keep moisture and snow outside your boots.
The comfort of the X-8 is enhanced with Rossignol's Speed Lace Lock system. This allows you to customize the fit to suit your feet and the type of skiing you are doing at any time.
The upper cuff consists of a plastic frame that is more forgiving than high-end carbon fiber versions. The cuff is stiff enough to give you just enough support without it being too soft. The cuff uses an easy-to-use hook-and-loop ankle strap for security and extra comfort.
To ensure you have optimum control, these boots use a Lock Down foot wrap and Active Control ankle support. These features give your feet a natural foot roll and make kicking easier when skating.
These cross-country ski boots are compatible with the NNN system.
Check Price On Amazon
If you have some experience of cross country skiing and are looking for some boots that balance performance and comfort, the Fischer XC Control is a good choice. With this NNN compatible boot, Fischer has produced something easy to use but feature-rich.
The ankle support cuff increases control and stability with its adjustable Velcro strap. Its design ensures that the forwards and backward movement is not compromised, so you have the full range of motion.
The exterior of the Fischer XC Control features an injected exterior heel cap to enhance your control and anchor your heel in place. Once you have laced up these boots, you will experience little to zero lateral movements if you get the correct size.
Fischer has used the Triple-F Membrane on the XC Control, which is breathable. Therefore, moisture can get out, but snow cannot get in, keeping your feet dry and warm all day.
To ensure the boots have the optimum fit, they feature a Thermo-Moldable material that forms to the shape of your foot. Over time, these boots will naturally give you a custom-like fit.
The Fischer XC Control ski boots are ideal for intermediate and advanced cross-country skiers. If you enjoy cross country skiing at a recreational level or are more serious, you will find these boots excellent value.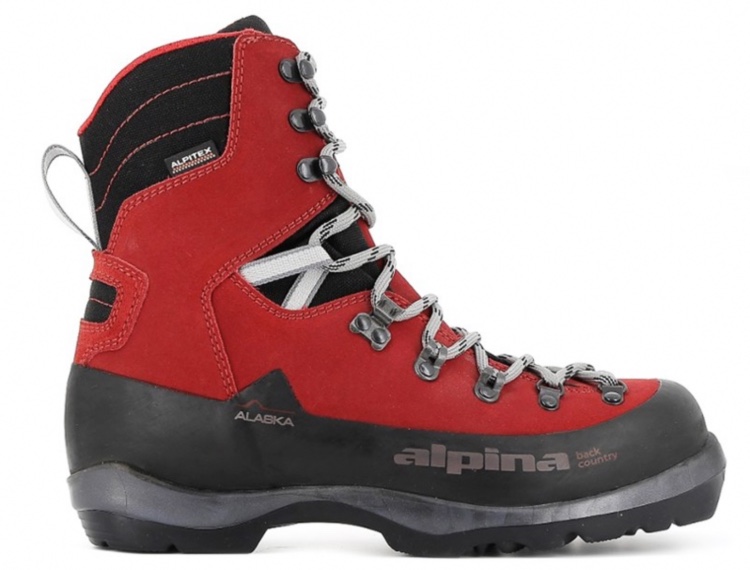 If you do your cross country skiing in freezing temperatures, you need boots that will keep your feet warm. The Alpina Alaska NNN BC cross-country ski boots are the ideal solution.
The rugged construction of the BC makes them look a little like mountaineering boots. These boots are tough, and their Thinsulate liners will keep your feet nice and warm all day, even in the coldest temperatures.
The Thinsulate liner is very breathable too; therefore, moisture can escape, but water and snow cannot get in. Keeping your feet dry during an extended tour in cold temperatures is of paramount importance.
Even though the Alpina Alaska BC cross country ski boots seem to focus on toughness and warmth, they don't compromise on skiing performance.
The design of the Alpina Alaska NNN BC will keep your feet comfortable during long ski tours. They are packed with features that ensure you get the best fit and comfort.
For example, the footbed has an anatomical design consisting of three different materials that maximize shock absorption, support, and power transfer.
You can fine-tune the fit, thanks to Alpina's Speed Lacing system. This system uses fabric loops, metal hooks, and laces that incorporate the whole boot from the toe to the cuff.
Alpina has given the Alaska BC an all-leather upper, which is protected by a rubber rand that improves the boot's durability. The stiff sole is designed for optimizing your stability during long tours, but it is also very grippy for when you are walking without your skis.
The Alaska NNN BC boot is a high-performance cross-country ski boot designed for epic tours into the wilderness. The medium-stiff midsole is forgiving, allowing you to comfortably trek for miles, but it is also responsive enough to cope with technical terrain while providing efficient power transfer.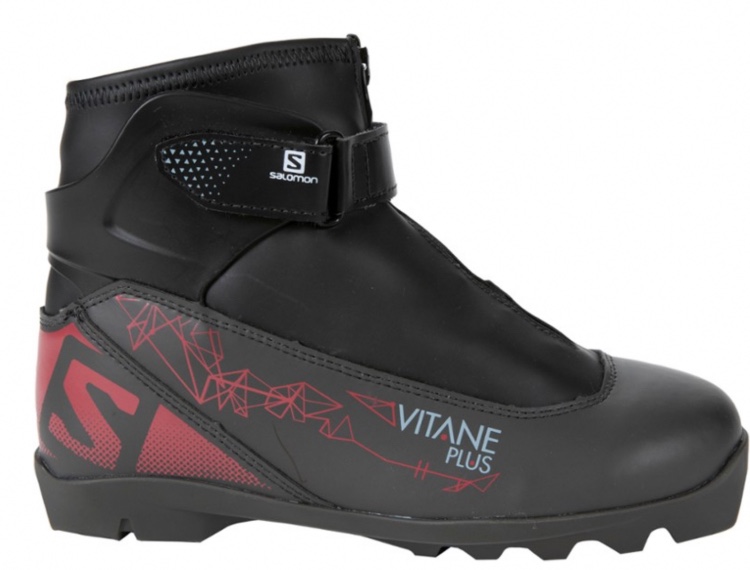 Salomon makes excellent performing footwear with exceptional comfort, and the Vitane Plus Prolink cross country ski boots are no exception.
These boots are compatible with Prolink and NNN binding systems and suit intermediate and recreational cross country skiers. They are very comfortable and straightforward, making them ideal for classic skiing on groomed tracks or around a ski resort.
The Salomon Vitane Plus Women's boots have an anatomical fit, so they are comfortable while providing enough support. Comfort is enhanced with the adjustable cuff and velcro strap, while the Quicklace system gives you a customized fit.
After a few tours, the Vitane Plus Prolink boots will gradually mold to the shape of your feet. Therefore, your feet will become more comfortable, and your circulation will improve, keeping your feet warm.
Fitted with a touring liner, these boots give your toes a little wiggle room for extra comfort and to help you keep them warm. Your heel is held firmly in place with the ergonomic touring cuff, which also provides lots of ankle support.
You can simply tighten the velcro strap at the top of the cuff and the laces for added performance. Doing this gives you more feel and control, as your connection with your skis is intensified.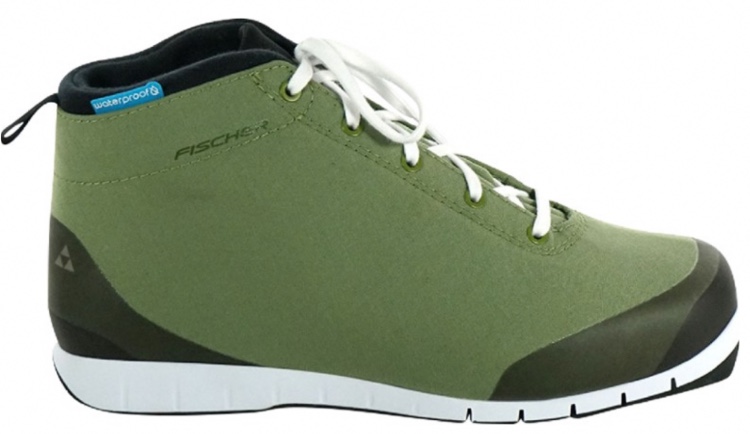 The Fischer Urban Cross Country Women's boot is an excellent option for recreational skiers who want a stylish boot suitable for recreational tours and fitness.
Fischer has incorporated Comfort Guard Insulation and a Triple F Membrane into the boot to keep your feet nice and warm. This combination will allow you to enjoy your tour with dry feet.
The breathable material of the boots allows moisture to escape but prevents snow from getting in. In addition to dry feet, the system also keeps the boots fresher for longer.
To ensure your heels are locked in place, the Fischer Urban has internal molded heel cups. These are very effective and allow you to maximize your performance while preventing blisters on your heels.
Final Thoughts
With all this information, you are well armed to make a decision to buy the best cross country ski boots for you.
The options highlighted above are all excellent choices and would suit most cross country skier's needs.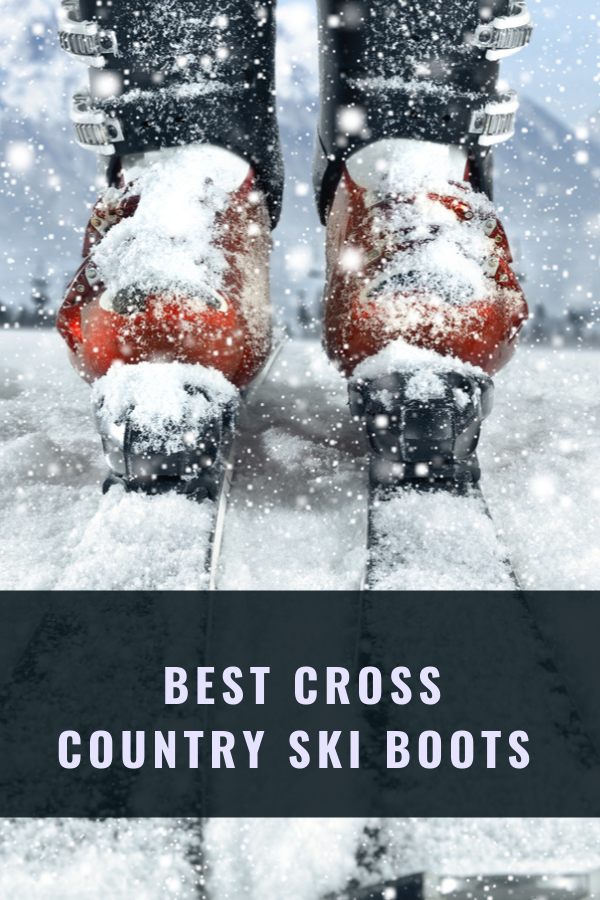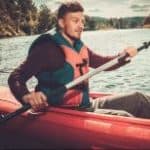 Author: Peter Salisbury
Pete is the Owner of KayakHelp.com. Born and raised in Cleveland, Ohio, he grew up kayaking, fishing, sailing, and partaking in outdoor adventures around the Great Lakes. When he's not out on the water, you can find him skiing in the mountains, reading his favorite books, and spending time with his family.