There is an ongoing debate whether skiing without a helmet is okay or not. The arguments for and against are compelling, but is not wearing a helmet worth the risk?
So why is there a difference in opinion about skiing with or without a helmet? This post will highlight people's reasons on both sides while looking at what studies show on this matter.
We will also go into some details about buying a ski helmet. You will learn what to look for with regard to protection, fit, and features.
Why Do Skiers Choose To Not Wear A Helmet?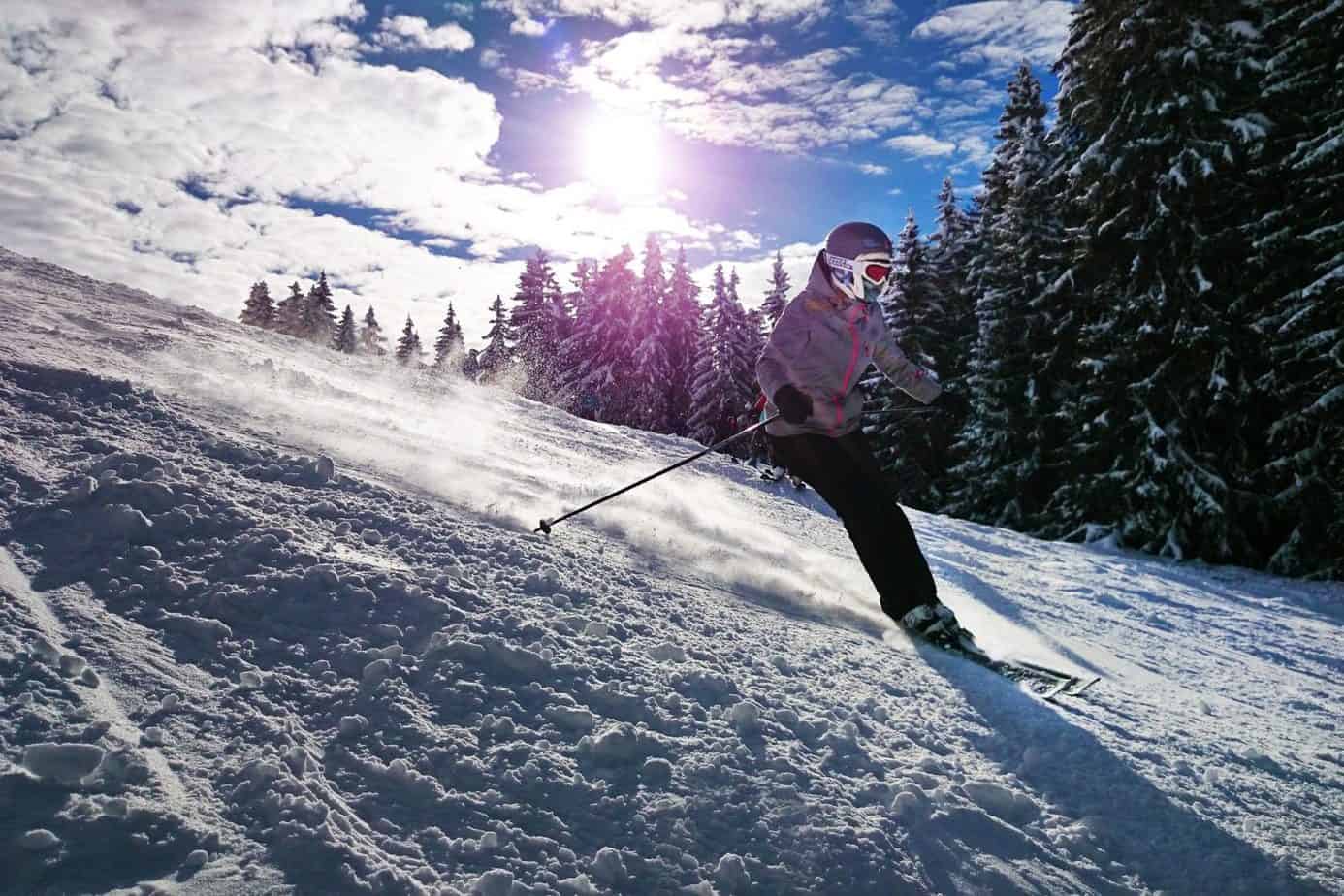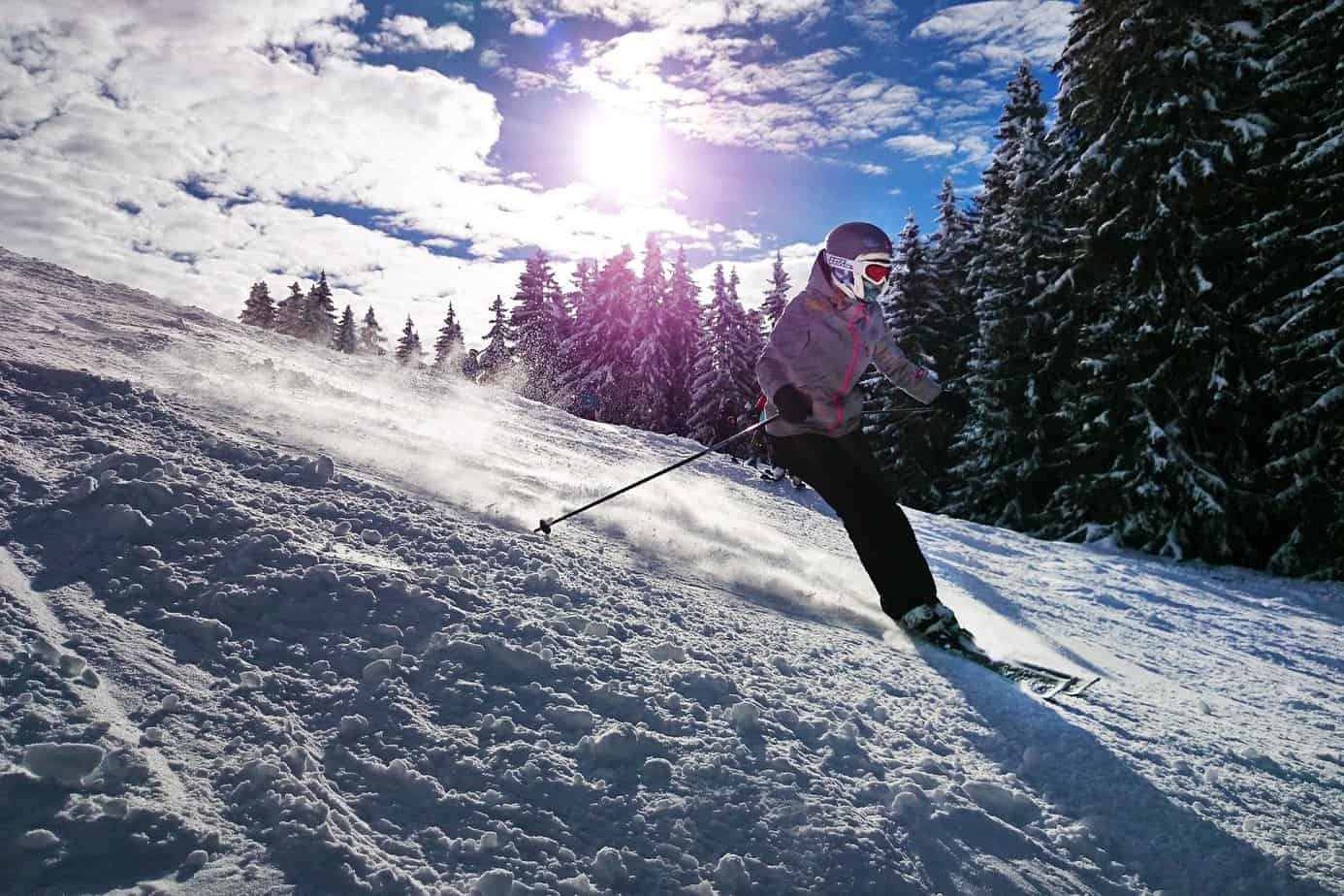 A common excuse for not wearing a helmet is that it gives them a false sense of confidence. The extra courage skiers get leads them to take more risks and injure themselves.
Some skiers will also argue that, when wearing a helmet, they feel isolated from what is going on around them. In addition to this, they say that skiing is pricy enough, without having to buy an expensive helmet too.
Another reason for younger skiers to avoid wearing helmets is that they can be perceived as being uncool. They claim that a hat looks better and is more comfortable.
A non-helmet wearing skier will refer to a recent study stating that a helmet does not make you safer. The statistics from their chosen report show that the number of head injuries has not changed, even with the increased use of helmets.
What Do Skiers Who Wear A Helmet Say?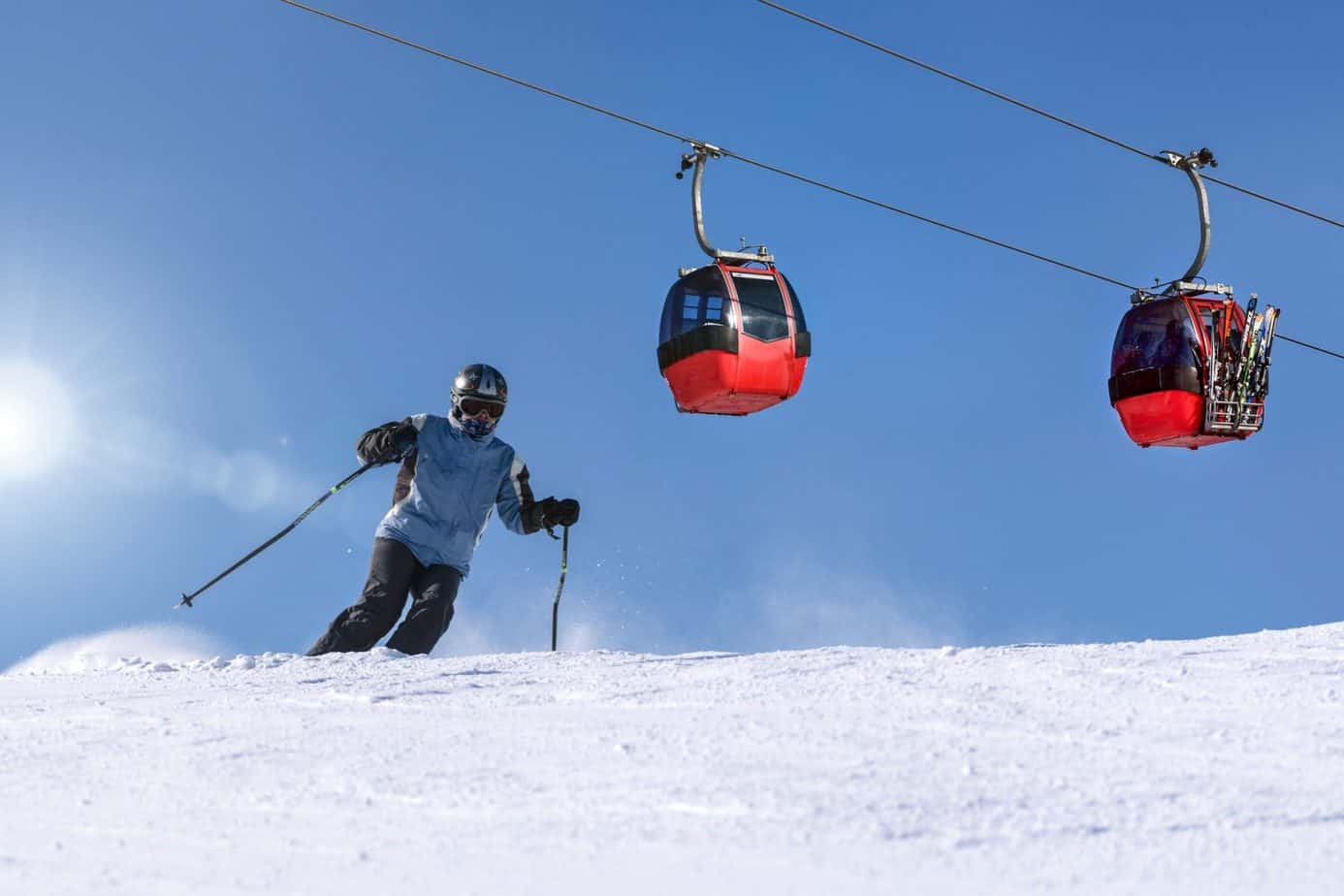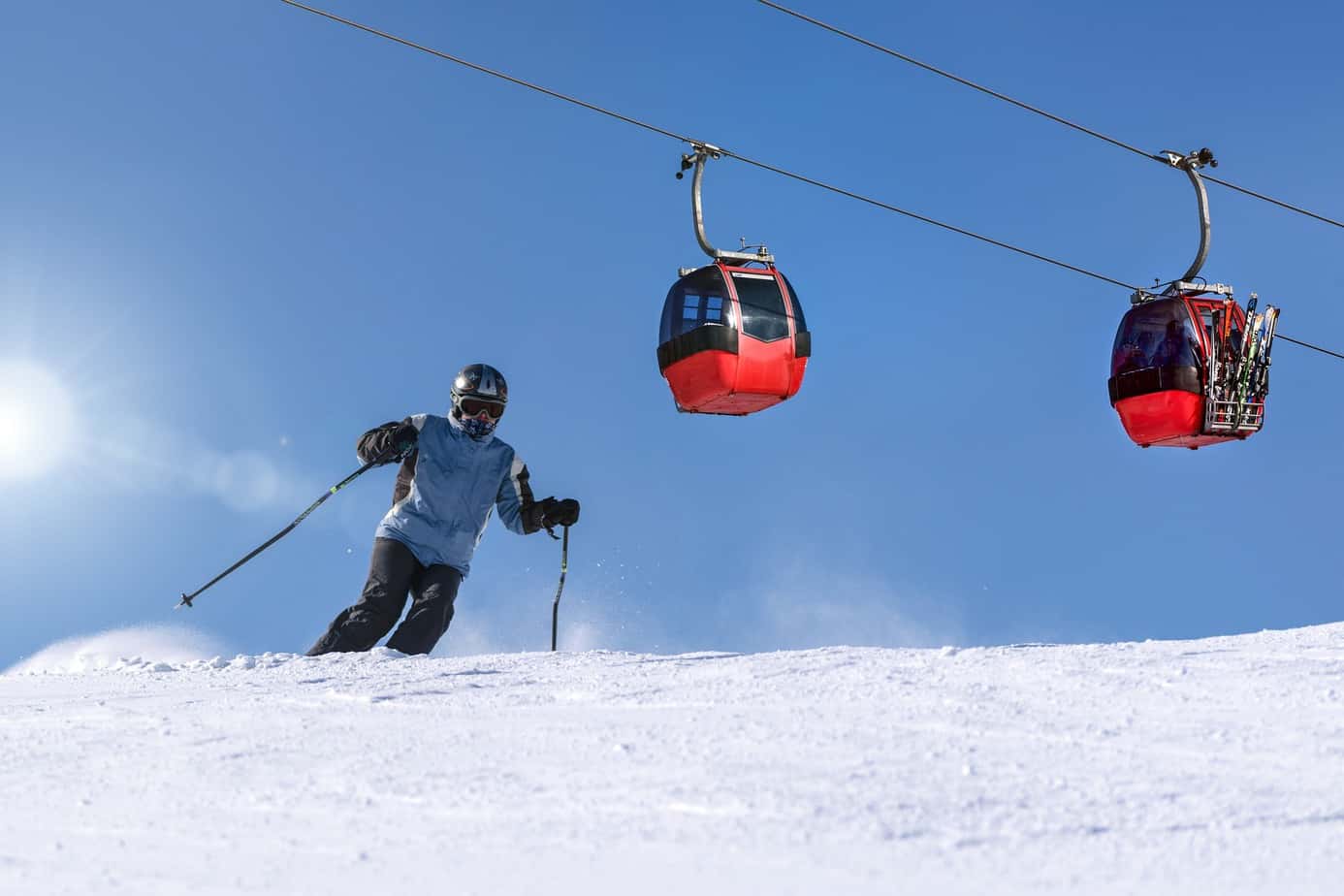 A skier who wears a helmet will highlight that there are many unforeseen dangers, and not wearing one is not worth the risk. The shock-absorbing foam and protective shell can save your life in a crash.
Often a helmet wearer will bring up an anecdote of when a skier or snowboarder received a head injury in a crash. They will argue that the circumstances would be a lot different if they were/were not wearing a helmet.
A helmet can make a skier feel less vulnerable. When you feel more confident on the slopes, you will ski better and push yourself to progress your skiing.
Modern ski helmets are seen by many to be far more comfortable than a beanie hat. They often come with adjustable ventilation and plush padding.
When Did Skiers Start To Wear Helmets?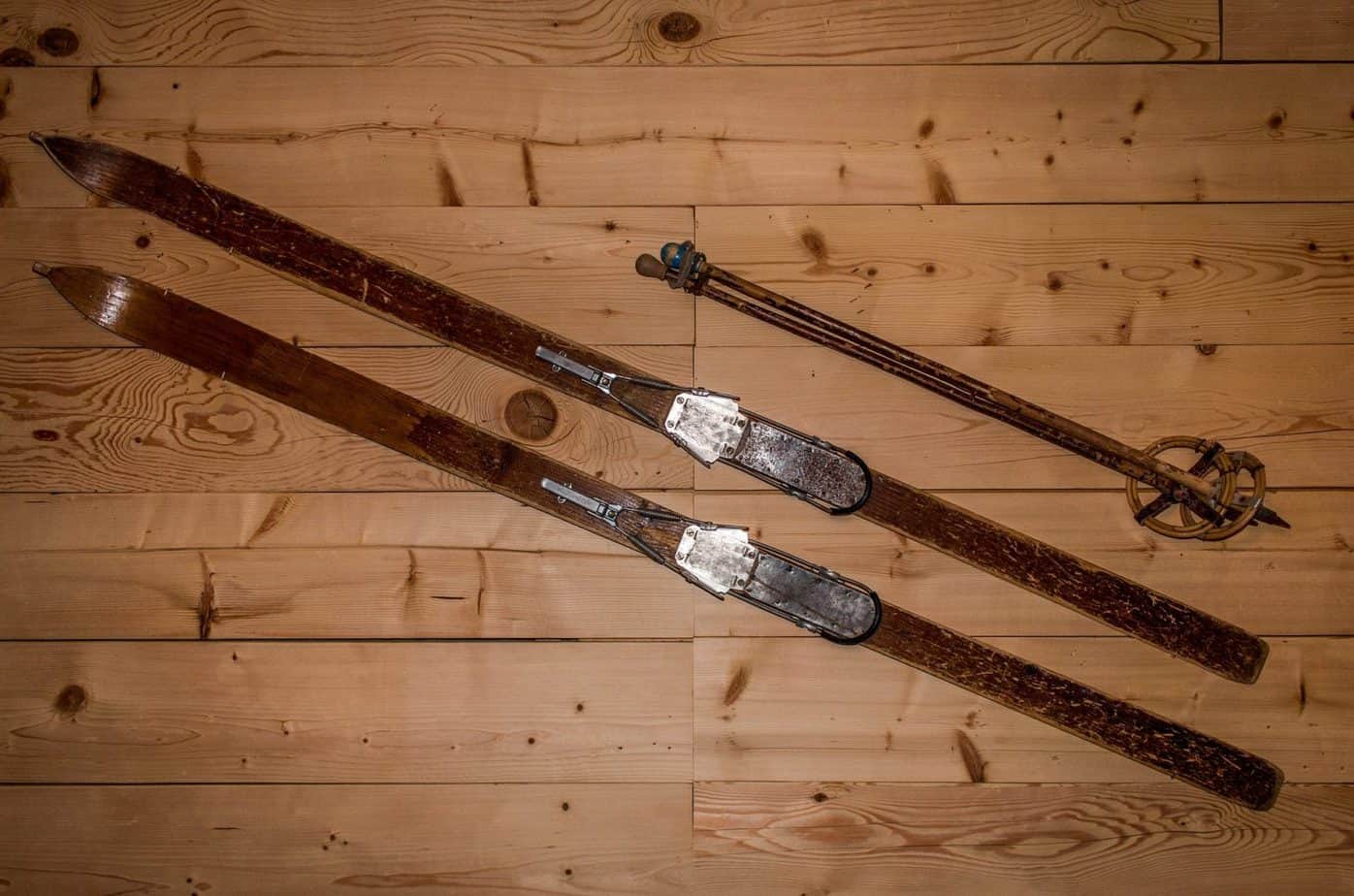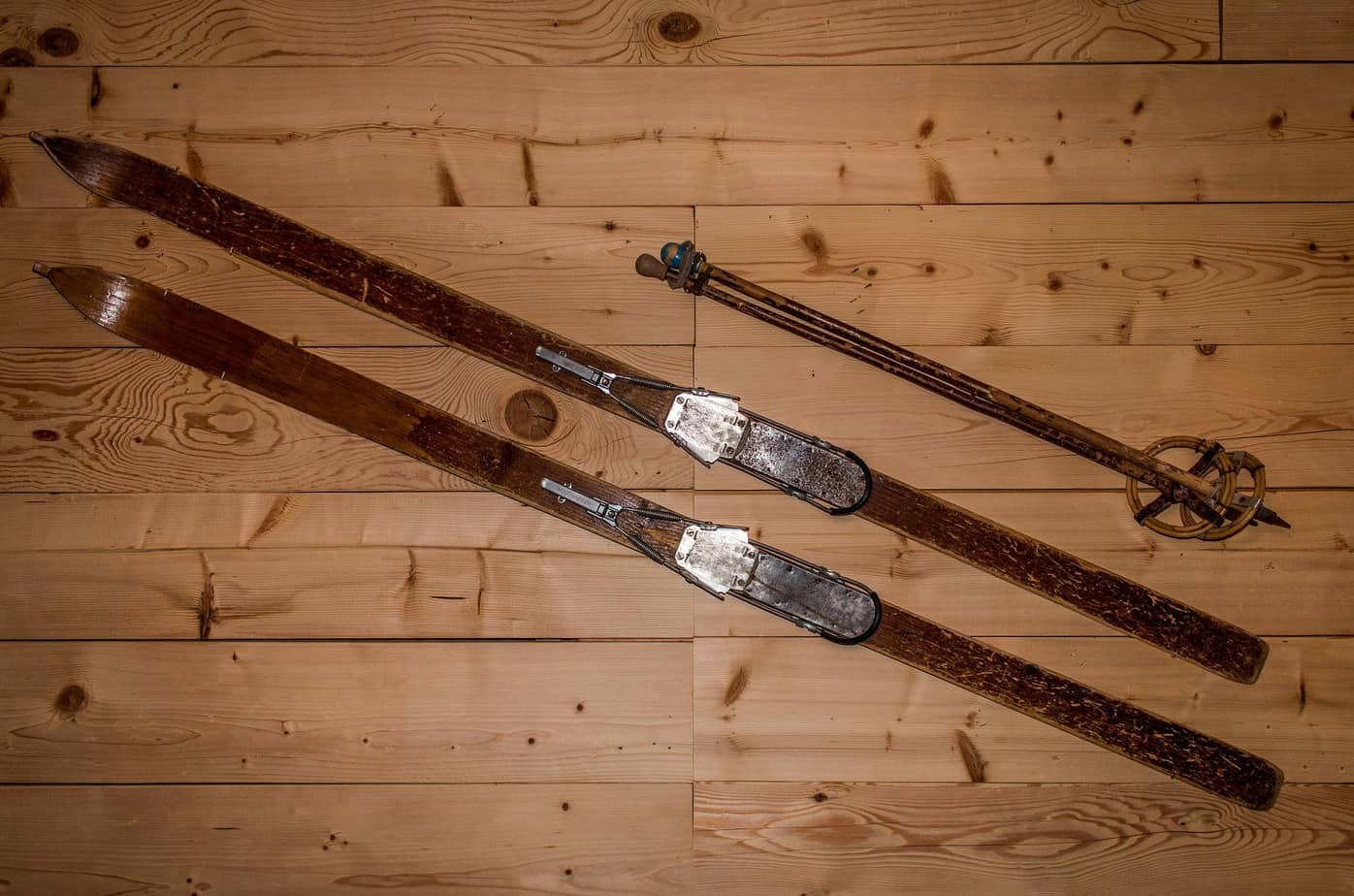 In the olden days of downhill skiing, speeds were slow, and the snow was soft. However, skiing became more dangerous as the sport evolved.
When skis were first fitted with metal edges and Kandahar bindings, ski racers started to achieve speeds of up to 30mph on purposely iced courses. After some fatal crashes, ski racers developed their own head protection.
Some ski racers donned cycling helmets on top of their woolen hats. Later on, Jean Vuarnet wore a ski-specific leather helmet when he won gold in the Squaw Vally Olympics in 1960, which had been in production since 1934.
Since then, the speeds have gotten much higher thanks to fitness levels and improvements in equipment. Therefore, the level of protection has increased for both racers and recreational skiers and snowboarders.
When Do Head Injuries Occur When Skiing Or Snowboarding?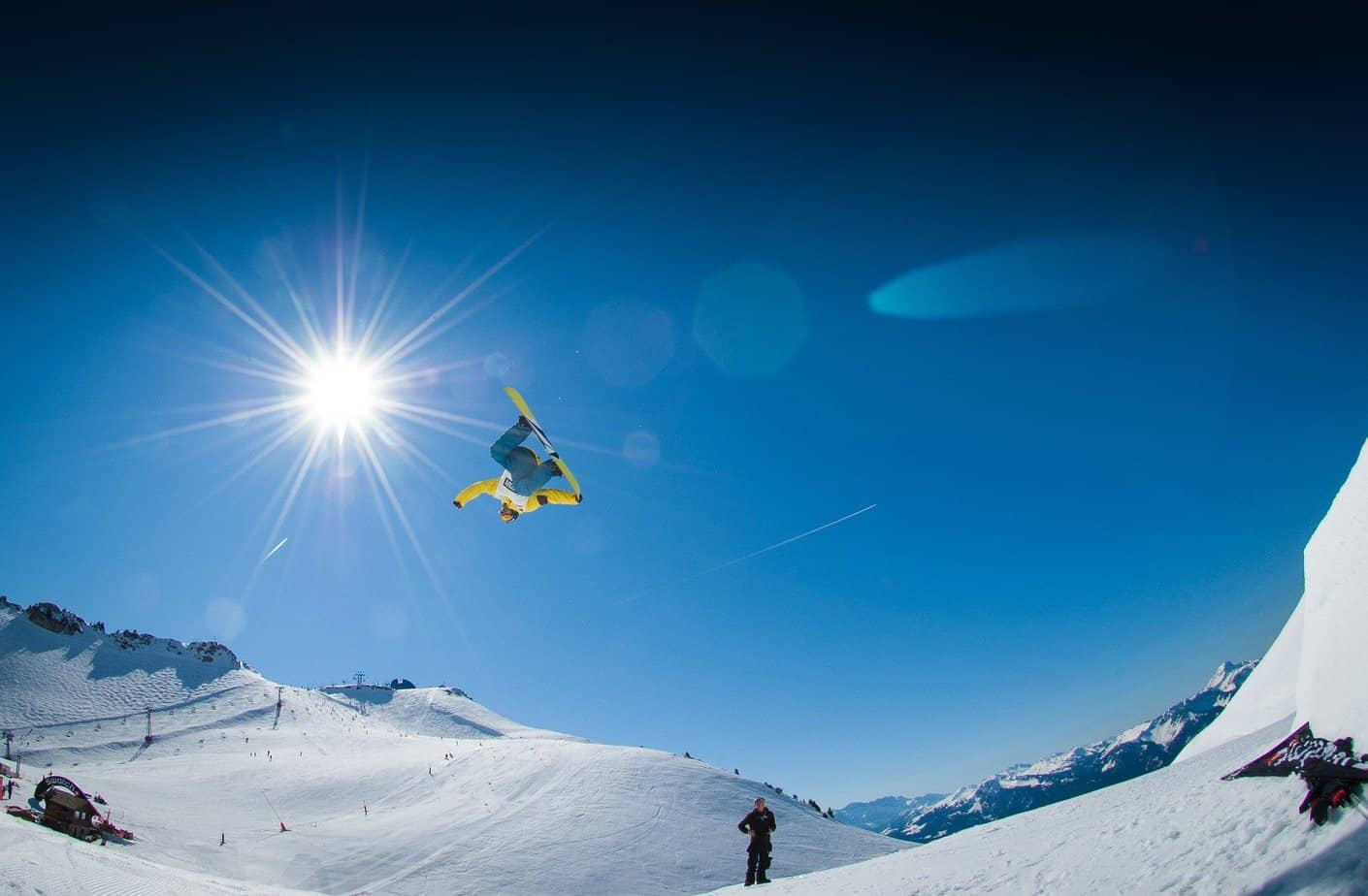 According to the Micheli Centre, head injuries are a real problem for skiers and snowboarders. In the U.S, head injuries account for 20% of the 600,000 injuries in skiers and snowboarders.
Snowboarders receive 50% more head and neck injuries than skiers. The increased instability from standing sideways causes snowboarders to fall backward and hit their heads.
Of the head injuries that occur on the slopes, 22%-42% are significant enough to cause unconsciousness or cause signs of concussion. The most common cause is crashing into other people, trees, or ski lift pylons.
Head, neck, and back injuries are common with skiers and snowboarders that spend time in snowparks. Freestyle skiing and snowboarding increase the risk dramatically.
Are Ski Helmets More Commonplace These Days?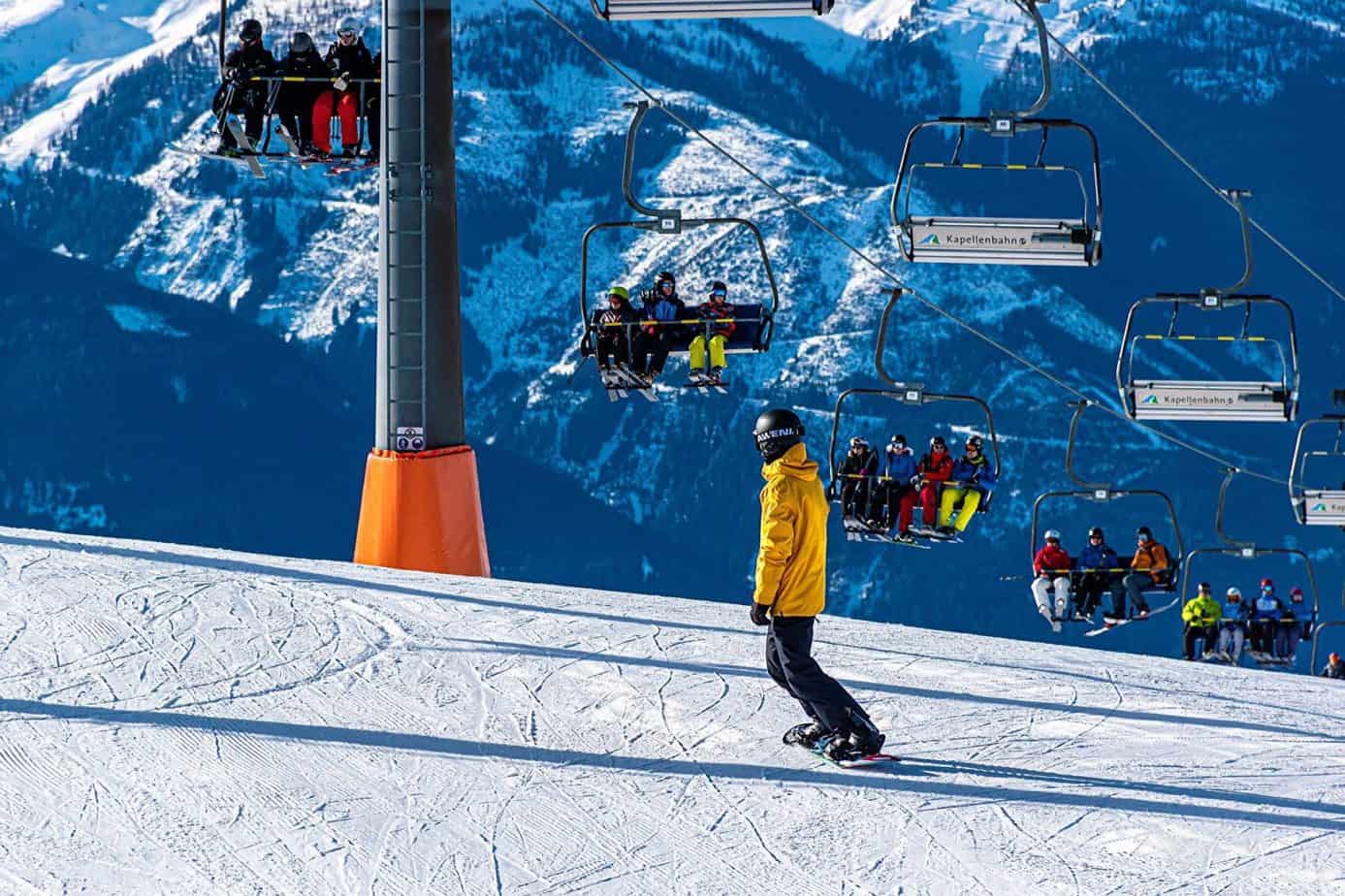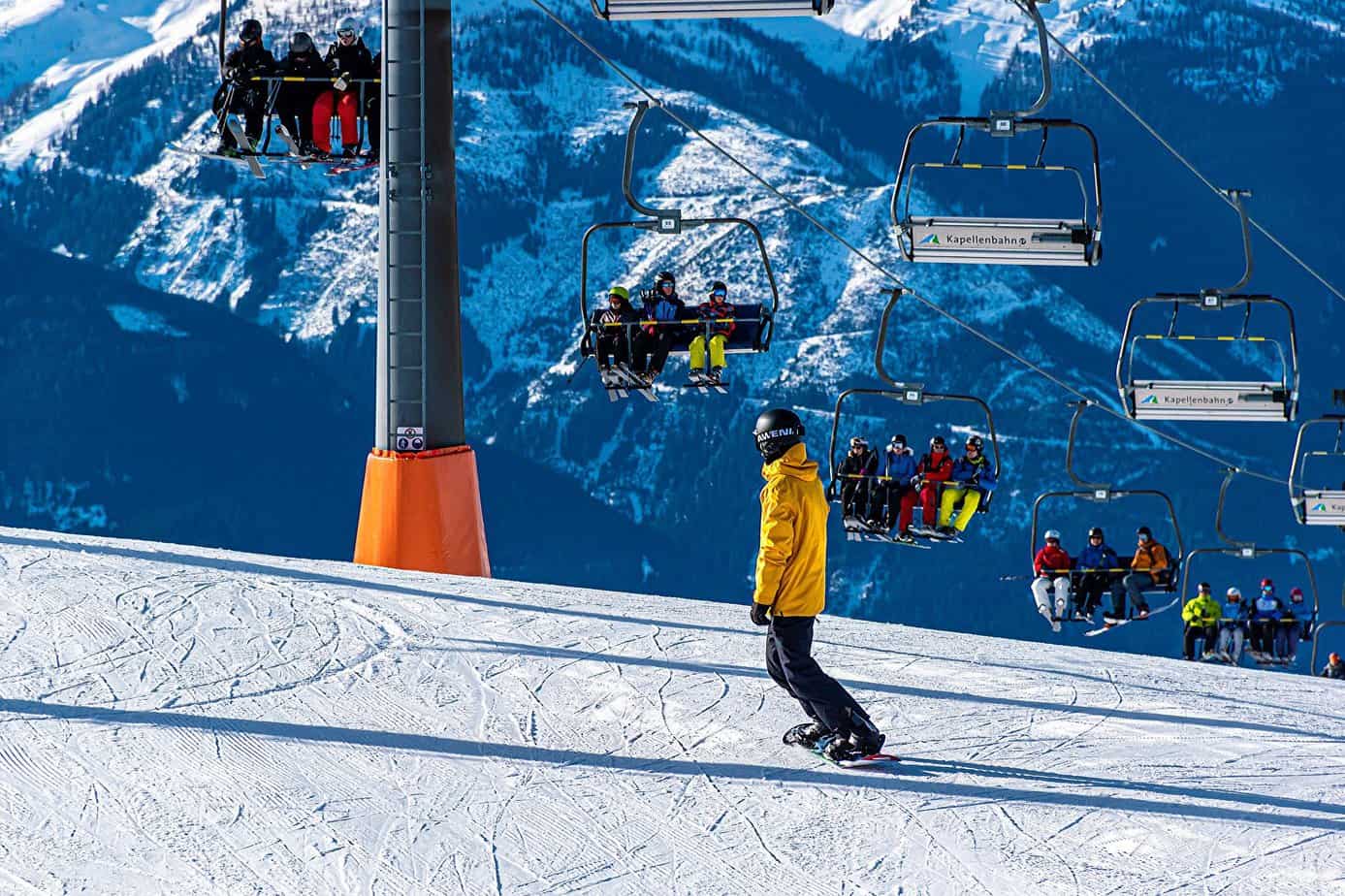 Helmet use was rare in ski resorts up until 2000. But ever since then, more skiers and snowboarders wear helmets.
You only need to look around a ski resort to see that most people on the slopes have adopted a helmet. Therefore, it seems to be the norm to be wearing head protection these days.
According to the National Ski Areas Association, in the 2019/2020 ski season, 86% of skiers and snowboarders in the U.S wore a helmet. They also confirm that helmet use in U.S ski resorts has increased every winter for 18 consecutive years.
An investigation conducted by SnowTrex, states that in the U.S., helmets are compulsory in New Jersey and it is strongly advised to wear them at other resorts. Kids in Breckenridge ski schools are required to wear helmets.
In France and Switzerland, helmets are not required to be worn by anyone. However, there are several successful awareness campaigns to encourage people to wear them on the pistes.
Austria requires helmets to be worn by children and teens up to the age of 15. Helmets are required to be worn in Salzburg, Styria, Lower Austria, and Burgenland, while there are no helmet requirements in Tyrol and Vorarlberg.
Germany has no helmet requirements. However, the German Ski Association (DSV) and the German Ski Instructor Association (DSLV) have been recommending winter sports fans to wear a helmet for many years now.
In Italy, helmets are required for anyone up to the age of 14. The police enforce the requirements and issue a €200 fine and lift pass confiscation for anyone not adhering to the rules.
What Do The Studies Say?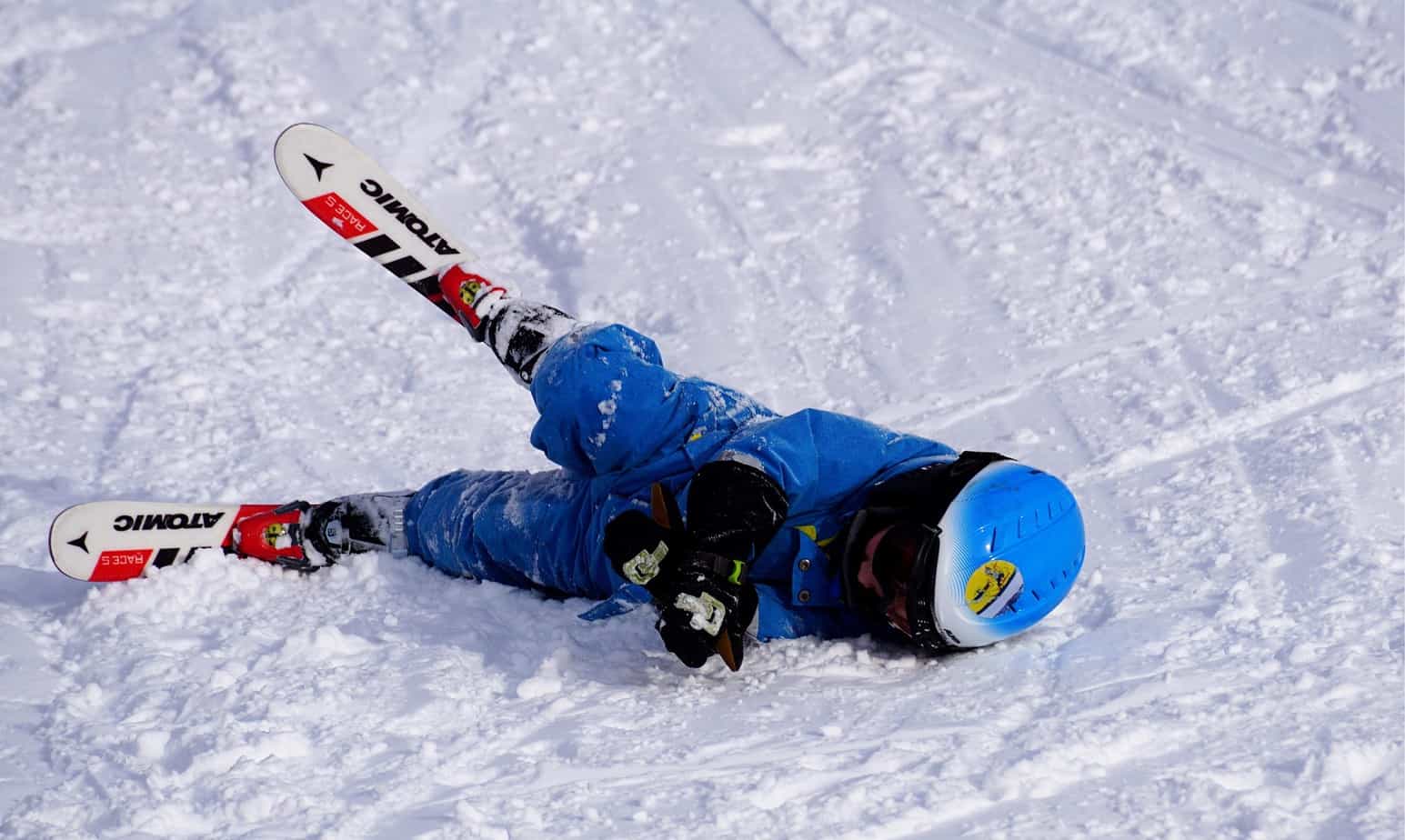 The 2019/2020 NSAA report states that in a recent study in a scientific journal, the period between 1995 and 2012 saw a drop in potentially serious head injuries. Three-quarters of skiing and snowboarding injuries were mild concussions, with 90% of people being discharged within four hours.
This study concluded that helmets are very effective in preventing skull fractures and have pretty much eliminated skull lacerations.
Another study by CMAJ echoed the NSAA document. The conclusion was that skiers and snowboarders who wore a helmet were significantly less likely than those without a helmet to have a head injury.
However, a study by trauma surgeons at Dartmouth-Hitchcock Medical Centre discovered the opposite between 2010 and 2018. They found skiers with helmets were more likely to suffer a severe injury than those without a helmet.
The study goes on to say those helmeted skiers were less likely to suffer skull or spinal injuries. But, they were more likely to hit stationary objects.
The New York Times says that in the U.S., about 70% of skiers and snowboarders now wear helmets (three times the number in 2003), but that brain injuries or deaths haven't fallen.
It is challenging to prove that ski and snowboard helmets reduce head injuries because other things affect those rates. These things include increased risk-taking, advancements in detecting brain injuries, and the number of people on the slopes at any given time.
However, when we look at the results of these studies in detail, we can see that helmets do reduce head injuries to a point. However, if you don't ski or snowboard safely and responsibly, traumatic injuries are more likely.
How Do Ski Helmets Work?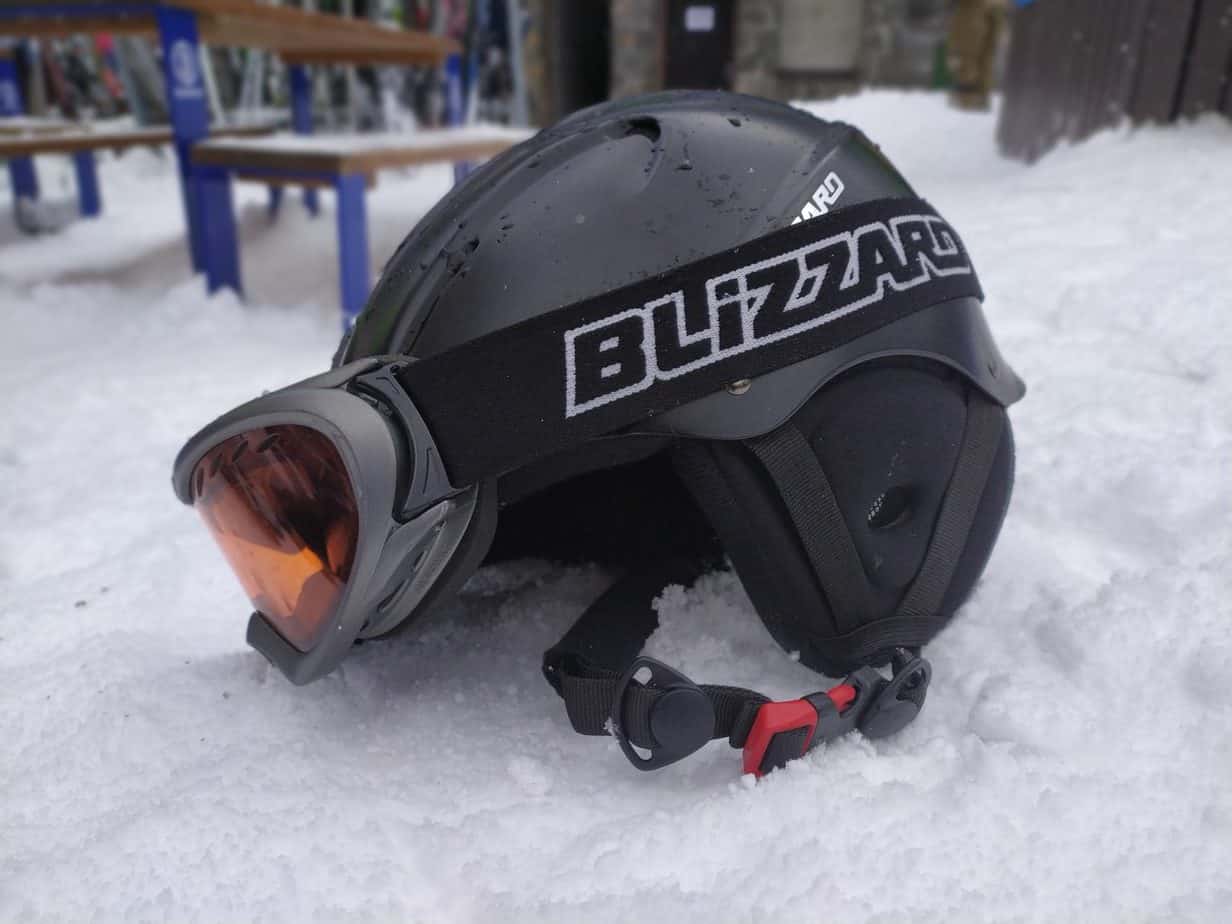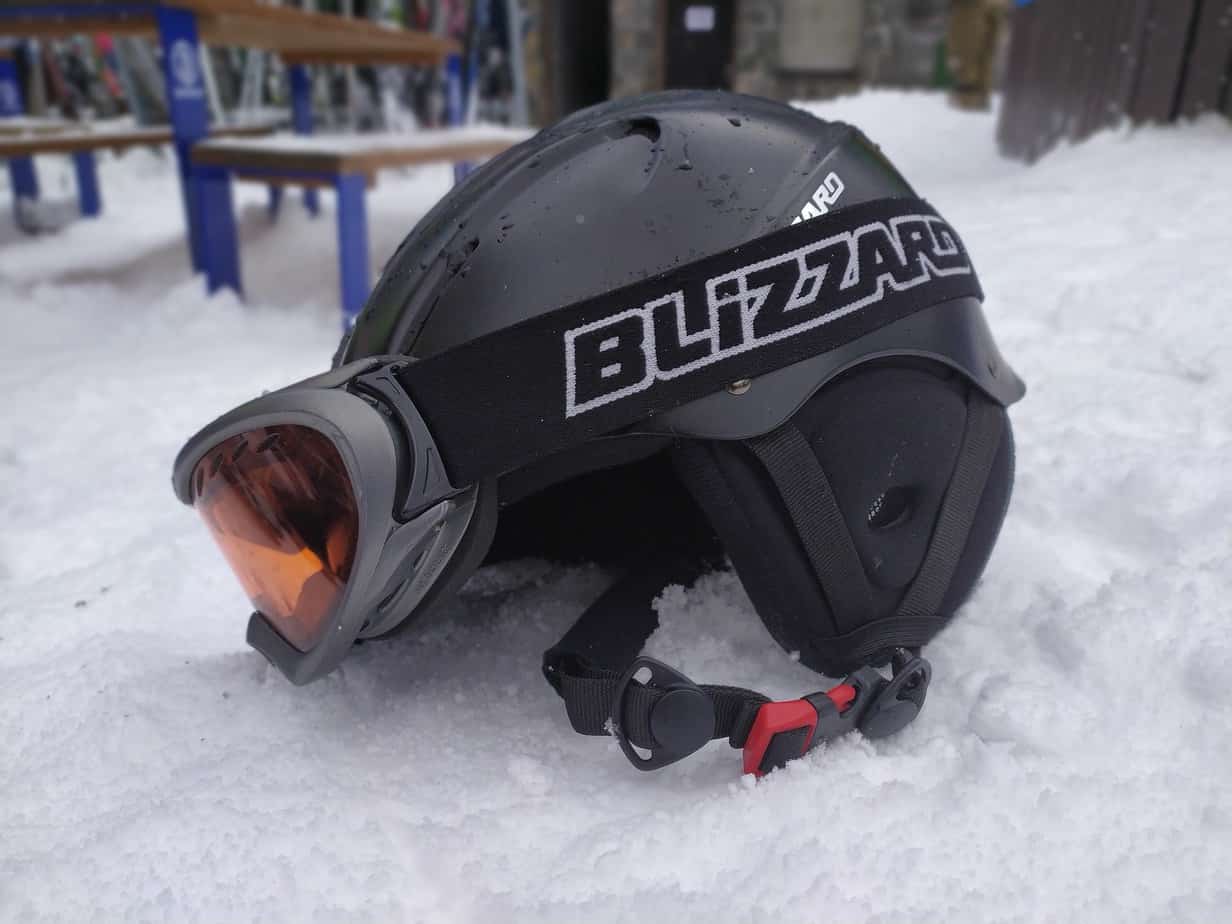 A ski helmet works in a couple of ways to protect your head in the event of a crash. The hard outer shell is usually made from ABS high-impact plastic, while the inner is made from EPS (expanded polystyrene foam).
The outer shell protects your head from abrasions and sharp objects. It also distributes the shock over a larger area of the helmet. The softer EPS absorbs the impact as it compresses in the event of a crash.
Some more up-to-date helmets use MIPS (Multi-directional Impact Protection System). MIPS reduces the rotational forces that result from different impacts.
MIPS helmets are more expensive to buy. The extra cost is due to the additional internal layer that rotates to reduce the amount of energy transferred to the head.
The Two Different Types Of Ski Helmet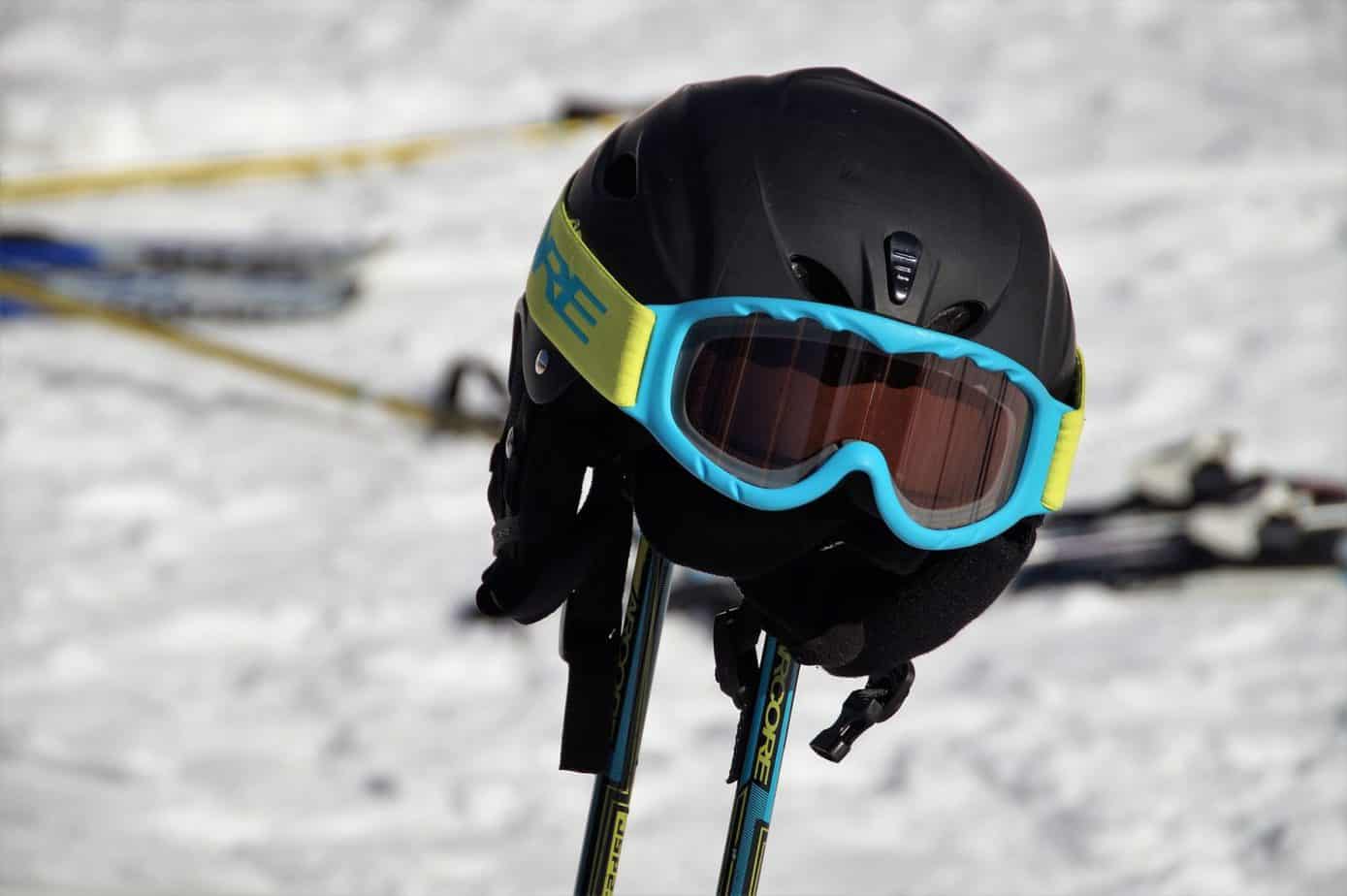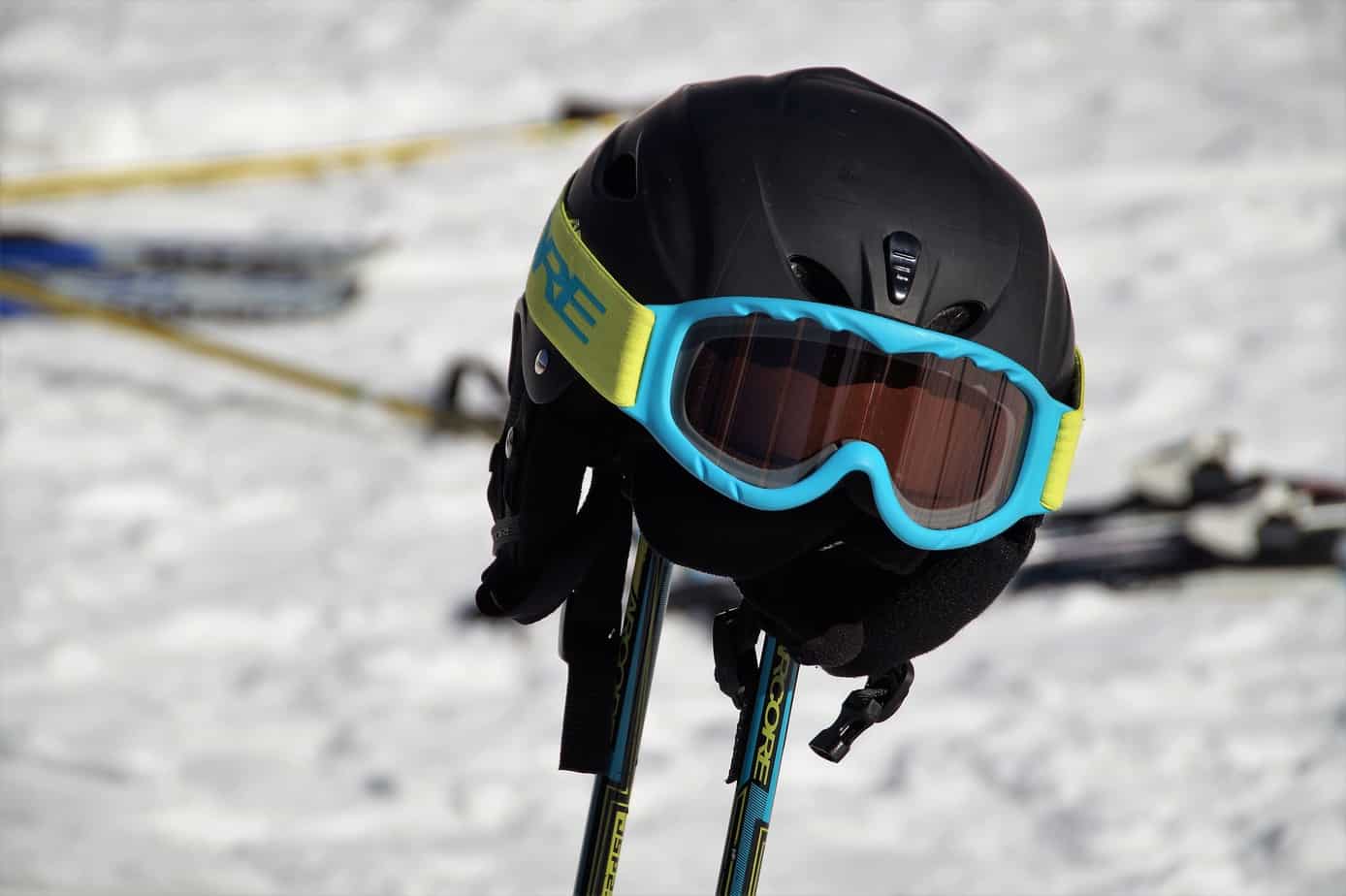 When choosing a ski or snowboard helmet, there are a few things you need to know. The first thing is there are two different types of helmets – in-mold and injection-molded helmets.
In-mold helmets are lightweight thanks to the shell and foam being attached during the folding process. Injection-molded helmets see the shell and EPS foam as separate elements, offering more durability.
Getting The Correct Size and Shape Ski Helmet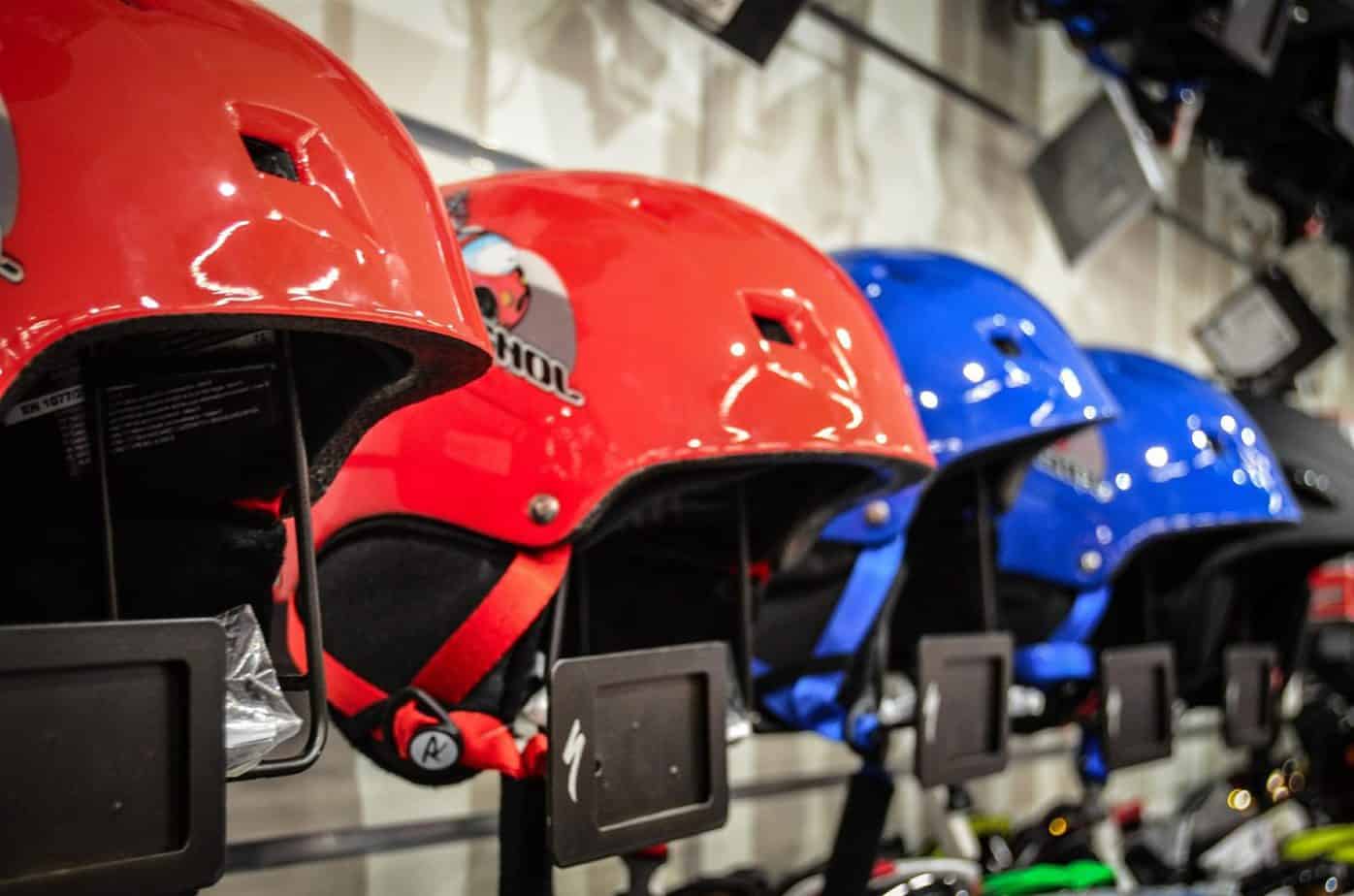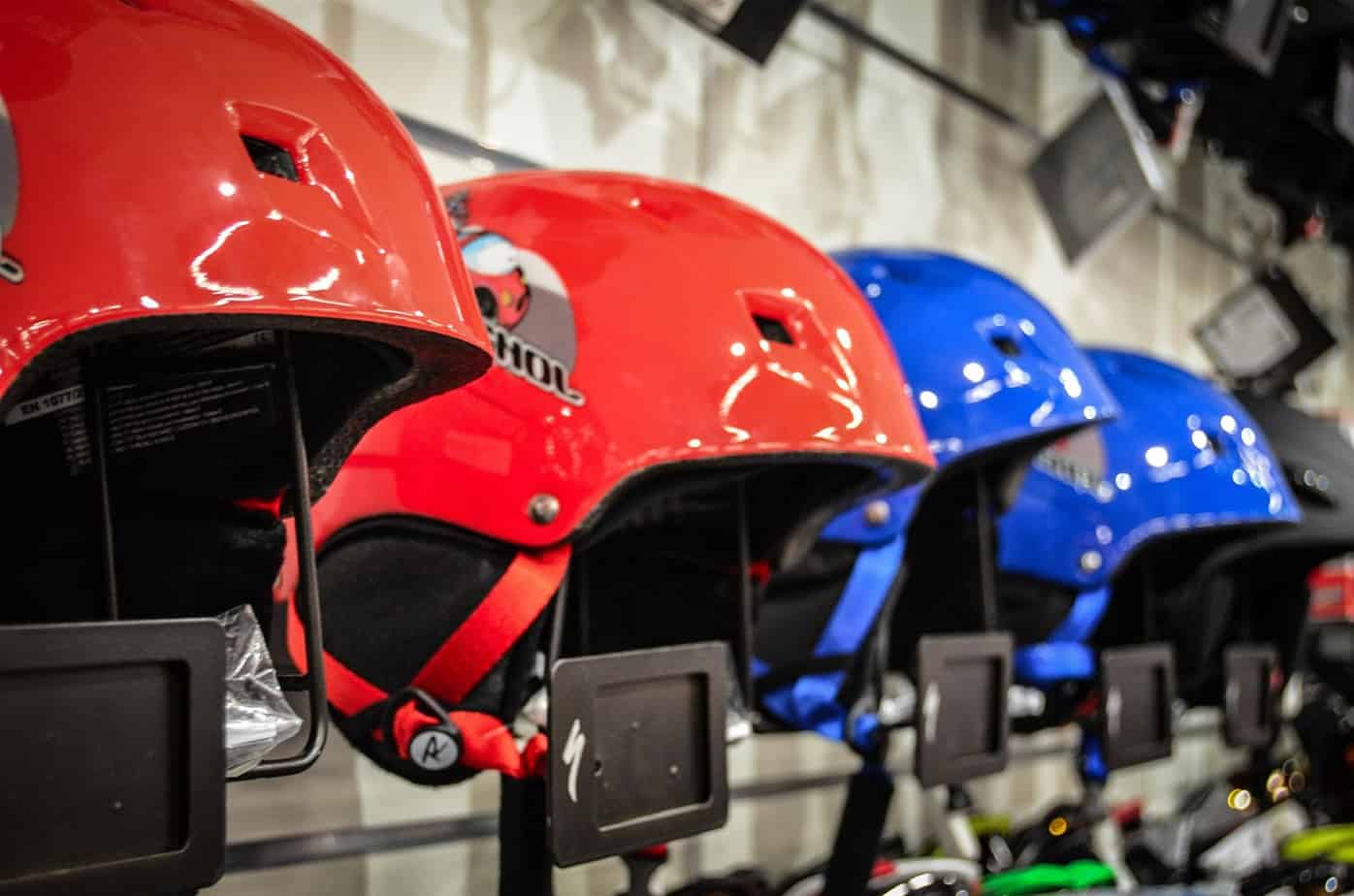 Getting the correct size ski helmet is essential. If possible, try a helmet on for size; it should be snug but not tight. Sizing varies between manufacturers, so a medium from one manufacturer may be different from another.
When trying on a ski helmet, make sure that your hairstyle is how it will be when you are skiing. Different hairstyles and lengths can dramatically differentiate how comfortable a helmet is and how it fits.
You can buy ski helmets online, as manufacturers usually post sizing guides and instructions on their websites. However, don't be tempted to keep the helmet if it doesn't fit correctly, send it back for one that does.
Fastening the chinstrap when trying on a helmet is essential to see if it fits correctly. Adjust the strap so you can fit two fingers under your chin.
Open your mouth wide as if you are yawning. If your helmet pulls down onto your head, it is a good fit.
Everyone's head is shaped differently, which makes a difference in how comfortable a helmet is. You may encounter slight pressure points; these may hurt or feel uncomfortable after wearing the wrong-shaped helmet after a while.
Other Considerations For Buying a Ski Helmet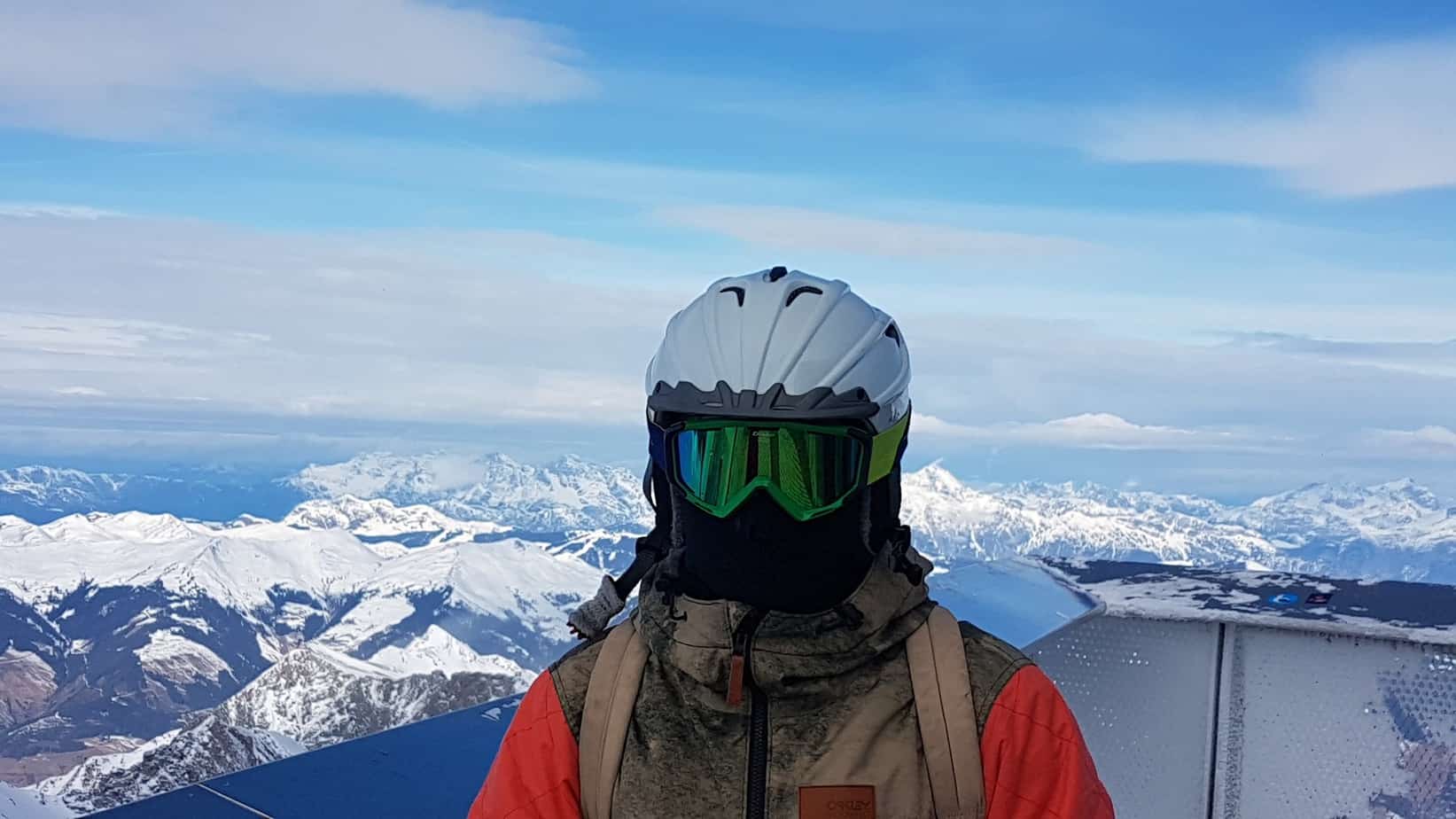 A consideration that is often forgotten about is how a helmet and goggles interface with each other. If you wear goggles, make sure they fit together correctly with no forehead gaps.
It is common for goggles to pop off your helmet during a crash unless they are adequately secured. If you wear your goggle strap on the outside, look for a helmet with a retention clip on the back.
You should pay close attention to the coverage the helmet provides. It should not sit too high or low on the head, sit about 1″ above the eyebrows, and not touch the top of your neck.
While coverage is important, your vision should also not be restricted. Make sure you can see straight ahead and side-to-side.
Chinstrap fasteners can be tricky to use, especially when you are wearing ski gloves. Look for helmets that fasten easily with a clip or magnetic clasp for convenience.
Safety Certifications You Need To Know About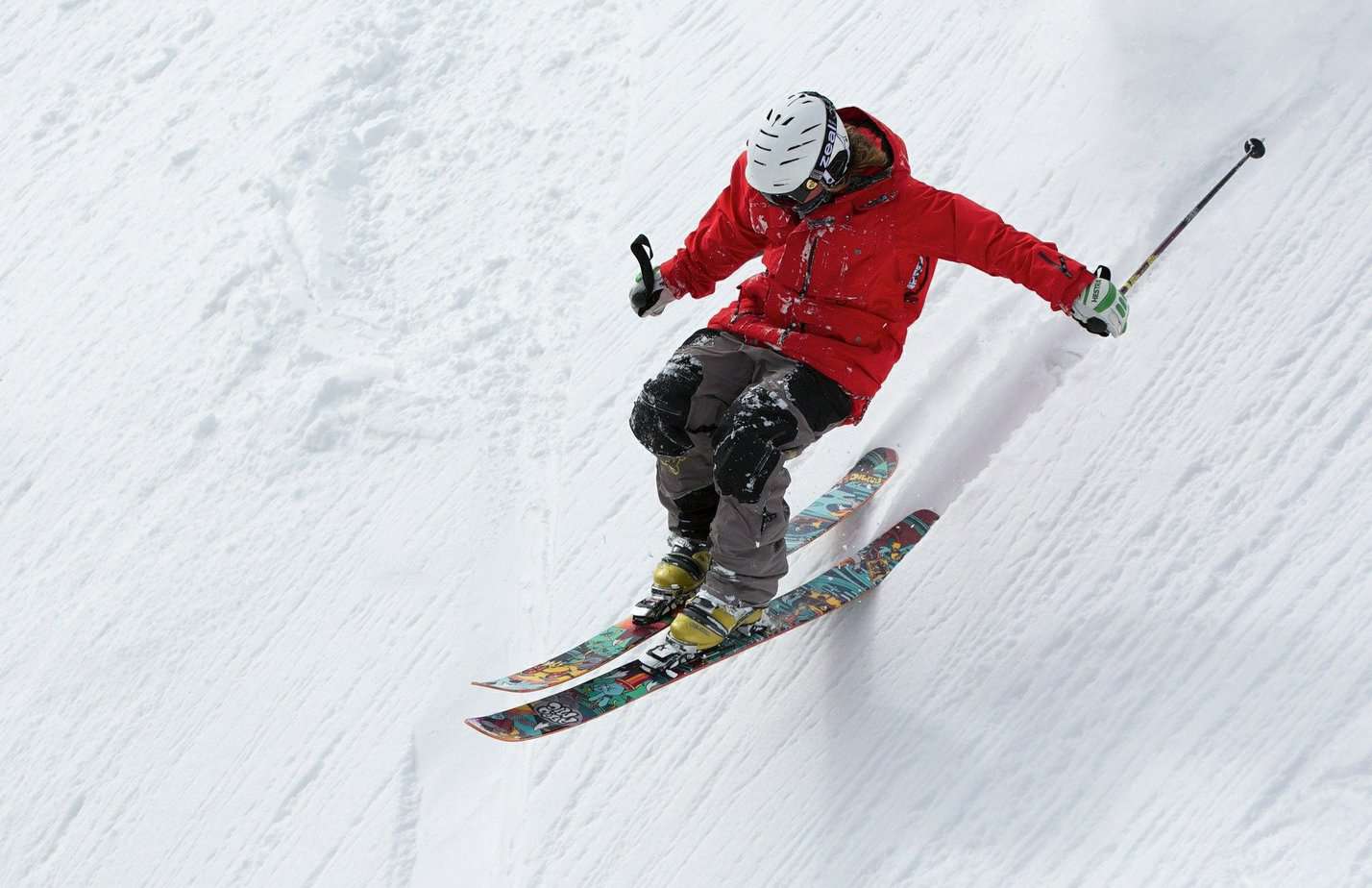 To ensure that ski helmets are up to the job of protecting your head, there are some safety certifications used within the manufacturing process.
In Europe, you should look for EN-1077 certified ski and snowboard helmets. This was approved by the European Committee for Standardization (CEN) on February 17, 2007, for all ski and snowboard helmets sold within the European Union.
There are no safety standards for ski and snowboard helmets sold in Australia. But any competitor in an official race must wear a FIS (Fédération Internationale de Ski) compliant helmet.
In the United States, there is currently no mandatory safety standard for ski and snowboard helmets. However, voluntary standards such as ASTM F2040, Snell RS-98, and EN-1077 are commonly found.
Heading north of the border to Canada, there is the CSA Z263 voluntary standard. But, you will often find ASTM F2040, EN 1077, or Snell RS-98 certified helmets for sale in Canadian ski shops.
Even with these certifications in place, you need to realize that a ski helmet is valuable but not invincible. These helmets will help to prevent some injuries, but protection is limited.
Is There A Difference Between Ski And Snowboard Helmets?
Ski and snowboard helmets all come under the same certifications. There may be a difference in their style due to branding, but generally, ski and snowboard helmets are one and the same.
Features Of Modern Ski Helmets
Protection qualities aside, modern ski helmets offer plenty of different features. These features can make wearing a helmet more comfortable or enhance your time on the mountain.
Some ski helmets have removable ear pads and linings. This is because some skiers and snowboarders like to wear beanies under their helmets for comfort and for how it looks.
Adhesive GoPro mounts have been reported to degrade the protection level of a ski helmet. Therefore, some manufacturers build in GoPro mounts that easily snap off in a crash.
Some helmet manufacturers recognize that some people like to ski and snowboard listening to music. Therefore, they make their helmets audio ready to fit headphones into them.
The ventilation a ski helmet has makes a huge difference in how comfortable it is. A helmet with adjustable vents allows you to alter the airflow to suit the conditions you are skiing in.
Most modern ski and snowboard helmets have a dial on the back of them to fine-tune their fit. They work by adjusting the tightness, often with a BOA system, to get the fit just right.
Another way manufacturers can ensure that you get the perfect fit is with the internal padding. Often helmets will come with different sized pads to suit the shape of your head.
When Should You Replace A Ski Helmet?
Unfortunately, helmets don't last forever and need replacing from time to time. If you are a fully grown adult, experts recommend that you replace your helmet every five years.
Growing kids will need to replace their helmets more often so they fit correctly. In addition to this, kids' helmets tend to get bashed around more, reducing their effectiveness in a crash.
If you drop your helmet or hit it while skiing, you will need to replace it immediately. Even if you cannot see any surface damage, there may be damage to the inner lining.
Taking Care Of Your Ski Helmet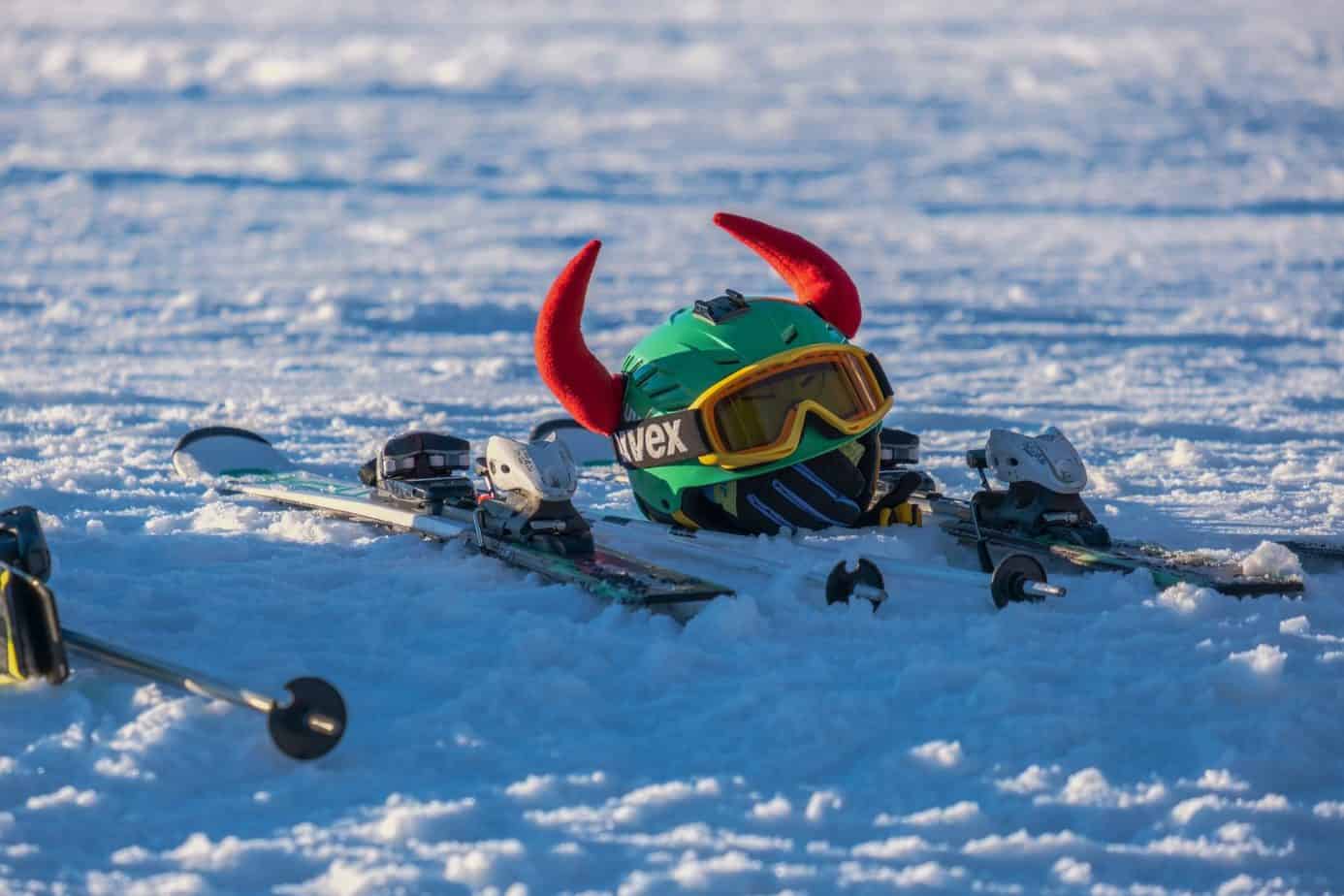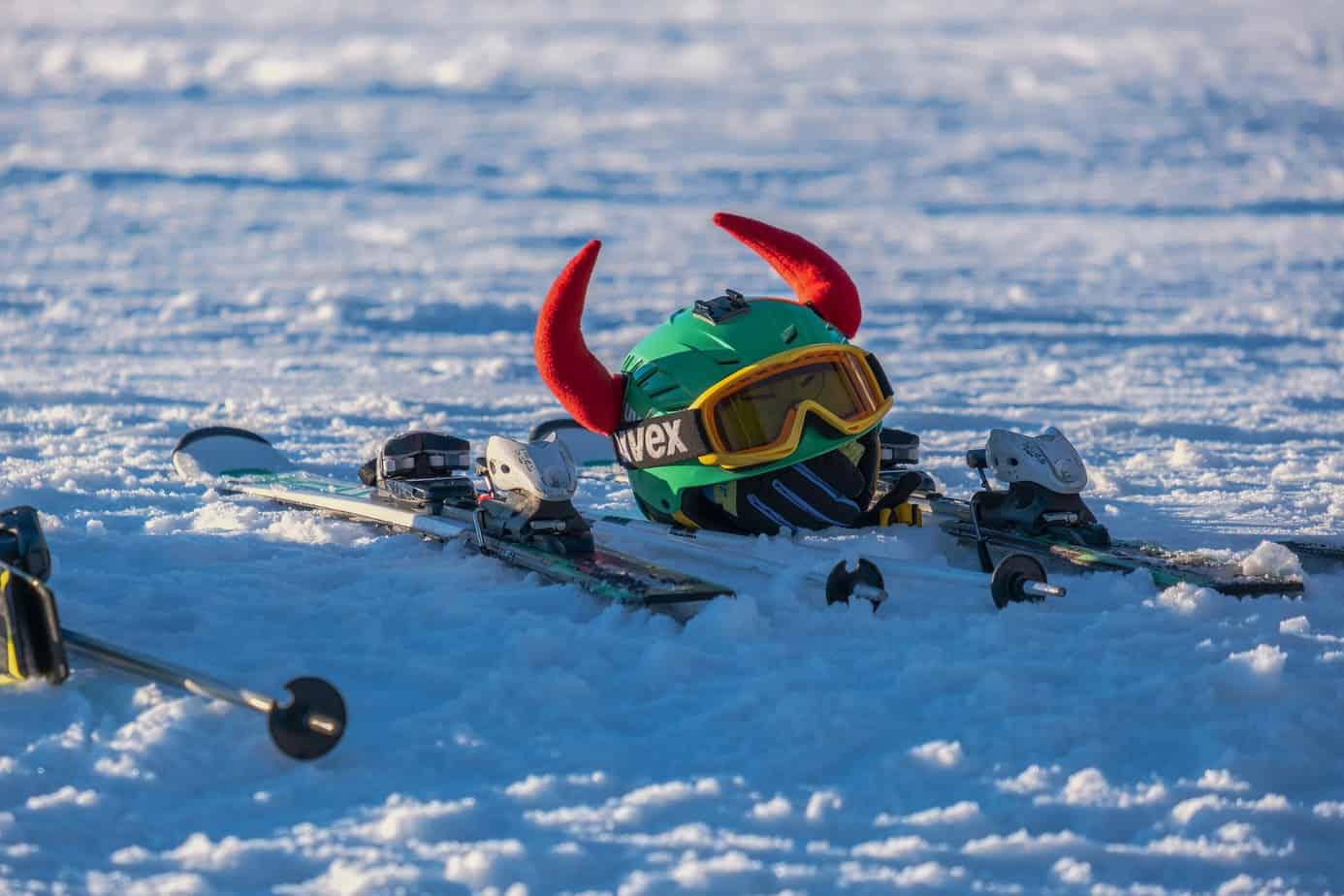 You can increase the life of your ski helmet by looking after it properly. There are some simple things you can do to make it last longer.
Take care of where you store your helmet when you are not using it. Try to find somewhere that is not too hot or too cold.
Make sure nothing is resting on top of it while stored. Any compression from heavy objects can compromise the helmet's structural integrity.
When you are enjoying après drinks, be careful where you put your helmet. Helmets and goggles are vulnerable when clipped to the back of chairs in busy bars.
Keeping your helmet clean makes it last longer and more pleasant to wear. Use mild detergent and warm water, but let it dry completely before you use it next.
Avoid decorating your helmet unless the manufacturer says it is okay to do so. The adhesive from stickers etc. can compromise the effectiveness of the outer shell, making it less effective on impact.
Should I Buy A Used Ski Helmet?
Buying a used ski helmet may be tempting, especially if you are new to the sport. However, you do not know the history of it.
A used helmet may have been dropped multiple times by its owner. In addition to this, you may not be able to see if it has had a significant impact.
Buying a used helmet could leave your head potentially vulnerable in a crash. Therefore, it is best to buy a new one.
Are Multi-Use Helmets Any Good?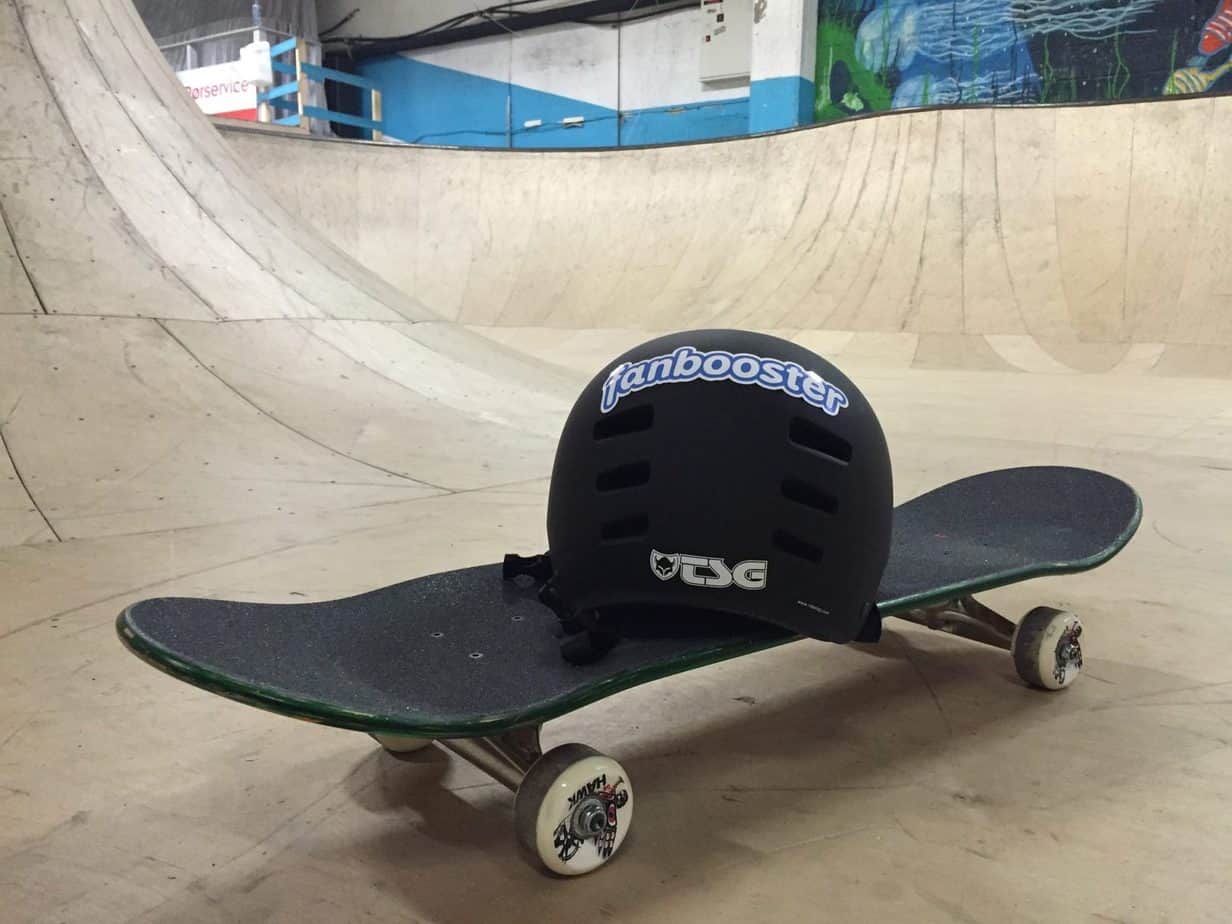 Some manufacturers make helmets suitable for several sports. These are often used for skiing, skateboarding, and bike riding.
This type of helmet is designed to withstand very minor multiple hits. But, a multi-use helmet MUST be replaced if it has been involved in a severe crash or is damaged in any way.
What Should I Do If I Get a Concussion On The Slopes?
If the worst happens and you suffer a concussion on the slopes, it is a good idea to know how to look after yourself. Previously, it was believed that shutting yourself away was the best way to recover from a concussion.
The new school of thought suggests that doing the exact opposite is best unless it worsens your symptoms. Performing daily activities and even light exercise may be the best way to help concussion recovery.
A study in 2019 by Dr. John Leddy concluded that sub-symptom threshold aerobic exercise sped up recovery in concussed adolescents. During the initial 48 hours, rest is beneficial, but it was shown that those who performed aerobic exercise recovered on average within 13 days.
Therefore, getting up and moving after the first couple of days seems to be the best cause of action. Aerobic exercise can safely and effectively reduce recovery time and possibly prevent delayed recovery.
Final Thoughts
The studies around wearing a ski helmet can often be interpreted individually to suit your point of view. However, the statistics suggest that ski and snowboard helmets help reduce the seriousness of certain injuries.
A ski helmet can mean the difference between going to the hospital or the après bar. It can also save your life, which is far more important; there is no such thing as a soft rock.
Ski helmets are designed to prevent catastrophic injuries, such as skull fractures. Most of the research shows that wearing a helmet decreases the severity of head injuries in both skiers and snowboarders.
But, no matter if you are wearing a helmet or not, many injuries can be prevented using common sense. Skiing sensibly and responsibly will keep you and other slope users safe.
We hope that you have found this article valuable and insightful. If you have any thoughts or questions on ski helmets, please leave them in the comments section below.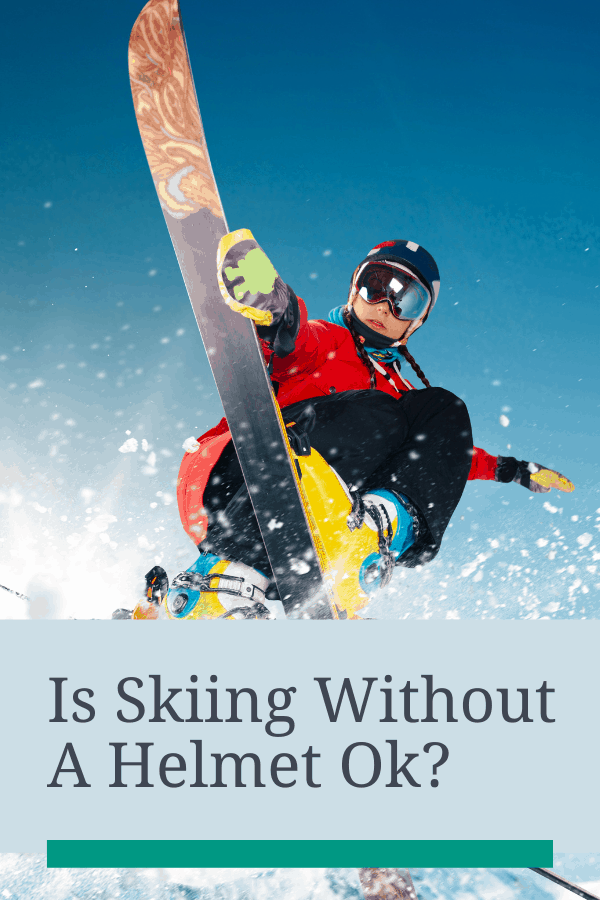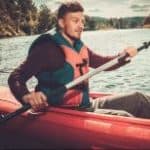 Author: Peter Salisbury
Pete is the Owner of KayakHelp.com. Born and raised in Cleveland, Ohio, he grew up kayaking, fishing, sailing, and partaking in outdoor adventures around the Great Lakes. When he's not out on the water, you can find him skiing in the mountains, reading his favorite books, and spending time with his family.