When inflatable kayaks first appeared on the market most paddlers considered them to be either children's toys or, one man rafts suitable only for recreational paddling.
However, inflatable kayaks have undergone considerable changes over the last ten years which has enabled them to evolve into serious paddle craft.
Thus, they are no longer relegated to the status of children's toys but are instead, now suitable for adults who like to paddle every kind of water from lakes to rivers to the ocean and, in some cases, their performance can even rival that of hardshell kayaks.
However, they have retained their original advantages over both plastic and composite kayaks in that, when deflated, they are very compact to store and easy to transport. Plus, they are lightweight and relatively inexpensive compared to hardshell kayaks.
Check Price On Amazon
The Intex Challenger K2 inflatable kayak specifications
Intex Challenger K2 kayak is an inflatable, sit-inside, two-person kayak that measures 11.5 feet in length and 30 inches in width, weighs 39.5 lbs. and, has a 350 pound load capacity.
Also, it features rugged, 30 gauge, PVC vinyl construction and, it has a low profile with a streamlined design for speed and agility. Also, it features I-beam floor construction for rigidity and increased initial stability and an integral skeg is included for directional control.
In addition, it features a large, open, cockpit with a pair of inflatable seats with inflatable backrests. Also, it has plenty of storage space behind the seat and, a cargo net for storing additional items in the bow.
However, unlike other inflatable kayaks, it only features one Boston Valve on the main hull chamber for inflation and deflation.
Plus, it also includes two, 84 inch, aluminum kayak paddles with rubber grips and, an Intex Double Quick II high output hand pump for quick inflation in addition to a patch kit and storage bag.
Pros of the

Intex Challenger K2 inflatable kayak
Concerning this kayak's functionality, with a beam that measures 30 inches, it does provide both a spacious alternative to some of the smaller kayaks on the market and, it has a high degree of initial stability.
Also, with a load capacity of 350 pounds, it has plenty of carrying capacity for two, average sized, adults or, one adult and their camping gear. In addition, having only a single Boston Valve makes inflating the kayak a relatively simple process and, as long as the inflation instructions are followed precisely, the process is very quick and simple.
Plus, the Intex Double Quick II Hand Pump that is included with the kayak inflates on both the upstroke and the down stroke for extra quick inflation and, it includes two very comfortable, inflatable kayak seats with inflatable back rests and, both seats have adjustable positions or, they can be removed altogether for those prefer to paddle while kneeling or, when extra room is needed to carry gear.
Also, the included cargo net provides plenty of storage space on the bow and, there is additional storage space behind the rear seat. Plus, due to its inflatable design and its relatively light weight, the Intex Challenger K2 kayak it easy to store and transport.
In addition, its rugged, 30 gauge, PCV vinyl material enables it to easily withstand abrasion and even prevents punctures but, in the event that a puncture does occur, the dual chamber design prevents the entire kayak from deflating.
Plus, it fits snugly around the legs and torso of an average sized paddler which helps provide additional control and stability and, it includes a removable skeg to aid in directional control.
Furthermore, the included aluminum kayak paddles feature rubber hand grips and asymmetrical spoon blades. Last, it is a very affordable kayak and thus, it is perfect for both the weekend recreational paddler or the kayak fisherman.
Cons of the

Intex Challenger K2 inflatable kayak
On the other hand, with length of only 11.5 feet and a beam that measures 30 inches, this kayak is extremely slow by touring kayak standards but, it also has a high degree of initial stability and thus, it is a good choice for the budget mined paddler who is looking for a recreational kayak that is easy to store and transport.
On the other hand, it has to be inflated before each use and then deflated after each use which takes time away from your time on the water and, due to its inflatable nature, steering this particular kayak can be a real challenge for inexperienced paddlers since it seems to have a small weight distribution problem that causes it to want to move in a circular pattern even with the removable skeg attached.
But, because the skeg is removable, it can come off during use and, Intex does not sell replacement skegs! Plus, although the relatively tight fit around the paddler's hips does help with control and maneuverability, the lack of even fixed foot braces makes this kayak somewhat difficult to control; especially in windy conditions.
Therefore, it is best limited to paddling on ponds and lakes where the water is usually calm and, is not well suited for river or ocean use.
Conclusion
So, although the Intex K2 Challenger inflatable kayak does have its advantages, it also has disadvantages.
For instance, while the inflatable deign, light weight, high degree of initial stability and, inexpensive price make it appealing to many recreational paddlers who are simply looking for a way to get out on the water once in a while, its wide beam, lack of foot braces, lack of directional control, and cheap, aluminum/plastic kayak paddles make it ill suited for paddling any water other than calm ponds and lakes and, especially ill-suited for paddling long distances.
Also, while the 30 gauge PVC vinyl is definitely puncture resistant, it is not puncture proof but, the dual air chamber design will likely keep you afloat long enough to reach the shore and, it can be easily repaired in the field with the included patch kit.
Thus, as long as you have your pump with you, it can be easily reinflated after the repair is made. Therefore, it is up to each individual paddler to decide whether or not the Intex K2 Challenger inflatable kayak is suitable for their intended purpose.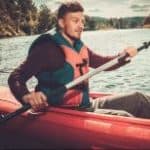 Author: Peter Salisbury
Pete is the Owner of KayakHelp.com. Born and raised in Cleveland, Ohio, he grew up kayaking, fishing, sailing, and partaking in outdoor adventures around the Great Lakes. When he's not out on the water, you can find him skiing in the mountains, reading his favorite books, and spending time with his family.