The popularity of kayak fishing has come on by leaps and bounds in recent years, and it's easy to see why. Kayaks are convenient, fun, easy to transport, and are also a great form of exercise.
It should come as no surprise then, that purpose-built angling kayaks are becoming more and more common, with features like rod holders, fish storage hatches, and stabilizing chine rails making it possible for anglers to have a great fishing experience.
The LifeTime Tamarack kayak is an excellent example; it's ultra-stable, light enough for one person to transport, and has all the fishing accessories a dedicated angler would want.
Check Price On Amazon
Key Features
Rod Holders
The Tamarack features three rod holders in total. Two are mounted flush with the hull and one is mounted on top, between the paddler's legs.
Storage Compartments
The two six-inch storage compartments in the rear and center give you plenty of places to store your gear, and if you're lucky, your catch. The open-topper sit-on design of the kayak also allows for items to be stored in the hull compartment, perhaps even a kayak cooler.
Adjustable Seat
As befits a kayak where the paddler is going to be spending a lot of time sitting still, the Tamarack has a fully adjustable seat and footrest positions. The extra support from the good seating position and footrests allows the paddler more control over the kayak and reduces fatigue.
High-Density Polyethylene Hull
While plastic hulls are heavier than composites like fiberglass, they do have certain advantages. They are easier to maintain and are less likely the crack if they hit something, the plastic's natural flexibility allowing them to bounce off. The Tamarack's hull also comes with a UV resistant coating, preventing it from getting bleached.
Paddle Included
This might seem like an odd thing to mention as a feature, but not many kayaks come with a paddle included. Not only does the Tamarack come with its own paddle, but it also features bungees on the sides and front so you can stow your paddle safely when it's time to pull out your rod.
Kayak Review
Stability
One of the primary benefits of the Tamarack is its fantastic stability. Fishing kayaks are unique in that they need to be ultra-stable to provide a safe platform for the fisherman to cast from.
The Tamarack features chine rails on its hull. Those chine rails, coupled with the kayaks wide flat hull, prevent the boat from tipping. This stability enables you to get a good solid cast and move about the kayak, to attend to the three different rods you can have on the go, without having to worry about the kayak capsizing or dumping you over the side.
In addition to the chine rails, the Tamarack features deep hull tracking channels. These channels help to keep the kayak tracking straight, acting in a similar way to a skeg. This is ideal if you want to be paying attention to the fish and not correcting your course every five minutes.
The downside of this feature is that they do impact the maneuvering performance of the craft. The Tamarack is not designed for sharp turns or a high top speed, and isn't particularly multi-purpose. If you are looking for a kayak that doubles as both a fishing and touring kayak, then you are going to be disappointed.
Durability
The Tamarack is certainly built to last. Its high-density polyethylene hull is capable of taking on a few collisions without cracking and doesn't need much in the way of maintenance. As standard, it comes with a UV resistant coating to prevent fading, which is ideal if your idea of a good time is spending hours fishing on a bright and sunny day.  Although if you plan to do that, it might be worth investing in a canopy to avoid sunburn.
To complement its durable construction, the Tamarack comes with a five-year guarantee, which is something seldomly seen on a kayak. This limited warranty covers all manufacturing faults and breakages that are not the result of wear and tear, so you have a little added peace of mind.
Comfort
As anglers spend a lot of their time sitting and waiting for the fish to bite, it's essential that a fishing kayak is comfortable. How comfortable a fit the Tamarack is for you is entirely dependent on how tall you are. The craft itself is only 12 feet long, which isn't small, but large sections of the bow and stern are taken up by built-in storage lockers. While the storage lockers are undoubtedly handy, the lack of leg space may be a problem for taller paddlers.
The Tamarack does have a fully adjustable seat. It is, however, somewhat basic, so if you are planning on spending hours out in the water day after day, then it might be worth upgrading to a better seat. Complementing the adjustable seat are five-foot well grooves for each foot, making the kayak comfortable for all but the tallest paddlers.
Conclusion
The Tamarack in an excellent entry-level fishing kayak. It provides an exceedingly stable platform to cast off from, has plenty of storage for both gear and your catch, and is remarkably easy to handle. The only seemingly downside is its limited length, which might be uncomfortable for taller paddlers.
Also Read: Pelican vs Lifetime Kayak – Which Is Better?
Alternative Options
If fishing is something you prefer to do with a buddy, then the Sport Fisher Tandem is an ideal choice. Its hull is as stable and durable as the Tamarack, with the same UV resistant coating and a five-year guarantee, but one of the storage hatches has been removed allowing you to fit in up to two other people.
The kayak does have a 500-pound weight capacity, so if three of you are getting in be mindful of how much gear you are taking with you. The downside of the Sport Fisher is that despite it being a tandem kayak, it's actually shorter than the Tamarack, compounding the comfort problems for taller kayakers.   
The Sun Dolphin has all the same fishing features as the Tamarack: rod holders, storage for your catch, paddle holders, while also featuring a more narrow and streamlined hull. While this means it isn't as stable a casting platform as the Tamarack, it does mean the Sun Dolphin is far more maneuverable and is a good bit faster.
If you are looking for a kayak that combines both a touring and fishing set up, then the Sun Dolphin is an excellent choice. To allow you to have room for your fishing catch and enough gear to go for a day's touring, the Sun Dolphin features the P.A.C. (Portable Accessory Carrier), which can be used as a tow behind or extra storage compartment. There is also shock-cord storage at the bow and stern to help with storing extra gear and paddles.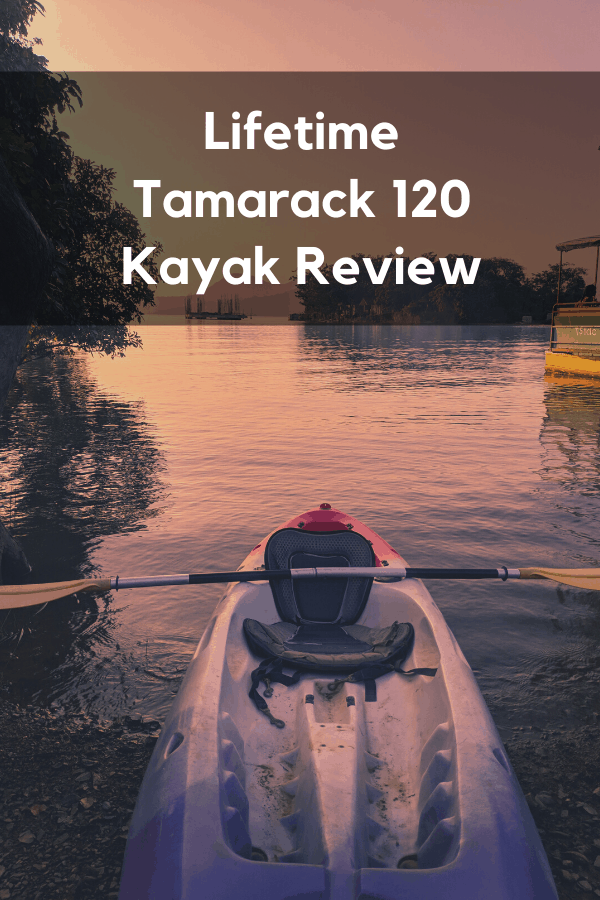 Author: John McCloy
John is a professional copywriter, fencer, and paddlesports fanatic based in the UK. When he's not out on the water, he can usually be found convincing new people to try kayaking, pretending to be Zorro or climbing what passes for mountains in England.