One of the best things about owning a kayak is the freedom it gives you have to get out on the water and enjoy the peace and scenery.
There is nothing better than being able to grab your kayak at a moment's notice and head out on a paddling adventure, without having to worry about car racks, stowage, or worrying about how you're going to get your heavy touring boat into the water on your own.
A good lightweight kayak is your key to that freedom. Being one-person portable, they allow you to stop worrying about the logistics of your trip and start enjoying it.
But buying the right lightweight kayak for you can be difficult; how do you choose between an inflatable kayak, a folding one, or one with a modular design?
To help you pick, we've put together a handy buying guide to let you know what to look for in a short lightweight kayak, a jargon buster to demystify the terminology, and reviews of some of the best lightweight kayaks on the market.
Best Short Lightweight Kayaks
Sea Eagle SE330 Two Person Inflatable Sport Kayak Boat with Two Seats, Two Paddles and Pump
Oru Kayak Beach LT Folding Portable Lightweight Kayak - for Day Trips, Picnics, and Casual Fun with Family and Friends …
Point 65° N Falcon Solo RED
Dagger Katana 9.7 | Sit Inside Crossover Kayak | Whitewater up to Class 3 | for Smaller Paddlers | 9' 7" | Red
Emotion Guster Sit-Inside Kayak, Orange, 10'
Sea Eagle SE330 Two Person Inflatable Sport Kayak Boat with Two Seats, Two Paddles and Pump
Oru Kayak Beach LT Folding Portable Lightweight Kayak - for Day Trips, Picnics, and Casual Fun with Family and Friends …
Point 65° N Falcon Solo RED
Dagger Katana 9.7 | Sit Inside Crossover Kayak | Whitewater up to Class 3 | for Smaller Paddlers | 9' 7" | Red
Emotion Guster Sit-Inside Kayak, Orange, 10'
Buying Guide – Factors to Consider
Construction Materials
Typically, kayak hulls are made out of either polyethylene plastic or composite materials, such as fiberglass, carbon fiber, or hard-wearing plastics like Acrylonitrile-Butadiene-Styrene (ABS). Fiberglass and carbon fiber boats tend to be stiffer, which leads to a better performance. They also hold their shape much better over time without warping or developing dents and deep scratches. Plastic boats tend to be heavier and lack the stiffness and responsiveness that you will get with a composite kayak. However, they are less prone to damage from hitting rocks or being dropped.
Hull Shape
In general, kayaks have one of two hull designs. Kayaks designed for rougher water will have a V-shaped hull, allowing them to cut through the turbulent water. Flatwater kayaks feature a rounded hull, which is less suited to cutting through waves and more appropriate for kayaking through calm rivers, coastal flat waters, and lakes.
Folding Kayaks
The majority of folding kayaks are constructed from either an inflatable outer skin supported by solid inner ribs or are a so-called 'origami kayak,' made of a flexible material that folds against itself to become a rigid outer hull. Neither design has any particular advantage over the other, but certain individual kayaks may have features which may make them better suited to you.
Puncture Resistance
All inflatable kayaks run the risk of punctures, although this is rare unless the kayak is used outside of its recommended conditions. All the inflatable kayaks reviewed here feature a triple-layered outer skin for maximum puncture resistance.
Comfort
Making sure that the kayak you purchase is one you can fit into comfortably is important. Not only will it allow you to stay out on the water for longer, but it will also make it easier to control your kayak. The key to a comfortable kayak is adjustability, which allows you to customize the fit of the kayak to your shape, so look out for 'yaks with adjustable seats, thigh braces, and foot plates.
Storage
Having the correct amount of storage on your kayak is important. If you're heading out on the water for a few days, you need space to store all the gear you'll need to make that a safe and comfortable experience. Most larger kayaks have fore and aft hatches to store gear in, and many will come with bungee cords on the outside for extra stowage.
Jargon Buster
Rocker
The rocker is a measurement of how much a kayak rises at the bow and stern. The higher the rocker is, the more maneuverable, but slower, the kayak is.
Edging
Edging, also called carving, is the act of tilting a kayak so that one side of the kayak is out of the water. Carving a kayak into a turn creatures more water friction on one side of the kayak, causing it to turn faster
Tracking
Tracking is a measurement of how well a kayak stays in a straight line when paddled.
Chine
In kayaking, a chine refers to the sharp change in angle in the cross-section of the hull. The term hard chine indicates an angle with little rounding, where a soft chine would be more rounded, but still involve the meeting of distinct planes
Stability
The initial stability of a kayak is how stable or unstable the kayak first feels when you get into it. The secondary stability is how stable the kayak feels when it is put onto edge.
Skeg
A skeg is a fixed rudder, designed to allow the kayak to track straight, even when not moving into the wind.
Short Lightweight Kayak Reviews
Check Price On Amazon
Hull Material –
Polykrylar
Length – 11' 2"
Width – 34"
Weight – 26 lbs.
Cockpit Size – 9.5' x 13"
Weighing in at only 26 pounds, the Sea Eagle 330 is the lightest kayak on our list and, to add to its portability, it is also inflatable. The technology behind inflatable kayaks has come on by leaps and bounds in recent years.
Where once they were considered to be little more than beach toys, they now represent a viable option for a space- and weight-conscious kayaker.
From a deflated pack size of just 9.25 x 17.91 x 33.46 inches, the Sea Eagle 330 inflates to a total length of 11 feet. The Sea Eagle 330 is listed as a two-person kayak.
However, the actual cockpit space is only 9.5 feet long and 13 inches wide. While this isn't quite enough to comfortably seat two adults, it does make the Sea Eagle 330 the ideal solution to going kayaking with a child or a dog.
The hull of the Sea Eagle 330 is made of puncture-resistant, extra-thick K-80 polykrylar and the manufacturer is so confident of its durability that it comes with a three year warranty. As with most plastic hulled kayaks, the Sea Eagle 300 is very resistant to impact damage and is rated to be used in up to Class III rapids.
PROS
Very light
Packs down small
Three year warranty
Great for kayaking with a dog
CONS
Not big enough to be a comfortable tandem for adults
Summary: The Sea Eagle 330 is lightweight, easy to inflate/deflate, and packs down small. It's ideal if you want to go kayaking without worrying about fitting a car rack or how you're going to carry the boat to the water. It's not quite long enough to be a comfortable tandem for two adults, but it's great for going out on the water with a dog or a child.
Check Price On Amazon
Hull Material
– Polypropylene
Length – 12'
Width –  28"
Weight – 26 lbs.
Cockpit Size – 48" x 25"
The Oru Kayak Beach LT is a foldingrecreation kayak. With a beam of 28 inches and a wide cockpit, the Beach LT is a very stable kayak that's ideal for beginners and families. Designed for day trips and beaches, it even has enough room to accommodate one adult and one child.
The Beach LT folds down to a size of just 12 x 33 x 29 inches, and unlike inflatable kayaks, it doesn't need a pump. The folded down weight is only 28 pounds, and it comes with backpack-style straps to make it fantastically portable. The hard-wearing polypropylene is treated with a 10 year UV protection and rated up to 20,000 folds, so you won't have to worry about its durability.
PROS
Stable and easy to paddle
Can be worn as a backpack
Can accommodate an adult and a child
Wide cockpit makes for easy access
CONS
Paddles are not included
Designed for recreational use and aimed at beginners
Summary: The Oru Kayak Beach LT makes a great addition to a family outing or a trip to the beach. It's easy to get into, stable, and can accommodate a child. Oru claims it can be assembled in just three minutes. However, experienced kayakers may be disappointed in its lack of speed and maneuverability.
Hull Material – Polyethylene
Length – 8' 10"
Width – 24.2"
Weight – 40 lbs.
Cockpit Size – 37" x 24"
The Apollo Solo isn't the lightest kayak on our list, but its remarkably low weight, modular design, and sheer range of uses make it our pick for best lightweight kayak.
The Solo Red splits into two sections, weighing around 20 pounds each and 55 inches long, making it remarkably easy to store and to transport. You won't be needing a trolley or car-rack when you can disassemble your kayak and fit it on your back seat.
Using Point 65's innovative Snap-Tap system, the Apollo snaps apart and reassembles in seconds, making it a breeze to assemble once you reach the water.
Another advantage of the Apollo's modular construction is its ability to transform into a tandem kayak with the simple addition of an extending centerpiece. Now you can go out on the water with a friend without needing to splash out on another kayak.
On the water, the Apollo's sit-on design makes it easy to board, from land or water. It is a maneuverable craft with a high rocker, but its wide frame and lack of steering system do reduce its top speed and tracking ability.
PROS
Super portable
Very light
Modular
Can become a tandem
Easy to store
CONS
Tracking isn't great
Low top speed
Summary: If you are looking for a fantastically portable and easy-to-store kayak, then the Apollo Solo is the boat for you. Its modularity means it will fit in the back of most cars and can easily be carried around by one person. Even the smallest paddlers will have no trouble getting the Apollo Solo down to the water. The added extra of its ability to be converted into a tandem is just the icing on the cake.
Hull Material – Polyethylene
Length – 9'
Width – 28.5"
Weight – 36 lbs.
Cockpit Size – 38.5" x 21.7"
The Zydeco's narrow hull and hard chines make it fast and maneuverable, and at just nine feet long and weighing 36 pounds, it's just as easy to maneuver on land. It can easily be loaded onto a car rack, or even into a car, and moved from car to surf without a trolley.
On the water, the Zydeco straddles the line between whitewater and recreational kayak, giving you the option of facing some moderate rapids or a more relaxed flatwater paddle.
The hard-chined hull provides the Zydeco with excellent secondary stability and it can edge over hard into tight turns. The narrow hull and low rocker allow it to cut through the water, and while you won't be getting the same speed as a touring kayak, it's certainly not slow.
There is minimal storage space on the Zydeco but it's not designed with long trips in mind; this small craft is designed to allow you to go kayaking on a whim, without needing to worry about getting enough people and equipment together to be able to move it to the water safely.
PROS
Lightweight
Very portable
Very maneuverable
CONS
Limited storage
Not as fast as longer kayaks
Summary: The Zydeco is ideal if you want the option to simply pick up your kayak and head out to the water. Its low weight and small size keep it portable, while its sleek design leaves it able to handle moderate whitewater. The large cockpit might let in a little water, but that's nothing a spray skirt can't solve.
Hull Material – Polyurethane
Length – 9' 8"'
Width –  29"
Weight – 39 lbs.
Cockpit Size – 43" x 21.5"
Kayak fishing is generally a solo activity, so it's important that a fishing kayak is light enough for one person to move and store. At less than 10 feet and weighing just 39 pounds, the Emotion Glide is easy for one person to mount on a car rack and get into and out of the water.
Straddling the line between recreational and fishing kayak, the Glide has two lateral pole-holders and room in the hull-space to fit in fishing gear and tackle. The Glide is exceptionally stable, allowing beginners to improve their skills without worrying about capsizing, and providing a stable casting platform.
The only downside to the Edge is that its light hull and wide, multi-chined hull reduces its ability to track accurately. This can be made worse by high winds where the Edge can be blown off course.
PROS
Easy to stow and handle
Comes with fishing rod holders
Plenty of storage space
Very Stable
CONS
Poor tracking
Can be blown of course
Summary: If you are looking for a fishing kayak that one person can comfortably handle, then the Glide is an excellent choice. It's stable, comfortable, and has plenty of space to store gear. Its tracking isn't fantastic, and it's light enough for crosswinds to blow it off course, but this can be remedied with slightly more aggressive paddle input.
Hull Material – Polyurethane
Length – 10'
Width –  30"
Weight – 40 lbs.
Cockpit Size – 48" x 25"
The Sun Dolphin Aruba is the longest and heaviest of the kayaks on this list, but at 10 feet in length and 40 pounds in weight, it is still manageable by one person. A robust and stable recreational kayak, the Aruba is an excellent purchase for someone who wants to head out without needing a second person to get their kayak into the water.
The Aruba has two extending carry handles to help with just that. Its 10-foot length allows it to be car-racked on top of all but the smallest of town cars, and still comes with enough storage for you to be out on the water for a full day.
When you're out paddling, the Aruba's length allows it to pick up a reasonable speed while its wide hull, spacious cockpit, and excellent stability make it an ideal starting kayak for people looking to improve their skills. More experienced kayakers, however, may be disappointed in the Aruba's lack of maneuverability and poor tracking.
PROS
Very stable
Lots of storage
Wide and comfortable
Great for beginners
CONS
Not very maneuverable
Poor tracking
Summary: The Aruba is a great choice for first-time kayakers looking for a stable and forgiving boat that they can transport themselves. The Aruba's wide hull makes it extremely stable and increases the available storage, but does cut back on its maneuverability.
What sets the Apollo Solo apart from the rest of this list is its combination of the speed and performance of a hardshell kayak, along with the portability and convenience of its modular design.
There are very few hardshell kayaks that can conceivably be transported in the back seat of car. When you combine this fact with the Solo's good storage, great performance, and ability to be converted into a tandem, it's clear why it's our choice for best lightweight kayak.
More From KayakHelp: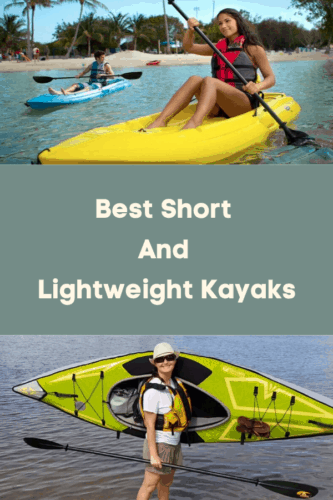 Author: John McCloy
John is a professional copywriter, fencer, and paddlesports fanatic based in the UK. When he's not out on the water, he can usually be found convincing new people to try kayaking, pretending to be Zorro or climbing what passes for mountains in England.