If you don't have the proper ski clothing yet, or the weather is nice, you may be tempted to ski in your everyday clothes. After all, you wear them in cold conditions all the time, but can you ski in jeans?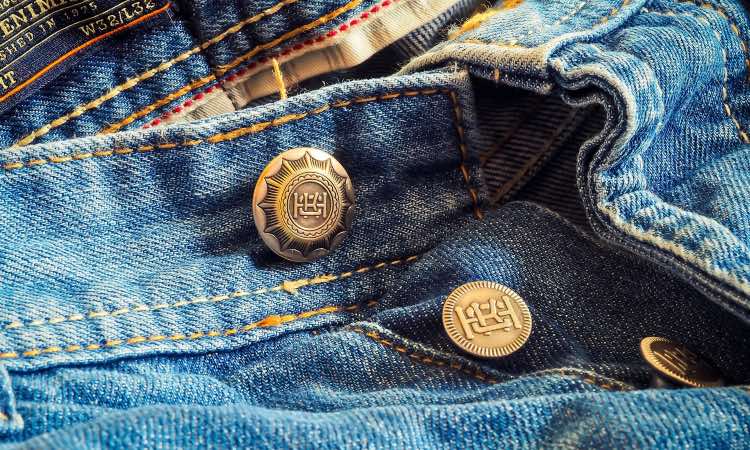 While jeans are comfortable for walking around the streets, they are not well suited to skiing and snowboarding. The first reason jeans are a terrible idea is that denim is made from cotton.
We all know what it is like to wear jeans in the rain; denim becomes heavy as it soaks up water. It starts to rub against your skin and becomes very uncomfortable.
Jeans take a long time to dry out, so they are not well-suited to skiing. It only takes a change in weather or a fall in the snow, and you will have water-logged jeans for the rest of the day.
You may be thinking that you rarely fall over, and the weather forecast is good. But jeans also restrict your range of motion. Most pairs of jeans don't stretch, which will hamper your skiing performance.
Baggy jeans may give you a little more movement, and they may fit over your boots. However, typically, jeans need to be tucked into your boots.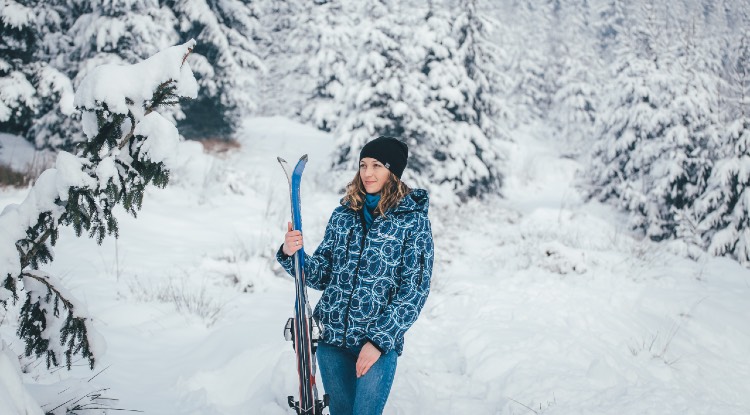 When you tuck your jeans into your boots, they rub your shins from the moment you do your boots up. It won't take long for bruises or blisters to appear on your shins, making your time on the mountain miserable.
You have spent a lot of money to go on your skiing trip, and there is no point in spending money on a ski trip to be uncomfortable. Get the right gear to ensure you are comfortable and performing at your best with the correct ski clothing.
Wear Proper Ski Pants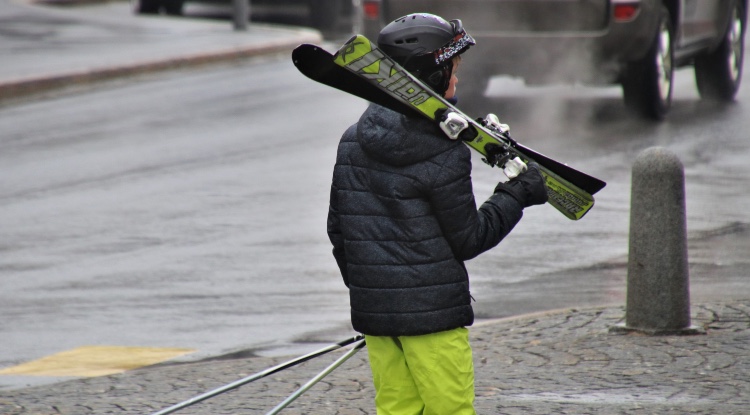 Proper ski pants are made for the job of keeping you warm, dry, and comfortable while skiing. So why would you wear anything else?
Some people feel hot and can overheat no matter how cold the weather is. Other skiers tend to feel the cold more, even on mild days, so you need to think about how the cold affects you.
You also need to consider what the weather conditions are where you usually ski. For example, do you ski in high-altitude resorts that experience cold and dry conditions? Or do you ski on mountains in warmer, wetter climates?
We will now go through what to look for in a pair of ski pants, so you can leave your jeans at home.
Types Of Ski Pants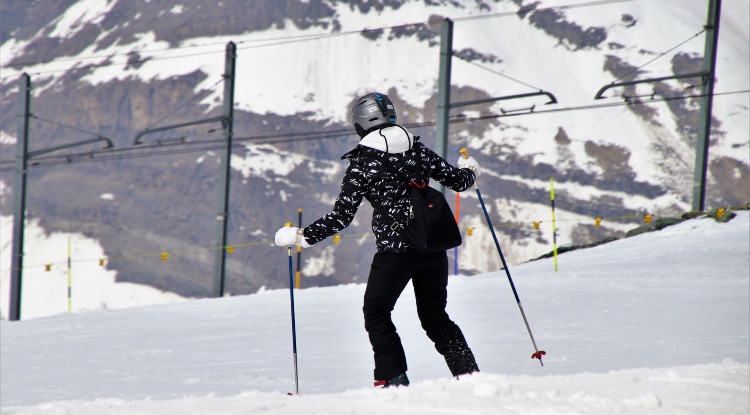 There are several types of ski pants to suit different people and weather conditions. Here are the ones you need to know about.
Insulated Ski Pants
These are the most popular and common types of pants used by skiers and snowboarders. They keep you warm and protected from the elements, which is especially important when sitting on a chairlift in bad weather.
They are usually insulated with a synthetic layer. You can tell how well-insulated they are by their weight, which is measured in grams. Ski pants with a higher weight are warmer, as they have more insulation.
Shell Ski Pants
Shell pants give you the most protection from bad weather. They are windproof, waterproof, and extremely breathable.
Shell pants are very lightweight, so they give you an unrestricted range of motion. They don't have any insulation, so they are great for ski touring or splitboarding.
However, if you choose a pair of shell ski pants, you will probably want to wear thermal underwear due to the lack of insulation.
Softshell Ski Pants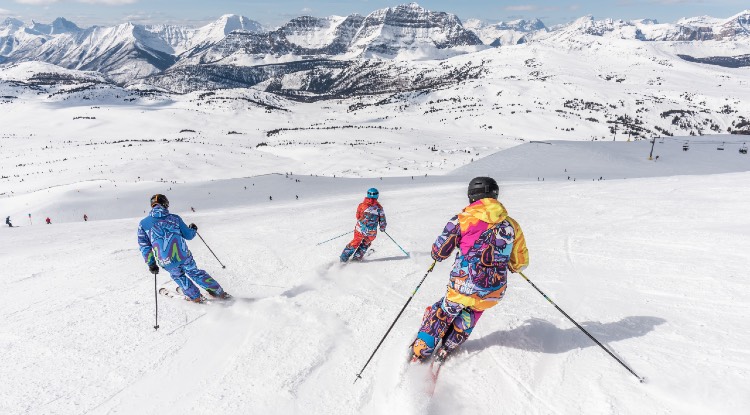 These types of ski pants are made from a soft fabric that stretches. They are worn in warmer areas or by skiers who get warm while skiing.
Stretch Ski Pants
Stretch ski pants are pretty retro, but we are seeing more women wearing them on the mountain again. They are figure-hugging and have very little insulation. However, many have a lining that provides some warmth and waterproofing.
3-In-1 Ski Pants
Three-in-one ski pants give you options, as they provide a mid- or base-layer that can be removed to suit the weather conditions.
They consist of a shell layer on the outside and a removable insulating layer on the inside. The insulating layer is either zipped or clipped into the pants very easily.
Fit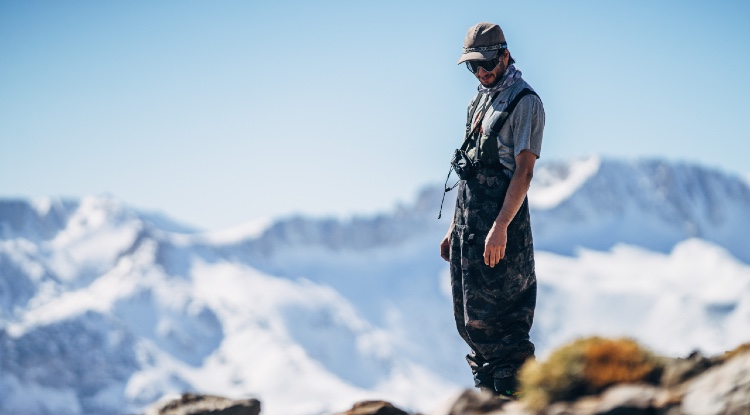 Just like your jeans, the fit of a pair of ski pants comes down to your personal preference. It is a matter of style and what you feel comfortable in.
There are three different types of ski pant fit:
Slim Fit
Slim-fit ski pants are generally tighter. They are tailored at the waist, hips, and thighs. Even with a fit that sits close to your body, you can easily fit thermal underwear under them as part of your layering.
Regular Fit
Regular fit ski pants are not too baggy or tight while being tailored at the waist. They offer a flattering fit without restricting your range of motion.
Relaxed Fit
Relaxed-fit ski pants are much baggier and have no tailoring. They provide more room and comfort and allow you to add more layers if you need them.
How To Tell The Waterproof Level Of A Pair Of Ski Pants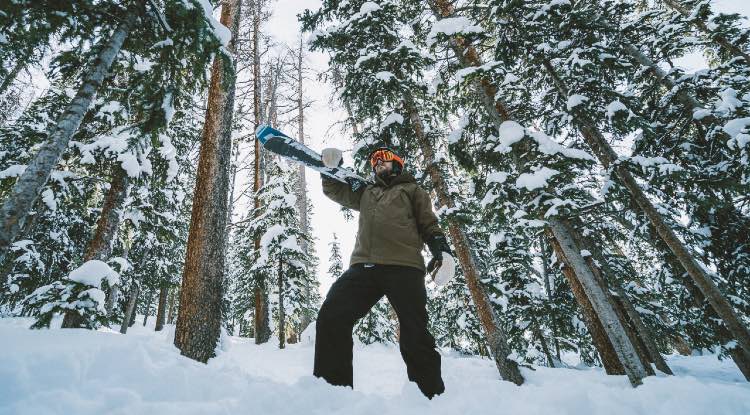 The waterproof rating of a pair of ski pants is one of the most essential factors to look at. It indicates how soon they will become so wet that water can pass through the material.
By looking at the waterproof rating of ski pants, you will be able to understand their ability to keep you dry when the weather gets very wet. Ski pants with a high waterproof rating will keep you dry longer in wet conditions.
All good ski pants manufacturers will indicate how waterproof their products are in millimeters (mm). They determine the waterproof level of their clothing by putting their pants in a cylinder full of water.
The point when the water begins to penetrate through the fabric is the ski pant's waterproof rating. Ski pants with high waterproof ratings will be indicated with higher numbers.
Ski clothing manufacturers use many different types of waterproof fabrics. Examples you may have heard of are Gore-Tex, Hyvent, and Event.
These materials all have pores that are larger than a molecule of sweat but smaller than a molecule of water. These pores make the fabric waterproof and very breathable.
Here are the numbers you will see on ski and snowboard pants regarding their waterproof rating.
Very High Waterproofing (>20,000mm)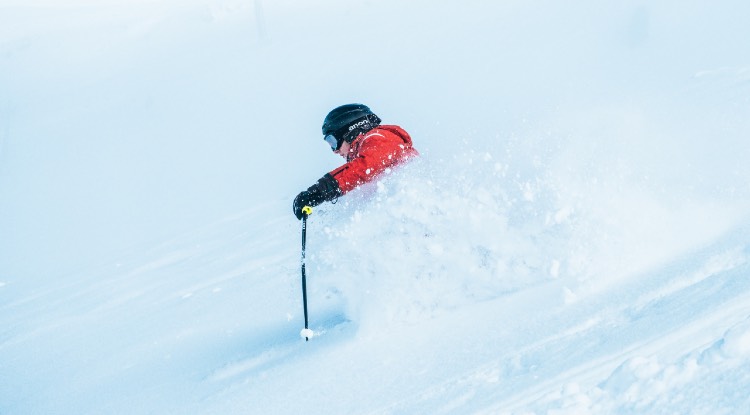 The highest level of waterproofing available is 20,000mm, so wearing ski pants with this number is the best way to stay dry on the mountain.
This high level of waterproofing is achieved by using the best waterproof fabrics and combining them with a DWR coating. DWR stands for Durable Water Repellent, which is a substance that allows you to stay dry all day in moderate rain and heavy snow.
High Waterproofing (15,000mm-20,000mm)
Ski pants with a waterproof rating that ranges from 15,000mm to 20,000mm are ideal for enthusiastic skiers and snowboarders that need pants that will withstand any conditions they may encounter on the mountain. Pants with this level of waterproofing will keep you dry in heavy, wet snow and rain.
Moderate Waterproofing (10,000mm-15,000mm)
A waterproof rating of 10,000mm to 15,000mm is the most common for ski clothing. Manufacturers use a DWR coating on waterproof fabric to achieve this level of waterproofing.
These types of pants are great for most recreational skiers and will keep you warm and dry in light to moderate snowfall and rain all day.
Mild Waterproofing (5,000mm-10,000mm)
Ski pants with mild waterproofing combine a lower level of waterproof fabric with a more advanced DWR coating. These pants are much cheaper than ones with higher ratings but will keep you dry in average snowfall and light rain.
Water Resistant (<5,000mm)
Water-resistant pants are treated with DWR but are made of low-tech material. These are sufficient enough to keep you dry in light snowfall but will start to absorb water quickly when it rains or the snow gets heavier.
Not Specified
Ski pants labeled with an unspecified waterproof rating do not have an exact measurement. But their manufacturer's catalog will claim the product is Water Resistant or Waterproof.
Not Treated
Any clothing that has been labeled as not treated has no waterproofing properties. This is the category your jeans fit into.
Check Out The Breathability Of Your Next Pair Of Ski Pants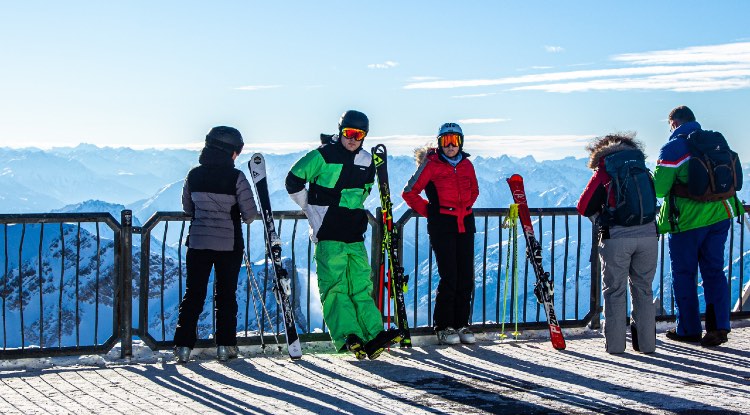 The pores that help to prevent water from getting inside of pants also allow sweat molecules to escape to keep you dry and warm. Therefore, the term "breathability" refers to how effective a pair of ski pants is at transferring the water vapor or sweat from their material.
The breathability rating of technical clothing is measured and indicated in grams (g). Manufacturers calculate the measurement by determining the Moisture Vapor Transmission Rate (MVTR)
The MVTR indicated how many grams of sweat per 1 square meter can escape the material in 24 hours. A higher number shows that more moisture can escape, meaning the ski pants are more breathable.
If you can afford to buy the most breathable ski pants, you will be able to stay at a consistent temperature more efficiently.
Very High Breathability (>20,000g)
Ski and snowboard pants with the highest level of breathability will ensure that you stay comfortable and dry in pretty much any weather condition. Their very high breathability level will keep you dry even if you are skiing hard all day.
High Breathability (15,000-20,000g)
If you get pretty hot while skiing, ski pants with a high breathability rating are a good choice. This level will keep you dry and comfortable all day.
Moderate Breathability (10,000-15,000g)
Most ski and snowboard pants offer moderate breathability, as their price balances well with their performance and the use of technical fabrics.
Ski pants with moderate breathability will keep you dry and comfortable during a full day of moderate activity. They will also easily handle sustained periods of skiing hard.
Mild Breathability (5,000-10,000g)
If your ski pants have a mild breathability rating, you will be able to stay comfortable all day. But, this is only if you have a low to moderate level of activity and short periods of high activity.
With these types of ski pants, you need to ensure you get your layering correct. If you get your layering wrong, you can easily become sweaty with a higher level of activity.
Low Breathability (<5,000g)
Ski pants with low breathability ratings are less expensive, but sweat will remain against your body, even during moderate levels of activity. Once you stop moving, this sweat will feel unpleasant and make you feel cold.
Not Specified
Clothing without a specified breathability rating is more for casual wear. They are made of materials that have not undergone breathability testing.
Not Breathable
Any clothing items that are considered not breathable will not allow water vapor to escape. An example of this type of clothing is cheap waterproof coats or pants that you slip on over your jeans.
Check Out The Features Available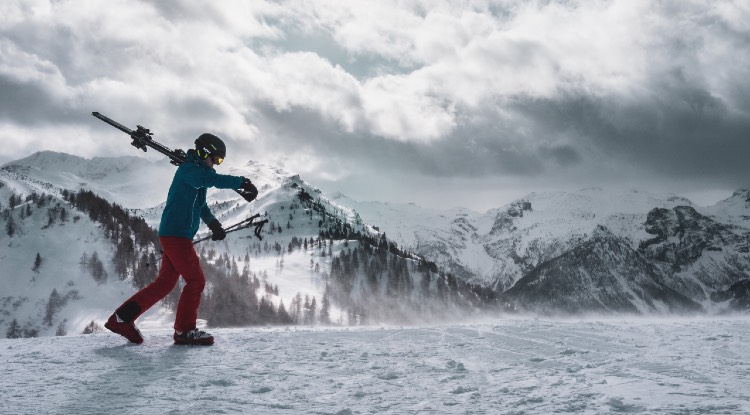 While breathability and waterproof ratings are important, there are several other features that deserve some consideration. These features can mean the difference between a good pair of ski pants and a pair that doesn't meet your needs.
Here are some features you need to check out:
Pay Attention To The Seams
The seams are where the panels of the ski pants join together. If the seams are not taped, they will let water in very easily.
So when you are choosing a new pair of ski pants pay attention to how the manufacturers have joined the panels together.
Fully Taped
Ski pants and jackets that are described to have fully taped seams have all of the seams covered with waterproof tape. The taping material is placed on both the inside and outside of the seams.
A pair of ski pants with fully taped seams will give you complete protection against water. However, they are more expensive than pants with critically taped seams.
Critically Taped
Ski pants with critically taped seams only have tape added to the most vulnerable areas. You should really choose a pair of ski pants with fully taped seams over critically taped seams if your budget allows it.
Fully taped seams are best as ski pants are most exposed to snow and water than any other piece of outerwear. However, if you are just a fair-weather skier, pants with critically taped seams may be enough.
Waist Style and Fasteners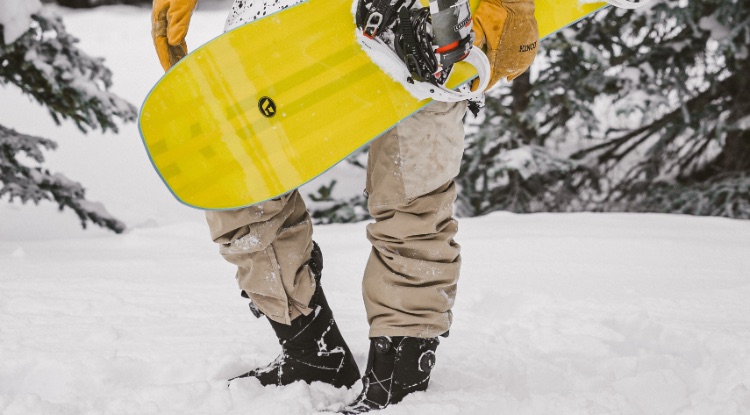 Different kinds of ski pants fasten differently and have different styles of waist. Here are the ones you should be aware of:
Adjustable
Many ski and snowboard pants have adjustable waists. They often have adjustable velcro straps located on the inside or outside of the pants, allowing you to fine-tune their fit.
If you are looking at buying a pair of pants with adjustable straps on the inside, make sure the velcro is concealed, so it doesn't scratch your skin.
Belt Loops and Elastic
Just like your jeans, ski pants often have belt loops, so you can wear a belt to hold your pants in place. Some ski pants have a belt integrated into them for added security.
In addition to belt loops, you will often find pants with elasticated waistbands. With these, you get extra comfort and a bit of stretch for maneuverability.
Suspenders
There are several ski pants on the market that are held up by suspenders. Some have a high waistline or "bib" style, you get maximum coverage to keep the snow out.
Suspenders are either built into the pants or are removable. Typically, bib pants have non-removable suspenders due to their fit.
Pockets
Pockets are more important than most people realize until it's too late. Often a good range of pockets will mean you can carry everything you need for the day without needing a backpack.

Lift Pass Pocket
Some ski and snowboard pants have a lift pass pocket. This provides you somewhere to safely store your pass, so you can swipe it at the lift without getting it out.
If your jacket doesn't have a lift pass pocket, make sure there is somewhere safe and convenient in your pants.
Cargo Pocket
You will see that some ski and snowboard pants have cargo pockets on their legs. These are not generally regarded as essential, as they can be annoying when full, but they do offer an extra option for storage.
A neat feature some pockets have is a clip for your keys. These give you peace of mind, especially if you have a habit of forgetting to zip up your pockets.
Some ski pants have an additional clip on the outside that allows you to clip your gloves to them. These clips are helpful for keeping your gloves safe while you are not wearing them.
Ventilation
If you buy ski pants with ventilation zips, you will be able to regulate your temperature better. Vents are usually placed on the inside thigh area of the pants.
Some vents have a mesh material that stops snow from getting in when open. However, some ski pants have full-length zips that fully expose your legs, which are great for ski touring or very warm days.
Cuff Reinforcement
Ski pants usually have extra reinforcement at the bottom of each leg. This is because the inner edge of the ski can wear the fabric of the pants.
The ski pant manufacturer uses an extra-durable fabric to reinforce the cuffs to protect them from contact with your ski edges and crampons. For obvious reasons, you don't get this on snowboard pants.
Snow Gaiter
Most ski pants come with a snow gaiter. A snow gaiter is a waterproof seal designed to snuggly fit around your ski boots, stopping snow and water from getting in.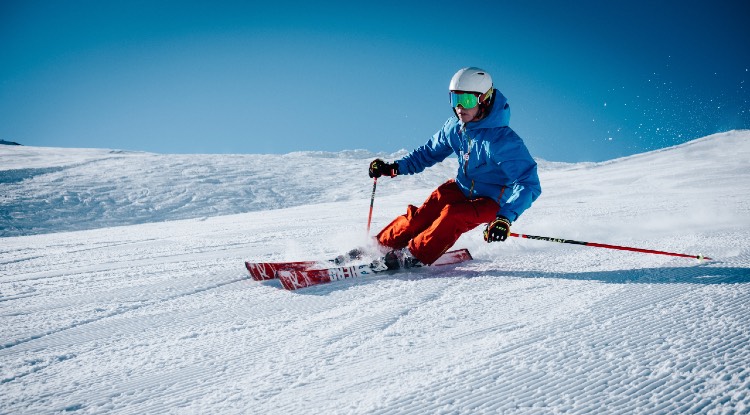 Often gaiters have hooks that connect to the buckles on your ski boots to ensure they stay in place. They will also be adjustable to suit the size of your boots.
Powder Skirt
Powder skirts are great for when you are skiing in very deep snow. They are actually part of your jacket, but it is worth checking that your pants and jacket can interface with each other.
A powder skirt works by zipping to your pants or attaches with poppers to create a seal.
Layer Up
With all this in mind, you should also think about enhancing your comfort and warmth with the correct layering. Depending on how the cold affects you and the level of insulation your ski pants have, you may want to wear thermal underwear.
Fitted thermal underwear can make a huge difference to your comfort. These should be made from a breathable fabric, either natural or synthetic.
You will typically buy a matching pair of thermal top and bottoms. Synthetic and natural materials are both great but have slight differences.
Synthetic materials are excellent at wicking away moisture from your body. They are durable and keep odors at bay.
Natural fabrics such as merino wool also wick away moisture well. Merino wool is very odor resistant but not as durable as synthetic material, but it does regulate your temperature better as it can cool you down when it gets warmer.
Just like ski pants, you can buy thermals with different weights to suit the temperature you usually ski in. By figuring out the best combination, you will be super comfortable no matter what the weather.
Conclusion
This is a lot to consider when buying a pair of ski or snowboard pants. But, even buying a cheap pair is better than skiing in jeans.
Proper ski clothing is essential for your enjoyment on the mountain. Also, if you get into a dangerous situation, you are appropriately clothed for the changeable mountain environment.
Wearing a pair of jeans may look great in the après bar, but they certainly don't feel good on the mountain.
Photos are sourced from Pixabay and Unsplash.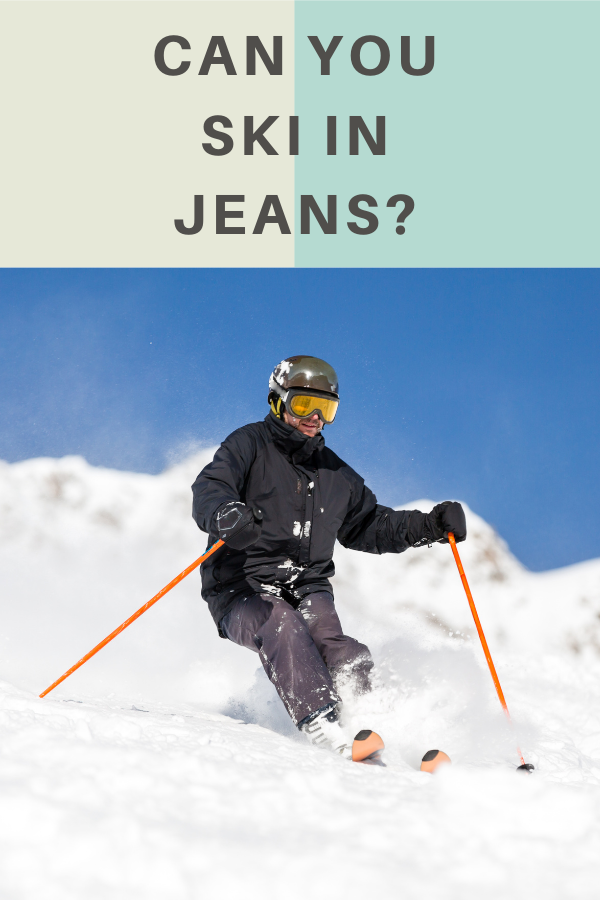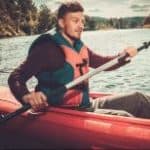 Author: Peter Salisbury
Pete is the Owner of KayakHelp.com. Born and raised in Cleveland, Ohio, he grew up kayaking, fishing, sailing, and partaking in outdoor adventures around the Great Lakes. When he's not out on the water, you can find him skiing in the mountains, reading his favorite books, and spending time with his family.