If you are making the transition from a kayak to a canoe, you might be wondering: can you use a kayak paddle for canoe trips? The answer is certainly yes, but finding the right kayak paddle for your canoe requires a bit more thinking.
There are a few reasons why canoe paddles and kayak paddles are inherently different. They have to do with the recommended angle of the blade when paddling these different watercraft, as well as how your position is different in each.
Fortunately for you, we are going to cover everything you need to know about using a kayak paddle for paddling a canoe in this guide. Plus, we will suggest a few budget-friendly kayak paddles that are perfect for canoe use.
So let's get right into it!
Thumbnail
Title
Pelican Sport - Poseidon Angler Kayak Paddle - Granite - 250cm (98.5 in.) - Anti-Slip Coating Aluminum Shaft & Fiberglass Reinforced Polypropylene Blades - 0/65° Blade Angle - PS1977-00
BENDING BRANCHES Angler Classic 2-Piece Snap-Button Fishing Kayak Paddle; (Black Shaft/Orange Blade - 220cm)
Pelican The Catch Kayak Paddle|Adjustable Fiberglass Shaft with Nylon Blades|Lightweight, Adjustable| Perfect for Kayak Fishing (Arctic Blue, 98.5 in – 250 cm)
Wilderness Systems Pungo Glass Recreation/Touring Kayak Paddle | Fiberglass Blade | Adjustable Carbon/Fiberglass Shaft (220-240cm)
Can You Use A Kayak Paddle For Canoeing?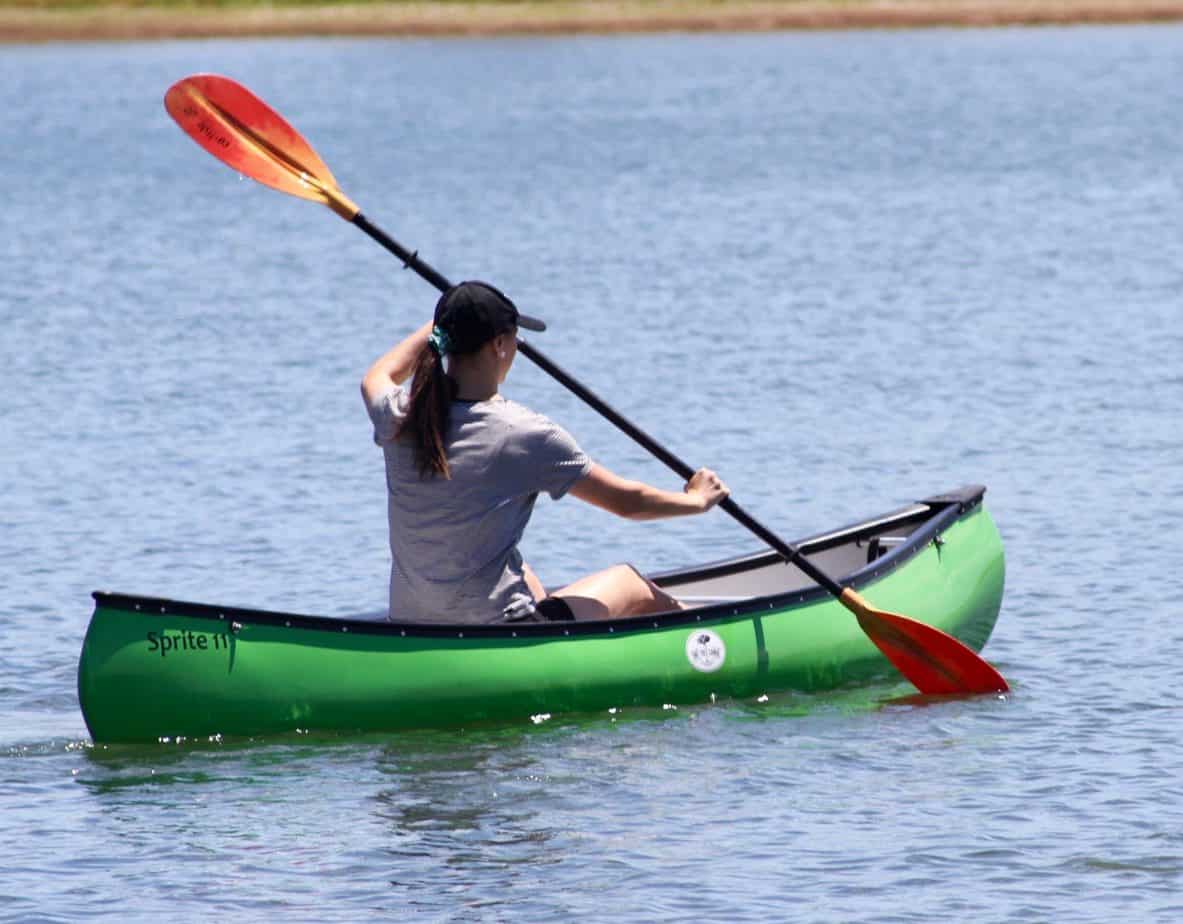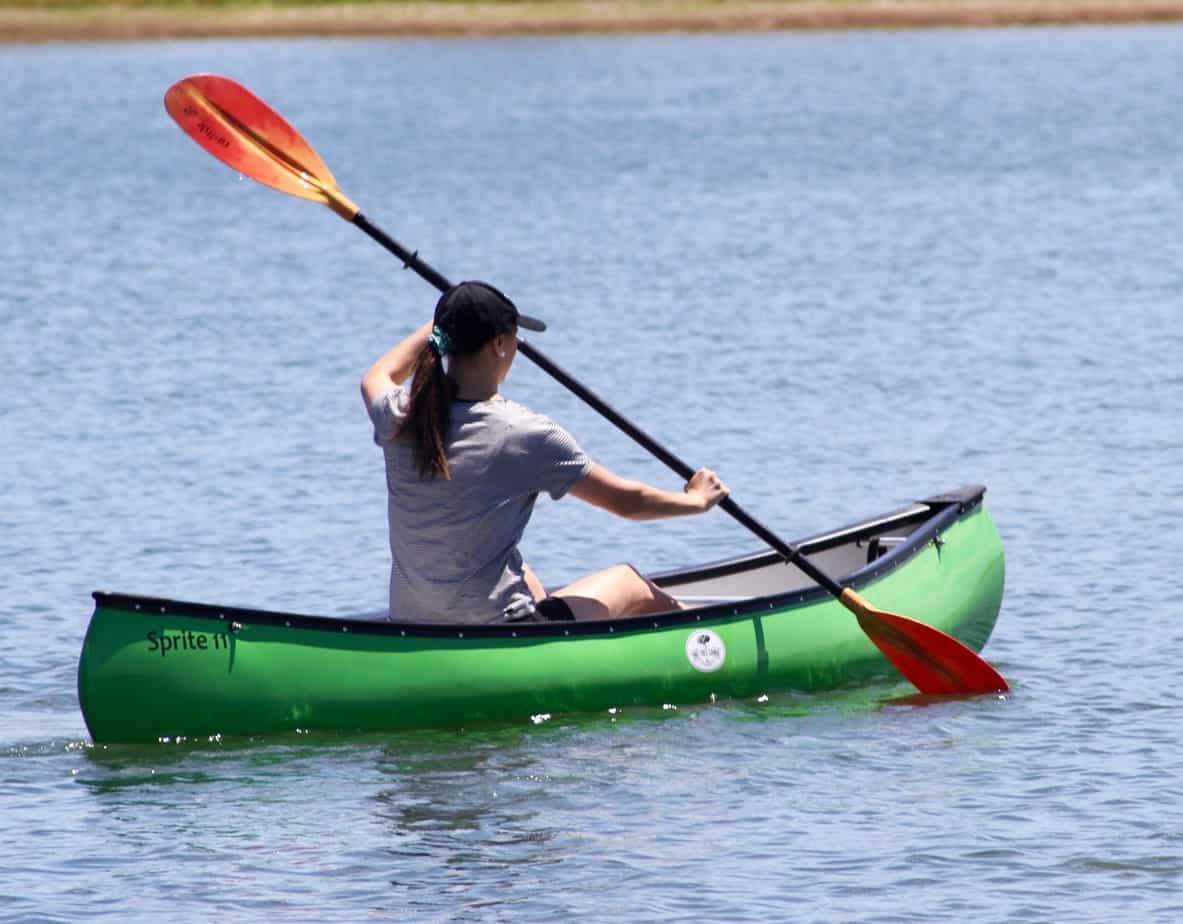 Yes, you can! As you can see from the image above, you can definitely use a kayak paddle for a canoe. That said, you will need to make sure it's long enough to keep your wrists and hands from impacting the gunwales of your canoe with every paddle stroke.
That said, the vast majority of canoes out there are made for two paddlers. They are specifically designed so that each paddler is paddling on a single side for extended durations.
Of course, paddlers will switch sides from time to time, but these vessels are designed so that the bow and stern paddlers are essentially balancing each other out to keep the canoe moving straight.
That is why kayak paddles are really only a popular choice for solo canoeists. Plus, they are also a popular choice for canoeists with dogs or small children because a kayak paddle will eliminate the need to switch the blade from side to side.
As a result, that reduces the risk of accidentally hitting your furry or not-so-furry passenger with your paddle as you are switching. So, if you are a solo canoeist interested in making the switch to a kayak paddle, let's talk about some criteria for choosing a solid kayak paddle for canoe use.
How To Choose A Kayak Paddle For Canoeing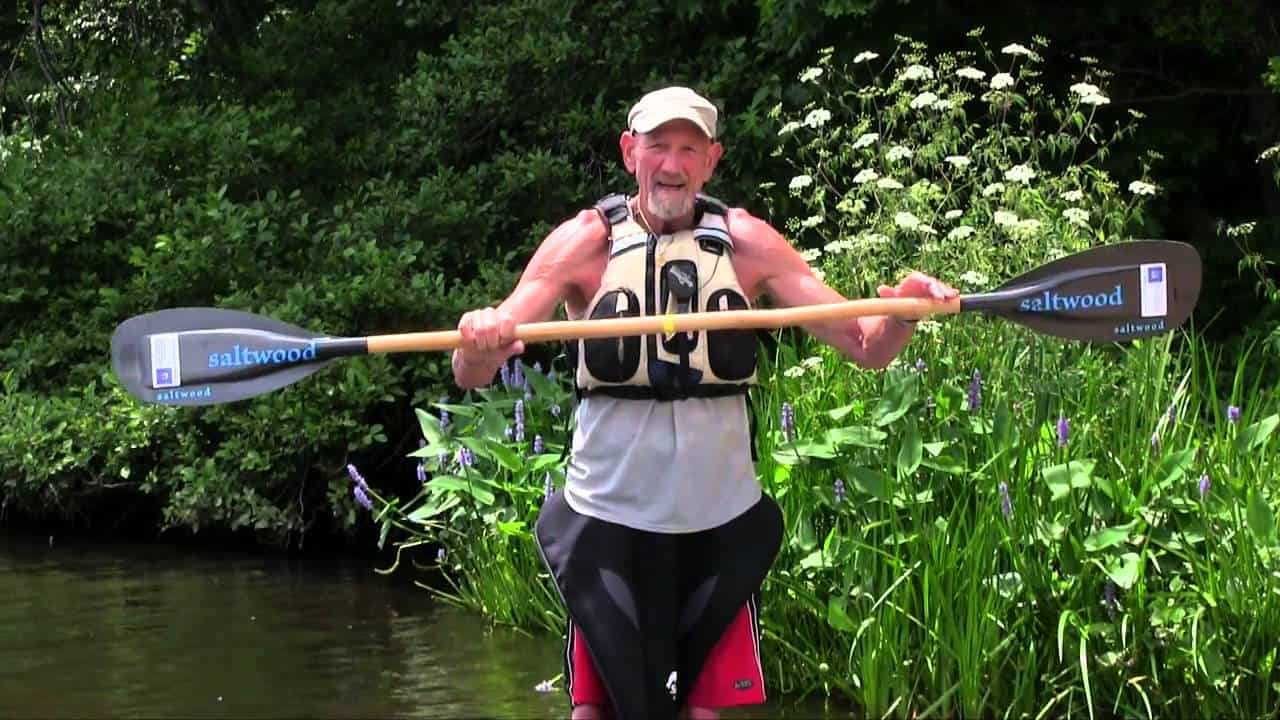 You might be surprised to know that kayak paddles come in many sizes and shapes. Choosing one for a canoe is, obviously, going to be a little different than choosing a paddle for one of the best surf kayaks, for example.
Canoe Width (or Beam)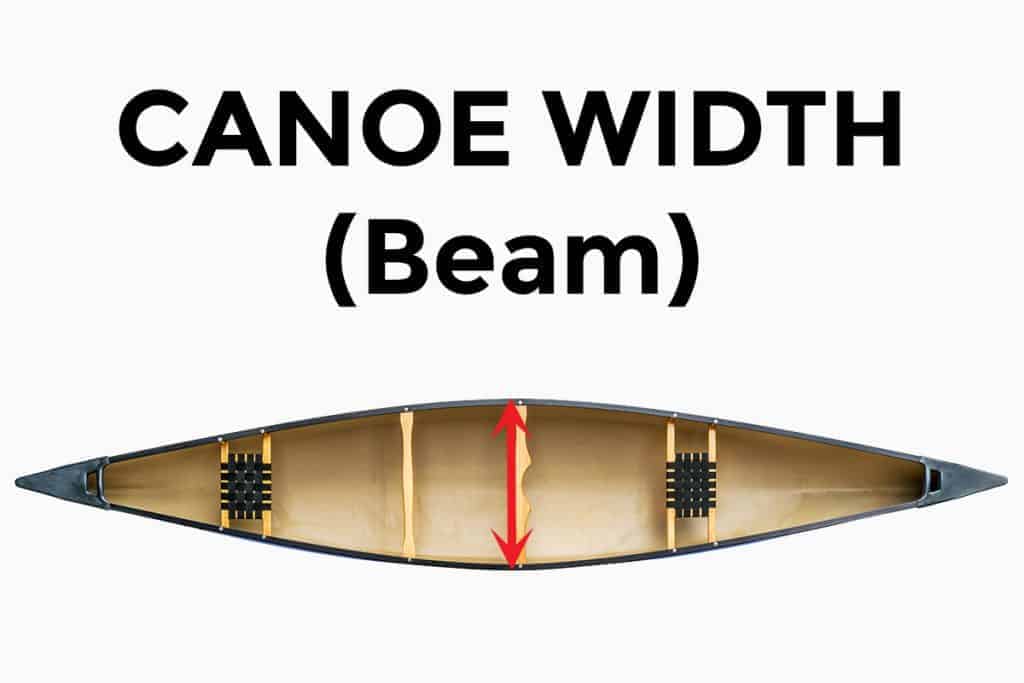 The width of your canoe is the first factor you should look into when you are choosing a kayak paddle for canoe use. The idea here is that your kayak paddle should be long enough to allow you to easily dip the blades into the water without impacting the sides of your canoe.
There are, of course, many different angles of paddle strokes that you can use to propel your kayak forward. Whitewater kayakers tend to use higher-angled paddle strokes to make quick, evasive maneuvers, for example.
Touring kayakers, on the other hand, generally use a lower-angled paddle stroke to keep their vessel at a healthy cruising speed. In most cases, this is the type of paddle stroke you will be using in a canoe.
So, the longer your paddle is, the easier it will be to maintain a comfortable, low-angled stroke. With a shorter paddle, you will have to lift the hand closest to the blade that is not in the water much higher in order to make an effective stroke with the blade that is in the water.
Also, you will not want to extend your hands too far past the gunwales (sides) of your canoe to make an effective paddle stroke. When your hands are positioned on your kayak paddle, you should be able to paddle effectively without reaching too far out past the edge of your canoe.
Keep in mind that you should personally measure the exact width of your canoe directly where your seat (or seats) are located. As you can tell from the photo above, most tandem canoes are significantly more narrow where the seats are placed than they are at the centerline.
Canoe Center Height

The height of the gunwales on your canoe will also factor into the length of the kayak paddle that makes the most sense for you. Most canoes have a center height that is significantly lower than the bow and stern height to provide for easier paddling.
If you go with a kayak paddle for canoe use, it must be long enough for you to sufficiently dip the blades into the water to generate an effective paddle stroke. We touched on this a little bit earlier, but the width of your canoe and the height of the center gunwales should both be considered when choosing the appropriate length for your kayak paddle.
When you sit in your canoe and attempt to put one blade of your kayak paddle in the water, your wrist or hand shouldn't come within 4-6 inches of your canoe's gunwales.
Also, you shouldn't have to lean too far to one side or the other (or reach your paddle out to one side) to generate effective power when using a kayak paddle with a canoe.
Canoe Seat Design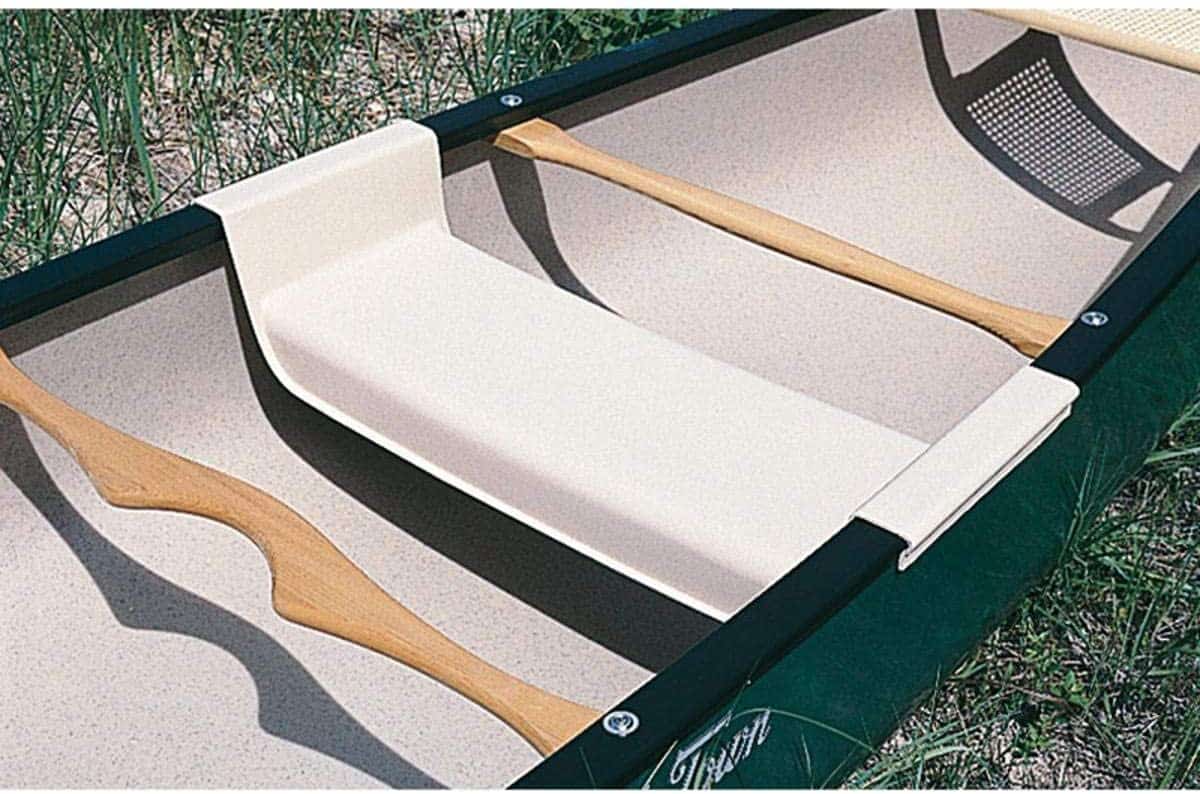 The seat design in your canoe will also have an impact on your choice of kayak paddles. In some instances, it may even dissuade you from choosing a kayak paddle entirely.
For canoes with seats that are secured at or above the level of the canoe's gunwales, you should have no problem utilizing a kayak paddle. Some canoes, however, include seats that are set down into the canoe a bit lower.
While these seats are great for lowering your center of gravity and making your canoe more stable, they aren't great for using a kayak paddle with a canoe. So if you have a canoe with sunken seats, you may need to stick with a traditional canoe paddle.
Paddler Size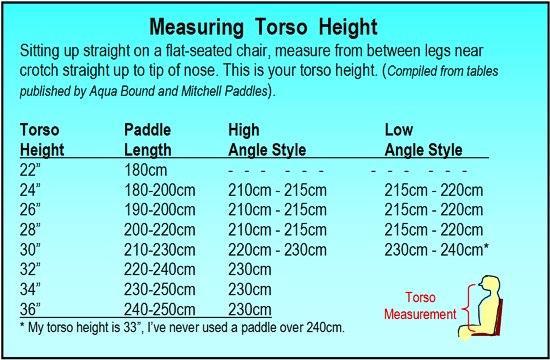 Of course, your torso height will also come into play when you are choosing a kayak paddle for canoe use. In this case, the choice is very similar to the one you'd make when choosing a paddle for kayaking.
Taller paddlers naturally require longer paddles because there is more distance between their arms and the water. Conversely, shorter paddlers don't need an oversized paddle because it will be more cumbersome than necessary.
So, you can use the above chart to get a sense of the correct paddle length for your torso height. Because of the added height of most canoes, however, we often recommend going one size up when choosing a kayak paddle for canoe use.
This is also a good rule of thumb if you find yourself falling somewhere between sizes. When it comes to using a kayak paddle for a canoe, it's better to err on the side of a longer paddle than to risk coming up short.
Best Kayak Paddles For Canoe
Check Price on Amazon
The Pelican Poseidon two-piece paddle measures 94.5 inches (240 cm) long and can be adjusted to a 0-degree or 65-degree paddling angle. It's made with an aluminum shaft with fiberglass reinforced blades for added durability.
This design also keeps the overall weight of the paddle down to just 42 ounces. For newer paddlers, the shaft is also intentionally designed to help you find the perfect hand placement every time.
The shaft graduates from a rounded shape to a slight oval shape precisely where your right hand should be placed. This is called indexing and it's a great feature for beginners.
This paddle also provides plenty of length for canoe use and it includes adjustable drip rings to help you keep water out of your canoe when it drips down off the blades.
The cool part about the Vibe Evolve kayak paddle is that it can be adjusted from a shorter length of 90.5 inches up to a maximum length of 98.4 inches (230 to 250 centimeters). This gives it the adaptability to work for several paddlers of varying heights.
It is also a two-piece paddle with a push-button adjustment for either a 0-degree or 60-degree paddling angle. The paddle's fiberglass construction makes it durable and keeps its overall weight down to just 45 ounces.
Check Price on Amazon
The Bending Branches Slice Hybrid Lightweight Touring paddle is available in two sizes: 90.5 inches (230 centimeters) or 94.5 inches (240 centimeters). Both paddle lengths weigh roughly 30 ounces.
As a touring paddle, it's great for extended solo canoe trips. It features a two-piece design with a push-button center adjustment that allows you to angle the blades to either 0 degrees or 60 degrees.
It also gives you left or right-handed control, depending on your preference. This paddle features a 100 percent carbon shaft and fiberglass reinforced polymer blades that are three times stronger than other plastic blades.
It also features those bright orange blades to help improve your visibility when paddling in busy areas or in poor lighting conditions.
Check Price on Amazon
Pelican's The Catch kayak paddle is a perfect solution for taller solo canoeists. Its added length also makes it great if you are struggling to find a kayak paddle for an exceptionally wide canoe.
This paddle measures 98.5 inches long (250 centimeters) and is ideal for canoes over 34 inches in width. It features that same indexing as the previous Pelican paddle, which makes it easier for beginners to identify perfect hand placement every time they pick it up.
The paddle's shaft is made from lightweight aluminum and the blades are constructed with a plastic polymer that is reinforced with fiberglass. That design creates a paddle that weighs a total of 33 ounces.
This two-piece paddle can also be adjusted to a 0-degree or 65-degree blade angle and it's also ideal for canoeists who occasionally enjoy doing some fishing from their vessel.
It comes with an integrated hook retrieval system on one of the blades. Plus, there's also a tape measure painted right onto the paddle's shaft.
Check Price on Amazon
The Pungo kayak paddle from Wilderness Systems is another great choice for those interested in a paddle with an adjustable shaft length. This paddle adjusts from a minimum length of 86.6 inches (220 centimeters) up to a maximum length of 94.5 inches (240 centimeters).
The ability to go a bit shorter with this paddle makes it a great choice for smaller paddlers or folks with narrower canoes. Plus, this is one of the most durable paddles on our list with fiberglass composite blades and a fiberglass-carbon fiber shaft.
Overall, the paddle weighs in at just 30 ounces and it's the only paddle on our list with a LeverLock adjustable ferrule system. Instead of being limited to two or three paddling angles, this paddle gives you much more versatility.
Final Thoughts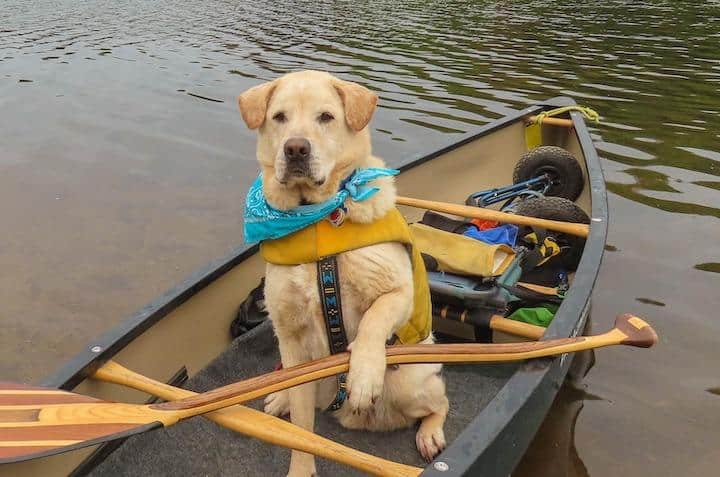 If you are paddling one of the best canoes for dogs, your pup might want to hold onto your extra canoe paddle once you make the transition to a kayak paddle. He or she would probably mind you regularly knocking their body with your canoe paddle as you transition it from one side of your canoe to the other, however.
So, to definitively answer this question one last time, you can definitely use a kayak paddle for canoe trips. You just want to make sure that the width of your canoe matches up with the length of the kayak paddle you choose (as we mentioned above).
Of course, there are other considerations to make sure a kayak paddle will work for your canoe. If you are a solo canoe paddler, however, there's no harm in having both a canoe paddle and one of the best kayak paddles under $150 on hand to suit both of your fancies.
As always, we hope this guide has provided some insights into canoe paddling that you weren't familiar with. We wish you the best of luck on all your upcoming canoe adventures and would love to hear where you're planning a trip for the upcoming season!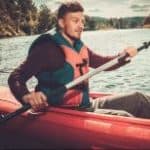 Author: Peter Salisbury
Pete is the Owner of KayakHelp.com. Born and raised in Cleveland, Ohio, he grew up kayaking, fishing, sailing, and partaking in outdoor adventures around the Great Lakes. When he's not out on the water, you can find him skiing in the mountains, reading his favorite books, and spending time with his family.