If your dog isn't scared of the water, bringing him or her along on your paddling adventures is a great way for you both to get outside and get some exercise. The best canoes for dogs offer plenty of space for both you and your furry companion to get comfortable.
To be honest, trying to bring your pup along on your kayak can get really cramped really fast. That's why many people who love paddling with dogs (especially if you have more than one!) actually prefer the benefits of a canoe.
Most canoes actually have plenty of space for you, a human paddle partner, and your furry companion.
But the best canoes for dogs also make it easier to maintain your stability when your pup moves around because he or she sees a duck gliding across the water nearby.
In this guide, we've reviewed the 10 best canoes for dogs and discussed some pros and cons of each. We've also provided some helpful tips that will aid you in selecting the canoe that best suits your style.
So let's get started!
Jargon Buster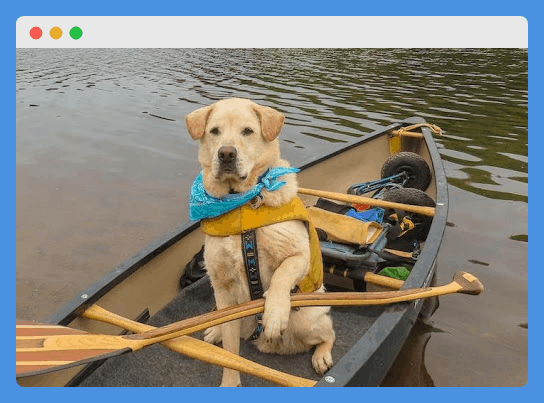 Because canoes are inherently designed much differently than kayaks, you may read some terms here that you're not quite familiar with. So let's begin by defining some key canoe terms that you'll likely run into throughout the remainder of this guide.
Beam Ends
This term refers to a place where you really don't want your canoe to be. A canoe that has been tipped on her side is often said to be "on her beam ends."
Painter
Contrary to what you might think, this term actually refers to a length of rope that is attached to the bow or stern of a canoe for towing, anchoring, or hauling purposes. It's usually between 15 and 25 feet in length.
Portage
A popular technique used in places like the Boundary Waters Canoe Wilderness Area, a portage is what you perform when you carry your canoe (and all of your gear) across a stretch of land that separates two bodies of water.
This technique is also frequently used to carry even the best whitewater kayaks around particularly large rapid sections. If you're planning a trip that involves portaging, you might want to check out this article on how to portage your watercraft!
Freeboard
This is the part of a canoe that remains above the waterline once the canoe is loaded down. Having more or less freeboard can impact a canoe's overall stability and manoeuvrability.
Also Read: Canoe vs Tandem Kayak
Buying Guide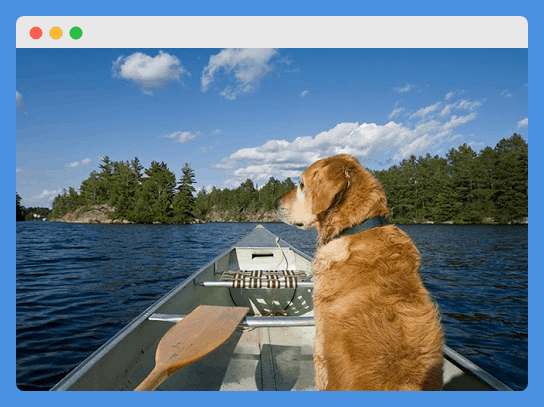 Before you read through our reviews of the best canoes for dogs, there are several factors you should pay close attention to. These criteria will ultimately help you select a canoe that will suit your paddling preferences for years to come.
Canoe Types
To begin with, there are several different types of canoes on the market these days. So let's briefly define each so you can start to narrow down your choices.
Recreational Canoes
This type of canoe is made for casual, flatwater paddling. It's generally going to be stable, easier to control, and less prone to flipping than the other types of canoes.
Multi-Purpose Canoes
The versatile, multi-purpose canoe is generally the variety that is made to handle larger weight loads for extended trips. You'll find this type of canoe to handle more easily and offer more storage capacity than a recreational canoe.
River Running Canoes
As you can guess, this type of canoe is made for running river rapids. This is generally going to be the toughest canoe variety on the market because of the importance of impact and abrasion resistance when you're running rivers.
Weight Capacity
When you're specifically thinking about a canoe for dogs, you'll need to make sure you find a model that can support that extra weight.
To make this determination, you should start out by adding up the combined weights of all riders (human and canine alike) plus the weight of the regular gear you tend to bring on your paddling adventures.
This will give you a good idea of how much weight you add to your canoe every time you get in.
And even if you more frequently paddle solo than as a tandem, it can be useful to plan for two paddlers to make sure you choose a canoe that can accommodate all of your needs.
From there, you'll simply need to compare that combined load you just added up to the weight capacities of the canoe you're interested in.
But it's also important not to cut it too close when you're making this selection.
As a general rule-of-thumb, we recommend trying to keep the combined weight of all riders and gear below about 80 percent of a canoe's listed weight capacity.
This will help your canoe perform as it was designed and keep it from sitting too low in the water (which comes with the added risk of more water accumulating in the cockpit).
Seat Design
The design of the seats in a canoe should also come into play in your selection process. For starters, you'll find canoes with seats mounted pretty much even to the gunwales and others with seats set lower down into the cockpit.
The main benefit of a more elevated seat design is that it'll be easier for you to maximize your paddle strokes with the extra leverage you'll get from sitting up higher. But you'll also have a better view of potential hazards or obstacles in the water ahead of your canoe.
That being said, a higher seat is going to place more of your body weight higher up out of the water. In some cases, this is going to make your canoe feel less stable and make you more susceptible to capsizing.
Alternatively, a lower seat design will keep the center of gravity of your canoe closer to the water's surface to maximize stability.
That can make it harder to get the full blade of your paddle into the water and can also make you more likely to hit your arms and hands against the sides of your canoe while paddling.
Best Canoes for Dogs
Check Price on Amazon
For those of you interested in a wooden canoe made of Canadian red cedar with a fiberglass finish, Old Modern Handicrafts is one of the more trusted and reliable brands out there – and their six-foot canoe is perfect for a single paddler with a small dog.
This canoe weighs just 20 pounds and boasts 15-inch high gunwales on the sides. Although it's advertised as a six-foot canoe, it's true dimensions measure 70.5 inches long and 20.25 inches across.
The hull of this canoe includes ribs that run from gunwale-to-gunwale to provide extra structure and support. The super light weight of this canoe makes it one of the few that you'll be able to move around by yourself without a rolling cart, wheels, or trolley.
Check Price on Amazon
For those of you that like the look of that last Old Modern Handicrafts canoe, you may also be interested in their 10-foot version. This extra length will give you more space for a larger pup or more paddling gear for longer trips.
It's made with the same ribbed structure for strength and stylish appearance as the six-foot variety and it comes with a beautiful wooden canoe paddle so you won't have to worry about purchasing one separately.
Overall, the dimensions of this wooden canoe measure 118.5 inches long and 26.25 inches wide. The bow height is 16 inches, the center height is eight inches, and the entire canoe weighs just 27 pounds before it's loaded down.
Check Price on Amazon
Sticking to the wooden canoe train for a little bit longer, this red canoe from Wooden Boat USA is another attractive option for the single paddler. This canoe measures 117 inches long and 26.25 inches wide.
It's handcrafted by experienced boat builders using 100% Canadian western red cedar. Once the structure of the canoe is built, the cedar is painted this distinct red color and then encapsulated in a fiberglass finish for added waterproofing and weather resistance.
The ribs that run side-to-side across this canoe provide extra support and they also look appealing to the eye. The bow height on this canoe is 20 inches, the center height is 10 inches, and, perhaps surprisingly, it weighs only 20 pounds before being loaded down.
If you're looking for a canoe for you and your furry travel companion, it's going to be tough to find a lighter option than the Sea Eagle TC16 Inflatable Travel Canoe. Perhaps the best feature of this model is that it weighs only 65 pounds when fully inflated (and before being loaded).
Despite being one of the lightest canoes on our list, it also boasts an impressive weight capacity of up to 845 pounds (persons and gear).
And with the ability to hold inflation pressures up to 10 PSI (pounds per square inch), it will be rigid enough to perform just like your standard canoe on the water.
In fact, the inflatable nature of this canoe means that it can handle up to Class IV whitewater rapids. It also boasts a gunwale height of 20 inches at the bow and stern and 15 inches at the center of the canoe.
With the included hand pump, you'll be able to fully inflate this canoe in under 10 minutes. But if you opt for a high-pressure electric pump like this one, you'll be able to set your desired pressure and allow the pump to do the work for you as you prepare the rest of your paddling gear.
To list all of the important specifications, this canoe measures 16 feet long and 38 inches across when fully inflated. If you're curious about storage space, it deflates and reduces down to dimensions that measure 40" x 24" x 16" when you're not using it.
The Sun Dolphin Mackinaw Canoe is a family-style recreational vessel that offers a total of three comfortable seats. But there's still enough room between the seats or towards the bow of the canoe for your furry companion to sit or lie down comfortably.
The center seat on this canoe also boasts a storage compartment and cooler for keeping your items cool and secure on longer paddles. There are also drink holders molded right into all three seats to keep your preferred beverages easily accessible while you're paddling.
This is also an ideal canoe to leave anchored just offshore or at the edge of a dock because of the convenient tie-down eyelets located at the bow and stern. It also boasts built-in handles at the bow and stern for easier transportation.
But, getting back to this canoe's specifications, it measures 15'6" long, 40 inches wide, and offers an 800-pound maximum weight capacity. The gunwales measure 18.5 inches high all the way around and the entire canoe weighs 95 pounds.
The Old Town Guide 160 measures 16 feet long, 39.5 inches wide, and offers a 19-inch bow height. The center height of the gunwales measures 13.5 inches and this canoe boasts a whopping maximum weight capacity of up to 1,250 pounds.
That added weight capacity is what makes this a 'guide' canoe because it's made to easily accommodate two paddlers (plus a furry companion) and all of the essential paddling gear that you'd load into it for a multi-day expedition.
Speaking of extended trips, this canoe is designed with contoured seats that make it much more comfortable for long periods of sitting. Plus, flip-up seatbacks provide the kind of spine support that you'll need when you're paddling all day.
Overall, this canoe weighs 86 pounds, but it boasts a unique cross-section that helps to provide extra stability to the entire vessel. In conjunction with stabilizing chines, that cross-section makes this one of the most durable canoes on the market.
The Old Town Saranac 146 is still a family canoe, but it's a slightly shorter version of the Guide 160. To get the specifications out of the way, it measures 14'6" long, 36 inches wide, and weighs 79 pounds unloaded.
This canoe also boasts a maximum weight capacity of up to 750 pounds and it includes a total of three seats. Only the bow and stern seats, however, offer padded, flip-up seatbacks for extra spinal support.
The center seat does have the added benefit of having a storage compartment for food or valuables underneath it and all three seats have built-in cup holders so that you can keep your water bottle close at hand throughout the day.
This canoe also boasts fishing rod holders so that the angler can bring multiple rod and reel combinations along without taking up space in the cockpit.
And with molded-in handles on the deck plates at the bow and stern, you and your paddle partner will be able to portage this canoe with less hassle.
To go in the opposite direction with the final canoe on our list, the Old Town Penobscot 174 is made specifically for touring and longer canoe adventures. It measures 17'4" long and 36 inches wide.
This canoe's whopping 1,500-pound weight capacity is another reason why it's ideally suited to longer trips. It gives you plenty of ability to load down all of your paddling gear (plus your paddle pup!) without compromising its overall performance.
Because of its additional length, this canoe includes two cross-sections to provide extra side-to-side support and stability.
These cross-sections can also give you the additional ability to tie or strap gear into the canoe so that it doesn't go floating away if you do happen to capsize.
With a three-layer construction, this canoe is made for paddling on anything from calm lakes to running rivers. And with a shallow arch bottom, nearly plumb ends, and a slight rocker, you'll probably be surprised by how easily you'll be able to maneuver this longer canoe.
The Lifetime Kodiak Canoe actually boasts enough seating for three paddlers. So, if you can teach your dog how to sit in a canoe seat and wield a paddle, you can even put him or her to work!
While the middle seat doesn't come with one, the bow and stern seats do offer quick-release seat backs to provide a little more cushion and support on longer paddles. Their quick-release style also allows them to be easily set up or folded down to transport the canoe.
Speaking of transporting it, the entire canoe weighs 96 pounds, but it does boast luggage-style handles at the bow and stern to make it easier to carry.
Overall, this canoe measures 13 feet long, 39 inches wide, and it offers a maximum weight capacity of 600 pounds.
Another great aspect of this canoe is that it's rated for an electric trolling motor with up to 40 pounds of thrust. It also comes with its own transom motor mount bracket to help you install that trolling motor for easier on-water navigation.
The Old Town Sportsman Discovery Solo 119 is a single-person canoe that has been widely used for canoe fishing and hunting. But it also offers plenty of extra space towards the bow or stern for your dog to ride along on a recreational paddle.
The smaller dimensions of this canoe make it ideal for navigating narrower waterways and it allows you to make quicker maneuvers than you'd be able to with a longer model. Overall, it measures 11'9" long, 23.5" wide, and boasts a 354-pound maximum weight capacity.
For the single paddler, it's honestly going to be hard to find a more comfortable canoe than this one. It features padded armrests with trays, a contoured, adjustable seat, and foot braces for extra support and stability.
This canoe also offers two fishing rod holders located just behind the seat and an accessory track towards the front part of the canoe makes it easy to attach your favorite paddling and navigation accessories, such as a fish finder or GPS unit.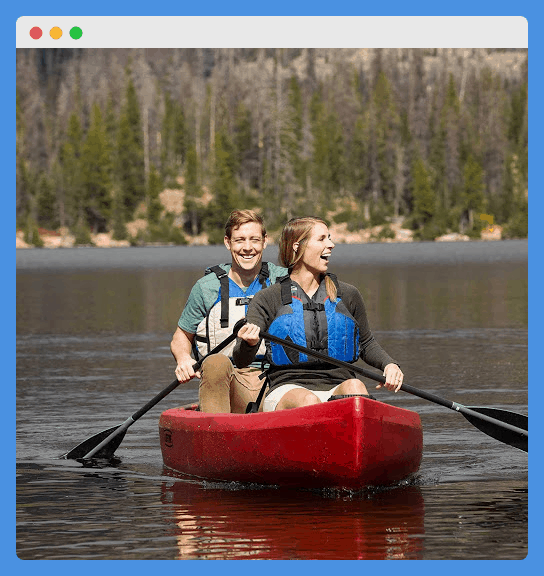 The Lifetime Kodiak Canoe is our choice for the best canoe for dogs because it's highly versatile and also highly affordable. Indeed, this is a great family canoe because of that additional third seat in the center, which can be used for kids or removed for your pup.
Unlike many canoes, the two main seats also have flip-up seatbacks that provide the kind of extra support that many kayakers prefer.
This canoe also comes with its own set of two paddles so you don't have to further investigate buying canoe paddles that will go with your canoe.
Additionally, it's designed to allow you to add a trolling motor down the line if you want to get around more quickly.
That's a feature that not all canoes can offer and it means you'll need to spend less time customizing a trolling motor mount if you do decide to install a motor down the line.
Finally, this canoe is a great blend of size and portability. While it's not the lightest canoe out there, it is manageable enough for two people to carry over a short distance and Lifetime did us all a solid by including better bow and stern handles to help us grip the canoe while moving it around.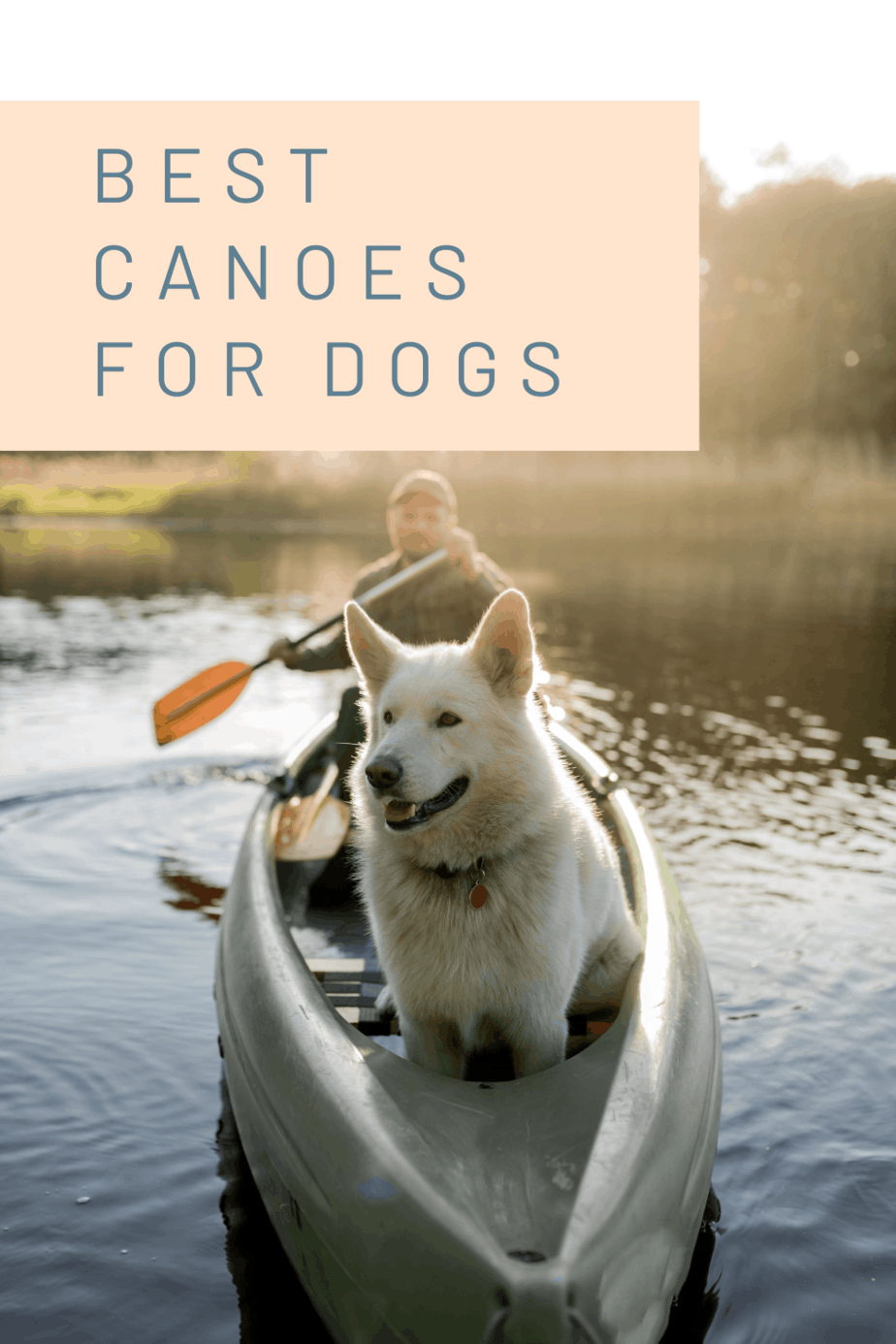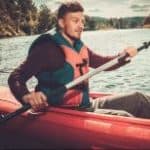 Author: Peter Salisbury
Pete is the Owner of KayakHelp.com. Born and raised in Cleveland, Ohio, he grew up kayaking, fishing, sailing, and partaking in outdoor adventures around the Great Lakes. When he's not out on the water, you can find him skiing in the mountains, reading his favorite books, and spending time with his family.