Pelican and Lifetime are two of the leading brands when it comes to making lightweight, durable kayaks that are priced at a point that makes them super accessible for beginners. The debate over Pelican vs Lifetime Kayak and which is better, however, is worth some attention.
Both of these kayak brands create a variety of kayak models, including sit-on-top kayaks, sit-in kayaks, fishing kayaks, touring kayaks, tandem kayaks, and kayaks for kids. In fact, just about the only type of kayak you can't find from these brands is some of the best whitewater kayaks.
These two brands also happen to offer some of the cheapest kayaks on the market, which makes them an excellent choice for beginners. If you're not sure you'll really like kayaking, it doesn't make sense to spend thousands on a high-end model that you might only use a handful of times before selling.
All that being said, if you're a beginner and you're looking for any of those types of kayaks mentioned above, comparing Pelican and Lifetime kayaks is a must. Lucky for you, that's exactly what you'll find in this guide!
Let's explore what we have in store.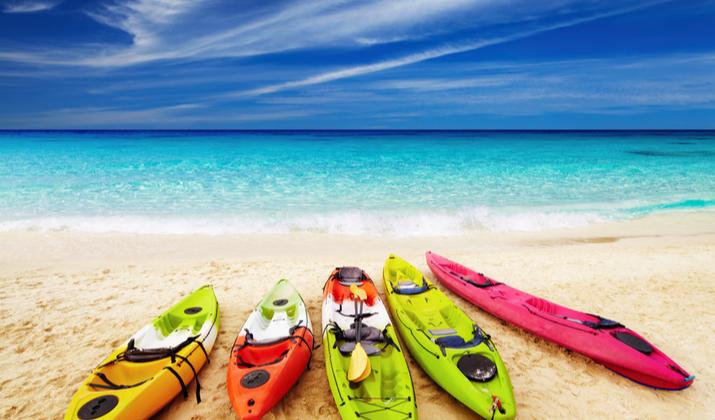 Photo by Dmitry Pichugin via Shutterstock
Pelican vs Lifetime Kayak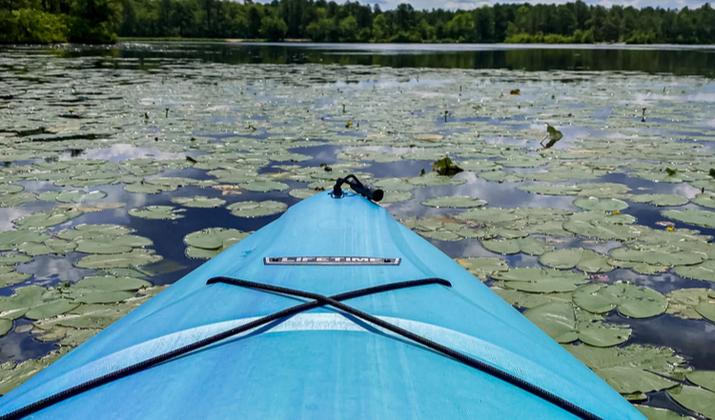 Photo by Joice Brinkerhoff via Shutterstock
While Pelican and Lifetime kayaks are both great choices for many types of kayak lovers, there are some important differences between these two kayak brands and how they make their paddlecraft.
Let's highlight those differences briefly here:
Kayak Construction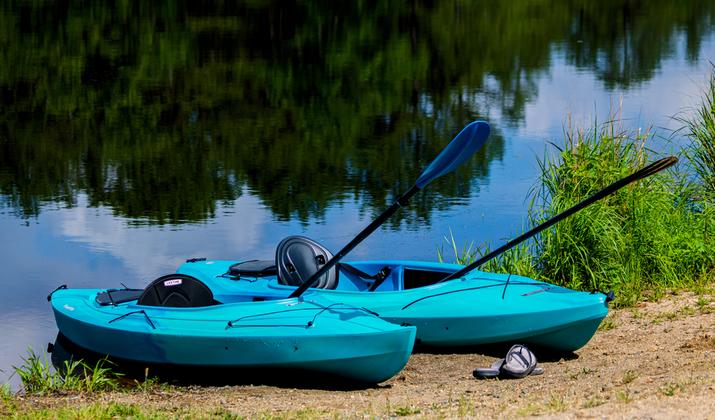 Photo by Joice Brinkerhoff via Shutterstock
This is the best place to start when you're evaluating the durability of Pelican vs Lifetime Kayaks. Pelican kayaks are manufactured using proprietary RAM-X and Poly-XR materials that provide excellent durability while also allowing them to regain their shape if dented by heavy impacts.
In fact, Pelican even runs over some of their kayaks with a Jeep to show how well they can handle a beating while still retaining their ability to be popped back into shape and placed back in the water.
Don't believe us? Check out this video:
Lifetime kayaks, on the other hand, are made with durable high density polyethylene materials that boast anti-UV properties. This means they are less likely to break down over time if left exposed to the sun (but you should use an outdoor storage bag when keeping your kayak outside for any extended period of time).
Who Gets The Edge?
The anti-UV properties in the polyethylene material used in Lifetime's kayaks are pretty standard in the industry. So we're giving the edge to Pelican for making some of the only kayaks we've ever seen that can be run over and still retain their usefulness.
Edge: Pelican Kayaks
Kayak Weight
Photo by Elizaveta Galitckaia via Shutterstock
The youth Pelican kayak or the lightest kayak for kids that Pelican makes weighs just 19 pounds and the heaviest model we located on their site weighs 78 pounds. Lifetime's lightest kids kayak also weighs in at 19 pounds, but their heaviest fishing kayak tops out at 101.5 pounds.
Who Gets The Edge?
Having a heavier kayak usually means you have more features and accessories for something like kayak fishing and it's not too much of a detriment if you get a kayak cart for rough terrain. Because both companies have plenty of options between the minimum and maximum weights listed above, we're going to call this one a push.
Edge: Tie
Kayak Cargo Capacity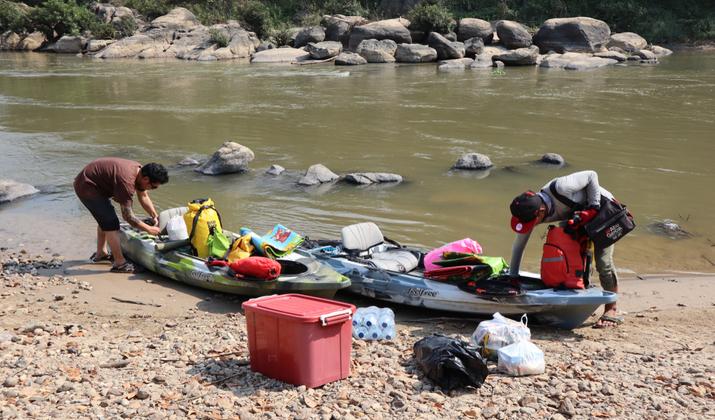 Photo by Aekchai Doungdee via Shutterstock
The cargo capacities for all kayaks made by Pelican and Lifetime are going to range from roughly 300 pounds up to roughly 500 pounds. The most rugged fishing kayak made by Lifetime Kayaks can handle up to 375 pounds of cargo.
Pelican's kayak with the most cargo capacity can hold up to 500 pounds. It is noteworthy that all the kayaks for both of these brands that have the highest cargo capacities are built for kayak fishing.
Who Gets The Edge?
If you are looking for one of the best kayaks for big guys and big gals, you'll want something with maximum capacity possible. In that case, you'll have to go with the Catch 130 Hydryve II from Pelican Kayaks.
Edge: Pelican Kayaks
Kayak Cockpit Size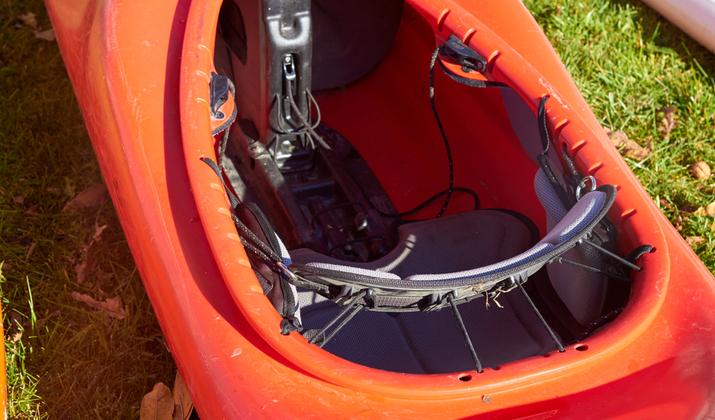 Photo by watcher fox via Shutterstock
Both Lifetime and Pelican offer sit-on-top kayaks and sit-inside kayaks. Sit-on-tops are best for those that want a more open cockpit design and sit-insides are better for weather protection, but they can be hard for larger paddlers to get in and out comfortably.
If you're a larger paddler, you're going to opt for a sit-on-top and if you frequently paddle in adverse weather conditions, a sit-inside is necessary. Sit-inside kayaks also are the only type that can handle a kayak spray skirt, which provides further protection against the elements.
Who Gets The Edge?
When you're comparing the sit-on-top and sit-inside designs made by Pelican and Lifetime, there is actually very little difference in terms of cockpit dimensions. So, this factor is going to be a push when it comes to determining which of these two kayaks you should choose.
Edge: Tie
Kayak Seat Design
Photo by Amanda J Jackson via Shutterstock
There is variety in the seat designs offered by both of these kayak companies as well. Pelican's seats are mostly going to be Ergoform or nylon-covered foam padding on the bottom with a padded, adjustable backrest, but their lightweight fishing kayaks also have elevated aluminum-framed kayaks with mesh material stretched across the frame.
Most of Lifetime's kayaks offer an adjustable, quick-release seat design that also comes with a backrest for lumbar support, but they also offer the same kind of aluminum-framed seats that are common on most fishing kayaks, including those made by Pelican.
Who Gets The Edge?
Pelican's Ergoform material provides a more cushioned feel than most other kayak seats out there. Because they also provide the kind of variety you'd need for a comfortable all-day seat for kayak fishing.
Edge: Pelican Kayaks
Check Out: Best Inflatable Kayaks
Company Warranty Policies
Photo by mynewturtle via Shutterstock
When you purchase most Pelican kayaks, you'll get a one-year warranty on parts and accessories. However, you must register your kayak properly in order to activate its warranty policy.
Lifetime offers up to five years of limited quality assurance for their products. Similarly, you will have to register your kayak and you'll be asked to submit a warranty claim if anything goes wrong during that time frame.
Who Gets The Edge?
If both companies are equal in maintaining that you must both register your kayak and submit a warranty claim to see if you're covered for repairs or replacement, we'll give the edge to Lifetime for offering the longer warranty term.
Edge: Lifetime Kayaks
So Which is Better?
Photo by Chatham172 via Shutterstock
If you're keeping track, that's three factors we counted for Pelican, one factor for Lifetime, and two factors where we couldn't declare a clear winner. From this quick scoring system, Pelican takes the edge, but that's not to say Lifetime is miles behind.
The reality is that both of these kayak brands provide plenty of excellent kayak choices for paddlers of all skill levels. While their designs are mostly made for beginners, they also offer plenty of fishing and touring kayaks for more advanced paddlers.
The biggest advantage that both of these brands have over the rest of the industry is their price point. They both offer some of the most affordable kayaks on the market, even if they don't always stack up when it comes to high-end kayak performance.
If you're looking for a new kayak to add to your paddling arsenal, definitely give the selections from both of these brands a closer look. Check out Pelican's full collection or browse your kayak options from Lifetime today!
The two brands also feature on our other post around best Walmart kayaks. Check it out.
Thumbnail
Title
Pelican - Maxim 100X Recreational Kayak - Sit-in - Lightweight one Person Kayak - 10ft
Pelican - Sprint XR - Sit-in Kayak - Lightweight one Person Kayak - 10.75 ft
Pelican - River Gorge 130X Tandem Kayak - Sit-on-Top - Recreational 2 Person Kayak - 13 ft
Lifetime Muskie Angler Sit-On-Top Kayak with Paddle, Tan, 120""" (90508)
Lifetime Tamarack Pro 103 Sit-On-Top Kayak, Lightning Fusion, 10 ft. 3 in.
Three Top Pelican Kayaks for Beginners
Check Price on Amazon
Kayak Specifications
Length: 10'
Width: 28"
Weight: 36 pounds
Weight Capacity: 275 pounds
The Pelican Maxim 100X is an excellent sit-inside kayak for smaller paddlers because it is super lightweight and easy to maneuver both on land and in the water. You won't need a kayak cart to get this one to and from your favorite launching locations.
The sit-inside design allows you to attach a spray skirt if you are paddling in adverse weather conditions and there's plenty of storage space built into this kayak. You've got a covered storage hatch at the bow and an open storage area at the stern with mesh netting stretched across it.
There's also a small console at the front of the cockpit where you can set smaller gear while you're paddling. Just make sure you have a secure and steady ride so that you don't lose your precious iPhone in case you capsize.
The Maxim 100X is built with a shallow, V-chine hull that provides an excellent balance between stability and maneuverability. Inside the cockpit, it features molded footrests that help you maintain a proper paddling posture and a drain plug allows you to easily drain the water once you get back to shore.
The Maxim 100X is equipped with Pelican's usual Ergoform seat design, which offers a padded seat cushion beneath your bottom and an adjustable backrest that allows you to customize your level of lumbar support.
Check Price on Amazon
Kayak Specifications
Length: 10'
Width: 28"
Weight: 41 pounds
Weight Capacity: 300 pounds
The Pelican Sprint XR is another great sit-inside kayak for beginners but this one offers a slightly higher weight capacity for larger paddlers. It also boasts its larger covered storage hatch at the stern while moving the bungee rigging to the bow deck.
There's an extra storage hatch located at the front of the cockpit where the console is located on the Maxim 100X and the seat is positioned slightly further forward to provide a bit of space behind it for gear or small kayak safety equipment.
This kayak is also built with a deeper V-chine hull than the Maxim 100X, which improves its tracking ability and secondary stability in choppy conditions. That means it can handle less-protected coastal bays and larger lakes that are impacted by high winds.
A built-in keel extension further improves the tracking prowess of the Sprint XR and ergonomic carry handles at the bow, stern, and gunwales make this kayak easy to carry by yourself or with your paddle partner.
In the cockpit, the padded seat cushion provides plenty of comfort for your bottom and it features a small water bottle holder. The seatback is slightly higher on this model and thigh braces provide more comfort for all-day adventures.
As mentioned above, if you are specifically concerned about maximum weight capacity and how much weight your kayak should have, you must try other options on the list.
Check Price on Amazon
Kayak Specifications
Length: 13'
Width: 34"
Weight: 73 pounds
Weight Capacity: 500 pounds
If you're looking for a tandem kayak from Pelican, check out the River Gorge 130X. The Ergofit seating system on this kayak is very similar to what you'll find on the Maxim 100X, which offers plenty of comfort and support for several hours out on the water.
Each paddler will enjoy having their own dedicated storage hatch directly in front of their kayak seat. These hatches are perfect for storing snacks and other small valuables that you want quick access to while you're paddling.
Each seat also has its own dedicated water bottle holder nearby and there are additional storage areas at the bow and stern of the kayak for larger gear. Both of these areas include bungee rigging to help you keep your gear secure.
The River Gorge is built with a multi-chine, twin tunnel hull hull that is excellent for stability in a tandem kayak. It still provides reasonable tracking capabilities so that you're not zig-zagging through the water like you'd be with a model from some of the worst kayak brands out there.
Finally, this tandem kayak includes paddle tie-downs for both paddlers so that you can get your hands free to relax and enjoy lunch on the water. The cockpit is also spacious enough to accommodate a small child or a furry companion between the two seats.
Other popular Pelican models include Pelican Challenger 80x, Pelican Challenger 100, Pelican Bandit nxt 100, Pelican 10 ft kayak, Pelican Blitz 100x Exo, Argo 100x, Pelican Eclipse 100 among others. Pelican Motion 100x fishing kayak reviews are also encouraging.
Three Top Lifetime Kayaks for Beginners
Check Price on Amazon
Kayak Specifications
Length: 10'
Width: 31"
Weight: 52 pounds
Weight Capacity: 275 pounds
The Lifetime Tamarack Angler 100 is a great first kayak for smaller paddlers that are looking to get into kayak fishing. It doesn't have the highest weight capacity, but it can accommodate anglers as well as recreational paddlers.
Multiple footrest positions in the cockpit allow this kayak to work for paddlers of varying heights and the adjustable seat back allows you to customize your position for comfort. A small central storage hatch in the cockpit is also perfect for securing snacks or your smartphone while you're paddling.
There's an additional six-inch storage hatch in the rear storage area, but the larger area is open and secured with bungee rigging. There's additional bungee cords at the bow if you want to secure one of the best kayak deck bags up there as well.
Deep channels in the hull help this kayak track straighter when you encounter high winds or strong currents. Plus, it's equipped with chine rails that improve its stability for new paddlers.
Finally, one of the best parts about this kayak is that it comes packaged with its own paddle. So you won't have to conduct a separate search for one of the best kayak fishing paddles before you get on the water.
Check Price on Amazon
Kayak Specifications
Length: 10'3"
Width: 31"
Weight: 57.5 pounds
Weight Capacity: 300 pounds
The Lifetime Tamarack Pro 103 is also a great kayak for anglers, but this one steps things up a bit from the more basic design of the Tamarack 100. For starters, it boasts an aluminum-framed seat with mesh netting that breathes very well on hot days.
That seat is also elevated so that anglers have a better vantage point when they're scouting the waters around them. Plus, the seat position and angle are adjustable so that you can relax or sit more upright for easier casting and reeling.
Behind the seat, there are two flush-mounted fishing rod holders where you can keep different setups rigged as you need. A third, swivel rod holder is mounted on the accessory tracks on the gunwale to the left of the cockpit, but there's plenty of room to attach an additional rod holder as well.
These accessory tracks are placed on both sides of the cockpit to give you plenty of ability to customize your setup. You can add a portable fish finder, a kayak GPS unit, or attachment anchors for smaller kayak fishing gear.
The Tamarack Pro also has deep hull channels and chine rails to provide the same tracking and stability as the regular Tamarack Angler. It also boasts a central six-inch storage hatch and a rear storage compartment with bungee rigging.
Also Read: Lifetime Tamarack 120 Review
Check Price on Amazon
Kayak Specifications
Length: 10'
Width: 30"
Weight: 46 pounds
Weight Capacity: 275 pounds
The Lifetime Cruze 100 is one of their most affordable sit-inside models for smaller paddlers and even kids. It's a great starter kayak for parents that are looking to share their love of kayaking with their teens, without necessarily sharing the trials and tribulations of paddling a tandem kayak.
The quick-release seatback on this kayak allows you to set it up in seconds so you waste no time getting on the water. The seat bottom itself provides plenty of cushion for a few hours of recreational paddling which puts it among the best of recreational kayaks.
The raised seat platform in the cockpit suit smaller paddlers to get the blades of their paddle into the water. Plus, it raises your hips so that you're not sitting directly in any excess water that does accumulate in the cockpit on rainy or windy days.
At the stern, there's a large covered storage hatch with bungee rigging stretched across it. The hatch itself provides plenty of room for any gear that you want to keep dry until you reach your next rest stop.
The flat hull type design of the Cruze 100 provides excellent stability for beginners, but it also makes this kayak more responsive to your paddle strokes. That allows it to handle being paddled on slow-moving rivers and creeks, but it doesn't necessarily lend itself well to speed and efficiency over long distances.
Besides these, you can also check out Lifetime Ridgeline 98 sit-in kayak, Lifetime Spitfire 10, Lifetime Tundra kayak, and Lifetime Pacer. Lifetime Teton 100 angler kayak review is also good.
Final Thoughts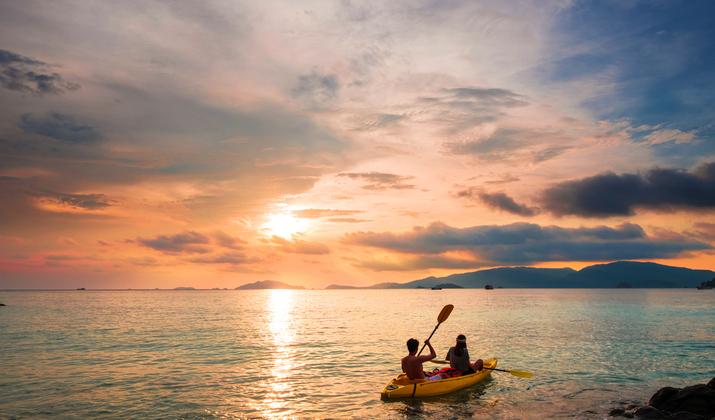 Photo by Sasin Paraksa via Shutterstock
Ultimately, choosing the right kayak for your needs requires considering more than just two kayak brands. You need to do your homework and look at models from at least a handful of kayak manufacturers to make sure you're getting something that's truly going to serve you.
Still, the great thing about these two brands is that they have some of the largest selections offered by all kayak brands out there. That means just about anybody can find a kayak model that suits their needs.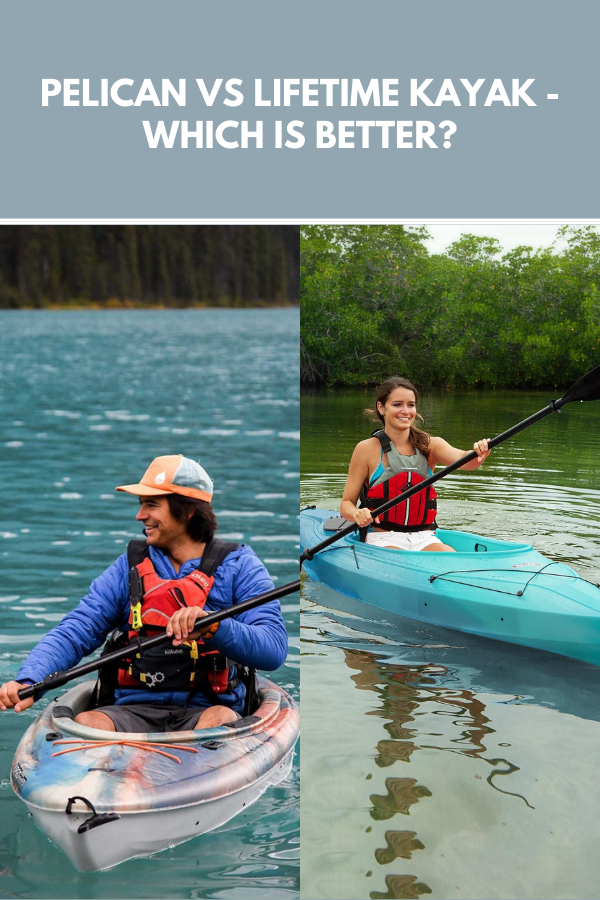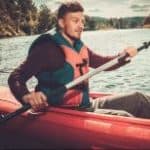 Author: Peter Salisbury
Pete is the Owner of KayakHelp.com. Born and raised in Cleveland, Ohio, he grew up kayaking, fishing, sailing, and partaking in outdoor adventures around the Great Lakes. When he's not out on the water, you can find him skiing in the mountains, reading his favorite books, and spending time with his family.