Just like any recreational sport, kayak fishing requires both skill and preparation.
While most of your success out on the water will be dependent upon your fishing prowess, there are basic kayaking techniques you need to know as well.
Most kayak fishing enthusiasts are anglers first and kayakers second.
When things don't quite go as planned, however, you'll need to know how to get yourself (and ideally all of your gear) home safely.
In this article, we're going to expand on the most important kayak fishing safety tips.
We'll also highlight 10 essential pieces of kayak safety equipment and provide a specific product recommendation for each.
Jargon Buster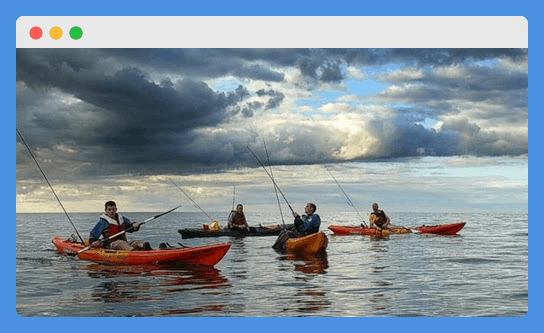 Like in any sport, those that have been doing it a long time often have their own lingo that sounds like a foreign language to new participants.
In this section, we're going to provide some brief definitions of kayak fishing jargon related to safety.
Ditch Bag
A ditch bag is a bag that you always carry on your kayak in case you need to "ditch" and survive on your own until rescue arrives.
Also known, as a "bug out bag," the items inside will vary depending on the season, location, and environment, but we'll provide some basic recommendations in our tip on Packing Extra Supplies.
Float Plan
A float plan is an agenda that should be left with a trusted partner, friend, or family member before you head out on the water.
It should include the location of your launch point, anticipated departure and return times, number of people in your party, and the color of your kayaks.
Tide Chart
A tide chart is a useful resource for understanding the ebb and flow of the ocean.
It's an essential resource for any kayak anglers that aspire to fish coastal waterways, bays, or open ocean.
The ocean tides (and the currents that are closely related to tides) can fluctuate dramatically from day-to-day. Check out this article to learn more about how to prepare for ocean tides.
NOAA
NOAA stands for the National Oceanic and Atmospheric Administration. It's an organization that provides very useful forecasting information on winds, precipitation, tides, currents, and more.
Many modern GPS units rely on data from NOAA for some of their essential features.
Yard Sale
Although it's not entirely unique to kayaking, a yard sale, in this case, refers to that scenario where all of your gear is scattered and floating away after you've capsized.
This only happens when you've failed to adequately secure all gear to your kayak before launching.
Kayak Fishing Safety Tips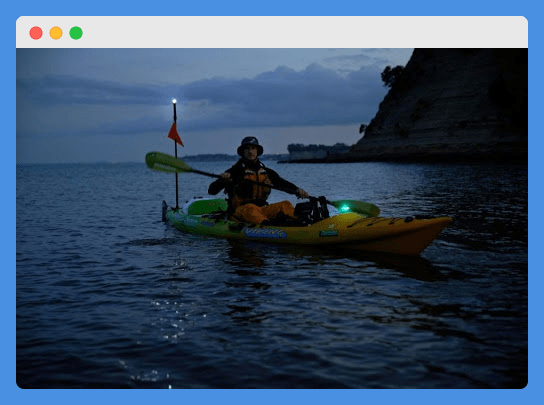 Fortunately, there's a lot that you can do as a kayak angler to prepare before you even get on the water. In this section, we'll go deep on the most important kayak fishing safety tips.
Plan Ahead
Most of us have heard this before, but the amount of diligence we give to our planning and preparation dictates the safety of our experience.
For kayak anglers, one of the biggest pitfalls is becoming overly comfortable with your preferred fishing location.
No matter how much time you plan on being out on the water, you should get in the habit of leaving a float plan with a family member, friend, or significant other.
This float plan should include where you're going, anticipated departure/return times, the number of people in your party, and the color of your kayaks.
These days, our technology gives us the ability to send a quick text to a responsible friend or family member.
If you forget to leave a float plan before you're already at your launch location, you can do worse than to leave a note on the dashboard of your vehicle that includes all of the above information.
Know Your Limitations
This is probably one of the hardest things to be honest with yourself about.
But it's also one of the most important kayak fishing safety tips to help reduce the likelihood of overexerting or extending yourself on the water.
You are really the only one that can be an honest judge of your physical limitations.
But you also need to understand the capabilities of your specific kayak, as well as your ability to deftly handle that kayak when it's loaded down with all of your fishing gear.
It's also important to be aware that your physical ability on flatwater is going to be different than your ability on coastal waterways.
Your level of familiarity with the waterway where you're fishing plays a large role in understanding your limitations.
Check The Weather Forecast
While it's easy to focus on whether or not there's rain in the forecast when you check, the wind is actually the kayaker's biggest enemy.
Failure to check wind forecasts can turn a beautiful morning into a harrowing afternoon very quickly.
Being aware of the wind forecast is important regardless of the waterway that you typically fish on.
Make sure to check the forecasted wind speed, wind direction, and anticipated wind gusts.
Understanding how the weather is predicted to change while you're out will help you pack and prepare accordingly.
Even if only a little mild rainfall is forecasted, you'll be glad you packed your rain jacket when it does move in.
Understand Locational Hazards
This safety tip is very unique to the location where you're going to be fishing and paddling.
Ocean bays, coastal waterways, slow-moving rivers, and calm lakes all present different locational hazards to be aware of.
If you're paddling on a coastal waterway, for example, you should check ocean current and tide charts before heading out.
A strong current that you don't plan for can make it nearly impossible to get back to your starting point when you're done fishing.
Waves are another great example of a locational hazard for ocean anglers.
If it's your first time charging out past the break for ocean fishing, you better know how to get back in your kayak once it's flipped over before you're forced to learn on the fly.
Other examples of locational hazards pertinent to ocean bays or coastal waterways include reefs and rocks, shallow sandbars, and tidal waves.
It requires experience to learn how to navigate ocean tides and other locational hazards to ensure your safety.
Even slow-moving rivers can present locational hazards in the form of submerged tree stumps, rocky shallows, and reckless motorized boat operators. That brings us to our next point!
Be Mindful of Other Boaters
Sometimes the biggest risk to your safety on the water has absolutely nothing to do with you and your level of preparation.
Irresponsible boaters have been known to cause great danger to kayakers.
This mostly happens because kayaks sit much lower in the water than a powerboat or even a jet ski.
Because these boaters are also traveling at much faster speeds, they need to be looking further ahead to assess and avoid obstacles.
As kayakers, we can't control what other boaters are going to do on the water.
We can, however, be mindful and stay aware of other boaters that might not always recognize your kayak as they approach.
As a general rule, you should avoid crossing channels or major boating thoroughfares where there's consistent traffic of commercial vessels.
These vessels have even less ability to see and steer clear of your kayak than a recreational vessel.
A bright orange kayak flag is a great addition to any kayak fishing setup to increase your visibility. Other options include choosing a PFD or kayak itself that is a bright color and easy to see on the water.
Occasionally, things just go wrong and there was little we could do to avoid it. While proper preparation will help you significantly reduce risk on the water, it's also really important to know how to self-rescue or rescue a fellow paddler if the need arises.
There are many different kayak rescue techniques to learn.
A few useful examples include the HI-Rescue, the T-Rescue, and the X-Rescue. All of these techniques will help you or a fellow paddler get back into your kayak if you happen to capsize.
While it's certainly possible to teach yourself these rescue techniques, we recommend seeking professional advice and feedback.
Search for kayak rescue lessons in your area to see which organizations (such as the American Canoe Association) are offering courses and where those courses are being held.
Pack Extra Supplies
You can never really know if a failure to adhere to any of the other advice we've offered up to this point is going to cause you to spend more time in your kayak than you planned on at the start of the day.
Forecasts change, ocean currents shift, tides come up and go down. There's no real disadvantage of packing extra supplies every time you head out, aside from having to carry around a little extra weight.
That weight will undoubtedly be worth it when the need arises. Extra base layers, rainproof outerwear, overnight gear, and even cooking equipment are just a few examples of extra supplies you might consider packing.
Of course, you should have a large dry duffel bag to keep all of these items dry.
If your setup is pretty minimal (but still contains the essentials!), then you might get away with packing extra supplies in several small dry bags, rather than one large one.
Hook Safety
One of the dangers that's unique to kayak anglers is the possibility of getting hooked by your own devices. If you find yourself in a situation where you unexpectedly have become the bait, it's important to know how to remove a hook safely.
In general, a hook should always be backed out the way that it went in. This technique is recommended because, in most cases, it will prevent any further damage to the soft tissue around the site.
However, if you do happen to get a barbed hook deep in your hand or elsewhere, YOU might not be the best person to perform the extraction.
In this case, we recommend cutting the line, heading for shore, and finding someone with a little more experience to remove the hook.
If you're a long way from a more experienced party, some anglers have taken the tough approach.
This involves cutting the line and continuing to push the hook in and through until you're no longer dealing with the barb and you can pull it all the way out.
We don't recommend this technique and, if you often fish in very remote locations, we highly recommend investing in a Wilderness First Aid or Wilderness First Responder course from NOLS before attempting this sort of hook removal.
To make your life easier, mash down the barbs on your hooks before you even head out fishing.
This will make it much easier to catch-and-release and will also make things much less painful if you do happen to catch yourself.
10 Kayak Fishing Safety Equipments
Check Price on Amazon
A quality PFD is the absolute first piece of safety equipment that every kayak angler should have on board. Fortunately, many PFDs that will save your life if you fall overboard also come with features that make kayak fishing easier.
A vest like this one (the NRS Raku) comes with large zippered front pockets where you can keep hooks, tools, and other fishing gear. This PFD is U.S. Coast Guard approved and offers 16.5 pounds of buoyancy.
Check Price on Amazon
There are a variety of applications for a quality knife on the water.
Anglers use them to cut the line and sometimes fillet a catch, but when it comes to safety, a knife's primary use will be cutting you or your kayak loose from an object or obstacle.
The NRS Pilot Knife is a great option because it will actually strap directly onto the chest of many fishing PFDs. This keeps it easily accessible at a moment's notice when the need arises.
Check Price on Amazon
A tow line is a really great piece of safety equipment for kayakers that often travel in packs.
Whether you have one paddle buddy or you like to fish in larger groups, a tow line can help you make sure everyone gets home at the end of the day.
The NRS Kayak Tow Line contains 50 feet of polypropylene rope stored inside a 500D Cordura pouch.
The entire thing wraps securely around your waist for simple, efficient deployment when you need it.
Check Price on Amazon
If you fail to notice a particular locational hazard until it's too late and your kayak is now failing to float adequately, flotation bags are going to save your you-know-what.
They're designed to replace the buoyancy that your kayak naturally provides.
Flotation bags can make all the difference between making it back to shore with your kayak and all its gear or having to abandon ship.
These NRS Float Bags are made of 10-gauge Urethane fabric and come in a variety of sizes.
Check Price on Amazon
As you really get into the flow of fishing and hunting for that record-breaking catch, you probably won't be thinking about your kayak paddle.
But if you lose your paddle overboard, you're undoubtedly going to have a difficult time making it back to shore.
A paddle leash will allow you to double-down on paddle security and ensure that your paddle is still there when you need it.
The Cinch-Lock Pro Paddle Leash attaches without having to take your paddle apart and clips to your kayak with a heavy-duty aluminum carabiner.
Check Price on Amazon
Even on the warmest of summer days, immersion is a possibility for the kayak angler.
Most experienced kayakers will recommend dressing to be prepared for immersion, rather than simply hoping you don't fall in.
Cold days on the lake can cause a number of health problems, including hypothermia. You don't necessarily have to fall overboard to suffer when conditions are at their worst.
Depending on your climate, you may find that a wetsuit or drysuit is more (or less) appropriate.
For the avid, year-round kayak angler, something like the Stohlquist Amp Drysuit is an excellent choice.
Even if you live in a more Mediterranean climate, water temperatures can drop during the winter months. In this case, you might find a three-millimeter wetsuit like the Stohlquist Storm John to be more appropriate.
Check Price on Amazon
A prepared kayak angler should always have a first aid kit on board. This is especially true for anglers, due to the fact that we're often handling hooks or trying to grab fish with sharp scales.
However, the supplies in a first aid kit will only come in handy if they're still dry when you finally need them. That's why you need a first aid kit that comes in a waterproof dry bag, such as this kit from Well-Strong.
Check Price on Amazon
While many experienced anglers have come to rely on GPS units and VHF radios, we don't recommend investing in such a piece of safety equipment unit you have more experience and know-how to use those devices adequately.
Furthermore, modern smartphones are very advanced in terms of their ability to perform emergency communications and help you navigate but you'll need to keep that phone dry if it's going to be of any use to you at all.
That's where a quality cell phone dry box comes in.
Many anglers and kayak guides use a model like the Pelican 1060 Micro Case because it keeps your phone dry and will also float if the entire box happens to fall overboard.
Check Price on Amazon
Investing in a kayak light and flag is all about increasing your visibility on the water.
If an emergency really takes place, the rescuer's ability to visibly locate you and your kayak is going to be crucial to a positive outcome.
On a practical level, a kayak light and flag like the YakAttack VISIpole II can also extend your fishing hours. You'll be able to head out before dawn or stay out just past sunset without getting caught in the dark.
Check Price on Amazon
In the rare case that rescuers aren't able to establish visual contact with you or your kayak, you may have to rely on their ability to hear you.
An emergency whistle is also great for communicating a new plan amongst fellow paddlers when winds come up and conditions change.
In many situations, communication on the water becomes essential to a good outcome for the entire group.
This SE 5-in-1 emergency whistle also gives you a compass for navigation, a watertight compartment for emergency matches, a signaling mirror, and a flint.
The #1 Kayak Fishing Safety Tip
Get (AND WEAR!) A PFD!
Our #1 kayak fishing safety tip is so simple and it's also the most overlooked safety tip amongst recreational kayakers, kayak anglers, paddleboarders, and other recreational boaters.
Every year, people's fun days out on the water turn into nightmares because PFDs weren't deployed sufficiently.
It's not enough to just have a PFD on board either, you need to have it on for it to be truly effective.
Even the most experienced kayak angler can't predict the future. Sometimes it only takes a moment of surprise for you to end up in the water unexpectedly.
When a moment like that does occur, you'll be happy you have a PFD on 10 times out of 10.
There are exceptionally few instances in which a PFD will do more harm than good for a fishing kayaker.
Sure, there is other, fancier safety equipment out there designed to tow a stranded kayaker, signal your whereabouts, keep your kayak and all of its gear afloat, increase your visibility on the water, and more.
At the end of the day, however, it is the safety and, in this case, the buoyancy of your body that is most important.
Don't just get a kayak fishing PFD that looks great strapped to your kayak, WEAR IT!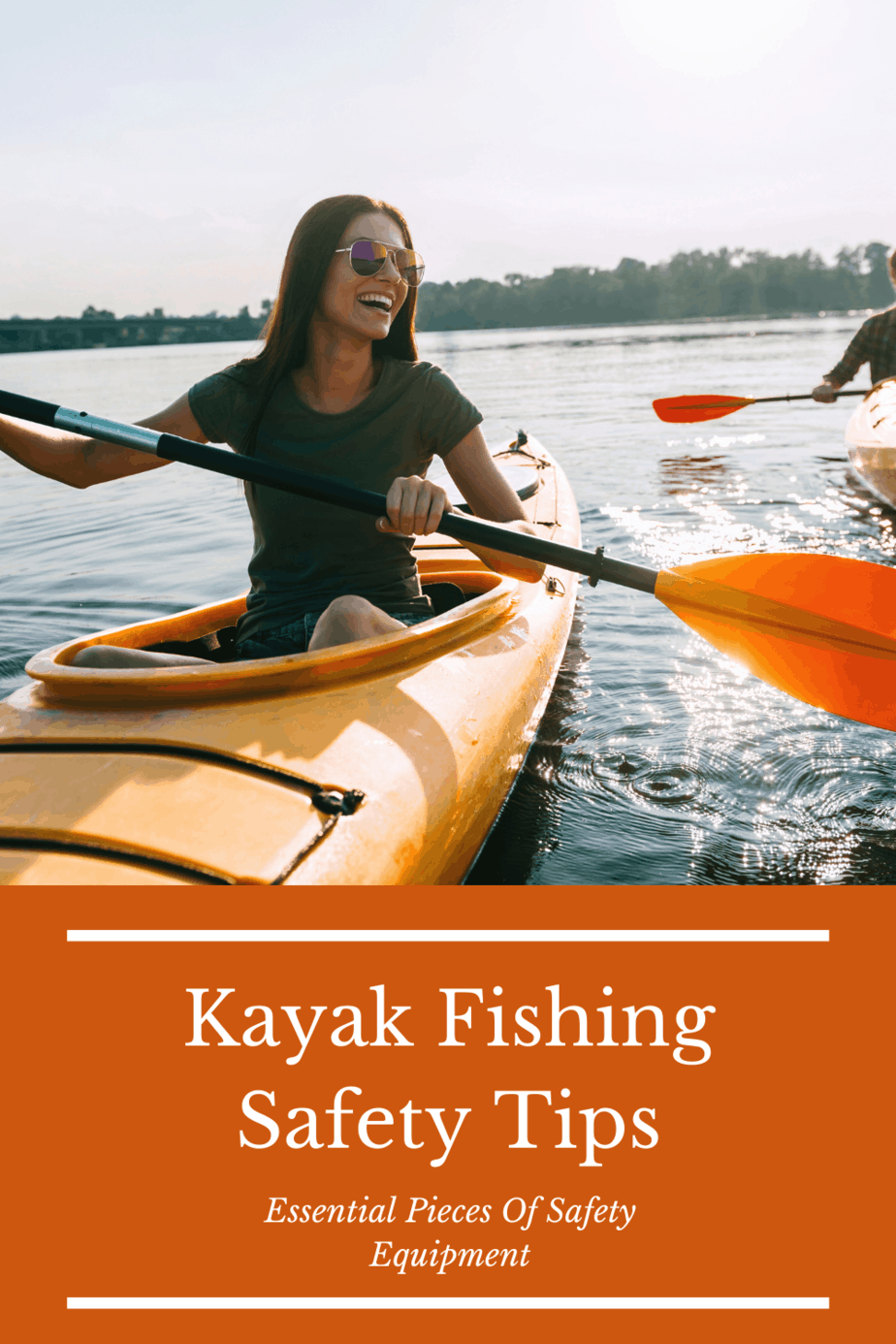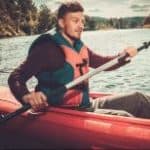 Author: Peter Salisbury
Pete is the Owner of KayakHelp.com. Born and raised in Cleveland, Ohio, he grew up kayaking, fishing, sailing, and partaking in outdoor adventures around the Great Lakes. When he's not out on the water, you can find him skiing in the mountains, reading his favorite books, and spending time with his family.