Most kayakers, whether you're a complete beginner or a seasoned expert, dream of all the fun they're going to have on the water. Kayaks give us unparalleled access to places that other watercraft just can't access.
As many experienced kayakers know, that extra freedom comes with added responsibility. A kayaker must be able to perform self rescues and prepare for the unexpected on the water.
As a mentor of mine used to say, "It's better to have it and not need it than to need it and not have it." This is a great rule of thumb for many things in life, but it especially applies to packing a kayak emergency kit.
In this article, we'll provide a list of ten essential supplies for emergency kits dedicated to sea kayaking and kayak fishing and offer specific product recommendations for each of those items.
Thumbnail
Title
Garmin 010-01550-00 Striker 4 with Transducer, 3.5" GPS Fishfinder with Chirp
Foxelli Hooded Rain Poncho for Adults – Extra Long Reusable Waterproof Raincoat for Men and Women, Lightweight Rain Gear
Crest Medical 10 Person HSE Workplace First Aid Kit
Kayalu WaterTorch® 360° Kayak Light | Boat Work Light | Handheld Torch | Suction Base | Portable Bright White LED
Thumbnail
Title
Garmin 010-01550-00 Striker 4 with Transducer, 3.5" GPS Fishfinder with Chirp
Thumbnail
Title
Foxelli Hooded Rain Poncho for Adults – Extra Long Reusable Waterproof Raincoat for Men and Women, Lightweight Rain Gear
Thumbnail
Title
Crest Medical 10 Person HSE Workplace First Aid Kit
Thumbnail
Title
Kayalu WaterTorch® 360° Kayak Light | Boat Work Light | Handheld Torch | Suction Base | Portable Bright White LED
Items To Bring When Kayak Fishing
Anglers that choose kayaks as their primary method of transportation tend to spend long periods of time on the water. Preparation when kayak fishing is essential, so consider adding these 10 items to your kayak fishing set up.
1. GPS and/or Cell Phone in Dry Box
Check Price on Amazon
Knowing your location is extremely important in an emergency situation. A good GPS for kayak fishing, like the
Garmin Striker 4
, will help you pinpoint where you are and even allow you to share marked waypoints with other devices.
This GPS unit allows you to essentially leave yourself a trail of breadcrumbs to help you navigate back to your starting location. It's also built for kayak fishing with a host of other features that will help you find more fish in non-emergencies.
If you aren't willing to bite the bullet for a quality GPS unit, make sure you bring your cell phone along. You'll need to protect it, however, with a waterproof dry box like this one from Pelican Products.
Most modern smartphones allow you to drop a pin at your location, even if you can't send or receive calls. In some cases, you'll still be able to send a text of your GPS coordinates from that pin, which will greatly increase the likelihood of being found if lost.
Check Price on Amazon
Imagine this scenario: you've been out for most of the morning and you've wandered a fair distance away from your starting location.
You've been chasing a school of fish for a couple of miles and you turn around to see a menacing combination of storm clouds behind you.
You wouldn't be the first kayak angler to get caught in an unexpected rainstorm, and you certainly won't be the last. But when unforecasted rain threatens to spoil your outing, it's great to have an emergency poncho or quality rain jacket on board.
Foxelli makes an awesome rain poncho that will not only cover your head and torso but also keep your legs dry when you're sitting in a kayak. It's even large enough to be repurposed as a camping blanket or sleeping bag cover on a multi-day fishing trip.
If you're not a huge fan of the poncho-style, you better invest in a quality rain jacket and keep it stored in a watertight compartment or dry bag. Something like this Columbia jacket is a great place to start.
Check Price on Amazon
A quality first aid kit is an essential emergency item for any outdoor recreation activity. Kayak fishing is no exception and, arguably, comes with greater need due to the number of hooks and sharp objects that anglers utilize in their craft.
The NRS Ultralight Paddler Medical Kit contains enough first aid supplies for one to two people on a trip up to four days in length.
It's a compact kit and all supplies are protected by the 30-denier ripstop nylon dry bag.
Keeping first aid supplies dry is the biggest challenge for kayakers. That's why most kayak guides will actually place their first aid kit in a dry bag inside of a dry bag, for double protection.
It's a good practice to get in the habit of doing. With this first aid kit from NRS, the supplies come in their own dry bag, so you'll only need one more small dry bag if you want to exercise extra caution.
Increasing the visibility of your kayak is critical in an emergency situation. Not only will a quality kayak light help rescuers locate you, but it will also allow you to extend your kayak fishing expeditions in non-emergencies.
Bringing a light on your kayak can be tricky because, again, everything that you bring on a kayak is more than likely going to get wet.
Your standard headlamp only works until it takes a momentary dip into the water that's pooled in your kayak's cockpit.
That's why it's recommended to invest in a kayak light that's made for that situation. Something like the Kayalu WaterTorchⓇ provides 360-degree light and easily sticks to your desired location on your kayak.
It also has a security lanyard to keep it attached to your kayak just in case the suction cup should fail. At a height of 12 inches, this light will greatly increase the visibility of you and your kayak.
Check Price on Amazon
Some of the
best kayak fishing PFDs
come with an emergency whistle included. If yours doesn't, a quality emergency whistle can be attached to your PFD for signaling purposes in an emergency.
You don't need anything particularly fancy here, but a key feature is the ability to attach the whistle where you can easily reach it in your moment of need. Many kayak anglers attach an emergency whistle to the shoulder strap of their PFD.
Of course, you'll have other options if you don't care for that approach. Maybe your whistle attaches to your paddle, the handle of your kayak, or the seat.
Whatever you prefer, an emergency whistle is a crucial accessory for a kayak fishing emergency kit. You'll be able to signal folks from a greater distance when getting their attention is paramount to your survival.
Also Read: Kayak Safety Equipment List
Check Price on Amazon
These items are great for making repairs to your kayak or any of your kayak gear that rips, tears, breaks, or punctures while you're on the water. Broken gear can severely compromise your ability to get home safely.
Duct tape and electrical tape are great for holding broken PFD straps together, making a busted kayak handle usable, and an infinite number of other applications.
You shouldn't choose the cheapest roll of tape that you can find though. Make sure you look for something that has waterproof qualities, such as Clingy Tape or Heavy Duty Gaffer tape.
For small holes or punctures in your kayak itself, duct tape might even be enough to get you home so that you can perform a more permanent repair. This is especially true for inflatable kayaks.
So many tools in one easy-to-carry package. These days, fishing kayaks have a lot of parts and features that are susceptible to breaking or loosening over time.
In the best case, you'll be able to use a multi-tool to simply tighten down a screw that's come loose. In the worst case, you might need to get more creative to make a temporary fix so you can get home.
A quality multi-tool gives you options when things break or fall into disrepair on the water. An option like the Leatherman Charge Plus comes with a total of 19 tools that fit in a compact package that can fit in the chest pocket of your PFD.
From screwdrivers to scissors to heavy-duty pliers, a multi-tool just gives you the freedom to improvise a fix when you otherwise wouldn't be able to. Without a multi-tool, you'll be limited to what you can do with your two hands.
8. Patch/Repair Kit
When you're fishing in shallow, rocky waters, the probability of a large rock compromising the integrity of your kayak's hull goes up.
Most fishing kayaks are sturdy and built for this sort of application, but once in a while, a particularly sharp rock messes with your plans.
If you find yourself in a scenario like this, you'll need to get to shore as quickly as possible in order to assess the damage. Hopefully, you don't find a softball-sized hole in the bottom of your kayak.
If you still do find a small hole, however, this is when you'll be glad you packed that plastic boat repair kit from West System in your emergency kit. This kit has two containers of adhesive epoxy, gloves, patches, and two popsicle sticks for smoothing the epoxy.
You'll need the area you're working on to be dry for this repair kit to be effective, so it's not going to be a quick fix. But it's still a better solution than calling for rescue or leaving your kayak on the side of the river.
Check Price on Amazon
This one should be pretty self-evident. If you find yourself in a true emergency situation where help or rescue isn't imminent, making clean water can be a matter of life and death.
Having water purification tablets or a quality water filter will give you the ability to keep clean water on hand. Many tablets require a gestation period for the water to then be safe to drink, so make sure to pay attention to the directions on the packaging.
Check Price on Amazon
Just like the last item on our list, extra food or snack items can give you the energy you need to make it home. They also might be the brain food you need to think of a clever strategy to get out of your emergency situation.
There are many types of snacks you can pack that have a long shelf life. Most protein bars like Clif Bars or Bobo Bars will do the trick. But these Survival Tabs are gluten-free, non-GMO, and butterscotch flavored.
They're made to sustain one person for up to ten days if needed. While they might not be the most appetizing solution, they're packed with 15 essential vitamins and minerals to keep you going in your time of need.
Items To Bring When Sea Kayaking
For the sea kayakers amongst us, our list will look a little different than the list for kayak fishing. You'll notice a few similarities, but sea kayakers should pay attention to these 10 emergency essentials.
1. GPS and/or Cell Phone in Dry Box
Check Price on Amazon
Yes, we had this as the #1 item on the kayak fishing list as well, and it's for good reason. A map and compass can be less effective out on the ocean because of the lack of clear landmarks.
A quality GPS for sea kayaking, like this Hummingbird Helix 5 model, will help you pinpoint your location in case of an emergency. This GPS is hooked into data from NOAA, which allows you to see buoys, marinas, hazards, and other navigation aids.
Another option is to simply bring your cellphone along on your sea kayaking journey, but you should make sure to contain it in a quality Pelican Products dry box. If you do bring your smartphone along, you'll also have access to some of the best apps for kayaking.
Check Price on Amazon
Cell phone and GPS coverage can be a bit more spotty on the ocean than on lakes and rivers. That's why we'd also recommend keeping an emergency VHF radio on board in case your GPS or cell phone isn't getting a signal.
There's a reason that short and long-range radios are still trusted in the shipping and trucking industries. They provide a reliable method of communication that cell phones and GPS don't always match.
The Cobra VHF radio is an excellent choice for sea kayakers because, for starters, it floats if you drop it overboard.
It relies on three-channel maps to provide international coverage and gives you access to up to 10 NOAA weather channels for regular updates.
Check Price on Amazon
Kayak guides never leave home without their tow system. Regardless of whether you always paddle solo or with a partner, you should have a tow system onboard with you at all times too.
You never know when you might come across a fellow kayaker in distress on the water. A tow system will allow you to hook up a kayak or a swimmer and tow either one safely to shore or to another waiting watercraft.
Most tow systems, like the Seals 18-footer, can either attach to your PFD (if it's compatible) or to a hard point on your kayak. Attaching to you or your PFD is usually best, as it allows for more efficient towing.
Check Price on Amazon
Because most sea kayaks have features like a rudder or adjustable foot braces, there can be more moving parts to break. And when they do, the performance of your kayak will be significantly compromised.
That's why we recommend keeping a small toolkit on board your sea kayak. While it might not allow you to perform every repair necessary, you'll be able to do a lot more with a mini toolkit than without.
Something like this 38-piece kit from Kalsi is a great selection to keep in your kayak in case of an emergency.
Because many kits will contain bits and drivers that are metal, however, we highly recommend keeping this type of toolkit safely in a dry bag.
Check Price on Amazon
Due to the nature of the ocean, sea kayakers may require a greater degree of visibility in an emergency than their fishing counterparts. A standard kayak light may disappear amidst large ocean swells and compromise the rescuer's ability to locate you.
That's why we encourage keeping a kit of hand flares on board for emergency purposes. Hand flares will put off significantly more light and greatly increase your visibility if the need is dire.
Orion Safety Products makes a great kit that comes with four hand flares, an emergency whistle, and a Coast Guard-approved distress flag. All of these items are packed in a waterproof, floating case.
Check Price on Amazon
Sometimes, things can just go wrong when you're sea kayaking. You're, at least to a degree, at the mercy of the ocean and her tendency to create strong currents, rogue waves, and other unexpected obstacles.
If you happen to capsize in a sea kayak, you better know several rescue techniques to get back into your boat. Once you do, however, you'll need to empty any excess water remaining in the cockpit.
A quality bilge pump will do the heavy lifting while a sponge will be there to mop up the last remnants of water that a bilge pump can't take care of.
The SeaSense bilge pump is an affordable, manual option that won't take up too much space when you don't need it.
Hopefully, that's most of the time you spend in your sea kayak.
But, well, we don't need to repeat the quote from the very beginning of this article again. Be prepared and know that there are also a number of other manual and electric bilge pumps to choose from.
Check Price on Amazon
Here's another item that's similar to what we've put on our kayak fishing emergency kit list. You just can't be sure when you'll need to make a small repair to your sea kayak so you can get home safely.
Reef and rocks on the shoreline are the most common culprits for causing damage to the hull of your sea kayak. If you do find a hole, you'll want an epoxy putty like this Rapid Set Marine-tex on board.
Many sea kayakers tend to cover greater distances than kayak anglers. Because of this, it's more likely that a significant gear mishap or damaged kayak can lead to an unpleasant night spent on an unfamiliar shoreline.
If this happens, you'll want to have a light backpacking stove like this model from King Summit on hand. And you'll also need some Isopro fuel to boil water, cook an emergency meal, or, in the worst case, simply to keep warm.
If the integrity of your sea kayak truly becomes compromised to the point where it's no longer buoyant enough to carry you to shore, you'll need flotation bags like this set from Harmony Gear.
There's quite possibly no worse feeling as a sea kayaker than knowing your kayak is slowly sinking as you pull hard for shore. Keep flotation bags on hand so you can self-rescue if your kayak begins taking on too much water.
Flotation bags can also come in handy if you capsize in deep water and you're having trouble re-entering your boat. They can also be helpful if you find yourself helping a swimmer in deep water.
The skeg (or rudder) of your sea kayak is one of the most likely items to break. This is especially true on extended trips where you're taking your kayak in and out of the water multiple times per day.
Sea kayaks rely heavily on their skegs for navigation and they're extremely hard to paddle without a skeg, especially in high winds. If your skeg is totally broken, don't think you'll just continue on your trip as if nothing happened.
It's a more costly item, but keeping a skeg replacement kit on board can be a lifesaver if your current skeg becomes compromised. If you're not stoked on that Crack of Dawn model, check out some of the best expedition-grade rudders and skegs.
Final Thoughts
Each item on these respective lists has a specific application in an emergency situation. The nature of an emergency is that we often don't exactly know what obstacles we'll need to confront.
We encourage all responsible kayakers to build a thorough emergency kit so that you're prepared for any challenge that Nature (or your paddle companions) throws at you!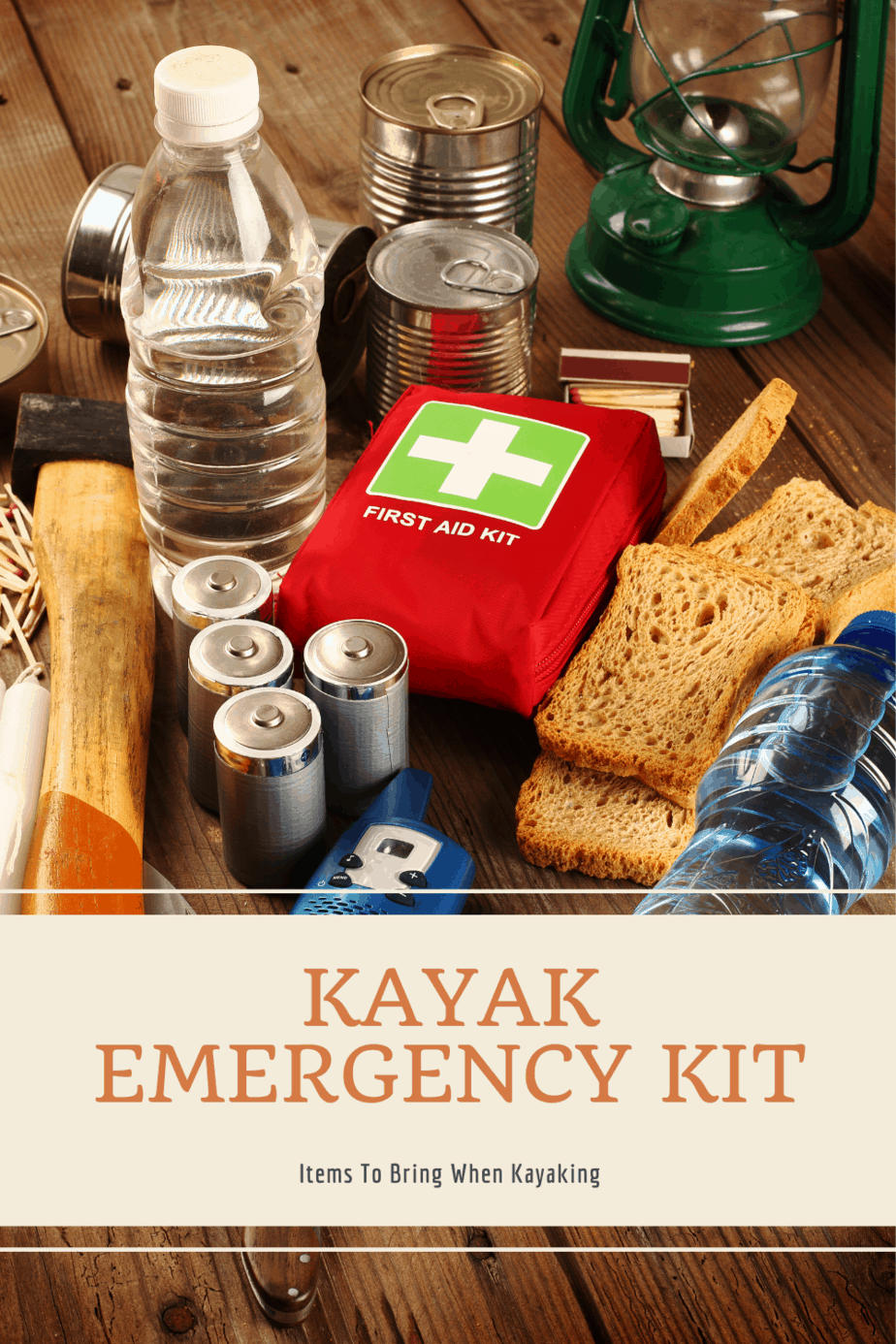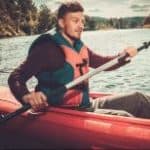 Author: Peter Salisbury
Pete is the Owner of KayakHelp.com. Born and raised in Cleveland, Ohio, he grew up kayaking, fishing, sailing, and partaking in outdoor adventures around the Great Lakes. When he's not out on the water, you can find him skiing in the mountains, reading his favorite books, and spending time with his family.