Whether you need to refurbish the exterior of your kayak or you just want your personal paddle craft to stand out, there are plenty of kayaking painting ideas and designs to choose from these days.
If you are searching for a fun DIY project to keep you busy while you wait for the paddle season to be fully underway, painting your kayak is a great option. You can do it alone or with a partner, and it doesn't require all that much time or financial investment.
In this guide, we are going to highlight 21 of the most unique kayak painting ideas and designs we could find on the great, big world of the interwebs. Plus, we'll also give you some quick kayak painting tips to help you get started!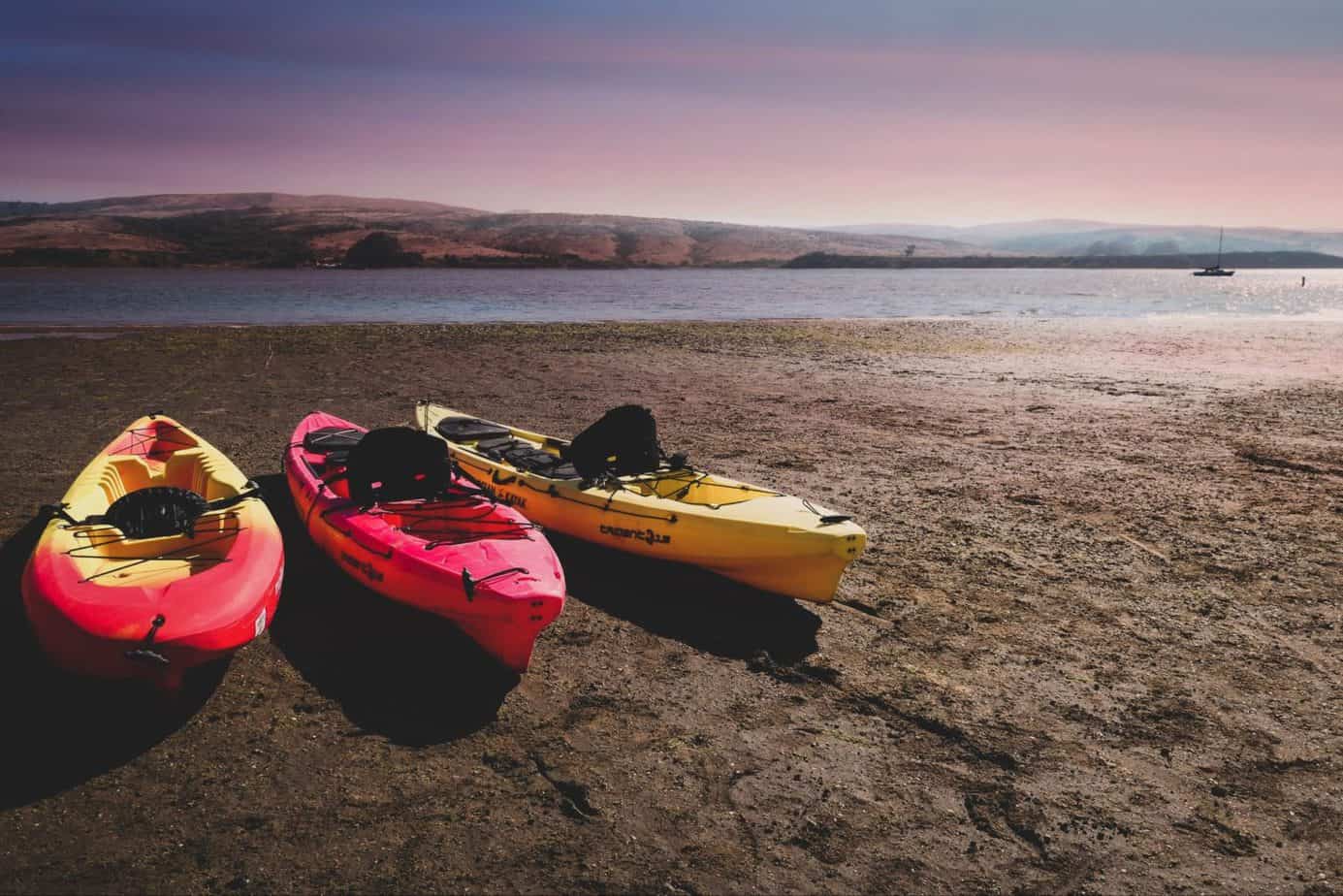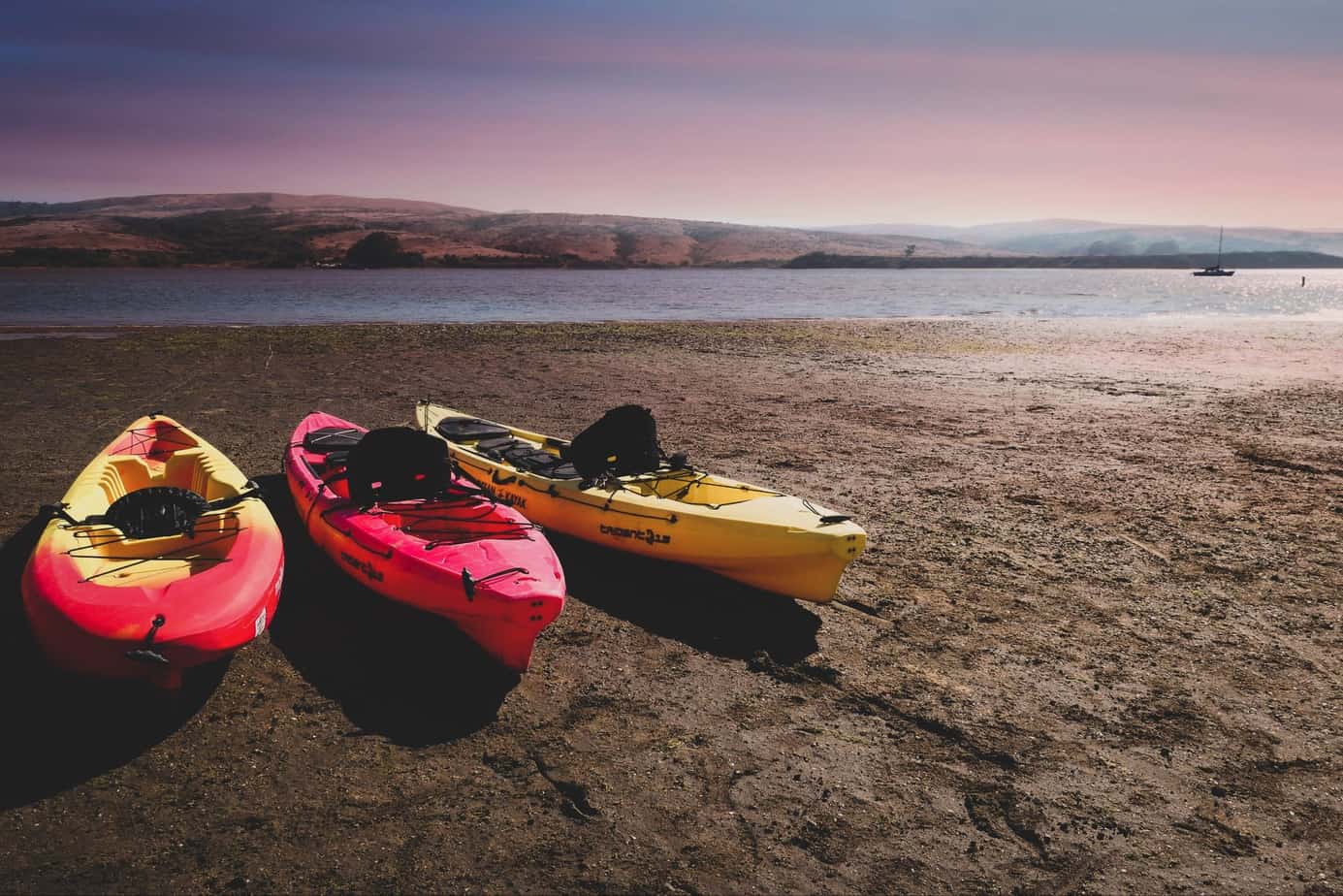 PC Eleonora Patricola via Unsplash
Can You Paint A Kayak?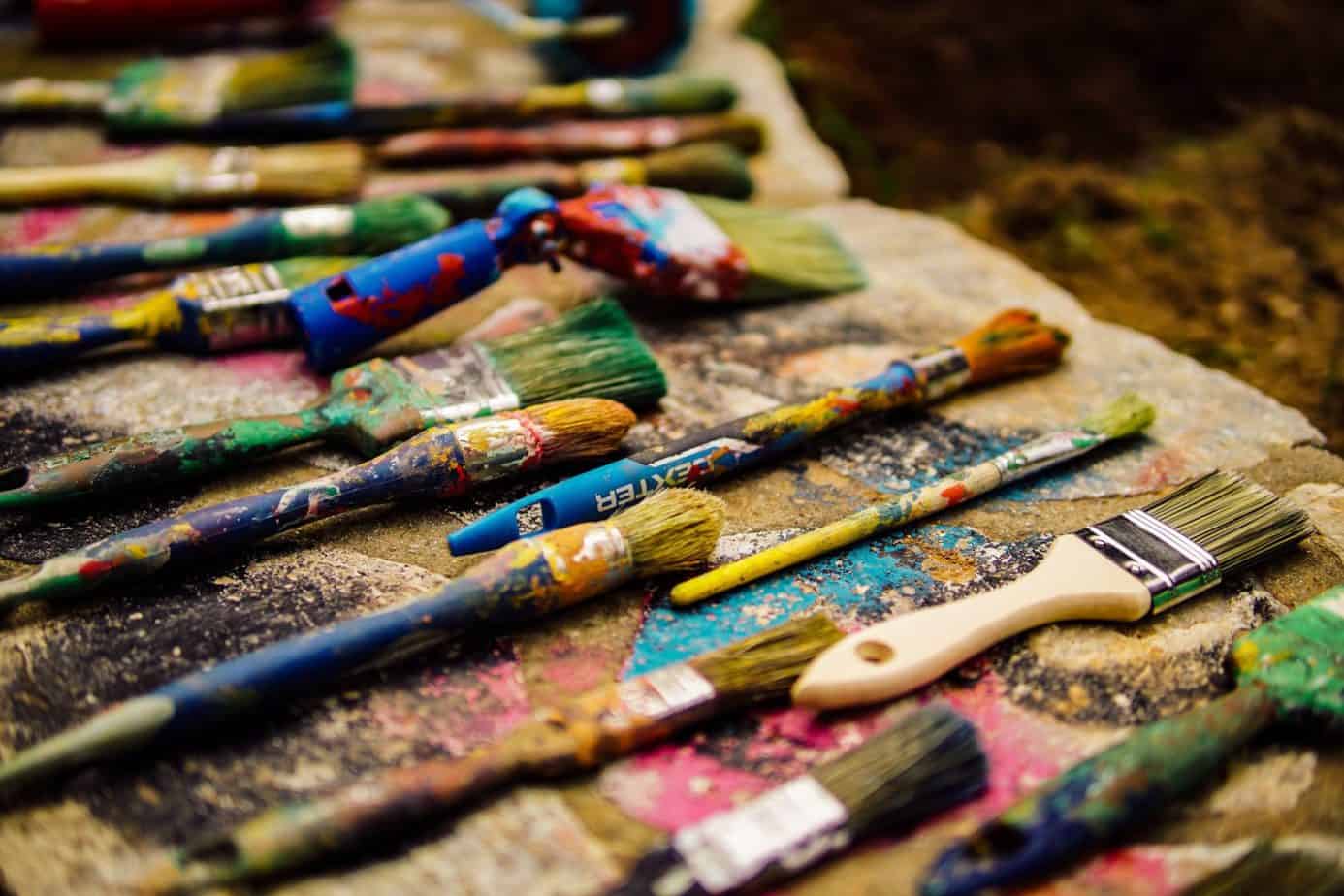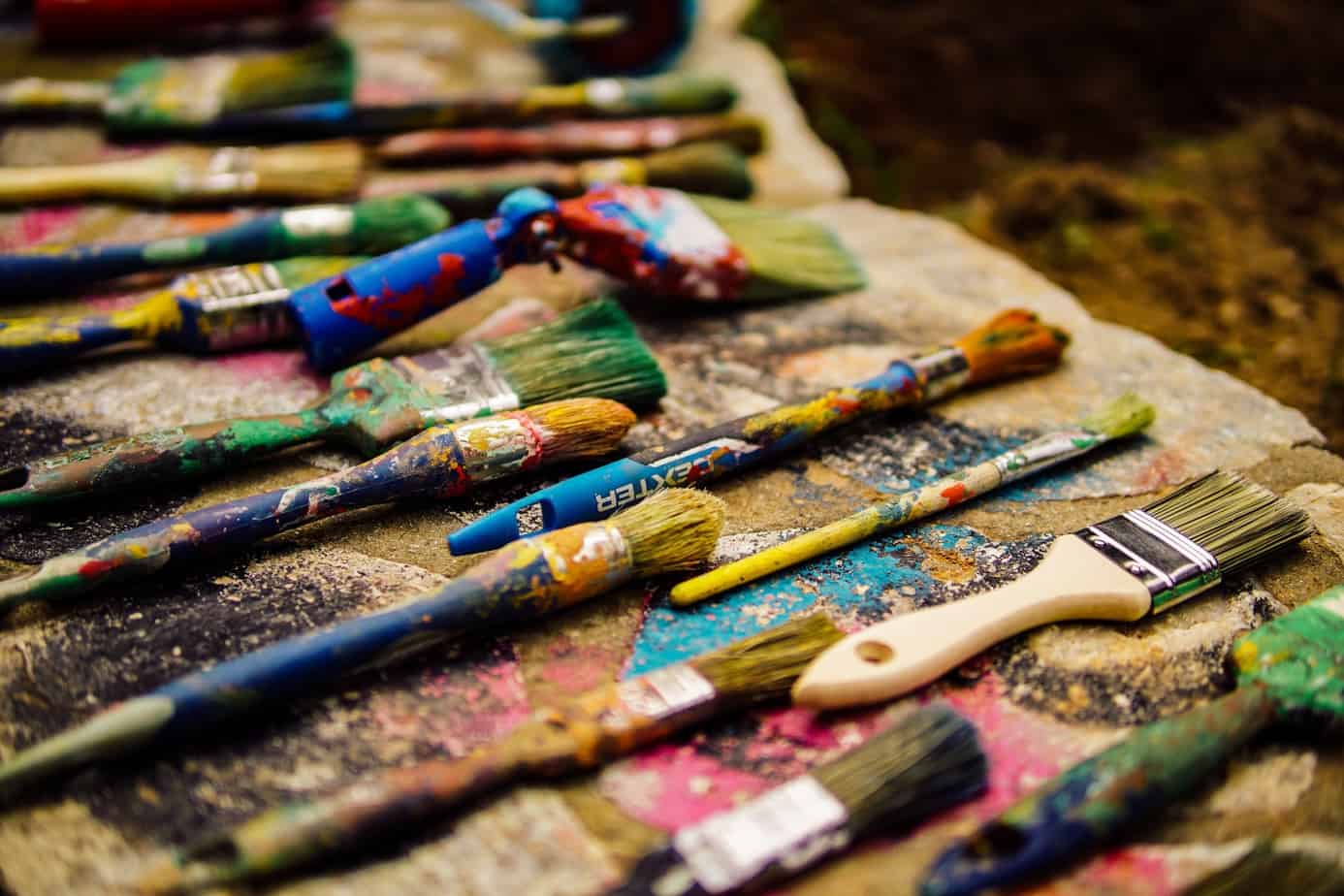 PC Yannis Papanastasopoulos via Unsplash
Yes, indeed you can! Most kayaks are made of a plastic-like material called polyethylene and, while the material isn't particularly well-suited to bonding with an additional layer of paint, it can be prepped for better adhesion.
Wooden kayaks, as you might imagine, are also well-suited for painting. That being said, many owners prefer to preserve the natural look of the wood by simply applying a clear coat of marine-grade stain to the wood (instead of colored paint).
Of course, there are also some inflatable kayaks that are made of a more rubberized material (think whitewater rafts). While these kayaks could still (in theory at least) be painted as well, we wouldn't necessarily recommend it.
So, for the purpose of this article, we are going to stick to providing painting tips, ideas, and designs for polyethylene and wooden kayaks.
Quick Kayak Painting Tips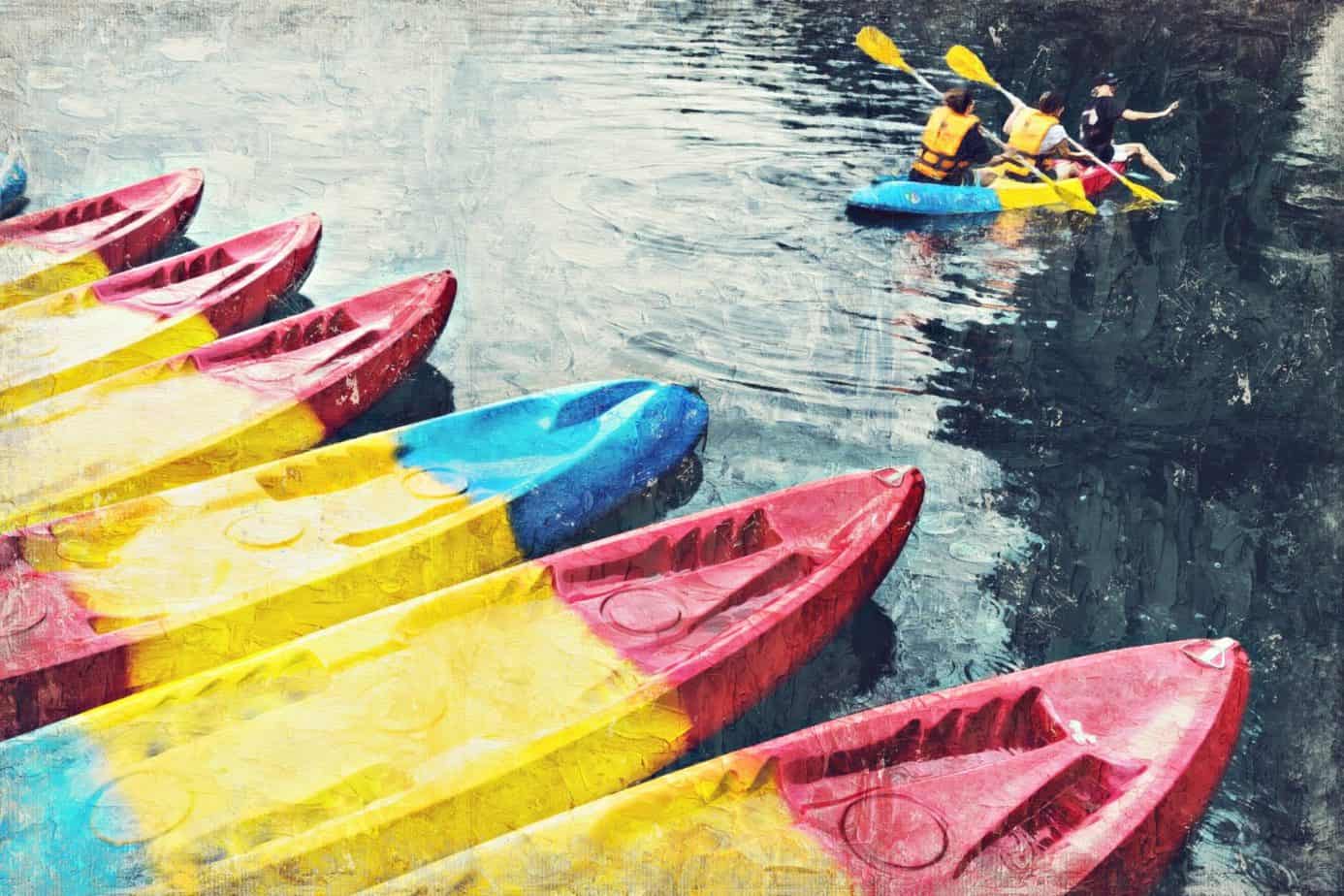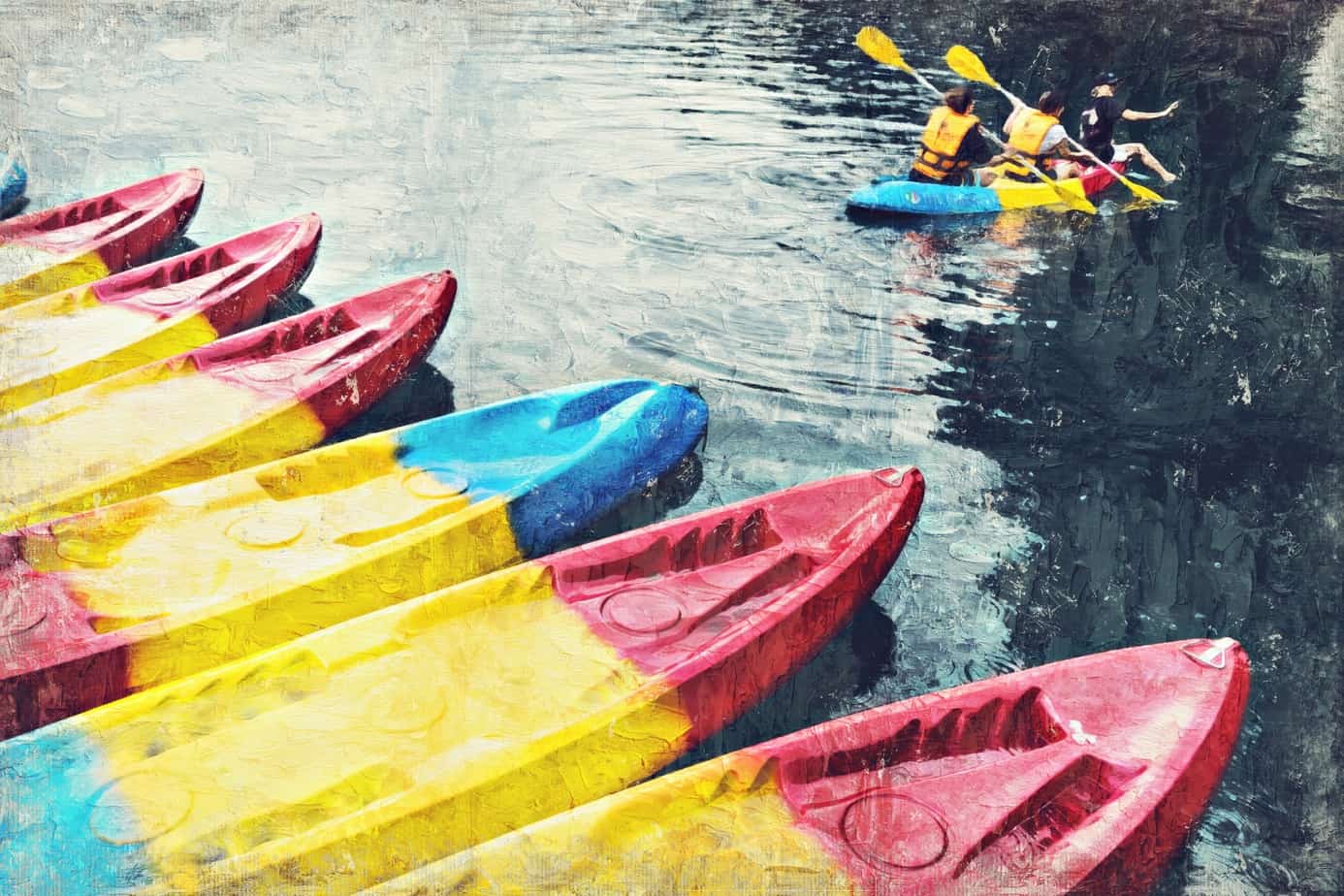 PC think4photop via Shutterstock
Before we highlight all of the ideas and designs we've found for you guys, let's talk about some tips and best practices that will help you paint (or repaint) your kayak properly the first time around!
Create The Space
First of all, you will need a workspace that allows you to paint your kayak efficiently. Ideally, that space is outside and in a covered area for rain and sun protection, but if it is inside, just make sure it is well-ventilated.
If you don't already have them, sawhorses are great for painting kayaks because they allow you to bring the kayak up to waist level so that you don't have to stoop when painting. Also, make sure you put some kind of tarp or drop cloth under the sawhorses to avoid permanent paint stains.
If you choose an outside workspace, keep in mind that some of these kayak painting ideas and designs require several 24-hour drying stages. So you will probably need 3-4 days of warm, dry weather to complete them.
Protect Yourself
Don't forget to wear eye protection and some sort of dust mask when you are preparing the surface of a kayak for paint. Also, some of you may want to wear gloves to avoid getting paint on your hands and, if you are working with a wooden kayak, to avoid splinters.
Prep The Surface
Whether your kayak is made of wood or a polyethylene material, you will need to prep the surface before simply applying a coat of paint. Wood naturally will accept paint more readily than polyethylene, but both should be lightly sanded to ensure better paint adhesion.
When sanding a kayak, it is best to use fine-grit sandpaper and keep in mind that you aren't trying to remove all of the old paint. In many cases (with polyethylene kayaks), this is impossible because the material itself is entirely the color of the kayak.
Either way, a rougher surface should be able to accept the paint of your choice better than a surface that isn't prepared. Once you sand your kayak, you will also need to wipe it down to remove any dust or debris that has accumulated on the surface.
Outline Twice, Paint Once
The more intricate the design you intend to use, the more careful your preparation should be. You should be incredibly careful to outline your design before you begin applying paint, and this is especially true for designs that use darker-colored paints.
If you start with a white base layer of paint, you can even use a thin sharpie or a pencil to sketch your design on the kayak. Then, you can paint over the original sketch to ensure more accuracy and a finish that you are happy with.
Let It Dry Completely
Marine-grade paint is the best choice for painting kayaks because of its ability to withstand repeated exposure to water. That said, we recommend allowing your paint job to dry for at least 48 hours before you start using your kayak again.
Kayak Painting Ideas & Designs
1. Camouflage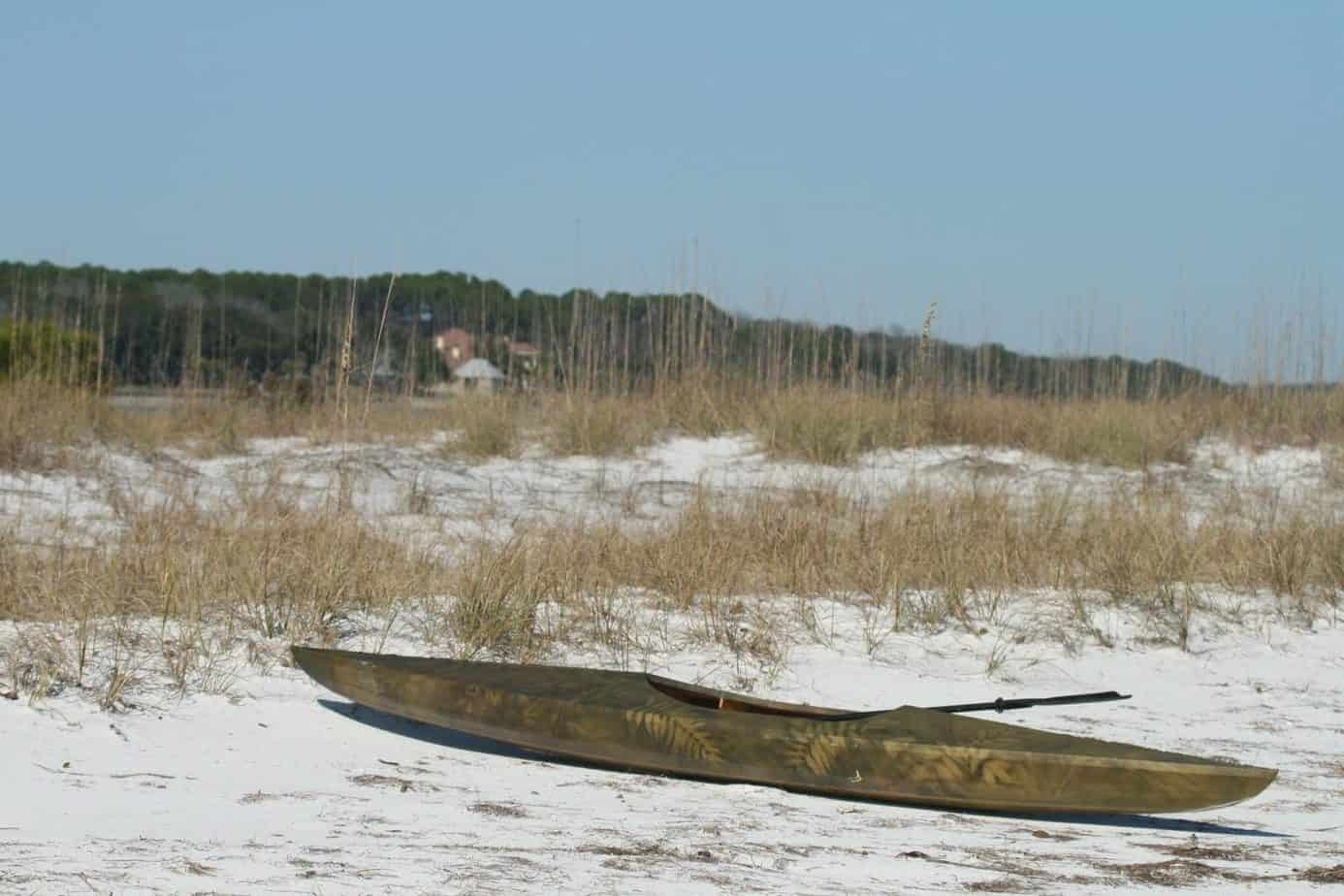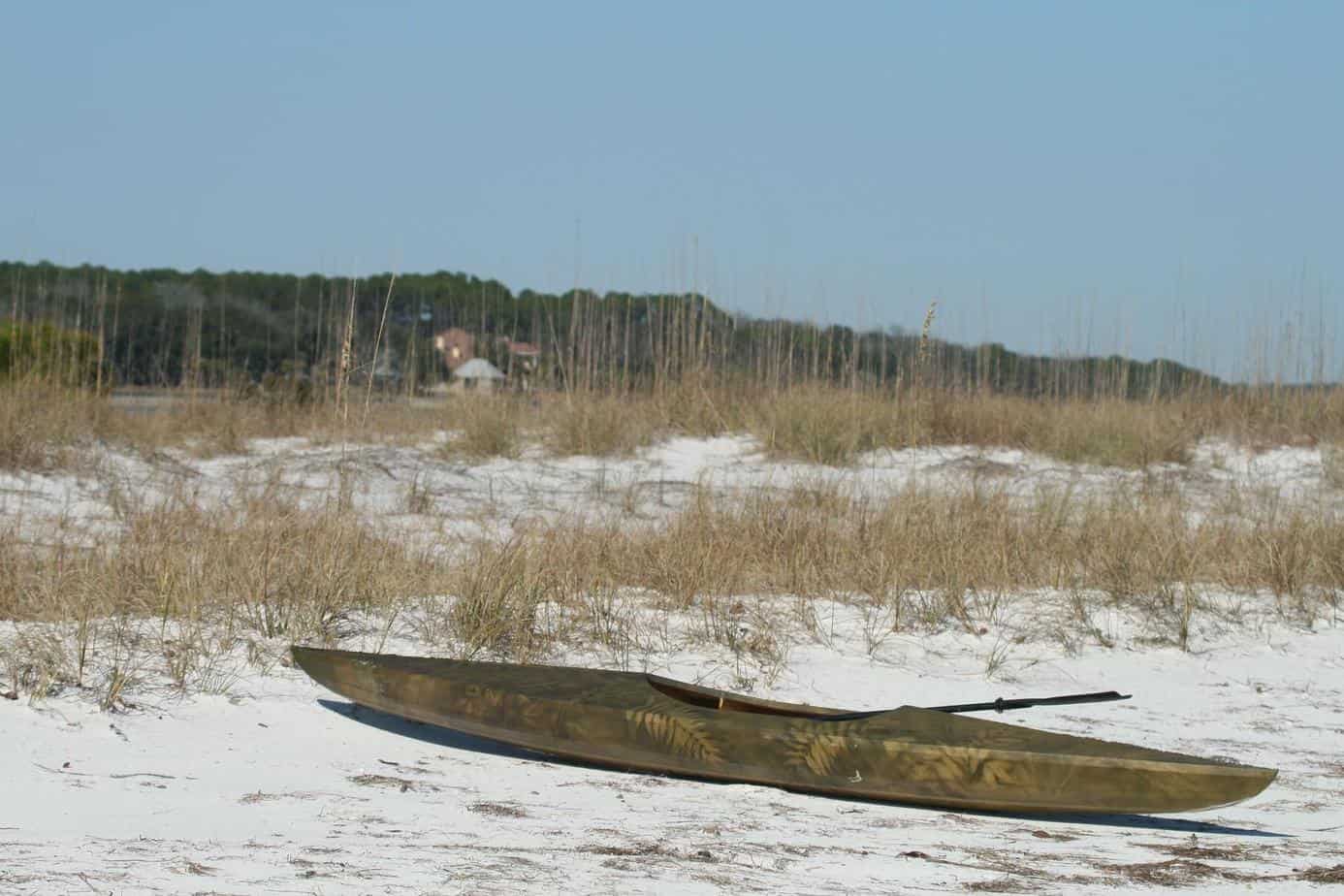 PC Jake via Flickr
This idea is a really popular one for kayak anglers and hunters. Instead of trying to sneak up on your prey with one of those especially bright-colored kayaks you typically see on the water, camouflage your kayak for stealth.
Painting a camouflage kayak requires the use of some sort of pattern that you can then lay on top of your kayak. From there, many folks use dark brown or forest green spray paint to finish their unique camouflage design.
2. Sharpie Stencils
PC Kelsey Draus via Pinterest
While you don't have to get as exotic as the photo above suggests, using a sharpie to stencil a design onto a painted kayak is an affordable alternative to using a larger amount of marine-grade paint.
Just keep in mind that this design will really only be appropriate for kayaks that are currently only a single color. It can be done on multicolored or gradient kayaks, but you will likely want to apply a base coat of a single-colored paint and allow that to dry before stenciling on your sharpie design.
3. Ducks on a Pond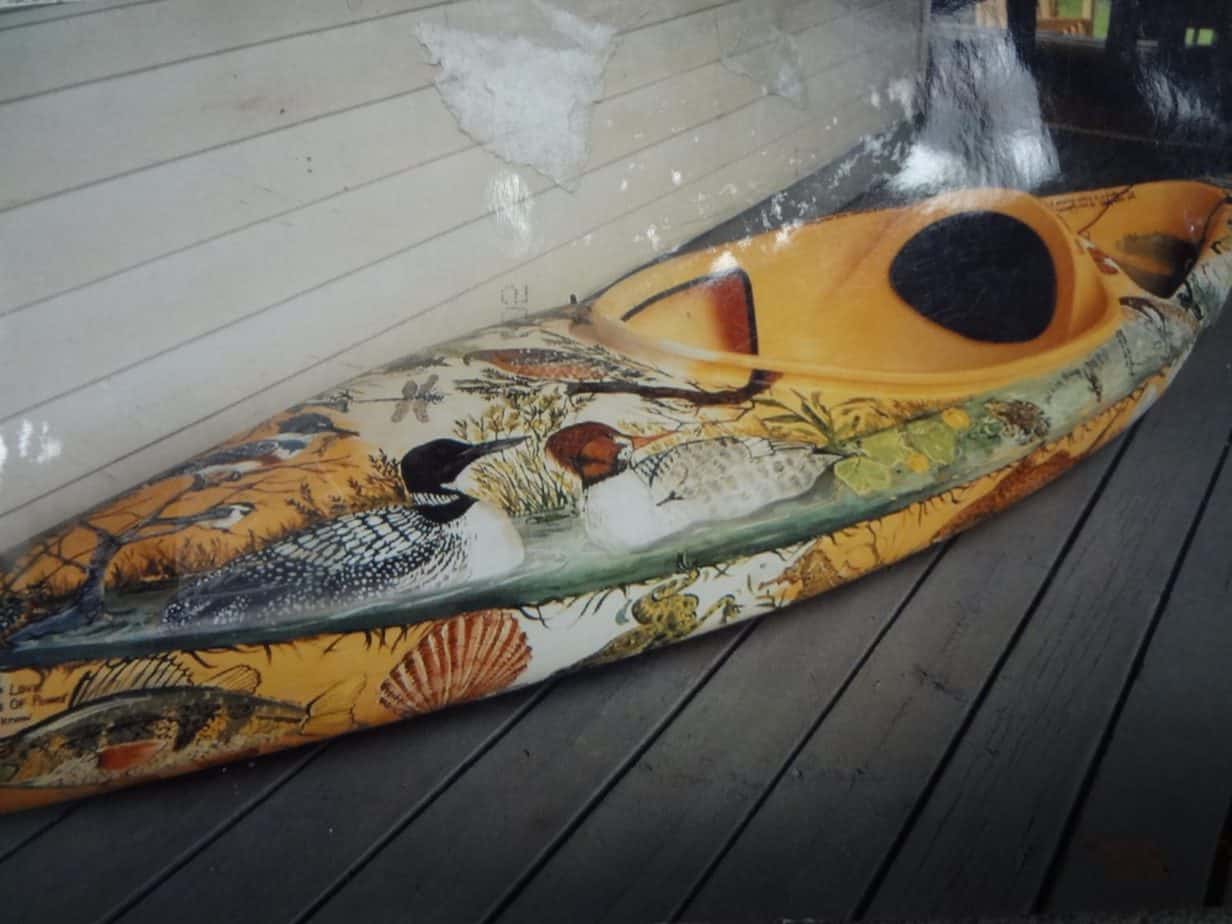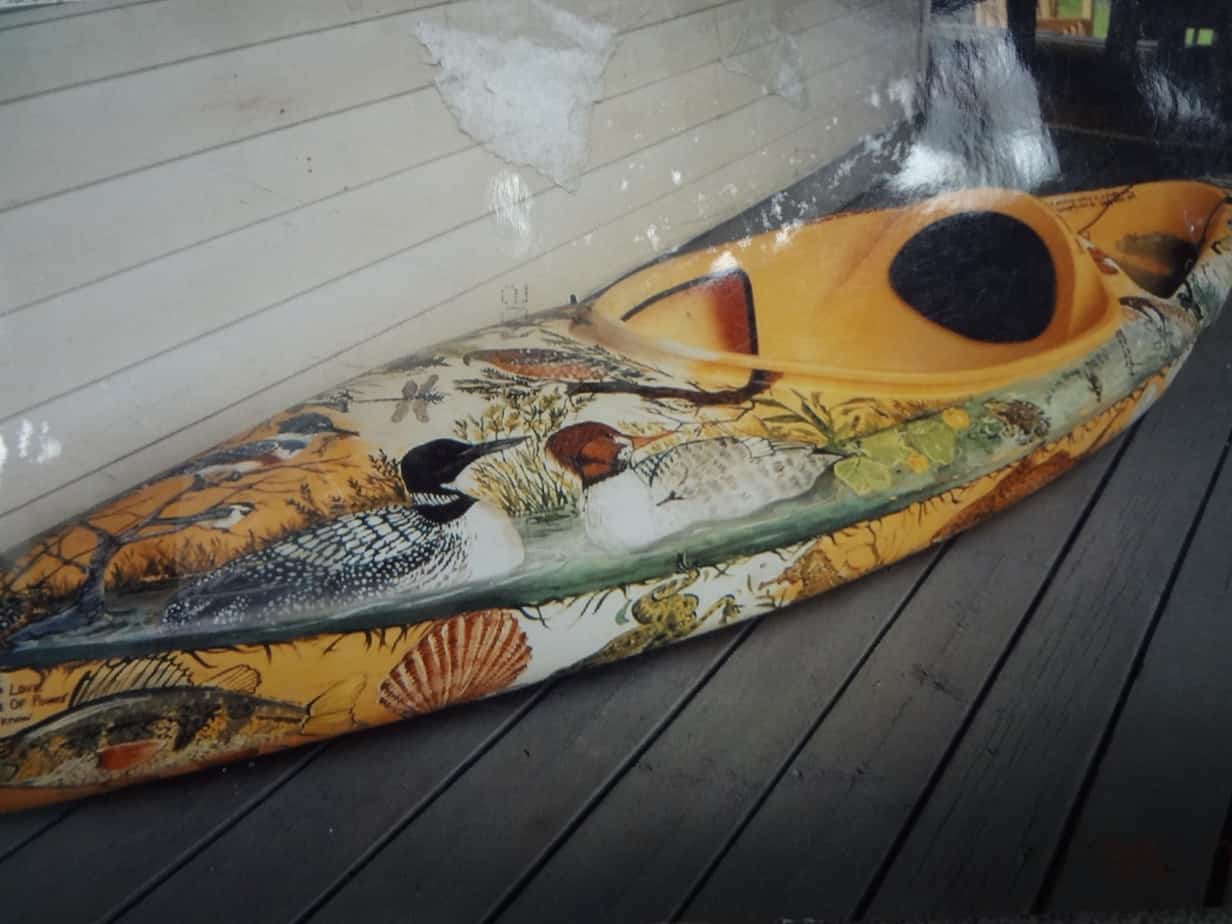 PC Kim Bohn via Pinterest
If you really want to get creative and you have some painting skills (plus time on your hands), try designing and creating a naturescape for the exterior of your kayak. While we like to call this one 'Ducks on a Pond', you can customize your design to reflect your immediate landscape.
This design will probably require a bit more time than some of the others on our list. That said, you can let your creativity and imagination run wild with this kayak design and it will allow you to showcase your artistic skills every time you are on the water once it is finished.
4. Superhero Design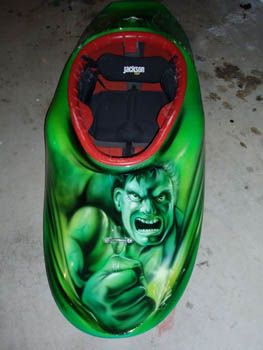 PC Airbrush.com via Pinterest
Airbrush painting is another idea for painting the faces of your favorite cartoons or superheroes onto your kayak. We can only imagine the kind of Class IV and V whitewater that the owner of this Hulk kayak is going to run.
Of course, you are not limited to cartoons or superheroes if you try a design like this one. You can literally airbrush the face, image, or likeness of any character or entity that suits your personality onto your kayak.
5. Monochrome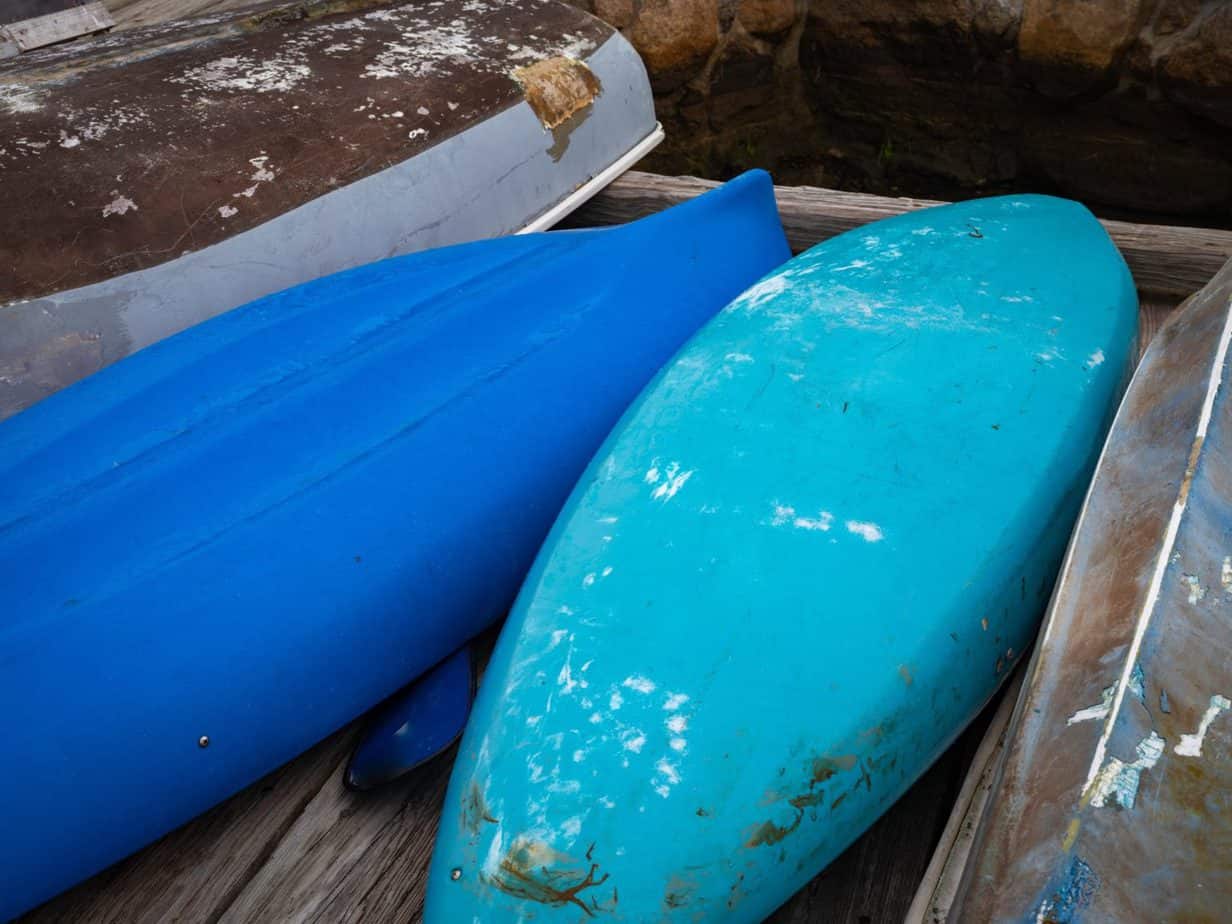 PC NayaDadara via Shutterstock
Yes, it is indeed a little bit more boring when compared to some of the other ideas and designs, but you can always just change the existing color of your kayak to a different shade if yours is worn or you are simply tired of it.
For anglers and hunters that don't want to go through the trouble of camouflaging their kayak, changing the color from a bright yellow or orange to a dark forest green can often be enough to provide more stealth when hunting and fishing.
6. The Sunrise Fade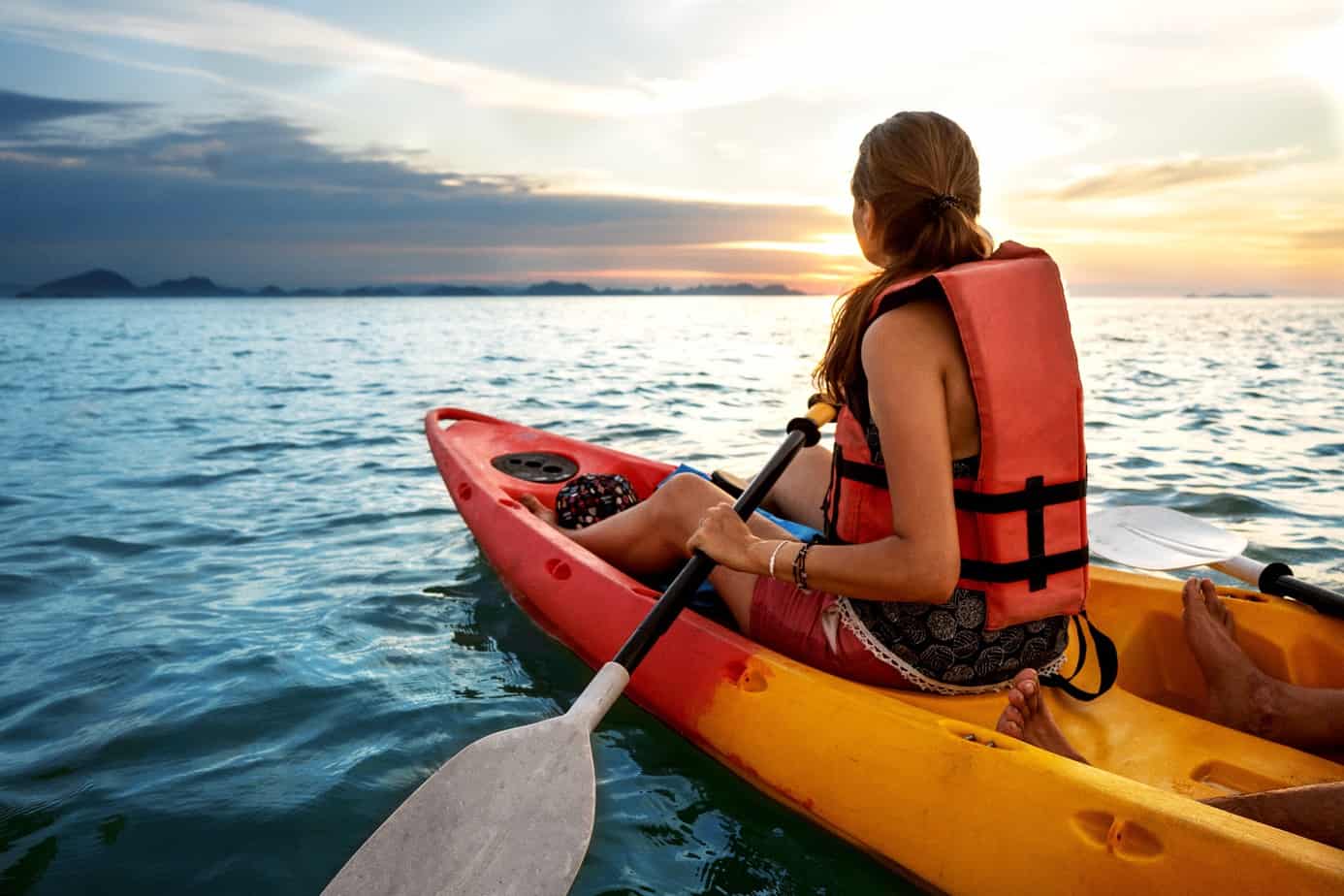 PC Rock and Wasp via Shutterstock
The sunrise fade is actually a popular color scheme for many manufactured kayaks from retailers like Ocean Kayak. That said, you can recreate this design yourself using the right combination of yellow, orange, and red.
The idea is to gently fade the colors from one to the next running either from the bow of your kayak to the stern (or vice versa). The result will be a kayak color scheme that gently reminds you of the benefits of waking up early to get on the water before everyone else.
7. Racing Stripes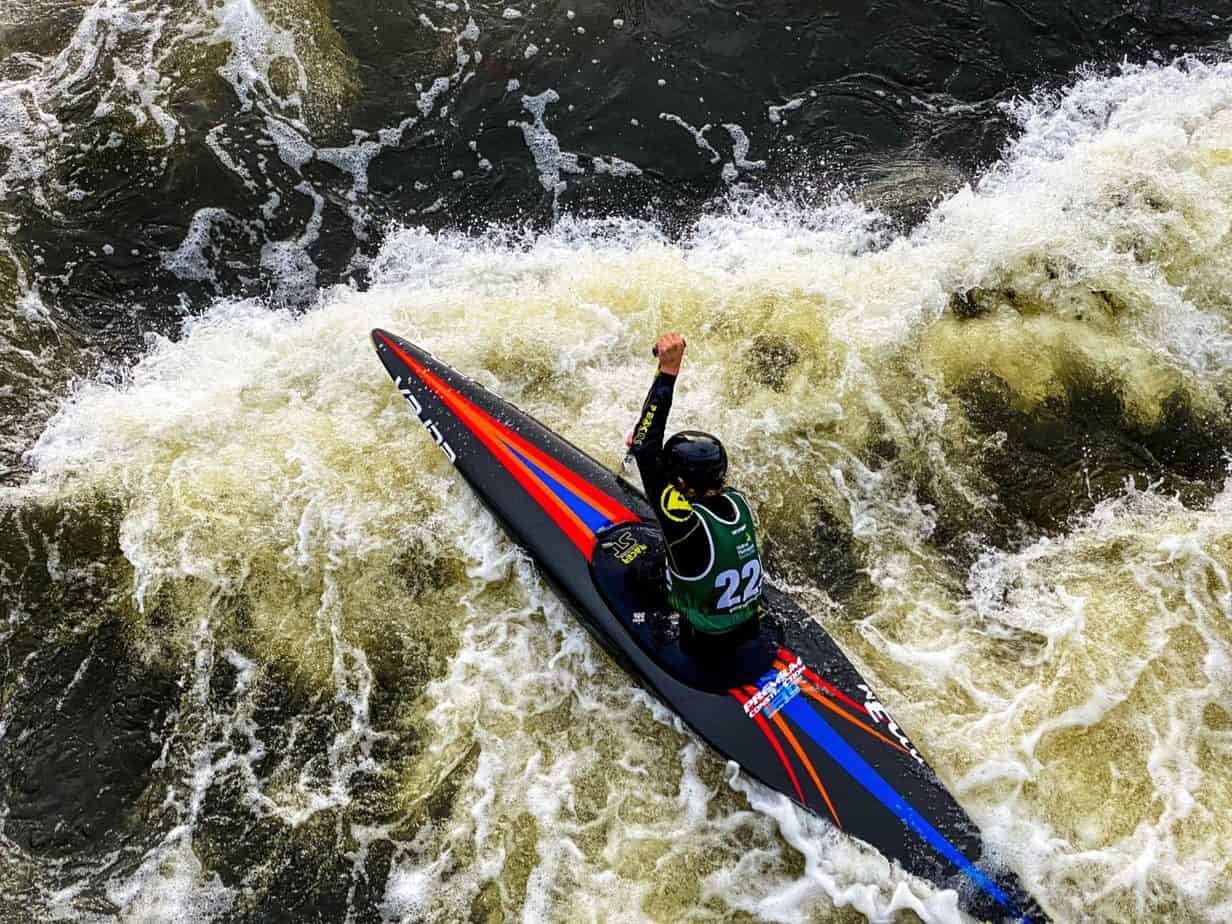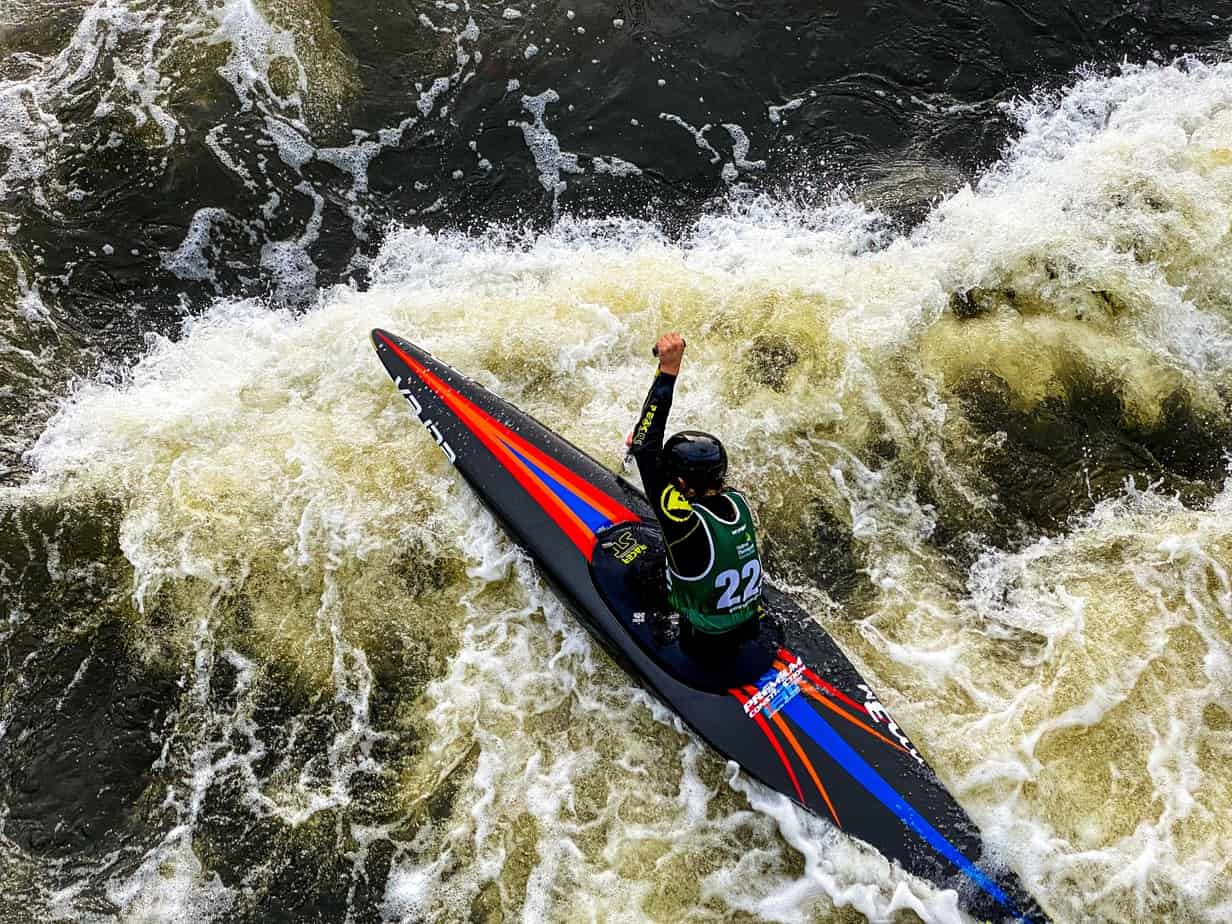 PC Ben Wicks via Unsplash
You will find racing stripes on many of the best whitewater kayaks used by extremely competitive kayakers. Not only will it make your kayak feel faster, but it also helps onlookers differentiate your kayak from the competition.
Painting stripes onto your kayak will require you to use painter's tape to carefully tape off the rest of the kayak and leave only the stripe that you want to paint exposed. As a result, this design idea can take a little bit more time and precision, but the look is definitely worth it when all is said and done.
8. Blackout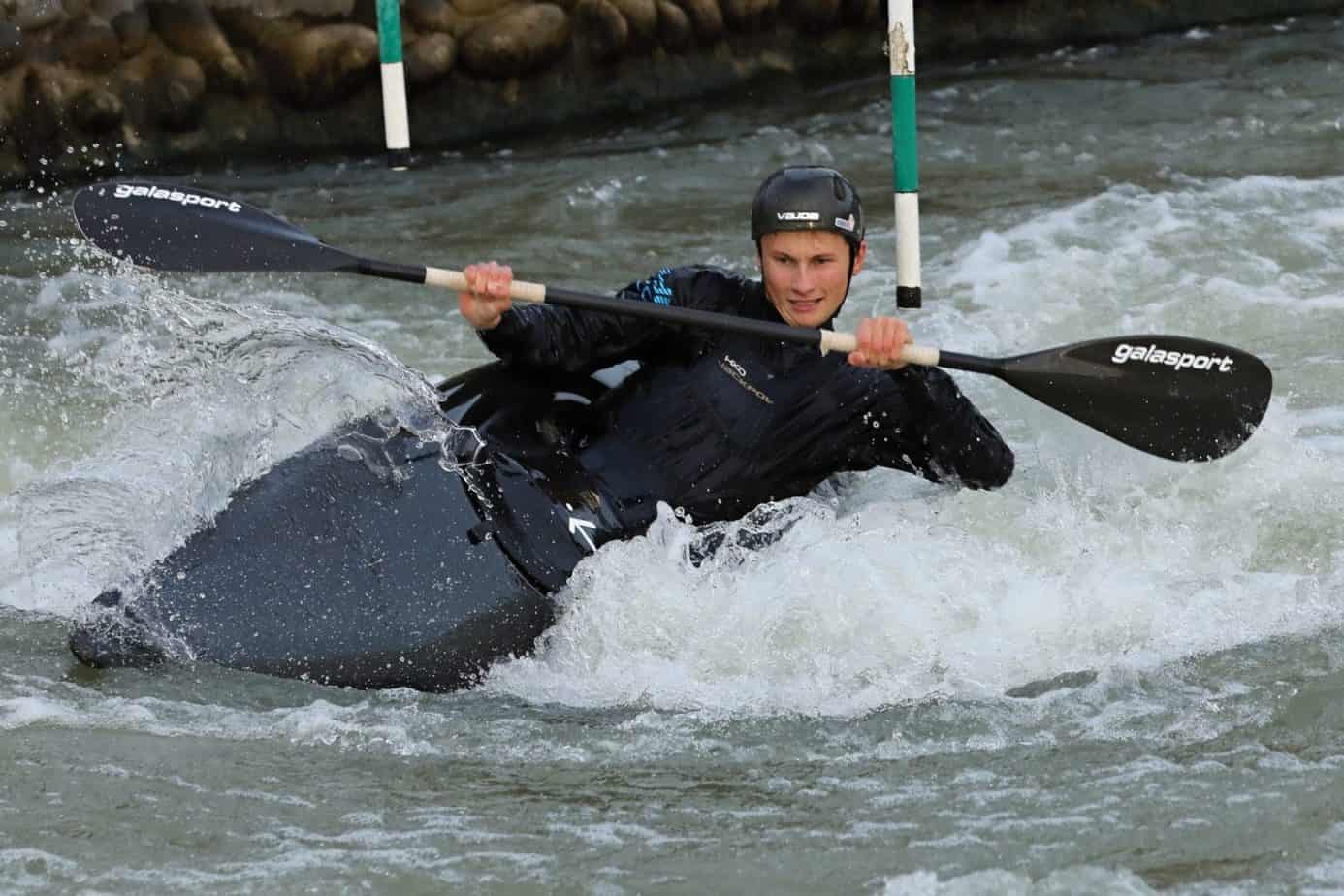 PC Eduard Labár via Unsplash
If you really want to keep things simple, you can just go ahead and paint your entire kayak black. There's not much to it and it is also a great choice for covering up the deteriorating paint on an older kayak.
Just remember that black absorbs heat more effectively than other colors in the spectrum. So this might not be the best choice for kayakers in extremely hot climates (while it can also be a great choice for cold-weather kayaking!).
9. Stars and Stripes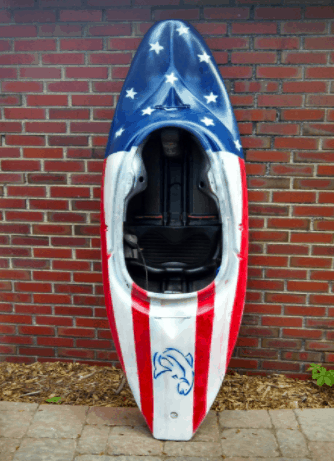 PC RedPaddle via Mountainbuzz.com
This kayak painting idea will allow you to show your national pride (if you are a proud U.S. citizen, of course) and it will also challenge your painting skills. As you can see, the easiest method will be to layout your design with stars at one end and stripes at the other.
Just like with racing stripes, you will need to use quite a bit of painter's tape for this design and you will need to be careful to allow the paint to thoroughly dry before removing the tape and applying new strips for the next color.
You will probably also need a star-shaped stencil to adhere to the kayak to keep the stars white while you paint the blue around them.
10. Whale Skeleton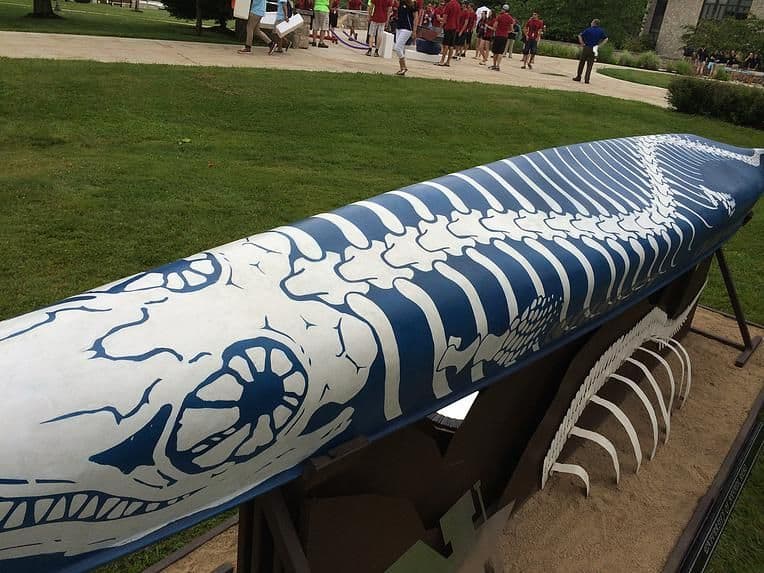 PC MrBamunz via Pinterest
This is easily one of the most intricate kayak painting designs on our list. As you can see, the kayak will first need to be painted with a full coat of white paint to provide a base layer for the design to come.
Then, this painter designed an incredibly intricate paper or tape stencil in the shape of the whale skeleton. By placing that stencil on the kayak and then adding a layer of blue paint where the stencil was not covering, the intended effect was achieved.
11. Australian Pride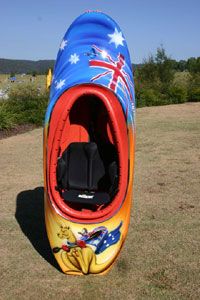 PC Shawn Herrington via Pinterest
Once again, this design may only be intended for our Australian readers, but it is super cool and intricate. Again, it will most likely require an initial base coat of white before you paint the additional colors on top.
Appropriate cut-outs will need to be applied to the locations where you want to keep white for the stars and the stripes on the flag. From there, this one will require some hand-painting of the characters at the stern, should you choose to include them.
12. Titanic VI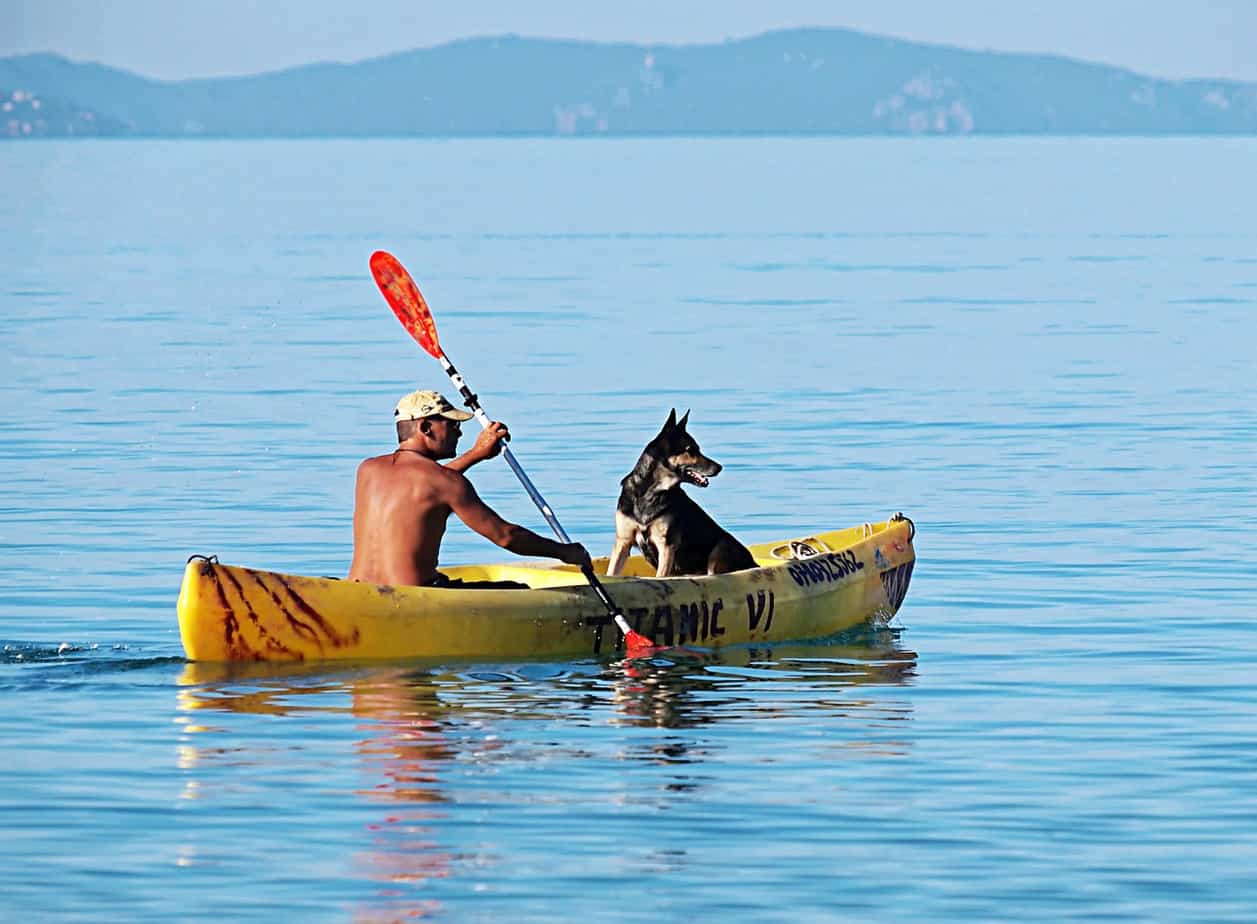 PC Kevin Phillips via Pixabay
We are not quite sure what happened to Titanic II through Titanic V, but many kayak owners will affectionately name their kayaks just like you would name a sailboat or yacht. It's super easy to paint black lettering onto a bright-colored kayak.
You can use a paper stencil if you want to create a more precise look, or you can freehand it if you are trying to save time. Ultimately, you'll get a named kayak that will stand out from all the others on the beach and help you keep track of it.
(Plus, people are undoubtedly going to ask you about the origins of your kayak's name!).
13. Decals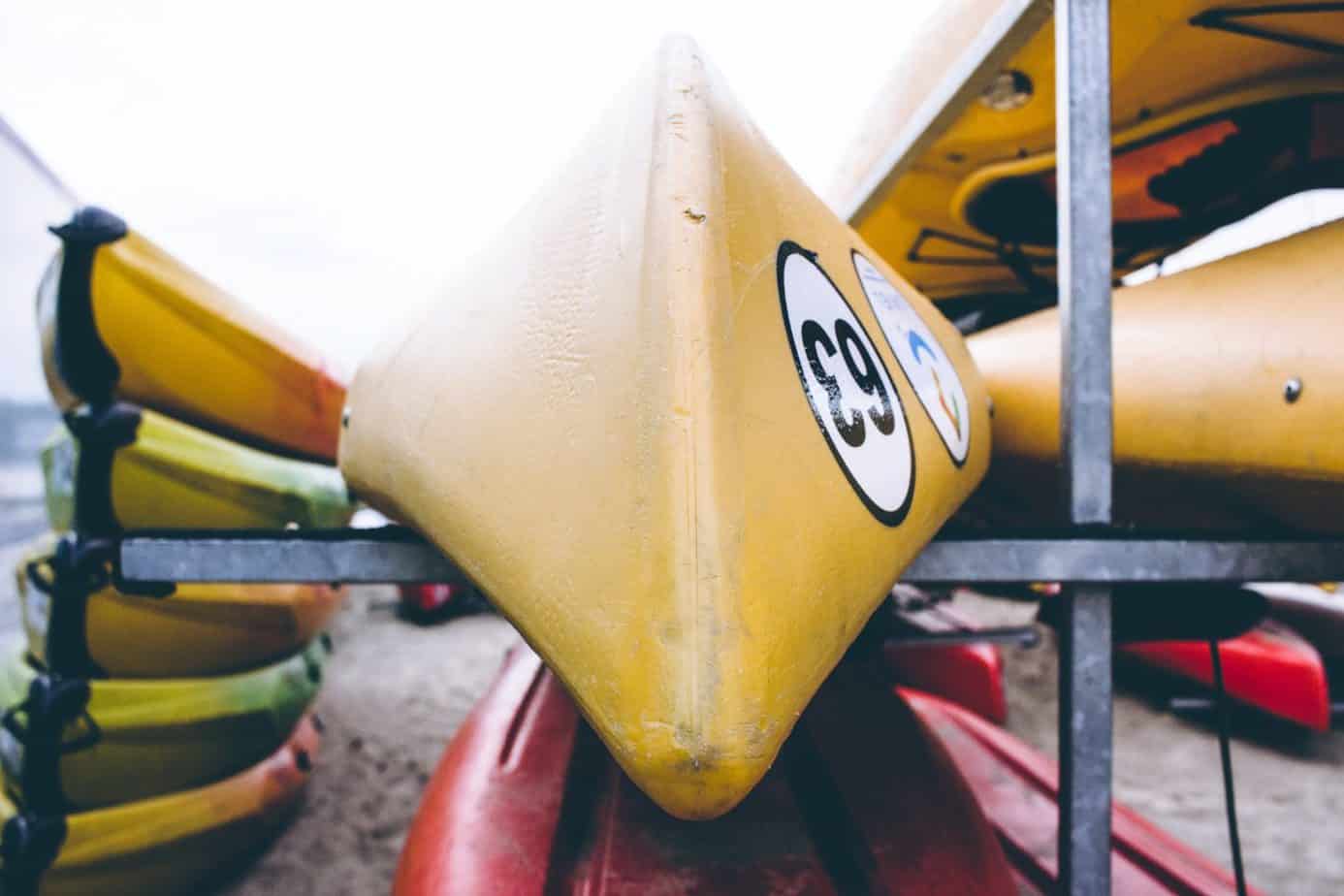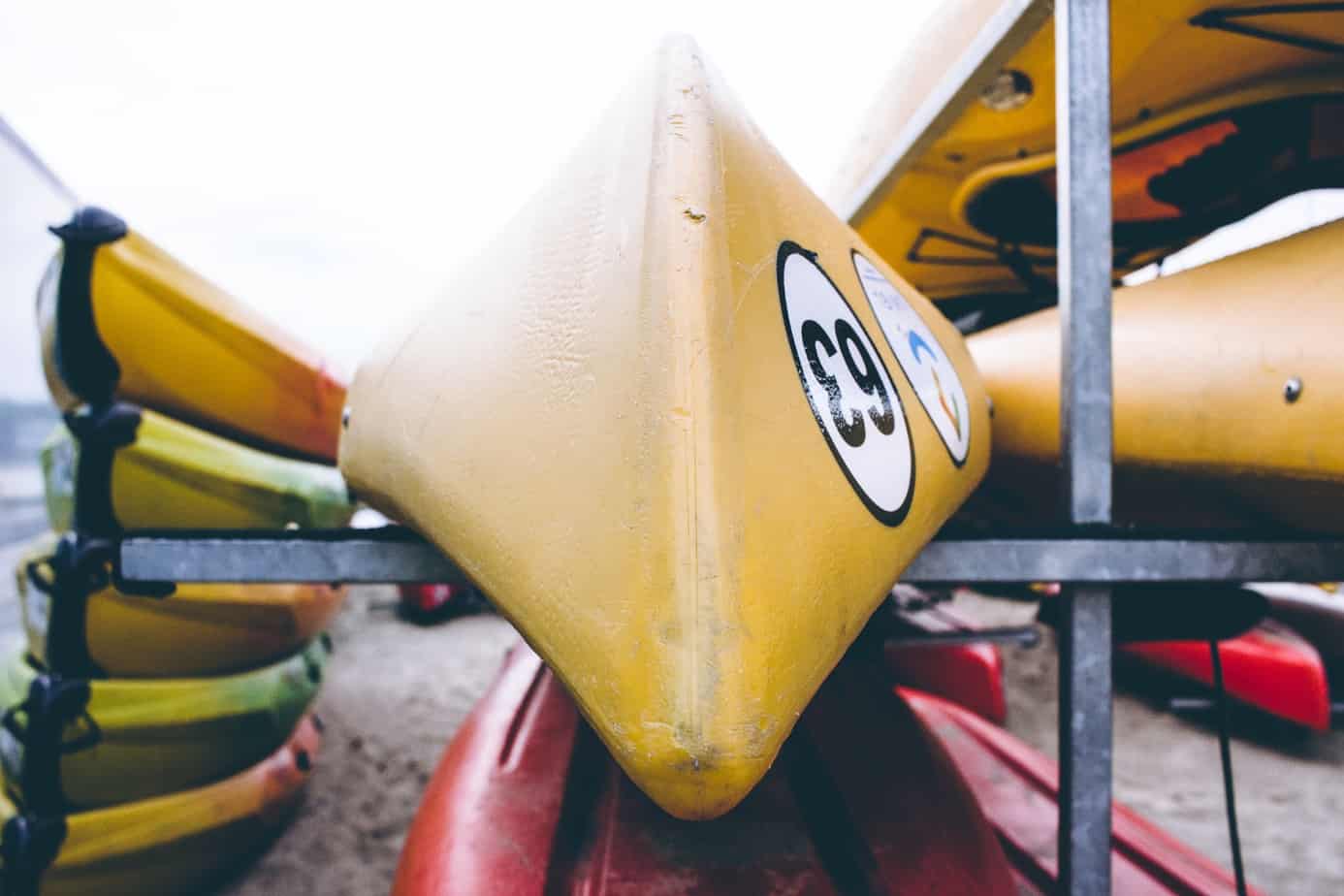 PC freestocks.org via Pexels
This idea is actually an alternative to painting altogether. Instead of worrying about paint and roughing up the exterior of your kayak to accept paint, you can apply stickers or decals to customize your kayak.
A great way to do this is to go around and collect stickers from local businesses or service providers. If you sell your pitch correctly, some may even award you with free decals because of the natural advertising they will receive every time you go out for a paddle.
14. Numbers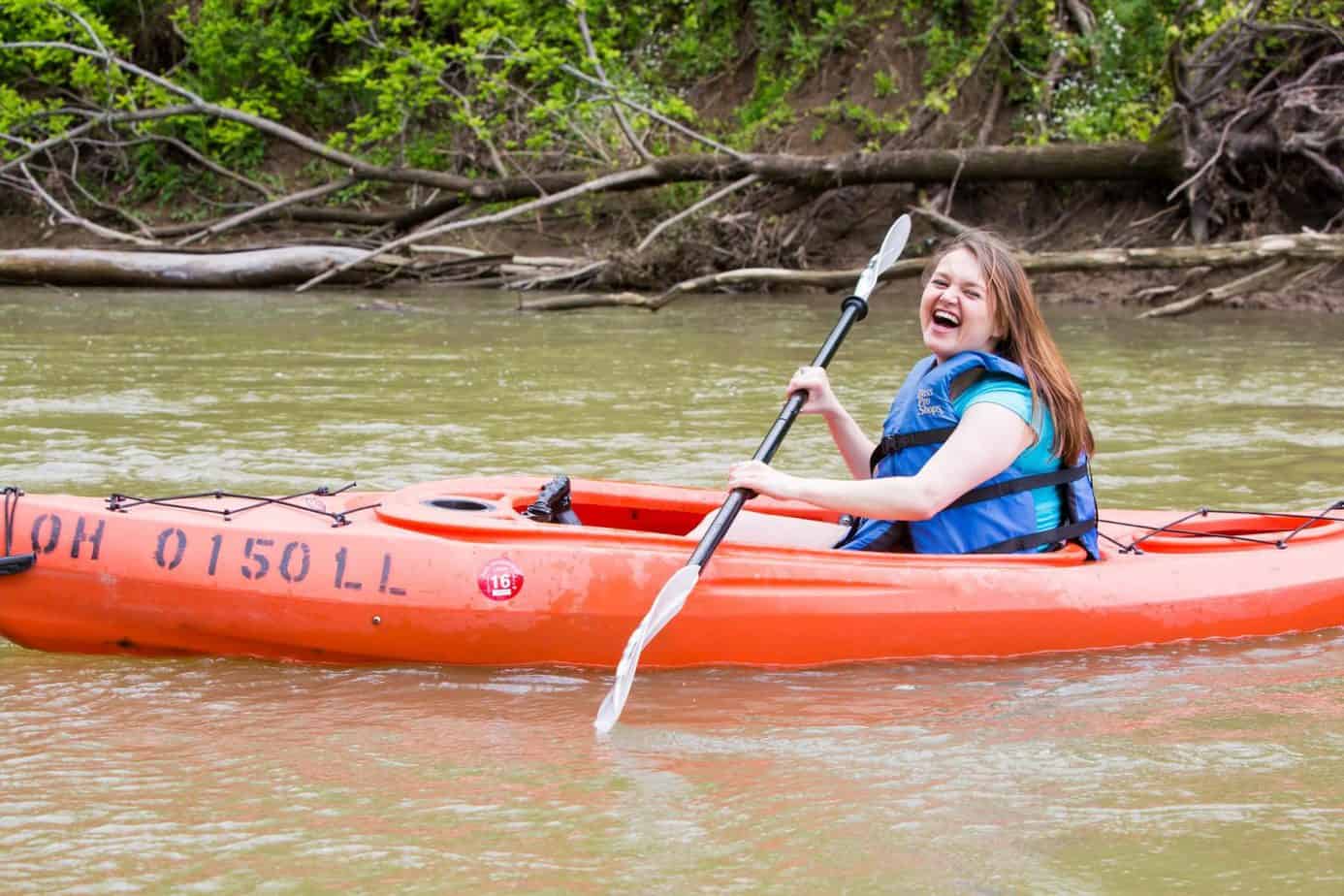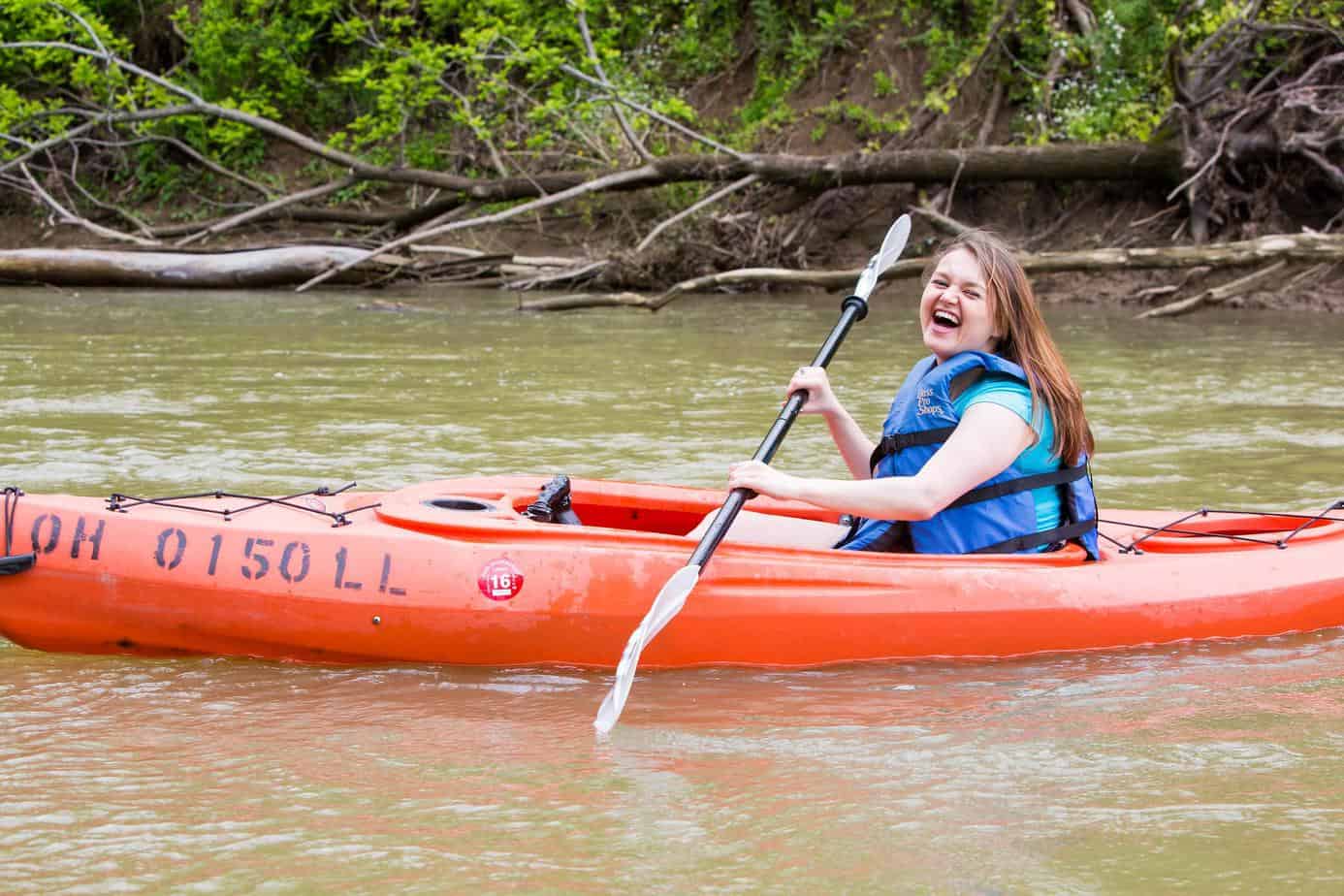 PC FarFlungTravels via Flickr
Another simple alternative to a fully customized paint job is to put a unique set of numbers along the gunwale of your kayak. This technique is used by many rental companies to help keep track of a larger kayak inventory.
If you store your kayak in a shared storage area at a vacation home, for example, painting numbers onto your kayak will help you avoid confusing your kayak with others that look alike. Plus, it can help authorities identify your kayak if anyone tries anything malicious while you are away.
15. Wooden Prestige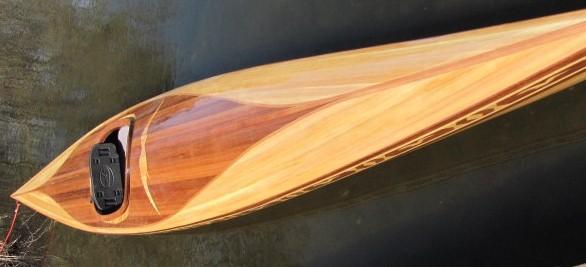 PC Pat Taylor via Flickr
If you have a wooden kayak, creating a unique painting design will usually require the use of two different stains, instead of paint. As you can see above, the owner of this kayak used a darker stain around the cockpit and a lighter stain at the bow and stern.
Plus, there is also the unique shape of some type of marine bird just in front of the cockpit, which likely had to be taped off while the dark stain was applied. It may require more work than some of the other painting ideas, but man does it look good!
16. Wood Inlays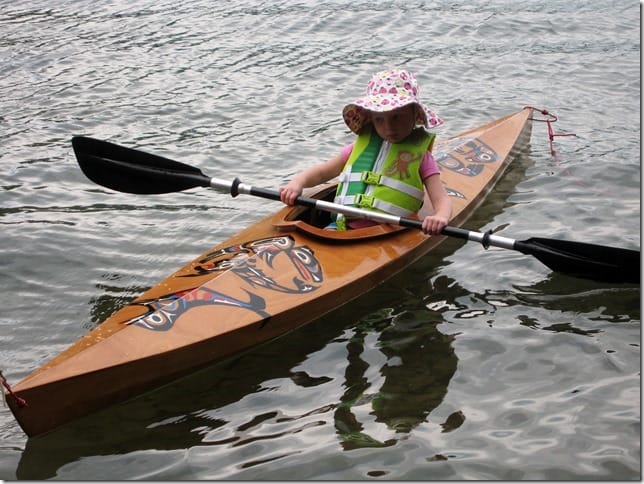 PC George T Mermagen via PygmyBoats.com
Another cool painting idea for wooden kayaks is wooden inlays. These are wooden shapes or painted cut-outs that are installed into the wooden kayak while it is being constructed.
Judging from that description alone, this idea is really only relevant to those currently constructing their own wooden kayak or paying for a skilled kayak craftsman to construct one for them.
17. The Pulse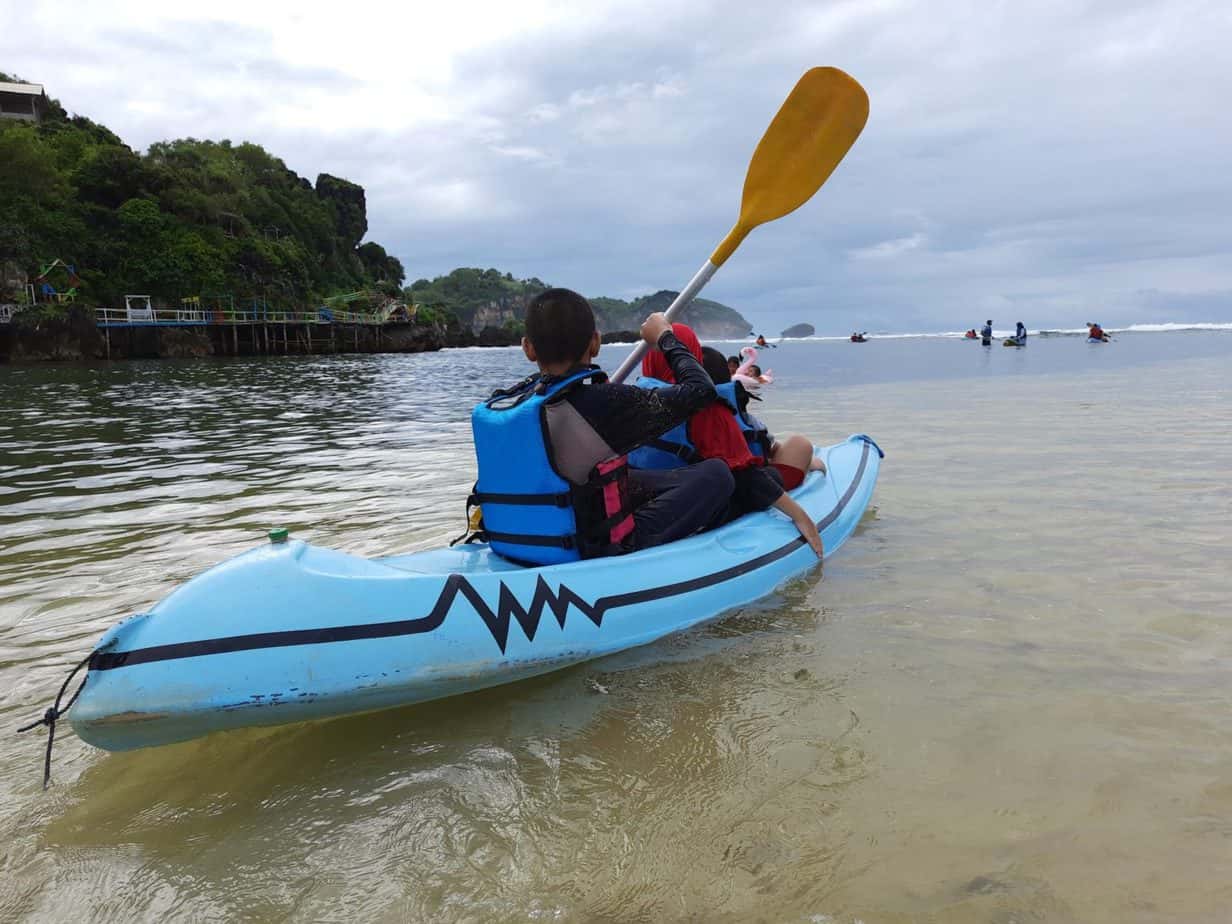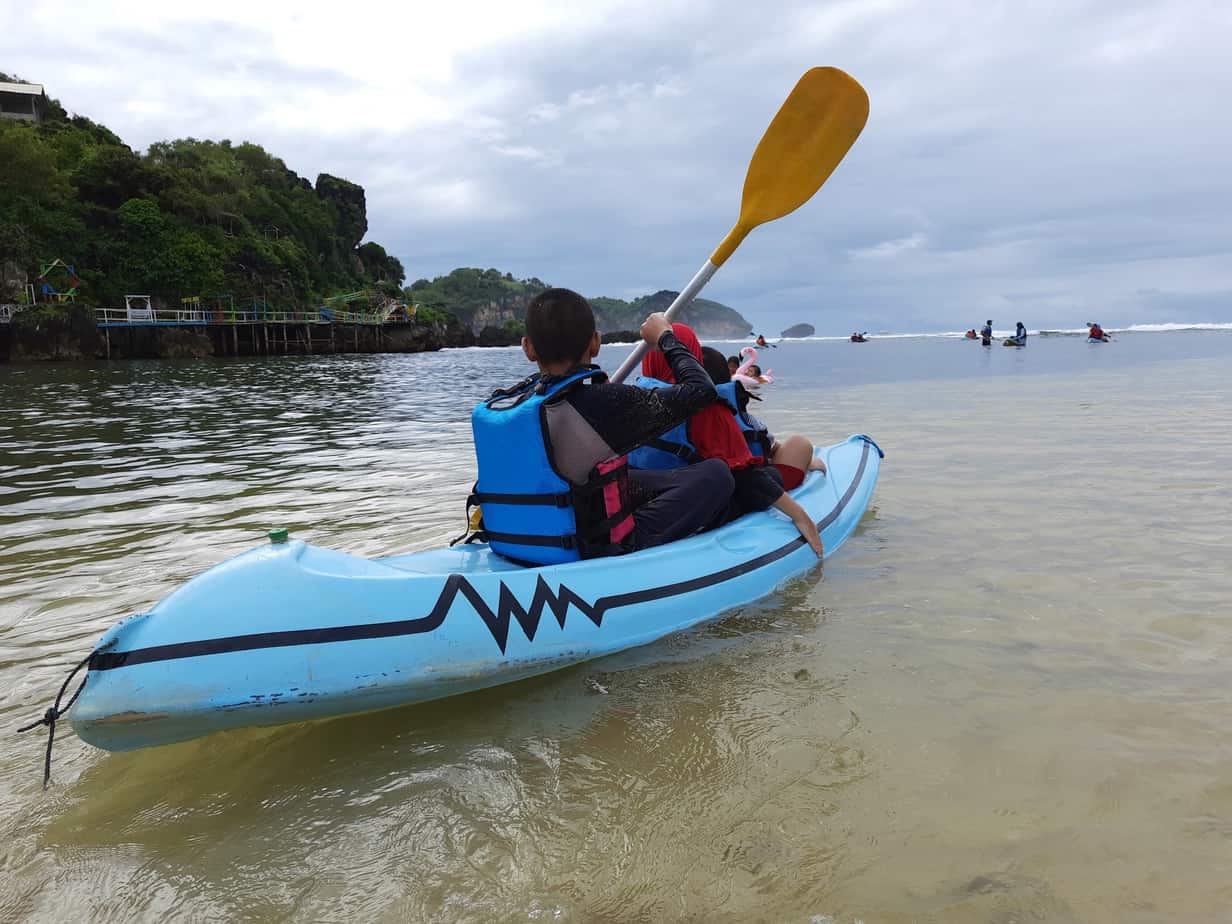 PC Haryo qb via Shutterstock
This kayak paint job isn't the simplest on our list, but it is definitely in the top five. The owner of this kayak simply painted a black stripe around the gunwales of the kayak with a heartbeat rhythm towards the stern.
If you are using a medium-thickness brush with marine-grade paint, you may be able to paint this stripe on carefully without doing any taping. If you prefer spray paint, however, you will definitely need to use painter's tape to get the desired effect.
18. Multicolored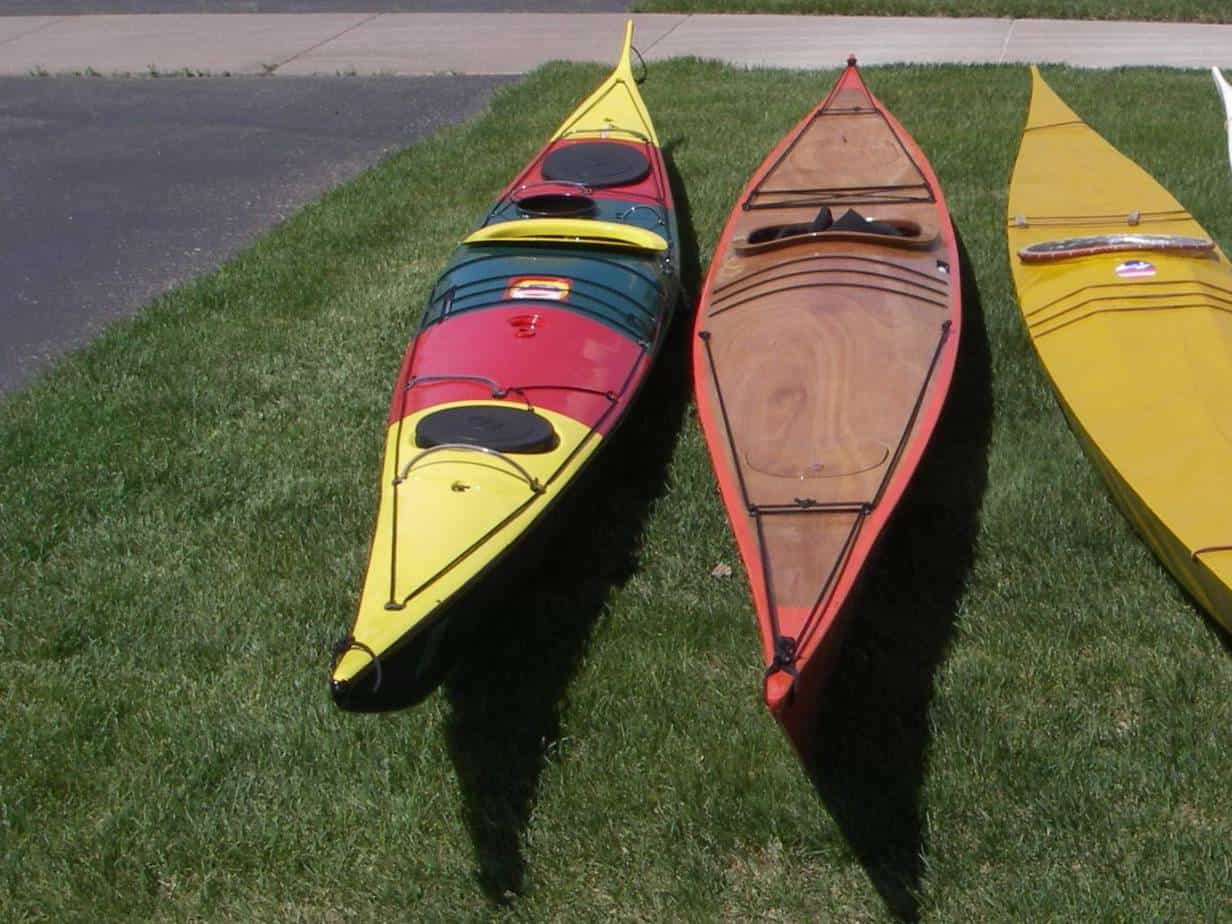 PC Paatit via Paddling.com
If you can't decide on a single color for your kayak's paint job, you could always go with a striped, multi-colored design as you see on the kayak on the left. This one will also require painter's tape and you should also consider getting two small tarps or canvas sheets.
If you tape off the exact lines where the colors will change, you will be able to use the sheets or tarps to cover the rest of the kayak while you paint. Of course, you may need to remove guy lines and hatch covers if you don't want to paint them the same color as the kayak around them.
19. Shark Attack
PC Fernando Rodriguez via Pinterest
While this image may not conjure up the most reassurance for owners of the best ocean fishing kayaks, kayak racers may just love it. Use the shark attack design to intimidate your fellow competitors in your next long-distance kayak race.
The easiest way to execute this painting idea will be to give your kayak an initial base coat of white paint. From there, use a small brush with black and red paint to paint on the details of the shark head at the bow!
20. Vintage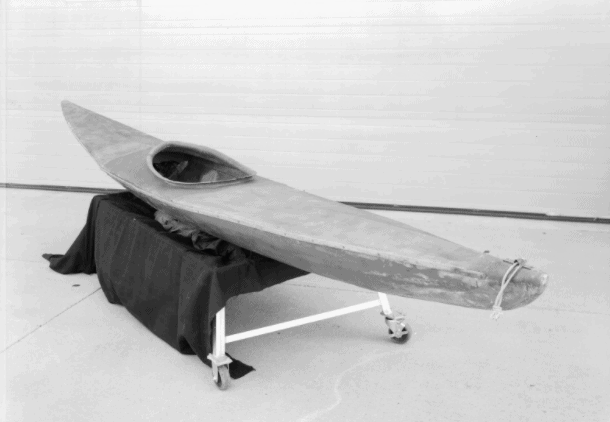 PC Grand Canyon National Park via Flickr
A vintage kayak paint job is actually easier to achieve than you might think. The idea here is to actually make your kayak look older than it really is, and it's a popular idea for travelers who want to make their kayak look like it's not worth a second glance.
If you decide to use a vintage kayak paint job as a theft deterrent, you can use spray paint of your desired color to create an uneven look. Come back with fine-grit sandpaper to remove more paint in certain areas to give your kayak a scuffed or used appearance.
21. All White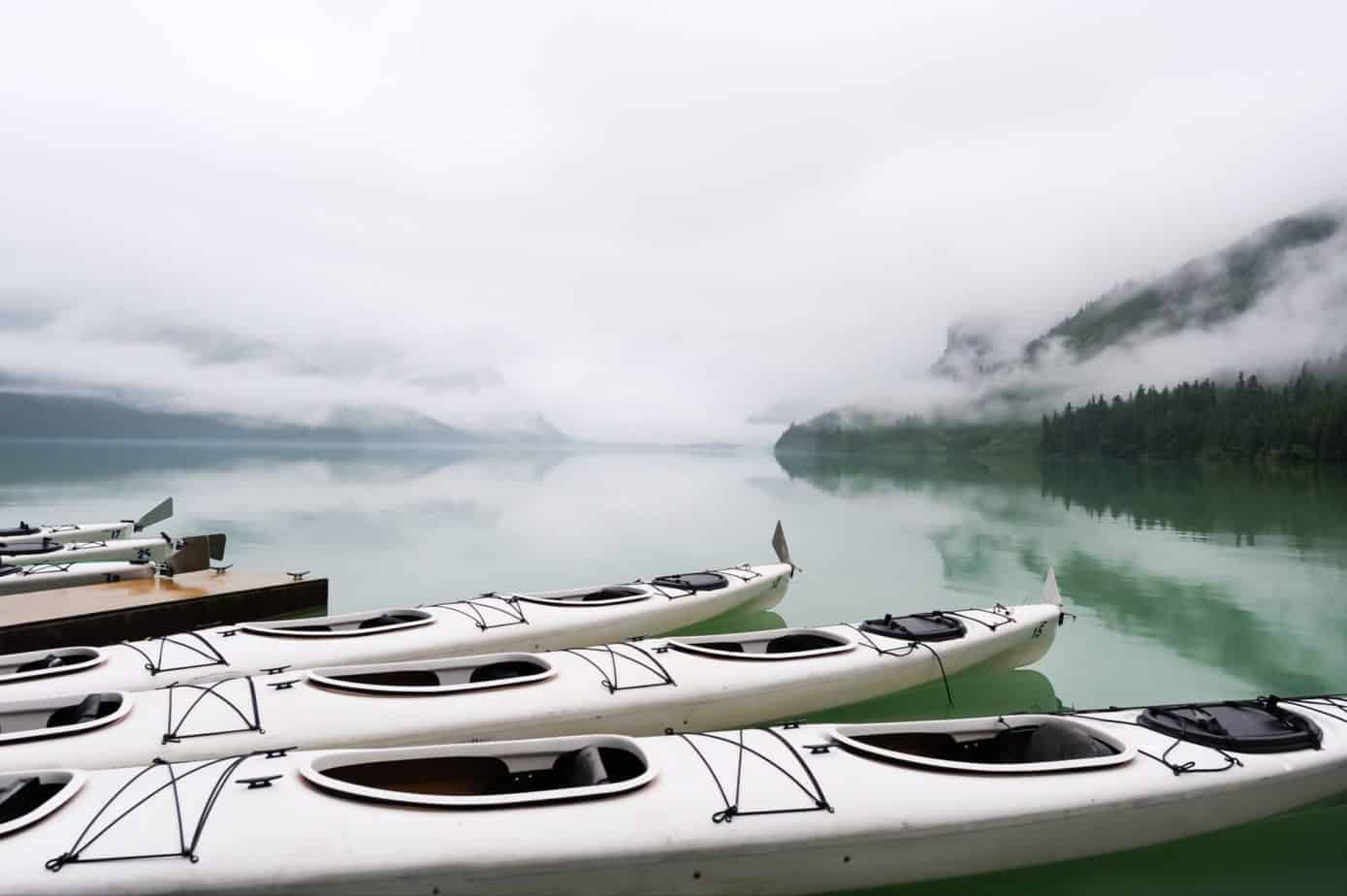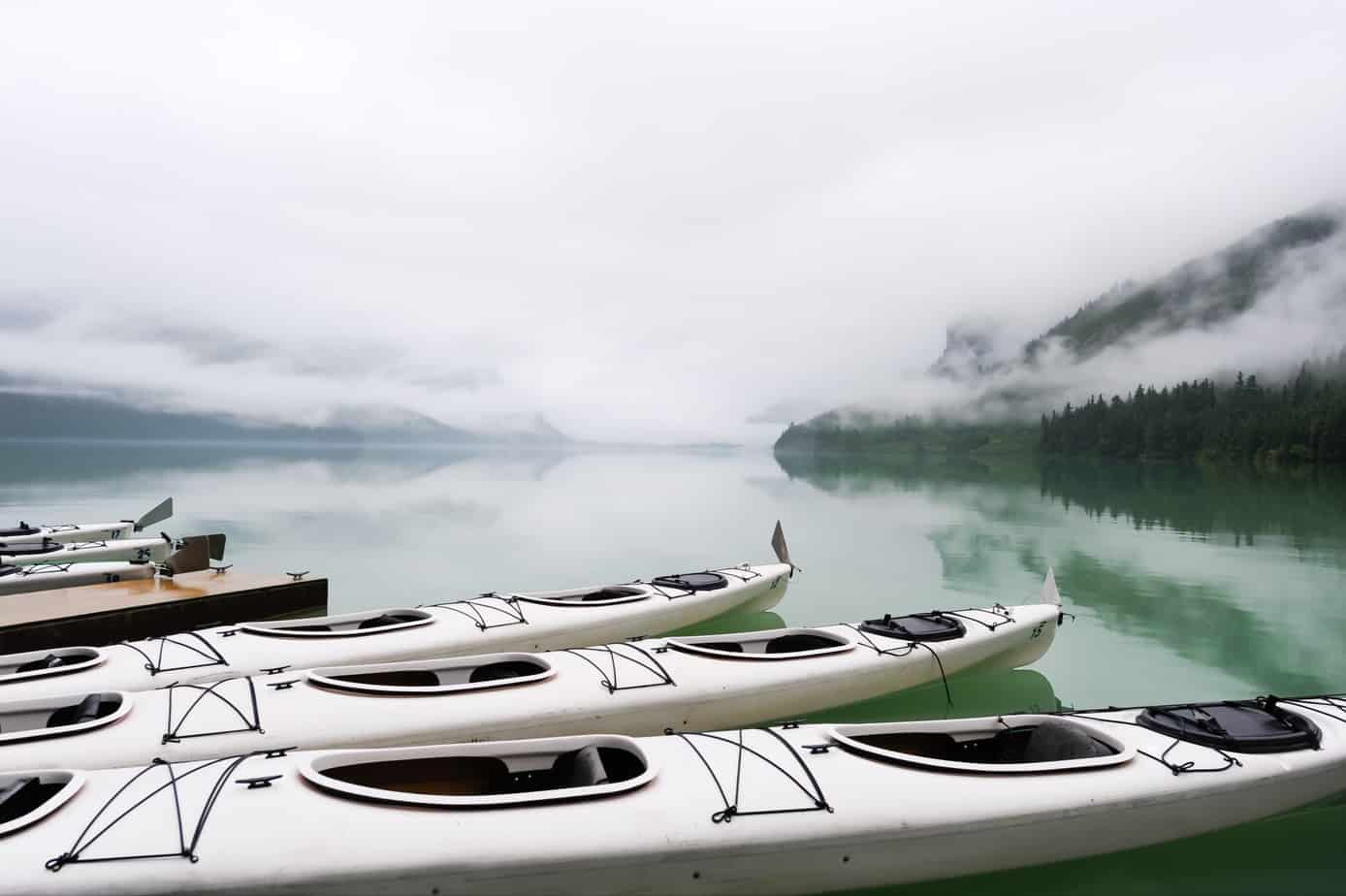 PC Francoise de Valera via Shutterstock
The opposite of the blackout painting idea would be going with an all-white design. This paint job will be as easy as the blackout or monochrome choices and it will make your kayak reflect more sunlight.
If you have a sit inside kayak, this will help to keep you cooler in hot climates. Because of the reflective nature of a white kayak, however, you may need to consider getting a pair of full-coverage sunglasses that protect you from UV rays from above and below.
Final Thoughts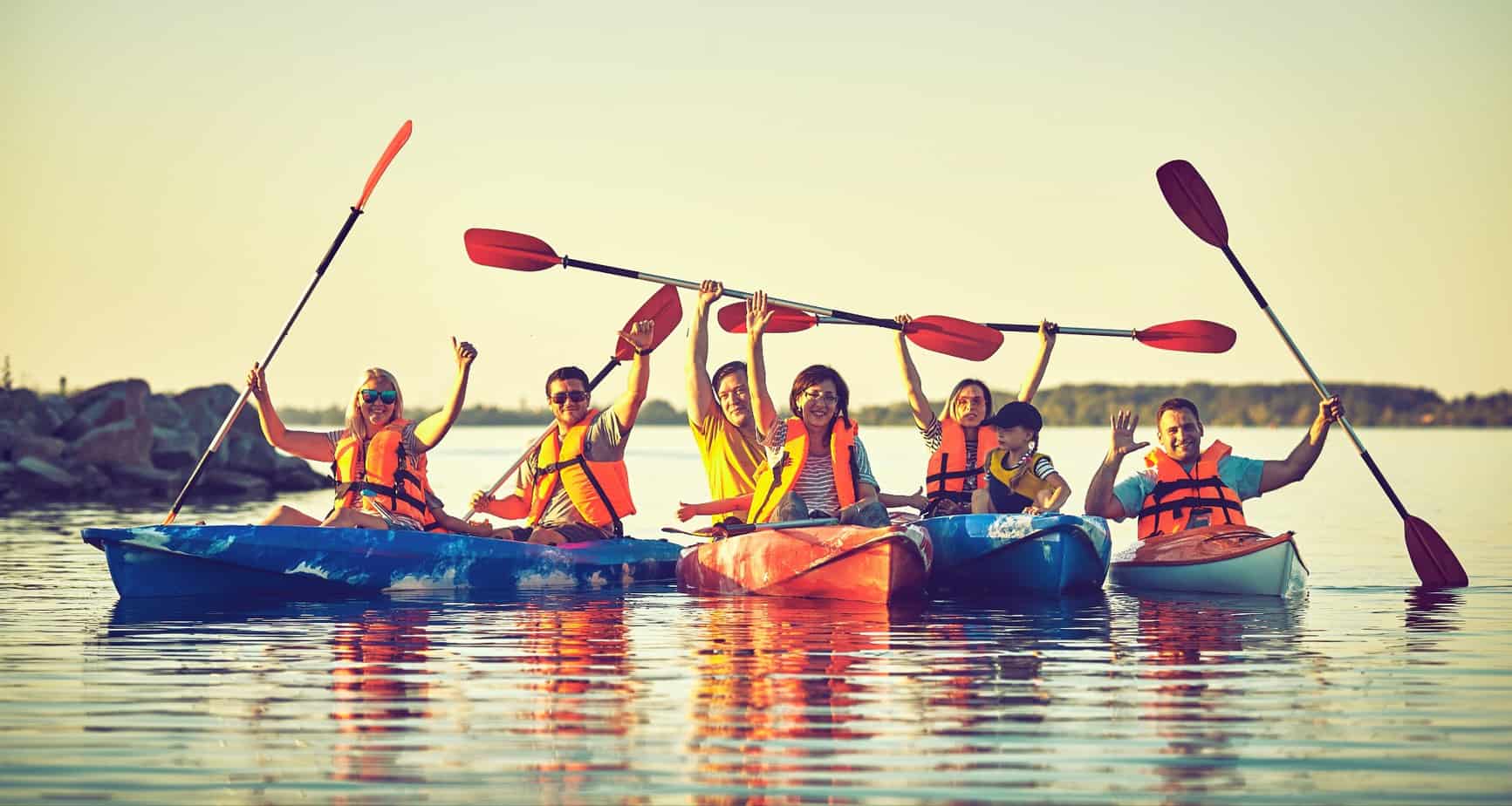 PC Sergei Domashenko via Shutterstock
Perhaps surprisingly, there is actually a limited number of color schemes and designs out there being used by kayak manufacturers. That is why you see so many similarly-colored kayaks if you swing by your local kayak rental companies waterfront location.
For safety reasons, many people love to have a kayak that stands out from the rest. It can help parents keep track of paddling kids at a crowded beach or help rescuers identify missing kayakers quickly if a proper float plan was filed.
From a pure enjoyment perspective, those of you out there that fancy yourselves creative will have a blast designing and creating your kayak's unique paint job. Plus, when you are finished, you will probably have one of the only kayaks like yours in the world.
While we hope you have enjoyed this collection of 21 kayak painting ideas & designs, we want to encourage your creativity if you didn't see a design that particularly suits your fancy here today.
Go forth and create your own unique design that symbolizes your personality and passion for paddling. As always, we wish you the best of luck in all of your future kayaking endeavors!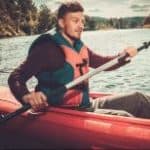 Author: Peter Salisbury
Pete is the Owner of KayakHelp.com. Born and raised in Cleveland, Ohio, he grew up kayaking, fishing, sailing, and partaking in outdoor adventures around the Great Lakes. When he's not out on the water, you can find him skiing in the mountains, reading his favorite books, and spending time with his family.