Kayaking, kayak fishing is all fun, but carrying those fishing kayaks through the woods until you get down to the lake certainly isn't! Instead of struggling under the weight of your kayaks, you might be considering a kayak cart to help you out.
There are tons of kayak trolly carts, with even more features that may or may not work better for you. We picked some of the best kayak carts for sale, check them out in the list below.
Our Top Pick
RAILBLAZA Genuine C-Tug Kayak Cart with Puncture Free Wheels Ctug Canoe Trolley Cart
ABN Universal Kayak Carrier – Trolley for Carrying Kayaks, Canoes, Paddleboards, Float Mats, and Jon Boats
Suspenz Kayak Canoe Transport Trailer, DLX Kayak Cart, Trolley with Airless Wheels, 22-0044
TMS CART-CANOE/KAYAK-KY001 Boat Kayak Canoe Carrier Tote Trolley
Malone Clipper Deluxe Universal Kayak Cart
Malone Xpresstrx Scupper Kayak Cart with No-Flat Tires
RAILBLAZA Genuine C-Tug Kayak Cart with Puncture Free Wheels Ctug Canoe Trolley Cart
ABN Universal Kayak Carrier – Trolley for Carrying Kayaks, Canoes, Paddleboards, Float Mats, and Jon Boats
Suspenz Kayak Canoe Transport Trailer, DLX Kayak Cart, Trolley with Airless Wheels, 22-0044
TMS CART-CANOE/KAYAK-KY001 Boat Kayak Canoe Carrier Tote Trolley
Malone Clipper Deluxe Universal Kayak Cart
Malone Xpresstrx Scupper Kayak Cart with No-Flat Tires
Best Kayak Cart Reviews
Check Price On Amazon
The great thing about this cart is that it's easy to assemble, and doesn't even require any tools for you to put it together. The puncture-free wheels have a high grip rubber tread so that they can work on any surface.
C-Tug's kayak cart is even only 10 pounds, making it simple for you to lift it in order to transport it and store it. Don't be fooled by its light weight though; this cart carries as much as 300 pounds, making it perfect for even the heaviest kayaks.
PROS
CONS
Check Price On Amazon
Make use of this cart for any kayak that's 200 pounds or less. The high-strength anodized steel is meant to ensure longevity while keeping the cart itself lightweight and easy to push around.
With 9.5-inch tires that are easy to inflate, you'll be able to move smoothly over sand, gravel, and inwooden areas. Those oversized foam bumpers keep your kayak safe from any dents or scratches, with a 12-foot strap to keep it in place. When you're all done, just fold it for easy transport and store it in a large backpack!
PROS
CONS
Check Price On Amazon
This cart by Suspenz has airless 10-inch tires which means that no matter how long or how hard you use this cart, they'll never go flat! The powder-coated aluminum frame is meant to last a while as well, especially since it's got stainless steel hardware that's meant to stand the test of time.
Just set your kayak down on the durable rubber pads that support up to 125 pounds. As soon as you're done, this cart folds down into a simple carriable mesh bag for your convenience.
PROS
CONS
This kayak cart can hold up to 150 pounds, and for more stability, includes a 12-foot long tie-down strap. The frame is made of solid metal, so it may not be great for saltwater, but includes foam bumpers on each arm to protect your kayak completely.
The large 9 and ½ inch pneumatic tires roll smoothly on sand and gravel, while the entire structure breaks down completely for transport and storage. If you want something strong, the aluminum and steel are certainly great options.
PROS
CONS
Check Price On Amazon
The universal frame on the Malone Clipper Deluxe is meant to support any kayak, especially since there are tie down straps meant to keep your kayak in place. Thanks to the oversized padded frame, your kayak will be protected no matter how rough the terrain is.
The airless "never-go-flat" removable 10-inch tires are meant to work on anyterrain, and support even 200 pounds. With the stabilizing kickstand, it'll stay up when you load or unload.
PROS
CONS
This cart by Malone will fit all standard kayaks that have scupper holes, making it both versatile and practical. It's also got a variable width locking control that will adjust from 6.5 to 16.5 inches, meaning that no matter how wide your kayak is, it will fit easily within this care.
The non-corrosion aluminum frame is meant to last you throughout the years, while the foam pad protects your kayak. As long as your kayak isn't over 200 pounds, this will work perfectly.
PROS
CONS
The 12-foot strap on Best Choice's kayak cart is perfect for keeping kayaks of any size perfectly in place. Even if you go over some rough terrain, your kayak shouldn't move an inch.
Thanks to the 10-inch PU foam wheels, you'll have tons of control and stability, and can travel wherever you need to go without worry. As soon as you check to be sure your kayak is under 150 pounds, you can get rolling.
PROS
CONS
Check Price On Amazon
The aluminum frame on this Malone Nomad makes it strong and perfect for going out on salt-water excursions. The airless tires are meant to stay strong for as long as you need them, clocking in at 10 inches.
The oversized padded frame will keep your kayak safe, and when you need to load or unload, thekick stand will keep everything stable. Just use the tie down straps to load up your 150 pounds kayak before you go out for some fun.
PROS
CONS
Besides these, there are several other kayak carts that you can consider. Bonnlo Scupper kayak cart to name another.
What You Should Consider When Buying A Kayak Cart
There's a lot to think about when it comes to picking out your kayak cart if you want the right one for your specific needs. Before you pick out any cart, let's look at what you should consider first.
Cart Types
There are three different types of carts out there that may benefit you differently, each of which have some different features:
Plug-in cart

– this model has fixed wheels, making it lightweight. It's also convenient because it's very stable

Folding cart

– this type of cart can be transported with ease since it's compact. This makes it perfect for a majority of kayakers

Strap cart

– as the name suggests, this cart has a strap that protects the kayak when you're moving from one area to another
Any one of these can work depending on your needs, although you may prefer one of the other based on how stable it is, how it stores, or how it keeps your kayak secure. If you're going overtough surfaces, the plug-in's stability may be more beneficial. By contrast, if you want something for storage, the folding cart can't be beaten.
Wheels
The purpose of thiscart is to help you carry your kayak effortlessly. Picking out a cart with the wrong wheels won't help you transport the kayak! Take a look at the wheel size.
Larger and wider wheels will work very well on sand, while taller wheels provide you with more stability that allows you to position the kayak hauler closer to the kayak.
The material of the wheels matters too. Some of these tires are inflatable and work for all types of terrain, while some are molded plastic or foam-filled. What you really want is an all-terrain tire that is puncture-proof, especially if you want to transport your kayak over rougher surfaces.
Adjustable Width
Many kayaks have variable widths depending on the brand, so if you plan to transport different types of kayaks, you'll need something that has an adjustable width. Some carts adjust as much as 10 inches to accommodate any kayak you need to put in it. A few of these carts will even adjust to transport stand uppaddle boards with a flexible saddle too.
Frame
Especially if you want to go out onsaltwater, you need something that's made from corrosion-resistant materials. In this case, plastic or composite may be better, since steel will corrode if exposed tosaltwater or ocean air.
Aluminum will work as well, especially if it's powder-coated. For very heavy kayaks, both steel and aluminum are perfect for supporting heavy loads.
Weight
Think about where you will use your kayak most before you pick out a cart. Both increased strength and durability might make it more difficult to move your cart around, so consider the weight of your kayak and your cart together when you're moving them. For the lightest option, a plug-in cart may be the best.
Also consider the weight capacity of the cart itself. Something that will support kayaks over 150 pounds will provide you with maximum versatility.
If you own just an inflatable kayak, you may not need something that strong, but for heavier, tandem kayaks, or stand uppaddle boards, a greater weight capacity will be more useful.
Storage
To save a little space, try to get a kayak cart that you can store simply when you're not using it. Some models can disassemble completely for easy transport in the car, or storage too when you have to leave it to go out on the water. You don't want to leave your purchase to potentially get taken before you come back from the water! That's why a foldable cart might be something you should strongly consider.
Price
After purchasing a great kayak, you might not have too much money left to buy an expensive cart, but that doesn't mean you should go for a low-quality, cheap kayak cart. There are lots of deals out there for a great cart at a good price, so don't give up if you're on a budget.
Conclusion
All of these options for kayak carts are great, and can each work well for you depending on what you're looking for, but there was one option that stood out above the rest.
Ctug Kayak or Canoe dolly Cart simply blew away the competition with its light frame, impressive weight capacity, and simple storage. It's the lightest out of all other available options, and yet it can support the most amount of weight. Some kayaking pros even consider it the best kayak cart for 2 kayaks.
The plastic may not be as strong as steel or aluminum, but it was hard not to love this option when it was so simple to store, carry, and maneuver. The only problem came in the form of the strap, although many of these options require you to beef up that strap yourself if you want increased stability.
That being said, you may want a stronger frame to make thecart more durable overtime, and may want to actually use the included straps instead of installing something on your own.
In that case, any of the other options can be reallyhelpful, and are certainly still contenders for best kayak cart or best canoe cart. It comes down to what you need in your cart, and which one of these options will allow you to push that kayak for years of enjoyment to come!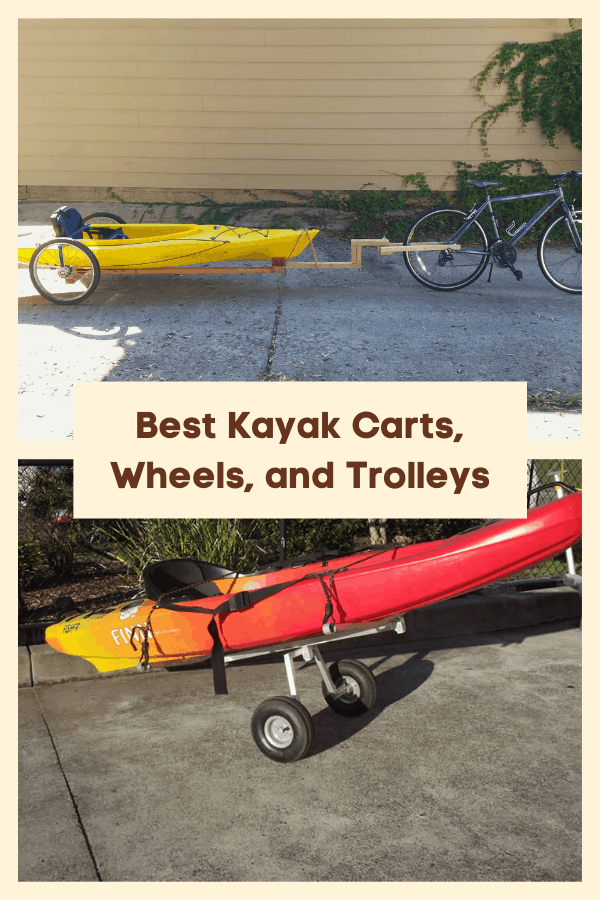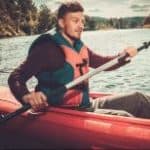 Author: Peter Salisbury
Pete is the Owner of KayakHelp.com. Born and raised in Cleveland, Ohio, he grew up kayaking, fishing, sailing, and partaking in outdoor adventures around the Great Lakes. When he's not out on the water, you can find him skiing in the mountains, reading his favorite books, and spending time with his family.