Have you recently found yourself envious of other kayakers always having their dogs on the water with them? Well, the good news is that kayaking with your dog is possible for everyone with a little training and perseverance.
While it's always better to start training your dog for kayaking from a young age, it's possible to teach them this skill later in life as well.
And there are a number of useful kayaking accessories designed to make your life easier when you're paddling with a furry friend.
Aside from choosing one of the best kayaks for dogs, you'll also need to consider the best kayak dog platforms, seats, deck, attachments, and outriggers. All of these add-ons will help you enjoy a safer kayaking experience with your pup.
The good news is that we've compiled a few of each of these accessories here for your reading pleasure. And if you're still trying to choose a new kayak for paddling with your pup, make sure you check out our reviews of the best sit on top kayaks for dogs and the best inflatable kayaks for dogs!
Tips For Kayaking With Your Dog
Before we dive deeper into our reviews of the best kayak dog platforms, seats, deck, attachments, and outriggers, let's discuss some general tips for kayaking with your dog!
Take The Initial Training Slowly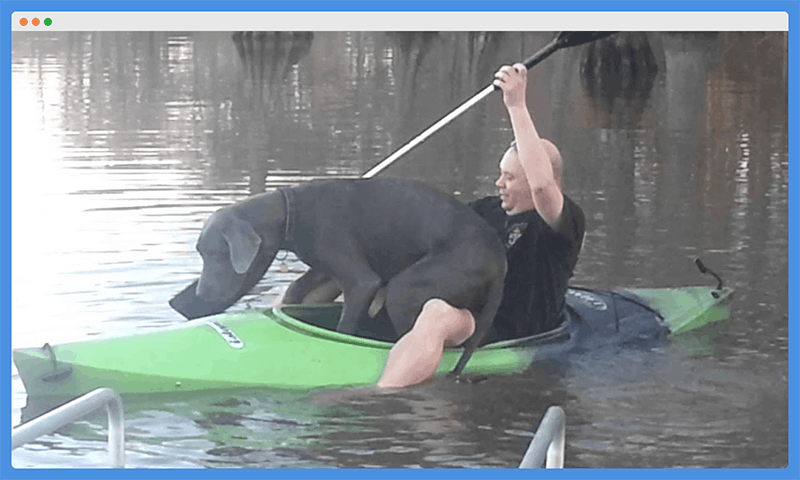 If your goal really is to get your pup comfortable with riding in your kayak, it's good to take the initial training slowly.
We've known far too many great and obedient dogs that simply got scared by their first kayaking experience and couldn't shake the negative trauma from it for the rest of their lives.
Even if your pup loves water and readily swims at every chance, kayaking is a new ballgame and your pup might need time to get used to how the kayak moves under his or her weight.
So you'll need to be careful not to overdo it on your first couple of attempts so that your pup associates kayaking with an enjoyable experience.
And one of the best ways to do this is to find chances to reward your pup often for the "baby steps" that are essential to a successful kayaking experience.
Bring Extra Treats
Most dogs tend to be well-motivated by food, which makes bringing extra treats a great way to reward your pup for their positive behavior when you're teaching him or her to kayak.
Think about the baby steps you would teach a friend if you were breaking down the basics of  how to paddle a kayak for them.
Some examples might include climbing into the kayak, sitting down in the kayak (in your preferred spot), lying down in the kayak, not moving or jolting the kayak when a duck goes swimming by, and the list can go on and on.
The key here is to make your dog's early kayaking experiences as enjoyable as possible.
And while your unique pup might respond better to other types of reward systems, we find bringing extra treats to be a great way to reward your pup for proper kayaking behavior.
Put Layers in a Dry Bag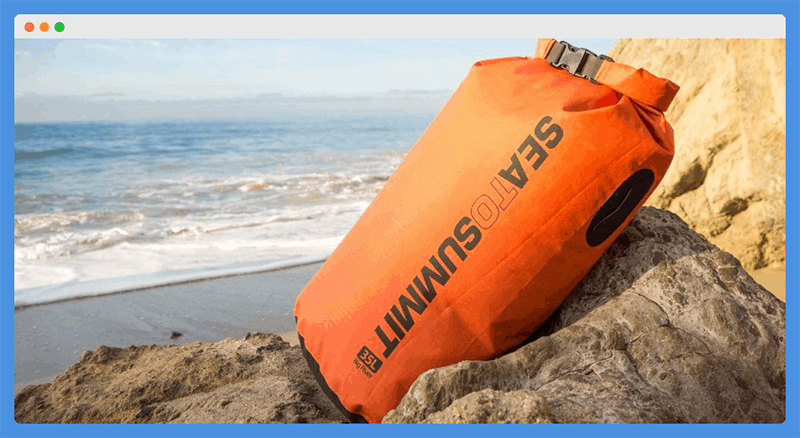 The reality of teaching a dog how to kayak is that you'll both most likely wind up swimming at some point.
Even if your pup is exceptionally well-trained and you're a very experienced kayaker, keeping your vessel stable when your pup unexpectedly jumps out isn't the easiest skill.
Besides that, there are simply a larger number of variables that can disrupt your otherwise best-laid plans when kayaking with a dog. Some of these variables can result in you getting wet and cold and having to suffer to get back to your car when you're really not enjoying yourself.
So it's always a good idea to pack extra layers, snacks, and other items in a dry bag just in case your kayaking adventure winds up stretching out much longer than you had anticipated at the outset.
Surf To Summit Hot Seat Kayak Seat - Mild
YakGear Fabric Black Kayak Rigging and Repair 14 in. W x 11 in. L
Fido Pet Products Paws Aboard Doggy Life Jacket, XX-Small, Racing Flames
Scotty Kayak Stabilizer System
Surf To Summit Hot Seat Kayak Seat - Mild
YakGear Fabric Black Kayak Rigging and Repair 14 in. W x 11 in. L
Fido Pet Products Paws Aboard Doggy Life Jacket, XX-Small, Racing Flames
Scotty Kayak Stabilizer System
Best Kayak Dog Platforms
Kayak dog platforms are made to help you get your pup back into your kayak with greater ease and convenience. So check out three great kayak dog platforms that we've chosen to review here!
Check Price on Amazon
If you're into hunting or fishing from your kayak, the Beavertail Stealth Dog Ramp is the best platform to help you get your pup back into your kayak after he or she goes swimming off after your latest target.
This platform is designed to hook on to the back of kayaks with a molded-in grab handle located at the stern and it can stay permanently attached and folded up or down depending on how you need to use it.
It's made of the same rotomolded polyethylene material that's used in the construction of the best fishing kayaks and it weighs a total of 12 pounds, so you know it's durable enough to handle your pup's weight.
This platform is the best option to make it much easier to load your dog back onto your kayak. It's 14 inches across and 20 inches long, which makes it a feasible option for larger pups as well.
Plus, it weighs just seven pounds because it's made of lightweight aircraft aluminum. So it won't add a ton of weight to your kayak and make it harder for you to maneuver around while you're on the water.
While it's designed to be hooked right onto the ladder of motorized boats, this platform can be adapted to fit onto the back of a kayak as well. You just might need to look into a trolling motor mount or explore a DIY solution for doing so!
If you have a really small pup that you love to take kayaking, this is an easier-to-use solution than the Great Day loading platform. It relies on a resealable bag at the top that can be filled with sand or another heavy material to keep it in place.
This step can easily be deployed over the side of your kayak when you're stationary and your pup is enjoying a quick swim.
It's designed to hold a maximum weight of 20 pounds and the ramp between the step and the weight bag will help you pull your pup back into the safety of your kayak.
When you're done using it, you can simply toss it in the stern storage compartment of your kayak until you need it again.
It weighs less than half-a-pound (depending on what you put into the weight bag at the top), so it definitely won't add much weight to your kayak.
Best Kayak Dog Seats
If you're all about keeping your pup comfortable while you're on the water, you'll need to get a dedicated kayak dog seat. So here are three options to give you pup a more comfortable place to sit in your kayak.
Check Price on Amazon
The Surf To Summit Hot Seat Kayak Seat is made of a durable thermo-molded foam material that's both comfortable and water-resistant.
It can permanently secure to the cockpit of your kayak by removing the laminate backing and sticking it directly to the cockpit material (when it's dry!).
This is a great seat to install in the 'jump seat' location that's standard on most tandem recreational kayaks and it's made specifically for calm water touring, which is the most common type of kayaking you should be doing with a dog on board.
Check Price on Amazon
The YakGear Seat Cushion is another great choice for creating a more comfortable seat pad for your dog. It's designed to be compatible with most kayaks and it features a non-skid bottom to keep it from sliding around.
The cushion measures 14 inches wide and 11 inches deep, which may even be enough for smaller dogs to lie down in your kayak and it's backed by the manufacturer's three-year limited warranty if it doesn't quite live up to your expectations.
Check Price on Amazon
The Docooler Kayak Back Seat Cushion is another lightweight option that's best suited for sit on top kayaks. It's made of a nylon material that's going to be comfortable for your dog to sit on for long days of paddling.
This cushion comes with double-sided foam tape on the back, which makes it much easier to affix to the preferred area on your kayak where you want your dog to sit. It's 15.7 inches wide and 13.8 inches deep to give your pup plenty of sitting area.
Best Kayak Dog Decks
One of the major issues with bringing a dog kayaking is that they have trouble gripping the hard plastic material that most kayaks are made of. So these kayak decking mats are designed to be installed on any deck surface of your kayak to give your pup a better grip.
1. Punt Surf Non-Slip Grip Decking Mat
The Punt Surf Non-Slip Grip Decking Mat is a 20" by 20" square deck mat that's made of marine-grade, ultralight, diamond-grooved EVA foam. On the bottom side, premium 3M adhesive will keep this decking material in place wherever you decide to install it on your kayak.
While it comes in a pre-shaped size, this mat can easily be cut and customized to your ideal location.
So whether you want one square space for your pup to sit or you want to install strips along the gunwales and deck, this mat will allow you to add much-needed grip to your kayak for your pup's convenience.
Check Price on Amazon
The Foammaker Universal DIY Traction Decking Mat measures 34 inches long and nine inches across. It's a thin and durable sheet of marine-grade, ultralight, diamond-grooved EVA foam with a 3M adhesive backing for reliable adherence to polyethylene kayak material.
The pad requires just minutes to apply and it can be cut to your desired dimensions to better fit your unique kayak setup.
In addition to providing extra grip for your furry kayaking companion, it will also protect your kayak from the scratches and the other ill-effects of a dog's claws.
Check Price on Amazon
The Oceanbroad 4-Piece Non-Slip Deck Pad comes with four squares that each measure 15 inches long by 10 inches wide. Each pad is made of marine-grade EVA foam with a 3M adhesive backing for superior adhesion to the material of most kayaks.
By coming in smaller squares, this four-pack makes it easier to customize your deck gripping installation and reduces the amount of measuring and cutting you'll have to do to add much-needed grip to your kayak for your pup.
Best Kayak Dog Attachments
The list of attachments that you could add to your kayak to make it easier to paddle with a pup could be quite extensive. But for the sake of getting straight-to-the-point, we picked three of the best kayak dog attachments for this section.
Check Price on Amazon
The Seattle Sports Multi Leash is designed for a variety of kayaking applications. While it can be used for keeping your kayak paddle attached to your kayak in stormy conditions, it can also give you a hands-free method for keeping your pup attached to your kayak.
Some pups will have a tendency to jump out and swim for shore if they see something they want to chase. But this leash will keep your pup attached and it might even give the ability to have your pup pull your kayak down the river for small stretches while you relax.
This leash stretches up to 48 inches in length and retracts down to 32 inches when it's not being pulled.
It offers a snap hook on one end that's great for hooking to the ring on your dog's collar and a quick-release Velcro closure on the other end that can attach to any of the handles or lashing points on your kayak.
Check Price on Amazon
When you think of kayak attachments, we know you were thinking about items that attach to your kayak. But in this selection, we've actually got something that's designed to be attached directly to your kayaking dog!
The Paws Aboard Dog Life Jacket comes in many different sizes and secures to your pup using a total of three buckle-and-strap closures. Two of them go underneath your pup's torso and the third is secured around their neck.
On top of the life jacket, there's a sturdy handle that will go a long way towards helping you pull your pup back into your kayak after he or she goes swimming and there's also a small D-ring for attaching a leash directly to the life jacket instead of your pup's collar.
Check Price on Amazon
If you live in an area with really intense sunlight and you plan to spend multiple hours on the water with your pup, we highly recommend attaching the Adventure Canopies Kayak Sun Shade to your kayak.
This sunshade is made for kayaks longer than 10 feet and it offers an ultraviolet protection factor (UPF) of 50+. This means it blocks 99.9% of potentially harmful UVA and UVB rays.
The canopy features stainless steel hardware and mildew-resistant materials so you don't have to worry about it smelling if it gets wet and it measures up to 54 inches long so that it can provide up to ten square feet of shade.
Best Kayak Dog Outriggers
Stability can be a major problem for even the best kayakers once you add a dog into the mix. So these kayak outriggers are designed to help you keep your kayak more stable so that you don't have to go swimming every time you bring your pup out on the water.
Check Price on Amazon
This particular Spring Creek Manufacturing Hydrodynamic Stabilizer Float Package measures 36 inches across. But it's also available in 30-inch, 40-inch, and 45-inch widths.
These outriggers are adjustable up to 20 inches in each direction and each float weighs a total of five pounds. But the floats are rated to provide an additional 27 pounds of flotation each to your kayak.
In addition to the two floats, this package comes with a universal receiver crossbar, two telescoping arms, and one set of clamps that secure to the gunwales of your kayak.
In order to find the right size package for your kayak, measure it at its widest point and then match that width to the appropriate package size.
Check Price on Amazon
YakGear's Generation 2 Kayak and Canoe Outriggers attach to your kayak using the included Railblaza Starport base.
This base must be mounted directly to the gunwales of your kayak using bolts, so the installation process will require that you waterproof those bolts once the base is installed.
The outrigger arms are roughly 30 inches long and they extend off either side of your kayak. This will give you a base of stability that extends about 22 inches off either side of your kayak.
These outriggers feature all stainless steel construction for improved corrosion resistance and the package also comes with all of the mounts, hardware, installation instructions, and rigging tips you'll need for a successful install on the first attempt.
Check Price on Amazon
The Scotty #302 Kayak Stabilizer System comes with two inflatable outriggers, outrigger arms, and all of the necessary mounts and hardware to install it to almost any kayak on the market today.
The benefit of the inflatable outriggers is that this product can be stored in a more compact space when it's not in use.
But you will probably need to permanently mount the bases to the gunwales of your kayak, which means you'll need to drill through the kayak and then make sure everything is waterproof after installing the bases.
That being said, the outrigger bladders will provide an additional 30 pounds of buoyancy each and the 34-inch outriggers arms extend to give you kayak a much more stable base when your large pup climbs in.
Check Price On Amazon
We couldn't quite narrow down our pick for the best dog-related kayaking accessory, so we've chosen two for our top picks! Unlike the photo above, getting your dog into your kayak isn't always easy.
In fact, it's often the most challenging aspect of taking your pup out on the water.
And while you can use the benefit of shallow water or a dock to get your dog into your kayak at the beginning of your paddle, getting your pup back into your kayak in deep water can often be a struggle.
That's precisely why we've chosen the Paws Aboard Dog Life Jacket and the Great Day Load-A-Pup Pet-Loading Platform as our picks for the best two accessories we've reviewed in this article.
They are both designed to make it much easier to get your dog back into your kayak after he or she goes for a swim. The handle on the back of the life jacket makes it easier to pull your dog up from their mid-section instead of from their collar or neck area.
If you decide to go with the pet-loading platform, your pup should be able to climb their own weight back into your kayak as you focus on keeping your kayak stable.
Although it might require a bit of upfront training, this will undoubtedly be the easiest way to get your dog back into your kayak once he or she learns how to use it.
Additionally, we always recommend keeping your pup in a life jacket at all times when you're kayaking together. We hate to say it, but you just never know what unknown obstacles or unexpected events could result in both of you going swimming.
If and when this does happen, you'll be able to relax knowing that your pup has the extra flotation he or she needs to swim until you can get both of you back into your kayak. For this same reason, we also recommend you looking into the best kayak life vests for human use!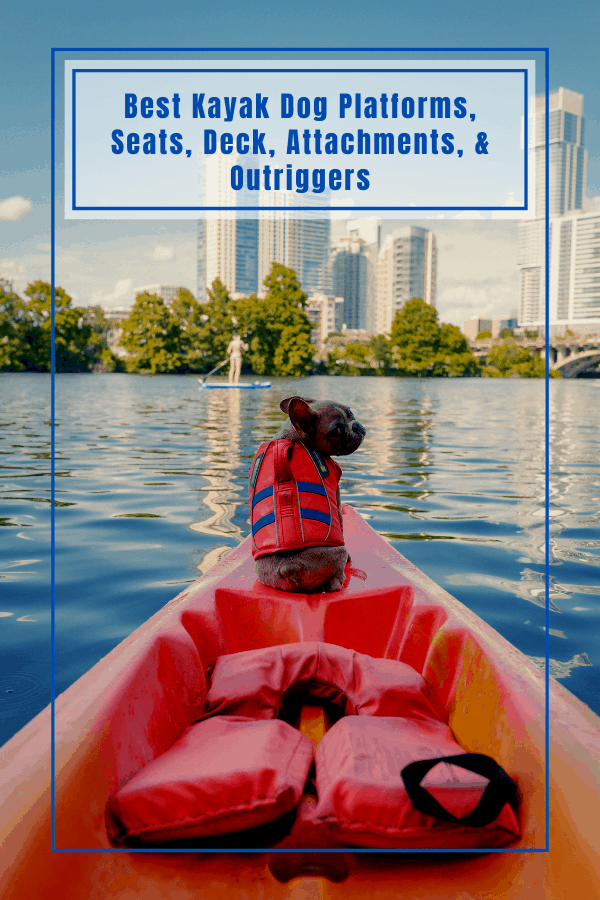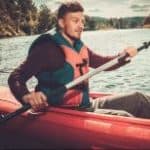 Author: Peter Salisbury
Pete is the Owner of KayakHelp.com. Born and raised in Cleveland, Ohio, he grew up kayaking, fishing, sailing, and partaking in outdoor adventures around the Great Lakes. When he's not out on the water, you can find him skiing in the mountains, reading his favorite books, and spending time with his family.