Kayaking can be an excellent sport for you and your canine best friend to enjoy together. A dog can make the perfect kayak companion since they never complain about getting wet. They demand minimum equipment, and their low sense of gravity is perfect for the occasion.
However, before you pack up and go, it's essential to take precautions to ensure the safety and comfort of you both.
The first step to guaranteeing a pleasant experience is to invest in a kayak that meets the needs of both you and your dog.
This means ensuring that the kayak can handle weight capacities, but can also offer enough room for both of you to feel comfortable throughout the whole trip.
Here we have reviewed six of the best kayaks for dogs that make kayaking with your canine positively enjoyable!
Best Kayaks For Dogs
Thumbnail
Title
Sea Eagle SE330 Two Person Inflatable Sport Kayak Canoe Boat with Two Seats, Two Paddles and Pump.
INTEX 68307EP Explorer K2 Inflatable Kayak Set: Includes Deluxe 86in Aluminum Oars and High-Output Pump – SuperStrong PVC – Adjustable Seats with Backrest – 2-Person – 400lb Weight Capacity , Yellow
Thumbnail
Title
Sea Eagle SE330 Two Person Inflatable Sport Kayak Canoe Boat with Two Seats, Two Paddles and Pump.
Thumbnail
Title
INTEX 68307EP Explorer K2 Inflatable Kayak Set: Includes Deluxe 86in Aluminum Oars and High-Output Pump – SuperStrong PVC – Adjustable Seats with Backrest – 2-Person – 400lb Weight Capacity , Yellow
How To Choose The Best Kayak For You And Your Dog
There are different types of kayaks out in the world.  You need to choose one that can accommodate you, your gear, and your pup and anything your pup may need.
The first thing to do when buying a kayak for you and your dog to take out is to ask a few questions. This will help narrow down your search: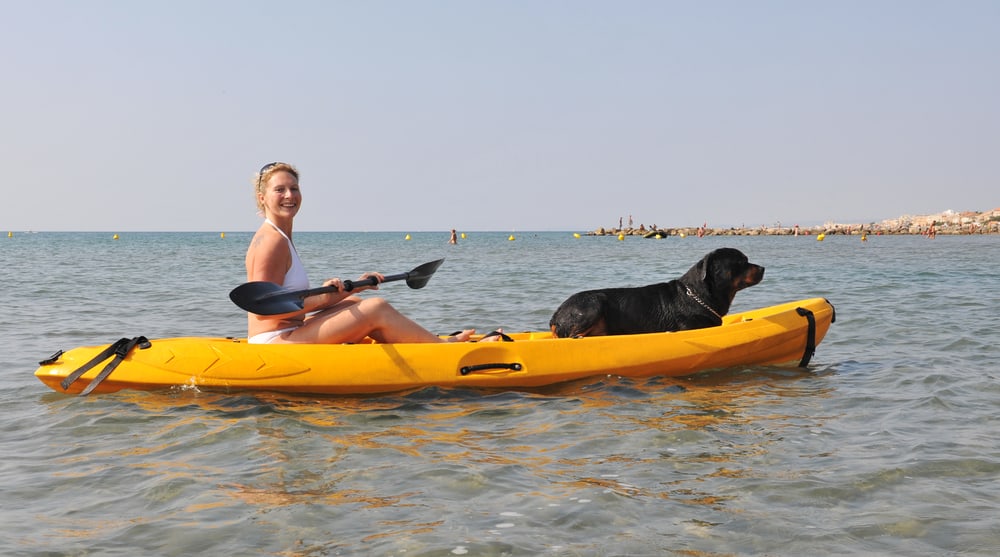 Do you and your pooch have a passion for white-water rafting, or do you prefer sheltered bodies of water like small lakes and ponds? Will wind and waves be an issue, or will you be sitting on calm, relaxing waters?
Do you plan on getting pretty wet, or do you want to avoid that chilly water?
When it comes to paddling, do you demand a kayak that is responsive, or is it more important that you opt for something that is more stable and doesn't tip over? This is an essential question if you have a bigger dog.
With these questions in mind, it's time to explore what kayak suits your dog.
Also Read: Canoe vs Tandem Kayak
Types Of Kayaks That Accommodate Dogs
Sit-on-Top and Sit-In Kayaks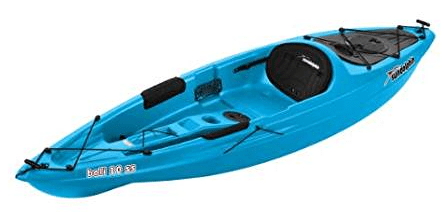 Sit-on-tops (SOTs) are considered the most user-friendly because they are stable, and easy to get in and out of with no restriction. This offers some great benefits to dogs who can climb into position with ease.
Another benefit is that sit-on-top kayaks are self-bailing, meaning water drains through holes in the kayak. This does, however, mean that you are much more likely to get wet.

Sit-inside kayaks are perfect for cooler water as they ensure that you and your dog stay dry. The downside, however, is that these types of kayaks are more difficult for a non-experienced dog to get in and out of.
Recreational Kayaks
Recreational kayaks are a great go-to for dog paddlers because they are very stable and usually enclosed (with the exception of the cockpit).
However, these kayaks are best suited for lap dogs or dogs happy to sit in the enclosed storage space. You can avoid this if you invest in a tandem kayak, though, which would offer your canine his own seat.
Tandem Kayaks
Tandem Kayaks are the best option when you and your dog need a little more space.
Inflatable Kayaks
Inflatable kayaks are the perfect option for fair-weather kayakers since they offer excellent solutions in terms of transport and storage.
Many dog owners love inflatable kayaks. One reason is that they can be stored within the home. This familiarity helps prevent anxiety in dogs. The dog won't cause any anxiety often triggered by strange objects or smells.
The downside of inflatable kayaks is that, despite their durability, they are not suitable in choppy water conditions. Additionally, they are not good for navigating in the wind.
Types Of Kayaks To Avoid When Kayaking With Dogs
Sea Kayaks
Sea kayaks are not usually recommended for dog lovers due to their shape. They are generally long with pointed ends.  This makes them a narrower type of kayak that doesn't leave much room for two.
White Water Kayaks
White water kayaks are also not designed with a canine in mind. Since they rely on the user steering the kayak with their whole body.
In other words, they are extremely tight-fitting and do not leave room for a dog. Also, these types of kayaks are lightweight and sensitive to small leans and changes. This makes it far too responsive to have a dog on board!
Dog-friendly Kayak Reviews

Length: 11' 2"
Width: 34"
Weight: 26 lbs.
Maximum Load: 500 lbs.
The Sea Eagle is another inflatable kayak, but this one offers two seat positions. The Sea Eagle 330 also has a maximum capacity of 500 pounds, which is more than many standard solid kayaks.
Because of this weight capacity, it's the ideal kayak for those with large dogs since the dog can be seated in its seat.
Also, this kayak can be inflated in just seven minutes despite its size. Although it's worth noting that first attempts might be up to 30 minutes, but practice makes perfect! Check out this video showing how to set up the Sea Eagle 330 if you're having trouble:
With inflatable kayaks, many users worry about instability with passing boats, but the Sea Eagle 330 is different. It is easy to steer in the event of waves and even absorbs the shock of logs or rocks.
It comes with an inflatable sea skirt, too, which is excellent if you want to cover up any splashes.
There is one negative aspect about these seats. At first glance, they seem to offer back support. However, the supports are filled with air. This means the support is actually minimal. Furthermore, paddling is easier when leaning slightly forward.
When used as a two-person kayak (without a dog), there's something worth noting. The front person has to lean a little. This leaning on the back person is necessary for stability.
However, when kayaking with a dog, the canine can take the front position and both kayakers can be totally stable and comfortable.
Pros
Cons
Verdict
The Sea Eagle 330 is the perfect kayak for transport and storage. It features two seats for both the user and the dog. This ensures everyone's comfort is prioritized.
It's great if you're taking a bigger dog out on the water. But if you're taking two people then you might see some balance and stability issues.
Check Price On Amazon
Length: 10'
Width: 36"
Weight: 35 lbs.
Maximum Load: 400 lbs.
The Intex Explorer K2 Kayak makes our list as the best kayaks for you and your dog because it is inflatable and, therefore, portable.
This is particularly beneficial for those who have to transport their own equipment, but it's worth noting that inflatable kayaks are best kept on less chopping waters and in conditions without wind, making this great for a lake or smooth river trip.
That aside, this kayak is specifically designed for two adults which makes it perfect for one adult and one pooch, who can even have their own seat.
Even when your pup is in position, and just one person is paddling, the kayak is easy to steer and is responsive. In fact, the addition of the doggy weight actually allows for better tracking since this kayak tends to catch the wind and move side-to-side like a sail with a single kayaker.
This kayak is perfect for recreational purposes. Though it cannot be compared to the functionalities of a rigid, solid hull kayak, it offers exceptional advantages, such as the ability to be pulled out when needed.
Better still, as an inflatable kayak, this can be stored away easily at home. This makes it simple for you to introduce the kayak to your dog ahead of any kayaking trip, for the purpose of familiarization.
Also, do not fear your dog's claws (or teeth!) will risk this kayak since the robust vinyl construction is hard-wearing and rigid.
There is one downside of this kayak. While the supplied paddles are perfectly functional, they do make the kayaker wet. But this can be countered by upgrading the paddles.
Pros
Cons
Verdict
The Intex Explorer offers comfort for one adult and a pooch, is easy to transport and inflate whilst offering comfort thanks to a reinforced vinyl construction. The perfect solution for when space or transport is a restriction. Though this kayak isn't best in rapids or anything too harsh, it's perfect for a day out on the lake or a calm river!
Check Price On Amazon
Length: 12'
Width: 34"
Weight: 57 lbs.
Maximum Load: 375-425 lbs.
The Ocean Kayak Malibu is a tandem sit-on-top kayak that offers two separate seating positions for you and your dog. Better still, it offers a middle seat position, which enables kayaking with two adults and a dog.
It's the fact that this kayak offers multiple seating positions that make it a popular choice for those with children and pets. These seats can be arranged for one, two, or three paddlers. This means that the configuration can be changed without influencing balance or stability.
Smaller than other tandem kayaks, the Malibu is considerably compact. It is also specially designed for those who favor comfort. Thanks to the Comfort Plus seats and three molded-in seat wells.
On top of this, this kayak offers ample deck space for additional storage, which is generally welcomed by those who like to partake in fishing whilst kayaking.
The tracking on this kayak is accurate and isn't interfered with by any movement or weight redistribution of a dog who can be seated in the second Comfort Plus seat, or in the middle mold-in seat well.
A negative aspect of this kayak is that it isn't overly lightweight, but that is generally to be expected from a kayak that offers stability for up to three users (pet included).
If you're having issues transporting it from the car to the water, a trolley can be used to make your struggle easier.
Pros
Cons
Verdict
The Ocean Kayak Malibu offers versatility thanks to the seat configuration, which can allow for two adults and one dog. This makes the Malibu a great pick for a day out on the water with just you and your dog, and still have plenty of room to maneuver in.
Or add that extra seat in and take another person with you! This kayak's motto seems to be "the more fun, the merrier!"
Length: 10'
Width: 28.5"
Weight: 47 lbs.
Maximum Load: 325 lbs.
This Vapor 10 by Old Town Canoes & Kayaks is a single-user sit-in kayak that is great if you're looking for a quiet day out on the lake, pond, or slow moving river.
You'd best choose this kayak if you want to spend the day with your pup enjoying the views the kayaking world has to offer. While the Vapor 10 only has one seat, your dog can sneak in between your legs into the inner storage and enjoy the smooth ride.
The Vapor 10's spacious cockpit is designed for the best comfort you can get all while getting the most reassuring ride. It's Comfort Flex seat is padded to make sure you're comfortable paddling, whether it's for an hour or two, or for an all-day outing.
It also has a molded-in paddle rest in case you want to take a moment and give your pup some love so he knows he's not being ignored. The thigh pads are there to make sure you don't rub your legs raw in your voyage.
A drain plug is included for when you need to drain some water out of it, however, its location isn't the best place for it to do its job efficiently.
If the chance happens that you do take on water, it would be a smart option to bring a bilge pump to help get that excess water out of your kayak.
Pros
Cons
Verdict
While Old Town Canoes & Kayaks Vapor 10 kayak is a great pick of a quick day out on some calm waters, its lack of storage and odd drain location seems to be disadvantages.
This kayaks seems to be a good pick if you want to have a comfortable paddle with your dog and not have to worry about bringing too much gear.
Length: 11' 6.5"
Width: 29.5"
Weight: 47 lbs.
Maximum Load: 300-350 lbs.
The Ocean Kayak Scrambler 11 is a great sit-on-top kayak for pretty much any type of water. Its Tri-Form hull has the stability and maneuverability to handle ocean swells and surf without tipping, but it also tracks well on the flat water of a lake or calm river. While it might not track fast, it handles anything you throw at it.
With its Comfort Plus seat, there's plenty of legroom for you to get in a comfortable position while also having enough room for your pup! The Comfort Plus comes with four-way adjustability to make sure you are in the most comfortable position you can be in for you all-day adventures with your best canine pal!
There are bungee cords in the front and back of the kayak for storage (the back bungees would be a perfect spot to put a cooler to house your and your pup's water supply), but that means that there is no inner storage.
The Cam Lock Hatch is the closest thing you have, but even it leaks, so don't leave your phone in it!
Because the Scrambler is a sit-on-top kayak, chances are you'll definitely be getting a bit wet. If you plan on being in cooler waters, a dry bag would be an excellent idea to put any spare clothes you might take with you, and any towels.
You can attach it with the provided bungee cords to make sure you and your pooch have a way of getting dry.
Pros
Cons
Verdict
The Ocean Kayak Scrambler 11 is a great choice whether you're taking your pooch for a day out at the beach or for a leisure visit at the lake.
While it can handle either calm or rough waters, it does track slow, so if you're looking for a speedy escape to your favorite getaway, a different kayak might be the better choice.
The Scrambler would be a great match if you're looking to spend quality time out on the water with your best dog, and just enjoy the scenery.
Length: 10'
Width: 30"
Weight: 44 lbs.
Maximum Load: 250 lbs.
The Sun Dolphin Bali is available in a wide range of colors, which makes it a fun choice.
However, it's not just all about decoration; the Bali SS is a perfectly functional sit-on-top kayak, which offers ample room for a solo kayaker with space for a canine up front.
In fact, it's the ample leg room at the front that makes this a perfect choice for inviting your canine friend along. On top of this, the front sitting space doesn't take away from storage space at the back, which is enclosed and totally watertight.
The Bali SS kayak also comes with a P.A.C. (Portable Accessory Carrier) which offers additional storage in the form of a backpack or a drag along.
As a 10-foot kayak, it offers steady and straight tracking, even with the small movements of the dog.
Although it is worth noting that the longer the kayak, the straighter the tracking, which is why Sun Dolphin also offers a 12-foot version of this kayak, the perfect choice for if you have a bigger dog.
That aside, as a 10-foot kayak this is lightweight and versatile.
One point worth noting is that the kayak is subject to a bit of tipping, particular lyon-entry. Because of this, it's important that you are your dog practice the entry into the kayak.
However, this negative is countered by the ease of entry for the dog; the open cockpit makes it really easy for your pet to climb into position.
Another downside is that the self-bailing drill holes are positioned very close to the seat and can cause the kayaker to get wet.
One solution would be to plug these holes up, or to sit on a towel or cushion, if this would bother you.
Pros
Cons
Verdict
The Sun Dolphin Bali SS is the perfect kayak for those who demand both leg and storage space. Thanks to ample room at the front and water-tight storage at the back (and the addition of the P.A.C.).
It comes in lengths of 10-feet (great for smaller dogs) and 12-feet (for your bigger pooches!). Make sure, if you choose this kayak, you and your pup practice getting in and out, so you don't tip it over!
Check Price On Amazon
The Ocean Kayak Malibu stands out from the other kayaks on this list of best kayaks for dogs and it's easy to see why.
It's heavier than some kayaks, but that's because it has extra room for a third user. So whether it's just you and your best canine friend or if you want to add a third friend, the Malibu is there to meet your needs.
It also offers plenty of storage opportunities. You could store a dry bag with clothes and towels or a cooler with your pooch's water and food. Rest assured, you won't run out of room.
Its extra room is also a plus if you're an active angler. Especially if you love catching fish with your dog by your side.
It's stability comes in handy when your dog begins to get restless. It's useful when your dog needs to stretch his legs out, or needs to reposition himself. You don't have to worry about toppling over.
That is a massive reason why we choose the Ocean Kayak 12-Feet Malibu as the best kayak for dogs.
More From KayakHelp: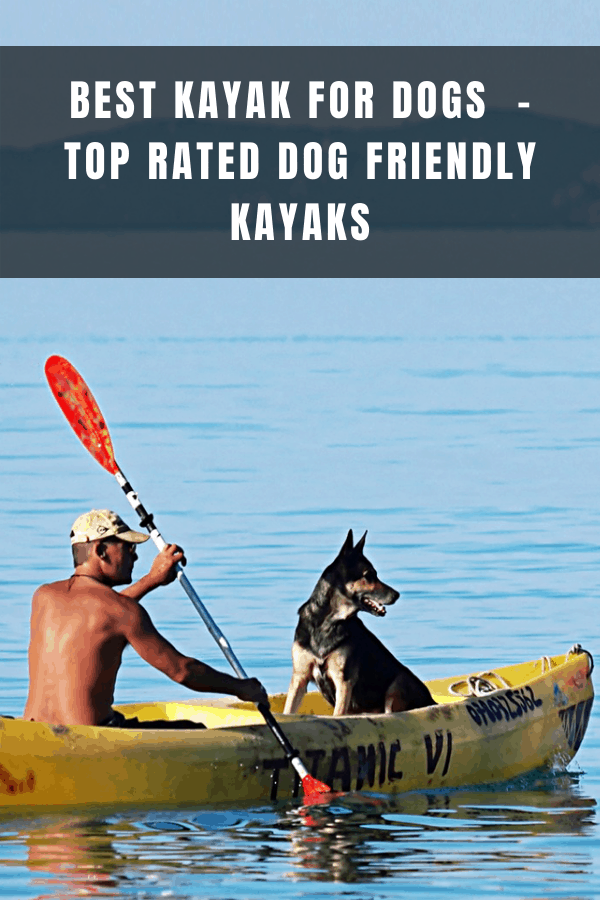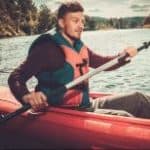 Author: Peter Salisbury
Pete is the Owner of KayakHelp.com. Born and raised in Cleveland, Ohio, he grew up kayaking, fishing, sailing, and partaking in outdoor adventures around the Great Lakes. When he's not out on the water, you can find him skiing in the mountains, reading his favorite books, and spending time with his family.