Paddling on a clear lake or tropical ocean always begs the question: what's underneath my kayak? And while the idea of the glass-bottom boat is nothing new, kayaks with a see-through clear bottom haven't always been easily available.
While these clear kayaks with see-through clear bottoms may not perform quite as well as some of the best recreational kayaks or best touring kayaks on the market today, they offer a different type of experience entirely.
This experience isn't about distance, speed, or even maximum kayak maneuverability. Instead, paddling in a clear kayak is about enjoying a clear view of the waters and marine life swimming by right underneath your vessel.
That being said, it's obviously important for your kayak to maintain some reasonable level of maneuverability and performance for the simple sake of safety.
That's why we've taken the time to review some of the best clear kayaks with a see-through clear bottom in this guide.
We'll also help you identify some of the unique features of clear kayaks and determine which of these see-through kayaks is best for your paddling preferences. So let's jump into it!
Jargon Buster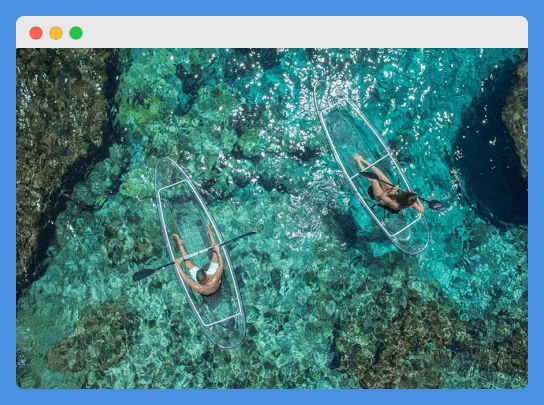 Clear kayaks are made from slightly different materials than you'll find on most common recreational, whitewater, or fishing kayaks. So let's start by giving you a little more information about those materials before we move any further forward!
Polycarbonate Lexan
This is the material that the hulls on the majority of clear kayaks are made from. While the exact compositions will vary slightly from kayak to kayak, it's a very durable material that's often used in the production of fighter jet canopies and bulletproof glass.
A few of the additional benefits of this material include high resistance to heat and impacts, remarkable clarity and light transmission, and good dimensional stability.
The ease with which it can either be machined or cold-formed is also a primary reason why it is widely used for clear kayaks.
Anodized Aluminum
You'll find that most clear kayak frames are constructed with anodized aluminum material. This is different from standard aluminum because the anodizing process makes the aluminum more durable and also adds corrosion-resistant properties.
That corrosion-resistance is really important for kayaks that are often used in saltwater environments and aluminum just so happens to be more suitable for anodizing than other types of ferrous metals.
Buying Guide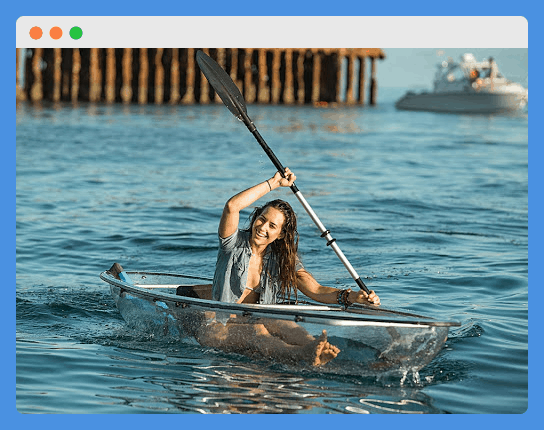 Before you check out our choices for the best clear kayaks, every interested buyer needs to know what to look for in a solid clear kayak. That can be different than what you'd look for with any other type of kayak, so that's why you should read through this Buying Guide carefully!
Cockpit Depth and Seat Design
One of the main issues with early clear kayaks is that the deeper cockpits made them a little harder to paddle.
When you're sitting in a kayak with a deep cockpit, you generally need a longer paddle in order to paddle efficiently and avoid repeatedly hitting your wrists or elbows on the edge of your kayak.
This is why better clear kayak designers have implemented slightly raised seats that make it easier to get the full blade of your paddle into the water without scraping your arms on the edges of the kayak time and time again.
If you ask us, this kind of raised or elevated seat is a really nice feature for any clear kayak. But if you've settled on two models that don't offer raised seats, you'll probably want to choose the one with the smaller cockpit depth to make it easier to paddle.
Additionally, sitting all the way on the bottom of the cockpit of one of these clear kayaks often means that you'll wind up sitting in any water that happens to accumulate in the cockpit. So this is another reason why a raised or elevated seat can make things a bit more comfortable.
Weight (and Weight Capacity)
A couple more things to pay attention to when you're comparing and contrasting the clear kayaks below are their weights and weight capacities.
These will dictate how easy they are to move around and how well they'll support your weight when you're on the water.
For the former, most of these kayaks will need to be transported on some type of roof-mounted kayak rack or kayak trailer.
If you have to lift your kayak up to secure it to a rack on top of your vehicle, for example, you'll want to be sure that you (or you and your paddle partner) are comfortable lifting and moving that weight.
In terms of weight capacity, it's generally recommended that you don't exceed more than 80 percent of a kayak's listed weight capacity.
This means that you wouldn't want to load down a kayak with a 425-pound weight capacity with more than 340 total pounds.
When you're assessing this metric, keep in mind that you'll need to add up the combined weights of both paddlers (for tandems) and all of the kayaking gear and equipment you plan to bring on the water with you. This includes, but isn't necessarily limited to, paddles, PFDs, coolers, water bottles, and dry bags.
Methods of Locomotion
This one might be throwing you a bit off guard because they are kayaks right?! And most kayaks use a very simple method of locomotion (requiring a paddle with blades at both ends of the shaft) to move about.
But some of these clear kayaks are a little different than your standard kayak and actually have more in common with the best fishing kayaks out there. This difference is the inclusion of a trolling motor mounted at the stern of the kayak.
For most folks interested in a clear kayak for underwater habitat and wildlife viewing, a trolling motor might seem to be a little overkill. But if you live on a coastal waterway or you prefer to spend long days exploring larger areas, you'll definitely want the benefit of an electric trolling motor to get you around quicker.
Add-Ons
The last thing you should look at before you finalize your purchase is what the kayak comes with to help you complete your kayaking equipment arsenal.
Buying a standalone kayak will require you to purchase the other kayaking essentials in order to start putting that kayak to use.
This is an important consideration when you're comparing the prices of two kayaks that you're trying to decide between.
While one kayak may have a more affordable initial price tag, you could end up spending more to get paddles and other gear than if you'd go for the slightly pricier version that comes with everything you need to get started.
Clear Kayak Reviews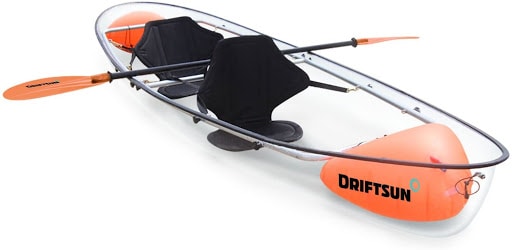 Check Price on Amazon
The Driftsun clear kayak is a tandem design that measures 11 feet, one-inch long, and 32.5 inches wide. The cockpit is designed to be a full 12 inches deep, the maximum weight capacity of this clear kayak is 425 pounds, and the kayak itself weighs just 48 pounds.
While it's rated for two paddlers, both of the seats are removable so that you can set it up for a single paddler if you desire. This also allows you to create extra space towards the bow or stern for cold weather paddling gear or for a furry paddle companion.
Even when the two seats are installed, however, they are both highly adjustable so that you can recline or sit up straighter, depending on your preference. The drop-down skeg at the stern of this kayak makes it easier to control in medium-speed winds and choppy waves.
The hull of the Driftsun kayak is made with an advanced polymer material that's highly durable and impact-resistant. The structure of the kayak is maintained by an anodized aluminum frame and corrosion-resistant hardware.
This kayak also boasts inflatable chambers at the bow and stern areas of the vessel. These chambers provide extra buoyancy for the entire kayak, but they can also be deflated and removed to make the kayak easier to stack and store.
While you will need to choose one of the best kayak paddles under $150 to power this clear kayak, it does come with a two-pack of sponge cleaners to help you keep the hull clean and maintain maximum visibility through to the clear waters beneath you.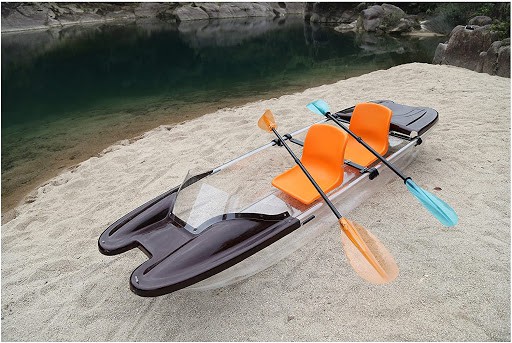 Check Price on Amazon
The ClearYup Electric Kayak is sort of a hybrid between a human-powered kayak and a motor-driven fishing boat. While you can certainly paddle it by hand, it does come with a small trolling motor to help you cover more ground more quickly.
That trolling motor boasts a unique, short-shaft design with 55 pounds of thrust and a 50 amp max draw.
The motor does require a 12-volt battery connection, but it comes with a remote control so that you can easily operate it from one (or both) of the kayak's comfortable seats.
Speaking of those seats, they are slightly raised off the bottom of the kayak to give you a higher vantage point and also keep you from sitting directly in any water that enters the kayak's cockpit while you're out for your adventure.
Those raised seats can keep you from getting wet (and staying wet) in this kayak. Even if you don't want to utilize the trolling motor for the entire time you're out on the water, this kayak comes with its own set of paddles for human-powered locomotion.
But because it does include a trolling motor with a substantial thrust, this kayak is equipped with a safety airbag at the front of the cockpit. This feature protects the paddler in the front seat should the entire vessel stop suddenly.
The kayak itself is constructed from a highly durable solid polycarbonate sheet that's eight millimeters thick and finished with a UV-resistant functional layer.
All components of the kayak are also secured with corrosion-resistant hardware to maximize the lifetime of this kayak in saltwater environments.
The ClearYup kayak measures 10.3' long, 2.92' wide, and 2.06' deep. It offers a maximum weight capacity of 440 pounds and the kayak itself weighs 62 pounds before you load in any of your essential kayaking safety equipment.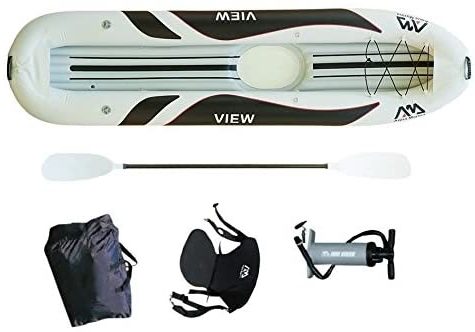 Check Price on Amazon
The Aqua Marina View See-Through Kayak doesn't have an entirely clear bottom, but it does boast a small viewing hole right in the center of the cockpit. This see-through kayak has some important benefits that others simply can't offer.
For starters, it's an inflatable kayak, which means it requires much less storage space in your vehicle or at your house when it's deflated. It also means that, at an unloaded weight of fewer than 20 pounds, it's easily the lightest see-through kayak on our list.
The exterior of this see-through kayak is made with a three-layer reinforced fabric and the hull includes an I-beam PVC deck. That deck gives the hull much more rigidity and improves the overall maneuverability and performance of the kayak.
At the bow of the kayak, bungee rigging makes it easy for you to secure your personal belongings while you're out on the water.
And if you set up the removable and adjustable seat right behind the window in the hull, you'll also have storage space towards the stern.
In addition to the inflatable kayak itself, this package comes with the kayak seat, 16-inch hand pump with pressure gauge, kayak paddle, repair kit and user manual, foot brace, and convenient carry bag for storage and transportation.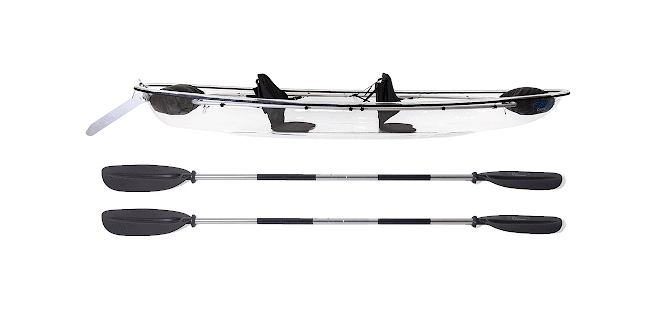 The Crystal Explorer Kayak by The Crystal Kayak Company is one of the more popular kayaks used by guiding and rental companies on lakes or ocean waterways that boasts some of the clearest waters in the world.
That's partly because you can purchase a single version of this kayak or buy them in bulk for extra savings. But each Crystal Explorer is 11'1" long, 33.5" wide, 11" deep, weighs a total of 48 pounds, and offers a maximum weight capacity of 425 pounds.
This kayak is constructed with six-millimeter thick imported GE Lexan material on the hull and T6 6061 anodized aluminum for the frame. These material selections allow the kayak to be highly durable but also light enough to transport easily.
The entire frame and hull are also finished with a 40-micron double UV-resistant layer to prevent it from breaking down or yellowing after prolonged periods of UV exposure. It's also assembled with corrosion-resistant hardware for extra longevity in saltwater environments.
To be clear, this kayak is made for two paddlers and it comes with adjustable, EVA foam padded kayak seats. Those seats can also be removed if you want to paddle this kayak solo or you want extra legroom for a child or paddle pup.
At the stern of the kayak, a drop-down skeg can be deployed to help you track straighter in windy or wavy conditions and inflatable chambers at the bow and stern can also be removed to give you extra storage space or to make it easier to stack several of these kayaks together.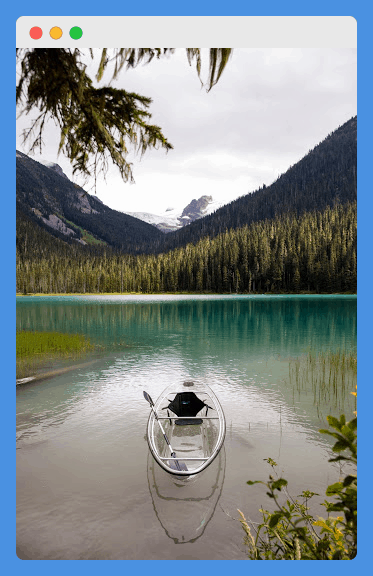 Our pick for the best clear kayak with a see-through clear bottom is the Crystal Explorer because it has the benefit of being widely trusted by reputable guide and rental companies around the world.
We also like that this kayak has a lot of options for customization. While it comes with two standard kayak paddles, you'll have the choice of upgrading to premium paddles as well, which offer a feathered blade, adjustable ferrule, and carbon fiber shaft.
In addition, you'll also have the option of having your new Crystal Kayak delivered unassembled or assembled. So whether you want the challenge of putting your kayak together or you want it to show up ready to be launched at your nearest body of water, the Crystal Kayak Company can accommodate!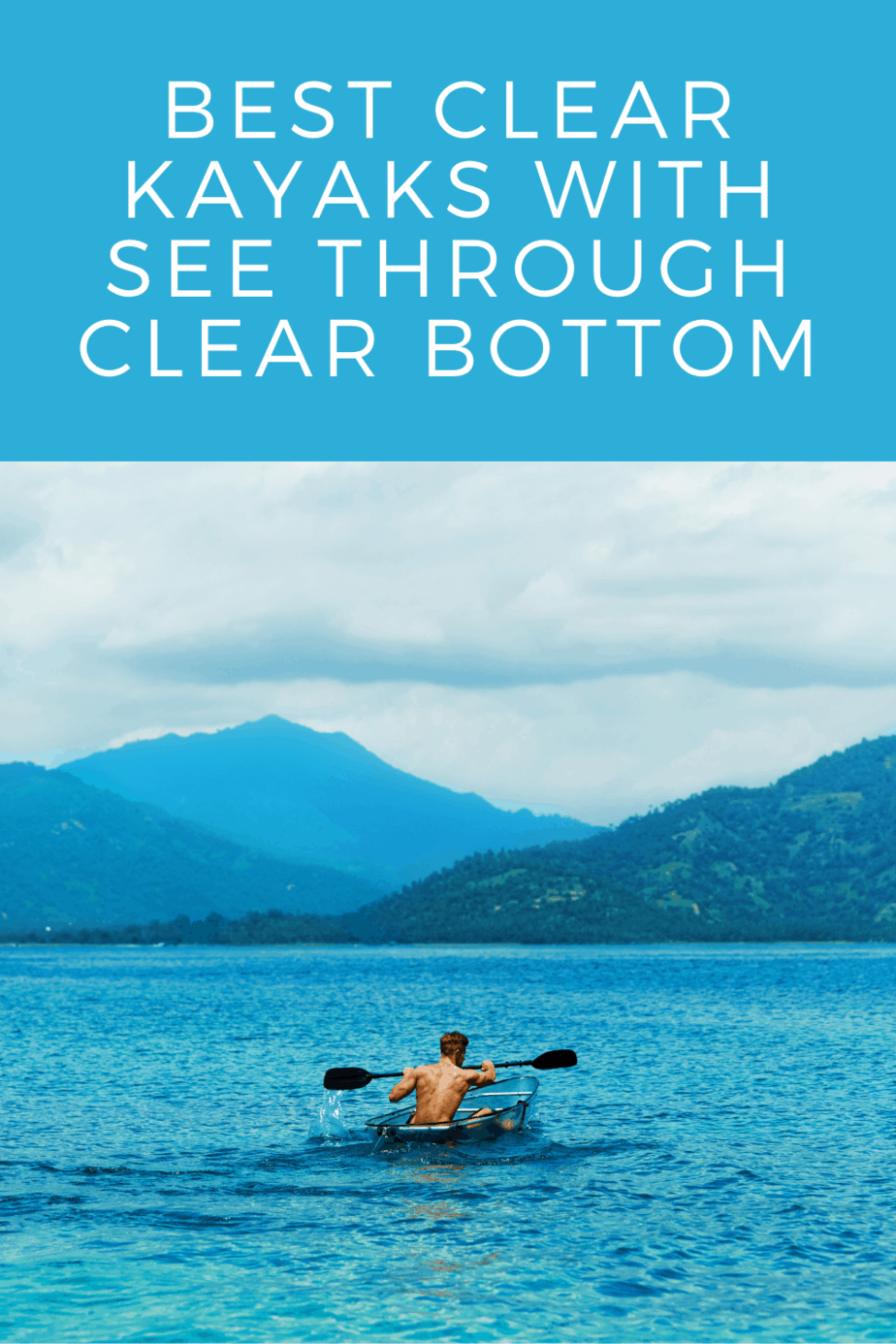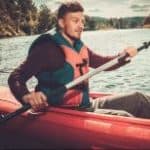 Author: Peter Salisbury
Pete is the Owner of KayakHelp.com. Born and raised in Cleveland, Ohio, he grew up kayaking, fishing, sailing, and partaking in outdoor adventures around the Great Lakes. When he's not out on the water, you can find him skiing in the mountains, reading his favorite books, and spending time with his family.