Whether you need a kayak rack on top of your vehicle, in your backyard, on a dock at your lake house, or in your garage, building a DIY kayak rack is one of the most affordable ways to go.
In this collection of DIY kayak rack ideas & plans, we will provide plenty of options for you to work with. Some designs may prove to be a little bit more affordable and easy to build than others, but you can pick and choose which option works best for you.
We will also discuss some of the additional benefits of building your own kayak rack and provide general kayak rack construction tips. So let's get right into it!
Photo by EQRoy via Shutterstock
Why Make a DIY Kayak Rack?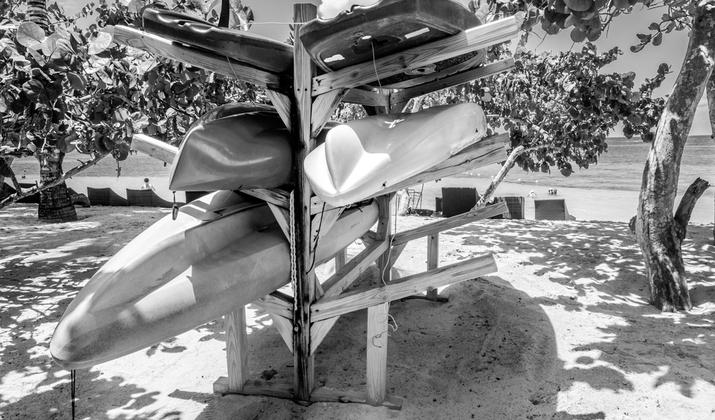 Photo by Todd Aaron Sanchez via Shutterstock
First and foremost, does it even make sense for you to go down the road of constructing a DIY kayak rack? Here are some of the benefits of undertaking a project like this.
Financial Savings
If you intend to do it, you can save a little bit of money by building a DIY kayak rack instead of buying a manufactured model. Sure, you will need to spend the added time to complete your build and you will need to factor that in as well.
For some of you, we realize you may instead spend the extra money to have a pre-built rack shipped right to your door. That is always an option, but financial saving is still one of the benefits of building a DIY kayak rack.
Freedom to Customize Your Rack
You can also create a custom rack that fits your kayak best. Most racks are designed for a set number of kayaks. That design may not match the size and quantity of your specific kayaks.
If you decide to build your own kayak rack, you will be able to design it as specifically as you need it. That also gives you the freedom to plan the dimensions so that it will fit well in your yard, garage, or wherever you plan on putting it.
Opportunity to Gain Craftsmanship Skills
Another fringe benefit of building a DIY kayak rack is the chance to gain some skills working with different tools and materials. Whether you want to gain woodworking skills or learn what it takes to work with PVC, you can do that if you opt to build your own kayak rack.
Tips For Making a DIY Kayak Rack
Photo by Bonsales via Shutterstock
As you will see, there are a lot of different ideas and plans for kayak racks that you can mimic. Most of them use different materials and construction dimensions, but you can use these general tips to help you succeed regardless of which idea you go with.
There Is No Such Thing As Measuring Too Much
Measuring twice so that you can accurately cut only once is an old adage in the construction world. Measuring accurately will make or break your design in many ways, but it is also worth noting that you aren't exactly building a million-dollar home here.
Most of the kayak rack ideas and plans on our list do not require you to measure down to the 16th of an inch. Still, there is no such thing as measuring too much if you want to guarantee the accuracy of your cuts when building a DIY kayak rack.
It Is Smart To Buy Extra Materials
Along that same vein, it can be useful to buy extra materials to give yourself a little wiggle room. If you have extra materials on hand, you can avoid having to make a second trip to your local hardware store if you mess up a cut or measurement.
When you are looking at the specific materials required for the plan you choose, it helps to round up from the quantities provided (whether that is PVC, metal, wood, or any other material).
If you have a lot of experience working with the material you will use for your DIY kayak rack, you can round up less. If you are less skilled and experienced, however, you may want to round up by as much as three or four feet to give yourself an additional margin for error.
Think About Weather Treatment
If your kayak rack will eventually live outside, you should consider weather treatment options. PVC tends to require the least in the way of weatherproofing if you are looking for an affordable material that will hold up well against the elements.
If you choose a design that utilizes wood or metal, however, weatherproofing is more important. These materials will break down and rot or corrode over time, which will ultimately cause you to spend additional time and effort repairing your DIY kayak rack (or building a new one entirely).
For wooden DIY kayak racks, consider coating all of your wood in some sort of oil-based paint or stain before you assemble your rack. For metal DIY kayak racks, stainless steel is usually the best choice because it is less susceptible to rust and corrosion.
In addition, you also need to think about the weather resistance of the hardware you use to put your rack together.
While it will be tempting to choose the most affordable options possible, spending a little more will help you build a DIY kayak rack that will last outside for years.
Also Read: Best 2-Kayak Roof Racks
DIY Kayak Rack Ideas & Plans
PC Wilderness Systems
PVC is one of the most affordable materials you can use for a DIY kayak rack and this design is super simple. It is designed to fit 33-inch wide kayaks can be built by spending just a little more than $120 on materials and utilizes 1.5-inch PVC pipe, T-connectors, PVC end caps, and VC glue.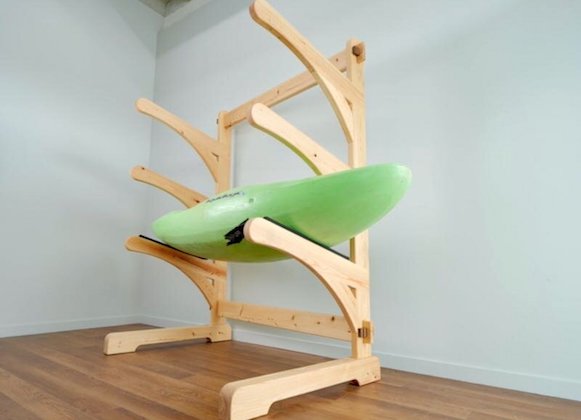 PC Craftedworkshop.com
This wooden kayak rack build is freestanding and great for sliding up against the wall in your garage or along the side of your house. It requires intermediate woodworking skills and a host of more expensive cutting and shaping tools.
That said, the step-by-step directions you can find using the link above are very detailed and will make building this DIY kayak rack manageable for less experienced craftsmen.
3. Three-Kayak Wooden DIY Kayak Rack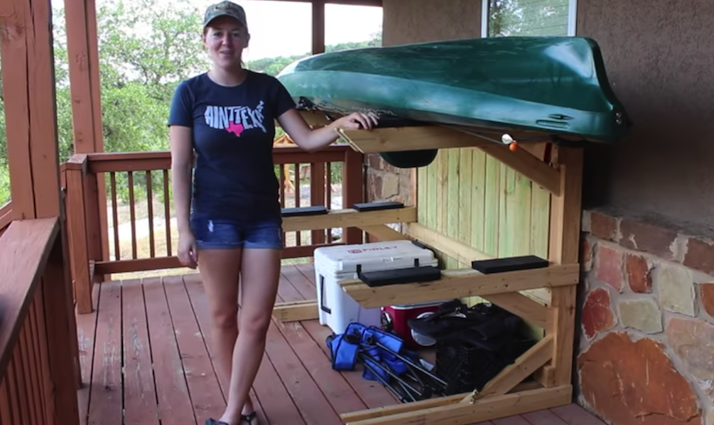 PC April Wilkerson via YouTube
This wooden kayak rack is designed for storing kayaks on a deck, dock, or inside your garage. It is a shorter design that allows you to keep your kayaks at a more accessible height for easier loading and unloading and the five-minute video below walks you through every step of the building process.
4. Wall-Mounted Wooden Garage Kayak Rack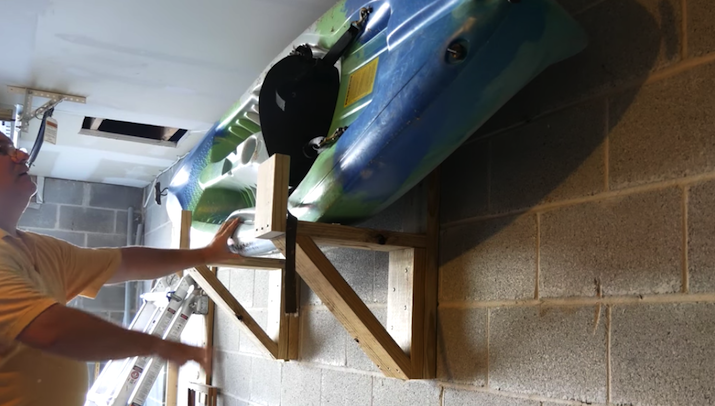 PC U DO IT via YouTube
You can use this wall-mounted kayak rack plan for storing kayaks in a garage or storage shed with concrete walls. It requires the proper drill bits to drill into concrete and more heavy-duty mounting hardware that will support the weight of your kayak.
The video below clearly explains the materials used and the method for installing this wall-mounted DIY kayak rack.
5. DIY Kayak Rack You Can Build in 15 Minutes!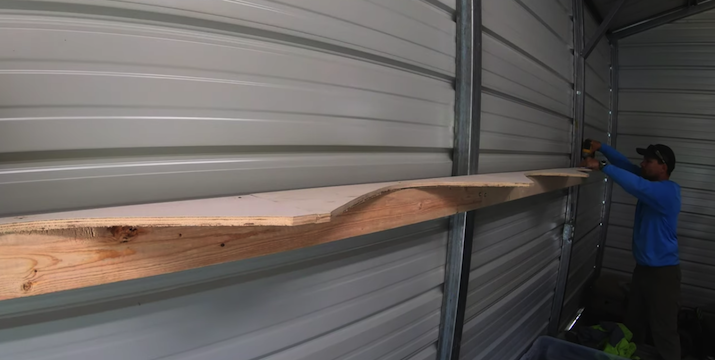 PC River Kings via YouTube
This design is one of the best DIY kayak rack ideas if you don't want to spend a whole lot of time on the project. It utilizes lumber to secure up to six kayaks vertically inside a metal or aluminum shed and the video below is made by a finishing carpenter but includes a few time-saving construction tips that you may find useful.
6. Freestanding Six-Kayak DIY Rack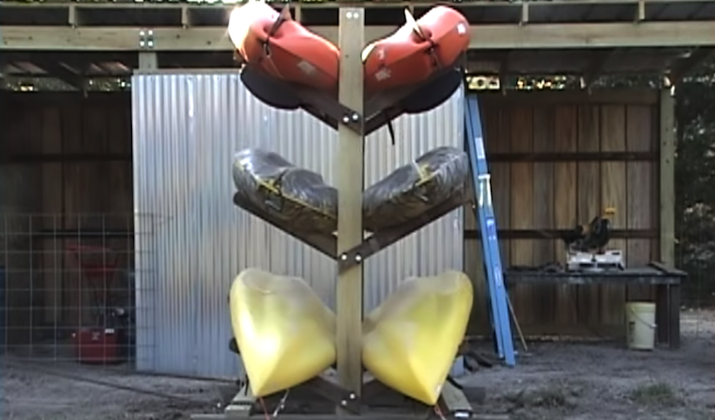 PC Jim Thomas via YouTube
This rack utilizes an upside-down T-shaped main structure with angled supports that allow you to store up to six kayaks. It uses 4" x 6" posts to form the base and 2" x 4" lumber for the rest of the structure.
The bottom runners are also designed to be easier to drag without catching on the round. That makes this rack a good choice for outdoor kayak storage if you need the ability to move the rack around easily.
7. Wall-Mounted Metal DIY Kayak Rack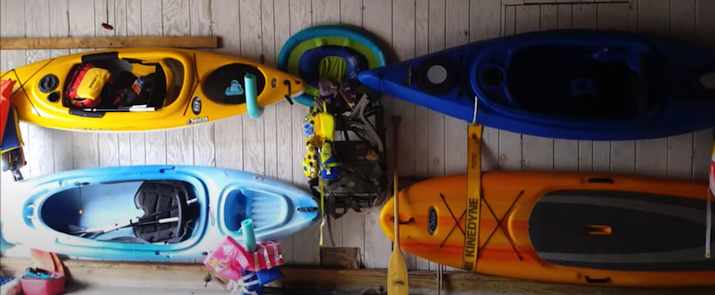 PC Bucks Garage via YouTube
These wall-mounted hangers use metal piping to essentially install hooks for storing your kayak inside a shed or garage. In the video, you will clearly see how the creator designed hangers for four kayaks, but you can use the same principles to create as many DIY wall-mounted kayak hangers as you need.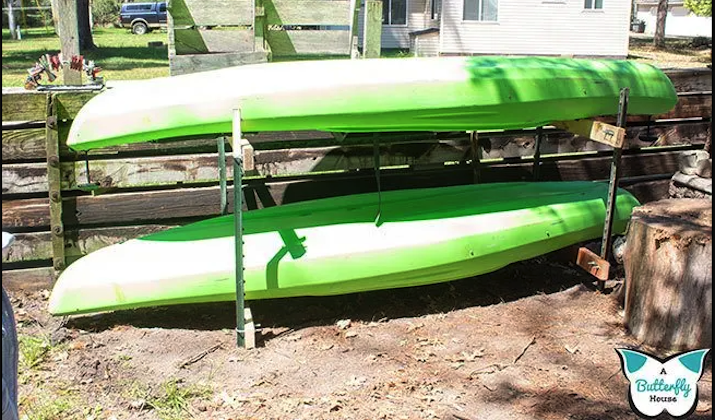 PC Abutterflyhouse.com
This creative DIY kayak rack utilizes the kinds of T-posts that are usually used for stretching longer sections of fencing material. By pounding those T-posts solidly into the round and then attaches cross braces with two-by-fours, you will have a simple rack for storing up to two kayaks.
9. Homemade Truck Bed PVC Kayak Rack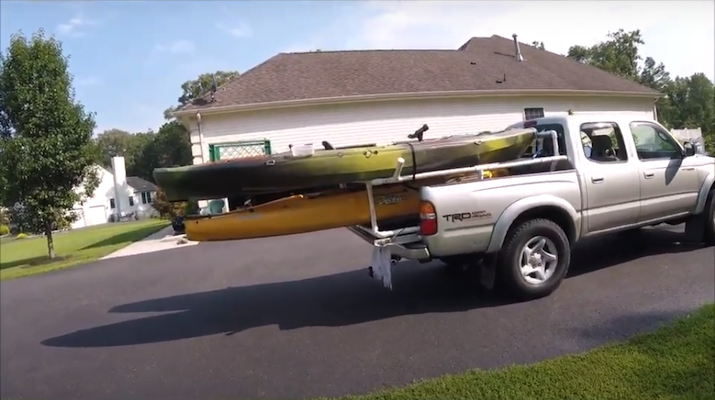 PC Brian Richard via YouTube
If you need a better way to transport multiple kayaks in the bed of your truck, check out this homemade PVC truck bed rack. It is built in an early model Toyota Tacoma and is designed to store up to three kayaks. But you can use the general principles outlined in the video below to adapt the rack for larger trucks as well.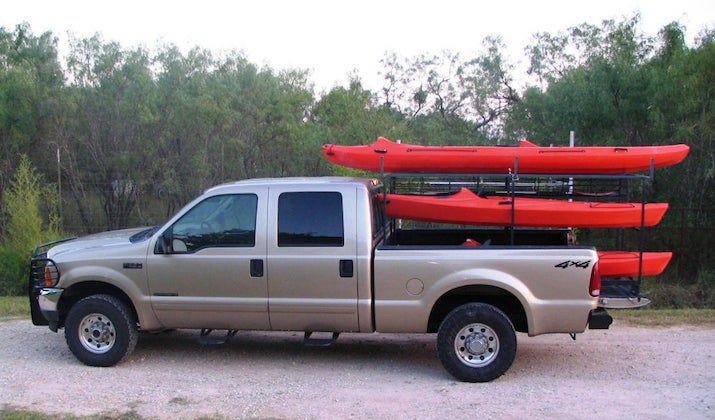 PC Scout II via Instructables
This is another design to help you maximize the kayak storage space in your truck bed. But this one utilized metal instead of PVC. The step-by-step instructions include a full design plan, a materials list, detailed cutting and assembly instructions.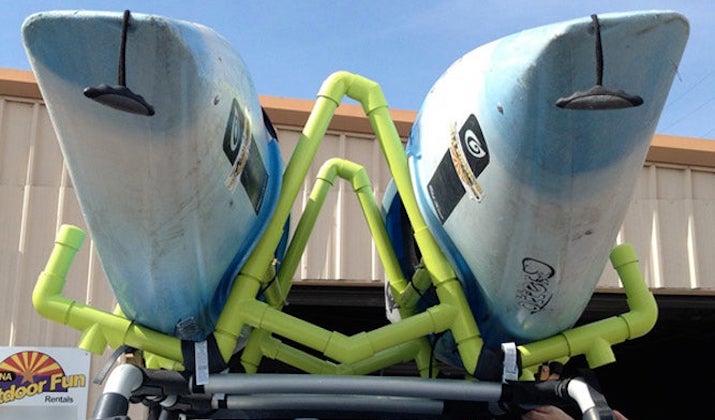 PC Raybourne via Instructables
Here is a great way to build a DIY kayak rack for the top of any vehicle. You will need to have crossbars already installed on your vehicle to build these PVC J-hooks. So if you do not, I would suggest checking out our instructions for transporting two kayaks without a roof rack.
12. Wall-Mounted DIY Kayak Rack From Electrical Conduit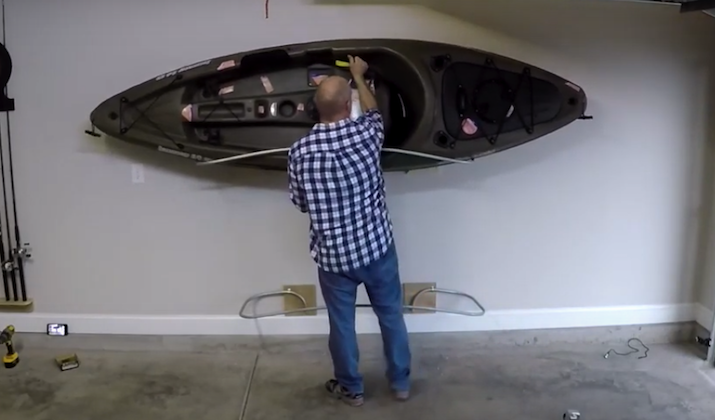 PC Born Handy via YouTube
Electrical conduit might not be the first material you think of to build a DIY kayak rack, but if you happen to have a bunch lying around it is a great way to save some money on this project. The video creator below claims that he constructed racks for three kayaks while spending only a little more than $50 on the project.
13. Scrap Wood DIY Kayak Rack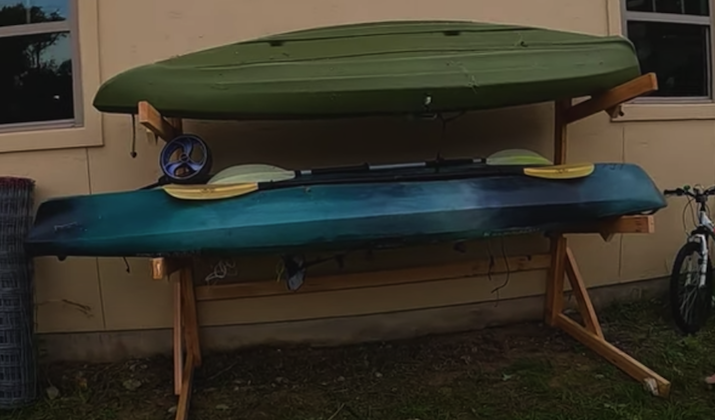 PC TWS via YouTube
Similarly, you can use scrap wood or even driftwood to fashion yourself a DIY kayak rack. While the early part of this video feels more like a property tour than a DIY kayak rack tutorial, skip to the 2:15 mark to see how this creator utilized scrap wood to improve his kayak storage situation.
14. 12 Kayak Wooden DIY Rack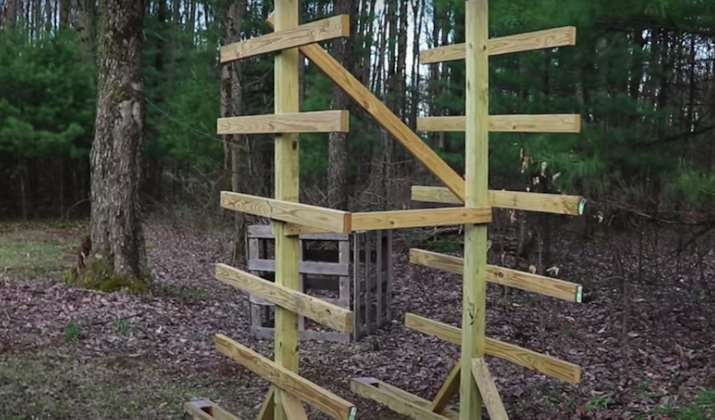 PC Alex Barham via YouTube
This is the best high-capacity DIY kayak rack design on our list. It is designed for the hardcore kayaker that somehow has accumulated way more kayaks than they originally anticipated.
The owner walks you through the entire process. His rack design is reasonably portable for such a large plan. This is nice if you ever need to move and want to take your rack with you.
15. Four-Kayak PVC Rack For Storage and Transport
PC Nate W via YouTube
This PVC garage kayak rack can handle up to four kayaks and costs about $90 to build. This rack is an excellent design because it can be set up in your garage. And then also picked up and secured in a truck bed when you need to transport multiple kayaks for your next paddle trip.
16. DIY PVC Kayak Stand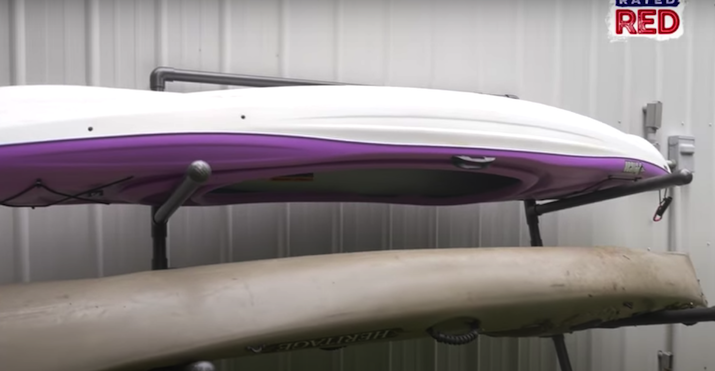 PC Rated Red via YouTube
This DIY kayak stand is designed to be leaned up against a shed or the side of your home. It utilizes 1.25-inch schedule 40 PVC pipe with T-connectors, elbow connectors, end caps, and PVC glue. The video provides a complete materials list. It also walks you through the step-by-step process of cutting your PVC pipe and assembling the two-kayak rack.
17. Outdoor Covered DIY Canoe and Kayak Rack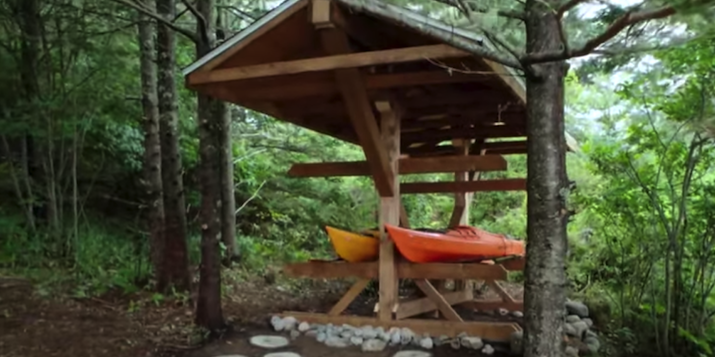 PC DIY MOM via YouTube
This outdoor rack is designed for four-season use because it includes a roof to keep your kayaks from being directly exposed to rain and ultraviolet radiation. It is a bit more complex build. But it will give you enough space to store up to six kayaks or four canoes and two kayaks.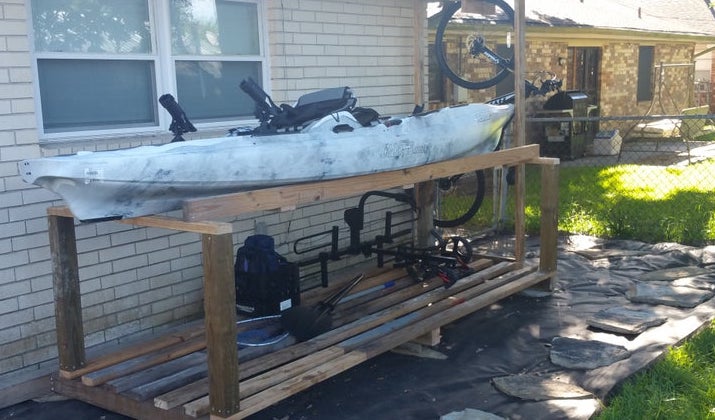 PC Tiger Island Handyman via Instructables
This wooden DIY kayak rack is designed for outdoor use. It provides a place to keep both kayaks and bikes organized and out of the way. The creator utilizes it for storing a single kayak and a bike. Additionally, there's a lower shelf for all of his kayak fishing accessories.
19. Homemade Kayak Rack and Garage Shelving Unit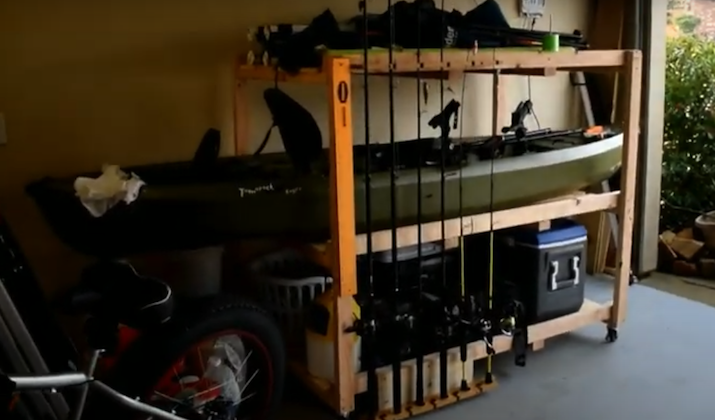 PC Jesse Lee via YouTube
Here is another wooden kayak rack design that will help you improve your garage's kayak storage. The frame could theoretically be used to store up to three kayaks. But this creator installed shelving on all three levels so that it could be used for his single kayak as well as fishing gear and other recreation equipment.
20. DIY Exterior Covered Kayak Storage Shed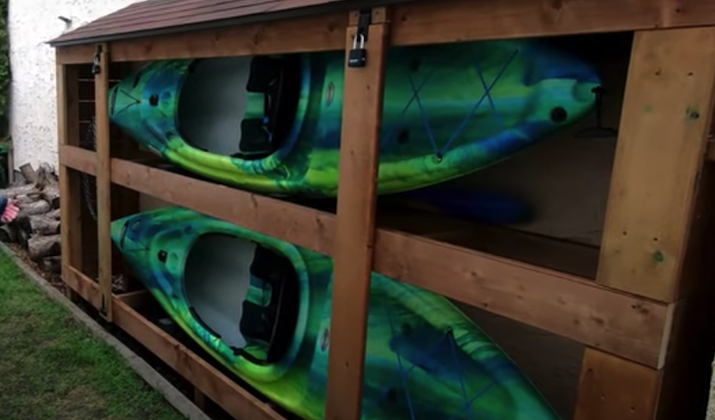 PC Angling Spiders via YouTube
This fabulous outdoor storage shed is designed to tuck up underneath the eaves of your home and provide storage for up to two kayaks. The father-son tandem that put this video together customized their storage shed to fit the specific area on the side of their home they had in mind. But you can use some of their principles to do the same on your property.
21. Wooden DIY Kayak Rack Build for Three Kayaks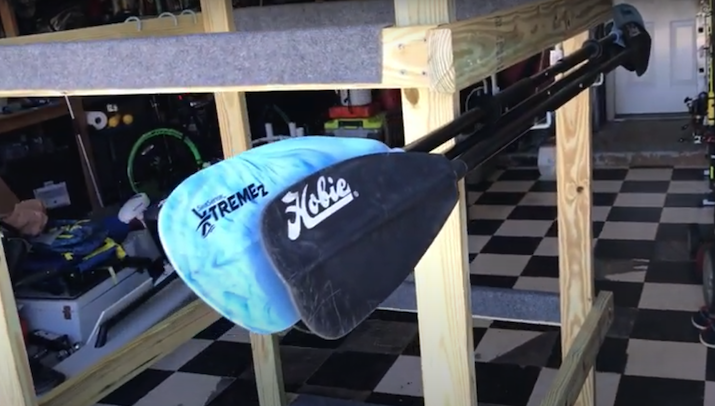 PC GetOutTheHouseGoFish via YouTube
You can use this DIY kayak storage rack to hold up to three kayaks. The items to finish it can all be found at Home Depot. It is a lumber rack that should be pressure-treated if you want it to last. But the description below the video has a complete list of the materials you will need for this DIY kayak rack build.
22. Wall-Mounted PVC Kayak Rack for Three Kayaks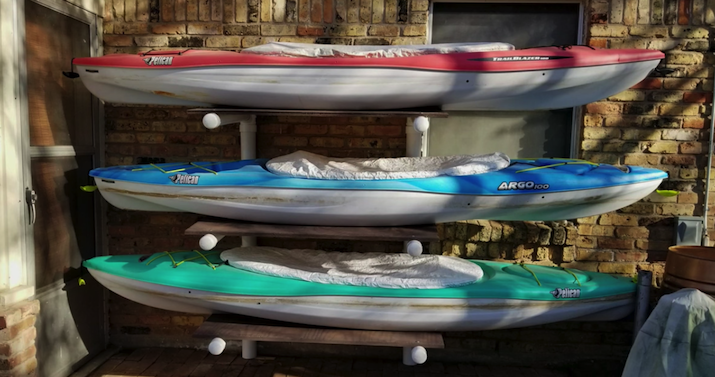 PC Smilin' Don Outdoors via YouTube
This rack is an excellent design for kayaks that need to be stored right side up and, ideally, on a flat surface. It is a vertical design that stores your kayaks essentially one above the other. So that they take up minimal space in your garage or on the side of your house.
The PVC can also be secured to a wall to minimize tipping, as this is one of the taller rack designs you will find.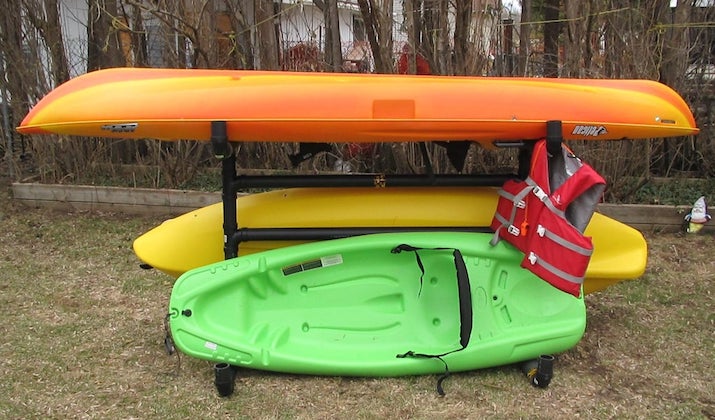 PC Spring Robin via Instructables
This is another PVC DIY kayak rack. This unique design can store up to three smaller kayaks in a very compact space. The rack also keeps your kayaks closer to the ground for more effortless loading and unloading, which is ideal for smaller paddlers or storing some of the best kayaks for kids.
PC Rannae Dawn via Medium
Here is another PVC kayak rack idea for storing kayaks upside down or right side up. It can hold up to two kayaks and is super lightweight so that you can move it around easily.
This rack can also be built for less than $100 and requires minimal cutting or shaping skills, which makes it best for inexperienced craftsmen.
PC Rustic-crafts.com
This unique kayak rack idea provides storage for up to four kayaks as well as the kayak paddles that go with them. It uses a wooden frame with metal arms that hold the majority of the kayak's weight.
PC Howdyyadewit.blogspot.com
Here is another wooden kayak rack, but this one is designed to fit in your truck bed. It is great for longer kayaks or canoes and allows you to maintain storage space underneath your boat for all of your other paddling safety equipment.
PC Stripersonline.com
Build this DIY PVC kayak rack to store two kayaks in your garage or a covered storage area. You will also be able to utilize the lower shelf for other kayak gear.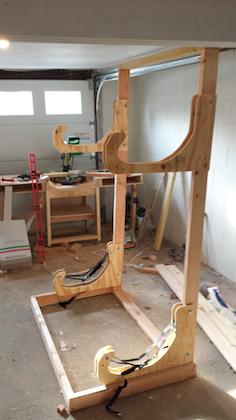 PC Zak Hoover via Imgur
This unique kayak rack design is also meant for storing your kayaks on a wall inside your garage. Unlike the straight arms on many other designs, this creator-shaped hook-like arms are better for keeping your kayaks secure when accidentally bumped.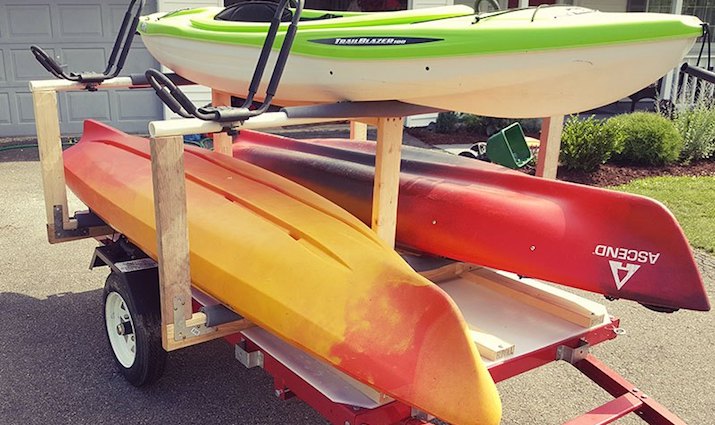 PC Hiking.earth
If you have a flat trailer that isn't being optimized for kayak storage, use this DIY kayak rack idea to create a customized kayak trailer. It can be built for less than $400 and will allow you to safely transport up to four kayaks.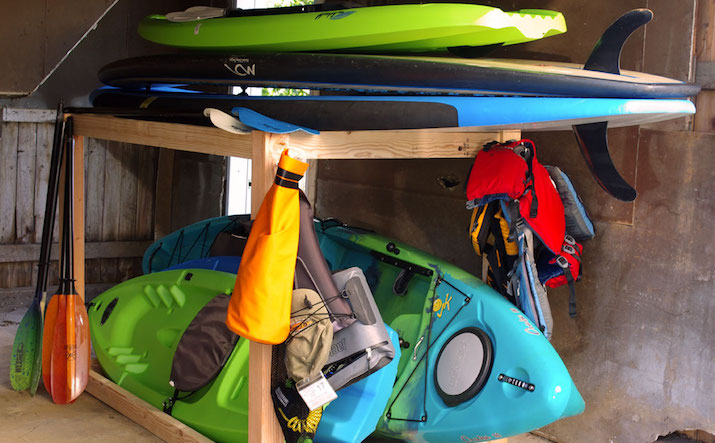 PC Createandbabble.com
This simple rectangular wooden kayak rack will help you consolidate your kayaks and paddleboards. The two shelves allow you to store multiple paddleboards on their side while having the upper shelf for your kayak.
Final Thoughts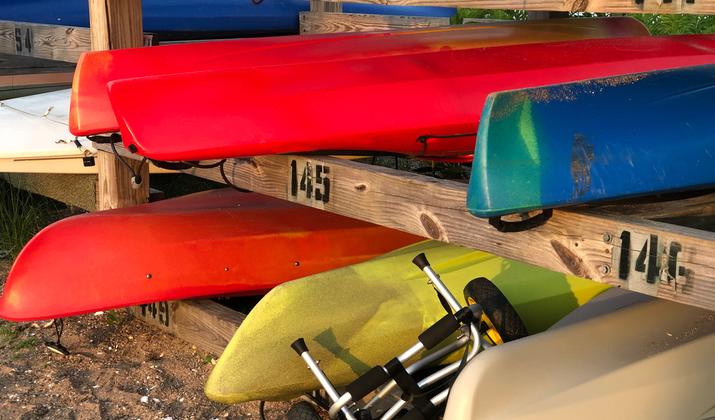 Photo by emnaylor23 via Shutterstock
We hope this collection gives you plenty of options as you embark on your DIY kayak rack project.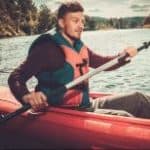 Author: Peter Salisbury
Pete is the Owner of KayakHelp.com. Born and raised in Cleveland, Ohio, he grew up kayaking, fishing, sailing, and partaking in outdoor adventures around the Great Lakes. When he's not out on the water, you can find him skiing in the mountains, reading his favorite books, and spending time with his family.