Owning your own kayak is an amazing experience. It allows you to find a kayak that is just right for you in every way and have it on hand when you want to head out on the water. You also don't have to worry about renting or borrowing one.
One of the few issues with owning your own kayak is storing it. While most recreational kayaks are between 10 and 12 feet long, a sea or touring kayak can be over 15 feet long, making it difficult to find the room to store it.
One of the best ways to store your kayak is with a kayak hoist. Using a kayak hoist allows you to store your kayak in a supportive, elevated position.
It keeps it out of the way and avoids any problems with warping or dampness. In this article, we will be looking at what factors you should take into account before buying a kayak hoist and reviews of the some of the best hoists on the market
Best Kayak Hoist 
What to Consider Before Purchasing Your Kayak Hoist
While it might be tempting to pitch your kayak into the first available corner when it isn't in use, proper storage of your kayak is critical.
Improper storage of a kayak can result in warping, damage to the hull, and issues with mold and mildew. A kayak hoist is one of the best ways to store your kayak, but before you rush out and buy one, here are a few factors to consider first.
Attachment Strength
Before heading out to buy a kayak hoist, it's important to take the time to think about where you are planning to attach your hoist. The average kayak weights between 30 and 70 pounds.
While all the hoists listed here can support between 90 and 200 pounds, all of that weight is also going to be suspended from whichever point on your ceiling that you attach the hoist to.
Once you've made the decision to buy a kayak hoist, think about where you will be attaching it before you purchase anything. Load bearing members, large wooden beams, and the specific attachment points found in some modern garages are best.
Safe Locking Mechanism
As we've already mentioned, the average kayak can weigh up to 70 pounds, so when you are securing one above head height, it's always a good idea to go for a hoist with a safe locking mechanism.
The safe locking mechanism prevents your kayak from falling due to an accidental release of one or more of the ropes that keep the kayak suspended.
The mechanism works by including a rubber safety cleat on all the ropes or straps that prevents them from moving through the cleat at speed.
Clearance
One of the main benefits of using a kayak hoist to store your kayak is that it frees up space in your storage areas by elevating your kayak, allowing items to be stored underneath.
The most common use of this elevated storage is in a garage, where the kayak can be stored suspended from the roof and a car can be parked beneath it.
If you plan to store your kayak in an elevated position above other items, always check the clearance of your hoist system before purchasing.
Most kayak hoists hang down from the ceiling by several feet and the last thing you want is to be scraping your car's paint job on the rudder of your kayak.
Kayak Hoist Reviews
Check Price on Amazon
Maximum working load:
250 lbs.
Maximum vertical lift: 8'
The Racor Pro HeavyLift is ideal for paddlers looking to store more than one kayak or lots of additional gear with their kayak. The Pro HeavyLift can support up to 250 pounds in weight and comes with a 4' x 4' storage cage that can free up 16 square feet of storage space.
Build from solid stainless steel, the Pro HeavyLift system uses a single winch in combination with strong nylon cables to raise or lower the platform smoothly and quickly.
The only downside to the Pro HeavyLift system is that it lacks a safe locking mechanism. Once the hoist is lifted to its maximum of 8 feet, the winch can be locked off, preventing it from falling when not in use.
The lack of a safe locking mechanism means it can fall when the winch in unlocked and in use.
PROS
CONS
Check Price on Amazon
Maximum working load:
90 lbs.
Maximum vertical lift: 10'
The StoreYourBoard Kayak Storage Hoist is specifically designed to store a single kayak in an elevated position. The pro version of this hoist combines an adjustable set so straps can be used to fit any shape of kayak, and a horizontal center strap can be used to secure your vertical hoist straps.
All of the fittings needed to install the StoreYourBoard Kayak Storage Hoist are included with the item and the company even goes so far as including a helpful instructional video to make things as easy on you as possible.
If the StoreYourBoard Kayak Storage Hoist has any issues, it is that it has a maximum lifting weight of 90 pounds. This is more than enough to accommodate a standard recreational kayak, but might not be enough for heavier tandems and doesn't give you many options to store your gear in your kayak.
PROS
CONS
Check Price on Amazon
Maximum working load:
125 lbs.
Maximum vertical lift: 12'
The RAD Sportz Kayak Hoist is an excellent option for kayak storage that can lift up to 125 lbs, making it suitable for all but the heaviest of kayaks. It also comes with a number of features that keep it simple and easy to use.
The rubber mounting hooks that attach to the straps that go around the kayak are rubber coated, both to invoice their durability and stop them from scratching your kayak.
The straps themselves are designed with loops built into them, eliminating the need for fragile hooks seen on other systems while still being fully adjustable.
The system has a built-in safe locking mechanism and RAD Sportz is so confident that you'll be happy with the durability of their kayak hoist system that it comes with a 100% unconditional lifetime warranty on all its parts.
PROS
CONS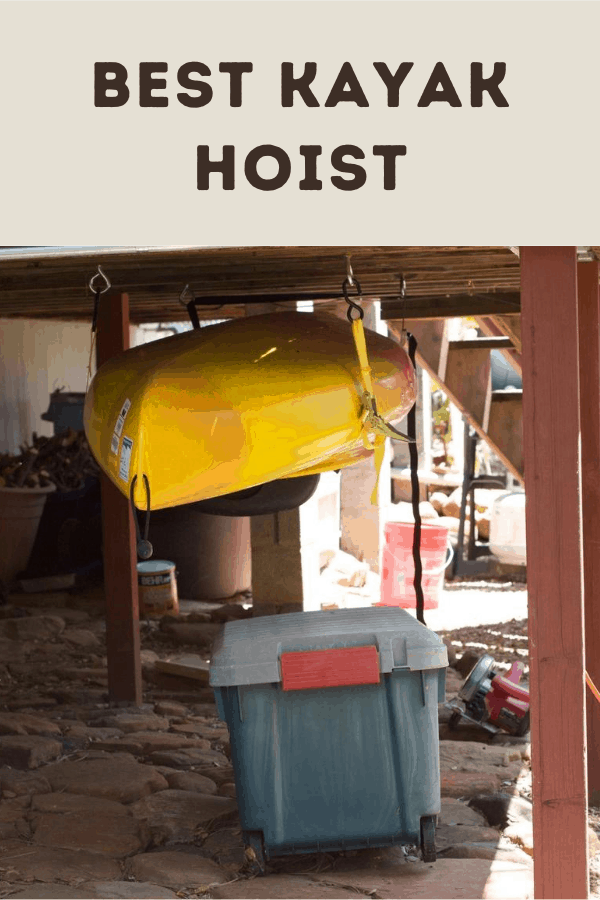 Author: John McCloy
John is a professional copywriter, fencer, and paddlesports fanatic based in the UK. When he's not out on the water, he can usually be found convincing new people to try kayaking, pretending to be Zorro or climbing what passes for mountains in England.