With the festive season approaching, you may be wondering what to buy that special skier in your life for Christmas.
In this post, we will go through the best gifts for skiers that will make time on the mountain a bit more enjoyable.
Thumbnail
Title
Carhartt Men's Knit Cuffed Beanie, Heather Grey, One Size
GoPro HERO10 Black - Waterproof Action Camera with Front LCD and Touch Rear Screens, 5.3K60 Ultra HD Video, 23MP Photos, 1080p Live Streaming, Webcam, Stabilization
DEVOPS Men's Thermal Underwear Long Johns Set with Fleece Lined (X-Large, Navy)
KOODER Boot Dryer,Shoe Dryer,Foot Dryer ! Eliminate Bad Odor and sanitize Shoes!
Thumbnail
Title
Carhartt Men's Knit Cuffed Beanie, Heather Grey, One Size
Thumbnail
Title
GoPro HERO10 Black - Waterproof Action Camera with Front LCD and Touch Rear Screens, 5.3K60 Ultra HD Video, 23MP Photos, 1080p Live Streaming, Webcam, Stabilization
Thumbnail
Title
DEVOPS Men's Thermal Underwear Long Johns Set with Fleece Lined (X-Large, Navy)
Best Gifts For Skiers
Check Price on Amazon
A skier or snowboarder can never have enough hats. Whether they
decide to ski without a helmet
or need something to keep warm while walking around the resort, a good hat is a must.
This beanie from Carhartt is 100% acrylic, so it is incredibly warm and comfortable. It has the iconic Carhartt logo stitched on the front and is available in a massive range of colors to suit any ski outfit.
Check Price on Amazon
Many skiers and snowboarders like to capture their mountain exploits on camera. GoPro makes some of the best action cameras, as they are small, high quality, and allow you to get footage from inventive angles.
The GoPro Hero 10 is the latest version and has had some significant upgrades over its predecessor. For example, it captures footage that is smoother and of higher quality.
It takes incredible 23MP photos and 5.3K video resolution at 60fps. Also, it has 8x slo-mo at 2.7K.
In addition to this, it now allows you to pause videos and grab 15.8MP still photos from 5.3K videos that look amazing.
Check Price on Amazon
Thermal underwear is essential for skiing, as it enhances your comfort while keeping you warm on cold wintery days. You can never have enough thermal underwear, so it is a very thoughtful Christmas gift for a skier or snowboarder.
The DEVOPS thermal underwear set is 100% polyester, which feels exceptionally soft against the skin. But it also has thermal tech fleece lining for extra warmth.
Check Price on Amazon
If the skier in your life feels the cold easily or skis in very cold resorts, heated socks make a great gift.
These fantastic inventions are just like regular ski socks, but they have a heating element running through them. They are powered by lightweight rechargeable lithium-ion batteries attached to the top of each sock.
The really cool feature of these heated ski socks from Newlemo is that you control them via a mobile app. The app allows you to adjust the temperature between seven heat settings without bending down.
Newlemo has made these socks from soft but durable fabric, so your feet are as comfortable as possible. The fabric wicks moisture away from your feet, is breathable, and quick drying.
Check Price on Amazon
There is nothing worse than putting your feet into wet ski boots in the morning. They make your feet incredibly cold and can make your day on the slopes a misery.
However, these portable ski boot dryers are the perfect solution. Just slip one into each boot at the end of the day, so you can enjoy warm and dry boots the following morning.
The great thing about these driers is that they are small enough to pack in your suitcase. They are also kind to your boot liners, as some driers get too warm, ruining your heat-molded footbeds.
Check Price on Amazon
Keeping your planks running smoothly is essential as a skier or a snowboarder. Some people like to take their skis and snowboards to a ski tech for a professional service.
However, being able to service your own skis and snowboard is very beneficial. You can do a quick service the night before a powder day or save some money by doing it yourself.
This complete servicing kit from XCMAN has everything you need to keep your edges sharp and your base waxed. It even has different waxes to suit the different temperatures you experience on the mountain.
Check Price on Amazon
When skiing, you need to protect your eyes; therefore,
you should wear goggles
. However, if you are skiing on a mild day or sipping a drink outside a mountain bar, you may want to wear sunglasses.
Oakley Frogskins have a timeless style and come in an incredible range of color combinations. You can even choose different colored lenses to suit your style and the snow conditions.
To get the best possible lenses, opt for the Prizm lenses. These enhance contrast and color to give you the best visibility in all conditions.
Check Price on Amazon
It can take a skier or snowboarder a long time to find the perfect face mask. Some work very well, while others fog up your goggles or just get wet.
No type of face mask is perfect, but this one from Airhole is excellent. As the name suggests, it has an air hole for you to breathe through, allowing condensation to escape into the atmosphere.
This enhances your comfort and stops your goggles from fogging up. It also has the perfect shape to fit around your goggles to seal your face from harsh wind and snow.
Check Price on Amazon
It can be very frustrating when you have a problem with your ski bindings and cannot fix it. But, if you were to carry a multitool with you, you can make any adjustments wherever you are.
This snowflake-shaped tool has everything you need to adjust or tighten up your bindings. As a bonus, this tool also has a bottle opener for après parties.
Check Price on Amazon
When you stop for lunch or an après beer, there is a good chance that you will need to leave your skis or snowboard unattended. Unfortunately, skis and snowboards get stolen all the time.
The number of skis and snowboards left outside mountain bars and restaurants makes them excellent targets for thieves. Nobody questions a thief that walks away with your skis.
We recommend that you lock your skis to a fence or ski rack whenever they are out of sight. This combination lock has a retractable cable that will allow you to lock several pairs of skis and snowboards.
Of course, the lock isn't a 100% guarantee that your skis and boards are safe. But a thief is more likely to take stuff that isn't locked up over yours.
Check Price on Amazon
Take a pair of quality ski gloves, add a heater, and you get super toasty fingers no matter how cold it is. These excellent ski gloves from Graphene are packed full of features.
They have multi-layer material protection, which helps keep in the warmth and makes them durable. The non-slip and wear-resistant palms are a helpful feature, so you have plenty of grip on drag lifts and your poles.
The heating area is transmitted warmth throughout the gloves and is activated with the touch of a button. There are three levels of heating to keep you comfortable in different environments.
An added bonus of these heated gloves is that you can use your smartphone without taking them off.
Check Price on Amazon
We are very dependent on our phones these days, even on the slopes. They keep us in contact with the rest of the group, play our favorite tunes, and control all the other electrical devices we carry.
The problem with cold weather is that it kills phone batteries, making our phones useless. But, this thermal phone case from Phoozy insulates your phone from the cold.
Another great feature of the case is that it is shock-resistant. Therefore, your phone should still be safe, even in a crash.
Check Price on Amazon
Hydration is an essential part of staying healthy while skiing or snowboarding. Spending time exerting yourself on the mountain is very dehydrating.
Yeti has come up with an excellent solution with this 26 oz insulated bottle. It is suitable for both hot and cold drinks, so you can either stay hydrated or warm yourself up with a hot chocolate on the mountain.
Check Price on Amazon
A day or two on the slopes can cause all sorts of aches and pains in your muscles. Using a foam roller is an excellent way of recovering by stretching and relieving tension.
But with this foam roller set, you have a massage stick, foam roller, massage balls, and a strap. All these allow you to massage hard-to-reach sore bits so you can get a deep tissue massage ready for another day on the slopes.
Check Price on Amazon
When you stop for a breather, you might want a little sip of something warming. And a hip flask makes an excellent gift for a skier.
Ski jackets are full of pockets, so why not carry this English Pewter hip flask in a luxury leather pouch. It has space for 6 oz of your favorite tipple to get you warmed up for après.
Check Price on Amazon
Most people consider skiing and snowboarding to come with an element of risk. However, they don't recognize that injuries commonly occur from just walking around the resort.
Slipping on ice is a real problem, and if you get injured, it can ruin your whole ski trip. But, with extra traction from putting Yaktrax over your shoes, you can walk around in safety.
Yaktrax have metal spikes that grip the snow and ice while you walk. They are very effective and can prevent embarrassing slips.
Check Price on Amazon
As we mentioned earlier, hydration is very important when skiing and snowboarding. But with this hydration pack, you can carry more water along with more stuff you need for your day.
CamelBak has put some serious thought into this hydration pack. It has Tri-zip access to make it easy to access the contents of your pack.
In addition to this, it has an expansion panel that adds an extra six liters of storage when you need it. The outside of the pack has a helmet, snowboard, and snowshoe carry attachment points for hiking in the backcountry.
Check Price on Amazon
Carrying your skis and poles can be awkward, especially if you have other things to carry. It becomes much more challenging when you have kids in tow.
With this in mind, any way to make carrying ski equipment easier is welcomed. This ski strap and pole carrier make carrying your equipment effortless.
When you travel by air on your ski trip, your skis are left at the mercy of baggage handlers. So for peace of mind, it is worth using a quality and padded ski bag.
This ski bag from Athletico has space for two pairs of skis nearly any length. It is made from durable waterproof material and is fitted with rollers to make walking around the airport super easy.
Check Price on Amazon
Oakley makes some of the best ski and snowboard goggles in the world. The Flight Deck goggles have a massive lens inspired by fighter pilots' visors.
The huge lens gives you excellent peripheral vision, so you don't miss a thing. In addition to this, the lens is Oakley's Prizm lens, which gives you a whole new level of quality of vision.
These goggles are not cheap, but you do get what you pay for.
Check Price on Amazon
Even though GoPro cameras are excellent and versatile, you need the necessary mounts to really make the most out of them.
One of the most useful mounts is the 3-way. A selfie stick that gives you a wide range of camera angles, thanks to its 3-in-1 design.
The 3-way has an integrated ball joint, which allows you to change the camera angle without repositioning the mount. It also has a handy tripod that fully exploits the camera's features.
Check Price on Amazon
A skier's choice of socks is critical, as a bad pair can ruin your whole trip. But a good pair will keep you comfortable and in control. You need to remember that your socks are your first point of contact with your skis or snowboard.
These Smartwool socks are suitable for both skiers and snowboarders. Their Merino wool material makes them very breathable, so your feet don't get too sweaty.
Merino wool also provides warmth, while the nylon and elastane make the socks fit perfectly with no bunching. These excellent socks are the perfect length, with their over-the-calf height and cushioning to prevent boots from rubbing the shins.
Check Price on Amazon
When it comes to layering on a cold day, a down jacket is one of the best ways to insulate yourself. Down jackets are surprisingly warm, considering how lightweight they are.
Due to its lightness, you can easily roll it up and stuff it in a backpack, ready for when it gets chilly.
This down jacket from Eddie Bauer is made from 100% recycled 20D ripstop polyester shell. It also has a DWR coating to repel water, so you can wear it without a shell over the top.
Check Price on Amazon
The Buff has been used by generations of skiers and outdoor sports enthusiasts. They love its versatility, but skiers mainly use it as a face mask on cold days.
However, you can use this Merino wool item in several inventive ways. The material is soft, warm, and wind-resistant, so you can be as comfortable as possible.
The Buff also comes in a wide range of colors to suit the rest of your ski outfit.
Check Price on Amazon
These may look like ordinary ski poles, but they have a hidden secret. They are actually novelty flasks, so you can carry 4 fl oz of your favorite drink inside them.
The WhiSki poles are not just novelty drink containers; they are proper ski poles made from aircraft-grade aluminum. You can also adjust the length of them to suit your height.
Check Price on Amazon
The little skier in your life will love building this Lego snow grooming machine on Christmas morning.
This Lego model is suitable for anyone six years old and over. It features real-world details, such as a cab that opens up for the driver and a snow cannon. It also has caterpillar tracks and a large snowplow on the front.
You even get a Lego driver and skier to open up more possibilities for fun.
Check Price on Amazon
It is a good idea to work on your fitness a few weeks in advance of a ski trip. A key thing to focus on is your core strength and balance, as they are essential for skiing and snowboarding.
A very effective way to work on these elements is with a balance board trainer. There are many exercises you can do with a balance board that will help to improve your performance on the slopes.
This balance board from Yes4All is high quality and has a grippy top sheet. It also has a removable stopper to help you progress when you become more advanced.
Check Price on Amazon
Carrying your luggage through the airport can be a struggle, so anything that will make it easier is welcome. This boot bag/backpack is a must-have for the traveling skier.
While you travel with this product, you can pack your ski jacket, helmet, boots, and lots of other stuff you need for your ski trip.
The side pockets are zippered and ventilated to prevent dampness from ruining their contents. While the center pocket is perfect for your helmet, jacket, or spare clothing.
As you can carry this boot bag as a backpack, it has comfortable hidden backpack straps and lumbar back pads for added comfort. It even has a pocket for your phone with a headphone port.
Check Price on Amazon
The North Face Base Camp duffel bag has a classic design and is incredibly practical. Turning up with one of these shows that you mean business and take your traveling seriously.
It is easy to carry and grab off the baggage carousel with its multiple handles. It also has a striking bright red color, so you can easily spot it when it comes round.
The North Face Base Camp duffel bag is used on expeditions thanks to its large size and durability. So, a trip to your favorite ski resort should not phase it in the slightest.
Check Price on Amazon
Provoke a smile from those in the know with this novelty t-shirt. It is printed with the double diamond black symbol that indicates the resort's most challenging slopes.
Under the symbol, it simply says, "I'm difficult."
This is a fun t-shirt that will go down well in any après bar when you strip off your layers. But it is also comfortable, thanks to its super soft material.
Final Thoughts
These are definitely the best gifts for skiers.
They are either very useful or fun ways to make time on the mountain more enjoyable.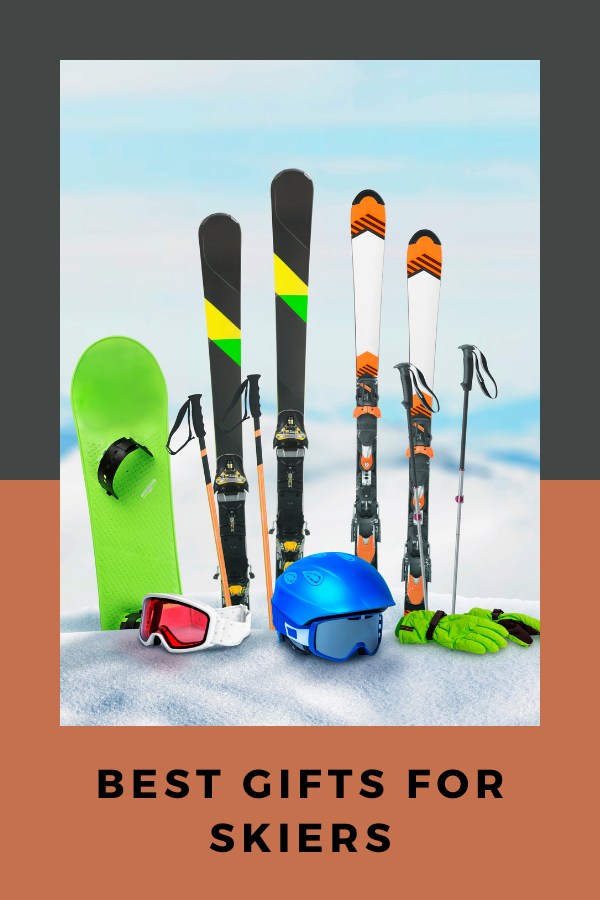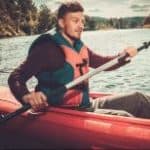 Author: Peter Salisbury
Pete is the Owner of KayakHelp.com. Born and raised in Cleveland, Ohio, he grew up kayaking, fishing, sailing, and partaking in outdoor adventures around the Great Lakes. When he's not out on the water, you can find him skiing in the mountains, reading his favorite books, and spending time with his family.