The United States is home to some of the highest and most imposing mountains in the world. So, to satisfy our hunger for sliding down them every winter, these peaks are serviced by incredible ski lifts.
High-altitude ski resorts have the best snow, thanks to their lower temperatures. They also have the best views, as you get to look out over the awesome mountain ranges.
One of the biggest draws to high-altitude ski resorts is their extended winter seasons. This is because the snow is still good enough to ski on well into the spring.
In this post, we will highlight the resorts with the highest ski lifts in North America. We will also talk about what is so great about them, so you can decide which one to visit.
Image by Jeremy Janus from Shutterstock
Highest Ski Lifts In North America
1. Silverton Mountain, Colorado: 13,487 ft
Image by Grossinger from Shutterstock
You need to head to Silverton Mountain in Colorado for some serious altitude. Its highest point sits at 13,487 feet, making it the highest ski peak in the U.S.
Many skiers and snowboarders are attracted to Silverton Mountain by its incredible snowfall. Every winter, 400″ of snow coats the resort, making it one of the more consistently good ski destinations in all of North America.
You access the peak via a single chairlift, which gives the experience a quaint, old-fashioned feel. But, skiing and snowboarding on Silverton Mountain are not for novices or nervous people.
The terrain is only suitable for advanced skiers and snowboarders with an adventurous spirit. Silverton Mountain has very limited infrastructure, but it is excellent for incredible powder runs.
Only part of the terrain can be accessed by lifts, so you need to be prepared to hike or tour. The thin air makes hiking more difficult, so make sure you have a good fitness level.
Not everyone will enjoy a visit to Silverton Mountain. Still, a dedicated few return every winter to experience the steep and deep. It is worth mentioning that it is mandatory for you to ski and snowboard with avalanche safety gear wherever you are in the resort.
The minimalist infrastructure does put off less committed skiers and snowboarders. But, the excellent powder and the backcountry feel inside an inbound, groomed area makes up for it.
2. Telluride Ski Resort, Colorado: 13,150 feet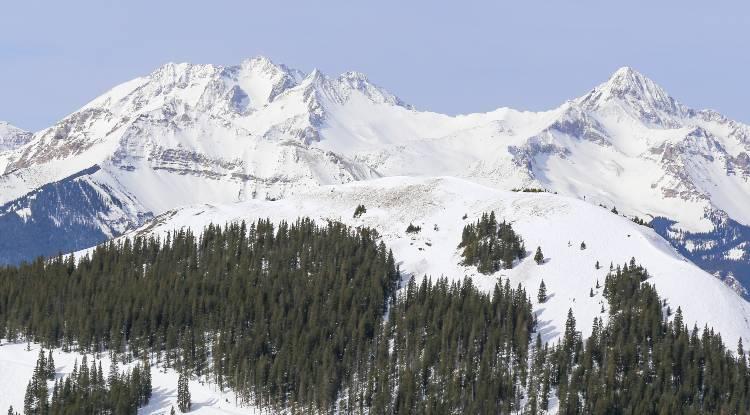 Image by CSNafzager from Shutterstock
Staying in Colorado, the next highest ski resort in North America is Telluride.
Telluride is an old mining town located in the heart of the San Juan Mountain that has evolved into an excellent ski resort. This once sleepy mountain town is now one of the highest-profile ski destinations in the country,
One of the big attractions to Telluride is its stunning setting and charming town. However, the resort has an excellent and modern infrastructure.
This gorgeous ski resort is surrounded by the highest concentration of 13,000 and 14,000-foot peaks in all of North America. It has around 150 marked slopes over 2,000 acres of skiable terrain.
These slopes get a covering of over 300″ of snow every winter. Its incredibly high elevation of 13,150 feet preserves the snow well all season.
Image by Lauren Or from Shutterstock
Telluride also has one of the longest vertical drops of any North American ski run. If you are brave enough to head for the summit, you will ski more than 4,425 feet on your way back down to the lodge.
However, there is plenty of terrain to suit all abilities in Telluride. Uniquely, the slopes are graded with six different difficulty levels, ideal for progression.
There are lots of accommodations from ski-in-ski-out in the mountain village to charming options in the historic town. Telluride also has a wide range of mountain restaurants, après bars, and more sophisticated establishments.
3. Arapahoe Basin Ski Area, Colorado: 13,050 feet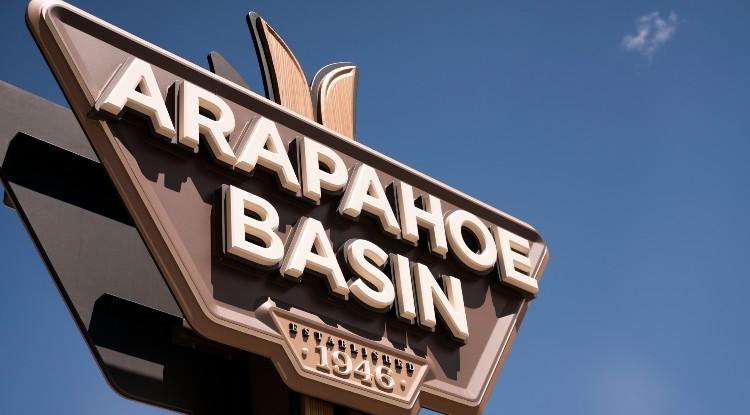 Image by Forge Productions from Shutterstock
Arapahoe Basin is a small ski area with just 960 acres of skiable terrain. But, within this area, you will find over 100 marked ski slopes covered with plenty of snow.
A-Basin (its nickname used by locals) gets over 350″ of snow each winter. But, in addition to this, it is regularly one of the first ski areas to open and the last to close in North America.
The winter season often stretches from October to June, making it very popular with dedicated skiers and snowboarders who want to squeeze in as much mountain time as possible.
This extended season in A-Basin is thanks to its 13,000 feet of elevation and north by northeast-facing aspect. The two highest lifts, Lenawee and Zuma — reach 12,472 feet, giving you plenty of vertical drop.
Arapahoe Basin Ski Area is very different from other Colorado ski resorts. Its location and culture really set it apart from the others, with the locals' laidback nature and party atmosphere.
The ski area has a well-earned reputation for challenging terrain, making it a haven for advanced skiers and snowboarders. The top half of the mountain sits above the tree-line, while the resort is famous for its cruisy open bowls, chutes, and steep mogul terrain.
Arapahoe Baski Ski Area also has less intimidating groomed runs for the less experienced. There are not many beginner slopes in the area, but it is a reasonable place for novices. There are also a few small snow parks to practice your freestyle skills.
4. Loveland Ski Area, Colorado: 13,010 feet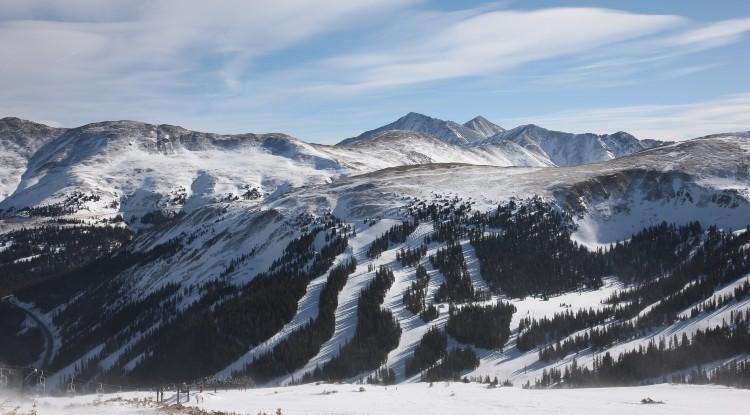 Image by MAsyRiverMedia from Shutterstock
Loveland Ski Area is often overshadowed by the other high-profile glitzy Colorado ski resorts. Many people dismiss it as a small local's ski area.
However, even though it may not have all the advantages of the higher-profile ski resorts, it has a lot to offer. Not everyone wants or needs the fancy stuff provided by Vail or Breckenridge.
Thanks to its location, Loveland Ski Area is one of the more easily accessible high-altitude ski destinations in North America. Its summit sits at 13,010ft (3,965m), while the highest lift is 12,697ft (3,870m).
The area has 94 marked slopes that cover 1,800 acres of skiable terrain. You access the runs via 10 ski lifts, of which only one is a detachable quad chair.
People are drawn to Loveland Ski Area for many reasons. For example, it is much quieter than the surrounding higher-profile ski resorts, and it gets 422″ of snow every winter.
Loveland has long winters. It often opens in mid-October and closes in early May. So, if you love spring skiing, you can have lots of fun here.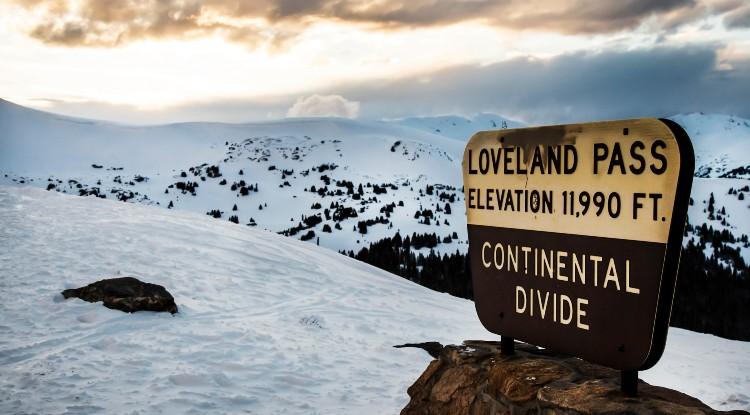 Image by Elizibeth Reese from Shutterstock
Loveland Ski Area consists of two very different zones, Loveland Valley and Loveland Basin. The two zones are not linked with the ski lift system, but there are regular free shuttles between them.
Loveland Valley is perfectly set up for beginners and ski racers. It is serviced by two lifts and is a great place to progress your skiing or snowboarding.
Loveland Basin is the main part of the ski area and has most of the lifts. It also has a lot of varying terrain, including cruisers, tree runs, a small terrain park, open bowls, and steep faces.
If you are experienced and looking for a challenge, Loveland has some excellent diamond and double diamond black runs. There are some gnarly extreme lines, too, if you are willing to hike to them.
You can make hunting for powder easier with the free snowcat shuttles to the Northern bowls. These shuttles are available from Wednesday to Sunday for experts when the conditions are suitable.
5. Breckenridge Ski Resort, Colorado: 12,998 feet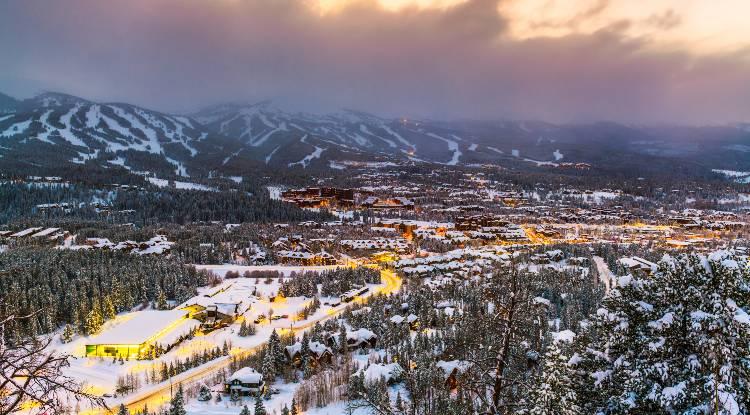 Image by Sean Pavone from Shutterstock
Breckenridge holds legendary status in the world of winter sports. It boasts excellent customer service, perfectly groomed slopes, a well-developed infrastructure, and a stunning location.
It prides itself on its ability to balance a laidback mountain culture with being a world-class ski resort.
Breckenridge has the highest quad chair ski lift in the entire world. It also has an incredible 3,000 acres of skiable terrain to enjoy.
Skiers and snowboarders can enjoy an impressive vertical drop of 3,398 feet. If you fancy challenging your legs, head for the longest run, known as "Four O'Clock," which is more than 3.5 miles from the summit to the bottom.
Breckenridge's Imperial Express Superchair begins at 11,901 feet and ends at 12,840 feet. This makes it the highest ski resort high-speed quad chairlift globally, opened in 2005.
The Imperial Express Superchair takes you to the top in less than three minutes.
Breckenridge's snow quality is excellent, which is helped by its elevation. It sits at 9,600ft, but the Imperial Express Superchair takes you super high, but you can test your lungs and hike up to 12,998 feet!
One of the things people love about Breckenridge is the town. Many regard it as the best ski town in Colorado.
The town is not a purpose-built ski resort but an old mining town from the 1850s. It has lots of character, while the locals are famous for their friendliness.
Interestingly, Breckenridge was the first ski resort to allow snowboarding. It also hosted the World Snowboard Championships in 1986.
Breckenridge is a very popular destination for snowboarders, thanks to the resort's commitment to the sport. It is a freestyler's heaven, thanks to its superb snow parks.
6. Snowmass Ski Area, Colorado: 12,510 feet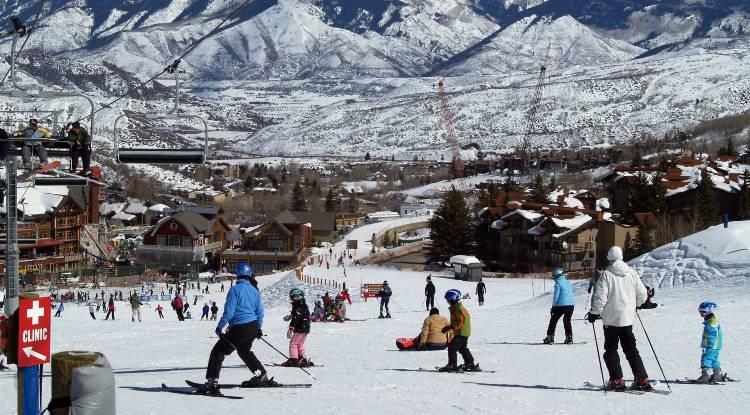 Image by Marcin Moryc from Shutterstock
Snowmass is located in Aspen, Colorado, and is one of the ski resorts that makes up the Aspen/​Snowmass conglomerate. Out of all the resorts, Snowmass has the highest peak, standing at 12,510 feet.
The Cirque j-bar lift goes up to the top, making it the highest j-bar lift on the North American continent.
The area has 94 marked runs, with the longest being over 5.3 miles long. This is sure to test the endurance of anyone's legs.
Snowmass is renowned for its wide-open terrain and fast slopes. It is best suited to advanced skiers and snowboarders, but there are some excellent areas for beginners too.
Snowmass is regarded as one of the best ski resorts Colorado has to offer. People love the expansive and varied terrain and ski-in ski-out accommodation options in Snowmass Village.
If you stay in Aspen Snowmass, you get access to Aspen Mountain, Buttermilk, and Aspen Highlands too. You can also catch a free bus to the town of Aspen to take full advantage of the nightlife and fun atmosphere that it has to offer.
7. Taos Ski Valley, New Mexico: 12,481 feet
Image by Jacob Boomsma from Shutterstock
With all the resorts we have discussed so far, you would think that only Colorado has the highest ski lifts in North America. However, If you head over to New Mexico for a ski trip, you will come across Taos Ski Valley.
Taos Ski Valley is popular with some of the world's best freeskiers. One of its draws for the rest of us, though, is that it is less crowded than the Colorado ski resorts.
The resort has 1,200 acres of skiable terrain with 110 trails, serviced by 15 lifts. There is plenty of terrain to choose from to suit any level of expertise for both skiers and snowboarders.
Taos Ski Valley is a fantastic destination for powder hounds. The snow is light and dry, and over 300″ of it falls every winter.
It is an excellent high-altitude alternative to the resorts you find in Colorado. People love the steep terrain and deep snow, but the resort itself is very unique.
Taos Ski Resort village is heavily influenced by European ski resorts. But the town of Taos sits in the New Mexico desert, giving you the opportunity to get fabulous cultural experiences.
You will see a combination of Hispanic and Pueblo Indian cultures, which is something you won't get from any other ski area.
8. Keystone Resort, Colorado: 12,408 feet
Image by Cascade Creatives from Shutterstock
Back to Colorado now with a look at Keystone Resort. Even though it doesn't get as much snow as other ski resorts in Colorado, it still gets a not too shabby 235″ per year.
When you arrive at Keystone Resort, your initial view of the ski area is deceptive. The slopes you see from the bottom of the mountain represent a small portion of what is available.
Keystone Resort has a large ski area to play in, thanks to 3,148 acres of skiable terrain and 130 marked runs. Freestylers love the world-class snow park, while cat skiing and night skiing are excellent ways to maximize your mountain time.
The ski area has 3,128 feet of vertical drop spread across several mountains. All the runs are linked by modern chair lifts and gondolas, so you can get to the top in comfort and quickly.
Keystone's highest peak summits at 11,980 feet. It is the best place to go for skiers and snowboarders looking to enjoy epic powder and tree skiing.
You get to the top via the Outback Express Lift. But, if you take a short walk, you can access the North and South Bowls, where you will often find wide-open turns and powder stashes.
Keystone Resort is not a bad place for beginners, but intermediate skiers and snowboarders love it. They are particularly fond of the groomed slopes, which are smooth, but there are some excellent steeps too.
Keystone hasn't any very gnarly terrain, but its steeper slopes, tree-lined runs, moguls, and cornices should challenge most skiers. If you want to have an unforgettable day on the mountain, book a cat skiing excursion to one of the many powder bowls.
Keystone Ski Resort is one of the more family-friendly resorts in Colorado. It has a vibrant atmosphere in the village and an abundance of activities for kids.
One of the more popular activities is night skiing. The night skiing area is enormous and includes the snow parks and halfpipe. Interestingly, the lights and lift are powered by wind.
9. Copper Mountain, Colorado: 12,313 feet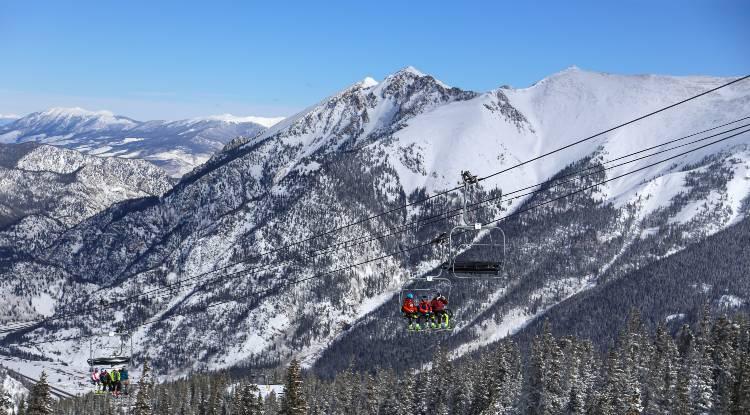 Image by Steve Boyce from Shutterstock
Copper Mountain gives you access to 2,450 acres of skiable terrain. It has 146 marked slopes serviced by 22 lifts.
A unique element of Copper Mountain is that it is set on land leased from the U.S. Forest Service, which gives the resort a remote wilderness feel.
The terrain available lends itself to all levels of skier and snowboarder. You can even go snow tubing when you fancy a change.
Copper Mountain is so good for all abilities due to its topography. All the areas are naturally separated according to their difficulty levels.
The easier slopes are set out on the mountain's western side, while the intermediate and advanced slopes are on the Eastern side.
The downside of this segregation does mean that it can be awkward for families to ski together. However, beginners don't need to worry about faster skiers, and advanced skiers don't need to worry about avoiding slower ones.
Even though there is plenty of terrain for all levels, experts can find some excellent and challenging terrain. For example, the steep terrain includes chutes, cornices, and wide powder bowls only suitable for people who know what they are doing.
Copper Mountain has an impressive range of snow parks and half pipes if you love to jib and huck. You can start on the small, easy features and then progress on the bigger stuff.
One of the best freestyle features is the 22-foot superpipe. Even if you are not quite skilled enough yet, it is worth going to watch the pros take full advantage of the towering walls.
10. Crested Butte Mountain Resort, Colorado: 12,162 ft
Image by Jacob Boomsma from Shutterstock
Crested Butte Mountain Resort is one of Colorado's most famous winter destinations. It has 1,500 acres of skiable terrain with over 120 marked slopes and two snow parks.
Most of Crested Butte's slopes are more suitable for intermediate skiers and snowboarders. However, experts and beginners can easily find slopes to have fun on.
Crested Butte's peaks get 300″ of snow cover every winter, making it an excellent place for powder hunters. But when the snow melts, the resort becomes a world-class mountain bike destination.
The Crested Butte Ski Resort is renowned for its extreme ski and snowboard terrain. But it is also famous for its extreme friendliness and extremely laid-back culture.
Visitors love the town for its charm and how easy it is to get to the slopes. It is just three miles from the mountain. It has historic Victorian buildings with vibrant wooden facades that look like they are from a western movie.
Many people regard Crested Butte as the last real Colorado ski town. It is reminiscent of what some of the other Colorado ski towns used to be like before they were developed.
Even though Crested Butte is not far from Aspen, it has a very different atmosphere. It is not as glamorous, but it has no intentions to be as it wants to remain down to earth and homely.
Things to note:
Before you visit one of these resorts, remember high altitude comes with low temperatures. So dress to suit the conditions, to be as comfortable as possible.
If you have never been to a high-altitude ski resort, you may need to take it easy for the first couple of days. It is common for people to get altitude sickness, especially when they exert themselves.
Altitude sickness is caused by lower air pressure and less oxygen available to you. It usually occurs over 8,000 feet, though its symptoms are mild: lightheadedness, headaches, shortness of breath, and nausea. But if you get serious side effects, move to a lower altitude.
Final Thoughts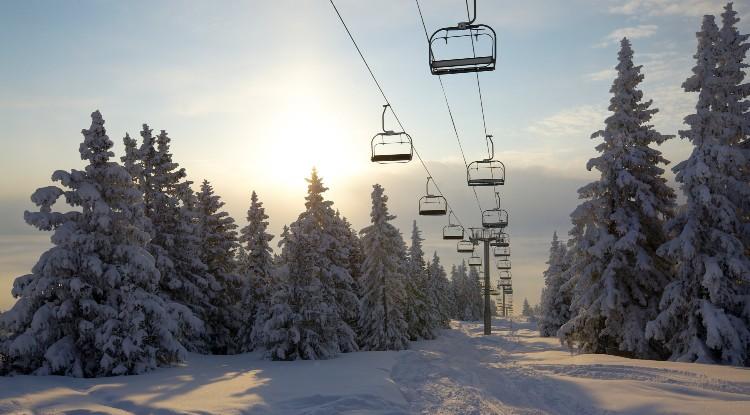 Image by Peter Gudella from Shutterstock
These resorts have the 10 highest ski lifts in North America. High-altitude ski resorts have their bonuses, but you can still have plenty of powder and fun at lower altitudes.
So, if you cannot manage to get to these resorts, don't worry too much. But, if you do visit them, you will have an incredible time.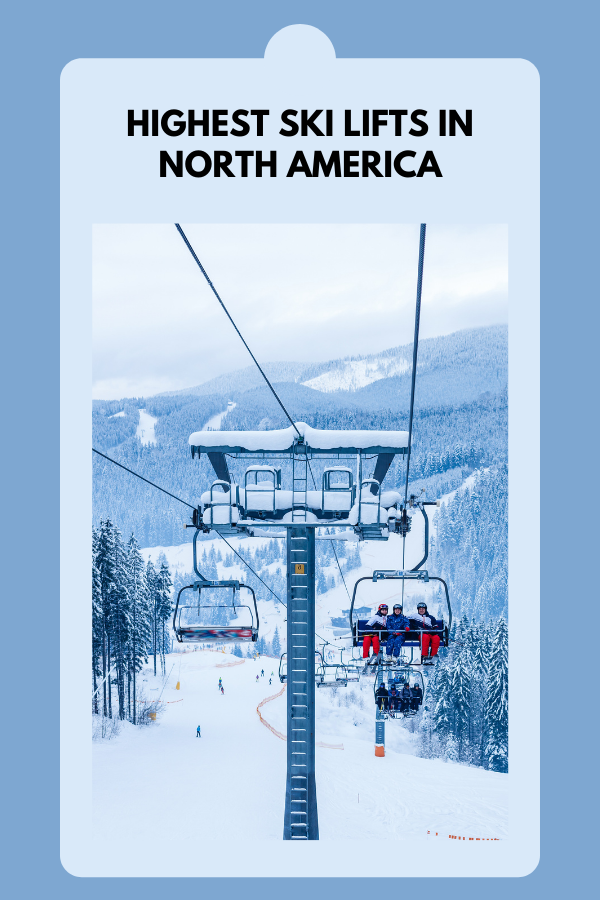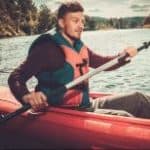 Author: Peter Salisbury
Pete is the Owner of KayakHelp.com. Born and raised in Cleveland, Ohio, he grew up kayaking, fishing, sailing, and partaking in outdoor adventures around the Great Lakes. When he's not out on the water, you can find him skiing in the mountains, reading his favorite books, and spending time with his family.