As the temperature drops, a snowboarder's excitement increases. Their mind is on their upcoming fun in their favorite resort.
Why not give them a gift that they will appreciate and enhance their enjoyment on the mountain with something from our list of the best gifts for snowboarders?
Thumbnail
Title
Volcom Men's Sweep Roll Over Skullfit Lined Beanie, Dark Teak, One Size
GoPro HERO10 Black - Waterproof Action Camera with Front LCD and Touch Rear Screens, 5.3K60 Ultra HD Video, 23MP Photos, 1080p Live Streaming, Webcam, Stabilization
Snowboard Wisdom: 100 Reflections on Life and Riding
KOODER Boot Dryer,Shoe Dryer,Foot Dryer ! Eliminate Bad Odor and sanitize Shoes!
DEMON UNITED Snow Ready Ski Tuning Kit & Snowboard Tuning Kit with Iron- Includes 1.06 LBS of Wax - Good for Over 20 Ski or Snowboard Tune Ups
Thumbnail
Title
Volcom Men's Sweep Roll Over Skullfit Lined Beanie, Dark Teak, One Size
Thumbnail
Title
GoPro HERO10 Black - Waterproof Action Camera with Front LCD and Touch Rear Screens, 5.3K60 Ultra HD Video, 23MP Photos, 1080p Live Streaming, Webcam, Stabilization
Thumbnail
Title
Snowboard Wisdom: 100 Reflections on Life and Riding
Thumbnail
Title
KOODER Boot Dryer,Shoe Dryer,Foot Dryer ! Eliminate Bad Odor and sanitize Shoes!
Best Gifts For Snowboarders
Check Price on Amazon
Keeping your head and ears warm on the mountain or in the resort is essential. Also, you rarely see a snowboarder without a hat of some kind.
This beanie from Volcom is 100% Acrylic, making it warm and comfortable. Its soft fleece lining enhances its warmth to keep you toasty even on the coldest of days.
The Sweep Roll Over Skullfit beanie has the Volcom name label subtly sewn onto the front and is available in a range of cool and understated colors.
Check Price on Amazon
Documenting a snowboarding trip is a big part of the experience for many riders. One of the best ways to do this is with a GoPro action camera.
These tiny cameras can be mounted in a whole host of ways. This makes them highly versatile, allowing you to get creative with camera angles.
The GoPro Hero 10 captures your mountain exploits in high definition quality. It is incredibly tough, too, so you don't need to worry too much about breaking it.
One of the big selling points for snowboarders is the smoothness of the footage. This is important for the viewer's experience and for looking as cool as possible.
The fact that you can also use the GoPro Hero 10 to capture incredible 23MP photos means that you only have to take one camera on the mountain.
Check Price on Amazon
It is always good to have some reading material, especially on your way to a snowboarding trip. So why not be inspired by reading a book that discusses what snowboarding teaches us about life?
This book by Nick Appl doesn't teach you how to snowboard. But, it goes into the different aspects of life while using snowboarding as an analogy.
It is a very deep book that explores our emotions, values, and everyday lessons in a way that a snowboarder can relate to. You will find this book very easy to read and difficult to put down.
Readers of this book love the insight and witticisms that cleverly compare the snowboard lifestyle to life. It is available in paperback and on Kindle.
Check Price on Amazon
Snowboard boots can get pretty wet, especially on powder days and in spring-like conditions. Therefore, being able to dry your snowboard boots out overnight is very welcome.
You can easily dry your boots out with these portable boot driers. They are small enough to pack into your suitcase and powerful enough to stop you from putting your feet into wet boots in the morning.
Just plug them in and slide one into each snowboard boot before bed. You will be able to slip into toasty and dry snowboard boots before you head for the mountain.
Check Price on Amazon
Many snowboarders see their boards as their pride and joy. Therefore they want to make sure that they are in the best condition for shredding the mountains.
Some people like to hand their snowboard over to a ski shop to service it. However, if you can service it yourself, your board will be ready for tomorrow's powder.
This complete snowboard servicing kit from Demon United has everything you need to keep your snowboard running fast and its edges sharp. One of the bonuses of this kit is that it comes with a waxing iron, so you don't have to buy an expensive one.
Check Price on Amazon
Taking face shots on a powder day is pretty satisfying, but all that snow freezes your face and dries your skin. Therefore, it is a good idea to protect your face from the snow, freezing temperatures, and sun.
The Airhole face mask is a great way to protect your face from the elements. It is warm, looks fantastic, and prevents your goggles from fogging up.
This facemask gets its name from the small hole that is located over your mouth. It is big enough for you to breathe through but small enough to stop the snow from getting in.
The Airhole face mask fits neatly around your goggles, creating a perfect seal. Because you breathe through the hole, the moisture from your breath is released into the atmosphere rather than into your goggles.
Being able to protect your face from the harsh mountain environment is essential. Therefore the Airhole face mask is an excellent gift for a snowboarder.
Check Price on Amazon
Snowboard bindings have lots of screws and adjustable areas. Sometimes these loosen off at the worst possible moment, and you don't realize it until it is too late.
But if you carry this Burron Bullet tool in your snowboard jacket pocket, you will be able to fix any problems.
This multitool includes a #2 and #3 Phillips head screwdriver, a flat head screwdriver, a 4mm Allen key, and a 10mm wrench. It also has a foldable handle that gives you plenty of leverage, even with gloves on.
Another good use for this multitool is for changing your stance while you are on the mountain. If you have a new snowboard and want to tweak your setup, the Burton Bullet Tool will allow you to do it.
Check Price on Amazon
It's a sad fact that snowboards go missing in ski resorts. Opportunist thieves will spot unattended snowboards and take them.
When you look at all the skis and snowboards outside mountain restaurants and bars, you can see that they are easy targets. When your snowboard gets stolen, it will ruin your day and can ruin your whole trip.
But, you can easily lock your snowboard to a ski rack or fence with a retractable cable lock.
Locking your snowboard isn't a 100% guarantee that it will be safe from thieves. But, if a thief sees one that isn't locked, they are more likely to take that one.
This lock has a 2ft long cable, which is sufficient for at least one snowboard, maybe two, depending on what you lock them to. All you need to do is remember the combination after an après session.
Check Price on Amazon
The cold can deplete your phone's battery very quickly, which can be frustrating and cause problems. We rely on our phones so much these days, thanks to their versatility.
We need our phones to contact other people in our group, call for help, play music, and even connect to our cameras.
This insulated phone case from Phoozy protects your phone from the cold. Therefore, you can ensure that the battery will last as long as possible.
The other excellent feature of the Phoozy is that it protects your phone from impacts. So when you bail on a jump or catch an edge, landing on your phone is less of a risk.
Check Price on Amazon
The most dedicated snowboarder doesn't just think about riding in the winter. They constantly dream of fresh powder, park sessions, and early morning corduroy turns.
Some inspirational winter-themed artwork will give the snowboarder in your life something to look longingly at while waiting for the snow.
This canvas artwork depicts a misty day on a chairlift and looks great in bedrooms, offices, and hallways. It comes in three sections and has stretcher bars for an authentic gallery quality.
Check Price on Amazon
The Ninja Suit from Airblaster is a fantastic base layer. It is a one-piece suit made from a soft synthetic material designed to keep you warm in the coldest conditions while snowboarding.
It has an integrated hood and thumb loops to ensure you are sealed from the elements. Thanks to its 4-way stretch, moisture-wicking fabric, this suit is incredibly comfortable.
Whether shredding in sub-zero temperatures or relaxing in front of the TV, the Airblaster Ninja Suit will keep you nice and cozy.
Check Price on Amazon
The Arcade belt is an excellent gift for a snowboarder. This belt is made from heavy-duty elastic webbing, which is not only strong but very comfortable to wear.
It is stretchy enough to let you move without restriction, but it also provides lots of security to keep your snowboard pants up.
You can choose the Arcade belt in various colors and styles, all of which look great.
This belt is ideal for traveling, too, as it has no metal parts. Therefore, you don't have to remove it when you walk through the metal detector at the airport.
Check Price on Amazon
You need to stay hydrated when you are snowboarding all day. This is because you can work up a sweat while riding hard, increasing your body's need for fluids.
This sports water bottle from Iron Flask comes in a range of sizes to suit your needs. It keeps your drink cold for up to 24 hours, so you can sip cold drinks throughout your day.
Alternatively, you can fill it with coffee or hot chocolate, and it will still be warm 12 hours later.
This high-quality bottle has a leakproof lid, so you don't need to worry about it soaking the contents of your backpack.
Check Price on Amazon
What better way to celebrate a day on the mountain than with a sip of your favorite drink?
A hip flask is a perfect way to toast an epic powder run, a successful 360, or getting off a chairlift without falling over.
This hip flask holds eight ounces of liquid and comes with its own funnel to make filling it more manageable.
But the extra surprise is that this is a pack of eight hip flasks. This means everyone in your group can have their own, rather than sipping out of yours.
Check Price on Amazon
Your choice of socks is critical. If you wear the wrong socks, your whole trip can be ruined by abrasions and blisters.
A decent pair of proper snowboard socks will keep you comfortable, warm, and in control of your board. People often forget that their snowboard socks are their first point of contact with their snowboard, making them a critical part of their equipment.
These Burton mid-weight snowboard socks are designed to provide slight cushioning between your feet and boots, but not so much as to compromise control.
You can be assured that they will remain comfortable all day, thanks to their elasticity in the arch and ankle. Also, the flat stitched seam prevents the socks from bunching, which can be very painful while snowboarding.
Check Price on Amazon
When you have been snowboarding for a couple of days, you will start to get some aches and pains, especially if you don't ride that often.
A great way to recover from this soreness and prepare you for more slope action could be to use a foam roller. A short session at the end of a day on the mountain stretches and relieves tension in your muscles.
But, you can take it a step further with this foam roller set. It has a massage stick, foam roller, massage balls, and a strap to allow you to target troublesome areas.
Check Price on Amazon
Balance is a big part of snowboarding, and so is agility. You will have a much better time if you can improve on these elements before a snowboarding trip.
The Whirly Board is a way to work on your balance and agility at home. It consists of a skateboard-like deck with a half ball mounted in the center, creating instability.
There is a wide range of exercises you can do on the Whirly Board that will prepare you for your snowboard trip. It is suitable for snowboarders of all levels, as everyone can benefit from it.
Check Price on Amazon
Storing a snowboard at home can go one of two ways. You can either hide it away or put it on display.
If you opt for showing off your snowboard, it can get in the way. But with this cool snowboard hanger from Stauber, you can mount your snowboard on the wall in a stylish way.
The snowboard hanger is made from durable acrylic and comes in four styles. We like the transparent ones, as they look pretty cool and show off your base graphics.
You will find the hangers easy to fit on your wall using the included mounting screws.
Check Price on Amazon
If the snowboarder in your life has several snowboards, they may be able to make use of this snowboard rack.
This rack holds up to 7 boards, including snowboards, skateboards, and longboards. So you can grab your choice of board in a flash as you run out the door.
Check Price on Amazon
Some people feel the cold easily; therefore, they need a little extra warmth in their gloves. Luckily, these gloves from Graphen solve the problem with a built-in heating element.
The heating element runs throughout the glove and is controlled with a single button on the back. The button switches the glove on and cycles through three heating levels.
You will be impressed by these gloves' durability that comes from the multi-layer material protection. This construction also efficiently retains the heat produced by the heating element.
As an extra useful feature, Graphene has made these gloves touchscreen compatible. Therefore, you don't need to take them off to make a call.
Check Price on Amazon
Sipping from your favorite mug in the office is one of those little pleasures in life. It gives you a little break from the stresses of your working day.
This mug with the phrase "eat, sleep, snowboard" will make that coffee breaks a little more pleasant. Every time you put it in the coffee machine, it will remind you of fun times on the mountain.
A mug showing that you are a snowboarder is also a great conversation starter, which will keep you away from your desk a little bit longer.
Check Price on Amazon
When you turn up at the resort, you don't want to find out that your board and binding have been damaged by a careless baggage handler. Therefore, you need to make sure you pack your board into a good snowboard bag.
This snowboard bag comes in three sizes and does an outstanding job protecting your equipment. It can hold two snowboards safely, thanks to its premium quality padding.
It also has double rollers to make traveling more manageable, so you can effortlessly wheel it through the airport. 
You can be assured that this snowboard bag will last a long time too. It has been made from durable material with reinforced construction. 
Check Price on Amazon
Sometimes snowboard GoPro footage can be a bit samey, or the camera can be angled in a way that misses the action. But, the GoPro 3-Way 2.0 is a versatile camera mount that helps you capture creative snowboarding footage.
The 3-Way is essentially a selfie stick, but it can be angled to ensure that you or your subject is properly in the frame. Its 3-in-1 design makes it one of the most versatile GoPro accessories you can buy.
It has an integrated ball joint, which gives you the flexibility to reposition the camera effortlessly. It also has a built-in tripod so you can set it up to film yourself hitting kickers in the park.
Check Price on Amazon
Anon makes excellent snowboard goggles, and these are no exception. They are packed full of features and extras that make your time on the mountain safer and more enjoyable. 
The lens attaches with a series of magnets, making it super easy to change lenses. This is a good thing, as you get a spare pink lens, ideal for lowlight conditions.
You also get a face mask that attaches to the goggles with magnets. Many snowboarders believe that this is one of the best face mask systems you can buy.
The lens is high quality, fits over glasses, and gives you excellent peripheral vision. With the frame's triple-layer foam and ergonomic design, you will struggle to find a more comfortable pair of snowboard goggles.
Check Price on Amazon
When you are dressing for the slopes, it is a good idea to go with different layers. This women's hoodie makes a great mid-layer to wear under a snowboard jacket.
It also comes in a variety of styles to suit your snowboard outfit. This way, you can pick the best one to look good in the bar when you take off your jacket. 
This hoodie is made from a cotton and polyester blend, so it is super comfortable and will keep you warm on the mountain.
Check Price on Amazon
The DaKine Heli Pro is an iconic snowboard accessory. It is a backpack with a low profile initially designed for heliboarding.
It is large enough to carry everything you need for a heli trip but not so bulky to take up space inside the chopper. You don't need to go heliboarding to take advantage of this backpack.
The Heli Pro has straps that allow you to carry your snowboard on it for backcountry hikes or hands-free walking around the resort. It is also compatible with hydration packs.
You can safely store your goggles in its specially made fleece-lined pocket. And you will be surprised how much stuff you can fit inside it.
The DaKine Heli Pro is an excellent gift for a snowboarder, and it will last them many years.
Final Thoughts
All these gift ideas will be appreciated and loved by the snowboarder in your life.
They will make their mountain time more fun or keep their enthusiasm for the sport alive.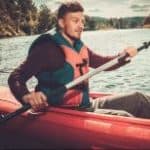 Author: Peter Salisbury
Pete is the Owner of KayakHelp.com. Born and raised in Cleveland, Ohio, he grew up kayaking, fishing, sailing, and partaking in outdoor adventures around the Great Lakes. When he's not out on the water, you can find him skiing in the mountains, reading his favorite books, and spending time with his family.