Owners of boats and personal watercraft know that cracks and leaks aren't always easy to repair. Some can require the assistance of an expensive professional and others can compromise the buoyancy of your vessel permanently.
However, some minor cracks can be repaired quite easily. If you aren't ready to buy an entirely new ski boat or touring kayak, for example, it pays to know how to fix cracks so you can buy yourself more time.
Flex tape is one of the best products out there for repairing pontoon boats, kayaks, and even ski boats. It's a simple solution for fixing small cracks and leaks without having to perform a more costly (and more time-consuming) repair.
In our Ultimate Buyer Guide, we will provide several Flex Tape reviews detailing their various products and the kinds of repairs they are meant for. So let's get started!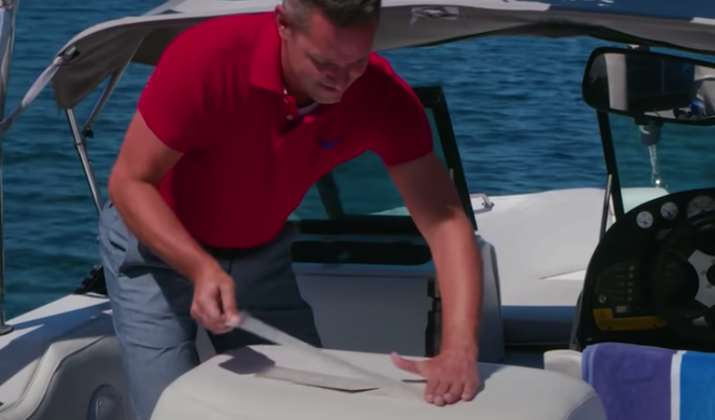 PC Flex Tape via YouTube
What is Flex Tape?
Photo by Colleen Michaels via Shutterstock
In terms of its appearance, Flex Tape looks a lot like duct tape or Gorilla tape. It comes in rolls of various sizes, but it contains a more powerful adhesive than either of these two tapes and it is specifically made for the purpose of waterproofing.
It comes with a flexible rubberized backing that is thicker than most other tapes. It is also designed to contort and conform to almost any shape or surface imaginable, including underwater applications.
It is resistant to ultraviolet radiation and free of volatile organic compounds (VOCs) while also being resistant to extreme temperatures and weather conditions. What's more is that the strength of the tape is designed to increase with time and pressure.
Flex Tape works on almost every surface you can think of as well. So if you don't use a full roll to repair your boat or kayak, you'll have leftovers to fix plumbing issues, roof leaks, shower repairs, and much more.
Flex Tape is also available in a variety of shades: white, black, clear, and grey. This makes it easier for you to match the color of the surface you're repairing so that it's hardly noticeable once you're finished.
For a quick infomercial-style description, check out this video!
Who Is Flex Tape For?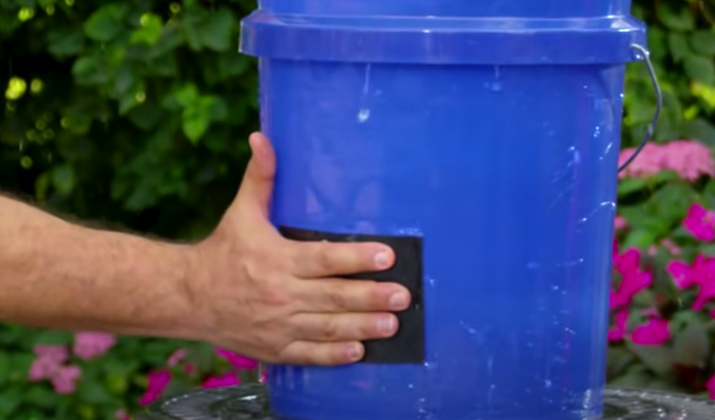 PC Flex Tape via YouTube
The short answer really is anyone and everyone. It'll help you repair everything from those pesky air mattresses that never seem to hold to a crack in the windshield of your boat.
Its versatility makes it an exceptional choice for the experienced or beginner DIY enthusiast and it's the perfect replacement for the repair kit that came with your inflatable products. Sometimes, you might even consider throwing that old repair kit out and just keeping Flex Tape handy, depending on where it came from.
Flex Tape is also great for outdoorsy folks because it is so much easier to apply than other methods. Hikers and backpackers can use it to repair their packs and other gear that breaks down on the trail.
Kayakers and paddleboarders can use it to stay afloat or to patch a cracked paddle. Even car mechanics have been known to keep a roll of Flex Tape around to repair cracked lights or mirrors if clients aren't ready to replace them.
Long story short, Flex Tape is for everyone. This is an essential item to keep in your garage or in your gear setup so that you have the ability to fix leaks, tears, cracks, and other issues when the need arises.
Flex Tape Versus Regular Glue
Flex Tape has many benefits over using traditional glue or even marine-strength glue for your repairs. Here are a few benefits to consider:
It's easier and cleaner to use
It doesn't require a bunch of cleanup of your hands or the affected surface afterward
It works with a wider variety of surfaces and materials
It doesn't contain any harsh chemicals that you'll find in some glues
It can be safely applied with minimal repair experience
It's safe for kids and adults of all ages.
Tips For Using Flex Tape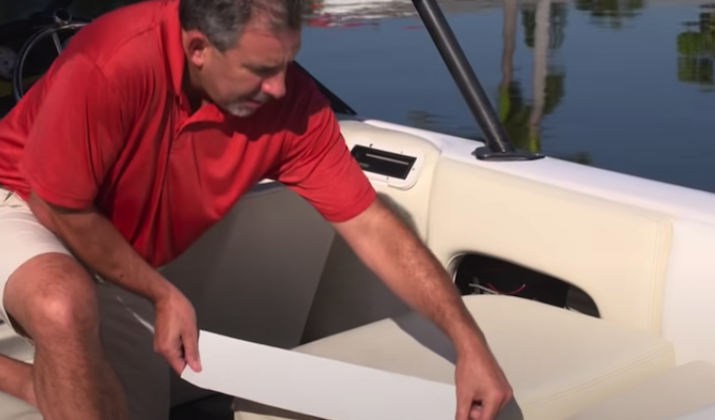 PC Flex Tape via YouTube
If you're going to apply Flex Tape for any reason, here are a few tips to help you get the most out of this product:
Use a blow dryer to cure the adhesive and improve the bond when applying Flex Tape to porous surfaces.
Maintaining continued firm pressure for several minutes when applying tape will improve the bond. Remember, the bond improves with time and pressure.
Don't try to reposition Flex Tape once it's bonded.

Just cut it away and use a new piece if you must.

Select fabrics (i.e. canvas, cotton, polyester, and synthetics) will require a 24-hour period for Flex Tape to achieve its maximum hold.
The adhesives may not bond easily with plasticized or waterproof materials, as well as surfaces that are greasy, siliconized, porous, dirty, or oily.
Flex Tape may not work for hose repairs.
Remember that this is designed to be a temporary fix for emergency purposes. It is not to be used for permanent repairs.
In order to remove Flex Tape and clean any remaining adhesive off a surface, you'll need Flex Tape Adhesive Remover.
Ideally, all Flex Tape products must be stored between 60 and 100 degrees Fahrenheit (about 15 to 38 ℃) and can be applied to surfaces from 20 to 120 degrees Fahrenheit (about -7 to 49 ℃). They will also withstand a maximum temperature range of -40 to 200 degrees Fahrenheit (about -40 to 93 ℃).
How To Use Flex Tape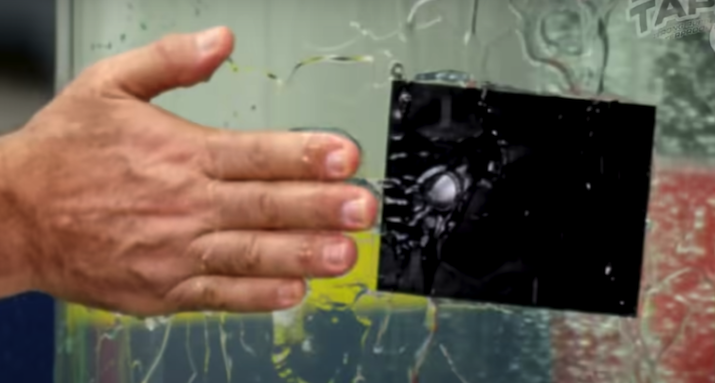 PC Flex Tape via YouTube
Regardless of the exact Flex Tape product you choose, the process for applying it remains the same. Here's a basic breakdown of how to use Flex Tape:
Step One
Leave the backing on the tape as you roll out the desired length. Cut it to the dimensions you need. It's best to utilize a razor blade, a high-quality knife, or a sharp pair of scissors to get the cleanest cut possible.
Step Two
Clean the surface you intend to stick the tape to before moving forward. It should be free of as much dirt and debris as possible that could interfere with the bond of the adhesive. Then, remove the backing to expose the adhesive.
Step Three
Apply your tape to the problem area and press down firmly. If you are applying the tape to a large area, press down all around the tape to begin the bonding process. Wood is great for applying pressure to the tape backing on more flexible surfaces, such as a pool liner or inflatable whitewater kayak.
Step Four
Remove any air pockets using your fingers, a squeegee, or a plastic roller. Air pockets will decrease the strength of Flex Tape's bond, so don't skip this step and be meticulous in completing it.
Thumbnail
Title
Flex Tape, Mini, Clear, Original Thick Flexible Rubberized Waterproof Tape - Seal and Patch Leaks, Works Underwater, Indoor Outdoor Projects - Home RV Roof Plumbing and Pool Repairs
Flex Tape, 4 in x 5 ft, Clear, Original Thick Flexible Rubberized Waterproof Tape - Seal and Patch Leaks, Works Underwater, Indoor Outdoor Projects - Home RV Roof Plumbing and Pool Repairs
Flex Tape, 8 in x 5 ft, 2-Pack, White, Original Thick Flexible Rubberized Waterproof Tape - Seal and Patch Leaks, Works Underwater, Indoor Outdoor Projects - Home RV Roof Plumbing and Pool Repairs
Flex Tape, 12 in x 10 ft, Black, Original Thick Flexible Rubberized Waterproof Tape - Seal and Patch Leaks, Works Underwater, Indoor Outdoor Projects - Home RV Roof Plumbing and Pool Repairs
Flex Tape, MAX, 4 in x 25 ft, Black, Original Thick Flexible Rubberized Waterproof Tape - Seal and Patch Leaks, Works Underwater, Indoor Outdoor Projects - Home RV Roof Plumbing and Pool Repairs
Flex Tape Reviews
Check Price on Amazon
Flex Tape Mini is really designed only for really small applications. The patches are three-inch by two-inch squares and each case comes with two of them.
Check Price on Amazon
Flex Tape Large is great for repairing small tears in
inflatable kayaks
. The four-inch strips make it easy to seal all around a long tear and the roll gives you up to five feet of tape in total.
Check Price on Amazon
Flex Tape Jumbo is a good choice for repairing large holes in
plastic kayaks
or small rowboats. The eight-inch strips provide plenty of clearance around larger holes and you'll have five feet of tape in total, but you can also cut this tape down to use it for smaller applications as needed.
Check Price on Amazon
Flex Tape Giant gives you 12-inch strips to work with for even larger boat and kayak repairs. It comes as a ten-foot roll so you have plenty to work with, which makes it a great repair solution for families with lots of
inflatable paddleboards
or kayaks.
Check Price on Amazon
The Flex Tape MAX four-inch roll gives you a whopping 25 feet of tape to work with for all your repair needs. You get 400% more Flex Tape per roll while still enjoying the same adhesion and versatility as the large roll.
Check Price on Amazon
If you love the thought of Flex Tape Jumbo but you know you're going to need more than five feet of tape, then step your repair game up with the 25-foot roll of Flex Tape MAX eight-inch tape!
Final Thoughts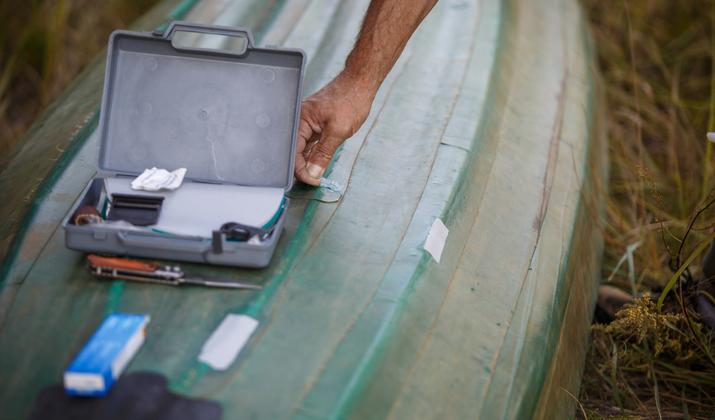 Photo by Simol1407 via Shutterstock
The bottom line is that Flex Tape will help you stop leaks fast and make temporary repairs to your motorized and personal watercraft. It may not be appropriate for all repairs and it may not be a permanent solution, but it's a great product to have on hand for if and when you need it.
If Flex Tape isn't quite the right solution for you, this company offers a variety of other products as well. Make sure to check out Flex Seal, Flex Paste, Flex Shot, Flex Glue, and Flex Seal Liquid.
If you have personal experience using Flex Tape to fix a leaky boat or kayak, we'd love to hear from you. Drop a comment and share your story so we all know how well this product works for boat and kayak repairs!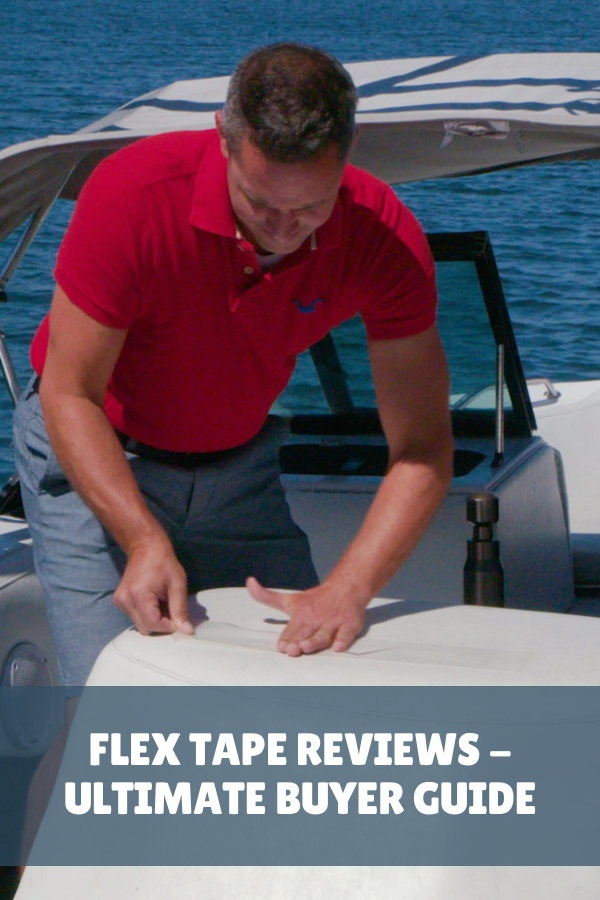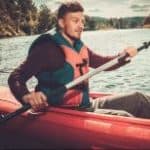 Author: Peter Salisbury
Pete is the Owner of KayakHelp.com. Born and raised in Cleveland, Ohio, he grew up kayaking, fishing, sailing, and partaking in outdoor adventures around the Great Lakes. When he's not out on the water, you can find him skiing in the mountains, reading his favorite books, and spending time with his family.