Paper maps are not kayak friendly. The last thing you want to be doing as the weather turns and the wind starts to pick up is be struggling to find and read a map. Given this, GPS watches are the height of convenience.
Depending on which model you choose, you can set way points, track your position in real time, check your speed and heading, and even monitor your heart rate.
The tricky part is finding the right watch to suit your needs. Like most technical equipment, GPS watch descriptions are filled with jargon and acronyms, making it difficult to decide if it's precisely the one you need.
To make life a little easier we've produced this jargon-free guide to kayak-friendly GPS watches to make what you're getting from each watch a little clearer.
Best Kayak GPS Watches
POLAR M430 GPS Running Watch, Black (90066335),Medium/Large
Garmin Forerunner 15 Bundle Small, Black/Green
POLAR M430 GPS Running Watch, Black (90066335),Medium/Large
Garmin Forerunner 15 Bundle Small, Black/Green
Buying Guide for Kayak GPS Watches
Key Features and Breaking Down the Jargon
Which GPS watch you choose and which features it has, depends entirely on your particular needs. For instance, you might want to input a large number of different GPS waypoints to plan out multiple journeys, but have little use for a heart monitor.
Some features, however, are integral for a kayaking GPS watch. At the very least, it needs to be accurate, durable, and water resistant. To make other, more technical, features easier to understand, we've broken down any acronyms or jargon you might come across.
Global Positioning System (GPS) – GPS is a space-based radio navigation system owned by the United States government. A GPS receiver uses the positions of multiple satellites and the ultra-accurate time of an atomic clock to determine the precise location of the person holding the receiver.
GLONASS – Similar to GPS, GLONASS is a radio navigation satellite service run by the Russian Federal Space Agency. Some modern GPS watches use both GPS and GLONASS satellites to achieve a more accurate position fix.
Heart Rate Monitor (HRM) – Many GPS watches designed for use during sports contain an HRM. Monitoring your heart rate during exercise can help track your fitness and performance. It's also important if you're trying to construct a personalized workout plan.
Multi-Sport System (MSS) – MSS watches automatically detect which sport you are doing by using a number of internal instruments. The data gathered from your workout is then displayed as figures and sometimes graphs. This information allows you to fine-tune your workout and makes it easier to achieve you fitness goals.
Bezel – A bezel is a grooved ring holding the cover of a watch face. On GPS watches, the bezel can be adjustable for use as a timer and is sometimes made of a harder wearing material, like steel, to make the watch more rugged.
Gyroscope – A gyroscope is a device used for measuring or maintaining orientation and angular velocity. In GPS watches, the gyroscope is used to detect sudden changes in direction and angle. In a sports watch, it allows the internal computer to differentiate between different types of exercises, such as swimming or running.
Barometric Meter – Also called a barometer, this instrument is used to measure atmospheric pressure. It can be used to track changes in altitude. Some can even predict weather changes.
Light Emitting Diode (LED) – LEDs are used in watch backlights. They use up significantly less space and energy than standard bulbs and are ideal for lighting watch-faces.
Waterproofing – Watches are never 100% waterproof, only water resistant. The depth to which they are water resistant is usually listed by the manufacturer and is always worth checking.
Profile – A watch's profile refers to the dimensions of its face and strap, and its overall weight. As a general rule, GPS watches designed for trekkers and walkers tend to be larger and heavier than those designed for use during sport.
Best Kayak GPS Watch Reviews
Check Price on Amazon
The Garmin Fenix 5 has everything a kayaker could want. It has a rugged design with a durable steel bezel and back case. There is also the option for a sapphire glass lens.
Sapphire glass is twice as hard as standard glass, nearly as hard as diamond, perfect if you're worried about it getting cracked by an errant paddle.
Communicating with both GLONASS and GPS satellite systems, the Fenix 5 combines accurate location tracking, using a barometric altimeter, 3-axis compass, and gyroscope, with full-color European recreational mapping.
When paired with compatible smartphones, the Grouptrack feature allows you to track up to 50 friends, ideal if you're going on a more extensive expedition or if you're a kayak instructor.  When it's paired with your phone, it will also show messaging and email notifications.
It is water resistant down to 100 meters and has a 20-hour battery life in GPS mode. The battery life can be extended to 35 hours using the UltraTrac battery saver mode, ideal for longer paddles.
The Fenix 5 is best for those who enjoy a range of sports, with a built-in multi-sports system and performance widget to track your workouts.
The real icing on the cake for kayakers is that it includes a paddlesports feature, enabling you to record stroke count, stroke rate, and even distance per stroke.
PROS
CONS
Summary
The Fenix 5 has a collection of features which makes it the ideal choice for kayaking. If its durability, accuracy, and massive range of functions isn't enough to recommend it, then the paddle sports feature makes it stand out from the crowd.
Check Price on Amazon
If you're looking for something more simple, the Polar M430 might be exactly what you are looking for. While it isn't explicitly designed as a kayaking watch, it is water resistant and comes with a range of data-gathering features that allow you to monitor your heart rate, performance, and even your sleep patterns.
At just 12mm thick and weighing only 51 grams, the M430 is lightweight and has a slim profile, making it a great choice if you don't want a chunky watch.
By connecting your M430 to the Polar Flow app, you can edit the sports profiles to include kayaking. This allows you to add custom targets for yourself such as duration, distance, or calories.
The Sleep Plus function automatically detects the timing, amount, and quality of your sleep and advises you on suggested recovery time for your exercises.
PROS
CONS
Summary
The M430 is primarily designed for runners, but its slimline design, and simple functionality will appeal to kayakers who are only looking for the basics. Its primary drawback is the low battery life in GPS mode.
Check Price on Amazon
Designed primarily for trekkers and mountaineers, the Traverse's host of features translate well into kayaking.
What it lacks in sport tracking and heart rate monitoring, it more than makes up for with built-in weather trend and storm alarms, heatmaps, speed, distance, altitude tracking, and the ability to plan your routes in advance using the Suunto Movescount App.
The standout feature of the Traverse is its fantastic battery life. At 100 hours with GPS enabled, the rechargeable lithium-ion battery will see you through your longest adventures. When set to time mode only, the battery life extends to 14 days.
PROS
CONS
Summary
A close second to the Fenix 5, the Suunto Traverse combines wide-ranging functionality with great battery life. The only downside is that is large size and chunky design might not be your preferred taste.
Check Price on Amazon
The Forerunner is the most basic of our reviewed GPS watches. It's ideal if you want something simple and don't want a broad array of functions.
It combines location-finding features with HRM, time, date, and activity tracking options. If you're only in the market for basic GPS functionality, this watch is exactly what you're looking for. With 50 meters of water resistance, you don't have to worry about it if you take an unplanned swim.
With a built-in slimline strap and the option for a model with a smaller and lighter watch face, the Forerunner 15 won't be getting in your way or weighing your paddling arm down.
PROS
CONS
Summary
The Forerunner 15 does exactly what you need in terms of GPS and activity tracking, but if you need anything more than that you may find its lack of other options frustrating.
The Ambit 3 combines excellent navigation capabilities with a versatile set of sports functions. The FusedAlti technology combines GPS data with barometric altitude to accurately measure your elevation and position—perfect if you need to keep track of your position in open water.
You can also create your routes in advance using the Suunto Movescount app with topographic maps. The barometric trend software predicts weather changes and the storm alarm alerts you when it might be time to get off the water.
As long as your smartphone is compatible, you can connect it with your Ambit 3 and use the phone as a second screen. Not only does this make it easier to navigate, but photos taken on the phone can be tagged with your location, current speed, and distance traveled.
With a potential 200 hours of battery life in GPS mode, you don't have to worry about the Ambit 3 running out of juice.
The Ambit 3 also has the ability to accurately track your speed, pace, distance, and heart rate in real time. However, to take advantage of of the heart rate monitor, you'll need to purchase a separate Suunto Smart Sensor, as the Ambit 3 has no built in HRM.
PROS
CONS
Summary
The only real downsides of the Ambit 3 are its lack of a built-in HRM and no paddlesports option in it sports functions. If you can live without those, then the Ambit is perfect for accurate navigation and journey planning.
In many ways the Vivoactive is the opposite of the Suunto Traverse because it prioritizes sports tracking over navigation functionality. Its built-in, GPS-enabled sports app is capable of tracking data on a number of sports including running, biking, golfing, and swimming. Sadly, there is no support for paddlesports at this time.
The Vivoactive would suit anyone who enjoyed kayaking as part of a range of sporting activities. The sports monitoring functions allow you to collect and display data straight from the watch.
The Vivoactive's main feature is its sunlight-visible, transflective touchscreen. The transflective nature of the screen, coupled with its large size and bright characters, makes it easy to read. However, it might be a bit challenging to navigate if you are wearing kayaking gloves.
PROS
CONS
Summary
The Vivoactive is a great multipurpose GPS watch. Its sleek design is far more stylish than its competitors, and it wouldn't look out of place as your day-to-day watch.
Its sport data collection is accurate and easy to read without needing a home computer. But with limited activation functions and only a 50-meter water resistance, it might be worth looking at something else if you just plan to use it for kayaking.
Check Price on Amazon
The Suunto Spartan Trainer comes across as a slimmer and sportier version of the Fenix 5. It features a vivid 320 × 300-pixel color touch display surrounded by a durable steel bezel. Inside is a GPS receiver, accelerometer, digital compass, and an
optical heart rate monitor
.
The Spartan comes preloaded with 80 different sports categories and, happily, one of these is kayaking. The sport software tracks daily step count, heart rate, and calories burned.
It features a stopwatch and programmable interval training. If you're into sport kayaking, such a slalom or white water racing, this watch offers the perfect combination. It allows you to track your performance in detail to identify spots where you can improve.
If you're more into expedition kayaking, with less of a focus on lap times, then you may not get as much use out of its wide range of sport functions.
You may miss some of the navigation functions the Fenix 5 has, for example. As with the Vivoactive, having a bright, easy-to-read touchscreen is great, as long as you're not wearing gloves.
PROS
CONS
Summary
If you want to measure and record your sporting achievements in your kayak accurately, then the Spartan is the watch you want. It's accurate, slimline, lightweight and has a host of helpful sporting functions.
You might, however, have to take off your gloves to use it.
Final Verdict
The Garmin Fenix 5 sits head and shoulders above the rest of the competition as your best choice for a kayaking GPS watch. It has an excellent range of both navigational and sporting functions, including a paddle sports setting.
With both GLONASS and GPS compatibility, you'll always know where you are. With 35 hours of GPS-enabled battery life, you don't have to worry about the battery running dry.
All this great technology is wrapped in a durable and water- resistant case, making it the ideal watch for going out on the water.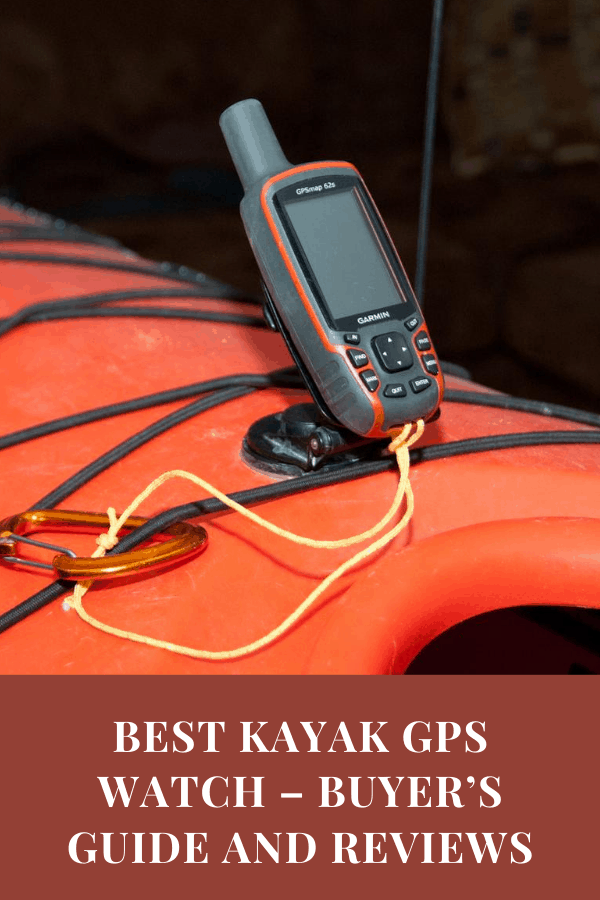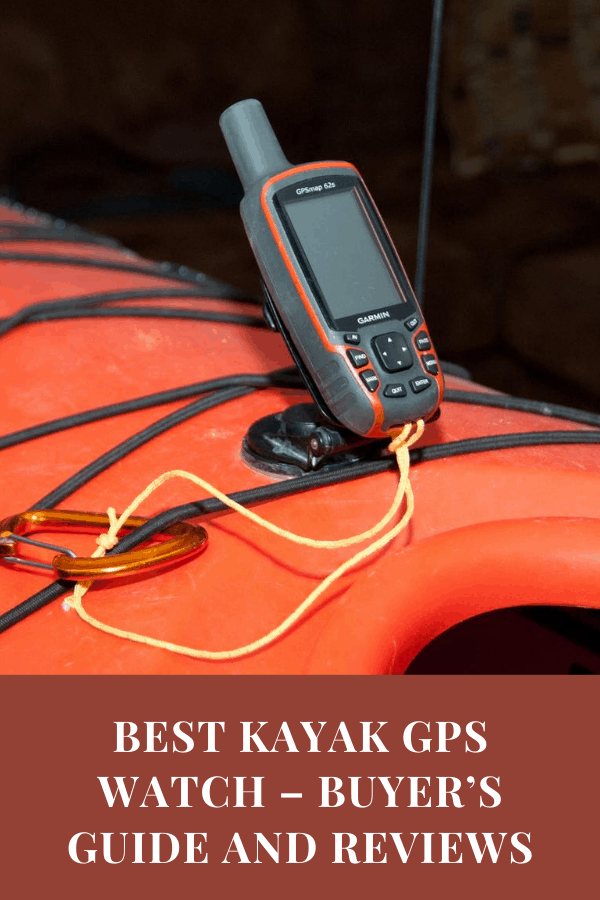 Author: John McCloy
John is a professional copywriter, fencer, and paddlesports fanatic based in the UK. When he's not out on the water, he can usually be found convincing new people to try kayaking, pretending to be Zorro or climbing what passes for mountains in England.