By law, you're required to wear a life jacket aka a Personal Floatation Device when you're kayaking, or at least have it in the boat. This obviously protects you in the event some accident happens while you're out on the water.
However, not all life vests are made equal and you'll find that life vests come in different types depending on the performance level required, depending on the weather and water conditions.
Getting the right fit is also important in ensuring that the vest performs as intended. Let's look at what else you need to know in order to make the right choice when purchasing your life vest for kayaking, based on the different types available.
Best Life Jacket for Kayaking
Onyx MoveVent Dynamic Paddle Sports Life Vest, Aqua, XL/2XL
Stohlquist Women's Flo Life Jacket/Personal Floatation Device (Purple/Gray, Medium/Large)
Stohlquist Edge Lifejacket (PFD)-Black-S/M
Stohlquist Fisherman Personal Floatation Device, Khaki, Small/Medium
Stohlquist Fisherman Lifejacket (PFD)-OliveGreen-L/XL
Onyx MoveVent Dynamic Paddle Sports Life Vest, Aqua, XL/2XL
Stohlquist Women's Flo Life Jacket/Personal Floatation Device (Purple/Gray, Medium/Large)
Stohlquist Edge Lifejacket (PFD)-Black-S/M
Stohlquist Fisherman Personal Floatation Device, Khaki, Small/Medium
Stohlquist Fisherman Lifejacket (PFD)-OliveGreen-L/XL
What To Consider When Choosing a Life Jacket For Kayaking 
Fit
Obviously, your life vest has to be the right size in order to feel comfortable and perform as expected. An ill-fitting vest will not be able to perform well and you'll feel uncomfortable in it anyway.
Here's how you can find the right size vest for you during fitting:
Design
Upkeep
Like with anything valuable, your life vest will require some maintenance to make it last longer. Here are some tips on how you can prevent your vest from sustaining unnecessary or premature wear and tear:
When not in use, keep it away from damaging UV rays of the sun
Different Types of Life Vests
As mentioned, life vests come in a wide variety, each made to perform in a specific environment or under certain conditions.
Typically, there are five such categories or types of life vests to choose from, and here's how you can tell one from the other:
Offshore
You'll mostly find offshore vests inside ships that travel at sea for long periods of time. That's because they can handle the demands of rough sea conditions.
The vests have a very bulky feel and appearance, which might make it uncomfortable for some. And they sort of force you to stay in an upright position the whole time.
Horse Collar Vests
​These bright orange vests are specifically constructed for use in near shore conditions, where assistance is usually close at hand in the event of an accident. Similarly to the offshore vest, it feels a bit bulky and will keep your torso in an upright position, which might make it harder to paddle.
Comfy Fit
As the name suggests, comfort and fit are defining characteristics in the design of this type of vest. They usually fit snug but not too tight, with large arm holes to make for ease of movement when paddling.
You'll also find type 3 vests in a pullover version or a mix between a vest and pullover. All versions of the type 3 life vest are made to perform well for inland water conditions, where help can be at hand within a moment's notice.
Typically, these types of vests should have about 15 lbs. 6 0z. floatation capacity in order to meet standard safety requirements.
Floatation Rings 
Type 4 personal floatation devices consist of things like puffy rings and cushions which are usually thrown to the swimmer while they're already in the water.
Because you can't wear them like a life vest, safety regulations usually require that you pair these with an actual life vest for maximum safety and performance, especially when paddling.
Customised Vests 
Customised vests usually come with specialised instructions on how you must use them, and for what application or activities. As such, they're specifically designed to perform well in particular activities and sports such as paddling, sailing, fishing, etc.
Check out our guide for kayak fishing pfds.
Dog Life Vests
​Many people prefer taking their pets with when they're out kayaking. If this sounds like you, then you could use a canine life vest, which is designed with grab loops to help you keep your pup afloat in rough water conditions.
Women's Life Vests
​You can easily find life vests that have been customised to perfectly adapt to the female form. Feature here include princess seams or panels, and a fit that's designed to fit women specifically.
Children's Life Vests
For kids, life vests are a no-brainer and are always a requirement. This is especially so for infants, who usually have specially designed floatation collars and crotch straps to keep their heads straight and keep them on the water.
According to average safety standards, kids' life vests should provide them with 11lbs. of floatation capacity, while infant vets should have 7 lbs. in floatation capacity.
Again, follow the same steps as the adult sizes when looking for a size, to ensure a comfortable and effective fit.
Best Kayak PFD Reviews
Check Price on Amazon
This vest is made from hardy nylon and reflective SOLAS material to keep you visible in any condition. It's designed to fit snugly on the torso, and it comes in various sizes ranging from small all the way to XX large.
It comes in an ombre grey color with bright turquoise lining, with the alternative being a dark grey with orange lines. Other features include cooling vented channels and puffy foam padding on the back for extra comfort.
It also has large arm holes and comes with a whistle inside the inner pocket, in case of emergencies.
PROS
CONS
Check Price on Amazon
This lightweight vest is made from PE foam and features mesh lining on the inside, and a protective 200 ripstop denier shell on the outside.
The back is 6" high and 19" wide, and the waistband is padded with neoprene so it floats better and fits more comfortably. It's beautifully designed to conform to the female torso, and comes in two beautiful colors; namely ombre grey and orange and ombre grey and purple.
Other features include a cinch harness that goes across the chest to optimise cup support on the chest area for women, and this makes it easy to adjust as well.  
PROS
CONS
Check Price on Amazon
The Stohlquist vest features adjustable shoulders and an ergonomic design that's optimised to fit and adapt to your torso. It's available from size small to XX large, and color options include black, red and royal blue.
Safety features include reflective 3MTM make for increased visibility, a front waist buckle closure and four side-buckle pulls, as well as accessible front and side pockets with zippers for storage.
PROS
CONS
This is more of a kitted out PFD from Stohlquist, and features a back that's 6" high, it's 18" wide, and it comes in various sizes from small to X large and Universal and Universal Plus sizes, which are supposed to fit all sizes.
The vest is made from high-quality neoprene with a 500 denier shell, 200 denier oxford liner, and neoprene padded shoulders. It's padded with the supple Gaia floatation foam and has two interior pockets for smaller items.
Its two outer front pockets are protected with the denier shell, and feature anchor points and zipper enclosures to keep your belongings secure. It also features a waistband on the lower back area, and the sides are open for extra ventilation.
PROS
CONS
Check Price on Amazon
This vest is made to have an accommodating front, and features 8 adjustment points to make it feel like a custom fit. It provides ventilation through mesh material on the back, and the PlushFit foam is designed to follow your body's movements to keep you comfortable throughout.
Available colors include red, green and charcoal, while sizes range from small to XX large.
PROS
CONS
Conclusion
Of all the life vests reviewed above, I have to go with the Stohlquist Fisherman Personal Floatation Device. You might think that it's mainly designed with anglers in mind because of the name, but it actually fits very comfortably when paddling.
It fits true to size, it has ventilated sides and most importantly, it floats comfortably with the soft Gaia floatation foam and a waistband on the lower back area.
Thanks to the high-quality neoprene and denier shell, this vest is perfect for an all-day kayaking trip and can easily handle rugged water conditions.
Also, this vest is ideal for both men and women, as it comes in a wide range of sizes, and it offers plenty of back support for added comfort.
The pockets are fully kitted out with distinguishable anchor points for easy location and it's got padded shoulders as well. The only downside with this vest is that it doesn't have reflective material for visibility, which is something that the manufacturer can definitely work on.
More From KayakHelp: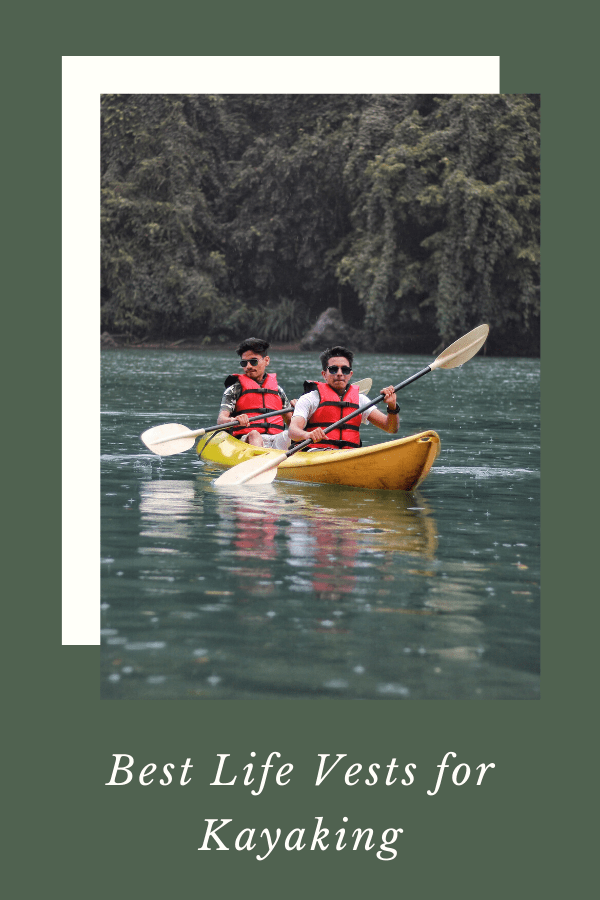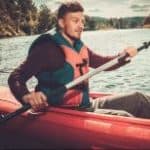 Author: Peter Salisbury
Pete is the Owner of KayakHelp.com. Born and raised in Cleveland, Ohio, he grew up kayaking, fishing, sailing, and partaking in outdoor adventures around the Great Lakes. When he's not out on the water, you can find him skiing in the mountains, reading his favorite books, and spending time with his family.