Kayaking is one of the most fun and versatile water sports out there.
Whether you're a recreational kayaker just cruising on your 'yak to enjoy a sunny day out on the lake; or a seasoned athlete practicing your kayaking skills on choppy ocean water, wearing kayaking shoes can make the experience that much more enjoyable.
Since their invention, kayaking shoes have become one of the most essential accessories for kayaking, as they provide comfort and keep your feet dry and weatherproof.
Kayak shoes are also incredibly durable, protecting your feet from impact with creek rocks and other rough terrains that you might come across on your kayaking adventures.
Most are breathable, and they come in a wide variety that cater to both men and women.
Quick Look At The Best Kayaking Shoes For Men & Women
Thumbnail
Title
Neo Sport Premium Neoprene Men & Women Wetsuit Boots, Shoes with puncture resistant sole 3mm, 5mm & 7mm for warm, moderate or cold water for watersports: beach, boat, lake, mud, kayak and more! Sizes 4 - 16, Men's 6 / Women's 7
ALEADER Men's Mesh Slip On Water Shoes Black/White 10.5 D(M) US
ALEADER Women's Quick Drying Aqua Water Shoes Blue 7 D(M) US/FR 37
NRS Boundary Neoprene Water Boots-008
Thumbnail
Title
Neo Sport Premium Neoprene Men & Women Wetsuit Boots, Shoes with puncture resistant sole 3mm, 5mm & 7mm for warm, moderate or cold water for watersports: beach, boat, lake, mud, kayak and more! Sizes 4 - 16, Men's 6 / Women's 7
Thumbnail
Title
ALEADER Men's Mesh Slip On Water Shoes Black/White 10.5 D(M) US
Thumbnail
Title
ALEADER Women's Quick Drying Aqua Water Shoes Blue 7 D(M) US/FR 37
Thumbnail
Title
NRS Boundary Neoprene Water Boots-008
What You Should Consider When Buying Kayaking Shoes
Here are a few points that you should consider before you purchase a kayaking shoe:
The Fit
Kayaking shoes are generally made for comfort, and as such they should fit you like a glove. You know, tight but not constricting.
When fitting the shoe, make sure that there are no gaps on the side or top, as this will open the way for water to come in, and a wet shoe can really make one's trip uncomfortable.
Also make sure that the fit is well-matched with the size of your kayak's casing, and that they should complement the kayak's foot section.
In essence, the shoes should feel like your second skin, so that you're able to flexibly bend your feet and easily move your toes around without a problem.
Material
The most common material for kayaking shoes is neoprene, and that's because it encompasses all the qualities you need in a water sport shoe.
It's flexible, lightweight and non-slip. Other manufacturer will combine neoprene with other materials like titanium, to improve its performance and durability.
On the inside, neoprene feels comfortably warm, no matter what the weather is like. Some shoes come with straps while others don't, and there are pros and cons to getting a shoe with straps.
On the one hand, the straps give the shoes a nice and tight fit to keep your feet feeling comfortable, and prevent water from coming in.
The same straps could get latched onto a rock by mistake, causing an even bigger accident so you definitely have to be aware when wearing them.
The soles are made from a sturdy rubber material which protects the feet from getting injured due to impact with rocks, and it gives your feet a sturdy grip on the ground when you're walking.
Also, avoid shoes with open toes, as they expose a part of your feet to the vulnerability of injury.
Weight and Height
As mentioned, kayaking shoes should fit like a glove, or feel like a second skin. They should be so lightweight that you won't even feel like you're wearing them on your feet.
This makes it easier to keep them on for long periods of time, and provide comfortable protection for your feet in rough terrain.
With regards to the height, you can choose between low-cut, ankle height and knee height. To give you more of an idea of what we're referring to check this out:
A low cut kayaking shoes is best worn in sunny weather, because they're lightweight, thin and very breathable.
Ankle height kayaking shoes are the most common type because they're convenient to wear and carry.You'll also find that they offer a good combination of warmth, breath-ability and sole protection, and they usually come with thick soles.
As you may have guessed, knee high kayaking shoes work best in cold weather conditions and provide a higher level of water protection than the previous two.They're also usually thicker and more insulated to protect the feet from the effects of wading in choppy water.If you're going to purchase this type of kayaking shoe, make sure that it fits tight and that there are no gaps, because they feel very uncomfortable when they get wet.
Season
​Consider the type of weather in which you'll be wearing your kayaking shoes.
For example, if you're kayaking in freezing temperature water, you'll want something that's insulated but lightweight to keep your feet warm and comfortable.
Most manufacturers create kayaking shoes for just these conditions, insulating them with up to 4 layers of thick neoprene, with an ankle boot type of shape to completely cover your feet.
On the other hand, if you'll be kayaking in warm summer temperatures, then a lightweight and breathable shoe is the way to go.
These are usually made from a thin layer of neoprene, and shaped with a cut that is just below the ankle.
Size
Obviously, this is a no-brainer. Even in the case of normal everyday shoes, wearing the wrong size is already an uncomfortable ordeal to deal with.
Now, add a wet environment to that scenario and you have yourself an unbearable situation.
Generally, wearing your kayaking shoes should feel natural.
Even though the fit should be tight enough to keep water out, they shouldn't feel too constricting.
To avoid getting the wrong size shoe, put them on before you buy them to get a feel of the sensation they create.
If they adhere to your feet and don't come off when walking around, then they're good. There also shouldn't be any gaps whatsoever.
Terrain
Although kayaking shoes look the same from the surface, they're actually made different to navigate different types of terrain and applications.
For example, you might have to travel through an area with sharp rocks and splinters to get to your kayaking destination, so wearing a thick-soled shoe would provide the ideal protection for your feet.
A more breathable tread shoe is perfect for smooth water, and booties style shoes protect your feet up to your ankles, enabling you to traverse in pebble filled water with ease and comfort.
Regardless of the terrain though, your kayaking shoes should be sturdy and comfortable no matter what the conditions.
So look for a pair that can meet these two requirements in the type of environment that you'll be kayaking in.
Best Kayaking Shoe Reviews
Check Price on Amazon
We start our review list with the hi-top zipper boot from NeoSport. As the name suggests, it is premium boot made from a durable neoprene and rubber material. using advanced technology to keep the feet warm.
They also come with a durable heavy duty zipper that helps to prevent water from coming into the boot.
These shoes are 3mm thick and moderately layered to resist abrasions while maintaining alightweight feel.
This obviously makes them warm enough to wear in cold weather conditions.
They also come with a high-traction insert sole to further protect your feet from sustaining damage from punctures and helping you to maintain your balance.
The soles and seams and glued together to further reinforce the shoe's durability andlong lasting performance. 1 year warranty included.
PROS
Suitable for all weather conditions
Insert sole
Flexability
Durability
CONS
Zipper succumbs to wear and tear
Check Price on Amazon
This is a slip-on kayaking shoe and its made from a hydrophobic engineered mesh fabriccombined with FluidFlow technology that allows the water to drain faster.
It's very breathable and lightweight, providing a comfortable fit for the wearer, and it has a remarkably stable grip.
They call it an amphibious shoe because it combines qualities that work great for a variety of environments, although it's a bit too lightweight for super chilly weather conditions.
The shoe is lined on the inside to prevent small rock and sand particles from entering and they fit nicely tightand snug.
PROS
Dries quick
Good grip
Multi-purpose
Fit well
CONS
They can shrink if dried in in dryer
Check Price on Amazon
This amphibious women's shoe from Aleader is the epitome of functionality and style. It's alightweight shoe in which you can kayak and swim without experiencing that slushy drag.
It'smade from a hydroponic engineered mesh fabric with lateral contrast stitching which makes it breathable and watertight.
It also features FluidFlow technology with a mesh-like rubber pod construction on the outsole, which instantly drains water when it does go through, while providing extra traction.
Another cool technology on this shoe is the inner ComfortDry lining which creates a cool, dry and comfortable environment inside the shoe.
If you're looking for different color options, then this is the shoe to get, as it's available in a multitude of colors for both men and women; including different shades and combinations of black, grey, purple, blue, red, green and purple.
PROS
Dries quickly
Excellent support
Good traction
Lightweight
CONS
Shoes run small, most people have to buy a size up
Holes in the mesh allow small rocks to enter shoe
Best Kayaking Shoe For Cold Weather – NRS Boundary Shoe
With a 7mm rubber sole and foot bed, these mukluk style boots are made from neoprene and are totally versatile and waterproof. They're also a knee-high length which makes them very warm and toasty.
They come with a 2mm plastic mid-sole as well as a 5mm neoprene upper layer with a GlideSkin cuff. When combined, these features make this shoe so comfortable, warm and breathable that you literally won't want to take it off.
When you do decide to take it off, you can use the convenient arch strap, which is also responsible for securing the shoe in place to prevent water and sand from getting in.
PROS
Abrasion resistant
Durable
Fits well
Waterproof
CONS
Sizing is tough for women
Also a Great Pick – Teva Men's Evo Outdoor Water Shoe
This sneaker shaped shoe from Teva has a synthetic fiber top as well as a synthetic sole andnylon shank to provide stability.
The design features a breathable textile lining and a convenient lace-up closure for a customized fit.
The soles have a shock absorbing ShocPad as well as a Spider Rubber outsole to protect thefeet from rock impact injury. The shoes are generally lightweight and fit comfortably for all-day use.
PROS
Great Support
Good traction
Dries quickly​
CONS
May wear quicker with extensive use
Sizes run small
Check Price on Amazon
These shoes are made from a quick drying blend of neoprene and mesh material, featuring a synthetic sole and a removable insole.
They're designed like a sleek sneaker, and come with drawstring laces that make for a super comfortable and snug fit.
The anti-slip rubber sole provides a firm grip for your feet even when you're navigating a slippery waterbed.
PROS
Durable
Comfortable
Removable insole
Great traction
CONS
Long dry time
No heel adjustment
Sizes run big
Check Price on Amazon
With 3mm thick fabric cover and a dense rubber sole, this low-cut boot from Pomate provide excellent traction for a variety of water sports and water conditions.
They're fully waterproof and fit tight and snug around the ankles to keep sand particles out.
They're also very warm on the inside, which makes it ideal to wear them in chilly water.
They're very comfortable and actually feel like a second skin once you put them on.
PROS
Built to last
Keeps sand out
Draining cockpit
CONS
Can be slippery on some wet rocks
Slow draining
The Vibram line is a pretty well-known and a very loved brand.
With their signature FiveFingers toe outline, Vibrams look and fit like foot gloves! Apart from this innovative design, the shoes are made from a synthetic material, with a stretchy and abrasion resistant polyester mesh on the upper part which serves the dual purpose of keeping the foot comfortable while providing breath-ability.
They feel very thin and flexible, so that you actually feel connected with the environment as you walk.It's also slip resistant and has a wave grip compound to avoid slipping when walking on wetsurfaces, which is a great feature for someone who'll be treading on sea water with largesmooth rocks.
It has holes for drainage to allow for quick drying, as well as a hook-and- loopstrap to create an even cozier and comfortable fit.
PROS
High quality shoe
Breathable and lightweight
Flexible
Abrasion resistant
CONS
Not thick enough to walk on rocks comfortably
Not the best grip
Weak arch support
Conclusion
You never know where your kayaking adventure might take you, both on land and in the water, so it's best to stay ready by getting a versatile kayaking shoe that won't let you down no matter what the weather or terrain is like.
Of all the shoes that we reviewed above, the NRS
Boundary Shoe really stands out.
It seamlessly blends the functionality of hard wearing construction with breath-ability and comfort.
It's also tight-fitting, waterproof and has a thick mid-sole to protect the feet from sustaining injury when stepping onto pebbles and rocks.
These are all features which make it easy for you to really enjoy your kayaking journey, whether you're wading or paddling or walking from one spot to the next, traversing all types of terrain.
More From KayakHelp: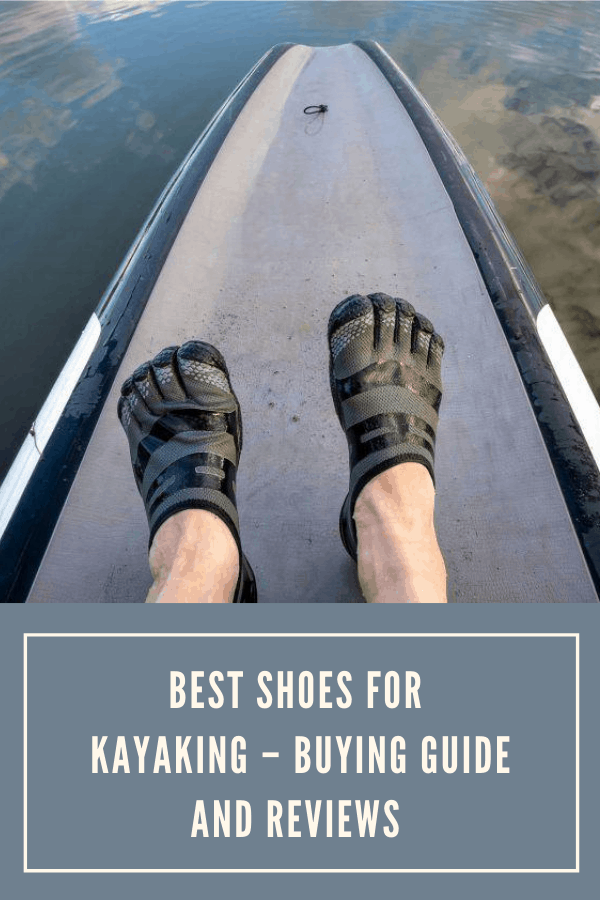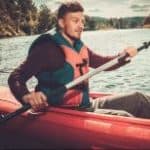 Author: Peter Salisbury
Pete is the Owner of KayakHelp.com. Born and raised in Cleveland, Ohio, he grew up kayaking, fishing, sailing, and partaking in outdoor adventures around the Great Lakes. When he's not out on the water, you can find him skiing in the mountains, reading his favorite books, and spending time with his family.