Not all paddlers have the desire and the ability to carry around a heavy, rigid kayak everywhere they go. The difficulties of learning how to transport a kayak often come with many tough lessons for those that are new to the sport of kayaking.
That's precisely why inflatable kayaks have been invented and it's also why so many companies have been working hard to improve the capabilities and performance of the best inflatable kayaks over the last 10+ years.
Nowadays, many folks prefer inflatable kayaks over their rigid counterparts for a number of kayaking applications.
And while not all inflatable kayaks are made for ocean use, there are certainly several that stack right up against the best sea kayaks on the market today.
If you want to take advantage of the lighter weight and ease of transportation that inflatable kayaks offer, but you love to paddle on the ocean, then you'll love our choices for the best inflatable kayaks for ocean use.
These kayaks range from quite affordable to quite expensive, but you should keep in mind that a higher price tag often means a higher-quality product. So, without further adieu, let's hop in and paddle through the surf!
Jargon Buster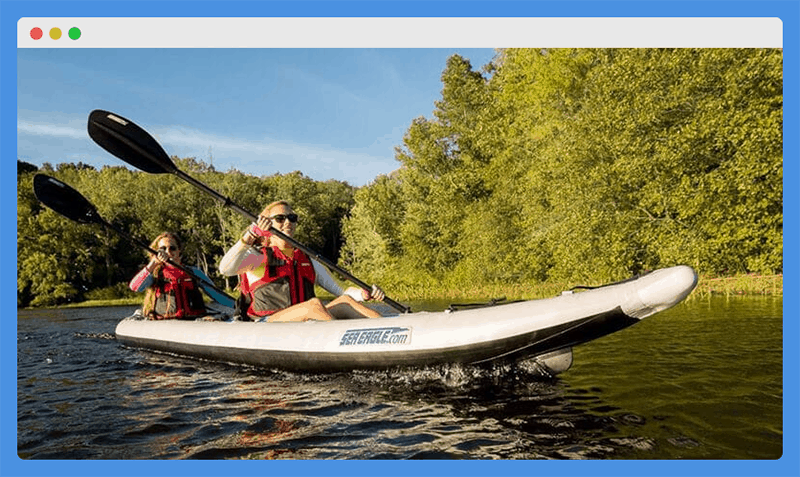 Inflatable kayaks are unique in that they include several design elements that rigid kayaks would rarely need.
So before we outline the best inflatable ocean kayaks out there, let's quickly define some key terms that will help you understand how these kayaks are made and how they will perform on the water.
PSI
PSI stands for 'pounds per square inch' and it's a measurement of the amount of pressure that any inflatable toy or watercraft can sustain without bursting.
For inflatable kayaks, it can also be used as a minimum pressure to which you should inflate your kayak in order to maximize its performance and responsiveness to your paddle strokes.
Drop-Stitch
Drop-stitch is a knitting technique that was originally made for creating a run in a cut of fabric. For inflatable kayaks, paddleboards, and other watercraft, drop-stitch materials allow you to inflate these crafts to higher pressures without them popping or leaking.
Drain Ports
Drain ports are basically inflatable kayak's answer to scupper holes in traditional, rigid kayaks. They allow water to flow out of your kayak's cockpit without also allowing water to enter the cockpit from underneath.
Air Chambers
Obviously, inflatable kayaks need to have air chambers that will hold air for them to remain floating. But not all kayaks have the same number of air chambers and, in general, a kayak with multiple air chambers will do a better job of remaining afloat if one chamber is compromised.
Buying Guide
Now that you have a few new terms to add to your vocabulary of paddling slang and kayaking terminology, it's time to learn how to decide on the right inflatable kayak for your ocean paddling preferences!
Durability
One of the reasons that some people shy away from inflatable kayaks is the concern that they won't be as sturdy as a rigid kayak.
But consider this: most whitewater kayaks that are designed to withstand direct impacts against rocks and twigs at higher speeds are actually inflatable designs.
The reality is that rigid kayaks can be more likely to simply break or crack when they sustain hard impacts.
Inflatable kayaks, however, have some ability to absorb impacts without puncturing or ripping and, in most cases, they come with a repair kit for fixing small holes if they do sustain them.
Among inflatable kayaks, one of the best features to look for when it comes to durability is drop-stitching. This stitching process creates a more durable fabric that can also withstand higher pressures without popping or ripping.
Ease of Transportation
The good news about inflatable kayaks is that, on average, they are much lighter than their rigid kayak counterparts. There is, however, some variety amongst these kayaks as to how much they will weigh when inflated or deflated.
Paying attention to how much each kayak weighs will largely dictate how easy (or difficult) it will be to transport. The amount of weight you are comfortable with will depend on your personal preference, so there's no exact weight that we can recommend.
That being said, you should also pay attention to the construction of the carry bag that the kayak comes with. For our money, a kayak carry bag with backpack straps or roller wheels will be much easier to transport than carry bags with sling straps or no straps at all.
Add-Ons
The last thing to consider when you're looking at these kayaks is that some of them come with extra add-ons and others don't.
If you already have paddles, life jackets, a pump, and other kayaking accessories, you may not need to worry about these add-ons.
But if you're looking to buy your first inflatable kayak ever, choosing one that comes as a complete package is a smart choice. This will save you some money and also make it more convenient to get out on the water as soon as your new kayak arrives.
Thumbnail
Advanced Elements Straitedge Angler Pro Inflatable Kayak - Fishing Kayak with Carry Bag - 10' 6" - 42 lbs - Khaki
Hydro-Force Cove Champion Inflatable Kayak Set
Sevylor QuickPak K5 1-Person Inflatable Kayak, Kayak Folds Into Backpack with 5-Minute Setup; Hand Pump and Paddle Included
Advanced Elements Attack™ PRO Whitewater Inflatable Kayak - AE1051-Y Inflatable Whitewater Kayak - 9' 9" - 25.5lbs - Yellow
Title
Thumbnail
Advanced Elements Straitedge Angler Pro Inflatable Kayak - Fishing Kayak with Carry Bag - 10' 6" - 42 lbs - Khaki
Title
Thumbnail
Hydro-Force Cove Champion Inflatable Kayak Set
Title
Thumbnail
Sevylor QuickPak K5 1-Person Inflatable Kayak, Kayak Folds Into Backpack with 5-Minute Setup; Hand Pump and Paddle Included
Title
Thumbnail
Advanced Elements Attack™ PRO Whitewater Inflatable Kayak - AE1051-Y Inflatable Whitewater Kayak - 9' 9" - 25.5lbs - Yellow
Title
Inflatable Ocean Kayak Reviews
Check Price on Amazon
While it's also great for kayak fishing, the Advanced Elements StraightEdge Angler Pro is a stable option for getting through the surf and enjoying the calmer waters past the breakers. It's 10'6" long and 38.5 inches wide.
This kayak also weighs only 45 pounds when fully inflated, which makes it easy to drag or carry across the beach. But it has a maximum weight capacity of 400 pounds so you can load it down with kayak fishing or general paddling gear.
Inside the large tubes on the sides, there are a total of four air chambers that help you keep the kayak afloat if one chamber is compromised. There is also a fifth chamber in the drop-stitched floor that inflates to a higher pressure to keep this kayak extra rigid.
When you fold this kayak up, it measures 32" by 18" by 11", which makes it small enough to fit in the back of a small car or SUV. This means you won't have to figure out how to transport a kayak in a small car if you have one!
Check Price on Amazon
If you're looking for a more affordable alternative that can still handle protected inland ocean waterways, check out the Bestway Hydro-Force Cove Champion.
This kayak is an affordable option for those that live close to salt water, but aren't quite ready to tackle the open ocean.
It's also a reasonable choice for smaller paddlers or children because it measures just nine feet in length and boasts a 220-pound weight capacity. Smartly, it does feature a centrally-placed and removable fin to help improve its tracking ability.
This inflatable ocean kayak is made with PVC material and it features a wrap-around grab rope that will help you keep hold of it if you accidentally capsize.
In addition, there is bungee lacing at the bow and stern of the kayak to help you attach a small dry bag or shoes without having them take up space inside the cockpit of your kayak.
Speaking of that cockpit, this inflatable kayak features a sit-inside design and it includes an inflatable chair that you can inflate to your desired pressure for a comfortable seat. It also measures 32 inches in total width, which means it will be stable when you encounter small ocean waves.
In addition to the kayak, this item comes with a three-piece collapsible kayak paddle and a high-pressure hand pump that comes with a pressure gauge for easy inflation and deflation. This kayak weighs only 19 pounds, so it's super easy to carry or drag once it's inflated.
Check Price On Amazon
If you're looking for an affordable choice for an inflatable ocean kayak for two people, the Flydem Hydro-Force is another great option. The coolest part about this kayak is that it comes with everything else you need to get started on your kayaking adventures.
In addition to being able to set it up for two full-grown adults, you can also remove one of the seats from this kayak to paddle it solo if you choose. You can also paddle with a small child or even load in your favorite furry companion for a few hours on the water.
Covered areas at the bow and stern of this kayak give you a secure, dry place to store extra gear without having it in your way. Overall, this kayak has dimensions of 10'6" long and 30" wide with a cockpit depth of 13 inches.
With the high-output pump that this kayak comes with, you'll be able to inflate it in less than ten minutes. The floor is rated to hold pressures up to six PSI and the two tubes on either side are made to hold pressures up to three PSI.
The Flydem Hydro-Force has a whopping 600-pound weight capacity and it's designed with three separate air chambers so that it retains flotation if one chamber is compromised.
In addition to the kayak and high-output pump, you'll get two three-piece collapsible kayak paddles and two adult-sized life vests for adults weighing up to 220 pounds.
The Sevylor Quikpak K5 is a great inflatable option for those paddling out in calm ocean waters or light surf. It features a more closed deck design than the Bestway Hydro-Force, which helps to keep you warmer and drier on colder paddling days.
This kayak also comes with an easy-to-carry backpack storage system that actually turns into the seat once you have the rest of your kayak inflated. That backpack makes it easier to carry this kayak over longer beaches to launch it where others simply can't.
Like some of the other inflatable kayaks on our list, the Quikpak K5 is built with a multi-chamber design that helps you stay afloat if one of the chambers becomes ripped or punctured by unexpected obstacles or ocean hazards.
The tarpaulin bottom with polyester cover also provides great abrasion resistance when you pull this kayak up onto the beach or slightly rocky shoreline.
This kayak comes with double-lock valves for easy inflation and deflation and a more airtight hold.
If you need to carry more than you can fit in your kayak life vest on this kayak, it features bungee lacing in the bow and stern. It also has a small stern compartment and multiple D-rings to give you extra tie-down points for your paddling accessories.
The Advanced Elements Attack Pro is actually built for whitewater kayaking, but it's also a great choice for kayak surfing at select ocean locations.
It has a super durable design that's consistent with the impeccable work done by Advanced Elements on all of their inflatable kayaks.
But this particular model includes self-bailing drain ports so that you can easily bail it while you're sitting and waiting for the next set to roll in.
And with a smaller length of just 9'6", you won't have to worry about nose diving like you would with a longer kayak, paddleboard, or surfboard.
Molded rubber handles at the bow and stern of this kayak make it super easy to drag as a single paddler or carry with a paddle partner. Inside the kayak, the adjustable seat allows paddlers of all sizes to find a comfortable position for longer paddle days.
In addition to that adjustable seat, adjustable footpegs help you keep an ergonomic paddle position and engage your core muscles. Adjustable thigh straps help you stay in your kayak when you're catching waves.
Check Price on Amazon
If you need an inflatable ocean kayak for your small but growing family, then look no further than the Sea Eagle 370 Deluxe.
While it's set up with two kayak seats, this kayak has the capacity to hold two adults and a third smaller individual or furry domesticated animal.
It boasts a huge 650-pound weight capacity in spite of the kayak itself weighing just 26 pounds. It's also rated to withstand up to Class III whitewater, which means it's capable of handling light surf and rough ocean conditions.
In addition to just the kayak itself, this whole package comes with two inflatable kayak seats, two four-piece collapsible kayak paddles, two removable skegs, a foot pump, and a convenient carry bag for easy transportation.
The floor of this inflatable kayak also includes an open-and-close drain valve so that you can drain any water that does enter the cockpit while you're paddling.
There are a total of five one-way inflation and deflation valves to inflate the five air chambers inside.
Even if you don't purchase a separate electric air pump to inflate this kayak, it should take you about six minutes to fully inflate it with the included hand pump. It's designed to inflate to a maximum pressure of 1.1 PSI.
Check Price on Amazon
The Sea Eagle 330 Pro is a slightly smaller version of the Sea Eagle 370 Deluxe and it's a perfect choice for couples or even single paddlers that want more storage space inside the cockpit of their kayak.
Because it's the Pro version of the Sea Eagle 330, this kayak comes with two removable deluxe seats that provide a more upright and comfortable paddling position than the standard 330 seats.
The backs of these seats can also be adjusted so that you can find the most comfortable paddling position for your individual needs.
This kayak boasts a maximum weight capacity of 500 pounds and it's rated to withstand up to Class III whitewater rapids.
Two covered storage areas in the bow and stern give you a better dry space to keep your paddling gear safe and out of the way while you're on the water.
Like its Sea Eagle 370 Deluxe counterpart, this kayak comes as a complete package with everything you need to get on the water.
In addition to the kayak and seats, it comes with two four-piece collapsible kayak paddles, a foot pump, a convenient carry bag, and two removable skegs for improved tracking.
Check Price on Amazon
If you're looking for an inflatable ocean kayak that's super stable and designed to keep you dry in windy and wavy paddling conditions, check out the impressive design of the BOTE Deus Aero inflatable kayak.
This inflatable kayak has one of the deepest cockpits of any inflatable kayak on the market. It has a total depth of 13.5 inches, which keeps you up and out of the water for a drier ride and a higher vantage point.
The body of the kayak itself features a four-chambered design and the 10-inch removable fin on the hull will help you track straighter in adverse conditions.
The hull of this kayak also features a substantial keel guard to protect it against punctures and abrasions when you're pulling onto the shore.
When fully inflated, the length of this kayak extends up to 11 feet, but it boasts deflated dimensions of 39" x 18.5" x 13.5".
It does, however, maintain that width of 39 inches when inflated, which helps to make it much more stable than some other inflatable ocean kayaks.
The BOTE Deus Aero also comes as a complete kit with all of your essential kayaking accessories. When you buy this kayak, you'll also receive a hand pump, center fin, foot bar, repair kit, and a compact carry bag with roller wheels for easier transport.
Check Price On Amazon
The Advanced Elements StraightEdge Angler Pro is our pick for the best inflatable kayak for ocean paddling because it features one of the most rigid and durable designs you'll find amongst inflatable kayaks on the market today.
For starters, the hull material is made of a PVC tarpaulin that's a combination of multiple layers of polyester and vinyl fabric sandwiched together. This multi-layer design is combined with abrasion pads at key contact points for maximum durability and abrasion resistance.
And unlike some inflatable kayaks that feature fabric or inflatable seats, this one has a fully-framed aluminum seat that's raised up so that you have a better view over oncoming waves. Mesh material stretched between that aluminum frame provides a comfortable seat and also breathes better in warm conditions.
The drop-stitch floor of this kayak includes a built-in chine that makes it track straighter than most other inflatable kayaks.
This is a super-important element because many inflatables are too responsive to your paddle strokes, which actually makes it hard to keep your kayak moving in a straight line instead of zig-zagging across the water's surface.
In terms of stability, that drop-stitch floor also allows you to inflate this kayak to be more rigid than most competitors. On calm waters, this is what gives you the ability to fish from a standing position in this kayak.
On the ocean, however, it gives you extra stability to paddle through waves or handle rough and windy conditions. In addition to that rigid hull, this kayak features built-in aluminum ribs in the bow and stern areas.
These ribs provide additional rigid stability for even greater tracking and on-water performance. This doesn't even mention the fact that this kayak comes with a removable box fin on the stern of the hull for added tracking ability.
Finally, we love this inflatable kayak for ocean use because it's adaptable to suit your specific paddling preferences.
Multiple stainless steel D-rings, paddle holders, bungee lacing, and the built-in Accessory Frame System give you the ability to add kayaking accessories or attach your favorite paddling gear for long days at sea!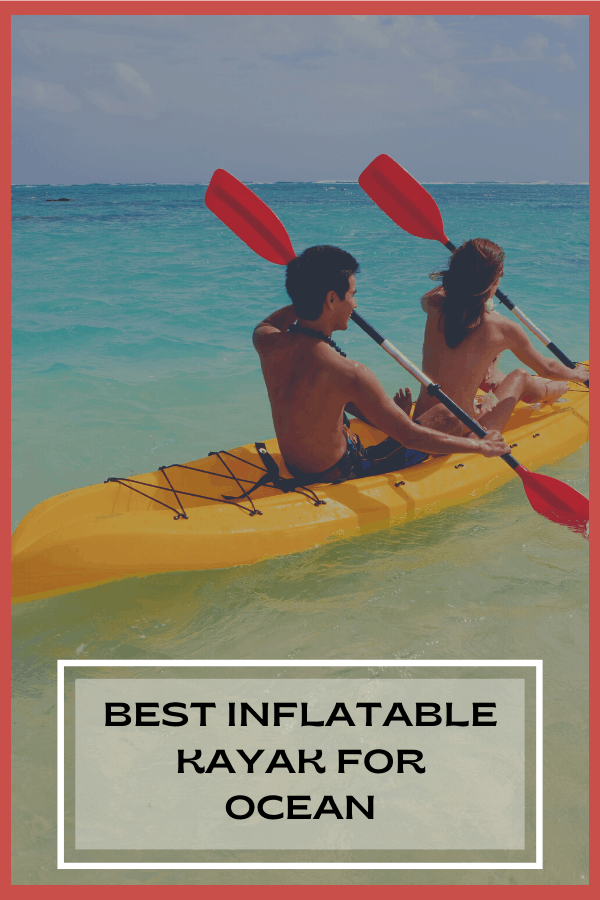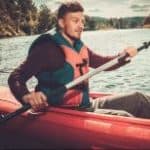 Author: Peter Salisbury
Pete is the Owner of KayakHelp.com. Born and raised in Cleveland, Ohio, he grew up kayaking, fishing, sailing, and partaking in outdoor adventures around the Great Lakes. When he's not out on the water, you can find him skiing in the mountains, reading his favorite books, and spending time with his family.